Multimedia: President Spencer's event in New York City with Bryant Gumbel '70 and Michael Chu '80
If Bates has a spring in its step as we head into summer, it could be due to a string of great and occasionally record-setting Bates events over the last few months.
For example:
On March 31, a Bates-record 2,100 viewers watched, by livestream, the final day of the month-long "Great Day to Be a Bobcat" fundraising event.
On April 3, 1,500 members of the campus community as well as alumni, parents, and friends took part in or attended events related to Mount David Summit.
On June 1, some 4,100 people attended Commencement. Two weeks later, more than 1,100 alumni, family, and friends returned for Reunion, including 213 members of the Class of 2010, the most classmates ever to return for a Bates Reunion.
In New York City, a candid conversation about "the liberal arts in an age of disruption."
Perhaps typifying how these events play out — with their spirited intersection of Bates people, great places, and excellent conversation — was the college's May 19 Presidential Event at the Whitney Museum of Modern Art in New York City.
The event featured the inimitable broadcast journalist Bryant Gumbel '70 leading a candid conversation on "the liberal arts in an age of disruption" with President Clayton Spencer and Trustee Emeritus Michael Chu '80, P'12, who is managing partner and co-founder of the consumer-focused private equity firm Catterton Partners.
Complementing the Bates star power on stage was the event's distinctive venue — the Whitney's brand new building in the Meatpacking District — which had just opened to the public on May 1, making Bates one of the first to have an event there.
The New York event was one stop on Spencer's 2015 tour of U.S. cities. She's done a similar tour in each of her three years in office, and this year she visited San Francisco, Los Angeles, Boston, and Portland, Maine.
With each Presidential Event open to all Bates alumni, parents and friends in the area, this year's tour attendance was more than 1,000, including nearly 400 at the New York event, making it one of the best-attended off-campus Bates events ever.
Here's how the May 19 event played out, from start to finish.
(Photographs by Matthew Carasella and Ben Gabbe of Matthew Carasella Photography.)
---
 5:45 p.m.
As it sets over the Hudson River, the sun shines into the Whitney's third-floor theater space, prepared for a pre-event reception for the Mount David Society, the leadership giving society for Bates donors.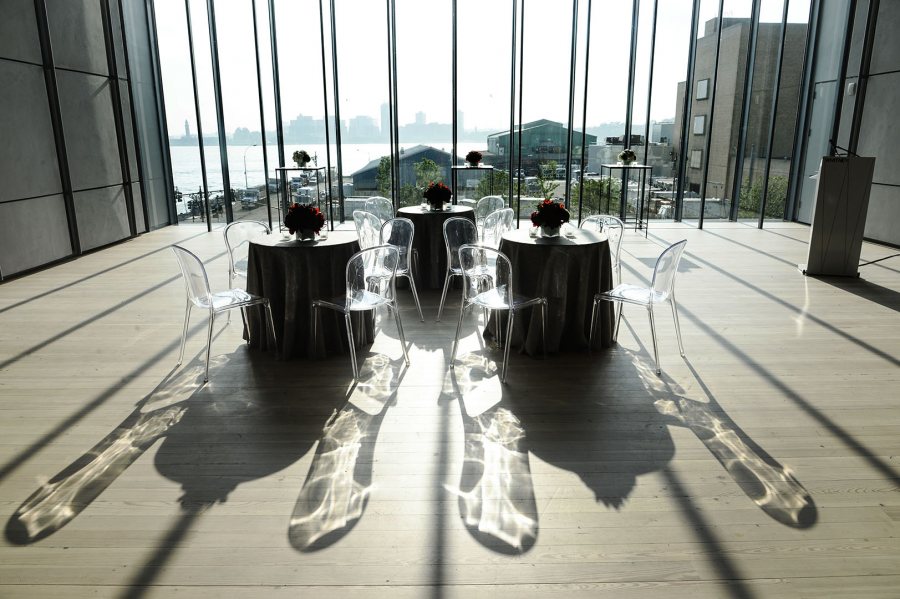 ---
6:48 p.m.
President Spencer welcomes Mount David Society donors to the event.
"Bates is doing many things that bring strength to strength," she tells the gathering. "You put wind in our sails."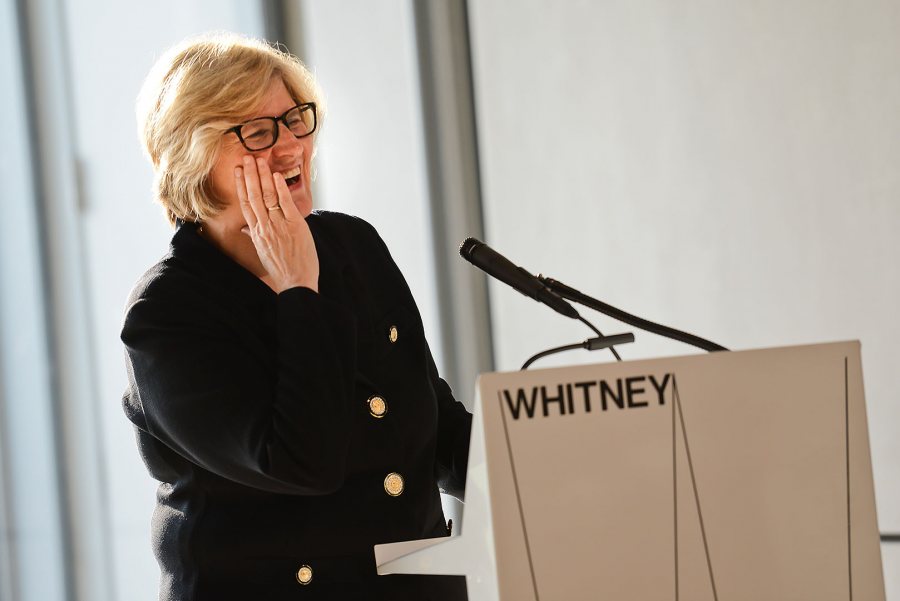 ---
7:10 p.m.
Following Spencer's welcome, members of the Mount David Society enjoy their reception in the theater space on the third floor.
---
7:28 p.m.
The Presidential Event moves to the museum lobby, a large, flexible space that has the museum store at its perimeter.
As The New York Times noted in its review of the new building on April 30, "to see the new Whitney in active use is to understand its success as a place for visitors. It accomplished its new level of comfort without carving a huge event space out of its center, as many museums have done."
---
7:30 p.m. to 7:34 p.m.
As she does at all Presidential Events, Spencer starts the program with a rapid-fire report of news from campus for "those who care about metrics, to give a sense of how we're moving."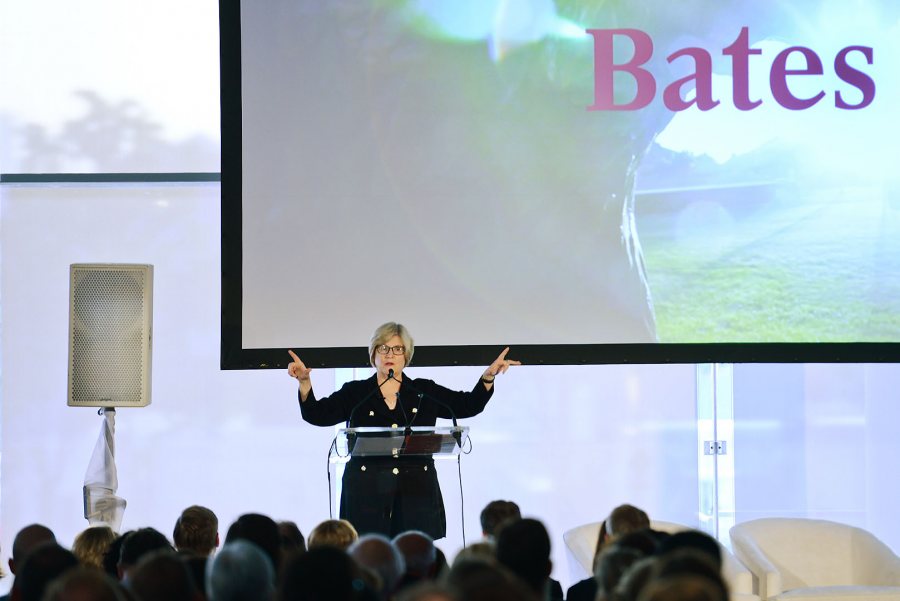 ---
7:32 p.m.
The report includes updates on fundraising, the record-setting admission season, athletics, and campus construction.
Here, Spencer gives an update on construction of two new residences for fall 2016. The addition of 243 beds will allow the college to ease overcrowding in some residences, which means no more quads in Smith Hall!
---
7:34 p.m.
Spencer reports on recent success in Bates sports, including men's basketball advancing to the Sweet 16, men's lacrosse winning an NCAA tournament game; and top-ranked women's rowing soon heading to the NCAA Championships to "try to claim the title" (which Bates did, winning the college's first-ever team NCAA championship).
In this clip, Clayton concludes the sports report by sharing her straight-forward philosophy on athletics.
---
7:39 p.m.
Following Spencer's report from the front, the program moves to the main event, a discussion about the liberal arts in an age of disruption.
"We didn't drag you into New York to this beautiful venue to sell nostalgia," Spencer tells the audience. The goal is to have "a real conversation about real challenges."
Here, Bryant Gumbel reacts to Spencer's introduction after she makes a humorous reference to Gumbel 2 Gumbel: Beach Justice, the show within the show Family Guy.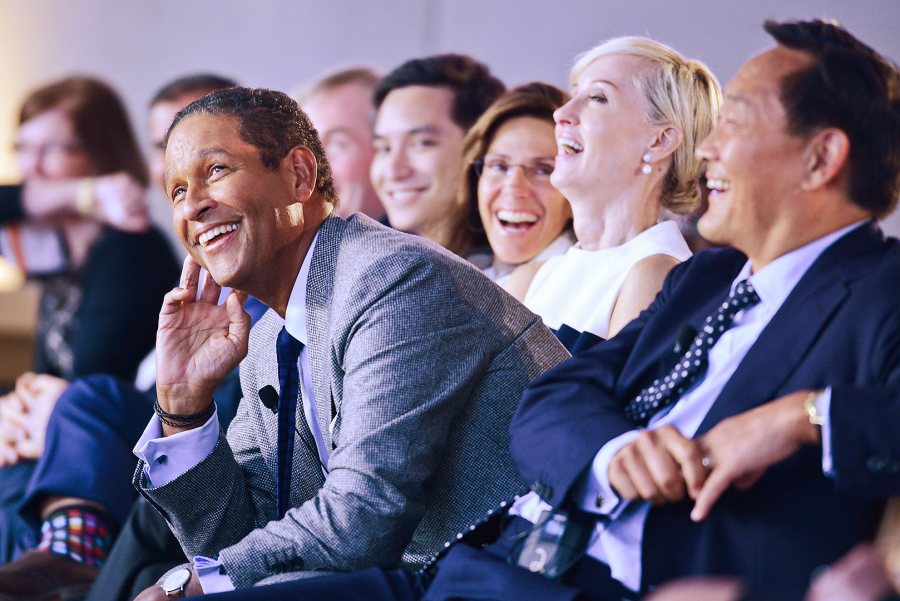 ---
7:43 p.m.
After their introductions, Gumbel and Trustee Emeritus Michael Chu '80, P'12 join Spencer on stage.
Gumbel explains the format: a conversation about "the challenges that Bates and similar institutions face in what is popularly called the 'age of disruption.'"
---
7:45 p.m. to 8:20 p.m.
Spencer, Chu, and Gumbel discuss how the disruptive forces of technology, demographics, and economics are affecting Bates.
Within the great venue, the discussion rose to the occasion, said one attendee in a post-event survey.
"The discussion was relevant and fascinating. I recognize more and more every day the incredible education Bates gave me, and was so excited to hear how the college is moving with the future of education."
Another respondent said, "The conversation showed Bates at its best. All three speakers were eloquent, brilliant, engaging, and funny."
---
7:47 p.m.
Responding to Gumbel's question of whether colleges are even capable of achieving disruptive innovation, a notion posited by Harvard Business School professor Clayton Christensen, Spencer explains that Bates is using technology to turn the obstacles and drawbacks of its small scale into academic advantages.
---
7:49 p.m.
Michael Chu '80 answers Gumbel's question of why should students pay a high price for a liberal arts education when online courses are so cheap. "It's not an either-or" question, Chu suggests.
---
7:51 p.m.
Chu talks about the great value of liberal arts skills in an "incredibly dynamic" world. "This is about the return on investment," he says.
"[Catterton] hires super-smart people…for our firm," Chu says, "and it is not an accident or coincidence that 90 percent of the professionals in our firm come from liberal arts backgrounds."
---
8:08 p.m.
If educational resources become abundant and cheap in the digital future, asks Gumbel, will this pose a major threat to the existence of liberal arts colleges?
Spencer suggests that an education is a "profound project" that can't exist in a "value-free" environment without the skilled guidance of adults.
---
8:13 p.m.
Spencer articulates the contemporary qualities of a liberal arts education, in terms of what employers want, and announces the creation of a new Bates academic program in digital and computational studies.
---
8:41 p.m.
Then it was time for the reception, and guests had free rein to check out the Whitney's galleries and spaces, including the outdoor terraces, and the party lasted well into the night.
Seen in one photo is the outdoor switchback staircase, which The New York Times says "is a people magnet but also a people mover, integrating the indoor galleries and the outdoor terraces and eliminating dead ends in a way that rarely happens in buildings of any kind."
View Comments