As geology students did faculty-guided fieldwork in and around the Bates–Morse Mountain Conservation Area on Aug. 13, Bates photographer Josh Kuckens followed along.
And after a long day looking down at sand, marsh, and water, the young researchers, whose work will inform and guide their senior theses, got a chance to look in a different direction — like up, into the night sky.
---
9:52 a.m. — Measuring up
At Popham Beach State Park, Nicole Cueli '16 of Fort Lauderdale, Fla., sets up an a transit, or autolevel, a device used by scientists, builders, and surveyors to measure distances and elevation changes. In the distance at right is Ian Hillenbrand '17 of Terrace Park, Ohio.

---
9:53 a.m. — Staff support
Hillenbrand '17 holds a stadia rod, which is used in tandem with an autolevel to measure the elevation change between two points on the beach.
Geology majors Cueli and Hillenbrand have joined Bates geologist Mike Retelle's long-term work to monitor and evaluate how the area's sandy beach systems respond to changes brought about by storms, seasonal wave climate, and rising sea level.

---
9:54 a.m. — Level best at Popham
Cueli uses the autolevel. In her left hand is the geologist's trusty companion, a yellow field notebook.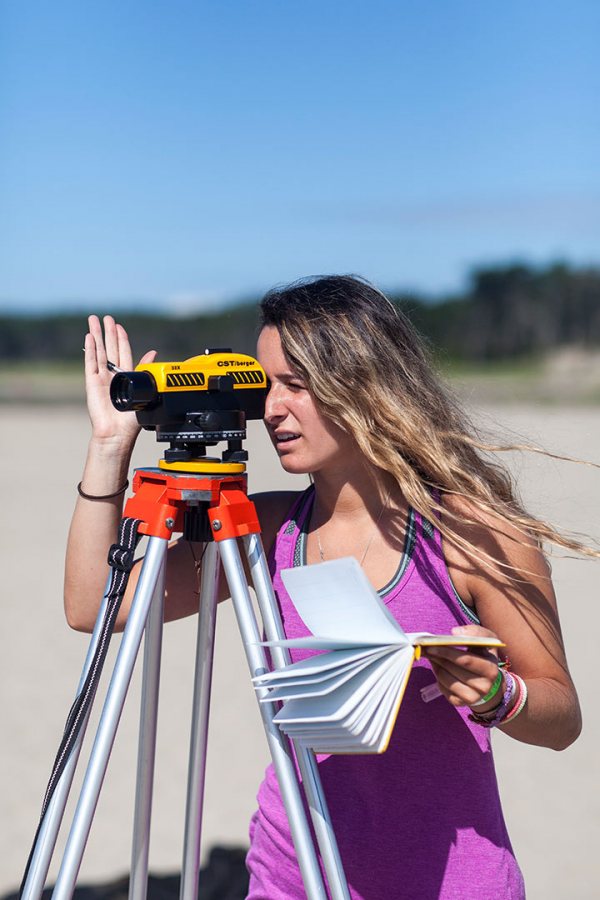 ---
10:20 a.m. — Sooner or ladder
As Dana Cohen-Kaplan '16, of Newton Mass., steadies the ladder, Retelle downloads weather data and time-lapse images from a unit mounted on the west bath house at Popham Beach.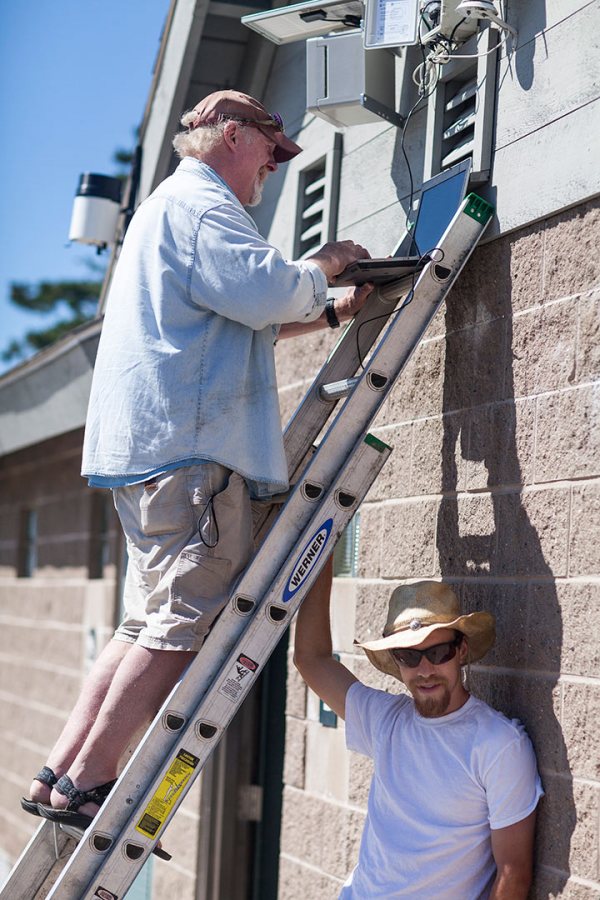 ---
11:28 a.m. — Break time
Back at the Bates College Coastal Center at Shortridge, adjacent to Bates-Morse Mountain and Popham Beach State Park, the Bates researchers break for lunch.
Here, Cueli jokes with Retelle, who is reviewing time-lapse images from the beach, and with  Laura Sewall, who is director of the Bates-Morse Mountain Conservation Area and Shortridge.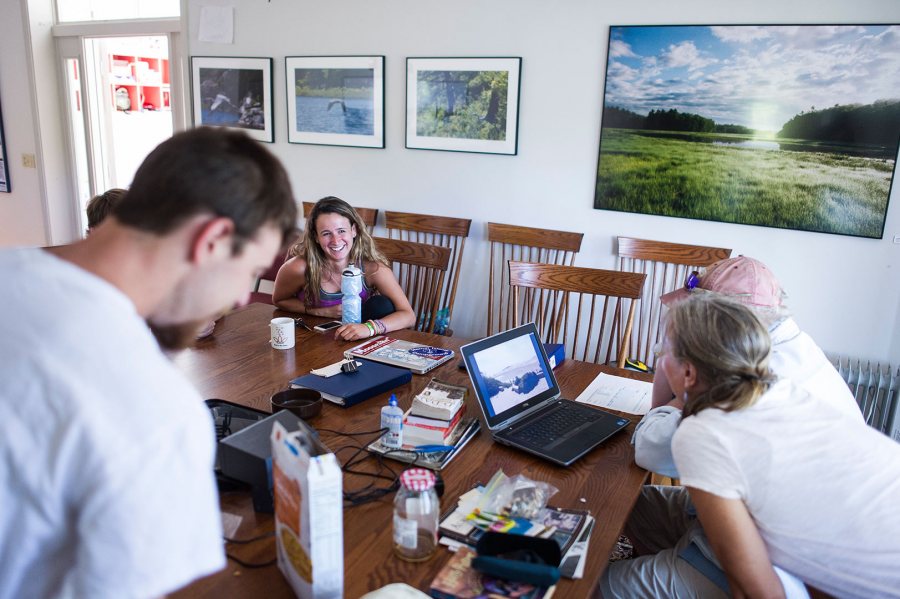 ---
1:24 p.m. — You can get there from here, but it'll take awhile
Geology majors Cailene Gunn '16 (left) of Granby, Conn., and Dana Cohen-Kaplan '16 of Newton, Mass., secure benches to the top of Gunn's car before heading out to do fieldwork at Long Marsh in Harpswell.
The distance from Shortridge to Long Marsh is just 10 miles as the crow flies, but it's 30 miles (and a 45-minute drive) on roads that follow Maine's infamously zig-zaggy shoreline.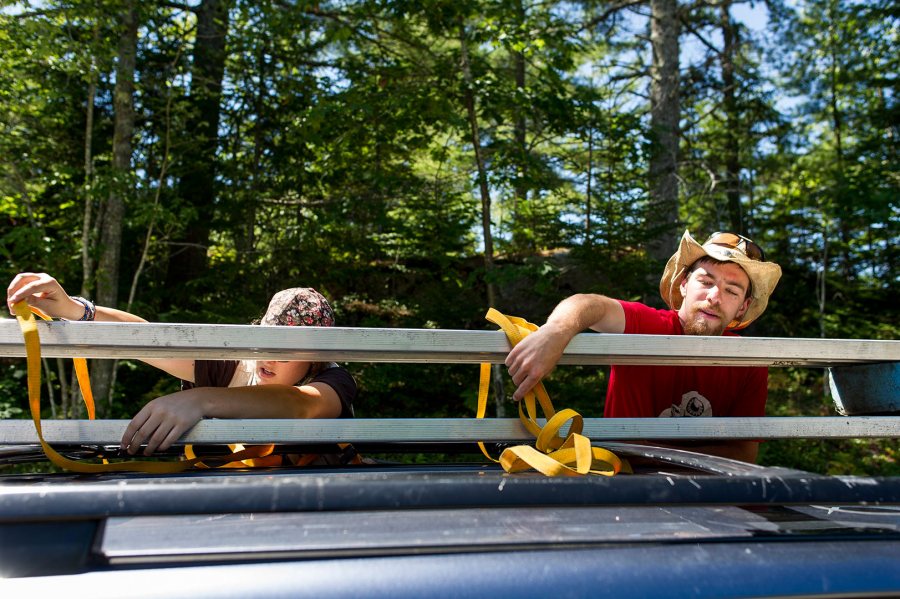 ---
2:22 p.m. — Waist deep in big muddy
Gunn suddenly finds herself waist deep in Long Marsh. "It happens, but it's not usually this bad," she says.
Gunn and Cohen-Kaplan have been working with geology professor Bev Johnson to measure the carbon budget of Maine's salt marshes.
Specifically, they are measuring the amount of methane released by two different salt marshes, the Sprague River Marsh, part of Bates-Morse Mountain, and Long Marsh, in Harpswell.
Long Marsh, occupying a long, narrow glacially carved valley at sea level, has experienced restricted tidal flow for decades. As a result, its health has suffered.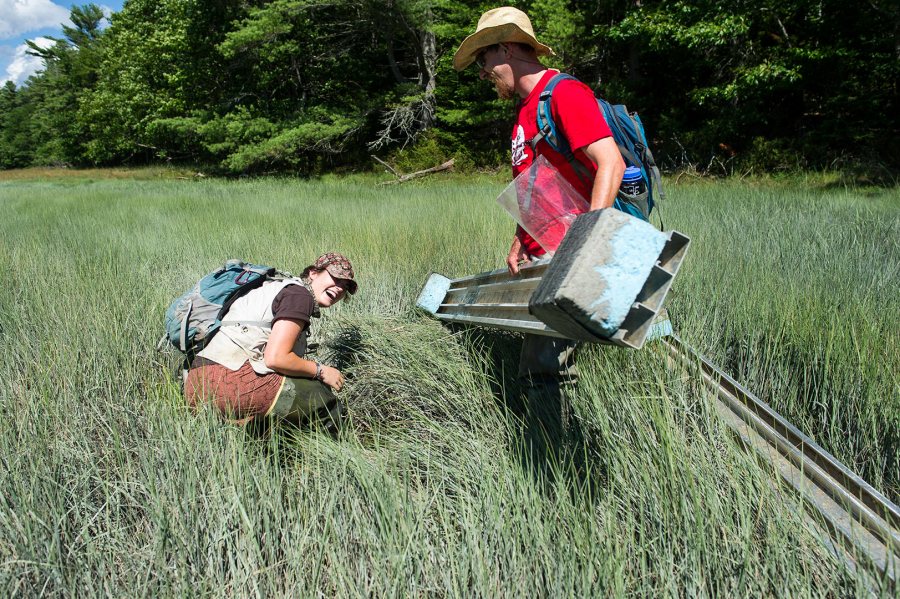 ---
3:21 p.m. — Gassing up
In early 2014 a new and wider culvert was installed beneath a road that crosses the marsh.  The wider culvert allows sea water to flood the marsh regularly.
The tactic is working, says Gunn, seen here taking a gas sample from the marsh. "We can actually see the ecosystem beginning to restore itself."
Taking gas samples is necessary to measure the amount of methane being released from the marsh. Among other things, better tidal flow throughout Long Marsh should help the marsh retain more methane.
While carbon dioxide is the more prevalent greenhouse gas, methane is much more potent as a heat-trapping gas.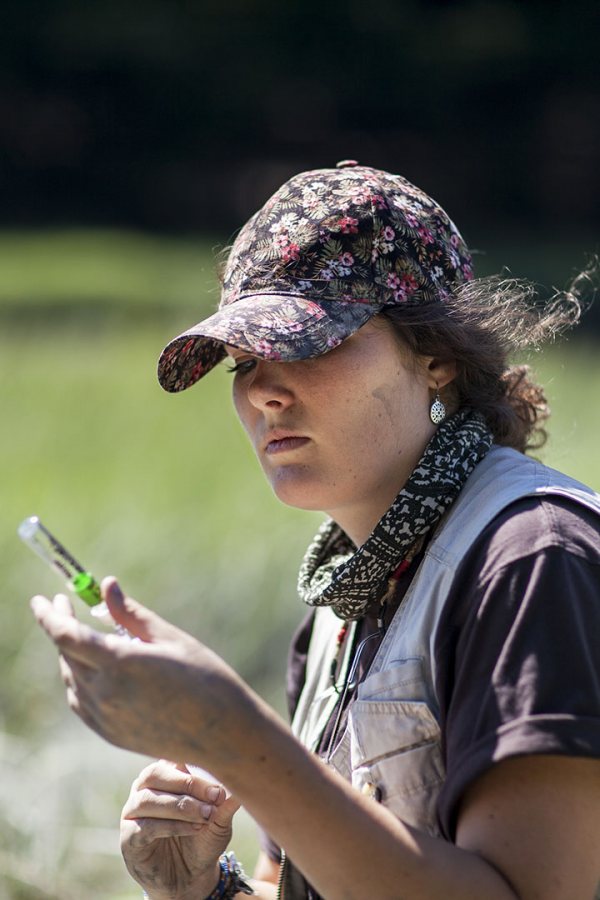 ---
3:37 p.m. — Wetlands at work
Tidal marshes are paramount to the overall health of coastal ecosystems. They provide nursery habitat for important fisheries, protect against storm surges, filter out pollutants, and serve as carbon sinks.
Unfortunately, most of Maine's salt marshes have been anthropogenically altered in some way, and many are in need of restoration to function properly.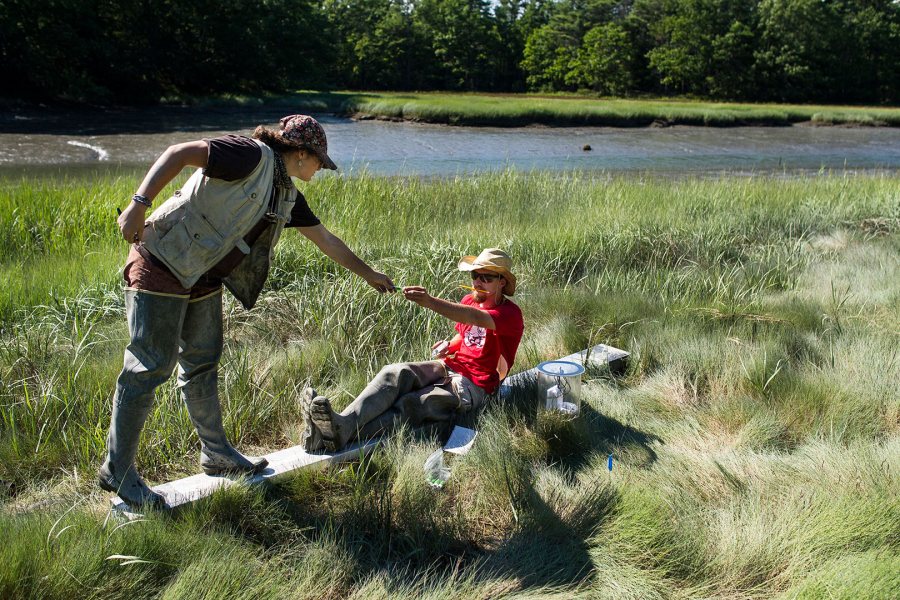 ---
7:25 p.m. — Setting the scene
Gunn and Cohen-Kaplan join Adam Auerbach '16 of Silver Spring, Md., and Nathan Stephansky '17 of Whitman, Mass., on Hermit Island., about three miles from Shortridge, where they watch the sunset from a spot called the Bath Tub.
The four students, each of whom did fieldwork or related coastal work over the summer, used Shortridge as their home base.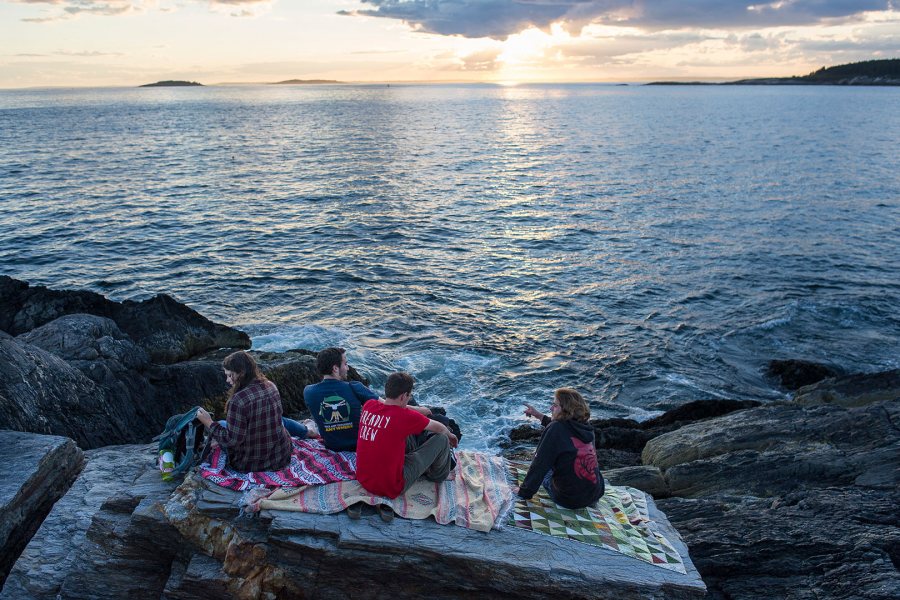 ---
7:43 p.m. — Getting rooted on the rocks
Gunn does some sunset-inspired yoga.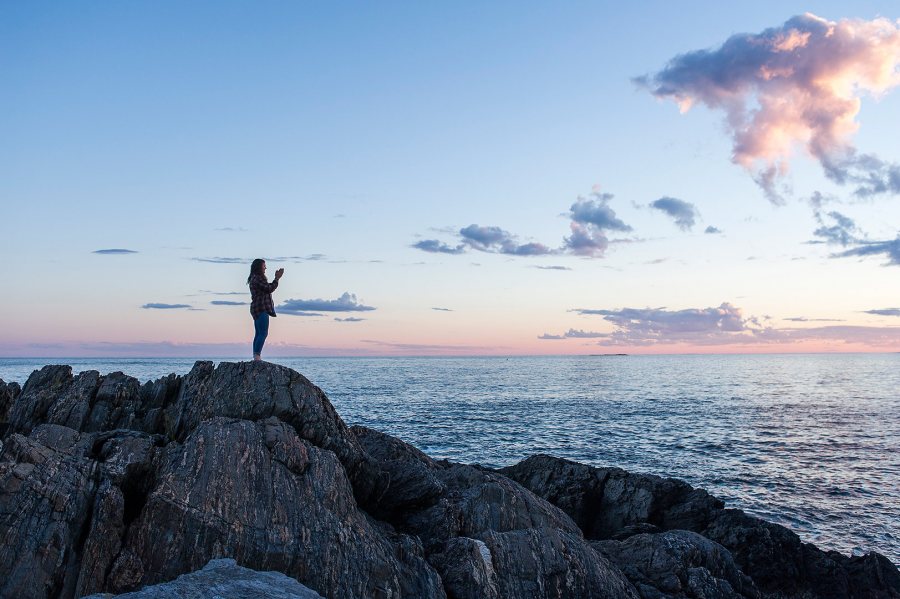 ---
9:16 p.m. — Back to Shortridge
Cohen-Kaplan and Cueli finish off their late supper at Shortridge.
Shortridge was donated to Bates in the mid-1990s by John and Linda Shortridge, who had built a retirement home on the land. It has facilities for field research while also supporting other Bates activities. Each year, some 25 student groups, representing up to 400 students, use the center.
The center sits on 79 acres of woodlands, wetlands, granite escarpments, and a glacially-scoured pond.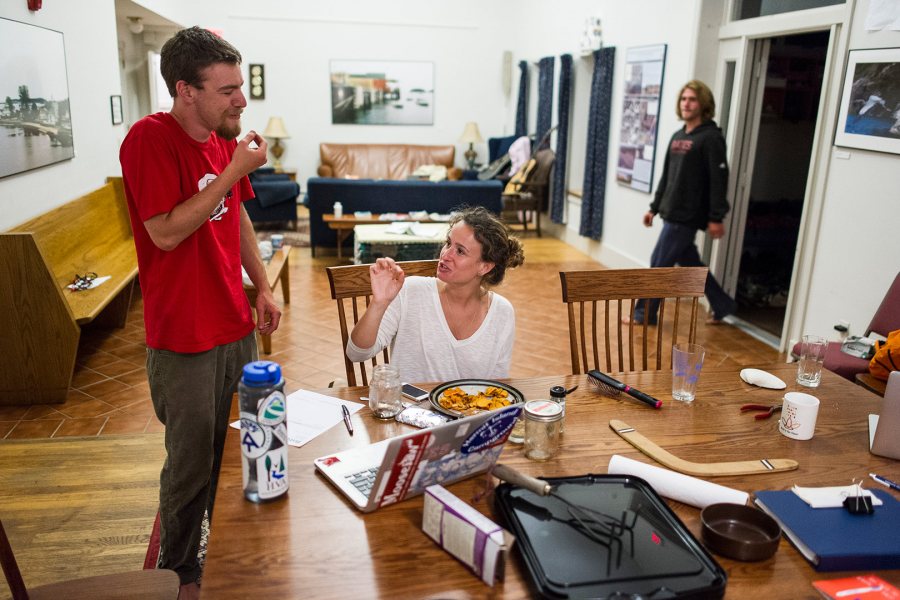 ---
10:03 p.m. — Starry starry night
At night, "the Rock," an outcropping behind Shortridge that looks out over Meetinghouse Pond, is a dark and spectacular place — a perfect spot to watch the night sky.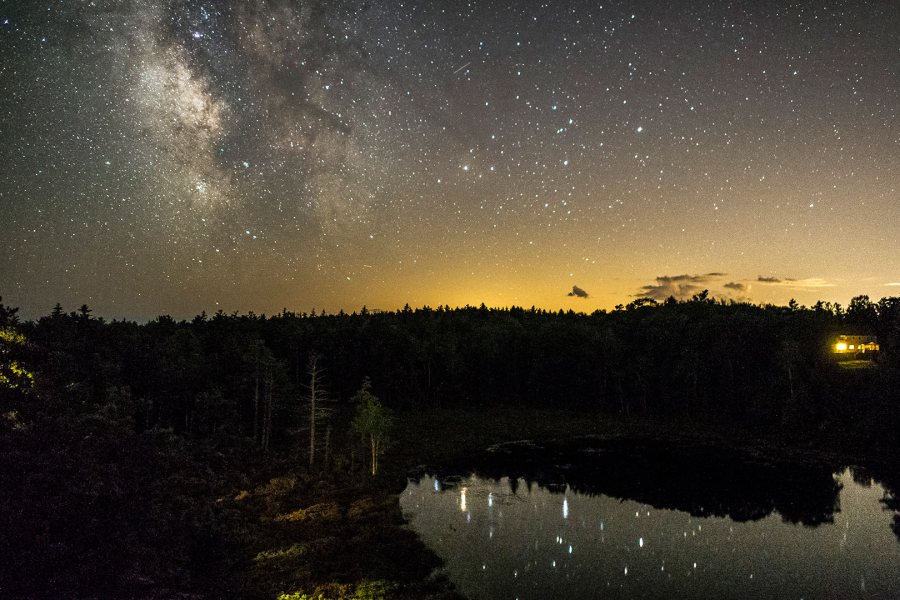 ---
View Comments