Bates in the News: Jan. 8, 2016
Elizabeth Strout '77, Litt.D. '10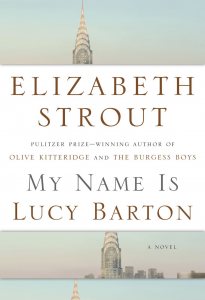 In Elizabeth Strout's new novel, My Name Is Lucy Barton, the author "articulates for her readers — albeit often circumspectly, perhaps the only way — the Gordian knot of family, binding together fear and misery, solace and love," writes reviewer Claire Messud of The New York Times Book Review.
The setting is a hospital room, where Lucy Barton is recovering from an illness, and her estranged mother arrives for a visit.
That simple premise, The Washington Post's Lily King writes, generates "old-fashioned, uncomplicated" storytelling, but only at first.
Befitting the complexity of mother-daughter relationships, the novel soon becomes "smart and cagey in every way…yet nothing is tentative or haphazard. [Strout] is in supreme and magnificent command of this novel at all times."
---
Associate Professor of Psychology Michael Sargent
Bates psychology professor Michael Sargent "used to think storytelling was a bogus art form for bad comedians," writes Down East reporter Sara Anne Donnelly.
Not now. Sargent, the founder and ringmaster of The Corner, which offers storytelling events at She Doesn't Like Guthries, a downtown Lewiston restaurant, "got hooked" on storytelling shows on NPR, and "wanted something like that in Lewiston. So he made it."
In a feature story in Down East, Sargent tells Donnelly that the experience of storytelling "makes connections sneak up on me. Suddenly I realize that I'm feeling a form of connection that was unexpected, in someone who I might never have even met before then. And it feels good."
---
Peter Gault '11 and Elise Kornack '09
Peter Gault '11 and Elise Kornack '09 were named to Forbes' 30 Under 30 list in respective categories: Education for Gault, who is co-founder of Quill, an open-source literacy tool, and Food and Drink for Kornack, co-owner of Take Root, a Michelin-starred restaurant in Brooklyn.
Quill has a double dose of Bates talent. Ryan Novas '11 is a co-founder and serves as operations director. Last summer, the founders offered Bates Purposeful Work internships to Jane Spardel '17 of Verona, N.J., and Rebeccah Bassell '16 of Mechanicsville, Va.
In 2014, Downeast Cider's Tyler Mosher '11 and brothers Matt Brockman '08 and Ross Brockman '11 earned a nod from Forbes, as did Peter Simon '10, co-founder of Industry City Distillery, in 2013.
View Comments