"When it comes to competence in intercultural contexts, Bates College students are incredibly well-prepared," says Matt Auer, the college's vice president for academic affairs and dean of the faculty.
"Fulbright graduate fellowships become a natural part of that overall experience."
The U.S. State Department's Fulbright U.S. Student Program recently awarded 15 fellowships, both English teaching assistantships and research-study grants, to 11 current and four graduated Bates College students.
Supporting an academic year of research or teaching in more than 155 countries outside the U.S., the program sends some 1,500 U.S. citizens abroad annually.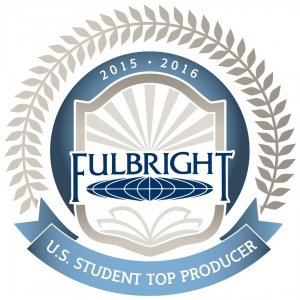 Long recognized as a prolific producer of Fulbright Fellows, Bates "has some distinct advantages in cultivating students' interests and aptitudes in intercultural exchange and communication," says Auer.
Foremost among those advantages is the college's robust study abroad program, which typically benefits nearly two-thirds of Bates students.
Moreover, says Auer, "in both its location and programs, Bates is embedded in a dynamic community that includes many immigrants. And we focus on mutual learning and informed civic action between our students and our local partners — all enabled by the Harward Center for Community Partnerships and our community-engaged faculty and staff."
As Bates' director of national fellowships, Lecturer in English Robert Strong works closely with students applying for major grants like the Fulbrights.
"The curricular integration of community-engaged learning, including practices of student reflection on that learning, position students to articulate their experiences in a sophisticated way, but not in a service-tourism way," he says.
"The Graduate Fellowship Committee is constantly impressed by the way students articulate their community-engaged experiences in their applications."
2016–17 Bates Fulbright U.S. Student recipients
Nicole Bermudez '16, a politics major from Lake Forest, Calif., was awarded a 2016–17 Fulbright English Teaching Assistantship for Colombia.
Daughter of a man born in Colombia and a woman born in Massachusetts, Bermudez is fascinated by questions of cultural identity and its ties to language. "Talking with my father has not only furthered my interest in my own identity," she says, "but also in how immigration shapes the national, ethnic, and racial identities of individuals."
In addition to teaching English, Bermudez will engage with her Colombian community by combining her interest in refugees, which was the focus of her honors thesis, and her passion for volunteer work. She plans to work with an organization that supports people affected by violence and displacement in Colombia.
Bermudez is an experienced teacher of English language learners. While studying in Istanbul, she tutored a Turkish student, experience that demonstrated the value of teaching in small groups. She also learned tactics for keeping her students engaged. "I always end a monotonous exercise on a high note so students are encouraged to return to that exercise later on."
At Bates, Bermudez was a peer math and physics tutor and a residence coordinator, and competed in track and field. In 2014, she was one of Bates' first recipients of a national Creating Connections Consortium fellowship, which enabled her to research indigenous groups in Latin America at Columbia University.
Bermudez will pursue a master's degree in law and diplomacy at Tufts University's Fletcher School. Thereafter she hopes to conduct research and policy work on immigration and refugee resettlement for individuals from Latin America.
---
Ashley Bryant '16, an anthropology major from Medfield, Mass., was awarded a 2016–17 Fulbright English Teaching Assistantship for Brazil.
An education minor, Bryant has worked with English language learners at Lewiston High School and Lewiston's Adult Learning Center, and tutored local elementary school students in math and reading. Last summer, as an education intern at the Heathfield Community School in Taunton, England, she led classes exploring social justice through the religion, philosophy, and ethics department.
Such experiences have taught Bryant that teaching must "support not only diverse learning abilities but also diverse cultures. By encouraging a shared respect for students' experiences and cultures, I have learned how to overcome classroom language barriers."
Bryant plans to incorporate Brazilian poetry, theater, and music into her Fulbright teaching. "I will create an environment of artistic expression and cultural understanding," she says. "I want students to find identity and empowerment by forming relationships with themselves, their country, and others."
At Bates, Bryant completed an honors thesis in anthropology examining how the Lewiston public school system perpetuates "Americanness" through the inclusion and exclusion of Somali students' linguistic and religious identities. She has also been involved in the arts, performing in the College Choir and musical theater productions, and serving as the arts and leisure editor for the campus newspaper.
After returning to the U.S., Bryant plans to study education in graduate school and become a high school social science teacher.
---
Britta Clark '16, a double major in environmental studies and philosophy from Ripton, Vt., was awarded a 2016–17 Fulbright Study/Research grant to study philosophy in New Zealand.
Clark will pursue her master's degree at the University of Otago, where she will study the philosophy of environmental ethics. Specifically, she will analyze the 1991 Resource Management Act, focusing on the balance that it strikes between the European perspective and the perspective of the Māori people regarding ownership of natural resources.
"The language and rhetoric of the act," she says, "drives in philosophically different directions in terms of the presupposed fundamentals of how humans are to relate to the land on which they live." The Māori ethic has traditionally been ecocentric and holistic, she says, whereas "European ethics have an anthropocentric core in which nature is instrumentally valuable for human satisfaction and use."
Clark will analyze current debates over water rights in New Zealand through a philosophical lens, looking at how the question of ownership is complicated when a resource is finite. "My end goal is to determine the most philosophically tenable stance in this debate given the practical, philosophical, and cultural landscape."
At Bates, Clark has competed on the Nordic ski team, hosted a program on the campus radio station, and worked in the community as a tutor and college-prep mentor. In 2014, she worked with the Maine People's Alliance on environmental policy analysis.
After returning the U.S., Clark plans to pursue an academic or legal career in environmental law and ethics. She intends to earn doctorates in both philosophy and law through a dual-degree program.
---
Tara Das '16, a double major in politics and in French and francophone studies from Biandronno, Italy, was awarded a 2016–17 Fulbright English Teaching Assistantship for Turkey.
Over the last four years, Das has worked as an oral French teaching assistant at Bates and as an English conversation teacher at the Adult Learning Center in Lewiston. She describes her teaching style as a "collaborative and creative process" that is accessible for students of differing strengths and backgrounds.
"By teaching students and working with colleagues at a newly established university within the unique East-West cultural cross-bridge of Turkey," she says, "I will not only be able to share the America I know and represent, but also learn about Turkey's rich historical and cultural diversity through students' and colleagues' perspectives — people who understand Turkey's past and are at the forefront of Turkey's future."
While in Turkey, Das also hopes to establish or join a club that is focused on women's health and engages female students in movement and dance.
Born in Oregon, Das spent most of her childhood living abroad in Italy and Switzerland. She spent the winter of 2015 studying in Senegal. In 2014, she won the Albion Morse Stevens Award at Bates for achievement in a foreign language.
At Bates, Das is the president of the Dharma Buddhist Society and a member of the International Club. She has also performed in a number of Bates dance concerts throughout the last four years.
After returning to the U.S., Das plans to pursue a master's degree in international development in preparation for a career in education program management.
---
Charles Kenyon '15, a history major from East Amherst, N.Y., received a 2016–17 English Teaching Assistantship for Argentina.
Kenyon is an experienced mentor and tutor who, inspired by a two-week trip touring the Argentine education system from primary to university levels, hopes to bring a careful and concerned approach to his teaching while learning about the local people and culture.
"Being able to communicate effectively is vital, and positive encouragement is the best way to spur improvements in students," he says. "It took some practice, but I found that being patient and pointing my students in the right direction helped them to not only complete the task at hand, but retain the information as well."
As the former co-president of Bates' film club, Kenyon organized movie screenings on campus and discussion groups around various themes. While in Argentina, he hopes to establish a similar English film club as a way for his students to practice English comprehension and vocabulary skills and as an introduction to new cultures.
At Bates, Kenyon was a three-year member of the men's track and field team and served as an English tutor for local Somali residents. He served as an after-school assistant at Lewiston Middle School and a classroom assistant at Martel Elementary School.
After Argentina, Kenyon will pursue a master's degree in education with the ultimate goal of teaching high school history with a focus on Latin America. He hopes to bring what he learns through this assistantship to his own classroom and expand his students' understanding of the region, which is "often understated in classrooms around the United States," he says.
---
Mary Krathwohl '16, a Latin American studies major from Ipswich, Mass., was awarded a 2016–17 Fulbright English Teaching Assistantship for Spain.
Krathwohl's interest in intercultural exchange and teaching was fostered during a gap year in 2011–12, as she worked at a high school in Chile and assisted with English classes. Last summer, she taught English to adult immigrants in Revere, Mass., following a semester working and volunteering in Guatemala and Peru, where she worked to increase education access in remote communities.
Her extensive prior experience in Spanish-speaking countries has left Krathwohl well-equipped for her assistantship. "Understanding diverse learning styles and individual needs, and knowing how to connect on a personal level," she says, "will allow me to be a mentor to my students inside and outside of the classroom in Spain."
Inspired to return to Spain after a high school exchange trip to Barcelona, Krathwohl plans to help prepare Madrid students for a Global Classrooms project by engaging with them about American studies and other global issues. She hopes to facilitate youth involvement in the community.
While at Bates, Krathwohl volunteered as an English-language teaching assistant at Lewiston High School and a reading and math tutor at the Tree Street Youth Center. She also served as the president of Bates Habitat for Humanity and as a member of both the track and field and the ultimate frisbee teams.
After returning to the U.S., Krathwohl plans to continue working with English language learners with the ultimate goal of creating educational policy changes that support intercultural learning and bilingual education.
---
Alexandra LeFevre '16, a politics major from Hastings-on-Hudson, N.Y., was awarded a 2016–17 Fulbright English Teaching Assistantship for Armenia.
Minoring in education (as well as rhetoric), LeFevre has spent this academic year student-teaching at Lewiston Middle School and will graduate with a secondary school teaching certification.
LeFevre has been steeped in social-justice activities since childhood. "Public education became the focus of my activism after entering college," she says. "I realized that I not only love teaching, but that schooling represented an unprecedented opportunity to address inequity with direct daily action."
She is the co-founder and president of the Bates Education Club and has volunteered at the Tree Street Youth Center and the 21st Century after-school program. She has spent her summers working with Upward Bound, which prepares high school students for college.
LeFevre is an American of Armenian descent. "The values and customs I grew up with were extremely influential," she says. "The prospect of learning about my heritage from students similar in age and through classroom conversations pertaining to history and politics is exciting."
After returning to the U.S., LeFevre plans to teach high school history. She hopes to eventually attend law school and move into the realm of education reform.
---
Carly Peruccio '16, an anthropology major from Manchester, Conn., received a 2016–17 Fulbright English Teaching Assistantship for Luxembourg.
With a minor in French and Francophone studies, Peruccio was inspired to pursue a Fulbright by her experiences learning and teaching language at Bates. Since 2013, she has taught English as a second language at Lewiston's Adult Learning Center.
"Teaching languages allows me to promote cross-cultural interactions while participating in them," she says. "At the Adult Learning Center, my students and I have exchanged ideas and perspectives even though we have different cultural and linguistic backgrounds. I'm looking forward to doing the same in Luxembourg."
Peruccio plans to form a multilingual book club that combines English and French, which she hopes will strengthen her own French language skills while supporting a cross-cultural exchange with her students.
At Bates, Peruccio completed an honors thesis in anthropology in 2015–16 that, based on fieldwork in Morocco, examined what the experiences of female mountain guides reveal about gendered spaces. She has served as a writing and speaking assistant in the Ladd Library Writing Center, as a co-president of the Bates Democrats, and as a copy editor for the student newspaper.
After returning to the U.S., Peruccio plans to hike the Appalachian Trail and to pursue a career in refugee resettlement.
---
Madelene Santizo '16, an anthropology major from Pomona, Calif., was awarded a 2016–17 Fulbright English Teaching Assistantship for Spain.
At Bates, Santizo is part of the Bonner Leader program, which pairs students with community partners for semester-long projects. Over her four years, Santizo has worked with the College Access Mentoring Program at Lewiston Middle School.
In Spain, "with the support of community members, I look forward to constructing a classroom that goes beyond the schoolroom walls" during her Fulbright year, says Santizo. "By empowering students to become local active citizens, they will gain the tools to effectively communicate their ideas, think critically about current world issues, and become part of a globally aware classroom."
Santizo previously lived in Spain for a junior semester abroad, and while there, volunteered with an organization that promotes social justice for Latin American immigrants. During her Fulbright year, she plans to resume her work with this organization.
Much of Santizo's international experience comes from yearly visits with family in Mexico. Guadalajara became "a second home," she says, "and gave rise to my love of cultures."
When she returns to the U.S., Santizo plans to attend graduate school. "I want to help break the cycle of under-representation of minorities in the academy," she says. "The international perspective I gain in Spain will allow me to see the education system in the U.S. differently and help me find innovative ways to tackle current issues in academia and the wider world."
---
Rebecca Schwartz '16, an American cultural studies major from West Hartford, Conn., was awarded a 2016–17 Fulbright English Teaching Assistantship for the Czech Republic.
Schwartz was inspired to pursue teaching after her senior capstone project in high school. "I had the opportunity to educate hundreds of fellow students and teachers about water sustainability," she says, "and get most of the school excited and involved in a project that I cared deeply about."
Drawn to the Czech Republic by its rich artistic and cultural history, Schwartz looks forward to "enriching my students' learning experience by incorporating music, arts, and environmental justice into the lesson plans."
Schwartz says, "I'm eager to interact with the community and hope to participate in a local music ensemble, and will welcome the opportunity to volunteer with a local orchestra or art museum." She adds, "As someone deeply interested in patient care and access to quality healthcare, I will also seek out volunteering at a local hospital or medical care facility."
An accomplished flutist, Schwartz minored in music at Bates, performed with college ensembles, and won a concerto competition. She worked as an art education intern in an after-school arts education program at a community housing development.
Upon returning to the U.S., she wishes to work for a nonprofit that addresses access to healthcare in the United States. Eventually, she hopes to pursue a master's in public health with a special interest in community outreach and policy reform.
---
Max Silverman '16, an interdisciplinary studies major from Dobbs Ferry, N.Y., received a 2016–17 Fulbright English Teaching Assistantship for Nepal.
An education minor, Silverman has trained this year as a full-time student teacher at Lewiston High School. He looks forward to putting his teaching background to use in Nepal.
"I'll build on my experiences in multicultural education to help foster affirming classroom environments of mutual exchange," he says, "where students can draw on their experiences to expand their skills in speaking and writing English."
Silverman, who first visited Nepal during a junior semester abroad, was struck by the importance of English-language learning there. "In Kathmandu, I spent a great deal of time working with a local women's group," he says. "Most of them spoke of learning English as a crucial foundation for accessing opportunities outside of domestic life, emphasizing economic liberation as a key to personal empowerment."
At Bates, Silverman is a member of the Bonner Leader Program and is the founder and president of Active Minds, a student club devoted to mental health activism.
After his Fulbright year, Silverman plans to pursue a career in teaching and education-based justice work.
---
Maria "Lupe" Vargas '16, a sociology major from Medford, Ore., was awarded a 2016–17 Fulbright English Teaching Assistantship for Colombia.
Vargas found inspiration during her time as a teaching assistant during study abroad in Nantes, France. During an exercise with her students, she was surprised by their preconceived ideas about the United States — but also realized that she had her own preconceptions about France. "This teaching moment empowered me to have conversations with my students to explore less frequently publicized aspects of both countries," she reflects.
In conjunction with her educational studies minor, Vargas' time in France "has prepared me to teach in Colombia because I'm comfortable in front of a class and capable of having discussions that strive to reduce cultural stereotypes," she adds. "This experience taught me the importance of creating an atmosphere where students feel comfortable sharing their thoughts, questions, and concerns."
Born in the U.S. to Mexican parents, Vargas is a native Spanish speaker. In Colombia, she plans to join a poetry or literary club to advance the learning of English and, she says, to enable her "to understand Colombians' personal stories, learn first-hand of their hardships and triumphs, and absorb Colombia's rich history and beautiful culture." She also plans to join an intramural soccer team.
At Bates, Vargas has worked as a junior adviser and helped redesign a Bates course as part of the Pedagogical Innovation program. She has taken part in the Bonner Leader Program, tutored at the Tree Street Youth Center, and been a member of the student club Latinos Unidos.
After her Fulbright year, Vargas hopes to purse a master's degree in education policy or higher education. She aspires to serve as a dean of students at a liberal arts college, and along the way serve as a role model for young Latinos and Hispanics pursuing higher education.
---
Alumni Fulbright U.S. Student recipients
Benjamin Claeson '15, a politics major living in Washington, D.C., was awarded a 2016–17 Fulbright Study/Research grant to study nationalism and ethnic conflict in Dublin.
Claeson will enter the master's program at University College Dublin. He plans to research the long-term effects of inter-community dialogue programs in Ireland and Northern Ireland. "Long-term studies of peace programs are critical to understanding whether these efforts lead to sustainable peace," he says.
"Peace efforts in Ireland and Northern Ireland," Claeson continues, "spawned a large variety of locally led organizations that were designed to create community forums for debate, expression, and dialogue." Claeson will interview staff members at dialogue programs and perform quantitative analysis to determine the programs' effects on community relationships.
While in Ireland, Claeson also plans to join the University College debate team and a soccer league, and volunteer with local community relations organizations.
At Bates, Claeson was a four-year member of the Brooks Quimby Debate Council and a member of the Bates Democrats. A New England native, he spent summer 2013 working on a campaign to bring universal healthcare to Maine.
After completion of his master's degree, Claeson plans to enter a doctoral program to continue studying conflict resolution and the potential applicability of Ireland's model to other post-conflict environments.
---
Katharine "Kallie" Nixon '14, a religious studies major from Medfield, Mass., was awarded a 2016–17 Fulbright English Teaching Assistantship for Sri Lanka.
"Whenever I reflect on what it would mean to teach English in a foreign country, I think first of what it was like to learn a foreign language in a foreign country," says Nixon, who first visited Sri Lanka during a semester studying abroad. She recalls the challenge of learning Sinhalese, a language brand-new to her.
She took from the experience an appreciation for language as a tool for cross-cultural exchange. Nixon also sees her experiences as a camp counselor and athlete as inspiration for her teaching. In Sri Lanka, "I intend to use visual arts, physical movement, teamwork, and games to actively engage students in learning English," she says, "as learning a language should mimic the dynamic and fluid nature of the language itself."
Outside the classroom, she'll seek to "take on new challenges such as learning local crafts, furthering my Sinhalese language skills, and exploring local conservation efforts in order to connect with a wide spectrum of people."
At Bates, Nixon was a member of the cross-country and track and field teams, earning three All-American awards, and was named Bates Female Athlete of the Year as a senior.
A candidate for a master's degree in elementary education, Nixon plans to pursue a teaching career that focuses on building internationally minded students. "I want to teach with the goal of giving students the skills needed to go forth and make their own meaning of the world, rooted in human connection," she says.
---
Christopher Opie '15, an English major from Arlington, Mass., was awarded a 2016–17 Fulbright English Teaching Assistantship for Malaysia.
An education minor at Bates, Opie has spent a great deal of time teaching, as an outdoor education teaching assistant at Lewiston Middle School and as an English Language Learners tutor for high school students at Lewiston Public Library. He currently works for a sustainable-transportation startup in the Cambridge, Mass., area.
Opie hopes that his time teaching in Malaysia will offer the same sort of give-and-take between teacher and student that he has found in his other teaching experiences. He cites "a strong belief that the best education requires both students and teachers to learn mutually" as central to his teaching style.
"I am excited about the unscripted moments," Opie says. "My past has shown me that working through such moments of unpredictability and adaptation is essential to becoming an effective educator."
During his time at Bates, Opie took on leadership roles as the manager of the Green Bikes program and the president of the Cycling Club.
He looks forward to continuing in outdoor education and sustainability work after returning to the U.S.
---
View Comments