Bates College is the No. 1 producer of Fulbright Student award recipients among U.S. liberal arts colleges in 2017–18, The Chronicle of Higher Education has announced.
Bates tops the list after several years of increasing awards, from six Fulbrights in 2012–13 to this year's 23.
Sponsored by the U.S. Department of State, the Fulbright is the U.S. government's flagship international educational exchange program.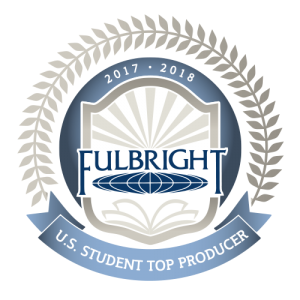 "We are honored to be recognized by the Fulbright Program and proud of what it signals — that our students graduate from Bates prepared to contribute on a global stage," said Bates President Clayton Spencer. "Two-thirds of our students study abroad, they do community engaged work at more than twice the national average, and they work closely with faculty to develop skills in language, cultural studies, and an understanding of world affairs."
She added, "I am thrilled for our students, grateful for the leadership of the program on our campus, and deeply appreciative of the generosity of our faculty and staff in helping our students prepare for these important opportunities."
The 23 current Bates Fulbright Student recipients are now engaged in multi-month research and teaching experiences in 18 countries, as near as Canada and as distant as Thailand.
Five factors drive success
Robert Strong, director of graduate fellowships for Bates, points to five key factors that make Bates' youngest graduates uniquely prepared to be teachers, scholars, and cultural ambassadors around the world.
Study Abroad
Wide-ranging study-abroad opportunities, enjoyed by 79 percent of graduates, help students develop independence and global awareness.
Community-engaged learning
Myriad opportunities through the college's Harward Center for Community Partnerships, including significant teaching field experiences through the Department of Education, bolster students' Fulbright chances and empower them to talk about their community engagement in Lewiston-Auburn with depth and nuance.
"The curricular integration of community-engaged learning, including the practices of reflection, positions students to articulate their experiences in a sophisticated way, but not in a service-tourism way," Strong says.
Senior Thesis
Bates' rich senior thesis tradition highlights grads' advanced and focused thinking.
"Our seniors are capable of crafting fairly advanced and focused research agendas and goals for their senior theses and graduate fellowship applications," Strong says.
Intercultural Exchanges
Students experience productive, intense, and enriching cultural exchanges — an expectation of the Fulbright program — during study abroad and also among Lewiston-Auburn's diverse community, which incorporates new residents from African nations.
"A student who engages with the immigrant community is stepping right into the experience of people who are struggling — and succeeding — in a new culture in challenging and rewarding ways," Strong says.
One-on-one Mentoring
Generous, one-on-one mentoring positions each student to realize the emancipating potential of a liberal arts education.
"The committee structure and interview structures we have for graduate fellowships are intensive," Strong says. "Our faculty and staff contribute immensely to our fellowship programs. This is Bates: When we think of a good idea for helping students, people are on board."
And the Fulbrights, in turn, factor into Bates graduates' success as they enter graduate programs, accept corporate and nonprofit jobs, or embark on other service projects.
Now a student at Dartmouth's Geisel School of Medicine, Patrick Tolosky '15 spent a year as a Fulbright English Teaching Assistant in Madrid, Spain.
"It's really relevant to going into medicine."
He organized conversation practice with small groups of middle and high school students. The discussions were deep and wide-ranging, he says, allowing him to get to know the students and help them make connections between various subjects.
His Fulbright, coupled with his Bates education, taught him the importance of listening and of recognizing others' opinions and experiences as valid — qualities that will make him a better doctor.
"It's really relevant to going into medicine," he says. "Being a good clinician means being able to listen to people's stories and hear what they're saying."
A Spanish major and philosophy minor, Tolosky says that his Bates education expanded how he thinks, giving him a "strong interdisciplinary lens."
"Bates makes it really easy to not get stuck in an isolated group while you're studying," he says. "It's cool to see how people approach an issue or discussion or a certain topic in a totally different way based on what their interests are."
After the Fulbright
Bates' Fulbright Student award recipients go on to do a range of activities, from med school to corporate recruiting to service years. Take a look at some of the post-Fulbright destinations.
Doctoral candidate in English, University of Strathclyde, Scotland
Graduate student in architecture, UMass Amherst
Tech policy analyst, National Journal
Graduate student, Stanford University
Copywriter, Czech Republic
Master's candidate in law and diplomacy, Tufts University
Director of policy and advocacy, World Learning
M.B.A. candidate, MIT
Teach for America
Lab assistant in geochemistry
Master candidate in public humanities, Brown University
AmeriCorps
Fulbright ETA mentor, Brazil
Outreach coordinator, Natural Resources Council of Maine
Legislative intern with U.S. Sen. Angus King
---
View Comments