Graduating into a recession is not something you want to have in common with anyone else.
Both the Class of 2009 and the Class of 2020 have that dubious distinction. For the Class of 2009, the Great Recession saw national job losses in the hundreds of thousands and hiring freezes across industries. For Bates' most recent graduates, measures to stop the spread of the coronavirus has caused unemployment to shoot to the double digits.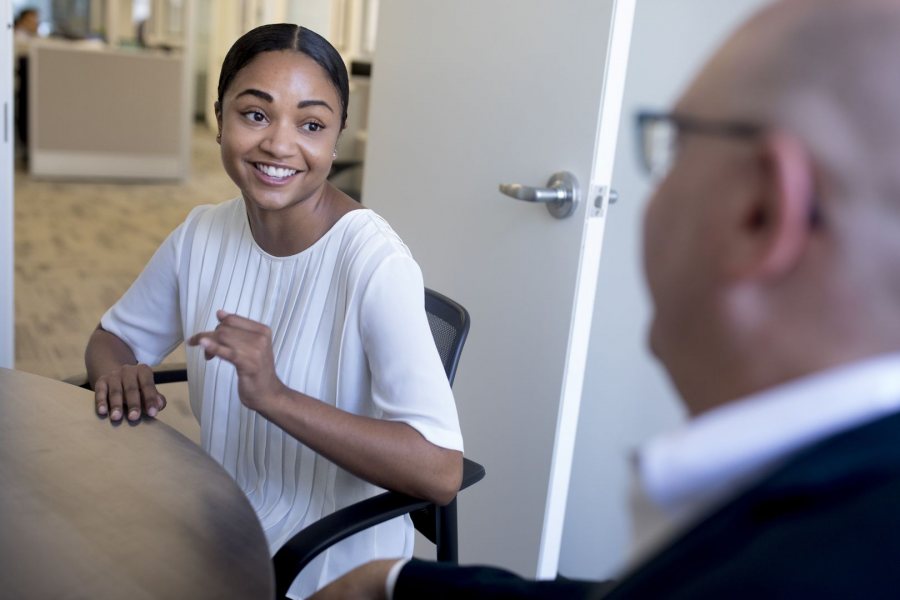 But it's not impossible to launch a recession-era career. In a May 26 Zoom discussion sponsored by the Center for Purposeful Work, the Bates Office of Alumni Engagement, and the Bates Alumni Council, four graduates of the Class of 2009 described their experiences in a range of industries and offered words of wisdom for the seniors graduating into a less-than-stellar job market.
In the discussion, moderated by Purposeful Work office assistant Maya Church '20 — herself about to graduate — the 2009 alumni described the twists and turns of their career paths, their setbacks and successes, and the power of the Bates community.
'Get comfortable with uncertainty'
As class president, Arsalan Suhail '09 noticed a sense of optimism among his classmates during his senior year. The Great Recession had been raging for months, but the graduating seniors were hopeful that the economy would rebound in time for their job searches.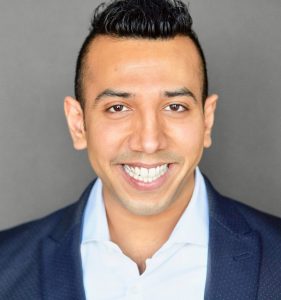 And traditional senior festivities provided a welcome distraction, Suhail recalled — something Bates' most recent graduates weren't able to celebrate in person.
Reality hit in the weeks after Commencement, when the 2009 graduates returned home and "started realizing that the economy was not going to be opening up in the foreseeable future and they had to look at plans B, C, and D," Suhail said.
Suhail considers himself lucky to have secured a job during the school year. He had hoped to launch a career in investment banking, but after the collapse of the global finance industries, he started working as a strategy consultant at IBM.
After nine years at IBM he's now completing his MBA degree at Dartmouth's Tuck School of Business — graduating into a recession again.
"Patience, perseverance, and resilience are going to be the defining characteristics of the Class of 2020," Suhail said. "The next couple of weeks and months are going to be tough.
"It's going to take time for the economy to rebound. There's no silver bullet. Get comfortable with the looming uncertainty as it'll be critical to your success."
Your first job doesn't have to define your career
Stephanie Howson '09 graduated from Bates without a job or a clear idea of what she wanted to do. "My life as a postgrad was really me grappling with some big questions, kind of like we do at Bates — except I was alone all day and there was no Commons," she said.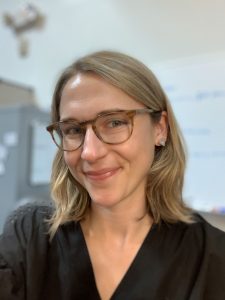 Howson quickly realized, however, that her first job didn't have to be perfect. She took a temporary position as a bank loan processor — not quite what she wanted to do, but a way to build her resume while buying the time to think about her strengths, interests, and next steps.
Through a Bates contact, she started a career in fundraising; she is now a director of development at Seattle University.
"The question that kept me moving forward in my job search was, 'What do I want to do next?'"
"When I graduated, I kept asking myself what I feel was the wrong question: What do I want to do with my life?" Howson said. "That question really scared me, and rightly so. It's basically impossible to answer, especially when you're 21 years old.
"The question that kept me moving forward in my job search was, 'What do I want to do next?'"
Something good can lead to something better
The job search was more complicated for Ricky Weisskopf '09, who is from El Salvador. Like Suhail, he wanted to become an investment banker. Not only was 2009 a bad time for investment banks, some of which were collapsing; other companies were not sponsoring as many work visas.
So Weisskopf, a squash star at Bates, worked as an assistant coach at the college before trying graduate school in Switzerland — though he realized partway through that program that it was not for him.
So he implemented Plan C, returning to the U.S. to continue coaching squash.
Though he had a work visa and enjoyed coaching, it was not the career he wanted. "I thought I had everything planned out, then all of a sudden it didn't work out," he said.
Weisskopf was able, however, to turn his sense of failure into an opportunity to learn. "Being employed doing something that I loved allowed me to start building confidence and gave me a clear head as to what I wanted to do next," he said.
"Next" ended up being a career in tech; Weisskopf is now a product manager at Curalate. "Squash allowed me to get over the hump of that first real failure and realize it wasn't a failure — it was just a change of path."
Figure out what you don't like
Not long after graduation, Manuela Odell '09 carved out a niche at a series of startups, working in public relations and social media and managing online communities. Though she did this type of work for more than a decade, she realized it wasn't what she wanted to do.
So Odell went into product design, learning how to create the best experience for users of websites and apps.
I needed to learn what I don't like to do in order to figure out what I love to do."
"I don't regret that it took me 12 years to realize that, because I needed to learn what I don't like to do in order to figure out what I love to do," she said. "Taking jobs and figuring out what tasks you don't like is arguably more important than figuring out what you do like."
Maya Church agreed. "I've had some crazy job experiences that I didn't necessarily like, but that I definitely learned from," she said.
Gain experience however you can
Odell recently finished a course in product design — like Suhail, graduating once again into a recession.
"Navigating this recession is definitely reminiscent of navigating the job hunt in 2009," she said. "I find myself asking some of the same questions that I did back then: Is this hard because I don't have much work experience coming into a completely different career, or is it because it's a recession? I think it's a little bit of both."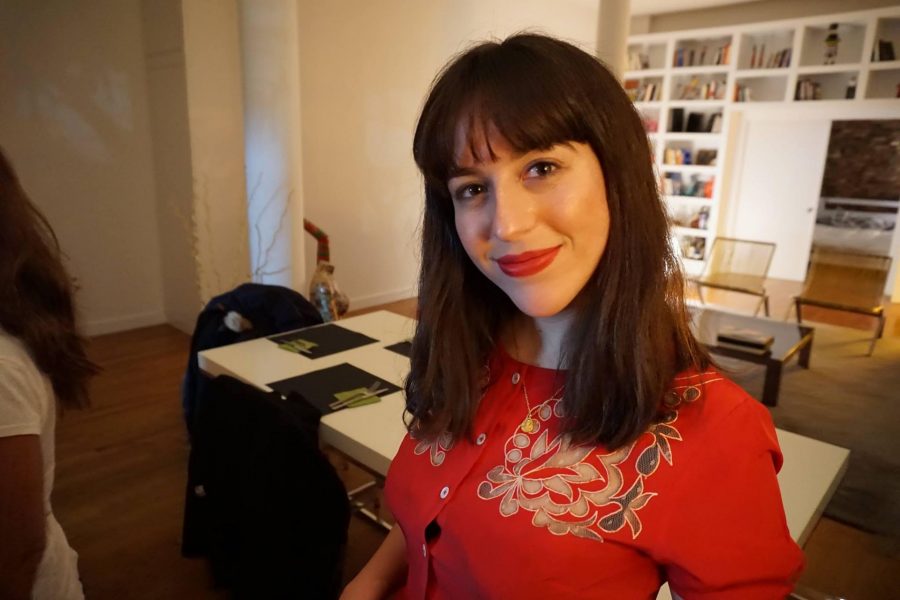 Odell considered searching for jobs full time, but decided instead to balance the job hunt with freelance work. She's redesigned websites, created an app to review coffee shops for remote workers, and even developed a personal finance tool for the cash-sharing app Venmo.
Freelancing provides both income and entries for her design portfolio. And it unknots a familiar paradox of the early career: "My problem was that I couldn't get a full-time job, and I didn't have work experience," she said. "Freelancing is solving that problem for me."
Worry about yourself (only)
Back in 2009, and again in 2020, Suhail "started noticing a lot of people comparing themselves to other people." That's not a good idea.
"Not everyone's path is the same."
"Don't compare yourself with anyone," he said. "It would be well-worth it to read some leadership books and seek inspiration from the stories of these incredibly successful people who are role models. Everyone has a different story, path, and everyone's timing differs. Just focus on yourself and improving yourself as much as you can, day by day, step by step."
Perhaps more so in 2020 than in 2009, social media can facilitate unhealthy comparisons, said Church. "It's good sometimes, as I'm getting older, to take breaks from social media, to stop looking at what other people are doing," she said. "It gets super distracting, and it messes with your mental health."
Use the Bates network…
Suhail advised the Class of 2020 to look to fellow Bates alumni for help in a particularly tough job market. "There are legions of supporters and people who are rooting for your success," he said. "They know things are going to be tough. The empathy is there. Leverage it."
Members of the Class of 2009 have experienced the power of the Bates community. A fellow Batesie had helped Stephanie Howson break into fundraising. "Your network helps set you apart in any time, but especially during a recession," she said.
After coaching squash for several years, Ricky Weisskopf connected with Ben Schippers '04, a tech entrepreneur. Weisskopf got a job at Schippers' design and engineering firm, HappyFunCorp.
Schippers "introduced me to tech, which I am so grateful for," Weisskopf said. "Since that day, I love what I do. One of the things I enjoy about Bates is meeting people from all classes and trying to create that sense of community where people are willing and able to help each other."
…but network authentically
Networking is most effective when the people doing the networking build long-lasting relationships, Odell pointed out.
Authentic networking, she said, is "not networking as a way to get a job but as a way to ask questions. Maybe there's somebody from the Bates community who's a cinematographer, and you're interested in it. Just ask them, 'Can I take 15 minutes to ask you what your career trajectory looked like and what your day-to-day is?'"
"You need to be genuinely interested in understanding something about that person."
Take care of yourself
No amount of job-hunting, skill-building, or networking should come at the expense of mental health. Weisskopf recommended seeking out therapy if it's necessary and accessible.
Odell emphasized the power of community, in whatever form it takes. "We're not alone in this," she said. "There are other people who are going through this. This is a challenging time in so many ways, but there is so much compassion right now — so many people who want to help, who want to talk, who want to share their advice with you.
"I can say with 1000% certainty that you will grow and learn so much about yourself and the world from this."
"This will get better, and everybody will land on two feet."
And don't forget to experience joy, Suhail said.
"You just graduated," he said. "Take a step back, enjoy this time, enjoy the good cheer with family and friends. The future is really bright, and we're banking on you to make sure the future is going to be bright for generations."
"Hang in there," Weisskopf added. "These are very weird times. This will get better, and everybody will land on two feet and move forward."