Many hands make light work. Many hands also helped write the final chapter of the most unusual Commencement in college history.
On June 10, a dozen or so Bates staff members formed an assembly line in the College Store. Their job: pack several hundred boxes with diplomas and other markers of the college's virtual Commencement on May 31 for mailing to this year's 463 graduates.
The process was mostly quiet — punctuated with an occasional shriek of packing tape being dispensed and an occasional question: "How are we doing on bubble wrap?" "How many boxes is this crinkle paper supposed to fill?"
"There's a long story in each one."
At the front end of the assembly line were all the diplomas, filling traditional wooden racks that in other years would cradle the sheepskins on the Coram Library Terrace for President Spencer to give the grads.
That's where Kerry O'Brien, assistant dean of the faculty, was stationed. "My job was bubble-packing the diplomas and nestling them into the boxes," she said. "As I wrapped each diploma, I thought about all the energy and imagination and sheer effort that earned it. There's a long story in each one."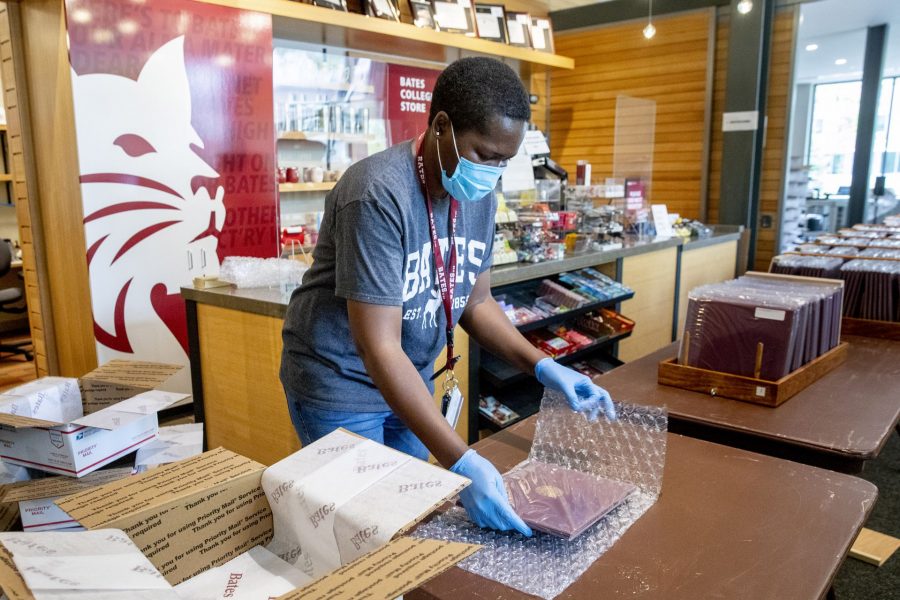 At the other of the line was Claire Schmoll, executive assistant to President Clayton Spencer. Schmoll stacked the completed boxes on waiting "U-boat" carts that, once filled, were wheeled around the corner to Post & Print, where Bobby Bosse affixed a Bates decal and mailing label to each finished box.
"As I saw a familiar name, I hugged the box," Schmoll said. "It was my way of saying, 'Congratulations, we care for you, we miss you, and we hope to see you back on campus soon.' I wish I could have hugged all the boxes!"
Each mailing box contained:
Bates diploma
Letters announcing recipients' academic awards
Bound thesis (complimentary, if the graduate requested)
Congratulations from the Bates Alumni Association
Bates car window sticker
Congratulations from President Spencer and Dean of the Faculty Malcolm Hill
"It felt exciting and sad" to prep the boxes, said Christine Schwartz, whose office — Dining, Conferences, and Campus Events — oversees almost all Commencement planning and execution, so different this year.
"It was exciting to imagine our graduates opening the box, and finding the diploma — like a Cracker Jack prize at the bottom! — and opening it and feeling happy. But it was sad that we couldn't share that moment with them."
The contributors to the "boxing day" effort were:
Bobby Bosse, Post & Print
Donna Duval, College Advancement
Dan Girling, Post & Print 
Cheryl Lacey, Dining Services
Michelle Lewis, Conferences and Campus Events
Kerry O'Brien, Office of the Dean of Faculty
Judith Otim, College Store
Brenda Pelletier, Conferences and Campus Events
Gail St. Pierre, College Store
Christine Schwartz, Dining, Conferences, and Campus Events
Claire Schmoll, President's Office
Heather Taylor, Finance and Administration
Michelle Zuehlke, Dining Services
View Comments