After fending off curveball after curveball hurled by COVID-19 during 2020–21, the Bates community today got a pitch to hit out of the park.
On a breezy bluebird May day, the Bates Class of 2021 was able to celebrate an in-person Commencement and all the comforts of its familiar rituals, including words of wisdom and love.
After a year's absence (2020's Commencement was entirely virtual, featuring pre-recorded segments), the Bates graduation ceremony returned to its familiar stage, the Coram Library Terrace, in front of physically distanced seniors, family, friends, faculty, and staff seated on the Historic Quad.
And as baseball great Ernie Banks once said, "Let's play two." To achieve physical distancing, Bates did just that, hosting a daytime Commencement doubleheader, two ceremonies on the Historic Quad, one at 9 a.m. and one at 3 p.m.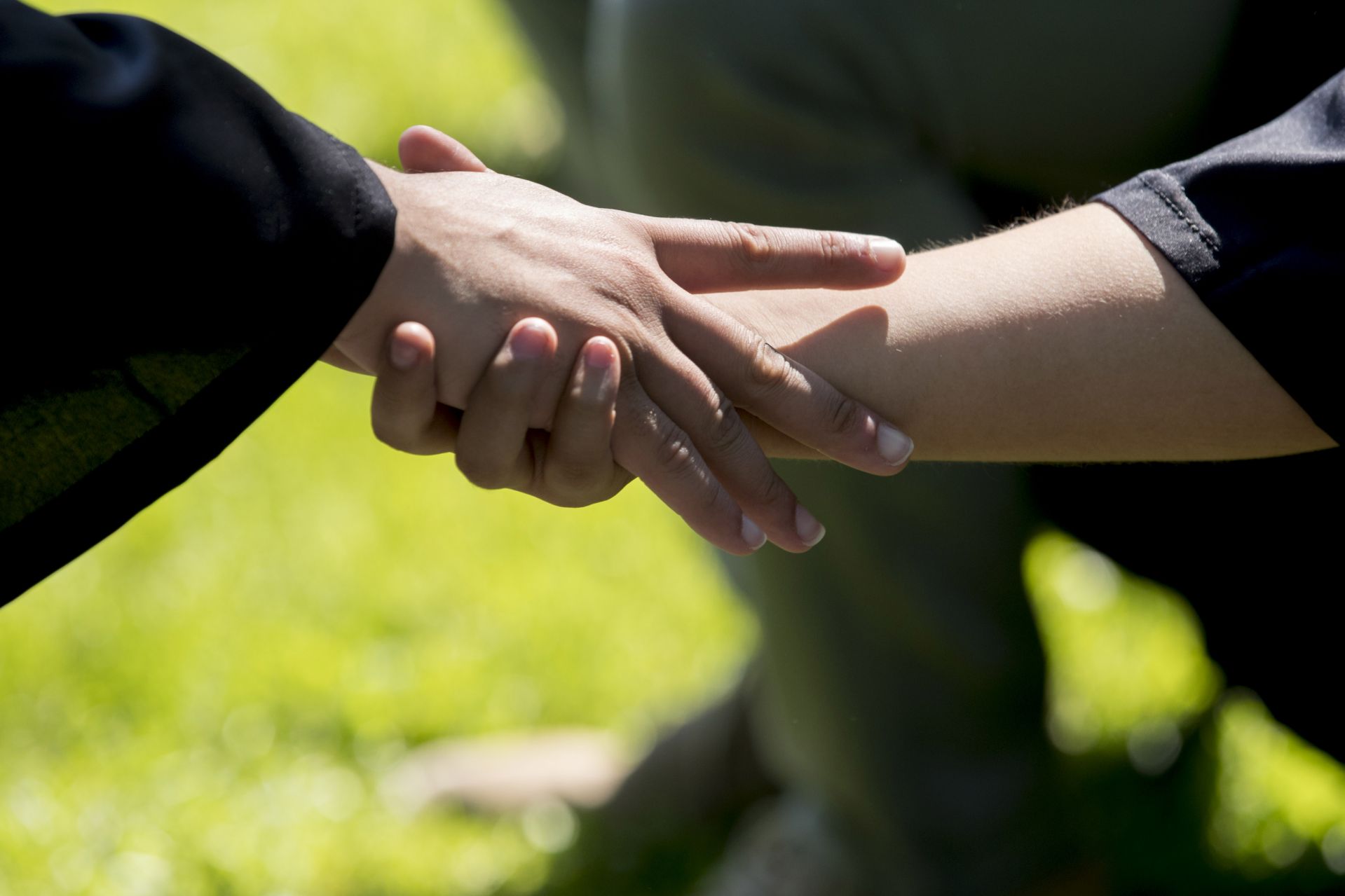 Each ceremony celebrated half the senior class, which all told numbers 469. (We say "celebrated" not "graduated" due to one of those COVID curveballs, a compressed academic calendar, which means the seniors' final grades aren't in yet, so they technically haven't graduated just yet.)
While there was no real thunder on the partly-cloudy day — Wednesday night's raucous storms had skedaddled by early Thursday morning — the rumbling power of thunder was invoked by President Clayton Spencer in her welcoming remarks, as she quoted from the poem "A House Called Tomorrow," by Alberto Ríos, including these four lines:
Make us proud. Make yourself proud.
And those who came before you?

When you hear thunder,
Hear it as their applause.
"You have already made us proud," Spencer told the seniors. "Now please hear the thunder of our applause." And boom like that, the audience responded.
'Something extra special'
"There will always be something extra special about the Class of 2021, with all that you went through together, and the trust you placed in each other and in the college," Spencer said in her welcome.
Signaling a theme of the day's remarks, the hard-tested resilience of the Class of 2021, Spencer lauded the seniors' contributions to Bates and to the local community throughout their Bates years, and especially during the pandemic.
"You have knit this campus and community together over the past four years" through their various activities and "remarkable intellectual accomplishments.""Over the past 15 months, the world has taught us all lessons that we didn't sign up for and probably wouldn't have chosen," she said.
During the pandemic year of 2020–21, she said, "your flexibility, your solid efforts — at least until recently — to follow irksome public health guidelines" (a humorous nod to the spread of another communicable phenomenon, spring fever, in recent days), "and your perseverance allowed us to keep the college operating safely, and your lives moving forward, in the face of some pretty high hurdles."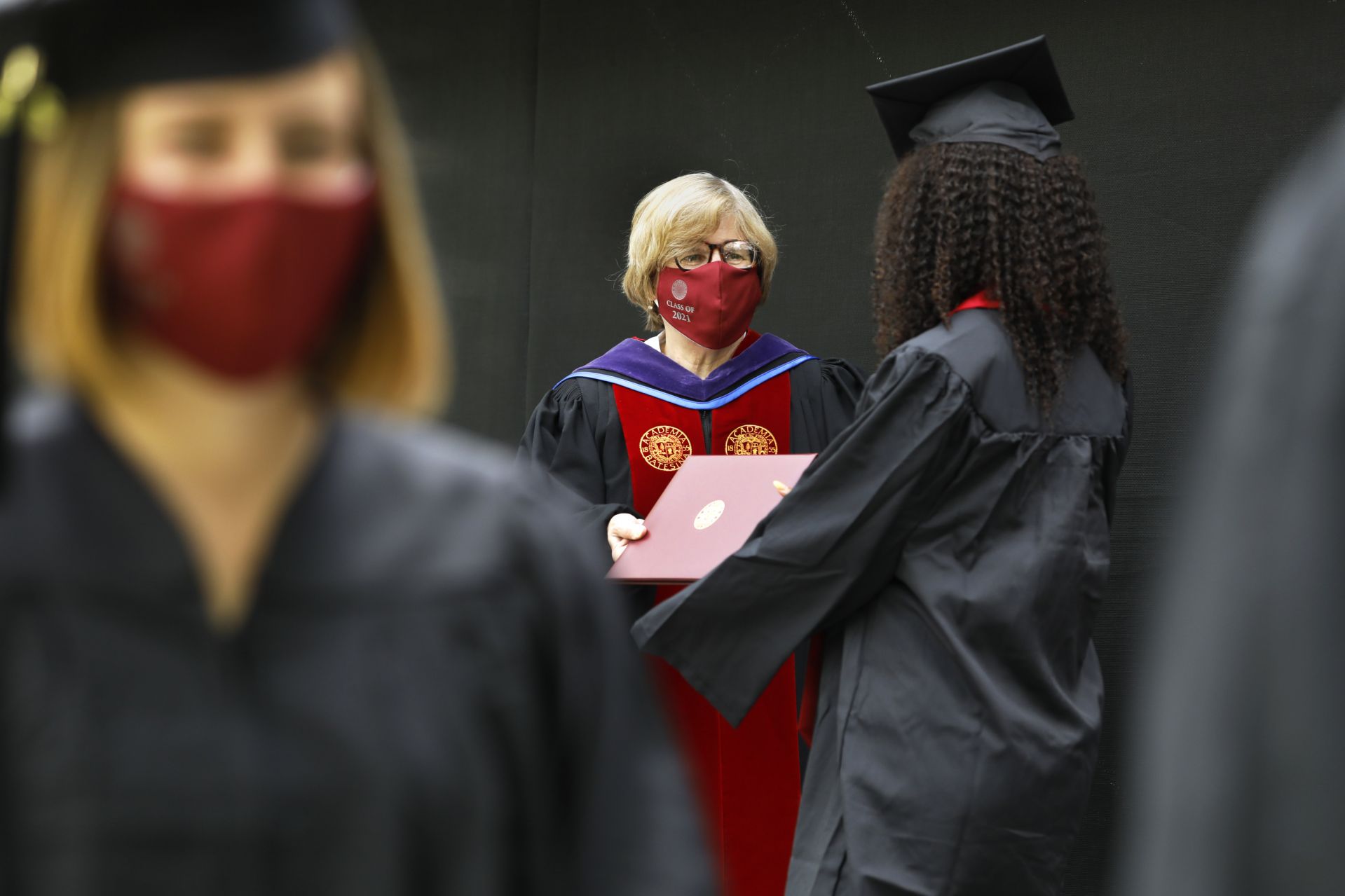 Along with praise came an acknowledgement that the pandemic, and the public-health response to it, had diminished their college experience, creating extreme stress and difficulty. Students had so much less of Bates at their fingertips this year. Some had experienced the deeper distress of family deaths from COVID "at a time when you were not able to gather with loved ones to honor and mourn them."
"For some of you, the love of learning that brought you to Bates has been stretched to the breaking point by the pace and pressure of modules, the limitations of Zoom, and the loss of the joy and insight that come from the spontaneity of being actually, physically present with classmates on a journey together with a fabulous professor."
Still, she said, the life lessons learned during the pandemic, however hard-earned, "may stick with you longer than the things we thought we were here to teach you and that you thought you came here to learn."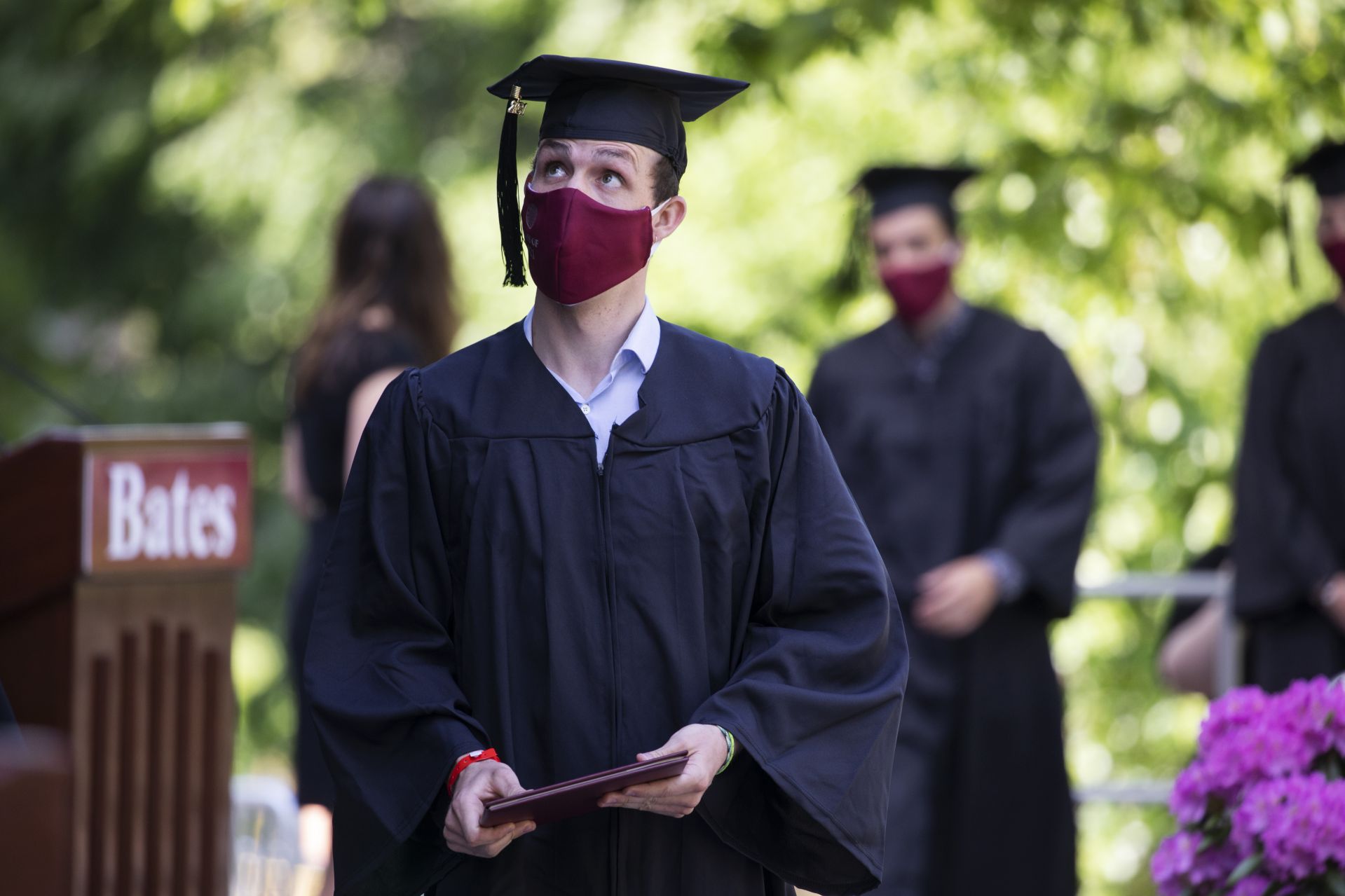 In her benediction, the Rev. Brittany Longsdorf, Bates' multifaith chaplain, offer the hope that, "In the future, when someone asks you about the challenges you've faced in your life, you may think of this last year — not with sorrow alone but also with pride and revelation."
As she traditionally does, Spencer ticked off statistics and facts about the class, whose members are from 38 states and the District of Columbia and from 43 countries besides the U.S. Sixty-five seniors are first-generation students. Thirty-two seniors received honors in their major; two of those completed two honors theses.
Forty percent of the class played a varsity sport. Two received Fulbright Student Awards for 2020–21 (fewer than in past years due to pandemic disruptions), and one earned a prestigious Watson Fellowship.
Still a pandemic
To be sure, markers of the pandemic were still seen everywhere today. Along Alumni Walk, where the seniors gather for the traditional academic procession, Bates staff had painted hundreds of pawprints, each 6 feet apart, as another reminder of the physical distancing rule students have lived under for more than a year.
Admission to each ceremony was by ticket only — two tickets per in-person senior — and the seating area in front of Coram Library was enclosed by 112 sections of 7-foot metal crowd-control fencing.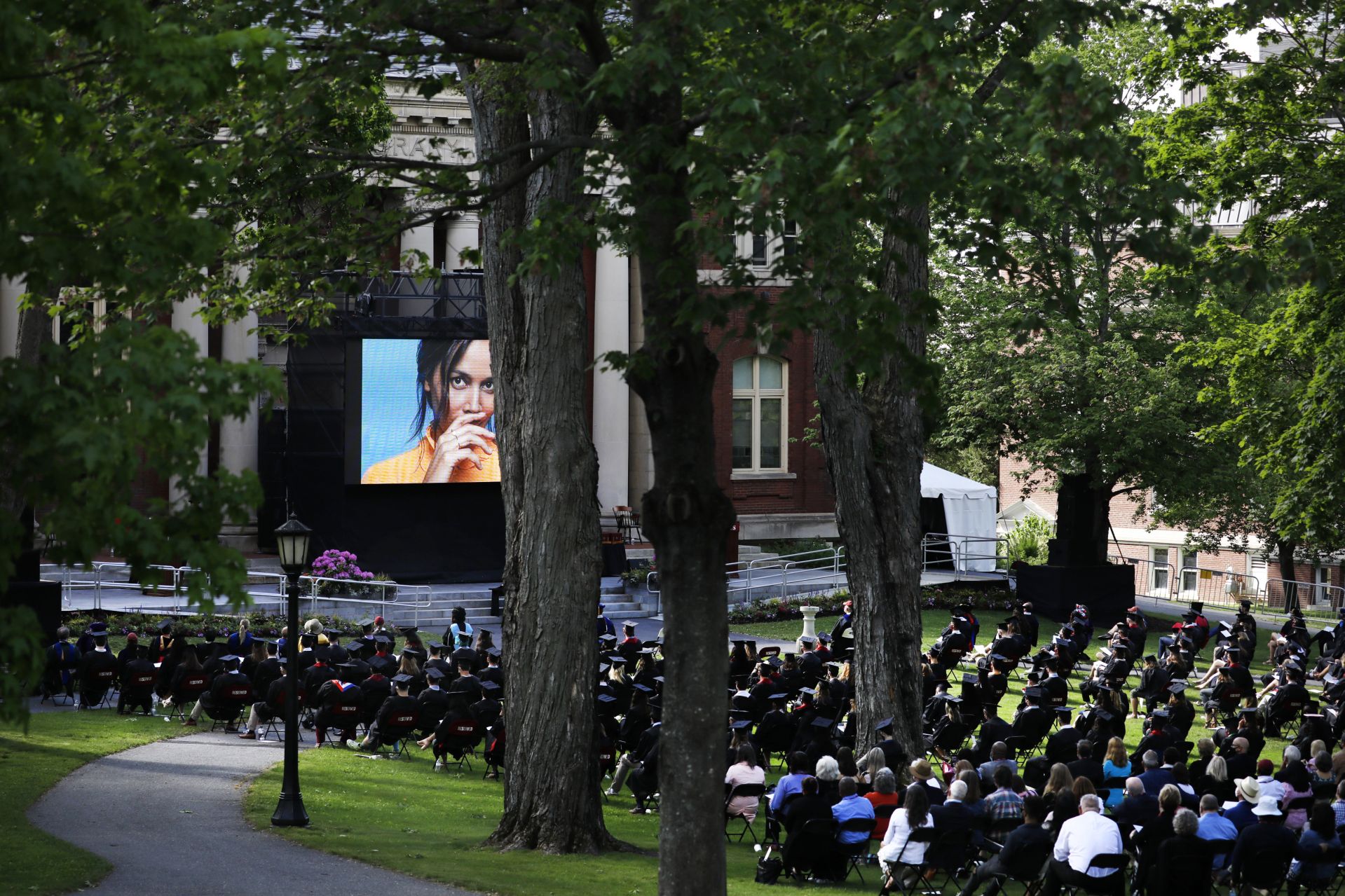 Within the enclosure, each senior's chair was 6 feet from the next, measured just so by the Bates grounds crew earlier in the week using purpose-cut sections of PVC trim. The guest seats, meanwhile, were charmingly arranged in groups of two. And, of course, everyone was wearing face coverings. (In a nod to the ubiquity of masks in 2020–21 and the concerns of the current era, the seniors' traditional ivy stone design features a COVID mask, Bobcat, and a Black power fist.)
Because the seating was spread out for physical distancing, the very last row of chairs was a football field away from the Coram stage, back near the flagpole. But binoculars weren't needed: a large video wall displayed with LED clarity the day's four-camera livestream.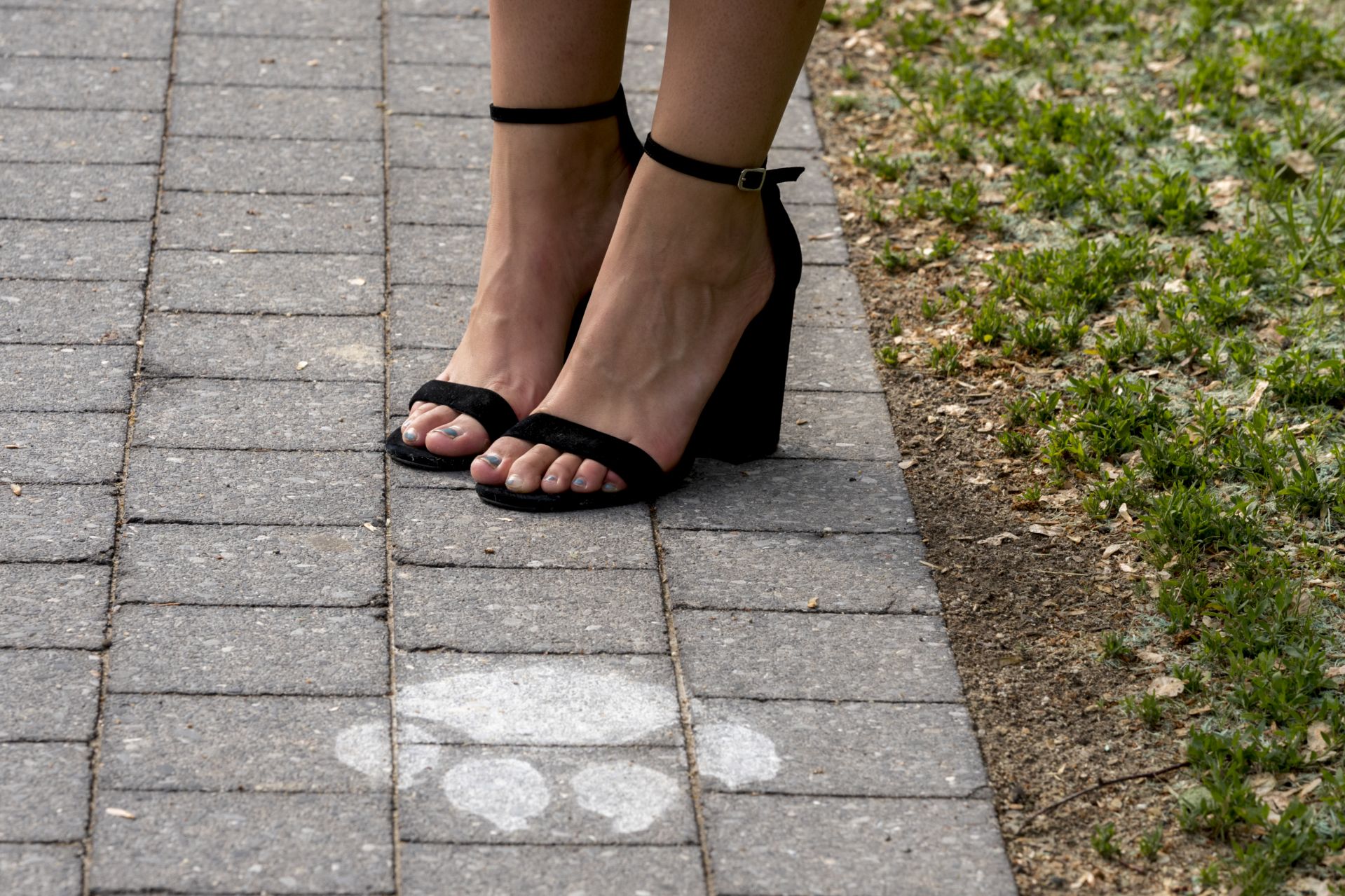 Echoes of 2020
As joyous as the day was, echoes remained of the Class of 2020's experience, including its hasty departure last March and a virtual Commencement. (The college plans to welcome the class back when health guidelines allow.)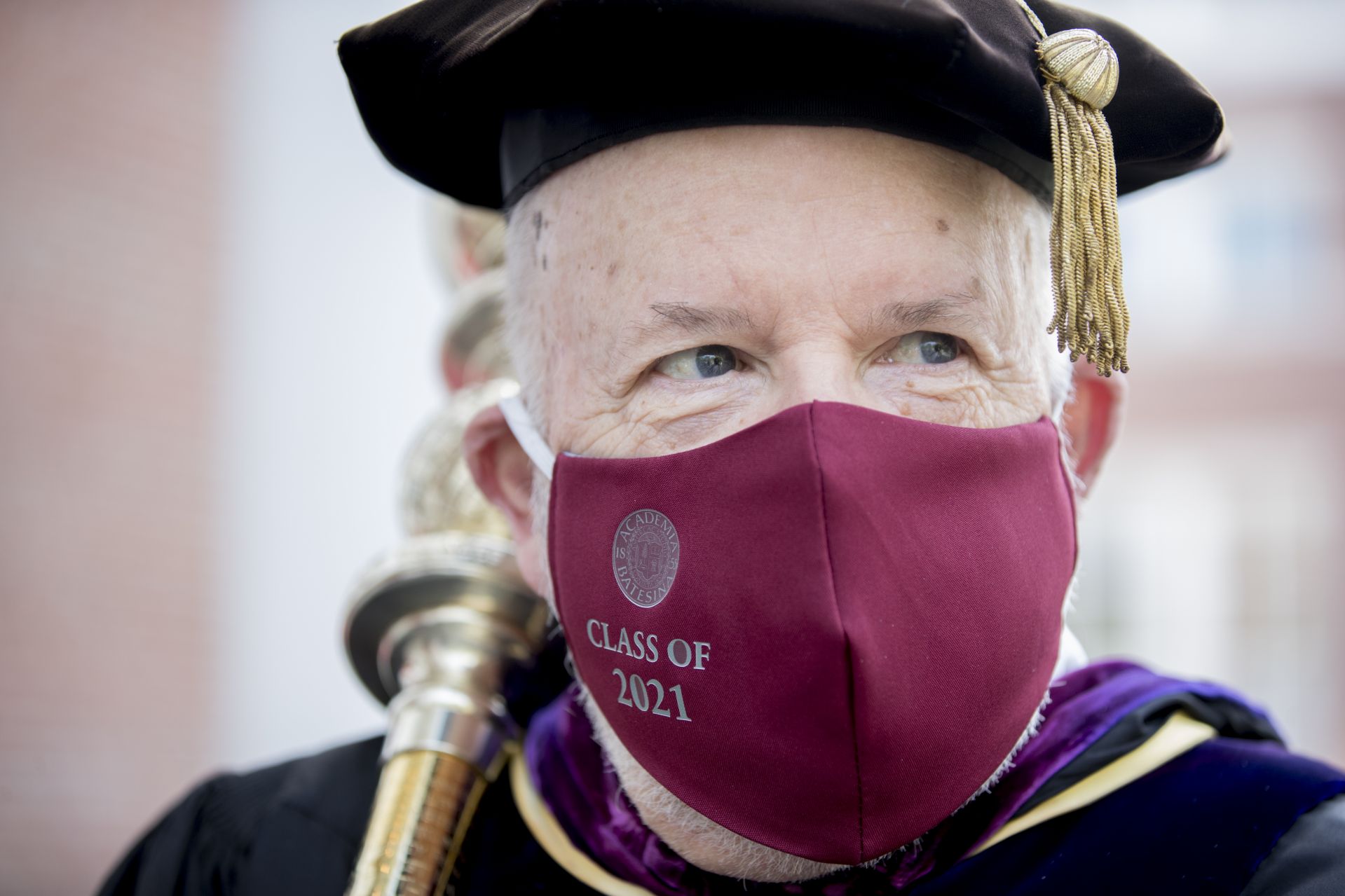 The senior member of the Bates faculty, Michael Murray, the Charles Franklin Phillips Professor of Economics, carries the mighty Bates mace at the head of the academic procession at Commencement. Last year, the "procession," just Murray and a few others, was pre-recorded on a nearly-empty Quad for the virtual program.
When he carries the mace, Murray, who has acted in a number of Bates theater productions, imagines performing for an audience. Last year, as he walked, he imagined "all the seniors who I knew who should have been here."
A significant difference
While many elements of the a.m. and p.m. ceremonies were the same, there was one striking difference (besides an entirely different cast of seniors and guests!): two different senior speakers.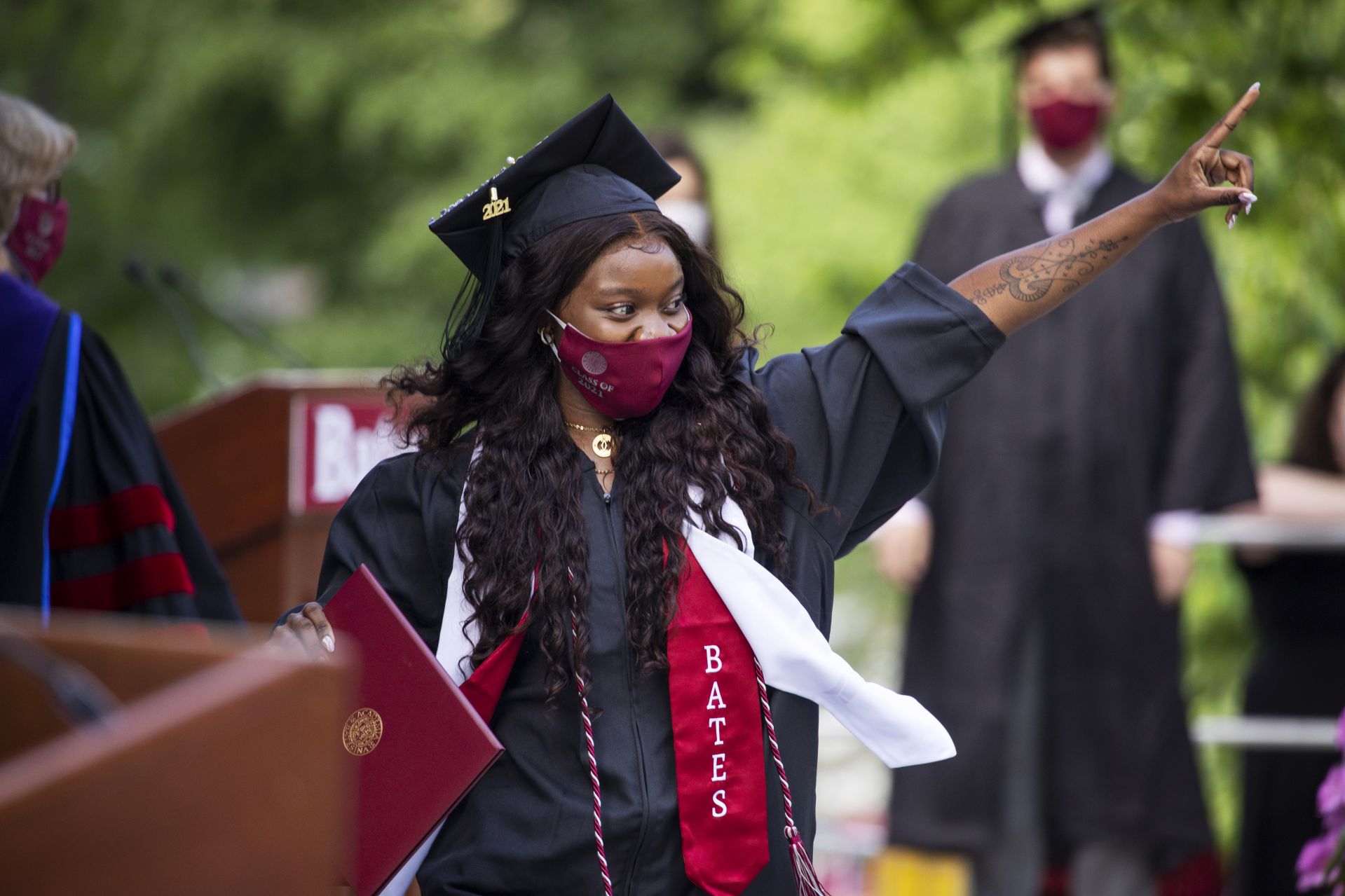 Both coincidentally from Zimbabwe, Nicole Kumbula '21 addressed the A–K group in the morning, and Munashe Machoko '21 spoke to the L–Z cohort in the afternoon.
Kumbula invoked the Bates custom of holding the door for a fellow Bates person. The custom is practical — without some help, "that sandwich box the other person is holding could fall into the snow." It's also symbolic, of "someone willing to wait a bit, just to make sure the door is open wide enough so that I can enter into the space with them — or at times even before they do."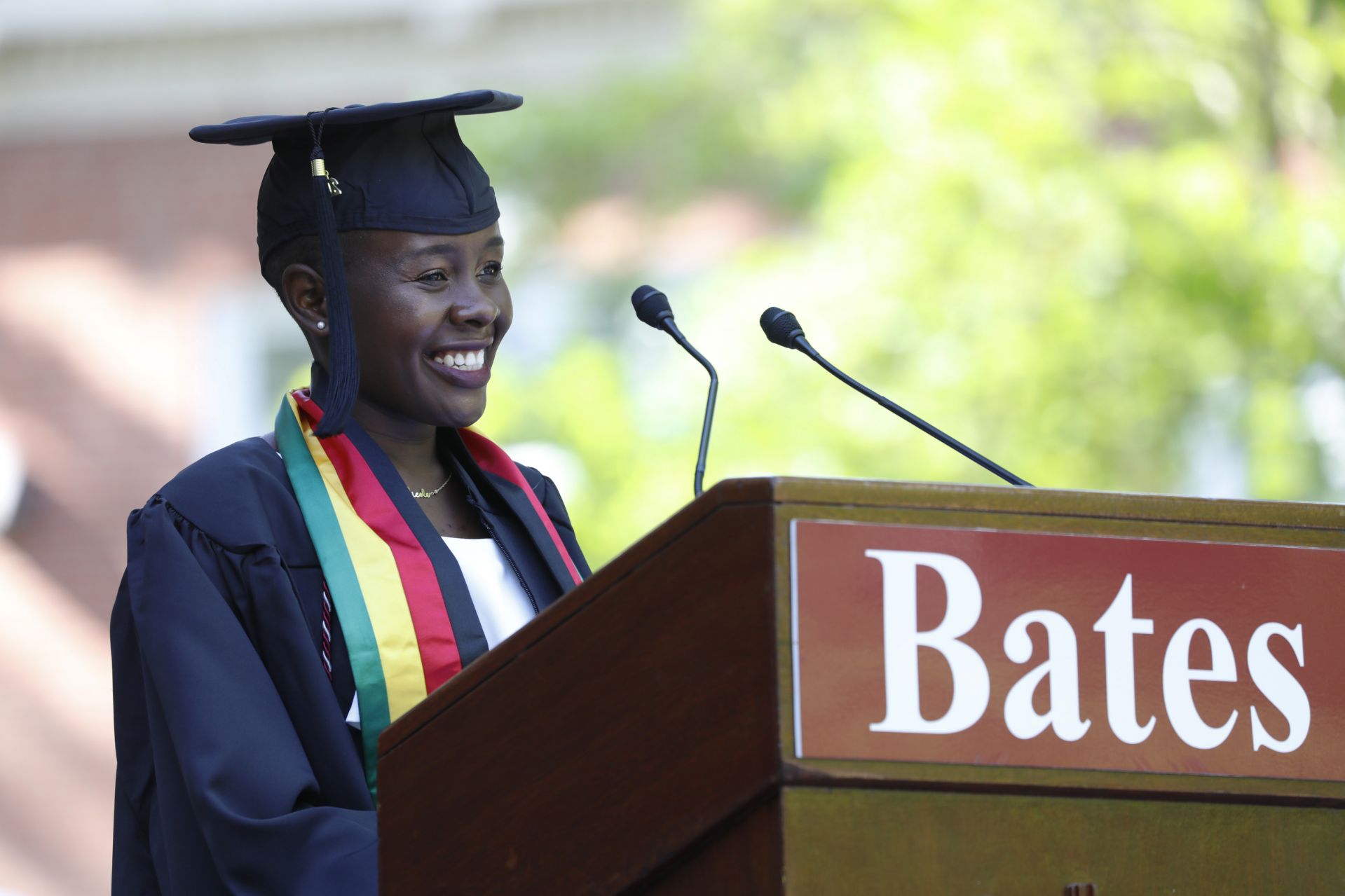 Even when Bates doors were shut tight during the strictest part of the COVID lockdown last summer, which Kumbula spent on campus, she felt connected to her community by joining with others to make handmade face coverings for the essential Bates campus workers. "This gave us purpose and something to look forward to once every week."
Machoko described the resilience that he learned at Bates before and during the pandemic, "the ability to know that whatever I might be going through, no matter how unfamiliar, I will certainly figure it out, and so will each and every one of my graduating peers here with me today."
His coursework paid dividends, he added, because it was spiced with the "camaraderie, collaboration, and mutual respect that make Batesies special."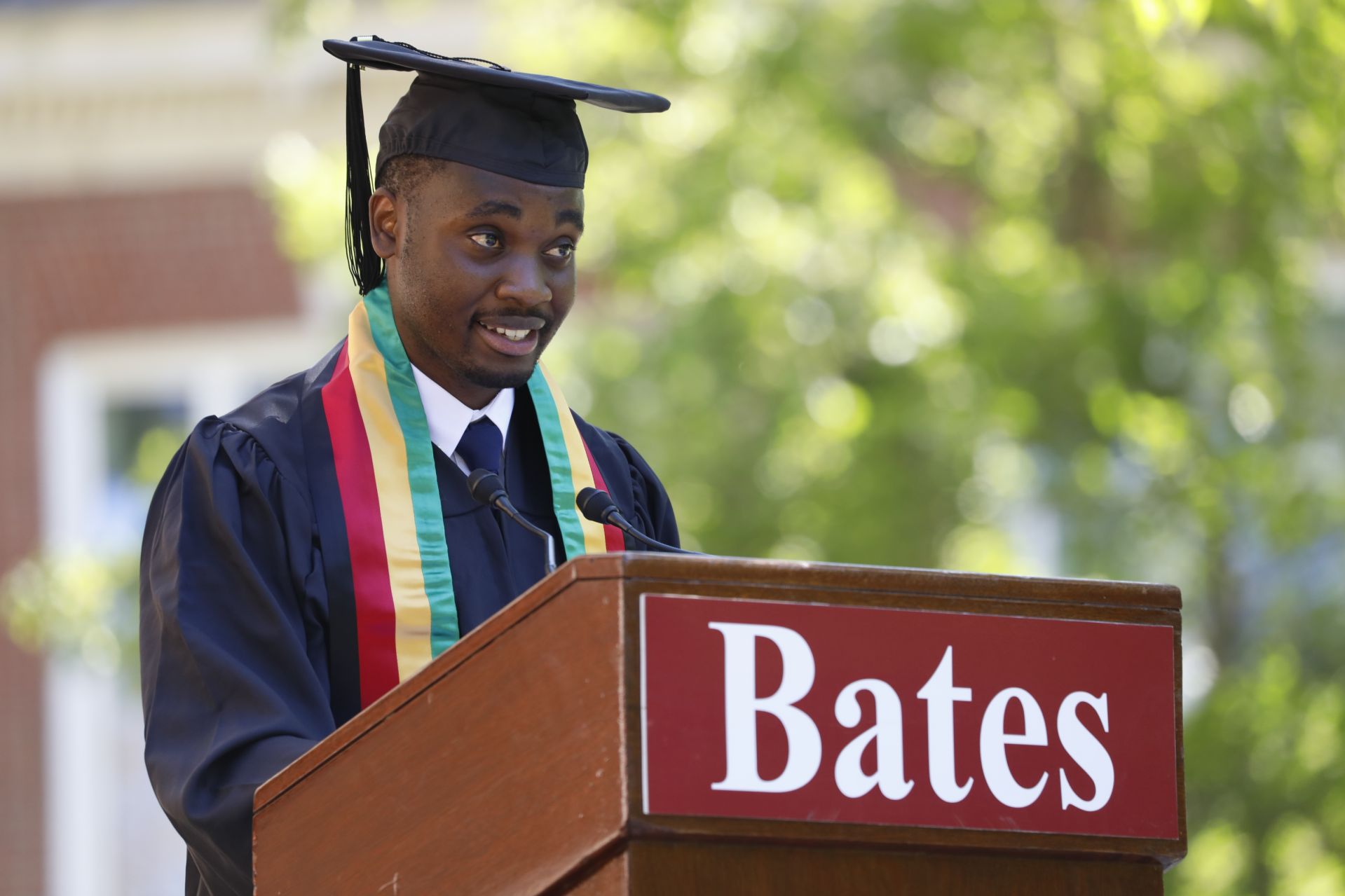 ---
Watch the full morning Commencement ceremony on May 27, 2021
Watch the full afternoon Commencement ceremony on May 27, 2021
The pandemic necessitated remote presentation of the day's four honorary degrees. But what may have been lost by not having the honorands present was gained by another difference in this year's ceremony.
Rather than one honorand delivering a single Commencement address, each offered recorded video remarks that were poignant and pointed, in which the settings themselves underscored the message.
Chase Strangio
Chase Strangio is an ACLU lawyer and trans-rights activist who has been a crucial force behind the most important U.S. Supreme Court victories for LGBTQ rights in the past decade.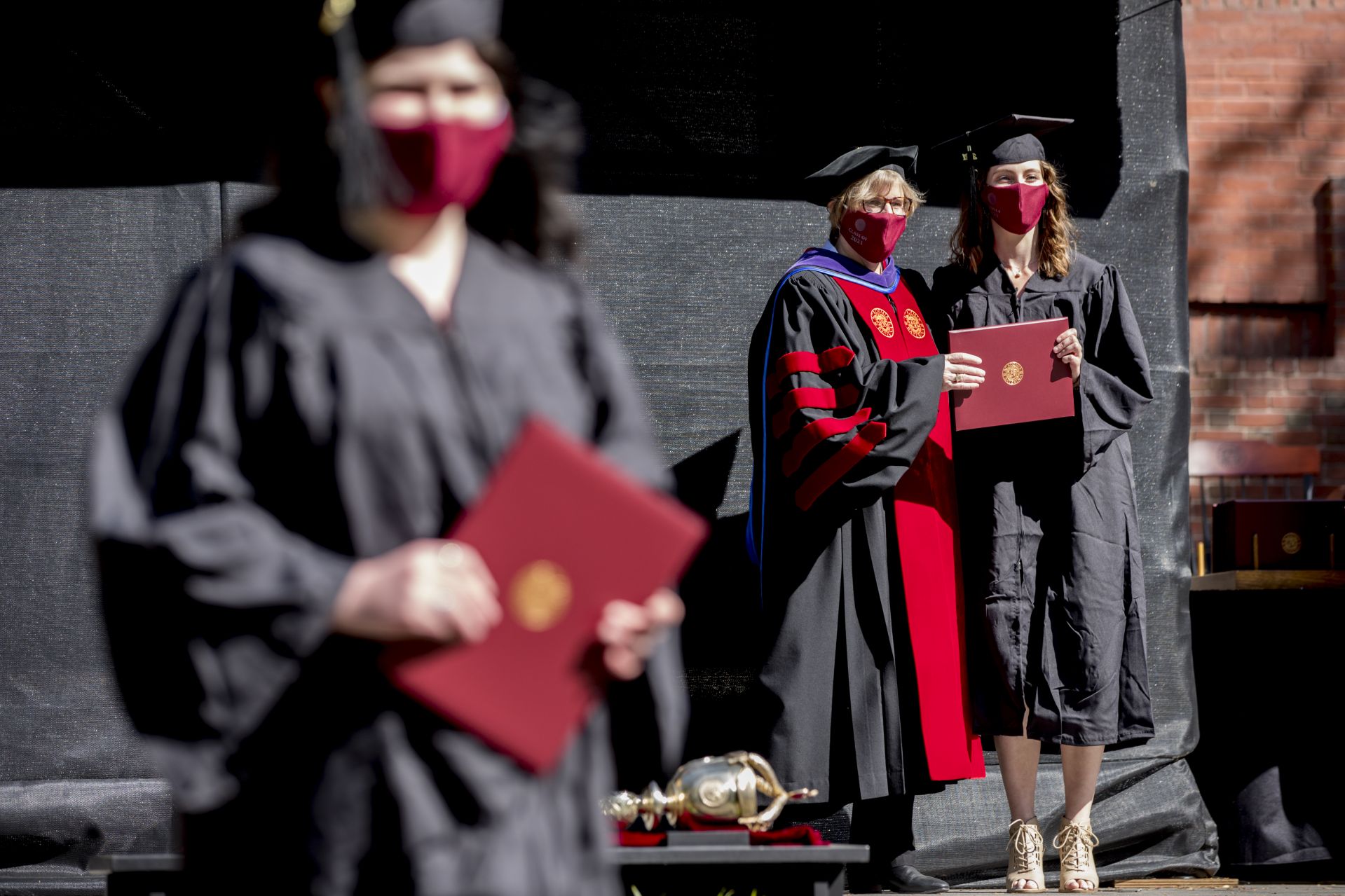 He recorded his remarks from his New York City apartment, noting that while it feels "bizarre to be wearing this regalia and speaking to you from my Queens apartment, it also feels quintessentially right now."
"There are things so fragmented about living in 2021. But there are also things so internally fragmenting about major life transitions and all of the expectations that come with them…. Whatever comes next for each of you, you'll undoubtedly take with you the lesson that struck me most from the past year: We truly never know what's coming."
He said,
When I graduated from college in 2004, two things I knew for sure were that I would never become a lawyer and I would never live in New York City. Yet here I am speaking to you from my home in New York City, where I've lived for more than a decade, practicing law….I keep surprising myself. And that's one of the gifts of being alive, I have found. I find comfort in living in contradiction, accepting that I definitely don't know what's coming, and hoping to meet others and myself with grace, as we all continue to navigate the nonstop project of learning that comes with being human and alive.
In conferring his citation, Spencer said:
Activist and advocate, challenger and champion,
You carry the standard and raise the bar for justice and visibility
Crafting a better future by breaking with an unjust past.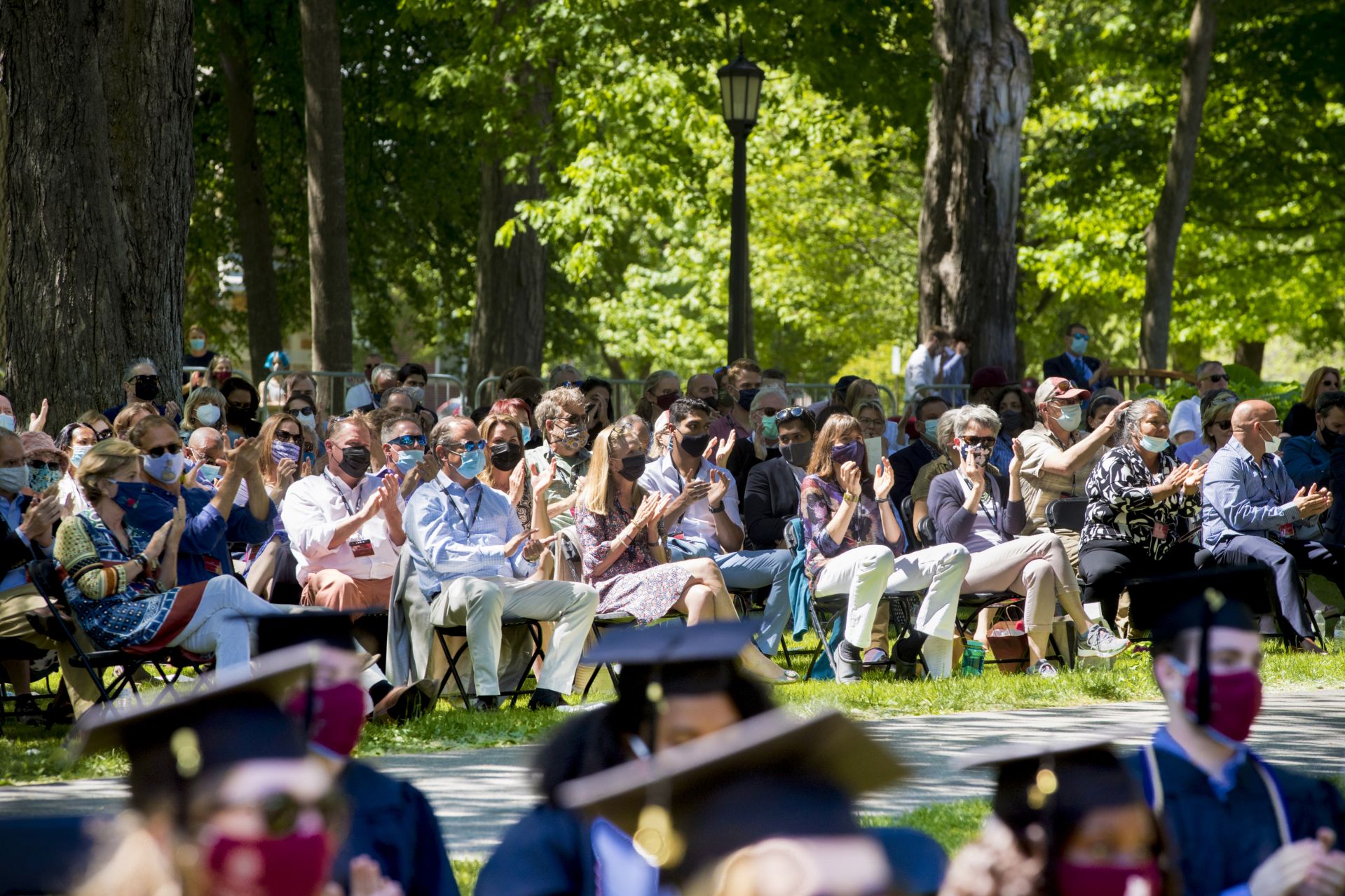 Vanessa German
Vanessa German recorded her remarks from her fire-damaged Art House, the community creativity center in the Homewood neighborhood of Pittsburgh. The building was seriously damaged by a Feb. 14 fire.
"When Art House was on fire, some of my best friends in the city came and they just stood by me," she said. Unfortunately we had to stand and watch the house burn. But I have so much gratitude for them. You're going to need people to stand by you and be in support of you."
Then she did a twirl in her cap and gown, "channeling Megan Thee Stallion," before continuing her remarks about being kind to one's self: "I'm graduating into the triumph of loving my whole self wholly."
German said,
There is so much subtle, generative, creative, powerful information swimming around us all the time. And inside of that powerful, magical information are gems of love and gems of deep endurance that are for us. So as you go forward into the world [think] about how you can fully inhabit your humanity and every day, inhabiting the fullness of the miracle of your humanity with as much wisdom and guts and honesty and heart and body and soul as you can muster.
In conferring German's degree, Spencer said:
You are the power figure, the poem, the purpose —
Focusing our attention and widening our perspective
Ensuring that art is for — and by — and in celebration of — one and all.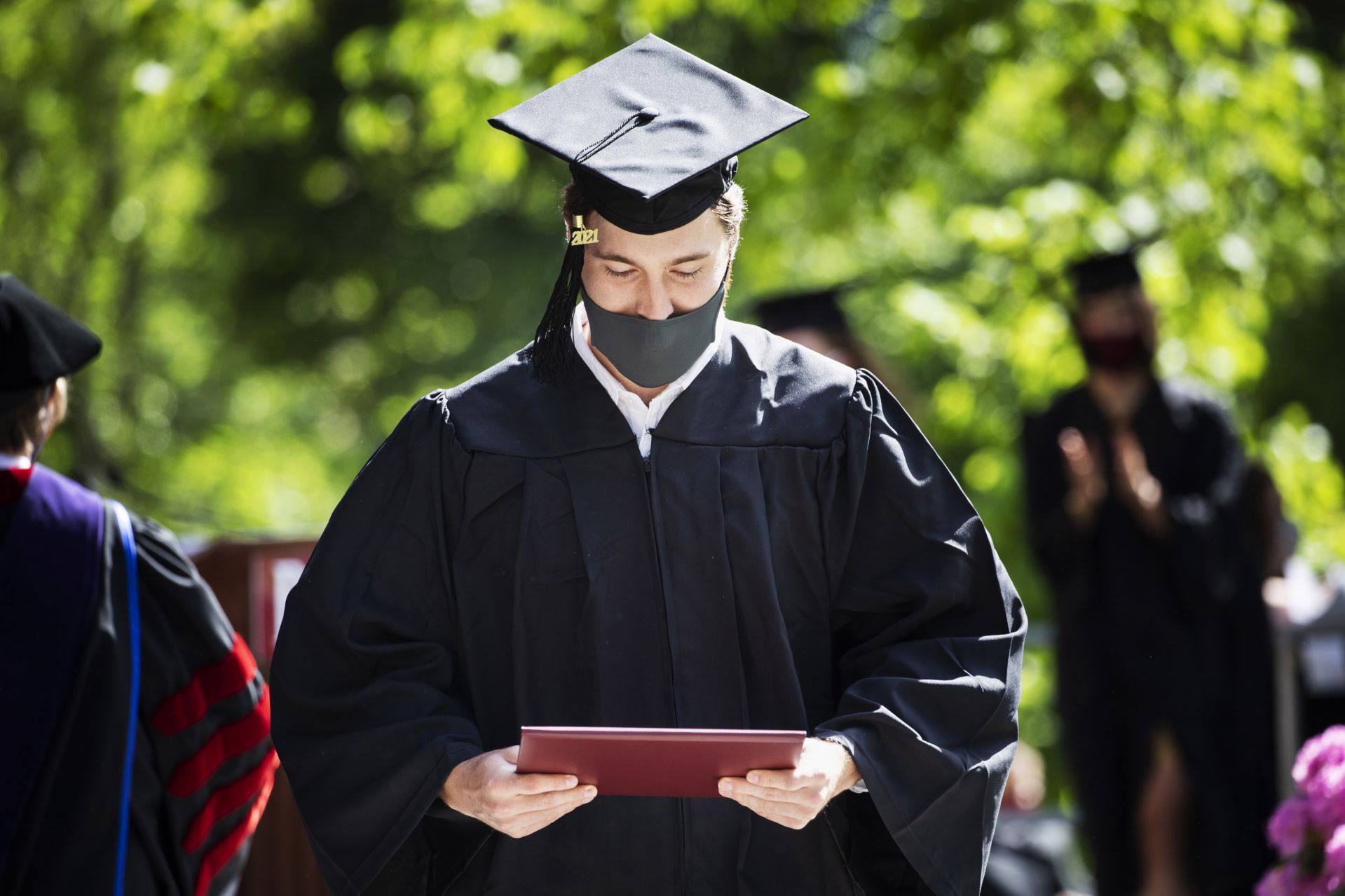 Yvon Chouinard
Patagonia founder Yvon Chouinard, who was born in Lewiston, delivered his recorded remarks in front of a bright white background, an austere presentation that underscored the simplicity of his message, the state of "our home planet. If you find yourself getting depressed about [climate change], then do something."
Chouinard said,
Climate change is trumping all other problems that we have. David Brower, the environmentalist, said that there's no business to be done on a dead planet. There's probably nothing else to be done on a dead planet. I….believe in karma. If you do good work, then good things will happen to you. So I wish all of you graduates the best of luck in doing something about the state of our home planet.
In conferring Chouinard's degree, Spencer said:
From the humble Androscoggin to the mighty Pacific
You have scaled peaks both topographical and commercial
Giving 100 percent of your passion
For people and planet.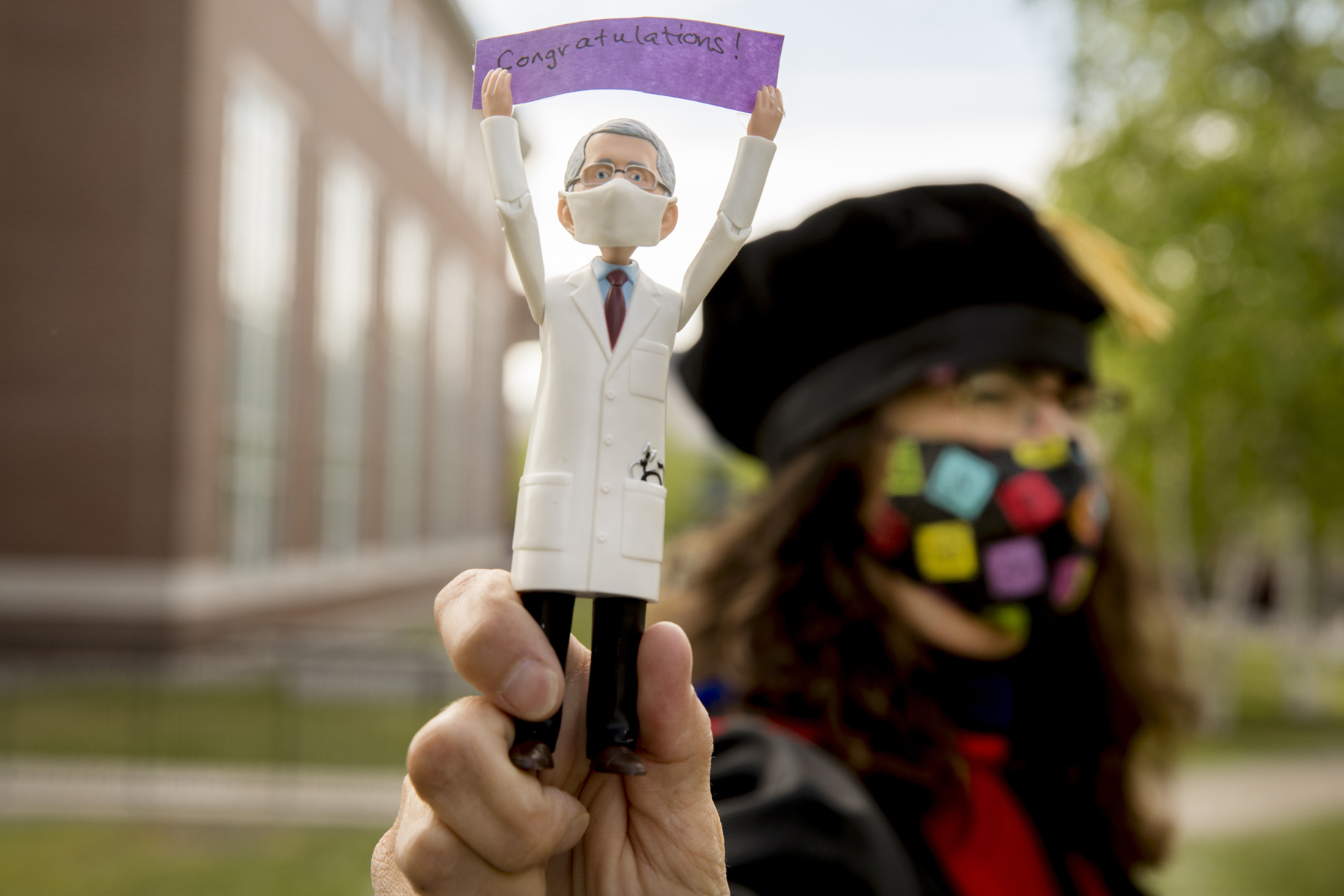 Rhiannon Giddens
Rhiannon Giddens, who recorded her remarks at home in Ireland, is a bluegrass and Americana musician and ethnomusicologist who has peeled back the layers of a historical fraud, the whitewashing of country music's origins.
She said she felt a connection with Bates, noting that Oberlin, her undergraduate college, "is a kind of sister school to Bates with its tradition of activism. This is a really lovely connection for me in a lot of ways."
Giddens said:
As you go out into this uncertain future, I encourage you to find those people who can support you through the challenges, who can give you the ideas and the inspiration and the encouragement to get up off of the floor, who will give you a hand, who don't ask, "Why are you down there?" but who just say, "Come on, I was down there yesterday, let's figure out what we're going to do together. Find those people, find that energy, because what we all need going forward is the idea that we're holding each other up.
In conferring Giddens' degree, Spencer said:
Across years and continents
Between sense of self and the perceptions of the wider world
You find truth in both major and minor keys
Mining meaning from music.
'You can always return'
At the conclusion of each Commencement ceremony, Longsdorf delivered the benediction. None of us who attended both ceremonies minded hearing it twice:
May you feel in your soul all that you have gained and all that you have added to this place. May you sense in your bones the resilience and courage that has nestled inside of you in your time here. May you know in your heart that this is a home you can always return to.
With that, it was a doubleheader Commencement sweep, a hard-earned win for the home team.
View Comments