As the pandemic descended last spring and employment prospects grew bleak for many college graduates, the Bates Center for Purposeful Work opened their paid summer internship program to graduating seniors for the first time.
That's how Ariel Abonizio '20 of Cuiabá, Brazil, found himself in a downtown Museum L-A exhibition space over the summer, working with high-end multimedia gear to create virtual-reality tours of two major exhibitions, one on the history of child labor in Maine, the other about the Androscoggin River.
"I've been working with the museum to help mitigate some of the impact of COVID," he said. "How do you deliver exhibitions through digital media? How can you do that effectively? Those are the kind of questions that I tried to help the museum answer."
Abonizio's story answers a question often heard by liberal arts majors: "What can you do with that major?"
In Abonizio's case, he double-majored in anthropology and art and visual culture, earning honors in the former. "I loved my academic experience," he says. "At the same time, I was acutely aware that I needed to develop skills as an artist, learning how to handle video, audio, stills — all sides of digital technology."
That's where the college's Digital Media Studios came in. "DMS is where I learned professional skills and got the experience I needed," he says. "I learned to be a videographer right there. And I had mentors who helped me figure out what I liked so much about digital media and what I wanted to do with my life professionally." In other words, he discovered his own purposeful work, "which is fundamental."
As a sophomore, Abonizio had an internship with the Bates Museum of Art — "a fantastic resource" — working with the museum's educational programs. "So I also have real-life experience working with museum staff on educational resources." He also had a video internship with the Bates Dance Festival in 2019.
He brought all this to bear on his work to create a virtual-reality tour for Museum L-A. The key piece of technology: a professional Matterport reality-capture camera that photographs 360 degrees of a space — up and down, left and right.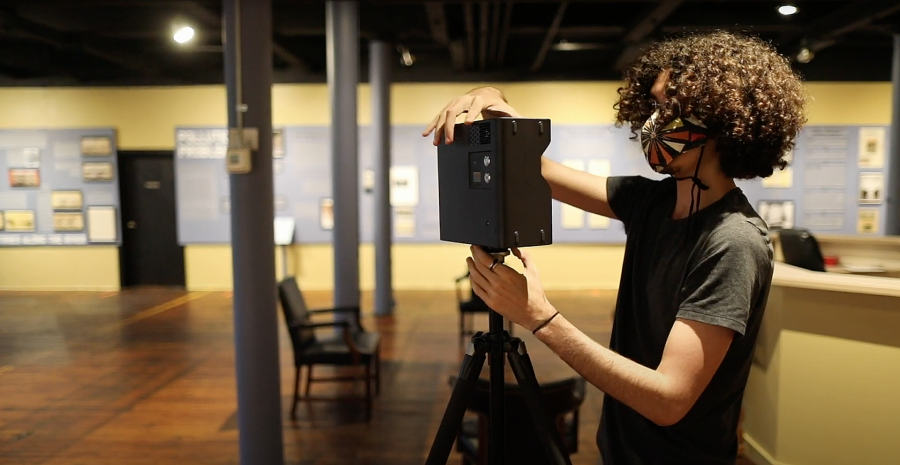 "The camera truly sees in 3D," he explains, by projecting millions of infrared points onto floors, walls, and ceilings, "collecting data that, through artificial intelligence, measures the distance between those points to create a 3D version of a room, if you will."
Abonizio went on to develop additional digital educational materials for the tour, including an interactive timeline and map, and other graphics. "He also helped us figure out ways to promote the tour through social media," says Emma Sieh, curator of Museum L-A, including spending a week taking over the museum's Twitter account. Her word for Abonizio's work? "Stunning."
Last March, COVID-19 forced the museum to shut its doors to the public shortly after the opening of its well-received exhibition about child labor, All Work and No Play. (The museum has since reopened for in-person visits.)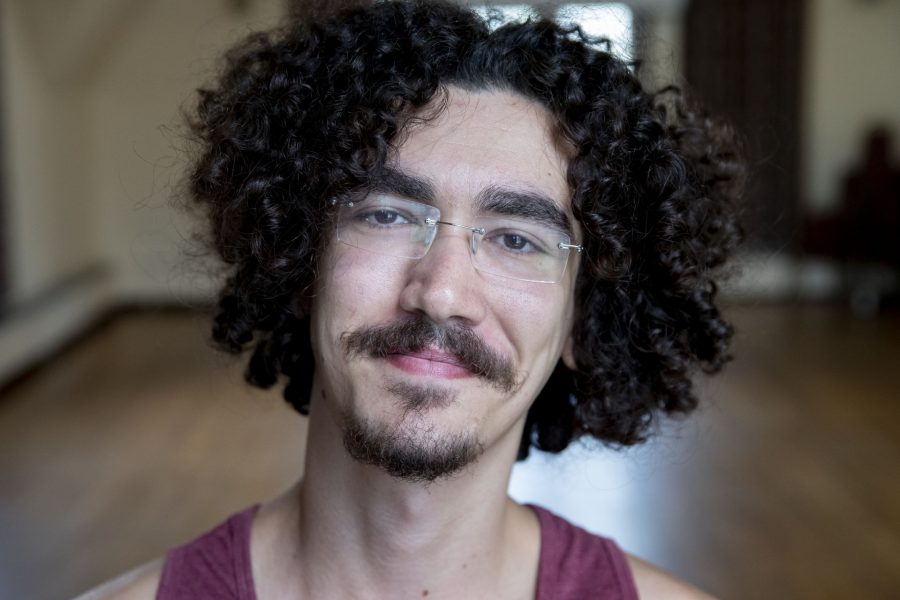 At the time, numerous tours by local schools had to be canceled. "Three hundred students of all ages were deprived of the opportunity to learn more about this difficult era of Maine's industrial history," Sieh says. Abonizio's work helped fill in the gap, creating a "stunning virtual reality experience that will allow us to share this important exhibit with educators who missed their in-person tour," she adds.
The museum's VR tours, including a forthcoming tour of Our Working Waterways, about the Androscoggin River, will be a valuable resource for anyone who can't visit — student, researcher, or general visitor — to "learn about the history of our community for many years to come."
For Abonizio, developing this high-tech tool for Museum L-A is purposeful in more ways than one. "It's great for me to be able to give back a little bit to the community that hosted me for four years."