Each week this fall, we'll be introducing new Bates professors who have tenure-track positions on the faculty.
This year's nine tenure appointments are in the disciplines of art and visual culture, classical and medieval studies, economics, English, environmental studies, dance, politics (two appointments), and psychology.
This week we introduce the third of our nine new faculty members, Nivedhitha Subramanian.
Name: Nivedhitha Subramanian
Title: Assistant Professor of Economics
Degrees from: Duke University, Ph.D. in public policy studies; Northwestern University, M.A. in economics; Massachusetts Institute of Technology, S.B. in economics.
Economics because: Like many U.S. high schools, Subramanian's did not offer economics. "But I really liked math and I really liked social studies," she recalls.
"One of my favorite teachers — with whom I'm still in touch — suggested that I would really like economics because it combines the two. And she was right."
Her work: As a development and labor economist with a focus on gender, Subramanian looks at the economic challenges facing less-developed countries.
Specifically, she uses data to explore how gender, social expectations, and even reputation affect workers' choices in developing countries, particularly Pakistan — questions like, "How do we hire people? What are the constraints that people, particularly women, might face in the labor market?"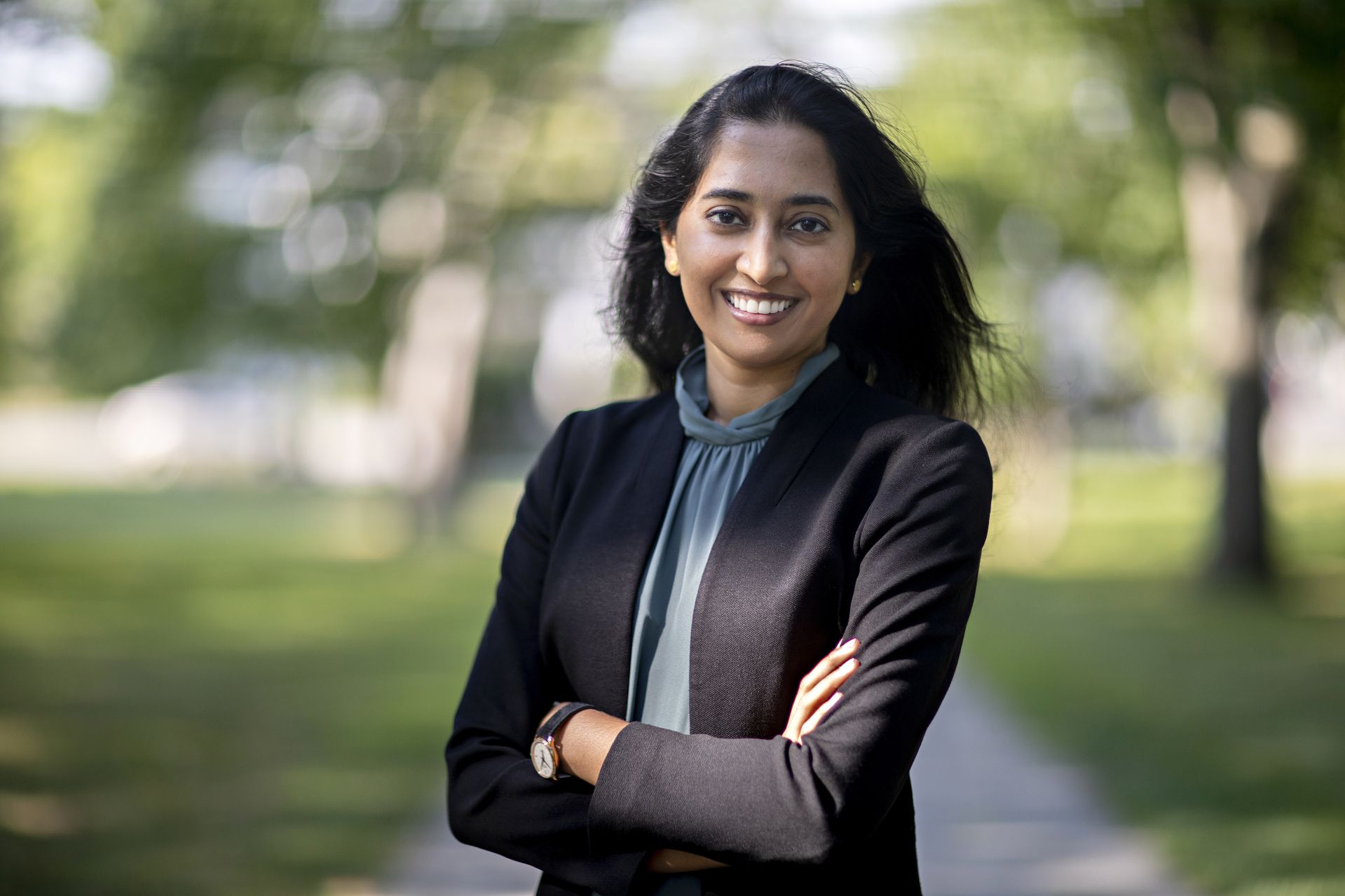 For example: For her dissertation, Subramanian conducted experiments on how gender norms affect women job seekers in Pakistan. To gather data, she used Job Asaan, a Lahore-based platform for female job seekers created by a team of development economists at Duke, including Subramanian.
In the first experiment, some job seekers were given extra, gender-specific information about job postings, such as the gender of the job's supervisor. Boom: Application rates doubled among job seekers armed with that information; in addition, job seekers with that information were more likely to apply to a job with a female supervisor.
"There's this discrepancy between what women want for themselves and what they think that their parents or their families want for them."
In the second experiment, some job seekers were reminded, or "primed," about family expectations, being asked if they had discussed their job search with their family. (The answer was not surprising: "an overwhelming 'yes,' because in a South Asian context, especially for young people, it's something you discuss with your parents," says Subramanian.)
However, being reminded of family affected job seekers' behavior, lowering their applications by 30 percent. "This is consistent with women knowing that their families might not be supportive of their job search," Subramanian says.
At the same time, women who got the family reminder were more likely to apply to jobs when also given information about the gender of coworkers, which suggests that "they believe their families care whether they will be working with men or women," explains Subramanian.
"There's this discrepancy between what women want for themselves and what they think that their parents or their families want for them. And that was really impacting which jobs they apply to."
In terms of policy, Subramanian has suggested some easy-to-implement strategies to increase job application rates, like providing accurate information in a job posting about the gender of a job's supervisor, or, for businesses seeking workers particularly, "simply publicizing the fact that they have female supervisors and/or that they have mostly or all female employees."
Why development economics? Subramanian, who is Indian-American, grew up in the U.S. but traveled to India frequently.
"Just seeing the differences in day-to-day life and the two different contexts sparked a lot of questions for me," she explains. "In college, I took a class on development economics, and I realized that those were exactly the questions that I wanted to answer, using really interesting methods."
Context matters: "Part of the joy of this kind of research is learning about other contexts — about what other communities and societies look like — and then understanding sort of the bigger picture of your work."
"There seems to be a lot of interaction across departments, and I thought that was really exciting."
To that end, "being able to work in a country, living there for longer periods of time, is just incredibly valuable to understanding the context and doing high-quality social science research," Subramanian says. "Granted, in the current state of the world, that's not always possible."
Why Bates? "I am an economist, but I really like talking to other social scientists and learning from broader communities," she says. At Bates, "economics and sociology are literally on the same hallway," sharing a floor in Pettengill Hall with several other academic programs, including Africana and classical and medieval studies.
"There seems to be a lot of interaction across departments, and I thought that was really exciting," she says. During her visits, "I really liked talking to everyone I met, including all the students. They were fantastic, and so I was really excited about getting to interact with these faculty and students going forward.
Why teach? "Teaching is exciting," she says. "There's almost no parallel feeling to seeing something click for a student."
This semester, she's teaching statistics, a rite of passage for econ majors. "Students come in with mixed feelings about how excited they are. Even if they are initially less excited, you can help them see why knowing statistics is useful for interpreting the world around us. That's just really rewarding."
View Comments