The clean-shaven J.J. Cummings '89 doesn't look at all like Uncle Sam. But a message he gave Bates students on Oct. 9 resonated with Sam's words on that famous U.S. Army recruiting poster: "I want you."
In helping to dedicate the new Veterans Plaza, a small campus park designed to inspire thoughtful appreciation for the contributions and sacrifices of Bates military veterans, Cummings asked today's students to consider joining the armed forces.
And if any Bates alum has the standing to make such a request, it's Cummings: The 34-year veteran of the U.S. Navy is commanding officer of the world's largest aircraft carrier, the USS Gerald R. Ford.
"Our nation needs liberal arts–educated officers in the ranks," Cummings said. "Without a doubt, Bates College made me the leader that I am today.…It is clear to me that my worldview and leadership style are different from what I see from my peers.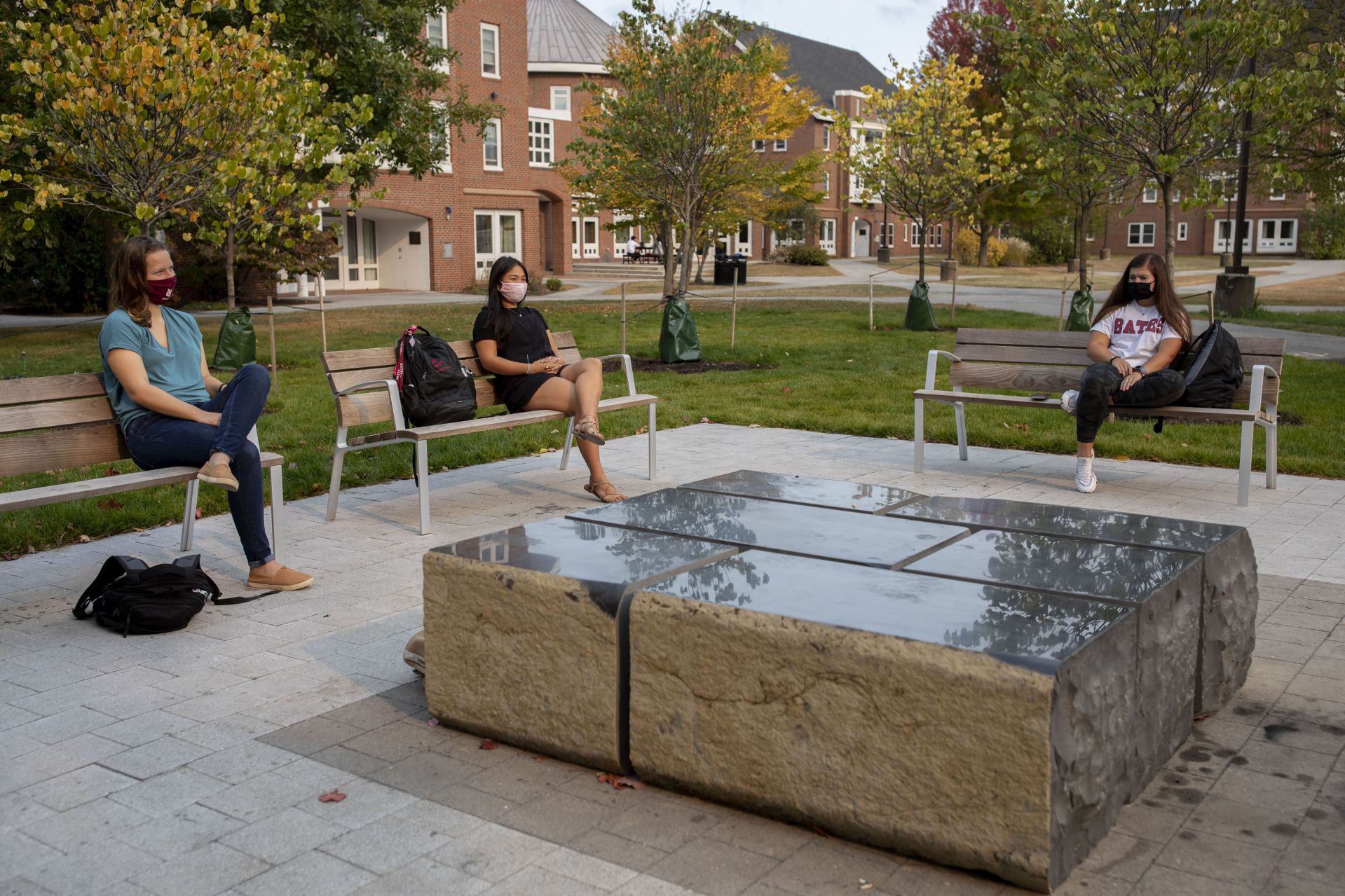 "I attribute this to my Bates experience, which showed me the value of reading from a variety of sources, critical thinking, intellectual curiosity, strong intelligible writing skills, humility, and integrity."
Cummings was the keynote speaker for the virtual dedication of the plaza, culminating a project that began in early 2018. The midday livestream also featured college President Clayton Spencer, U.S. Rep. Jared Golden '11, professor Jane Costlow, Janell Sato '22, Multifaith Chaplain Brittany Longsdorf, and retired Facility Services staff member Danny Sands, a member of the committee that developed the project.
A video montage combining aerial and ground-level shots gave viewers a visual introduction to the plaza, which was created during the summer on a site near the Residential Village, about 250 feet northwest of Garcelon Field's north goalposts.
The plaza's design is by Michael Boucher Landscape Architecture, which previously handled the Ladd Library Plaza project, among others. The contractor was Carrier Landscape.
---
Complete video of the dedication of the Veterans Plaza on Oct. 9, 2020.
As Spencer explained in her welcoming remarks, the Veterans Plaza is intended to "honor military service as a form of public service, but not militarism or nationalism per se." It's meant to recognize the contributions and sacrifices of all Bates veterans, rather than any one individual.
And its location and design — including benches, a central stone focal object, and a screen of trees — should foster tranquillity. The plaza "should inspire contemplation and welcome the varied interpretations that individuals may bring to the subject of war and military service."
Spencer continued, "Henceforth, Veterans Plaza will be part and parcel of our mission to educate and transform lives." She quoted Pericles: "What you leave behind is not what is engraved in stone monuments, but what is woven into the lives of others."
She said, "Veterans Plaza is sign, symbol, and celebration of the service and sacrifice of those who have preceded us, in this space dedicated on this day for the current generation and the many generations that will follow."
---
A visual introduction to the Veterans Plaza, including aerial video. (Theophil Syslo/Bates College)
Clark A. Griffith Professor of Environmental Studies as well as a scholar of Russian literature, Costlow discussed the plaza's relevance to the college's educational mission. While making clear that her own understanding of war has come from family members' service and Eastern European literature, she said that nevertheless "all of those stories give me a sense of the reality of war and the consequences for humans, both soldiers and civilians, whose lives are swept up in military conflict."
The reality and consequences of war, Costlow said, have been mirrored in the writings of Leo Tolstoy, who fought in the Crimean War; Vasily Grossman, a Soviet-Jewish reporter whose writings about Treblinka were among the earliest journalistic accounts of a Nazi death camp; memoirs of women who survived the siege of Leningrad; "and the stories of my own dear friends who were evacuated from Ukraine as German forces were pushing East."
She continued, "Teachers at a place like Bates ask our students to grapple with the great complexities of life, complexities born of politics and history, but also of human psychology itself. I treasure the fact that young men and women I taught have joined the military and have taken some of their Bates conversations and readings into lives that have no doubt demanded great wisdom and complicated decisions."
"My hope as a teacher is that with time, this memorial that we dedicate today will become a place for Bates undergraduates to hear and reflect on many stories…but where they also might hear the voices of alums and peers as they share their own memories and reflections on their experiences of service and combat."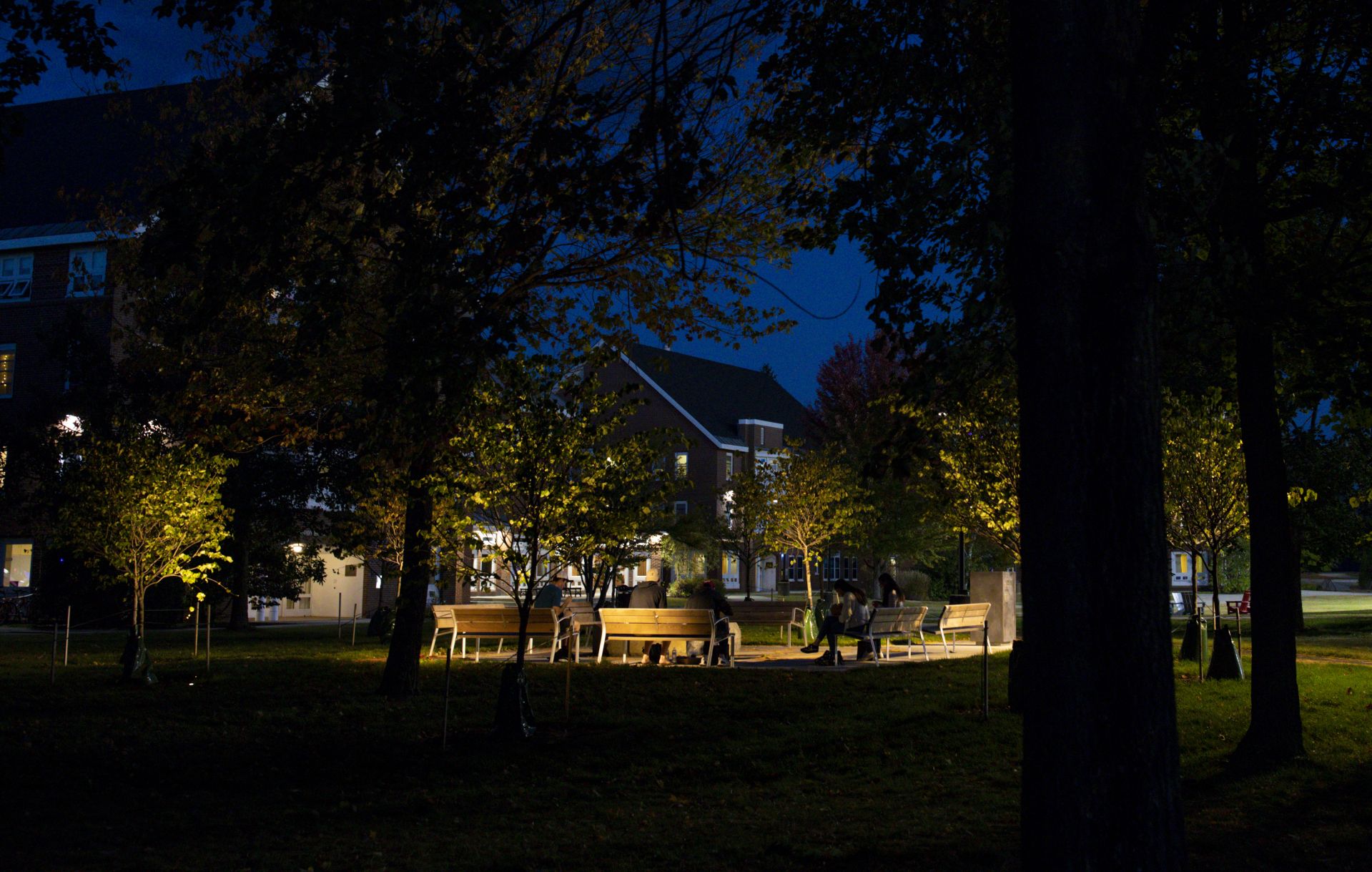 Capt. Cummings established the most encompassing context for the dedication. This only makes sense considering both his Bates background and his decades as a U.S. Navy officer, a career that also included flying combat missions over Afghanistan in 2001 and 2002.
In his wry and lively seven minutes, livestreamed from the flight deck of the Ford, Cummings noted that while it's nice to thank members of the armed forces for their service, the sacrifices made by their families justify as much, if not more, gratitude.
He pointed out Bates' longstanding support for the armed forces, such as hosting a Navy V-12 officer training program during World War II; and for veterans, citing the "Sampsonville" housing for WWII vets attending Bates, and for their families, that the college established not far from the Veterans Plaza.
The plaza "is yet another example of how Bates College has moved beyond words and taken action to honor veterans," Cummings said. "Sites like this are not generally found at NESCAC schools."
And he expressed the hope that today's Bates students would take a minute to absorb the import of the plaza. "I hope they understand that every service member volunteers to raise their right hand to recite an oath to support and defend — not one man, a king, a queen or a tyrant or political party — but the Constitution of the United States."
Jared Golden '11, who represents Maine's 2nd District in Congress, offered brief remarks. A Marine Corps combat veteran of Afghanistan and Iraq, he envisioned the plaza as a place where he, personally, might think about Bates people who died while serving.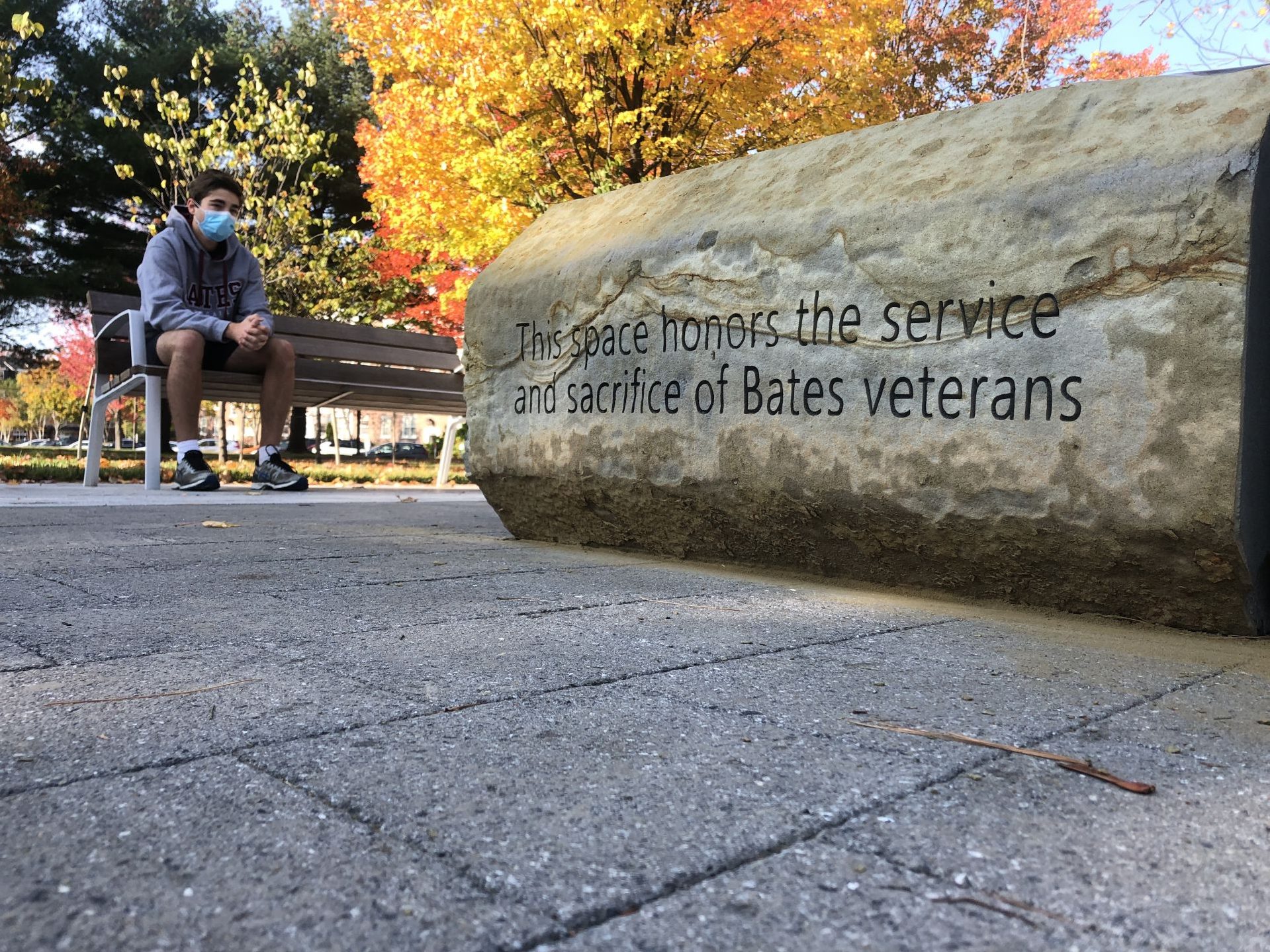 "Where might they be today? What potential has been lost? What great things would they be doing if they hadn't made the sacrifice? — a worthy sacrifice for our country, but we should still take stock of the loss for the entire country and of course, particularly for their families."
Danny Sands, too, is a combat veteran, having served with the U.S. Army in Vietnam. His connection to Bates is professional: Last year he retired from Facility Services after 32 years, ending his Bates career as manager of carpentry, painting, and masonry.
As a member of the Veterans Recognition Project Committee, Sands was most impressed by the committee's unified commitment to make the project work, despite disparate viewpoints and life experiences among members.
"As the committee meetings went on," he explained, "it was clear that there was a great deal of work ahead. Yet everyone took this seriously, [even with] the wide range of backgrounds within the group, which made the meetings interesting, to say the least. My thoughts were that this amount of work seemed less important than the objective that we were trying to reach."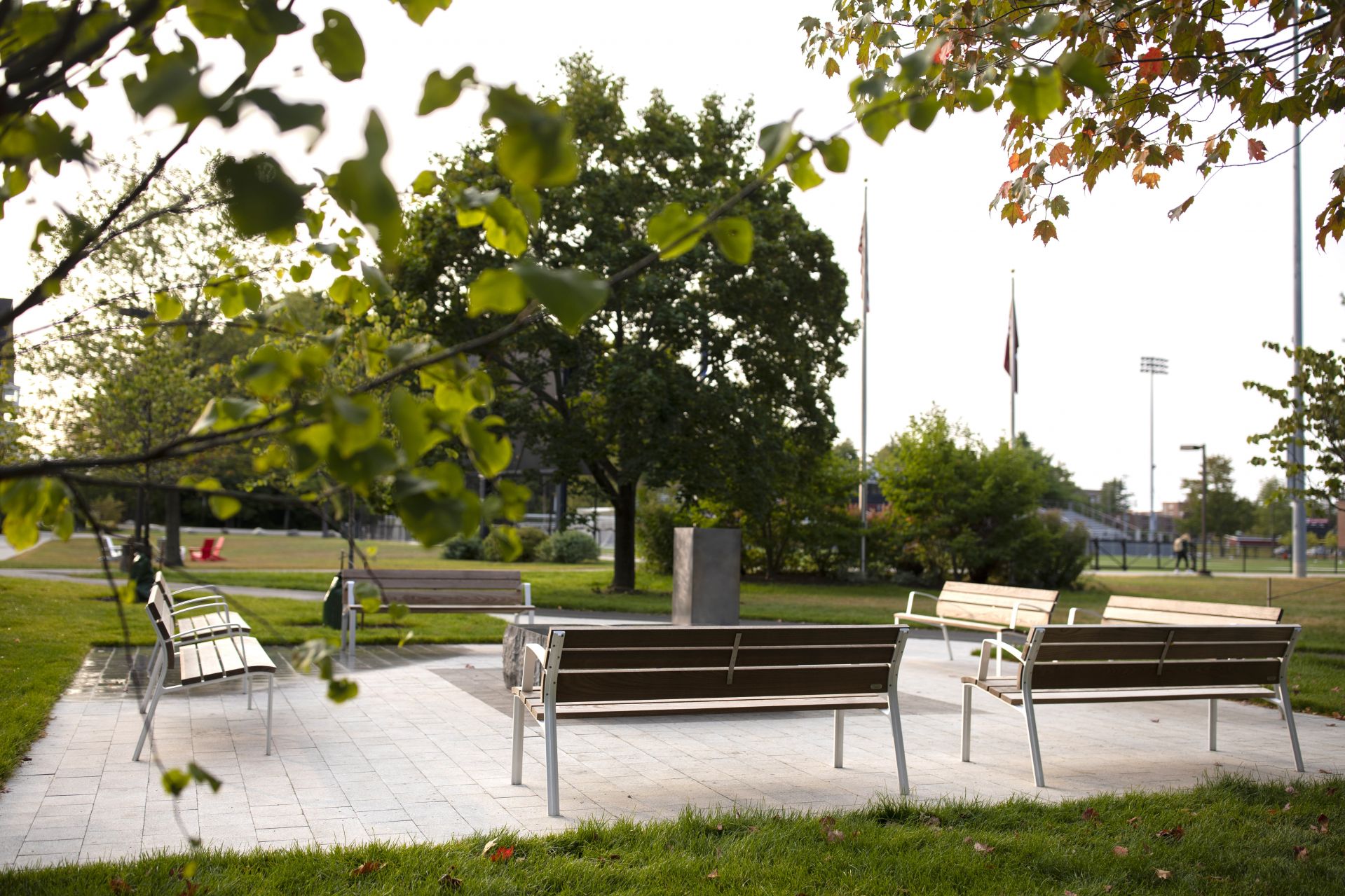 Representing Bates students was Janell Sato '22 of Honolulu, scion of a family with meaningful military connections. Her great-grandfather served in a highly decorated U.S. Army regiment during World War II. Her father is a lieutenant colonel in the Hawaii National Guard, and her older brother is on active duty in the Marines. (Her younger brother, Jarrin, is a Bates first-year.)
"May those whose bodies still carry the terror and wounds of war find healing here. May those whose minds still feel haunted by violence and hardship find calm here."
The plaza "is a perfect environment to honor and acknowledge the inspiring work that has been done," Sato said. "When you sit on the benches and hear the rustling leaves and feel the slight breeze blowing softly on your skin, you are able to take a moment in, and honor all those who have served."
"I personally love taking breaks from my studies by going out to the Veterans Plaza and just enjoying the peace and quiet this environment provides."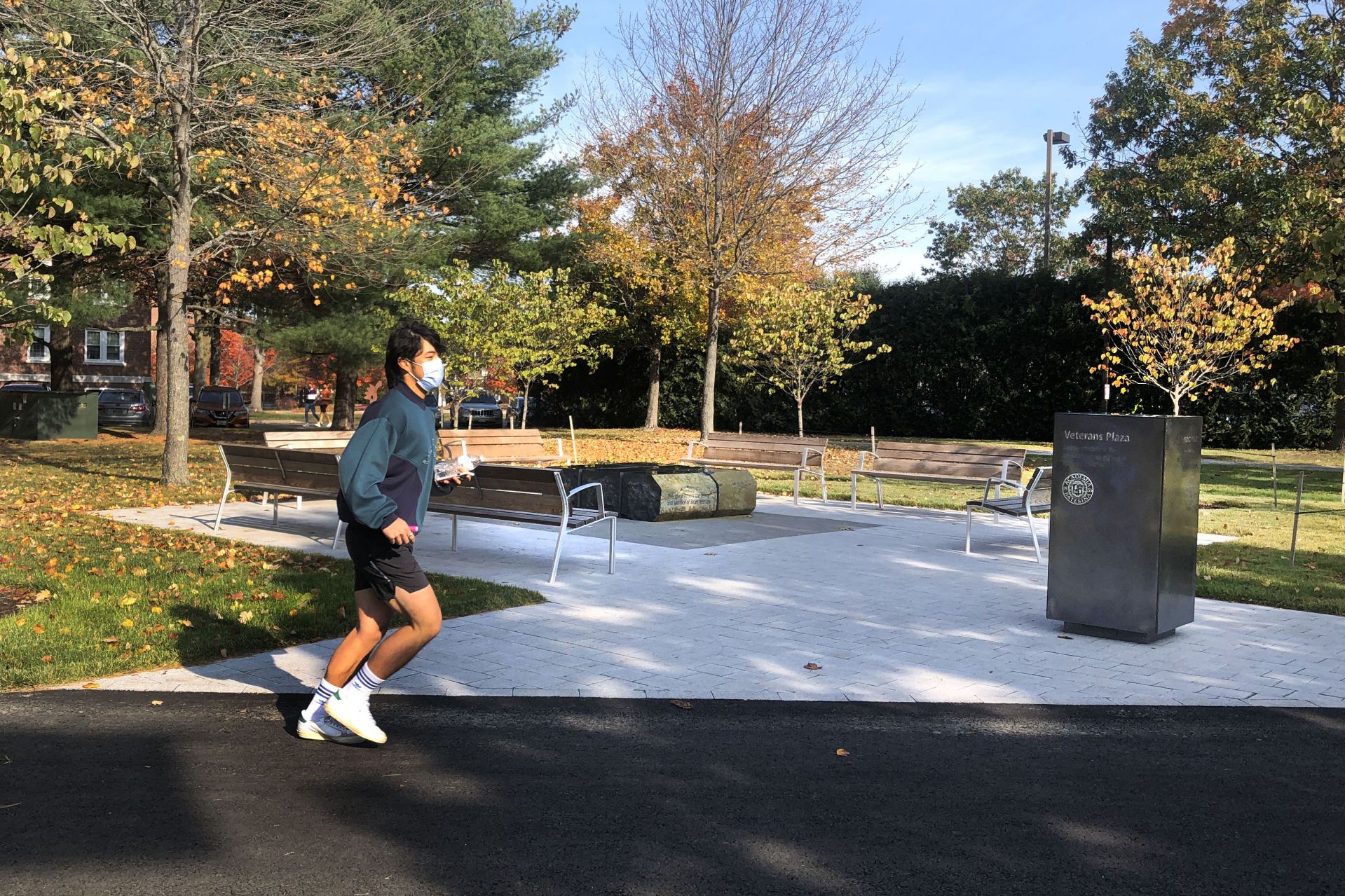 Longsdorf offered a benediction to conclude the ceremony. She said, "May those whose bodies still carry the terror and wounds of war find healing here. May those whose minds still feel haunted by violence and hardship find calm here. May those whose hearts still ache with grief, loss, and woe for a beloved lost in warfare find remembrance here.
"May those whose souls have felt heavy with the burden of duty and service find peace here. May this space invoke in all of us an awe for freedom, liberation, and justice, and inspire us to honor all those who have served and strived to amplify these ideals."