The air was cold and crisp as a group of Bates students, staff, faculty, and community members gathered at Veterans Plaza to commemorate Veterans Day.
The Rev. Brittany Longsdorf, the college's multifaith chaplain, welcomed the gathering. "Our very ability to live in a progressive and loving educational community like Bates is indebted to our family and friends who have served our country and other countries in this and in many ways," she said.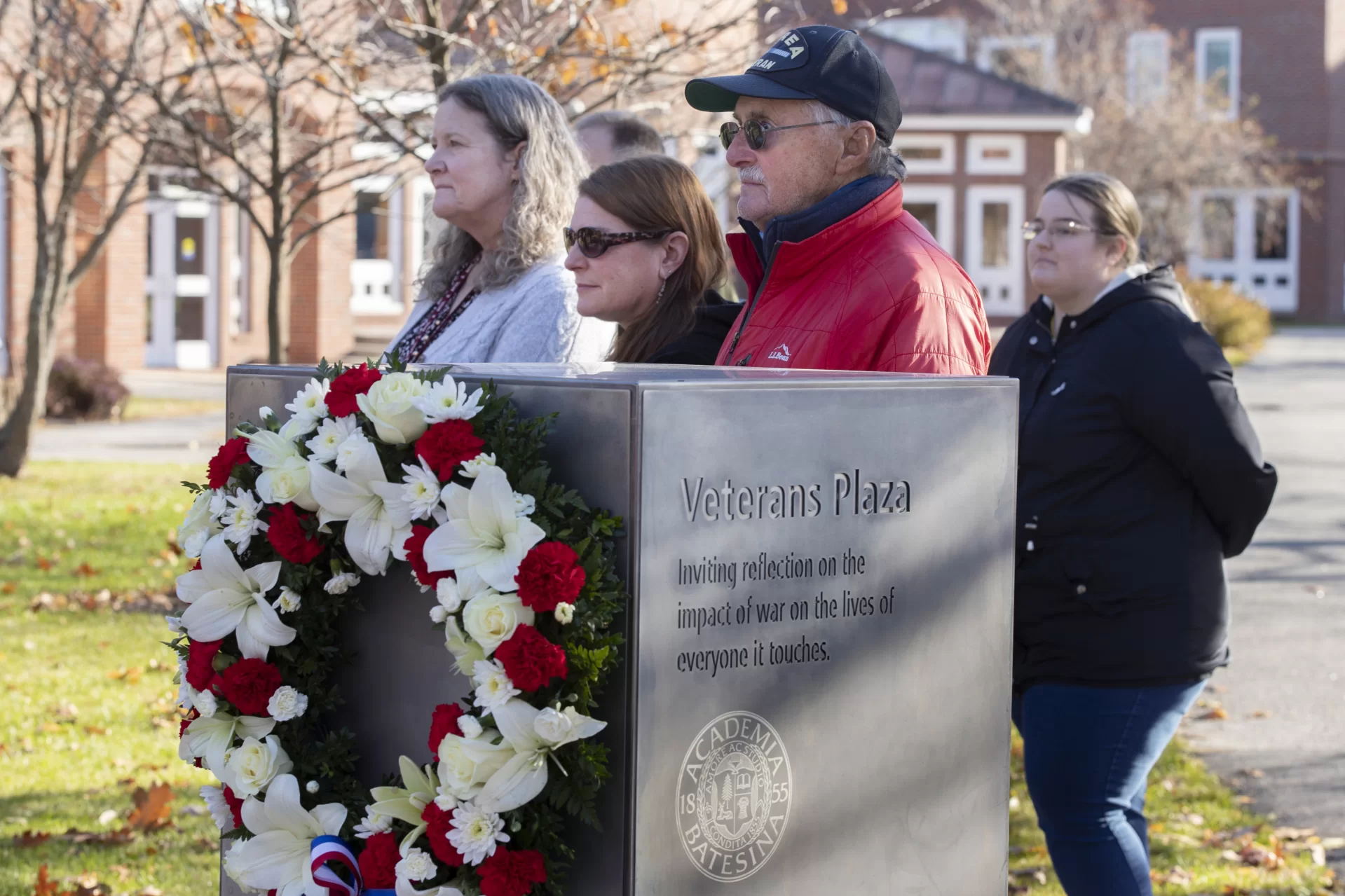 She spoke of the need to both honor and see veterans. "Our culture acknowledges veterans less and less, and members of our community feel unseen. This is why today is so important."
During the gathering, Longsdorf read aloud an interfaith prayer that she composed. Chaplaincy program coordinator Samantha McCune read the poem "For Absence" by John O'Donohue, and Frances White '23 of New York City read the anonymous poem "For Peace." Associate Multifaith Chaplain Raymond Clothier offered the benediction.
Julie Jeserum '22 of Weston, Mass., performed taps on the trumpet. The last time she had heard taps played was at the funeral of her grandfather, a World War II veteran. It was an honor, she said, "to be able to play such a symbolic song for a day of remembrance."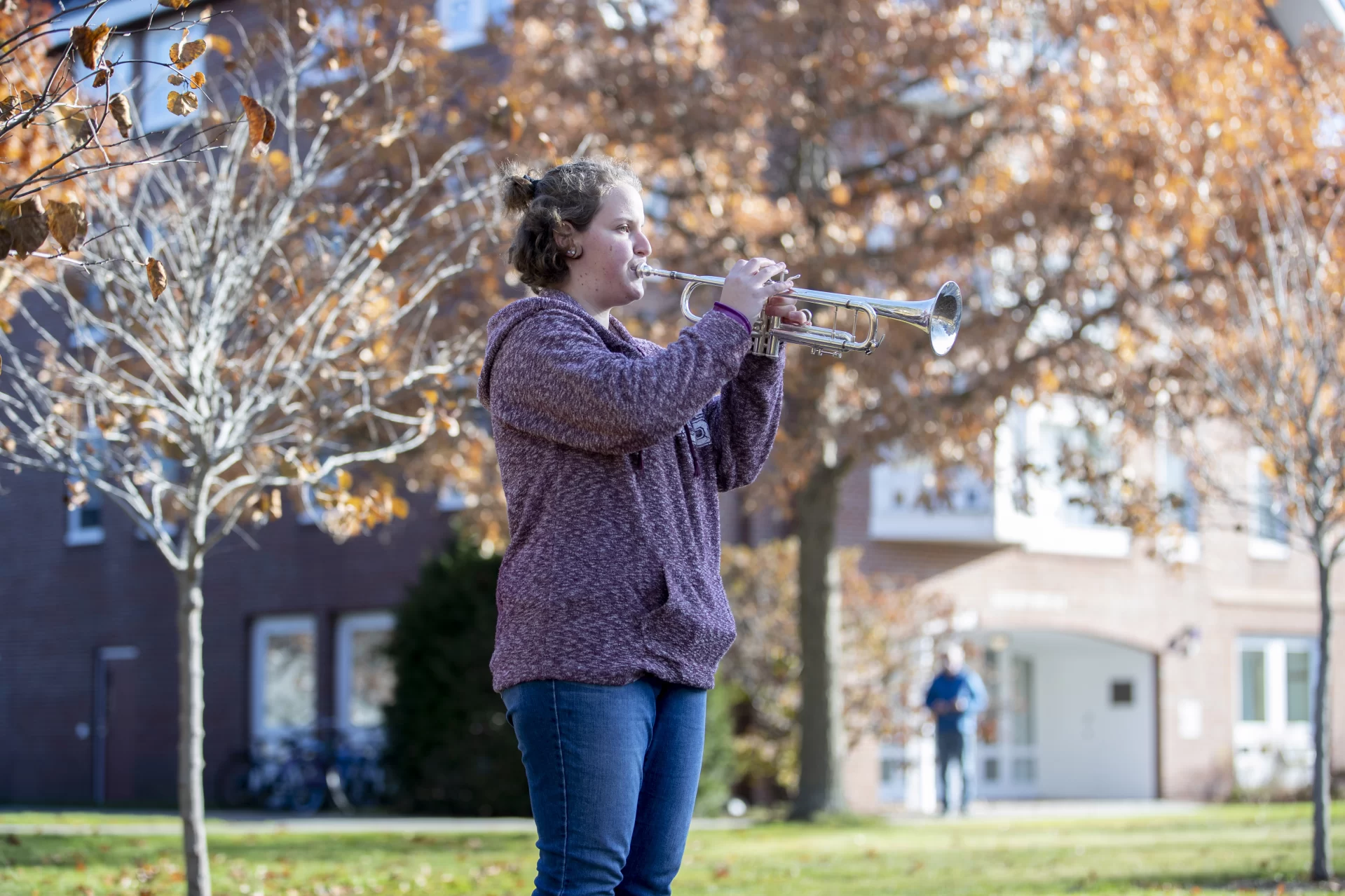 A basket of rocks sat on one of the six basalt blocks that comprise the plaza centerpiece. Longsdorf invited everyone to take a rock, hold it for a moment, and then place it on the blocks.
Over the course of the day, 52 stones were placed, Longsdorf said later. "That means 52 people observed a moment for Veterans Day," in the spirit of the plaza, a space that, in the words of an inscription on the basalt centerpiece, "honors the service and sacrifice of Bates veterans."
"I think the memorial allows us to craft a ritual that people can interact with throughout the day, which has been really lovely."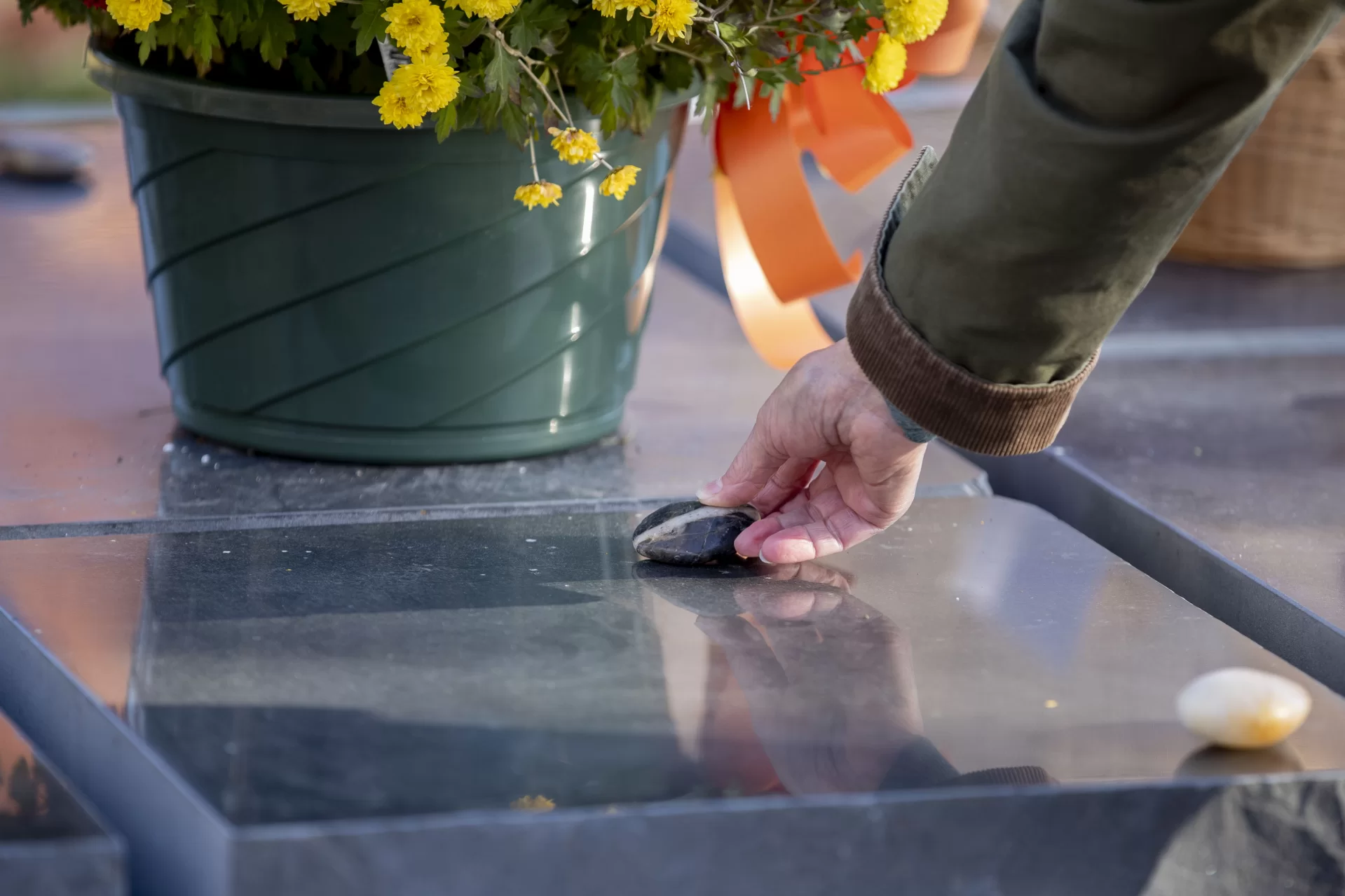 The plaza, dedicated in 2020, is located near the Benjamin E. Mays Center and is ringed by seven benches. At the entrance to the patio is a stainless-steel marker with an inscription, "inviting reflection on the impact of war on the lives of everyone it touches."
Longsdorf wanted the ceremony to make veterans and their families feel welcome, and also seen.
"Many find that they feel deeply forgotten and that's painful for them. We really want to name that, and really ask people to see them and acknowledge them with gratitude and remembrance — whether they're living or passed — and to acknowledge the ways veterans have impacted all of us in our daily lives and here at Bates."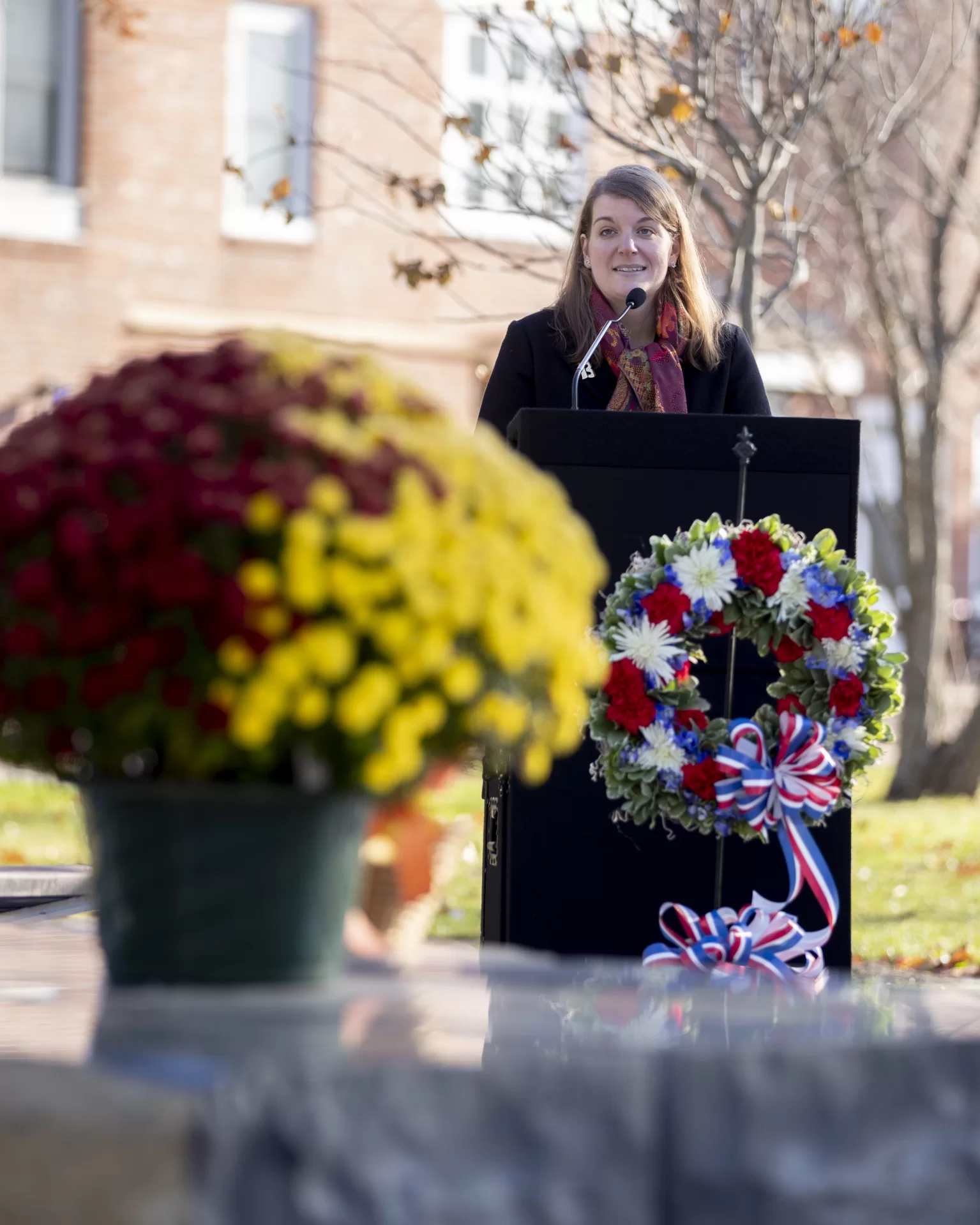 Longsdorf is an ordained minister of the Community of Christ church, a progressive peace church. She knows people have complex, painful and often differing feelings around Veterans Day and war. But she points to the wider paths service can take.
"I think those who do enlist give up so much, and it isn't always war that they're going to. There's the National Guard, and the Coast Guard, and they're the ones staffing our vaccine centers across the country right now," Longsdorf said. "So much of service is outside the realm of war."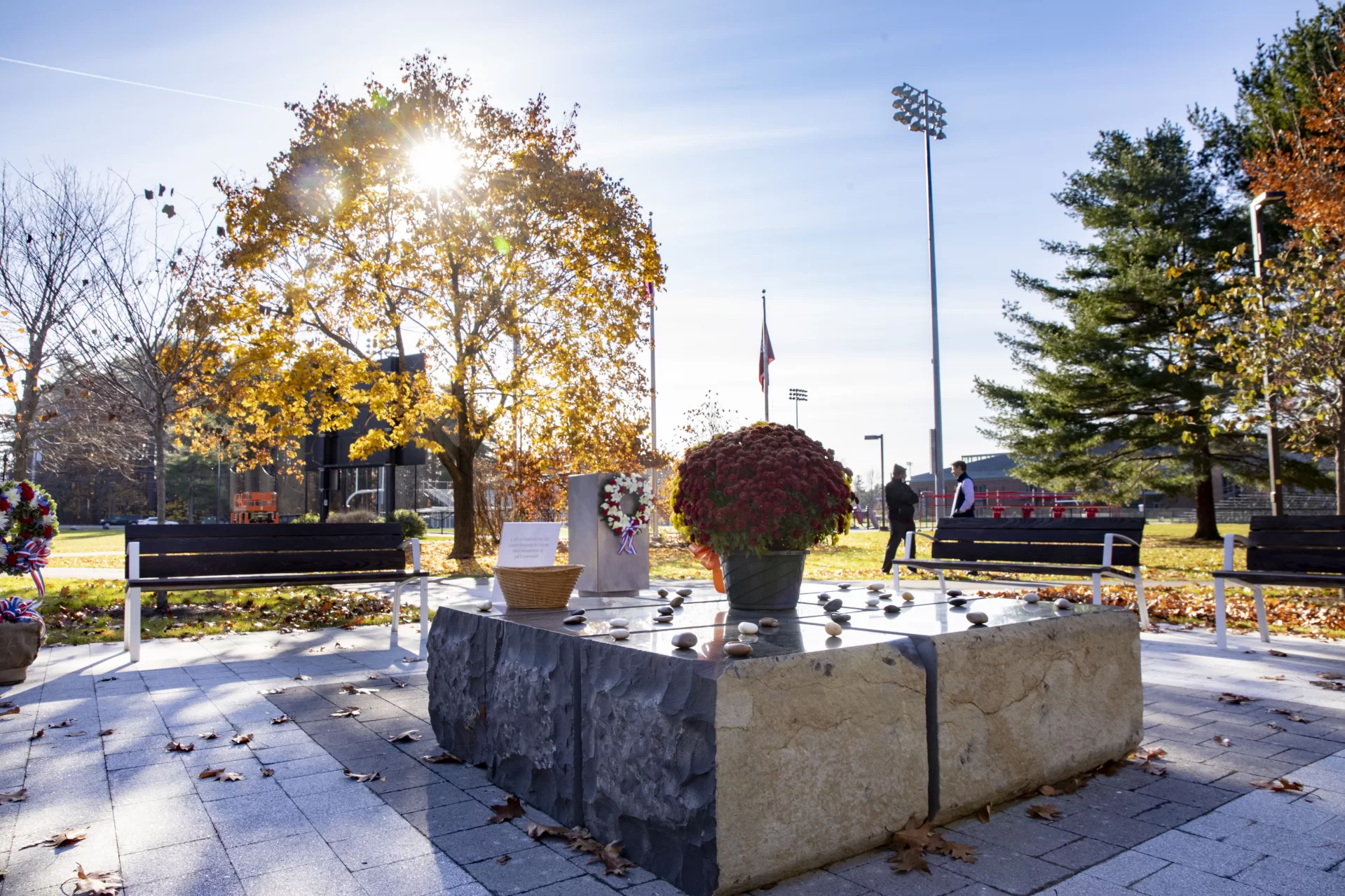 And those veterans who have served in combat, "so many of their intentions and the reasons they chose that life were to protect their family and loved ones in the way they knew how."
Longsdorf hopes that the plaza continues to become a place where "every person at Bates can feel like they can be their whole selves," and where each Veterans Day affords "another way to allow people with complex pasts to bring their whole selves to this place."
View Comments