Bates has announced five faculty promotions, including tenure awards, effective for the 2020–21 academic year.
Promoted from assistant to associate professor with tenure are Brett Huggett of the Department of Biology and Geneviève Robert of the Department of Earth and Climate Sciences.
Promoted from associate to full professor are Meredith Greer of the Department of Mathematics, Therí Pickens of the Department of English, and Sonja Pieck of the Program in Environmental Studies.
The promotions were recommended by the faculty's Committee on Personnel and approved by the Bates College Board of Trustees.
"The words shared by each of these five superb scholars tell a collectively compelling story — of full and intense engagement with the world, with their students, and with the life of the mind, all underscored by great devotion to our college community," says Malcolm Hill, vice president for academic affairs and dean of the faculty. "The cycle of their creativity — teaching energized by scholarship, and scholarship energized by teaching — is displayed in their myriad contributions to Bates College."
Meet the five newly promoted faculty members, and learn a bit about what being a Bates professor means to them.
Associate Professor of Biology Brett Huggett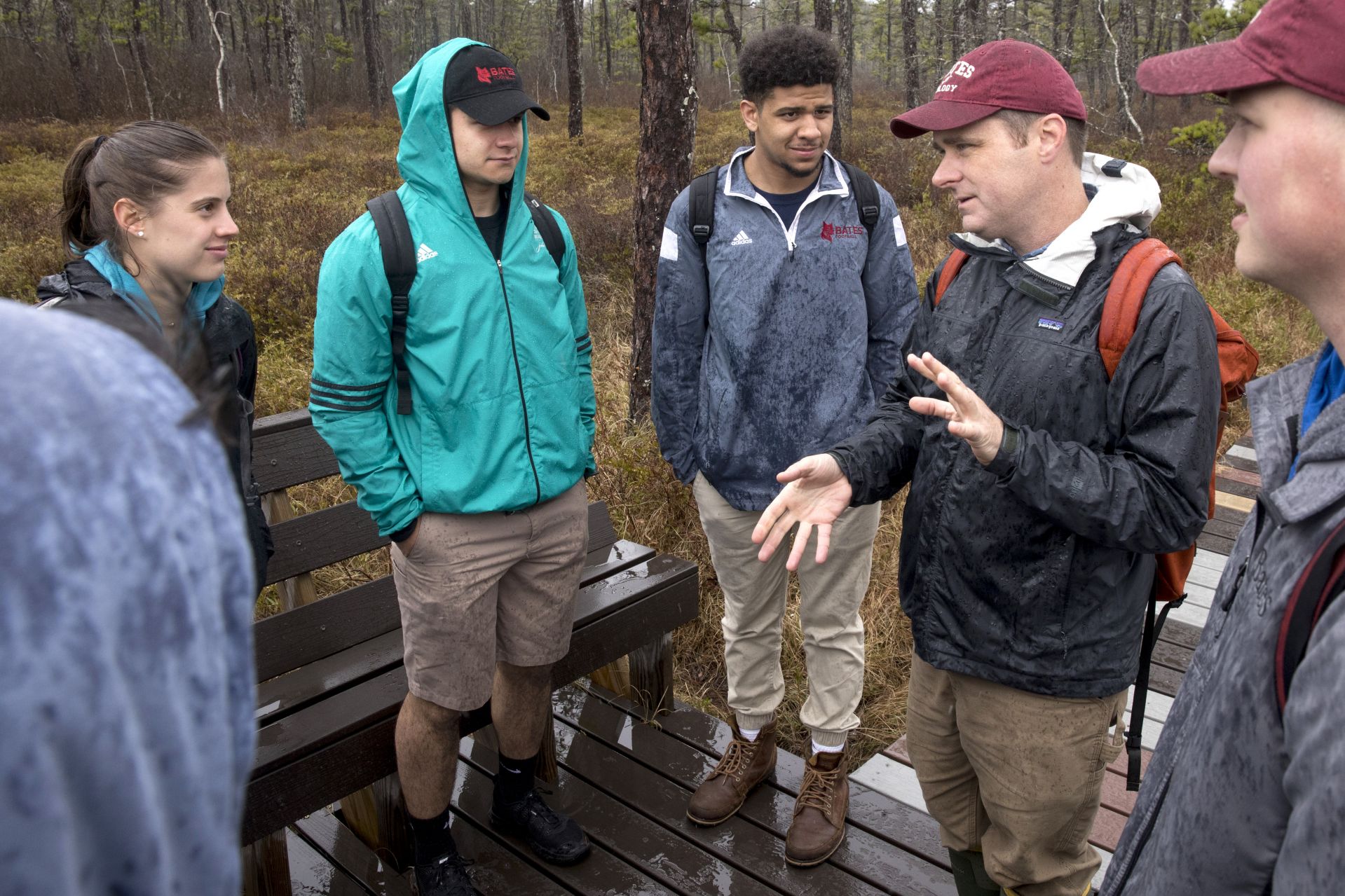 Appointment year: 2014
Doctoral institution: Harvard University
Fields of research: Physiological and morphological adaptations and/or responses among tree species to stress, plant physiology, plant water relations, carbon allocation, xylem structure and function.
What it means to me to be a Bates professor:
From my early years as a jazz musician, to a naturalist for Massachusetts Audubon Society, and now as a Bates professor, I have always found immense joy in teaching and inspiring curiosity in others.
In the community of faculty, staff, and students at Bates, I have found an incredible place to incorporate my passion for plant biology into teaching and research. Working closely with the talented students at Bates — in the classroom, lab, and field — I am continually inspired to innovate my teaching and to pursue new questions in biology. The natural surroundings of Bates have allowed me to center many of my courses in field-based learning. When not in the classroom or lab, you will find me out and about in the beautiful woods of Maine.
---
Associate Professor of Earth and Climate Sciences Geneviève Robert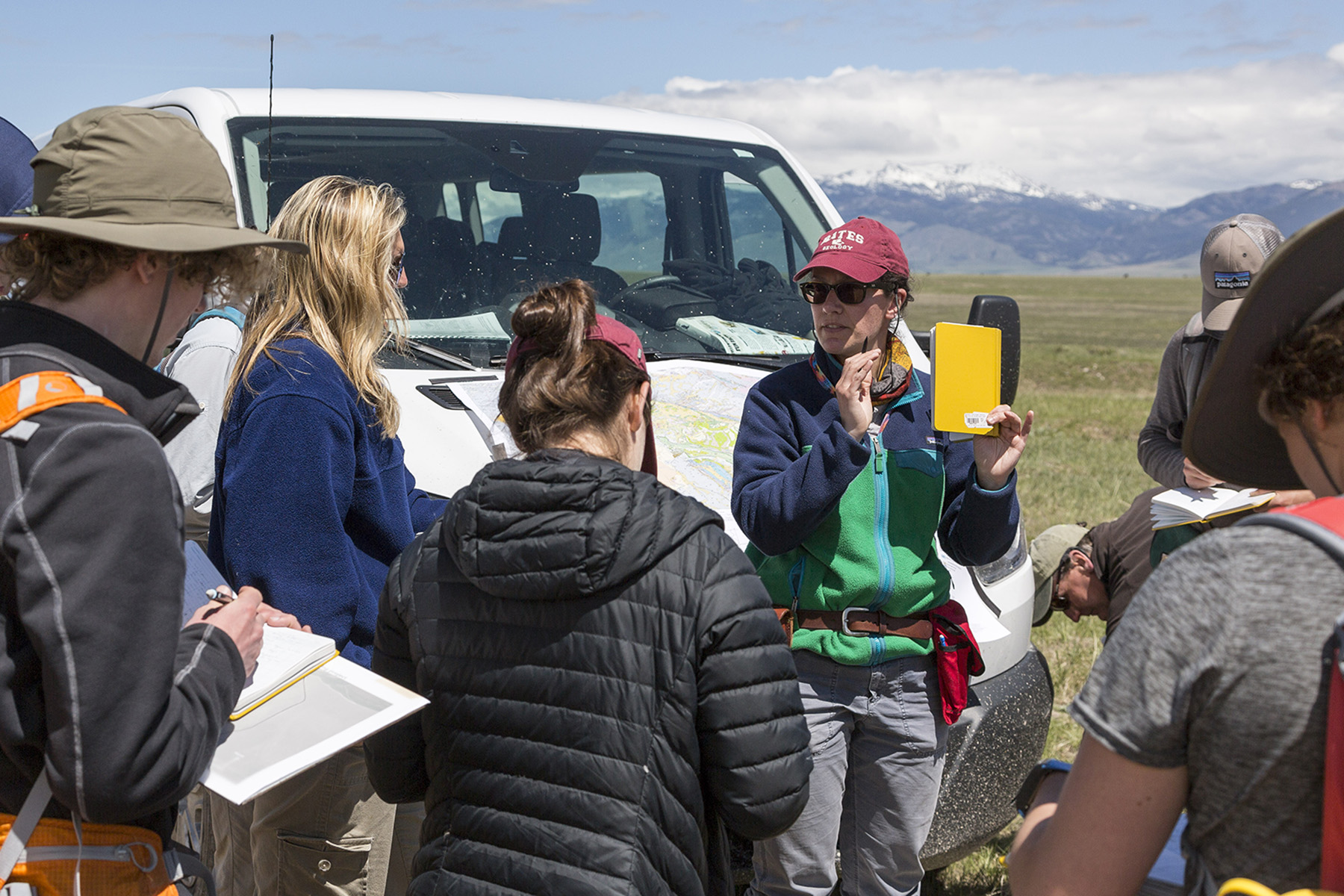 Appointment year: 2014
Doctoral institution: University of Missouri
Fields of research: Rheology, viscosity, silicate melts, experimental petrology, volcanology.
What it means to me be a Bates professor:
It's about empowering students to view themselves as scientists. It's about learning from my colleagues. And it's about working towards a common goal.
I love that students come to class with an open mind, ready for a challenge. Working with Bates students in the classroom and the lab has made me a better teacher and mentor, and I am constantly challenged, surprised, and impressed by them. Bates students have helped me build my experimental petrology research program every step of the way. Together, we've assembled and calibrated specialized instruments. We've synthesized lava at 3000 degrees Fahrenheit. We've measured how fast lava can flow and have co-authored papers. I could not do what I do without Bates students, and I feel lucky to be a part of their journey.
I'm lucky to work alongside and learn from brilliant colleagues —in my own academic unit, through research collaborations, and in every single committee I've been a member of. There is such a strong culture of support, of sharing resources and expertise, and of community at Bates. And what I've learned from day one is that staff make this place possible for all of us. I'm grateful everyday for their expertise, help, and support.
---
Professor of Mathematics Meredith Greer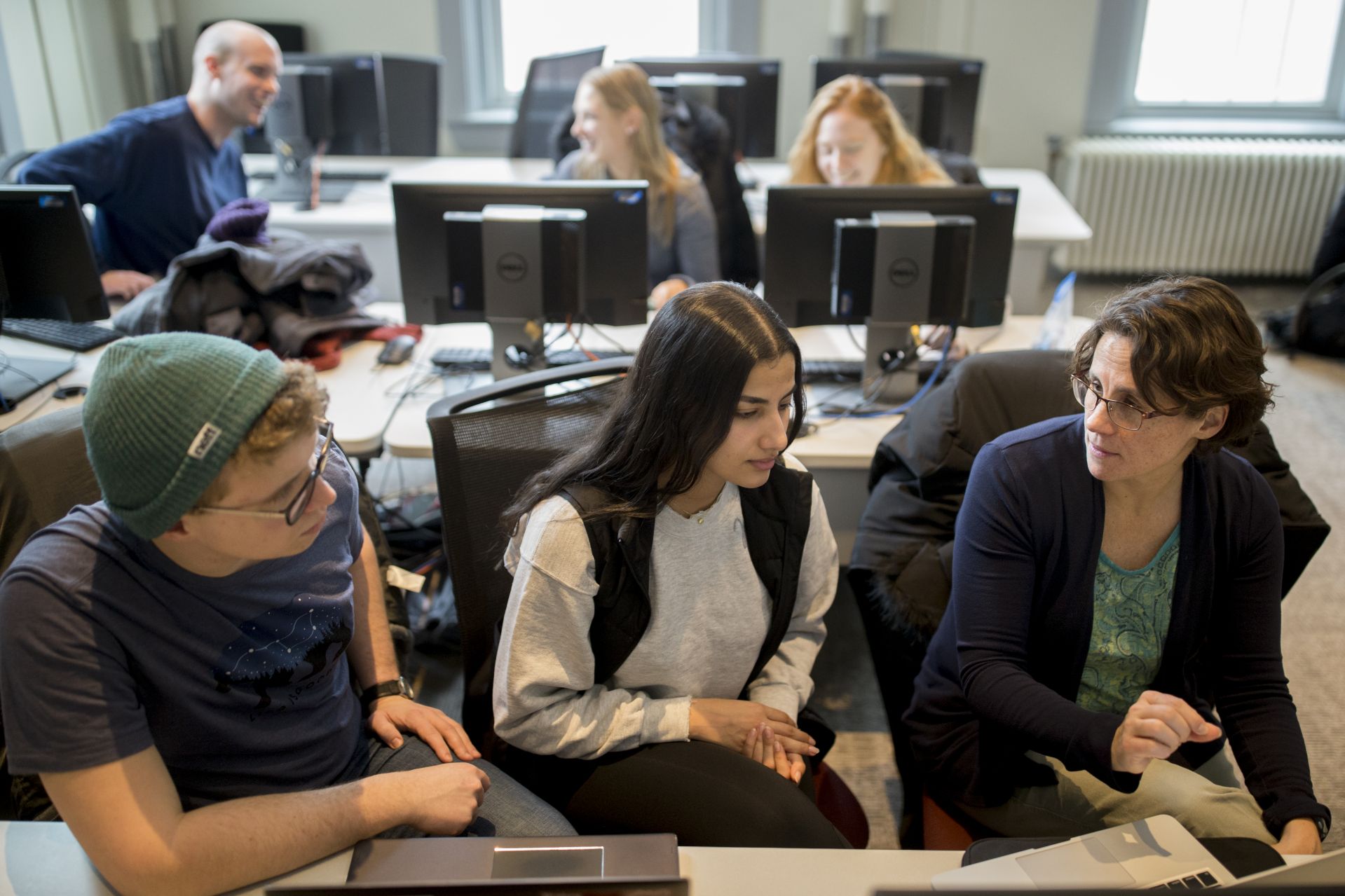 Appointment year: 2002
Doctoral institution: Vanderbilt University
Fields of research: Applied mathematics, mathematical biology, mathematical ecology, mathematical epidemiology.
What it means to me be a Bates professor:
It has always been about the people. I chose to work at Bates because of the people I met when interviewing here — every single one was friendly, intellectually curious, helpful, and excited about what we could learn together. That has stayed true throughout.
Students regularly go above and beyond the call. On projects, they bring in experiences, coursework, and interests that form combinations only they could have developed. When challenged by new math topics, they inspire me by their engagement, time invested, willingness to try new study strategies, and overall devotion to learning. They build communities and support each other, in the classroom and beyond.
Faculty and staff here are also amazing. There are so many examples of dedication to excellence, solving complicated issues, and taking care of each other. Being surrounded by such enthusiasm and commitment helps my teaching every day. It really is all about the people.
---
Professor of English Therí Pickens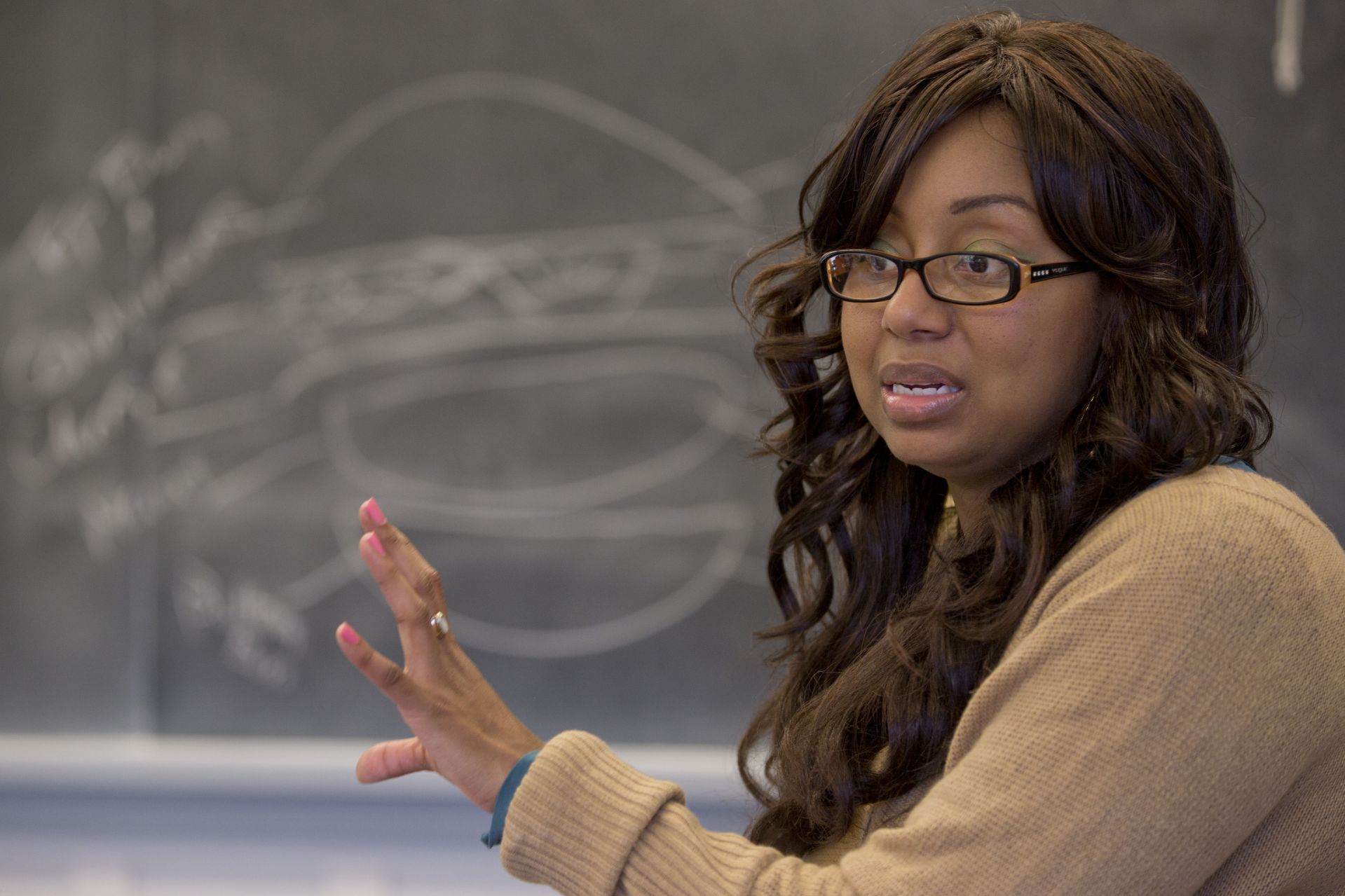 Appointment year: 2011
Doctoral institution: University of California, Los Angeles
Fields of research: 20th- and 21st-century African American / Arab American literature, African American literature and cultural studies, Arab American literature and cultural studies, Black feminism, cognitive impairment, disability, disability studies, gender studies, literary theory, mental health, physical impairment, spectacular fiction.
What it means to me to be a Bates professor:
In the scholarly community, we often wrongly pit research and teaching against each other. I firmly believe that the two are synergistic. In my career, I find that being an engaged scholar allows me to be a better teacher.
In the years between receiving tenure, in 2016, and promotion to full professor, I wrote a book called Black Madness :: Mad Blackness (Duke University Press, 2019); edited a collection, Arab American Aesthetics (Routledge, 2018); edited a special issue of African American Review, "Blackness & Disability" (2017); wrote five articles; and gave dozens of presentations at academic conferences and at colleges and universities the world over. All of that work — centering the theories, ideas, and creative endeavors of Black people, Arab Americans, disabled people — pressed me and others to think more explicitly about how to make a just world.
In doing this work and listening to people in various settings, I became even more convinced that the study of literature, and the humanities writ large, is vitally necessary to our world. These are lessons that we need desperately as we seek to tell better stories about, and do better work in, our current global situation and for what lies ahead.
Professor of Environmental Studies Sonja Pieck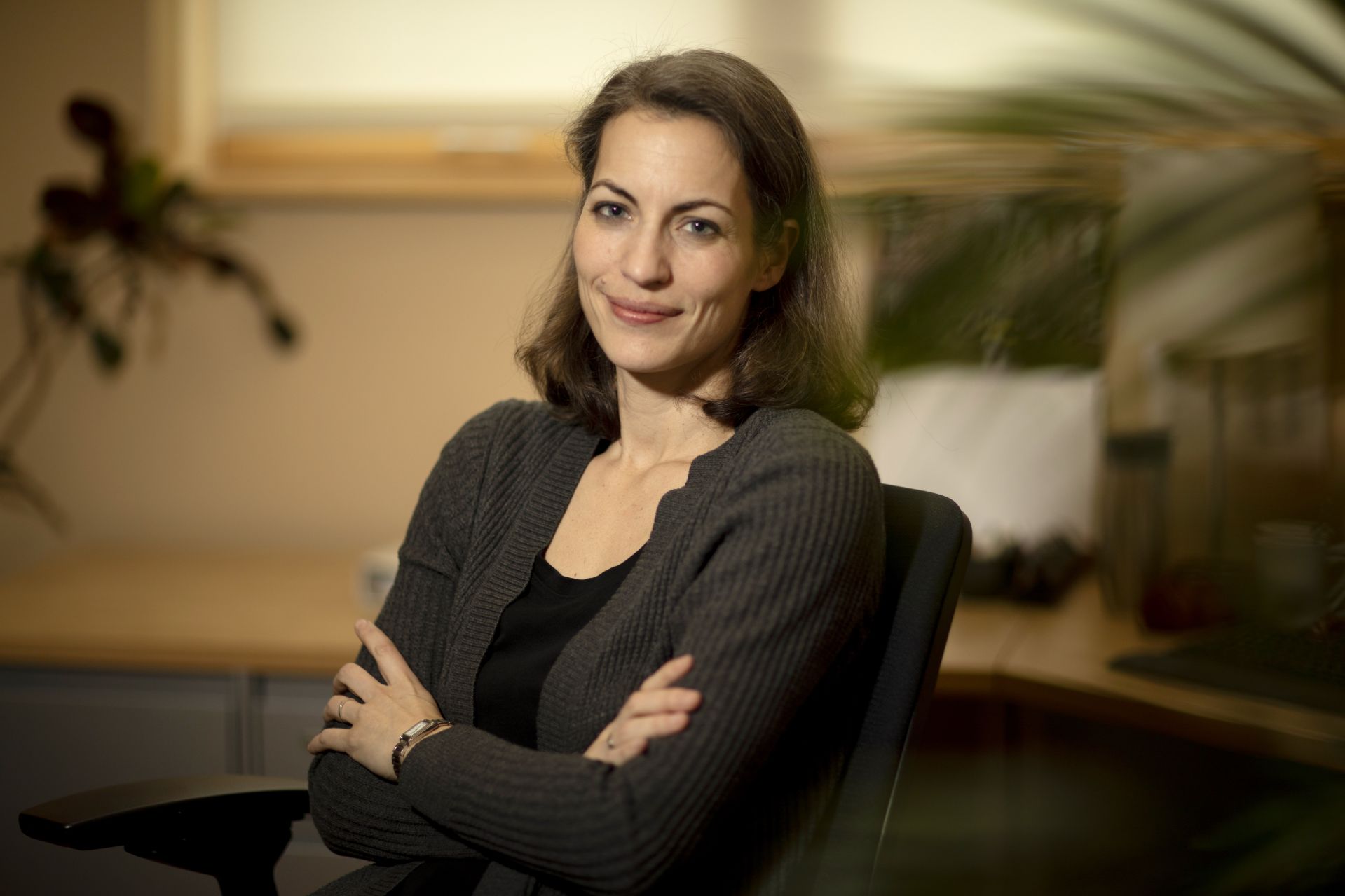 Appointment year: 2007
Doctoral institution: Clark University
Fields of research: Biodiversity conservation, ecological restoration, environmental history, environmental movements, environmental politics, human geography, international development, memory studies.
What it means to me to be a Bates professor:
The interdisciplinary spaces of the liberal arts are deeply appealing to me because I love drawing connections between different perspectives, theories, scales, places, interests, groups, and species. I believe environmental problems at their core derive from uneven power relations — among humans but also between human and non-human communities — and we need multifaceted and synergistic approaches to understand them and develop effective solutions.
And my students make some of the most interesting and creative connections of all. They bring curiosity and compassion to the classroom, along with a desire to do good in the world. It is an honor to partner with them in class and on thesis projects and help them become more informed, critically engaged people.
As an interdisciplinary scholar, I've long been interested in international and transnational environmental politics. I've worked in Latin America exploring environmental activism, especially in Peru and Ecuador, where I spent formative years of my life, and am now focusing my research on Germany, my country of origin. Throughout, I've felt supported in my work by the college and by smart, kind, and generous colleagues.
Bates continues to be an energizing and inspiring community of students, staff, and faculty.
View Comments