On a Monday in early November, Associate Professor of Biology Brett Huggett was listening in on the state's daily COVID-19 briefing, when a term used by Dr. Nirav Shah, director of the Maine Center for Disease Control and Prevention, caught his attention: ultra-cold storage.
That day, Nov. 9, Pfizer had just announced extremely positive findings from its early analysis of its coronavirus vaccine. And already, Shah was planning, in what Mainers had come to know as his cautiously optimistic way, to be ready if the vaccine was authorized for use.
"As you note," Shah said to one reporter during the briefing. "It does require ultra-cold storage." Minus 80 degrees Celsius, to be precise, or minus 112 degrees Fahrenheit.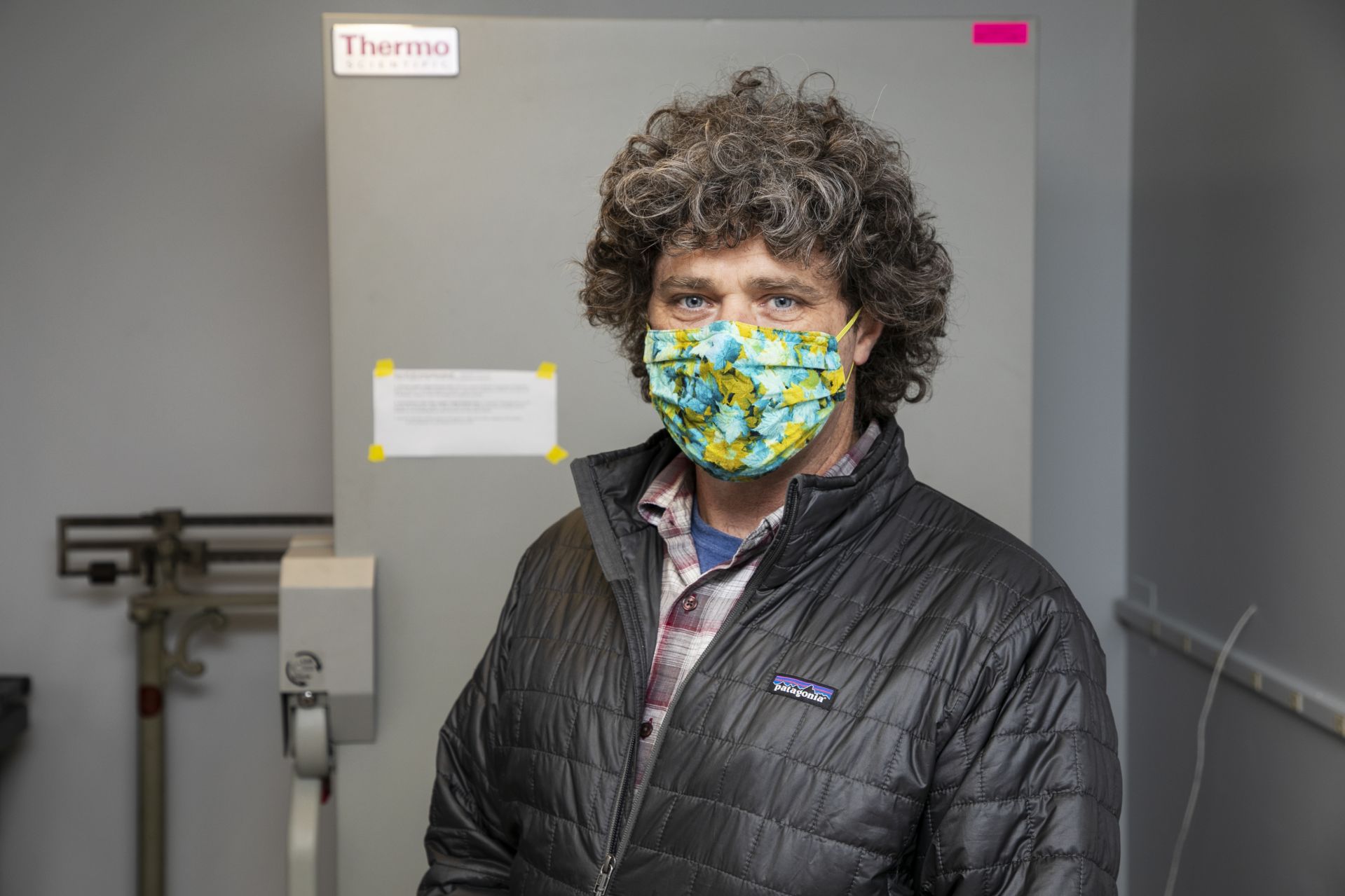 Many of the other vaccines coming down the pike required cold storage as well, so Shah and his colleagues at Maine CDC and at the Maine Department of Health and Human Services had already been in touch with Maine hospitals small and large, done an inventory, and found that the grand total in the state was five hospitals with such ultra cold freezers.
The doctor didn't say it, but that's five hospitals spread out across a state of 35,385 square miles. The math wasn't great. Central Maine Medical Center had one of them in its research department but it was small. "Small is a kind word," said Bruce Campbell '76, director of pharmacy at the Lewiston hospital. "It was tiny. Two cubic feet."
As Shah spoke, Huggett thought about his plant samples, nestled in a So-Low ultra-cold freezer in Carnegie Science Hall, a PV85-18 model with an 18-cubic–foot capacity. The freezers aren't cheap, usually $10,000 or more, Huggett says, but at colleges and universities where scientific research is a core component, they're "ubiquitous." 
---
COVID-19 vaccines arrive at St. Mary's Regional Medical Center on Dec. 15, 2020. Bruce Campbell '76 (in gray suite and tie), director of the pharmacy at Central Maine Medical Center, helps out. The two hospitals are coordinating on the vaccination effort.
Shah told another reporter a tricky thing about the Pfizer vaccine. If it came — that is, if the U.S. Food and Drug Administration approved it — the vaccine would arrive in big batches, 975 doses in all.
"Now we have an additional question," Shah said. "Not just whether you have an ultra-cold freezer, but how much space do you have in it? How much can you free up and so forth."
"Basically I said, 'Geoff, there's a need for negative-80 freezers, and I have one that could be freed up completely.'"
Huggett had just published a paper the month before in the journal Trees. He and five other scientists, including one of his former students, Emma Dunn '17, had been studying the impacts of a fungal pathogen on the Eastern white pine, specifically needle damage and chronic defoliation that already had slowed growth rates in this classic Maine tree.
But what the researchers were focusing on was the impact the defoliation had on the trees' ability to store non-structural carbohydrates in stems, root, and foliar tissues, and they'd discovered that the trees had prioritized storage over secondary growth.
That's where the freezers were essential. Whisking samples into an ultra-cold freezer preserves a plant until samples could undergo chemical analyses. And by November 2020, any excess sample material Huggett still had stashed in the freezer was ready to be relocated to a smaller freezer.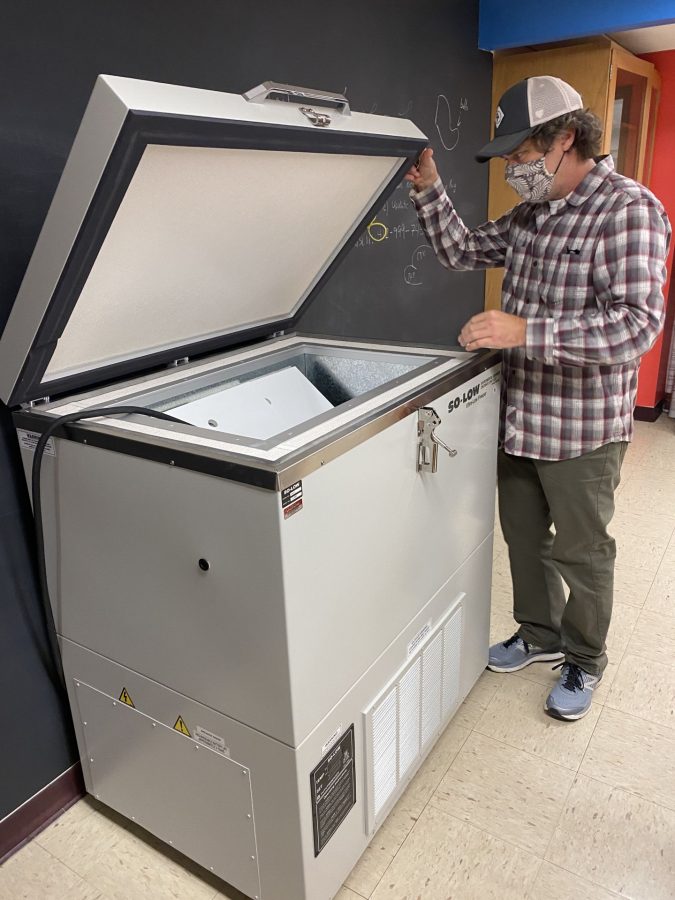 Moreover, Huggett wasn't using Bates' only freezer, there were others in biology as well as some in the chemistry and neuroscience departments.
Huggett emailed Geoff Swift, vice president for finance and administration. "Basically I said, 'Geoff, there's a need for negative-80 freezers within the state of Maine and I have one that could be freed up completely,'" Huggett recalls.
"It might have taken me a full 30 seconds to say, after Geoff said, 'Can you use one of those things?' for me to say, 'I'm in the car.'"
Swift took that idea and reached out to the natural science faculty and staff. After assessing what was available, he invited representatives from neighboring Central Maine Medical Center and St. Mary's Regional Medical Center to come see what Bates could share, five freezers in all — and assess what would be suitable.
At Central Maine Medical Center, Bruce Campbell had been presuming he'd have to make do with the two cubic foot ultra-cold freezer he had on hand. Nationally, demand for new units has outstripped supply. "If we couldn't prove that we had the storage ability, then the vaccine would, appropriately, go elsewhere.
"It might have taken me a full 30 seconds to say, after Geoff said, 'Can you use one of those things?' for me to say, 'I'm in the car.'"
Ultimately Campbell asked for two Bates units, a 19-cubic-foot upright from the chemistry department and a 5-cubic-foot chest-style freezer from biology. They were moved from the campus to the medical center earlier this month.
The freezer Huggett had been using for those white pine tree samples went to St. Mary's early last week. By this week, the Bates units were already being put to use when the two hospitals split a shipment of the Pfizer vaccine. And on Wednesday, Dr. Imad Durra became the first Central Maine Healthcare team member to get the vaccine.
"I love this effort," says Swift. "The best of quick action by faculty and staff, plus college and community connectivity." Even the legal part — drafting documents regarding the loan — went smoothly. "All the conversations were, 'This is easy —we are friendly parties working for what's best. It's a small town, and we're all working together."
(Also involved in the Bates cooperative effort have been faculty members Don Dearborn, Matt Côté, and Nancy Koven, and staff members Sonya Locke and Jonathan Witt.)
Campbell was there as a relieved and grateful witness to the first, extremely welcome vaccinations of Central Maine staff. "It is palpable, when you are standing here, when you are looking at people standing in line and they are just so happy."
"This partnership is one of the things I have been most proud of," Campbell says.
After the vaccine injection, there's a 15-minutes precautionary wait to check for any negative response. As the newly vaccinated staff waited their 15 minutes, Campbell could tell that they were "just sort of reflecting. Their eyes well up." An anesthesiologist asked Campbell to take a photo of him getting his shot. "Because this is life changing for me," the anesthesiologist told him.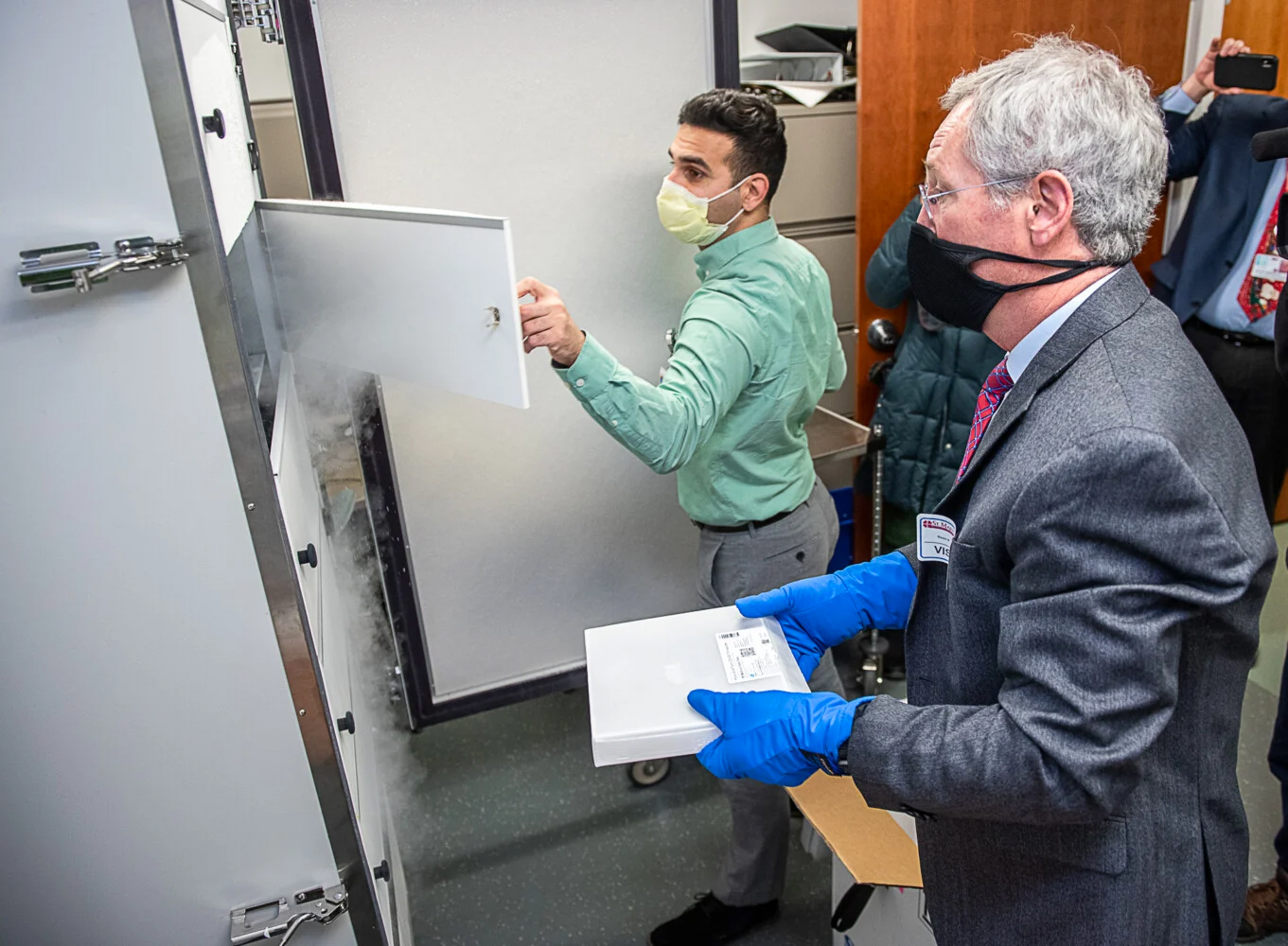 Campbell is reflecting on the "thoughtfulness" of the science faculty at Bates who were so willing to share, as well as his long relationship with Bates, dating back to middle school, when Bates education students came to his classroom to mentor students. "This partnership is one of the things I have been most proud of," Campbell says.
Across the state, colleges and universities are helping with vaccine storage. Southern Maine Community College, the University of New England, and Colby have all loaned freezers, and Bowdoin, Unity College and the University of Maine system have freezers on standby.
This is the way institutions and people can step up, Huggett says, reflecting on how, early in the pandemic, Bates and other Maine colleges helped with the PPE shortage.
"It was actually last week on the CDC briefing that Dr. Shah was saying that if we want to get through this pandemic, we really need to think about our community and within our community, and act with best practices and concern for those around us.
"Many of us have been constantly thinking about how we can help out through this pandemic," he added."This really seemed like an obvious way in which Bates could help."
View Comments