A selection of recent mentions of Bates and Bates people in the news media.
Katrina Johnson '21
Large predatory fish thrive on WWII shipwrecks off North Carolina coast — Science Daily
Science Daily reports on a research paper whose first author is Bates biology major Katrina Johnson '21 of Stratham, N.H.
The paper reports on a 2016 NOAA expedition to explore two World War II shipwrecks off the North Carolina coast, the German submarine U-576 and the Nicaraguan-flagged freighter SS Bluefields.
The goal of the expedition was to create a case study "on the feasibility of extracting ecological metrics," especially information about fish communities, from an archeological examination of deep shipwrecks. Such shipwrecks "are important historical monuments, but are also valuable habitat for fish," said Johnson.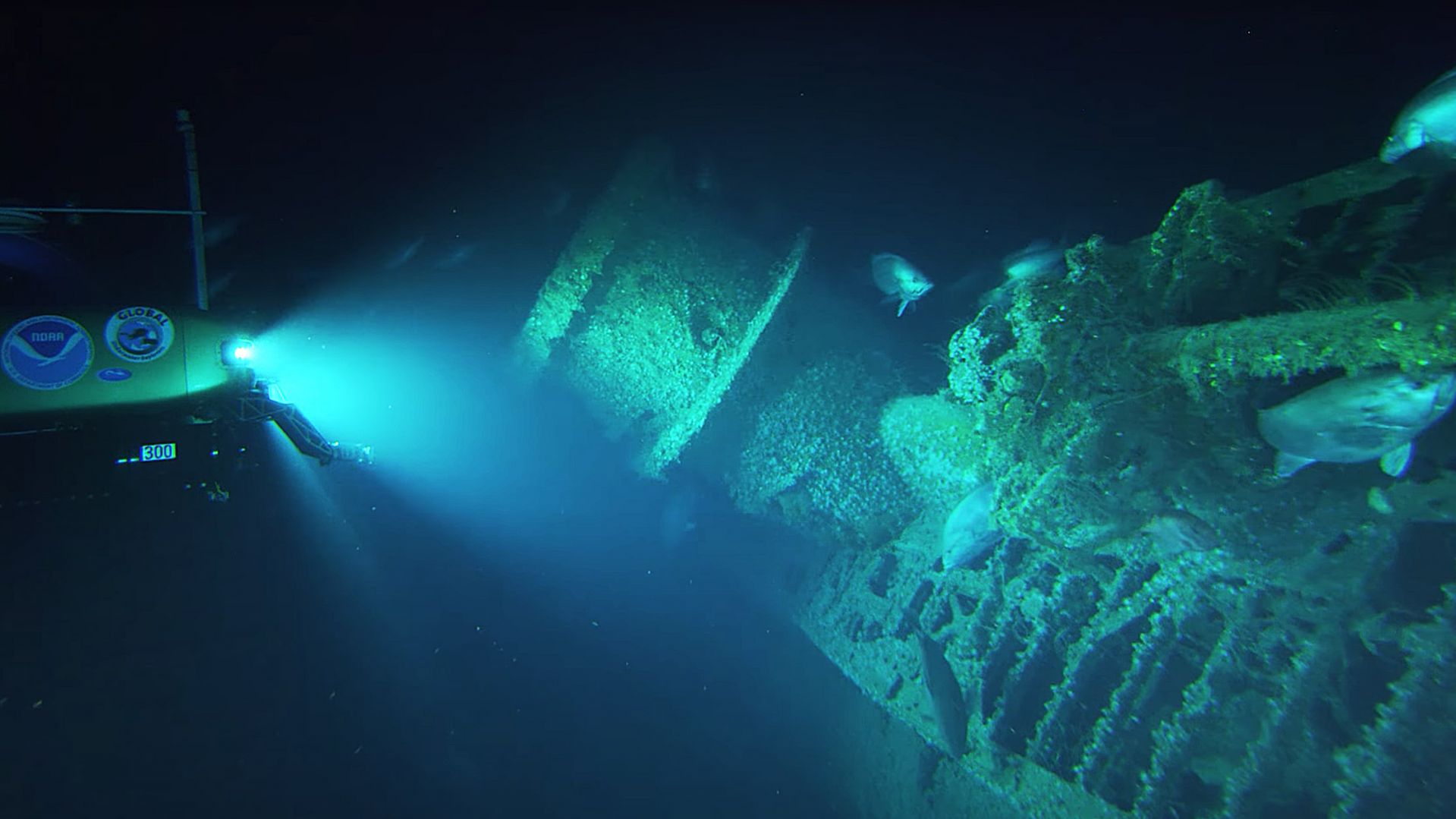 The paper, "Extracting ecological metrics from archeological surveys of shipwrecks using submersible video and laser‐line scanning," was published in the journal Ecosphere.
---
Pat Williams '11
SquashDrive announce Patrick Williams as new executive director — World Squash
Former Bates squash co-captain Patrick Williams '11 is the new executive director of SquashDrive, an afterschool enrichment program for underserved youth in the San Francisco Bay area.
"Williams becomes the first graduate of an urban squash program to lead a Squash and Education Alliance (SEA) organisation," according to World Squash.
Williams participated in Boston-based SquashBusters and graduated with a sociology major and served as senior class president and squash co-captain. While at Bates, he founded Lewiston Squash, a program for Sudanese and Somali refugees.
---
Jack Sapoch '18
Croatia denies migrant border attacks after new reports of brutal pushbacks — The Guardian
Jack Sapoch '18 was quoted in a Guardian story about reports of alleged beatings and sexual assaults by Croatian police against refugees and asylum seekers who try to enter Croatia from Bosnia.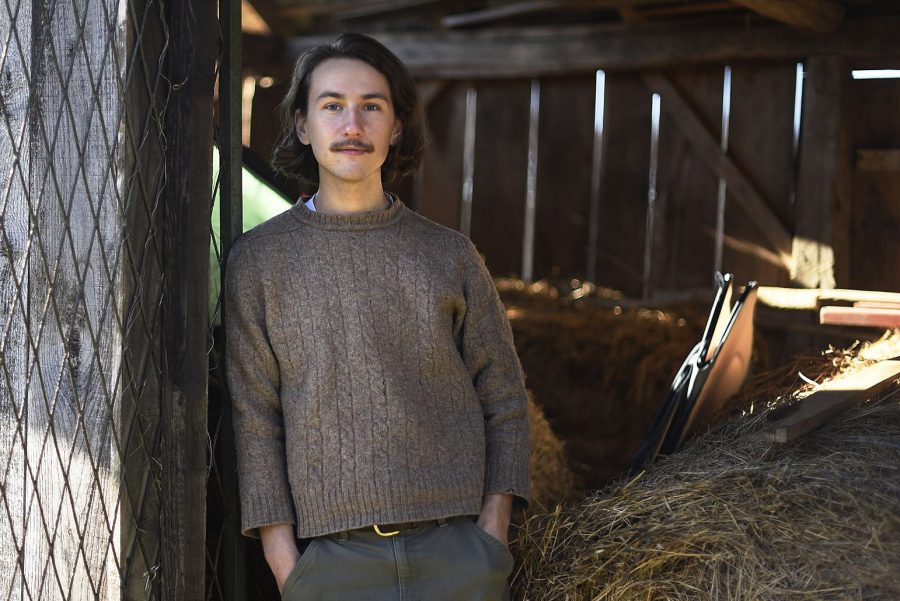 As part of the Border Violence Monitoring Network, Sapoch is with No Name Kitch, an NGO operating in Bosnia.
Sapoch told the Guardian that a spectrum of Croatian forces work along the border. "According to our research, these uniforms are consistent with those worn by the Croatian ministry of the interior's intervention police units, who are deployed to the border from police stations all over the country."
---
Dervilla McCann '77
Study finds female veterans with PTSD at higher risk for heart disease — WMTW-TV
Data released during this year's American Heart Association scientific sessions prompted WMTW-TV reporter Kathleen Jordan to seek out Dr. Dervilla McCann '77, a Maine cardiologist.
The data showed that female veterans suffering from post-traumatic stress disorder, or PTSD, are also at an increased risk for heart disease. "They had about a 44 percent higher incidence of heart disease if you look at the whole group and that's a lot, that's a very significant amount," said McCann.
She said the patients' ages was most surprising. "The risk seems to be greatest in women under the age of 40," she said. "That really took me aback because that's a group of women who are generally protected. They don't manifest coronary artery disease under normal circumstances."
A former Naval officer, McCann says that women in the military often have multiple stressors. "We often don't discuss…assault on female military by their own colleagues, which is particularly difficult for these women to manage. It's just such a betrayal."
---
Bates College Museum of Art
Paintings fulfill a promise to keep Ashley Bryan in Maine — Maine Sunday Telegram
Bob Keyes of the Maine Sunday Telegram describes a gift to the Bates Museum of Art of paintings, drawings, and prints, as well as copies of books and posters, by Ashley Bryan.
The gift is from Bryan's longtime friends Henry Isaacs and his wife, Donna Bartnoff Isaacs, who are fellow summer residents of Maine's Little Cranberry Island.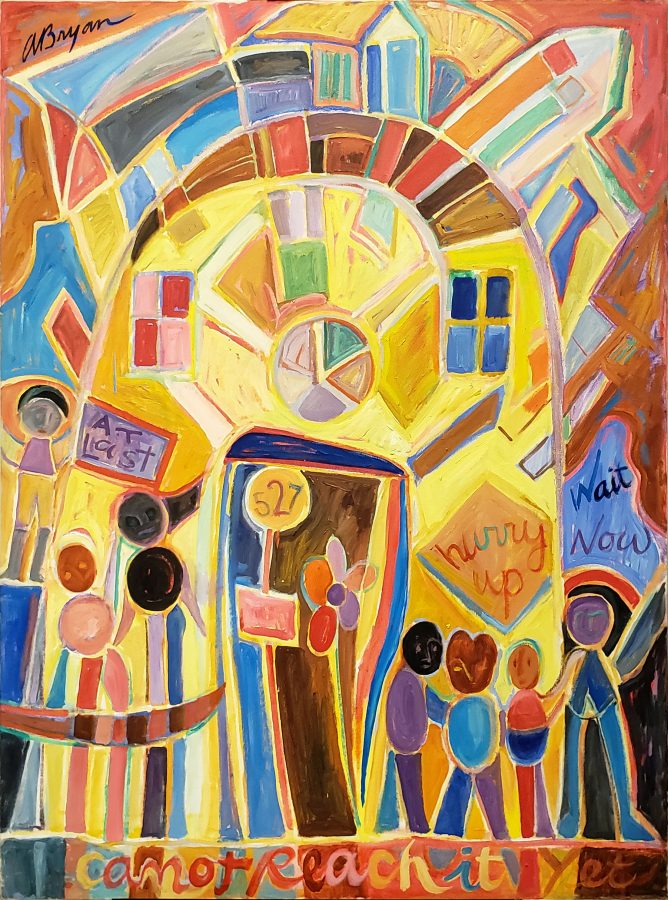 Keyes notes that Bryan, "who is 97 and recently survived COVID-19, is known internationally as an author and illustrator of children's books, many inspired by African folk tales. He is also an extraordinary painter, and Bates museum director Dan Mills hopes the Isaacs' gift will serve as a building block for what might become an Ashley Bryan study center on the Lewiston campus."
"As much as he is recognized for his illustrations, he should be known more and celebrated for his fine art," museum director Dan Mills told Keyes. "We aspire to be a center for Ashley's work and hope we can build on the collection with a focus on Ashley as an artist."
---
Gomes Chapel
Bates chapel historic rehab uses 21st-century technology — Mainebiz
In completing a major restoration of Gomes Chapel, contractor Consigli Construction "took historic preservation into the space age, using 3D scanning to replace century-old masonry tracery units around the stained glass windows," reports Mainebiz.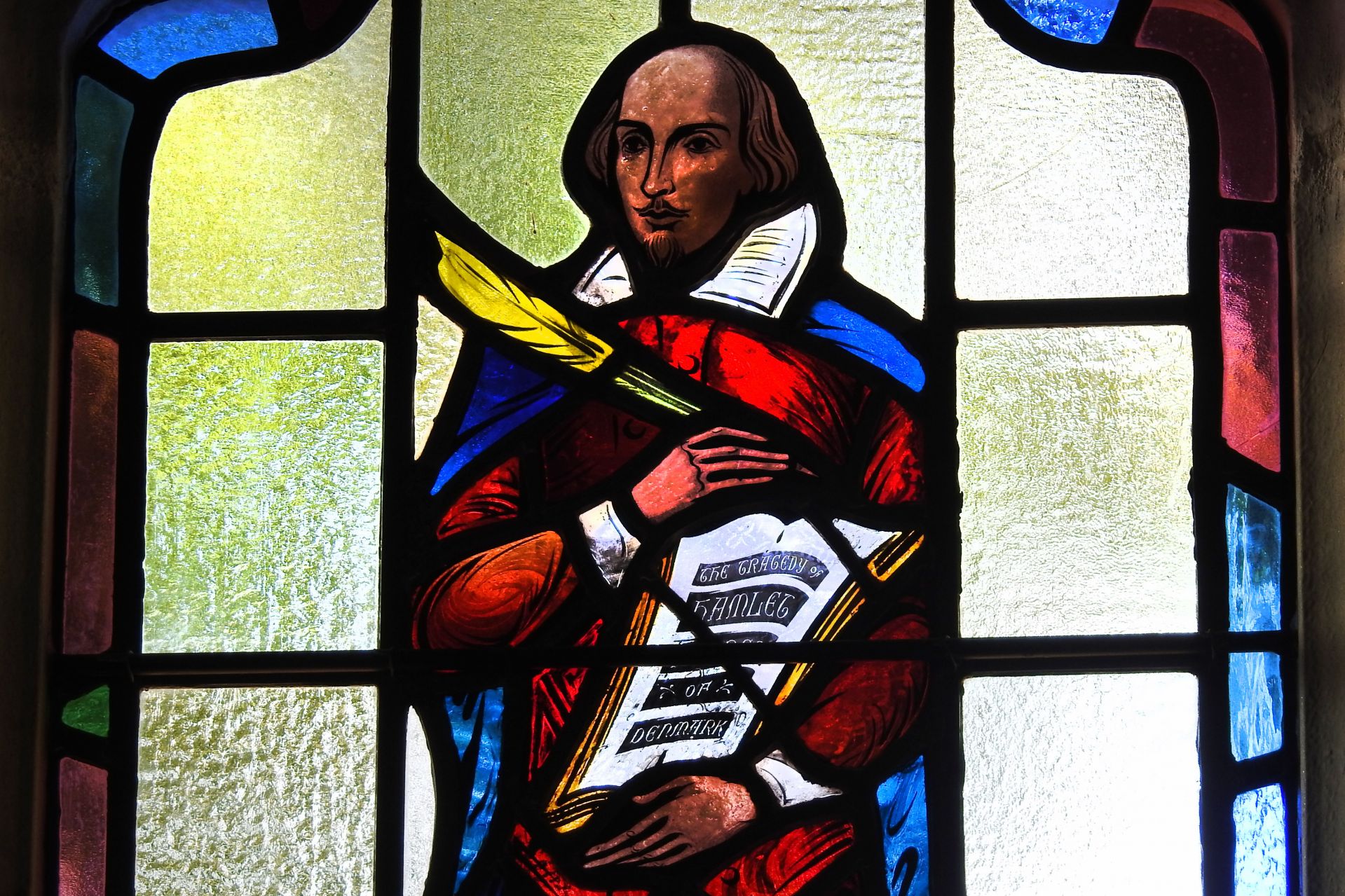 "The work was impressive enough to win a Maine Preservation 2020 Honor Award and be named the first-ever People's Choice Award winner."
---
Katherine Frank '94
Report finds study abroad strengthens soft skills and cultural awareness, improves career prospects — UW-Stout News
A story by Abbey Goers of the University of Wisconsin–Stout reporting on a study on the value of off-campus study highlighted the Bates experiences of university chancellor Katherine Frank '94.
Frank majored in English and studied in Bath, England, during a junior semester abroad. There, she studied Romantic and Victorian literature, as well as historic and contemporary English literature.
"I was able to immerse myself in literature in ways that I could not experience in a university classroom," she said. "I was able to walk by where Jane Austen wrote and see the places I was reading about. I could witness the depths of Roman history there. It's a beautiful spot."
---
Isa Jamira Moise '19
Meet the BIPOC Farmers Cultivating Green Spaces in NYC — Teen Vogue
A photo and fashion story in Teen Vogue features young BIPOC farmers in New York City, including Isa Jamira Moise '19.
"While there's work to be done in every borough, urban farming has paved a new avenue where controlling the means of production through community gardens is feasible when BIPOC youth respond to the call," writes Sydney Gore for Teen Vogue, noting that food insecurity affects one in 10 households in New York.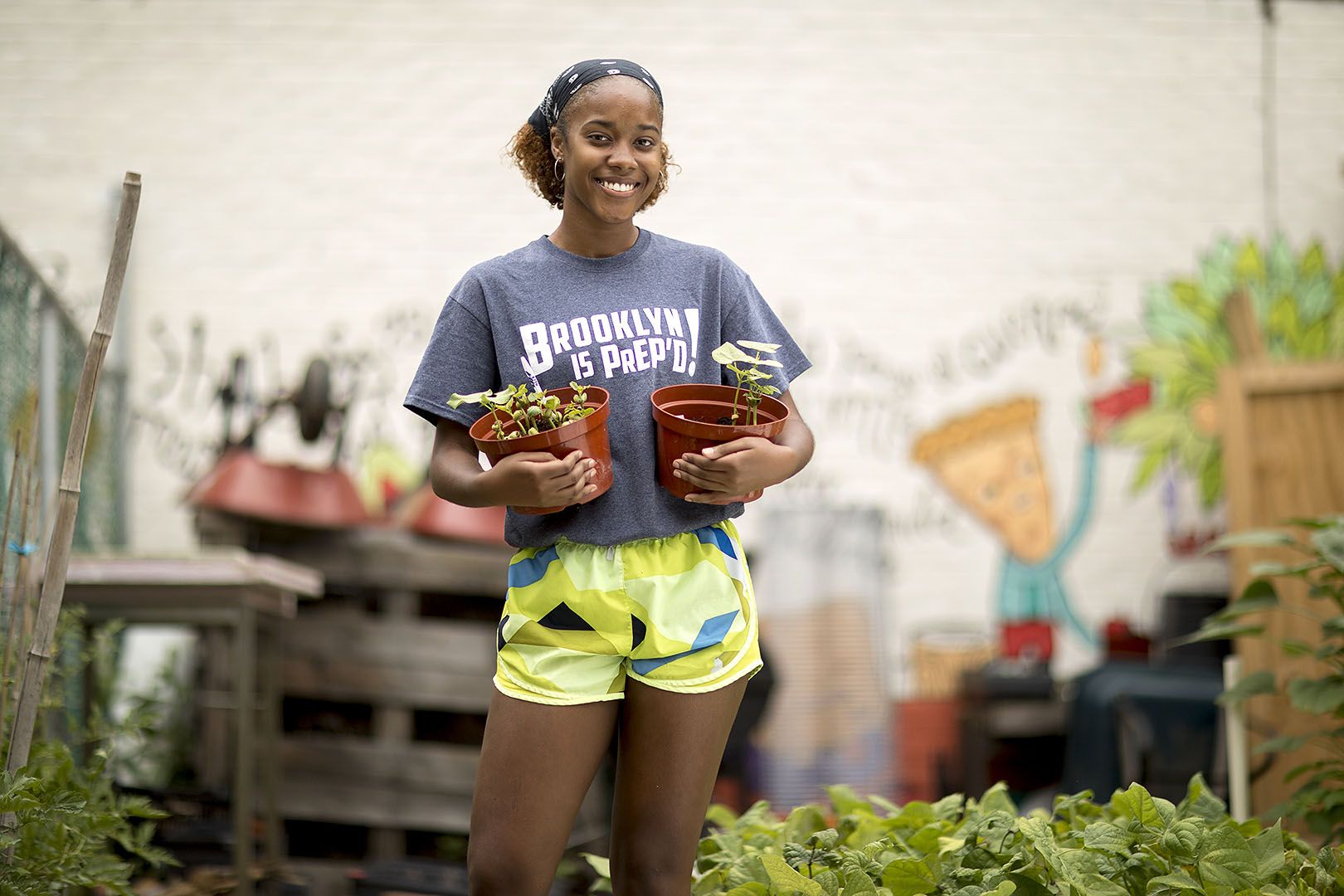 "A farmer is not a nine-to-five profession; it's very much around the clock, all the time," Jamira says. And it's a way of life. "It's health, it's exercise, it's my mood uplifter, it's the way that I can release and gain, it's a way to communicate — it's any and everything under the sun; it's the whole."
Jamira's recent work has been at Oko Farms, an aquaponics farm and education center based in Brooklyn.
---
Anthony Phillips '10 and Anthony Morton '24
A tale of two Anthonys — TeenSharp.org
A story on the TeenSHARP website introduced readers to two Anthonys: Anthony Phillips '10 and Anthony Morton '24.
The latter is a first-year student at Bates from Philadelphia. The former is the pre-college success manager with TeenSHARP, a program that gives low-income, black, and Latino youth access to leadership opportunities and higher education.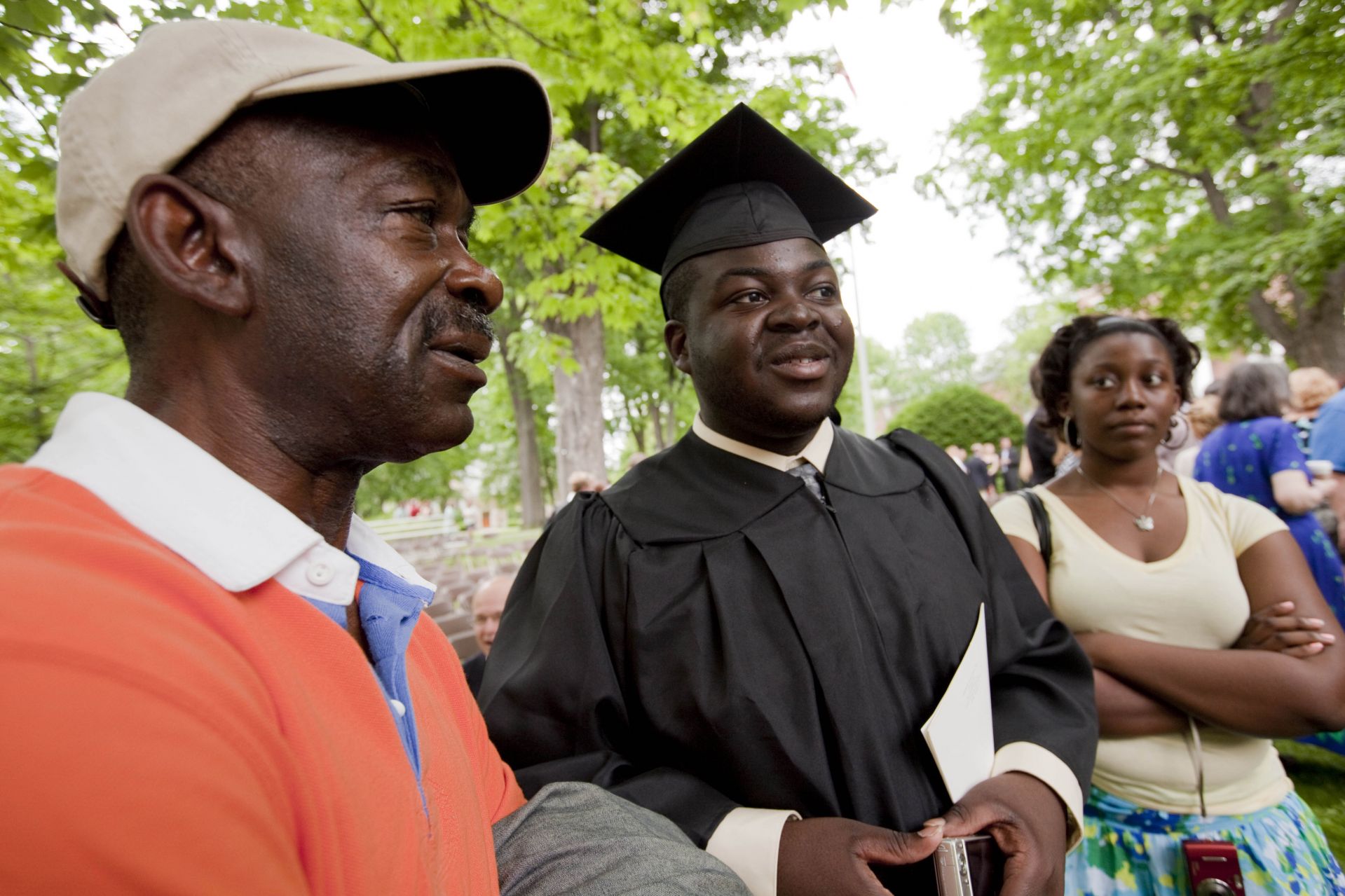 The two came together, reluctantly at first, according to TeenSHARP. "For years, Anthony [Morton] attended TeenSHARP with one foot out the door. He still wasn't convinced he needed our help." That changed when he met Anthony Phillips in his junior year in high school.
"They shared more than a name. They had both grown up as young black men in Philadelphia, products of a working-class background and guided by self-assured personality. Back then, Mr. Anthony was distracted from his goals, too — full of talent and smarts, but not focused on the future. Their paths had crossed for a reason, so Mr. Anthony rose to the occasion, as our incredible staff do each day."
---
Michael Sargent and John Baughman
Maine voters bucked a partisan tide at the polls — Lewiston Sun-Journal
Maine voters were less partisan at the polls in November than other U.S. voters, said psychology professor Michael Sargent and politics professor John Baughman at the local Great Falls Forum.
Democrat Joe Biden won Maine's overall popular vote while Republican U.S. Sen. Susan Collins earned reelection. In Maine's 2nd Congressional District, voters reelected Democratic U.S. Rep. Jared Golden '11 to a second term while preferring Donald Trump, 53 percent to 45 percent, over Biden. The so-called Never Trumpers were "perfectly comfortable supporting other Republicans," said Baughman.
Nationally, Democrats' success in Georgia shows that Stacey Abrams successfully mobilized her party's supporters, said Sargent. The forum is sponsored by the college, the Sun Journal and the Lewiston Public Library.
---
Dr. George Lythcott '39
Mystery behind donated photo album leads woman on search for long-lost family connection — Palo Alto Weekly
The Palo Alto (Calif.) Weekly shared the mystery of how a family photo album containing images of George Lythcott '39 at his Bates graduation found its way to the Palo Alto Library last June.
It's not unusual for a library to receive such ephemera: A few months before, the library received an album with singer Joan Baez's baby pictures, which were returned to her.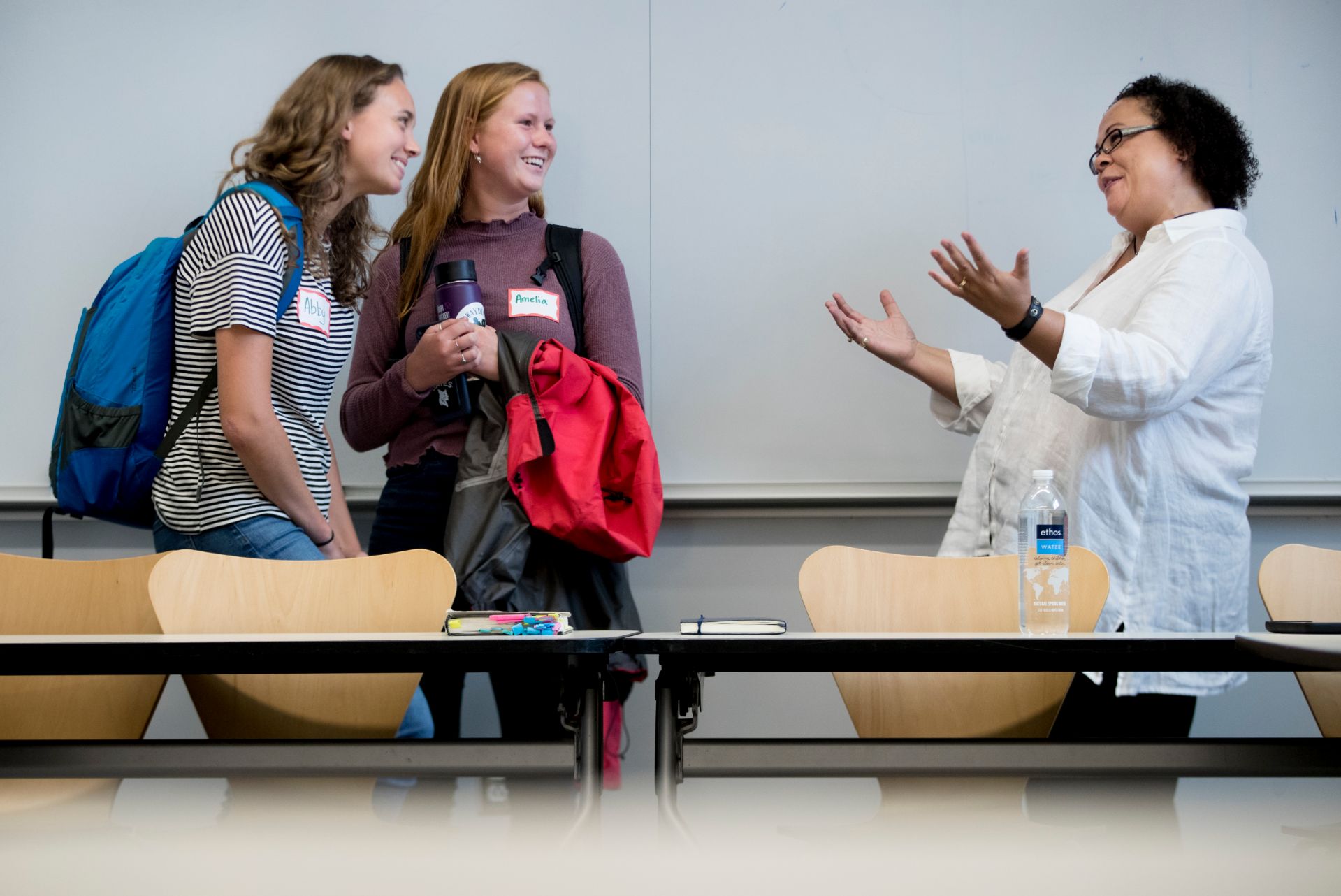 A manager of the library's "Curious Books" section, Pat Blumenthal searched local phone books for the distinctive name "Lythcott" and was able to contact and return the album to Jean Lythcott, widow of George Lythcott and mother of writer Julie Lythcott-Haims, whose book Real American was the Common Read for the Class of 2022.
George Lythcott was a New York City pediatrician and medical educator, who died in 1995.
It's not known how the album turned up in Palo Alto; it didn't belong to Jean, who had moved there in 1999. There are some theories, perhaps that the album went to one of George's relatives.

Reporter Sue Dremman notes that the mystery of the album reminds Jean of a favorite line from the musical Hamilton: "Who lives? Who dies? Who tells your story?"
Read the story: "Mystery behind donated photo album leads woman on search for long-lost family connection," Palo Alto Weekly, Oct. 16, 2020
View Comments