The city of Lewiston has granted Bates a permit allowing the college to start moving equipment and materials into the Bonney Science Center.
The college will put this permit, called a limited certificate of occupancy, to work when science center construction is nearer its end and there's enough completely finished space to accommodate the truckloads of new furniture and equipment that will go into the building first. That will likely be in late April.
The science center will open for the beginning of the next academic year, and its Bates occupants start moving in during June. "I'm not inclined to bring anything in too early if we don't have to," says Chris Streifel, Facility Services project manager in charge of the Bonney Center.
Still, "I think it's important to convey that we are going to bring things in," he says. That's a valuable message for both the folks who are building the building and the campus community. It's also key to convey, Streifel adds, "that we're ready to do so because of a lot of hard work on Consigli Construction's part to get the project where we needed to be" to obtain the certificate. Consigli is the firm overseeing the Bonney project.
The permit is proof that the Bonney Science Center project, whose non-ceremonial groundbreaking took place two years ago, has reached the beginning of its end. Want more? Virtually all the interior doors and their hardware are in place, as are light fixtures (and their switches). The rooftop emergency generator is good to go and the elevator is ready for testing. A number of offices have been sealed off because they're essentially done.
And that's just a quick sampling.
Nevertheless, Streifel says, "there is a pretty significant amount of work to come. And the burden starts to shift to Bates staff to execute the college's internal plans. There's a lot to contemplate, and it's already almost April, which is kind of crazy."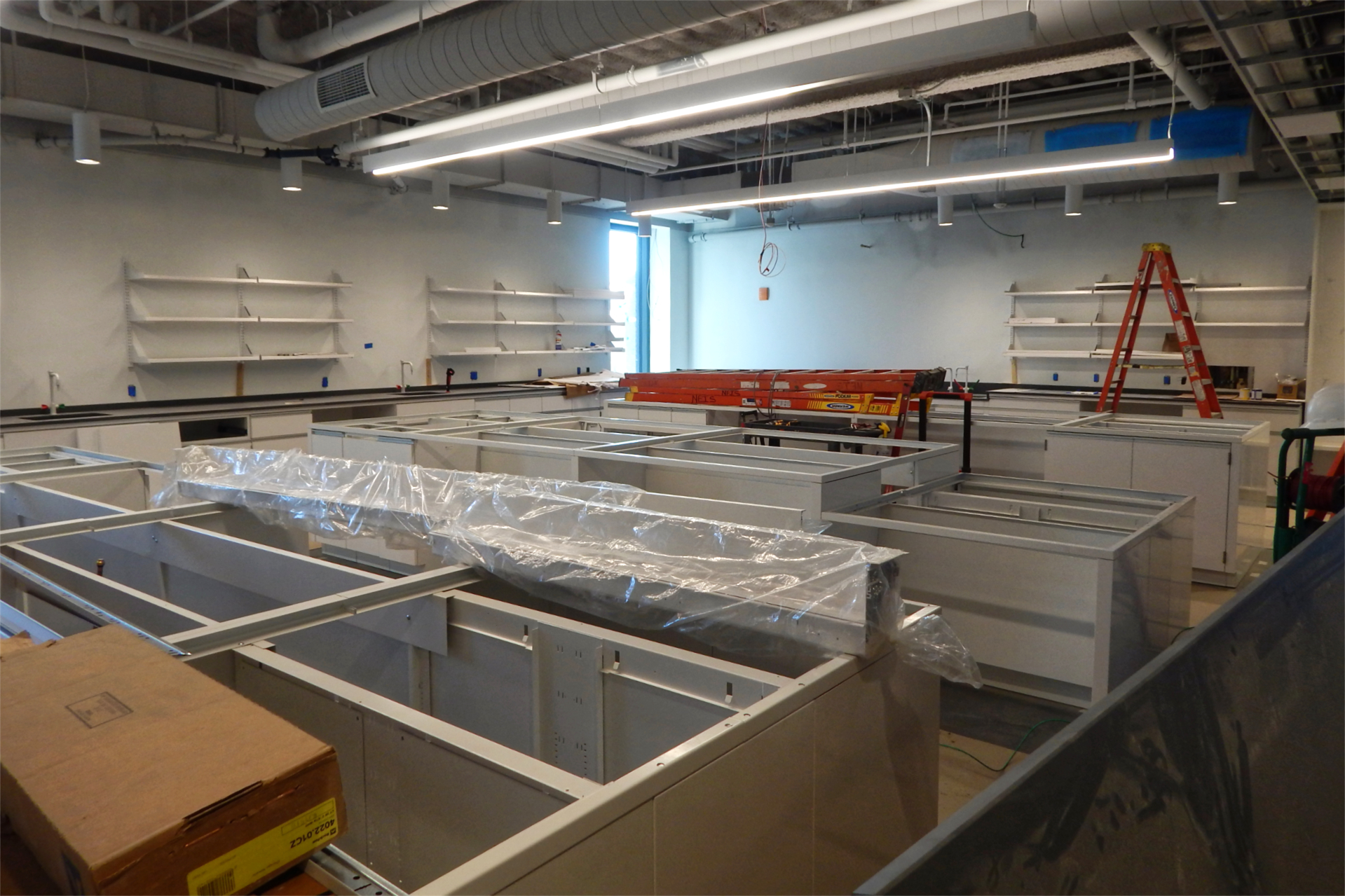 The new science center will house faculty and programs in biology, chemistry, and neuroscience that share research interests and laboratory needs — faculty and programs currently occupying Dana Chemistry and Carnegie Science halls.
In May, three years after the Bonney project was announced, the bulk of inanimate objects will flow into the science center, new purchases as well as supplies and equipment coming from Dana and Carnegie. In June, with Commencement and a historic academic year in the rearview mirror, Bonney will welcome a major influx of human occupants. These will include folks leaving Dana Chem, which undergoes a serious makeover starting in July.
In August, any remaining transfers from Carnegie will cross Campus Avenue and take up residence in their new digs. "By the end of the summer it's all in," Streifel says, "and hopefully everything's up and running and the building feels like it's settled."
Bunches of punches: Consigli representatives are well into generating so-called work-to-complete lists. These are compilations of the chores remaining before a given space or feature is considered finished — or finished enough, at least, that it's ready for the inspection process known as punch-listing.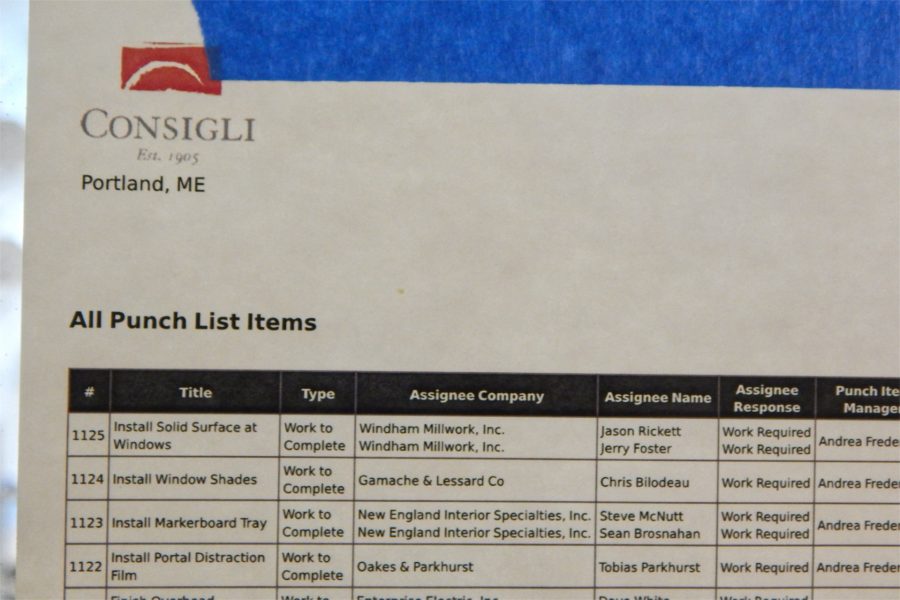 A punch list, as you know, is a record of defects revealed by examining ostensibly finished areas of a construction project — defects like, for example, a missing switch plate, faulty occupancy sensor, or Campus Construction Update's initials scrawled on the new paint inside a supply cupboard. (The term "punch list" is thought to come from the practice of punching holes next to items on a defect list that have been corrected. That way multiple copies could be updated with a single punch.)
Representatives from Payette, the Boston architecture firm that designed the Bonney Center, will start punch-list inspections after the items on Consigli's work-to-complete lists are addressed. Bates representatives will perform their own inspections at the same time, and in separate passes, engineers will check out mechanical and electrical installations. (Note that these mechanical and electrical inspections are distinct from the testing of building-wide systems.)
Punch-listing is a cumbersome process; it has an exponential quality that challenges human perception and cognition. (Just writing about it requires frequent rest breaks.) For instance, says Streifel, "you do a punch list and you go away for a couple weeks. And work gets done and the punch list goes from 20 items down to three.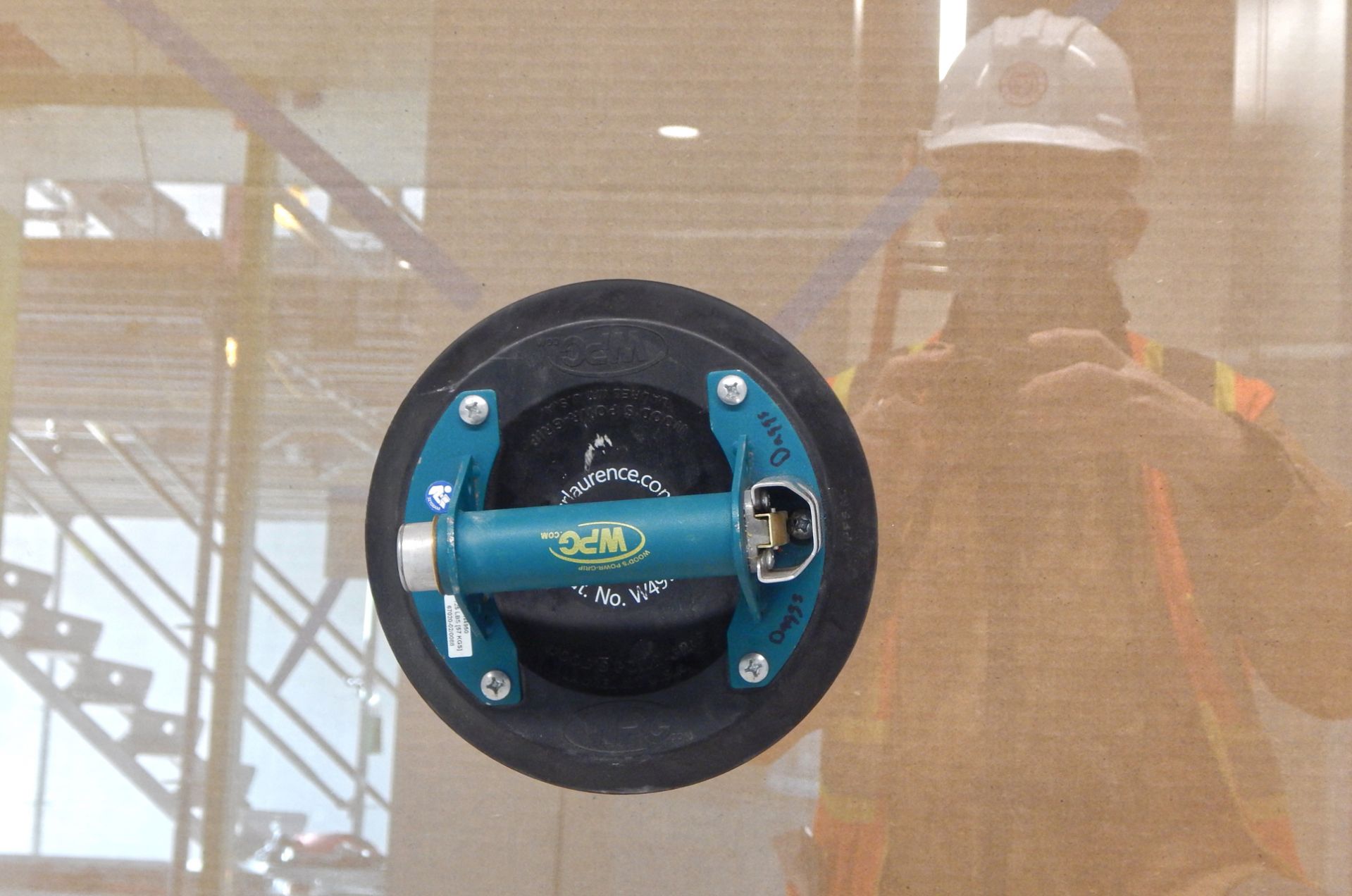 "We're still working on these three, but then you go back in — and now you see other things that you didn't catch before or that look different because of the work that's been done since." Throw in the several sets of eyes that might scrutinize a given classroom or lounge, not to mention the potential for multiple entries for a single defect, and you could end up with the Punch List That Wouldn't Die.
"That's where having Consigli and Payette managing the punch list closely is really important, because you want to try to eliminate that constant re-upping of a list," Streifel says. "It gets difficult to keep going back again and again to address things."
Technology, of course, has taken some of the bruising out of the punch list. In the Bonney Center, a system by Procore Technologies is a huge help — for instance, each space is labeled with a unique QR code that provides instant access to virtual defect lists, photos, and other documentation. "It's really handy," says Streifel. "Just scan your phone over the code, and the whole room comes up."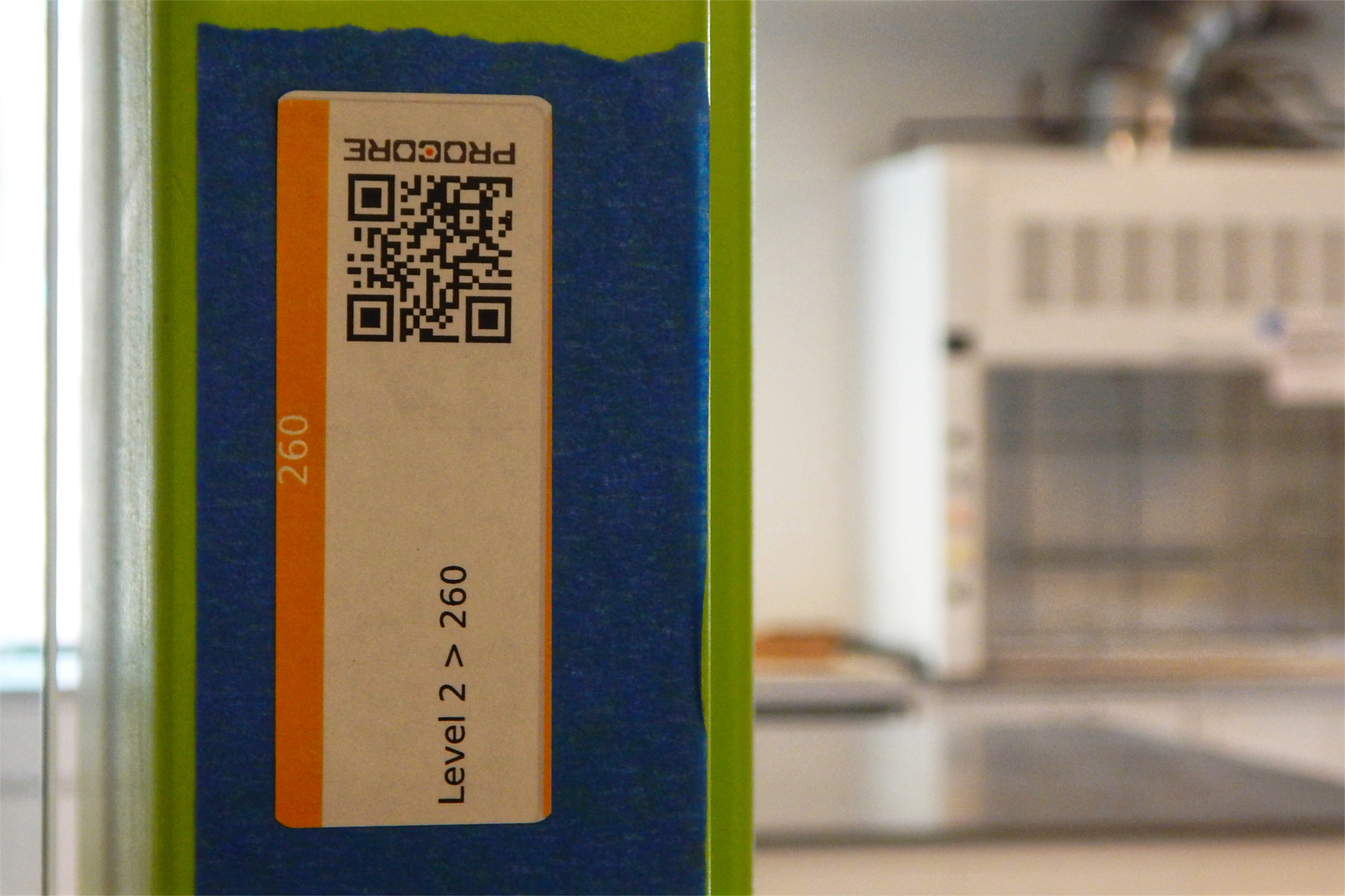 He explains, "In the past, it's all been spreadsheets, and who's managing the spreadsheets, and which one's the right one. Procore centralizes the information, which is helpful. There are still problems, but at least now everything is in one central place that everybody can see all the time."
Dust to no dust: After a long winter of working on the roof, dry weather in March has helped speed progress. "We're not trying to chip ice out of the gutters any more," Streifel says. Most of the copper roof panels and brass snow guards are in place on the parking lot side, while underlayments are being finished on the opposite slopes and sheet metal is going onto the gutters.
Meanwhile, with just a few small sections to finish, the bricklayers of Mason Masonry will soon be packing up their hods and trowels and moving on to the next job.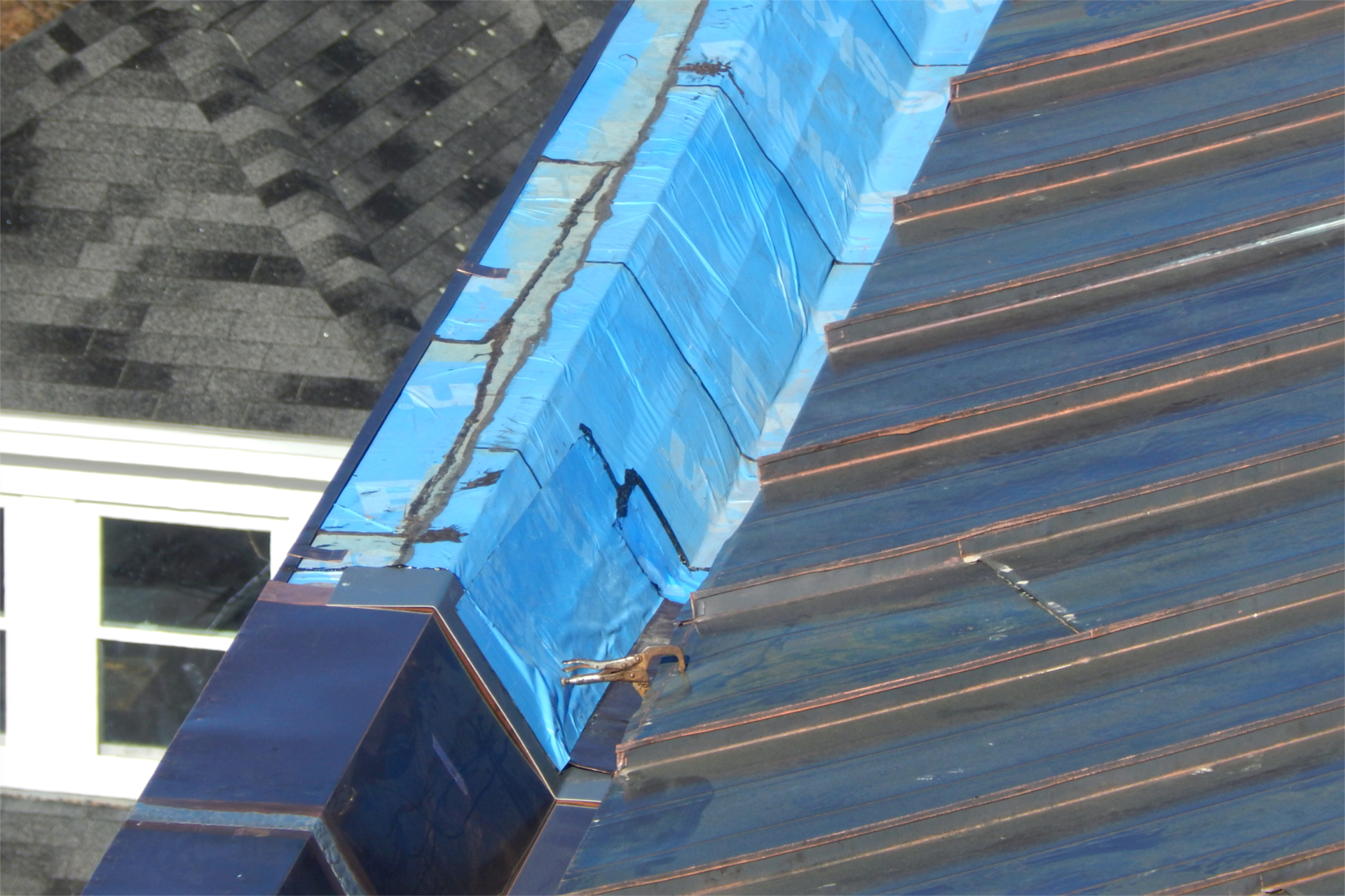 If you see someone spraying windows with a hose, they're likely from SGH. This Bay State firm works for Payette directly as the structural engineer of record for the Bonney project, but it also has a separate contract with Bates, consulting on and testing the weather-tightness of the science center's exterior. (Aka the building envelope. So if someone is pushing the envelope in a construction project, does that mean they've strayed out into the parking lot?)
In that role, SGH is spot-checking window installations: Liquid is sprayed on the window at a specified pressure while suction is applied on the inside. If nothing leaks, it's a good window. Kids, don't try this at home!
There's been all kinds of progress on building-wide electrical and mechanical systems. Notably, the two intake-air handlers in the basement are ready for high-capacity testing — but it won't be pedal to the metal for them just yet (and not just because they don't actually have accelerator pedals. Oh, the pressure to write in metaphors).
"They've been run at very low speeds, just to confirm operation and that they're talking to the control system," Streifel explains. "But we need the other end, the exhaust air handlers, to be up and running" to relieve air pressure. "They're getting close, but there's the desire to clean up construction dust and debris before we really start moving too much air." And a lot of dust will come with a major project in progress now on the second floor: polishing expanses of exposed concrete floor.
If you, like Campus Construction Update, will feel strangely bereft once Bonney Center construction is over and done with, the spot to watch is the Monumental Stair. A Bonney signature, that boldly designed four-story stairway, showcased behind a glass wall inside a notch in the Campus Avenue facade, likely will be "one of the last places inside the building to finish up," says Streifel.
There's a monumental lot of drywall and electrical work yet to happen — including (in a metaphor that is wrong in so many ways) the installation of a sort of cherry on the Bonney project sundae: a massive central light fixture that will boast tens of thousands of LED lamps.
Can we talk? Campus Construction Update welcomes queries and comments about current, past, future, timeless, and aspirational construction at Bates. Write to dhubley@bates.edu, putting "Campus Construction" or "Block that metaphor!" in the subject line.
Doug Hubley is a writer and musician living in Portland, Maine.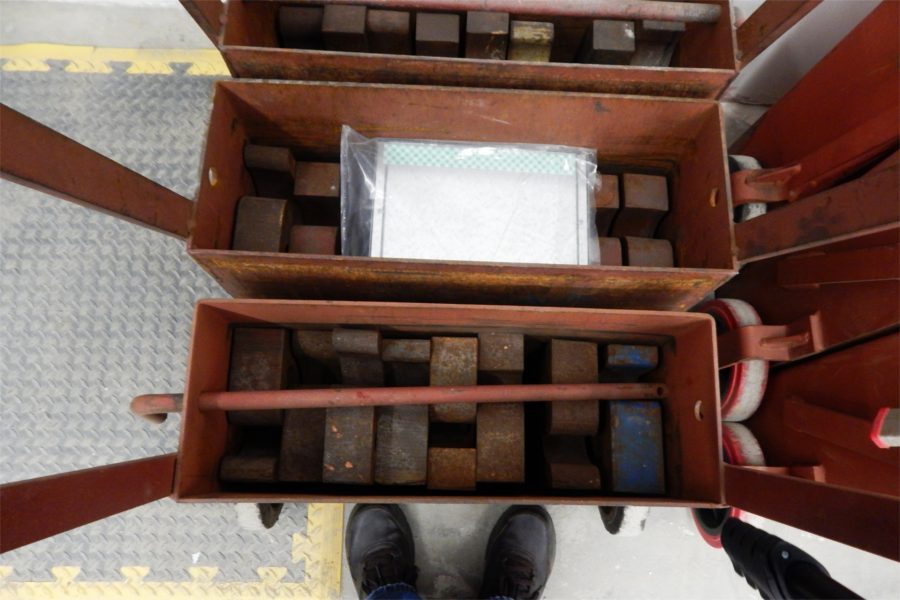 View Comments