As construction of Bates' Bonney Science Center nears completion, there's a new development that's not obvious but is highly significant: The building is now wearing its name.
The first of what will be three BSC signs is on the south side, facing the parking lot near the Bardwell Street gate, and only from Bardwell can you get a good look. The name appears on a new concrete wall in a sort of sunken-relief style — that is, the letters are recessed deeply into the concrete. (The wall, surfaced with a rustic "barnboard" texture, conceals the building's primary HVAC air intake, a shaft leading down to the basement and the air handlers.)
Right now, the words "Bonney Science Center" appear on the wall in yellow letters. But that won't last. What's yellow is the plastic foam that formed the letters when the wall was cast, and that foam will be removed, leaving the contrast between light and shadow to distinguish the lettering.
Ultimately the building name, honoring lead project donors Alison Grott Bonney '80 and Michael Bonney '80, will also appear on the center's north and east sides in so-called dimensional lettering, the raised lettering seen on nearby Chu and Kalperis halls.
If a symbolic fanfare accompanies the arrival of the building name, other indications of Bonney progress make up in practical value what they lack in glory. For instance, if you're looking at the new sign, you're also seeing part of the first coat of asphalt paving, aka the binder coat, on the parking lot. That was placed last week, along with a section of sidewalk bordering Nichols Street. There's a second coat, or the topcoat, still to come.
Stockpiled on that parking lot are supplies for additional site work, things like concrete drain tiles and cylindrical bases for lampposts, as well as granite curbing whose placement began this week. Similarly, a concrete bed has been poured for the building's main entrance, on Campus Avenue. Asphalt paving blocks to top off that entrance plaza are waiting on pallets around the corner on Nichols Street, where they aren't in anyone's way.
In short, "there's so much of the building that's now on the cusp" of completion, says Bates project manager Chris Streifel. He notes that sometimes in construction projects, as in so much of life, the going gets slower the further you go — "but then, suddenly, you flip a switch" and huzzah, you're done.
"There's a lot of that going on" now, he says.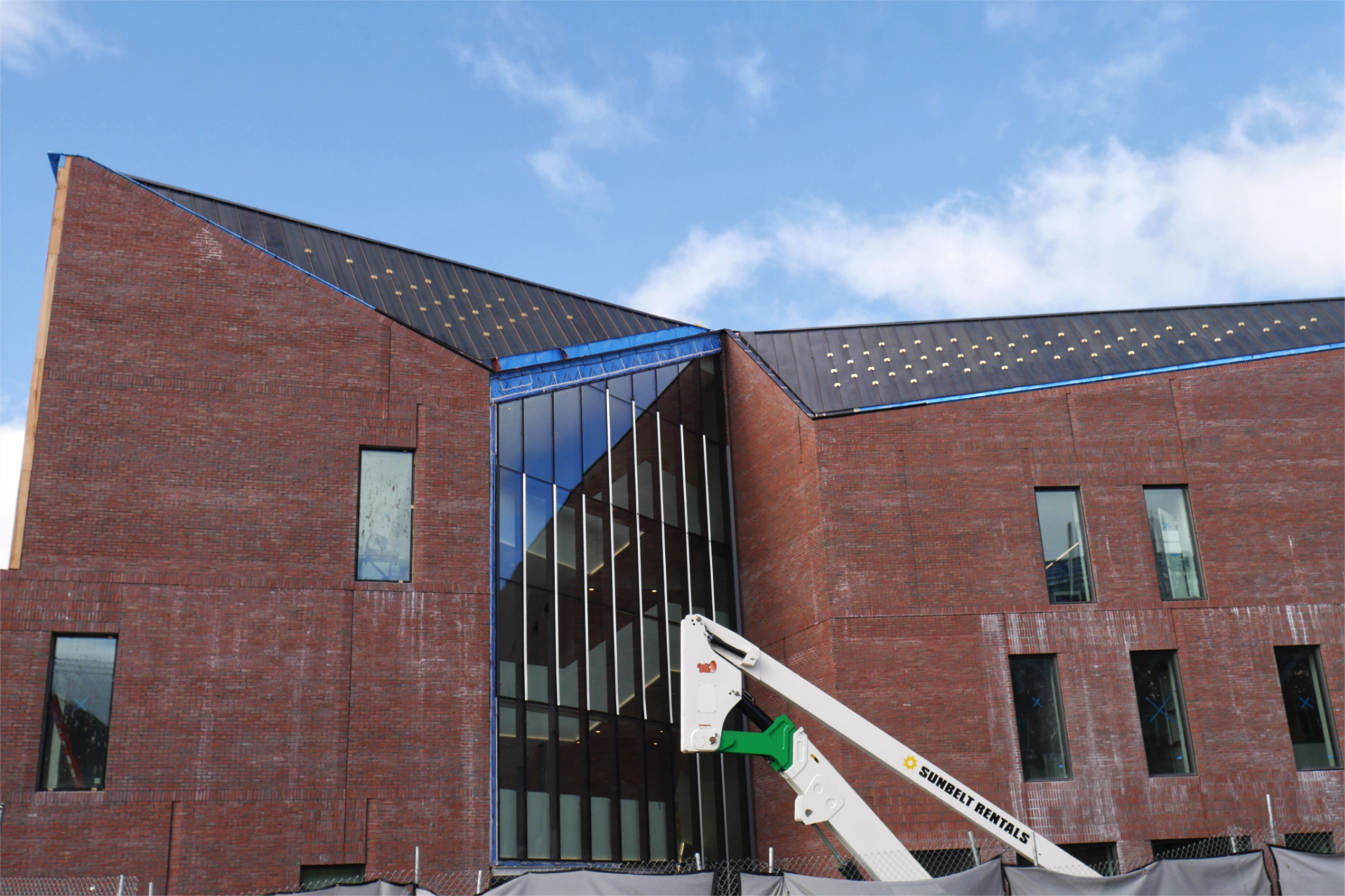 The building's roof is another example. Between technical problem-solving and winter weather, notably icing, it took months to get half of the dark-gray copper roof covering in place. "It was a long road," Streifel says.
But the rest of the copper, on the side facing Campus Avenue, was finished just weeks after that first side. The roof has been essentially complete since early April, with only a few snow guards and some sheet metal for gutters and trim left to install.
Streifel has been eager for this week to come, for with it arrives the process of punch-listing — the inspections, and consequential tweaks, that finish a building project. That process just began on the second floor, following preparatory chores like paint touch-ups, shelf placement, cleaning — and the locking-off of completed spaces to forestall any backsliding.
Third-floor punch-listing will follow, and then the remainder of the building. Streifel expects all punch-listing to be done by the end of May, with most interior spaces punched by mid-month. In a similar but different process, the commissioning of the center's mechanical, electrical, and plumbing systems, already underway, could extend into early June. (Some systems, notably the building-wide air intake system, are already in limited service.)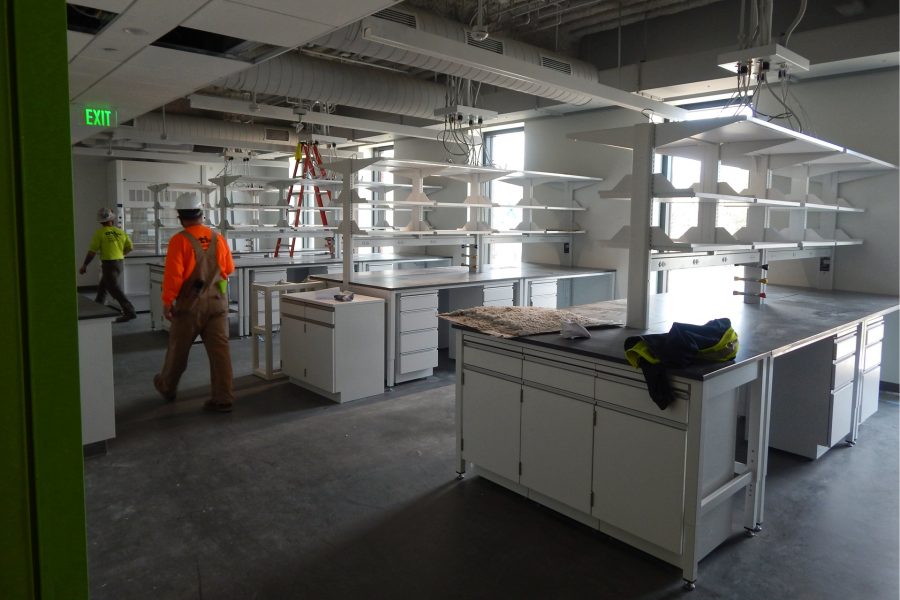 Winding back to mid-May, that most-springlike time of the Maine spring will likely be majorly transitional for Bonney. Creative Office Pavilion of Portland, Maine, will start delivering furniture then. (The science center's furniture will also include a few pieces custom-made by the Maine firm Thos. Moser, founded by a former Bates professor.)
Deliveries of all manner of equipment will commence too. "There are tons of AV equipment going throughout the building," says Streifel, along with the predictable printers and copiers, network gizmos, paper towel dispensers, trash and recycling bins, and of course the scientific equipment that directly supports the building mission.
By mid-May, too, the technical outdoor site work alluded to above — curbs, outdoor lighting, etc. — will be well along. And a bit later in the month, the landscapers will show up with their shrubs, flowers, and the loam to plant them in. (We were interested to learn that landscaping lingo includes the pronunciation of "loaming," the placing of loam, as "looming." Does this mean that after a hard day of work under the hot sun, landscapers like to enjoy an ice-cold foomy beer?)
Flooring it: We've written a lot about the Beacon, the two-story, glass-walled gathering place that affords a fabulous perspective on the Historic Quad. But this time, instead of complaining about the staging that's blocking that view, we can report that the staging is gone, the view is viewable, and the Beacon interior is close to completion, including snazzy lighting treatments on the third-floor overlook and elsewhere.
This "is one of my favorite places just to stand and stare out," Streifel says. "I'm waiting for days when there's a thunderstorm or a snowstorm, just to watch that move past."
Meanwhile, concrete specialists are now about halfway through the creation of the polished concrete floors on the building's first level. Entailing sophisticated formulations and many applications of progressively finer grinding implements, it results in a beautiful, lustrous, and durable surface.
Every omelette involves breaking eggs, though, and you can't polish concrete without generating a lot of dust that, as we've noted, can damage delicate machinery and electronics (to say nothing of spoiling your omelette). Moreover, the floor work also affects overall progress because folks in the other trades have to take a lot of detours. But all that's soon to be over: The first floor is the last to receive that treatment, ending a process that has loamed large in the minds of the Bonney project team. (See what we did there?)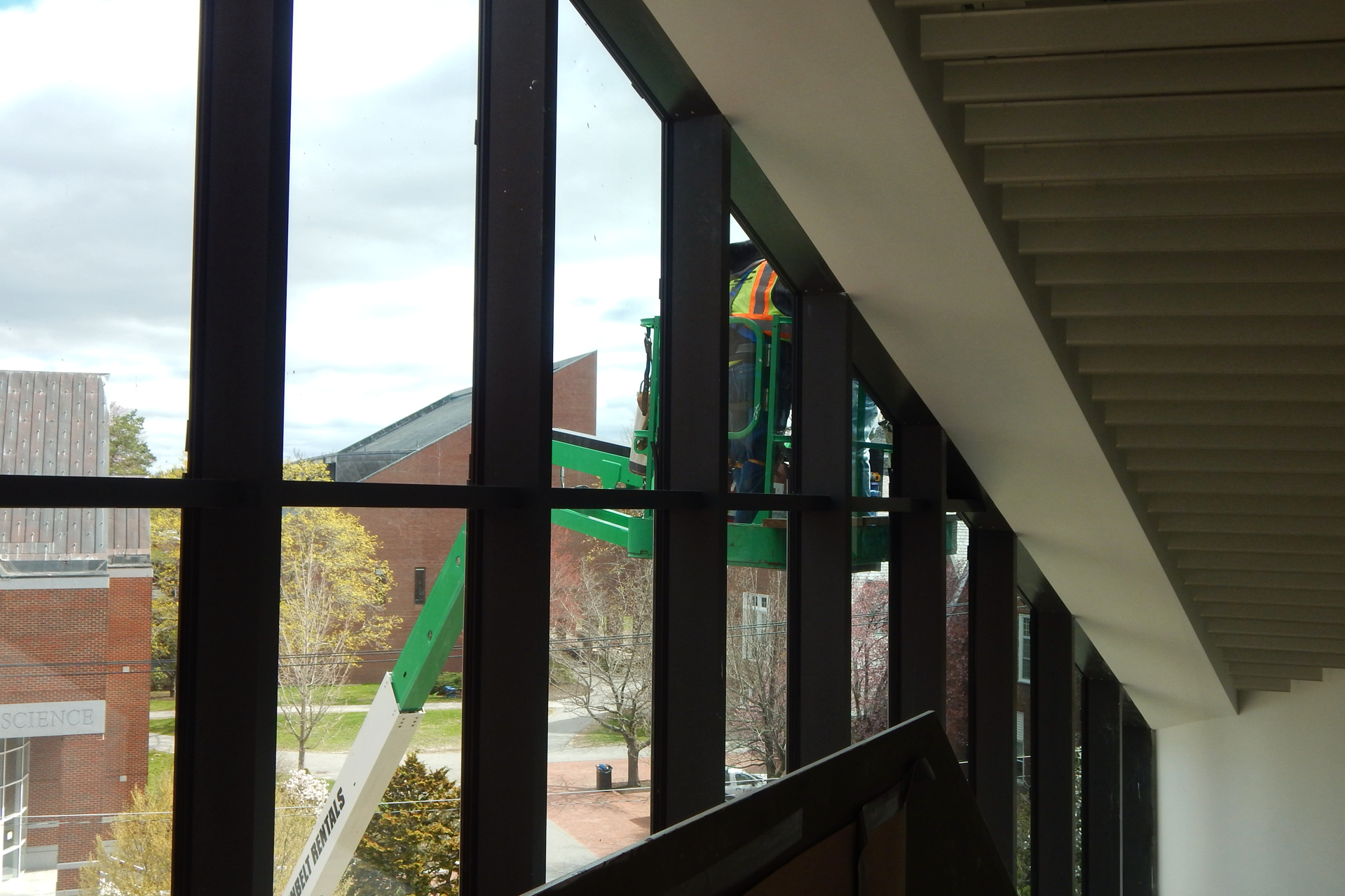 Speaking of lighting treatments, a spectacular example will be coming to the Monumental Stair one of these days. We've told you before about this stairway that, terminating at the main Bonney entrance and showcased behind three and a half stories of glass, joins the Beacon as standout visual features of the science center.
As we've noted previously, the Monumental Stair will be one of the last areas in the building to be completed. And one of the last steps (see what we did there?) will be the hanging of its main light source: a cylindrical fixture that's more than 25 feet long and glowing with some 30,000 LEDs. Huzzah!
Can we talk? Campus Construction Update welcomes queries and comments about current, past, future, timeless, and aspirational construction at Bates. Write to dhubley@bates.edu, putting "Campus Construction" or "Huzzah!" in the subject line.
Doug Hubley is a writer and musician living in Portland, Maine.
View Comments