As we were setting out items for this installment of Library Lost and Found, Elliott Vahey '23 of Shaker Heights, Ohio, stopped by. And pointed. "That's my bike lock key!"
Vahey was able to ID her key thanks to the scrap-fabric friendship bracelet that she had attached to the key. "I made the bracelet as a way not to lose the key. But I still lost it," she said with a laugh. (Reunited and it feels so good.)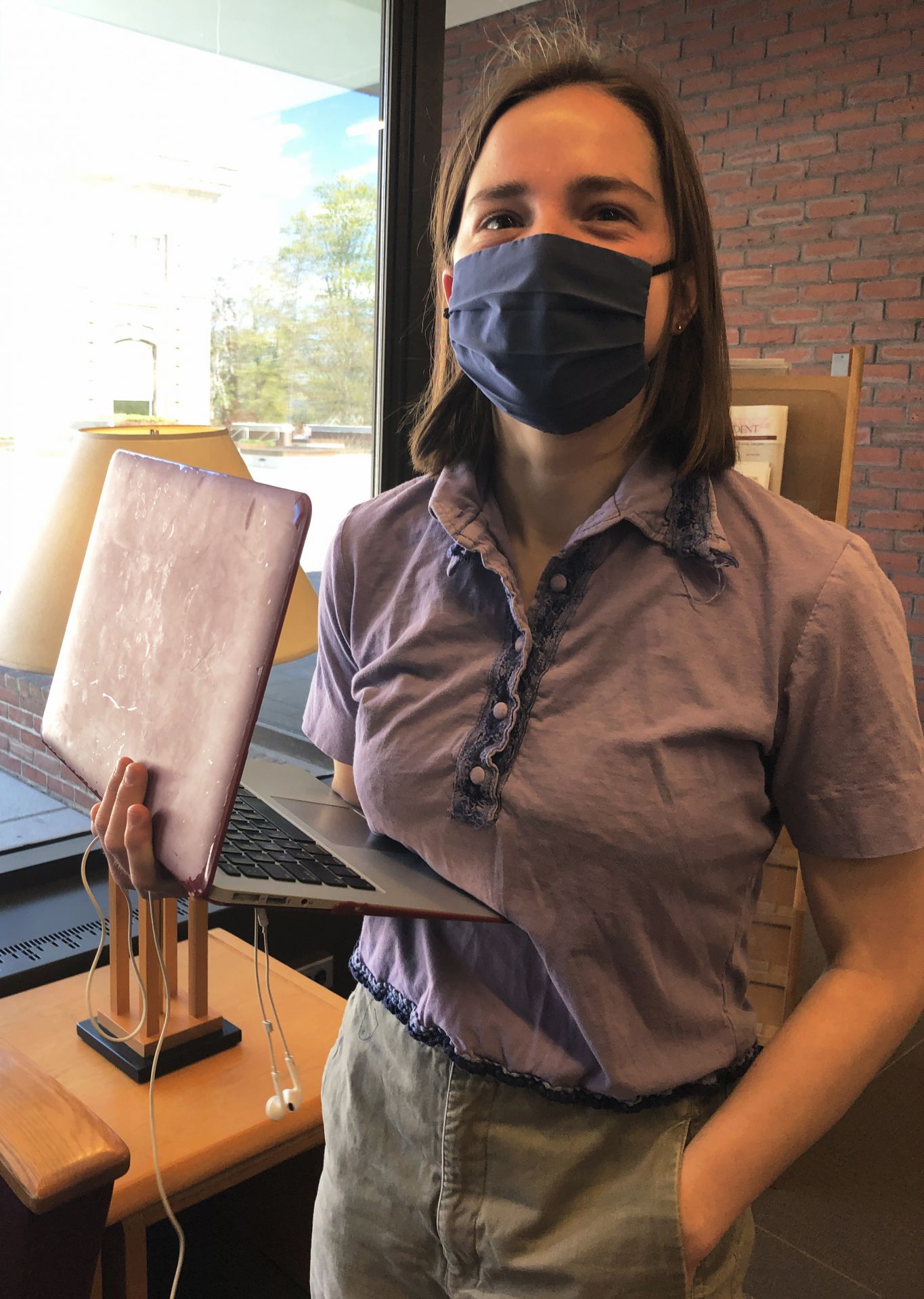 Scanning the table, Vahey spotted another item: a car fob attached to a Buckingham Browne & Nichols lanyard. "That's my friend's key fob!" Sure enough, a followup email from Vahey reported that her friend has since claimed the found fob. Fabulous!
Depending on how you count it, there are either 19 lost items for this installment, or 17 lost and two found:
Eyeglasses, Warby Parker, for mild nearsightedness in the Keene style, a "beach" frame for women.
Book, Collected Stories, by Franz Kafka, which, according to the introduction by Gabriel Josipovici, "gives us food we need." The author "will not be forgotten as long as there are books to read and human beings to read them."
Key, Real brand, for a bike lock (claimed by Elliott Vahey!).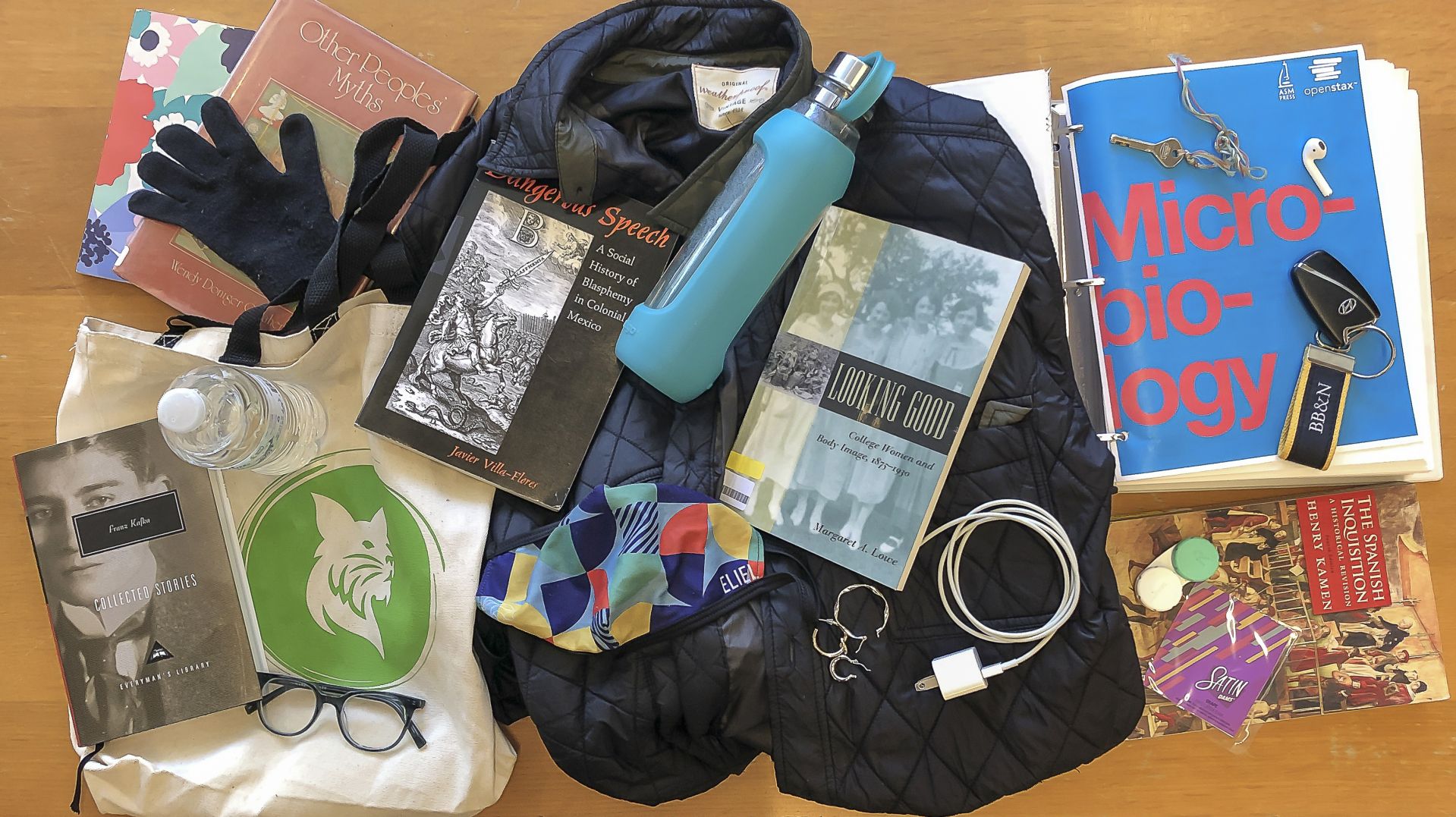 Canvas tote bag, with the Green Dot logo of the college's bystander intervention program.
Car fob, Hyundai brand, with Buckingham Browne & Nichols lanyard (claimed!).
Book, Dangerous Speech: A Social History of Blasphemy in Colonial Mexico, by Javier Villa-Flores, a systematic exploration of blasphemy as a social phenomenon in 16th- and 17th-century Mexico.
Book, Other People's Myths: The Cave of Echoes, by Wendy Doniger O'Flaherty, who "holds the hope that by learning and appreciating the myths of others, Westerners might bypass the bloodless cynicism of so much contemporary thought and 'skim close to the ground of the human heart.'"
Oral dam, Satin brand, grape flavored, "the only oral dam on the market with a hermetically sealed pack."
The dam was among handouts — condoms, dams, lube, stickers, brochures — and presentations during Sex Week, April 28–May 1, an education and awareness program run by student Peer Health Educators, with support by Residence Life and Health Education, that seeks to normalize conversations and communication about sex, with a strong focus on inclusivity.
Charger, USB to lightning cable, Apple brand.
Bottled water, Ascend brand, sourced from "protected springs in Peterborough, N.H., Red Hook, N.Y., Plympton, Mass., and/or Somers, Conn."
By Maine law, sellers of bottled water must include, on the label, "words that, without the use of abbreviations or acronyms, identify the name and geographic location of the water body, well, or public water supply from which the water was obtained."
Earrings, assorted
Black knit glove, single
Contact lens case, empty
Book, Looking Good: College Women and Body Image, 1875-1930, by Margaret A. Lowe, who draws on student diaries, letters, and other materials to examine the ways college women at Cornell University, Smith College, and Spelman College regarded their own bodies during the period. 
Water bottle, Contigo brand
Jacket, black quilted, Weatherproof Vintage brand.
Face mask, by Eliel, creator of "best of the best high-performance cycling gear on the planet."
Book, Spanish Inquisition: A Historical Revision, by Henry Kamen, which one reviewer says takes "relativism and apology too far" by claiming that the notorious tribunal "had little interest in cruelty and often attempted to temper justice with mercy."
Book, in a three-ring binder, a 1,307-page printout of the free OpenStax textbook Microbiology, used in the Bates biology course of the same name. Fun fact: the word "ribosome" appears 177 times in the book.
View Comments