The month of May represents the end of the academic year. As the beauty of spring emerges, we experience bittersweet acknowledgments: of the work that remains to be done, the sudden anticipation of goodbyes, and contemplation of life after graduation.
Congratulations and thanks to all for the strength and determination you modeled during the challenging year of 2020–21.
Footwork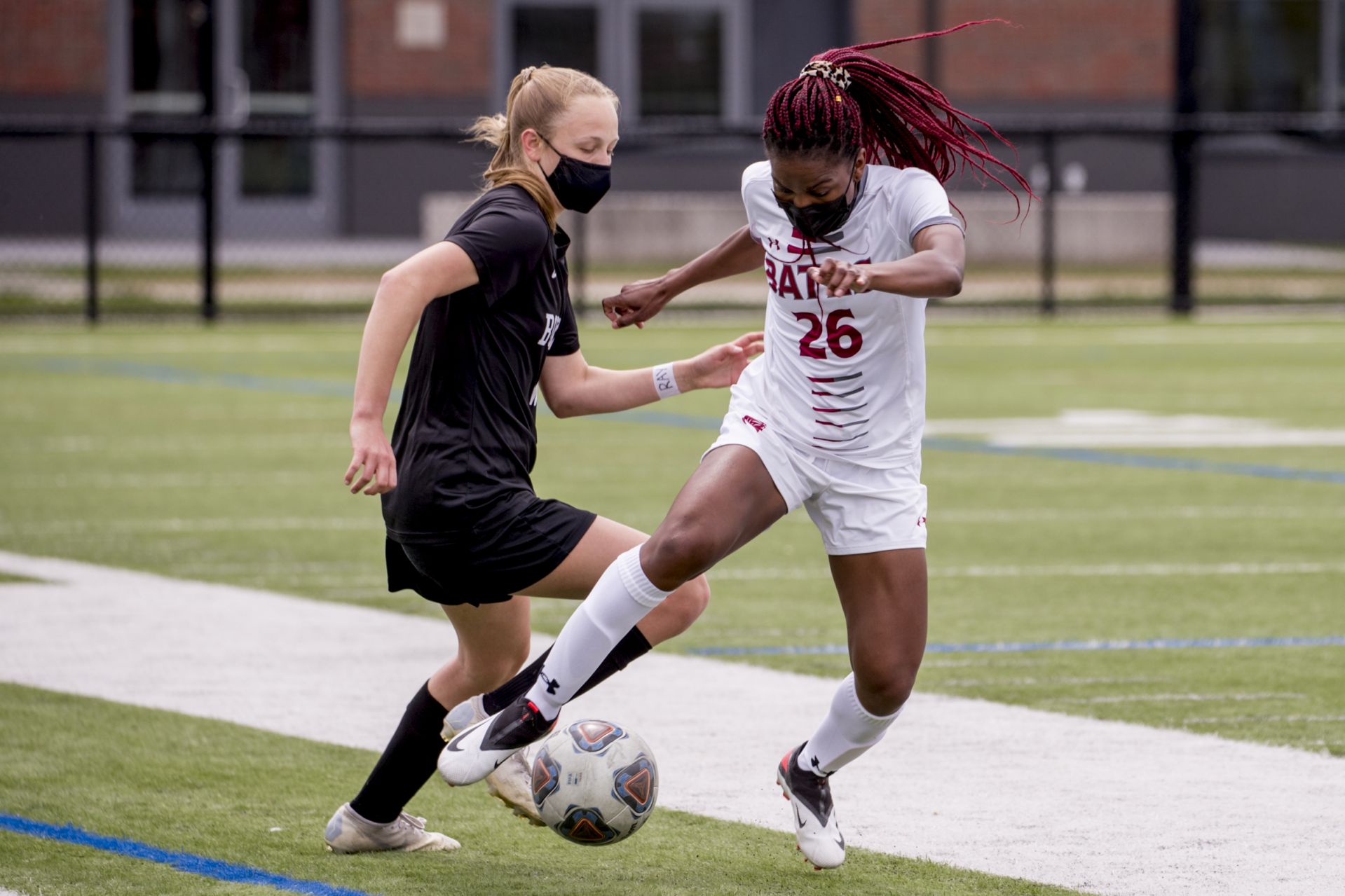 Adelaide Armah '23 of Accra, Ghana, gains control of the ball during the Bates women's soccer team's scrimmage against Bowdoin, held on Garcelon Field in early May..
---
Sunset Over Hathorn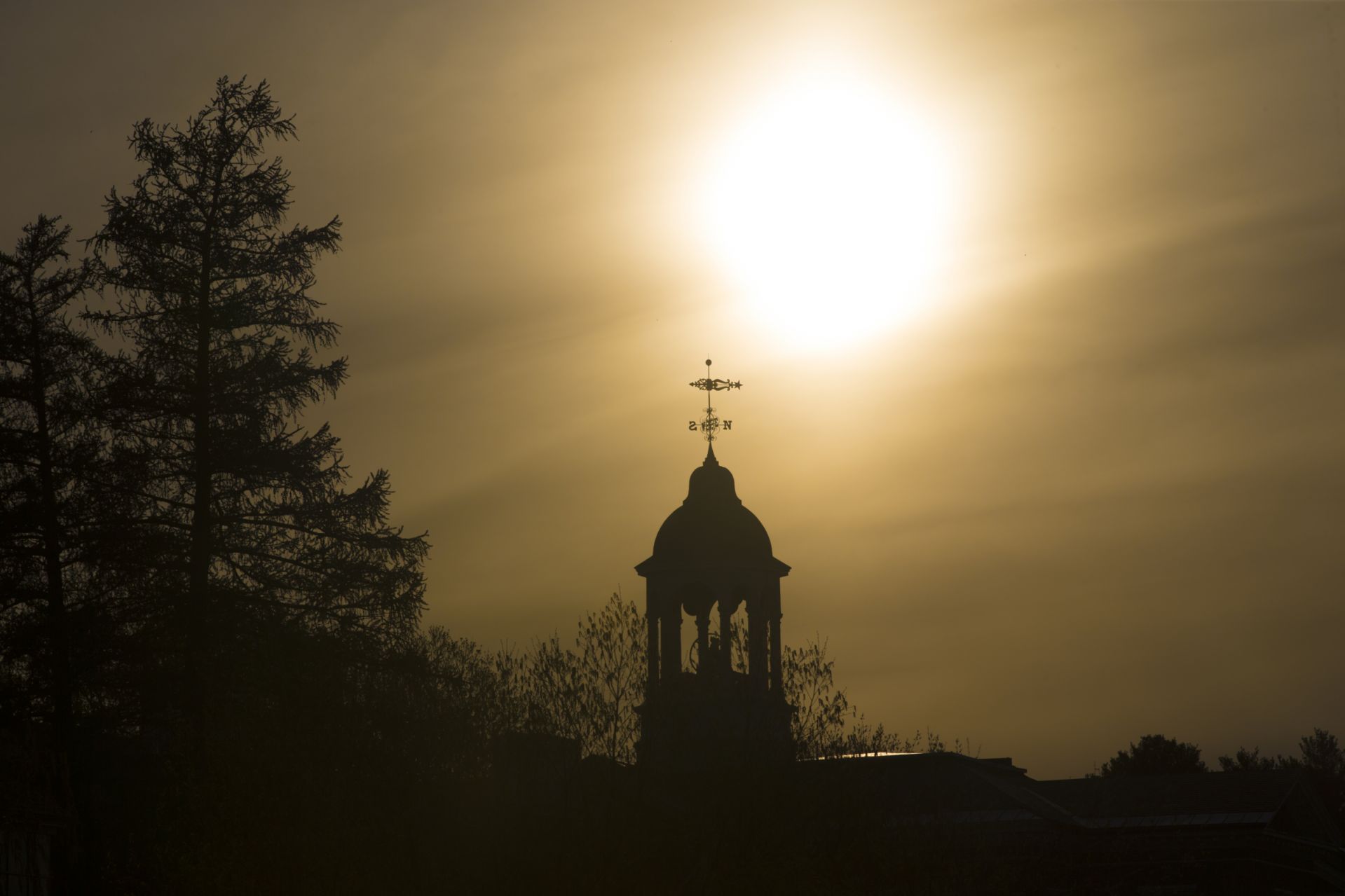 The days grow longer and warmer, as evidenced by this May sunset over Hathorn Hall and Alumni Walk.
---
Cow Friend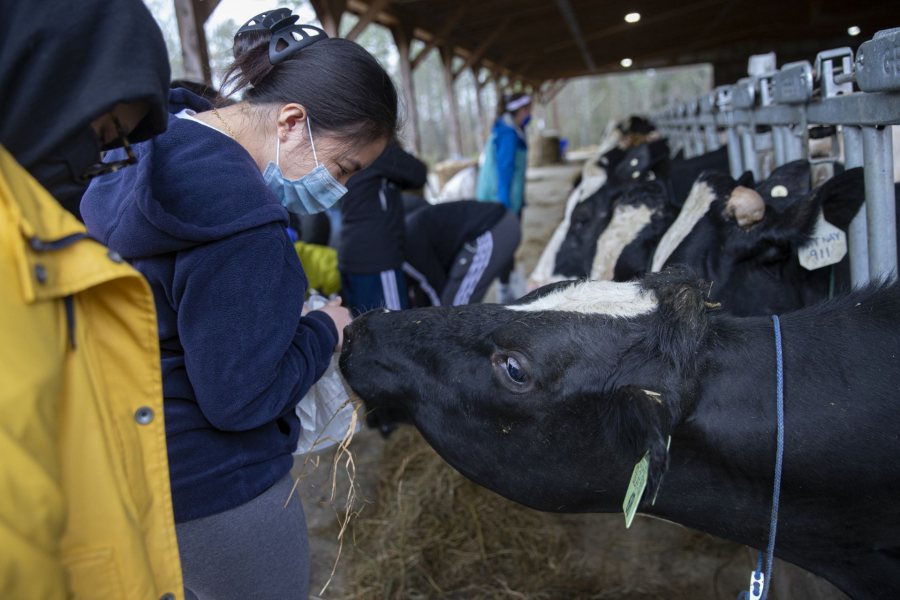 Anna Puaala '23 of Honolulu meets a dairy cow at Wolfe's Neck Center for Agriculture & the Environment in Freeport. She's part of a Bates biology course for sophomores and juniors that teaches research methods and approaches that span a range of disciplines.
The biology students have joined a collaborative research project headed by the Bigelow Laboratory for Ocean Sciences, Wolfe's Neck, and other New England institutions focused on reducing greenhouse gas emissions. The project is testing the efficacy of adding a seaweed supplement to dairy feed to reduce the methane that cows produce as part of their natural digestive process.
---
Net Play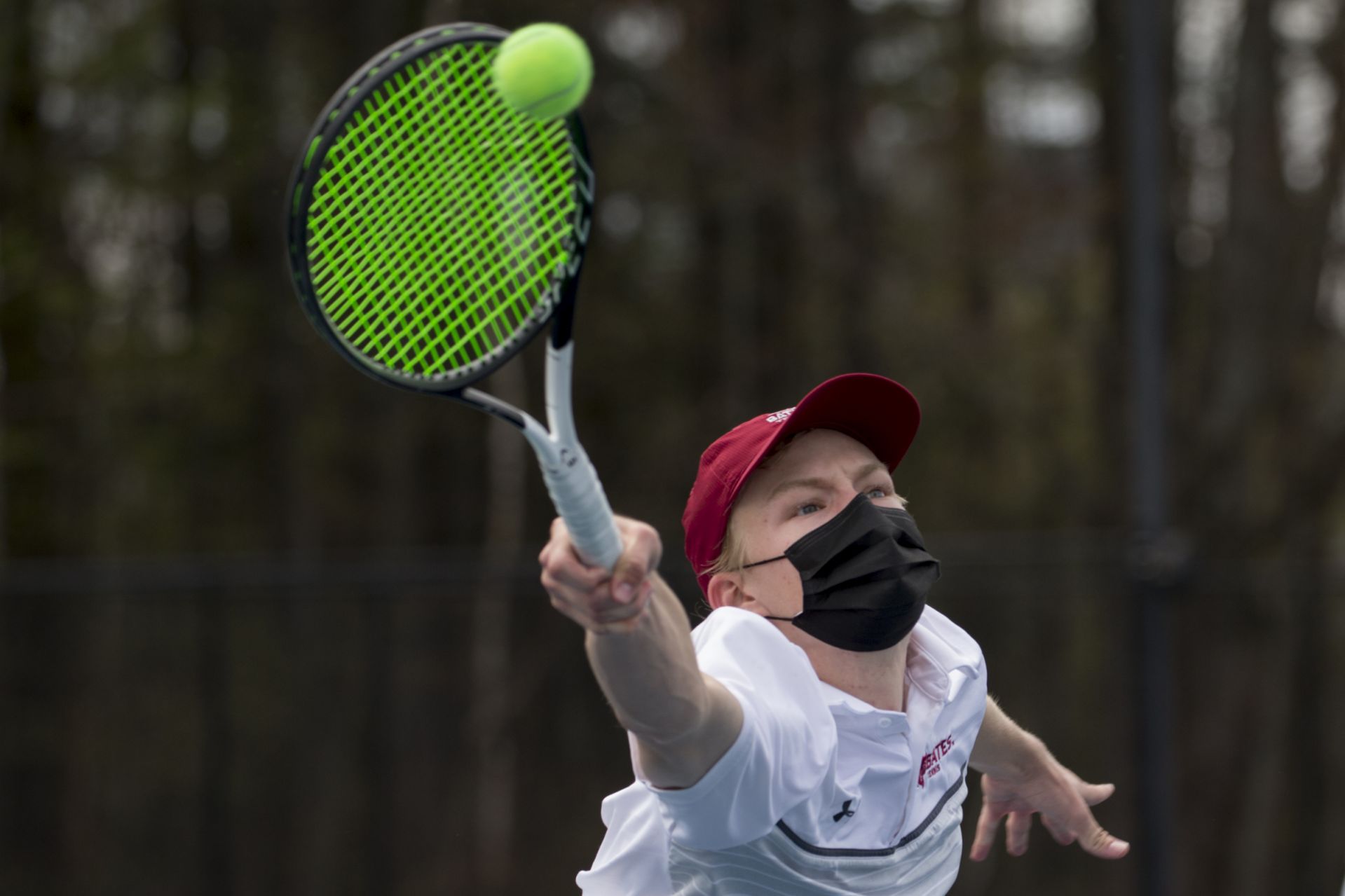 Matthew Danielson '24 of St. Petersburg, Fla., lunges for a volley during men's tennis action against Colby.
---
Bow Tie Model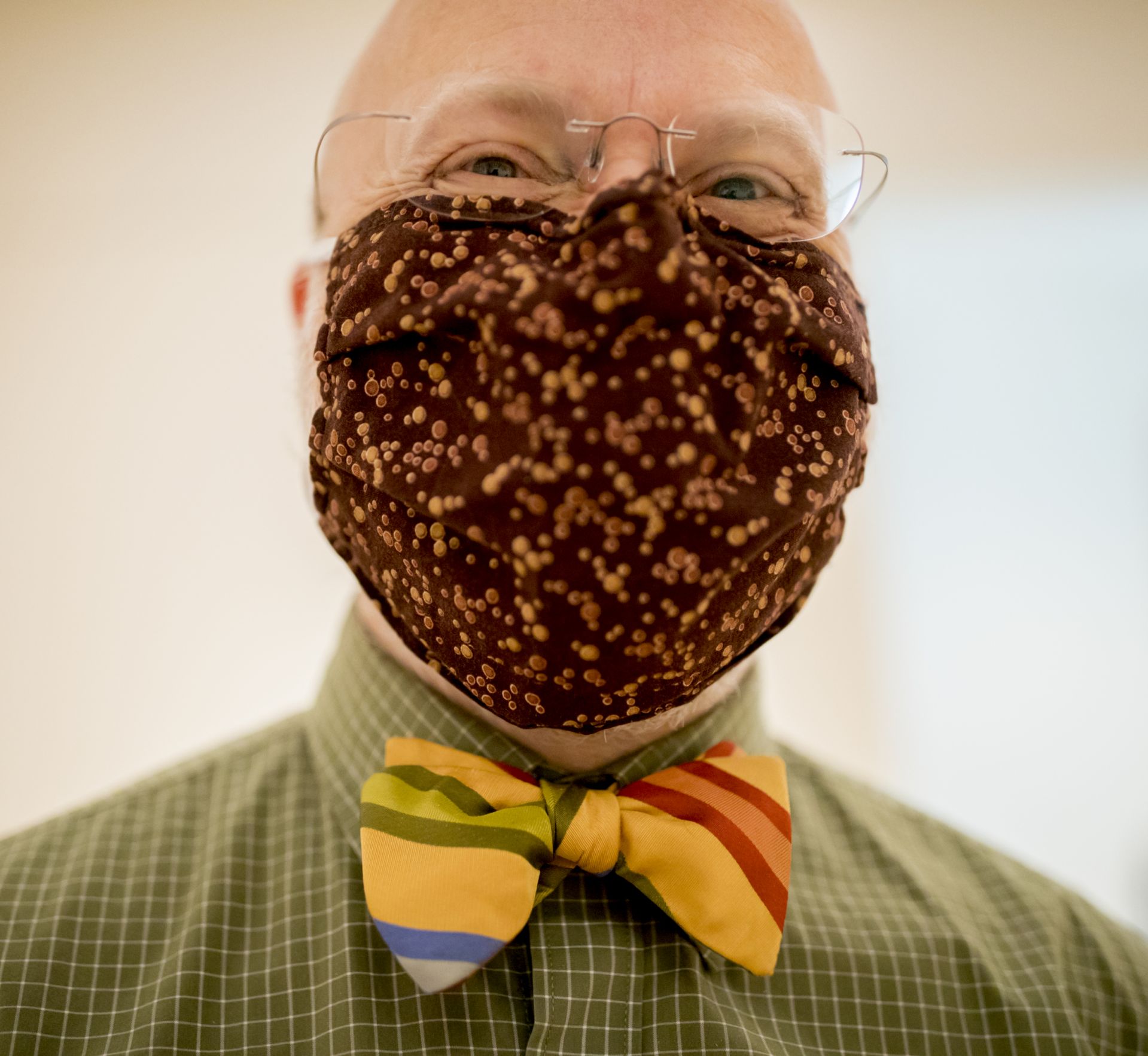 Anthony Shostak, education curator for the Museum of Art, rocks a bow tie once owned by the late attorney, author, and art critic Phillip Isaacson '47, a friend of the museum well known for his cravats.
Whenever he wears one of Isaacson's ties, Shostak remembers Isaacson, "helping his mother down the front steps, hosting a dinner for guests of the museum, walking briskly to his office downtown, or just spending a few quiet minutes in the galleries by himself with the art that he enjoyed so much."
---
We Love Our Seniors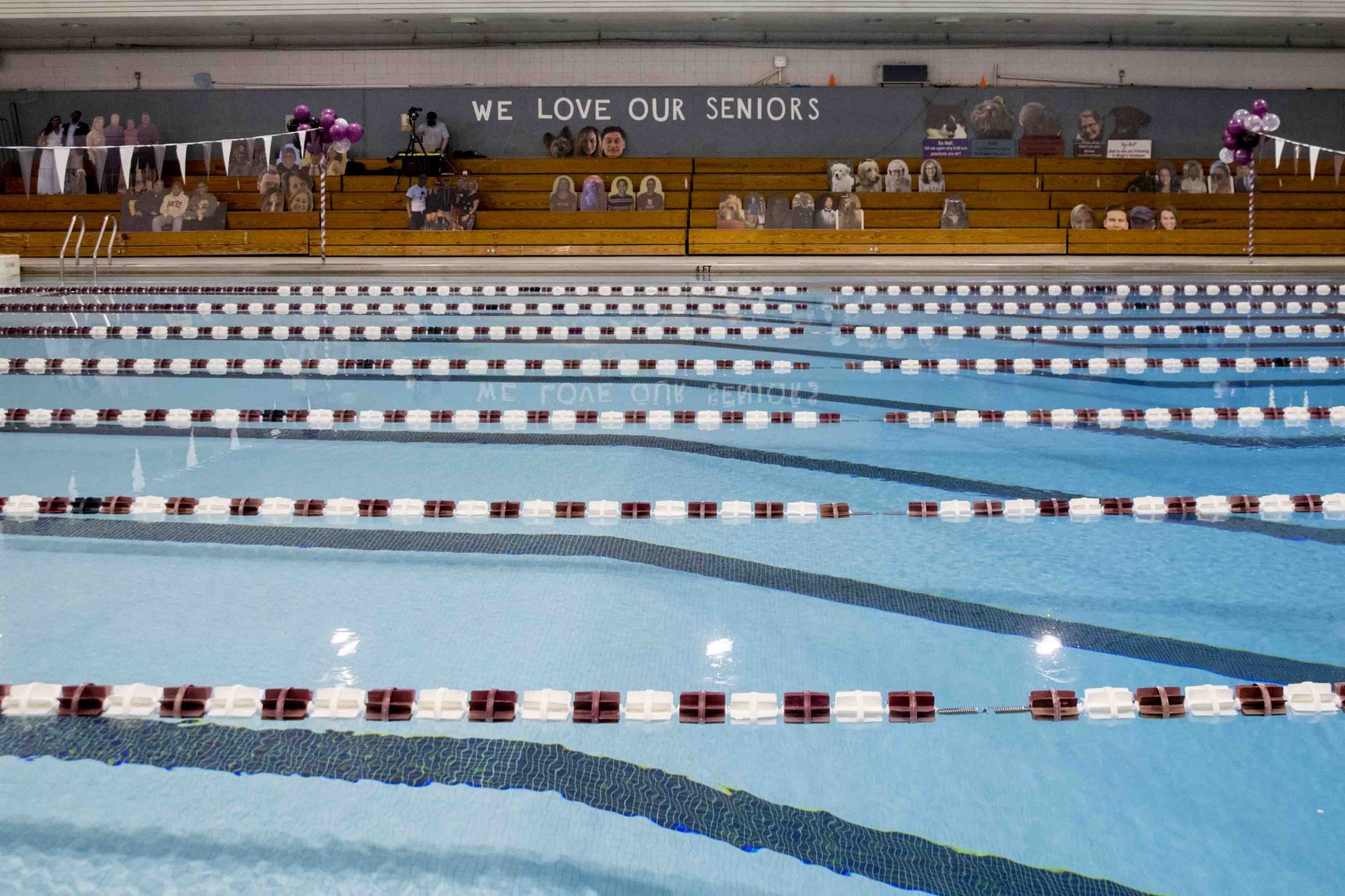 Due to COVID-19 protocols, in lieu of attending a celebration for graduating Bobcat swimmers and divers, cardboard cutout photographs of family members dot the bleachers at Tarbell Pool.
---
Mouthpiece in May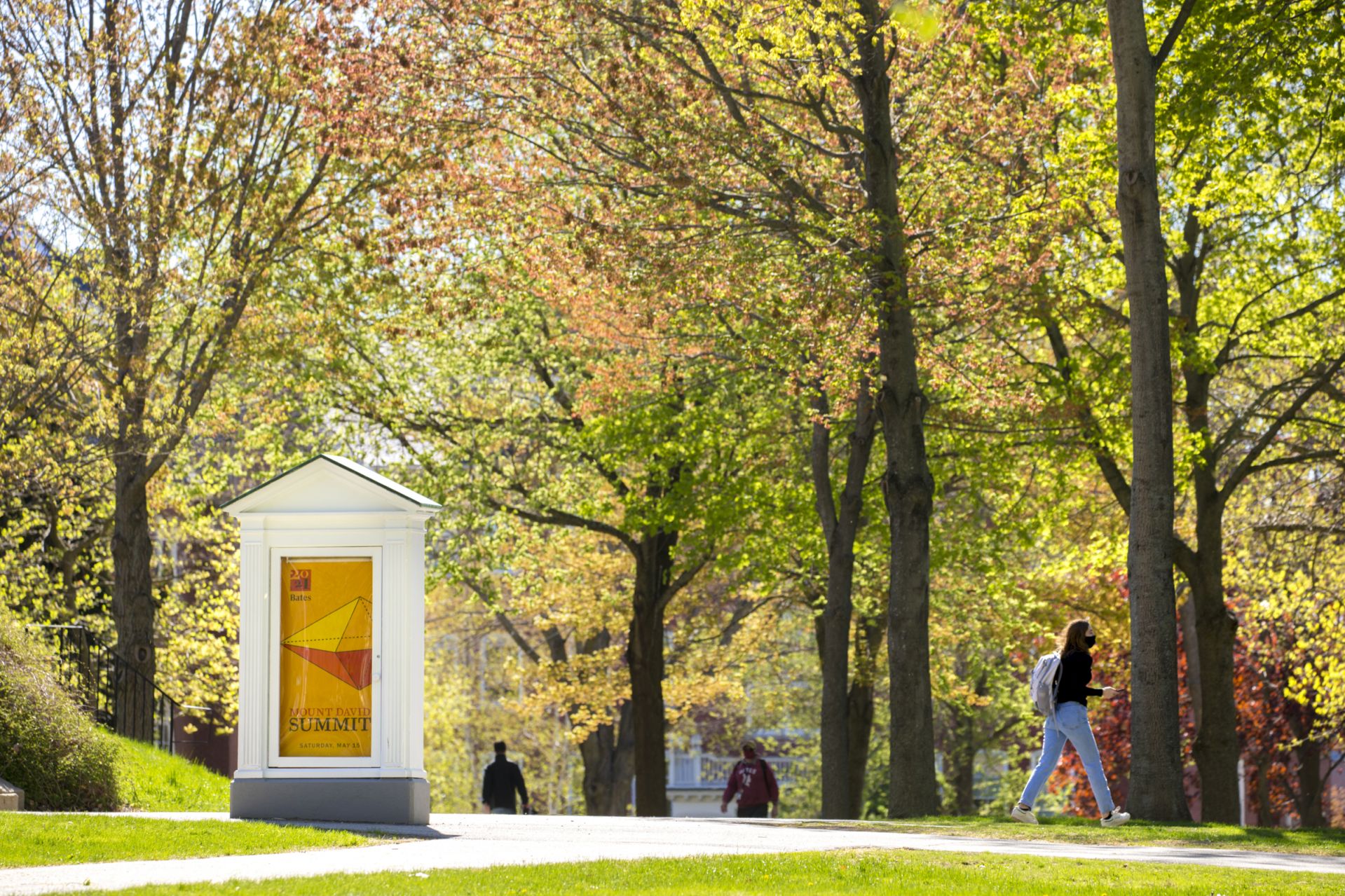 May's distinctive colors fill the Historic Quad, and the Mouthpiece in front of Hathorn Hall announces the 19th annual Mount David Summit, the college's celebration of student academic and artistic achievement. Canceled in 2020 due to the pandemic, the Summit returned on May 15 as a virtual event.
---
Music Lesson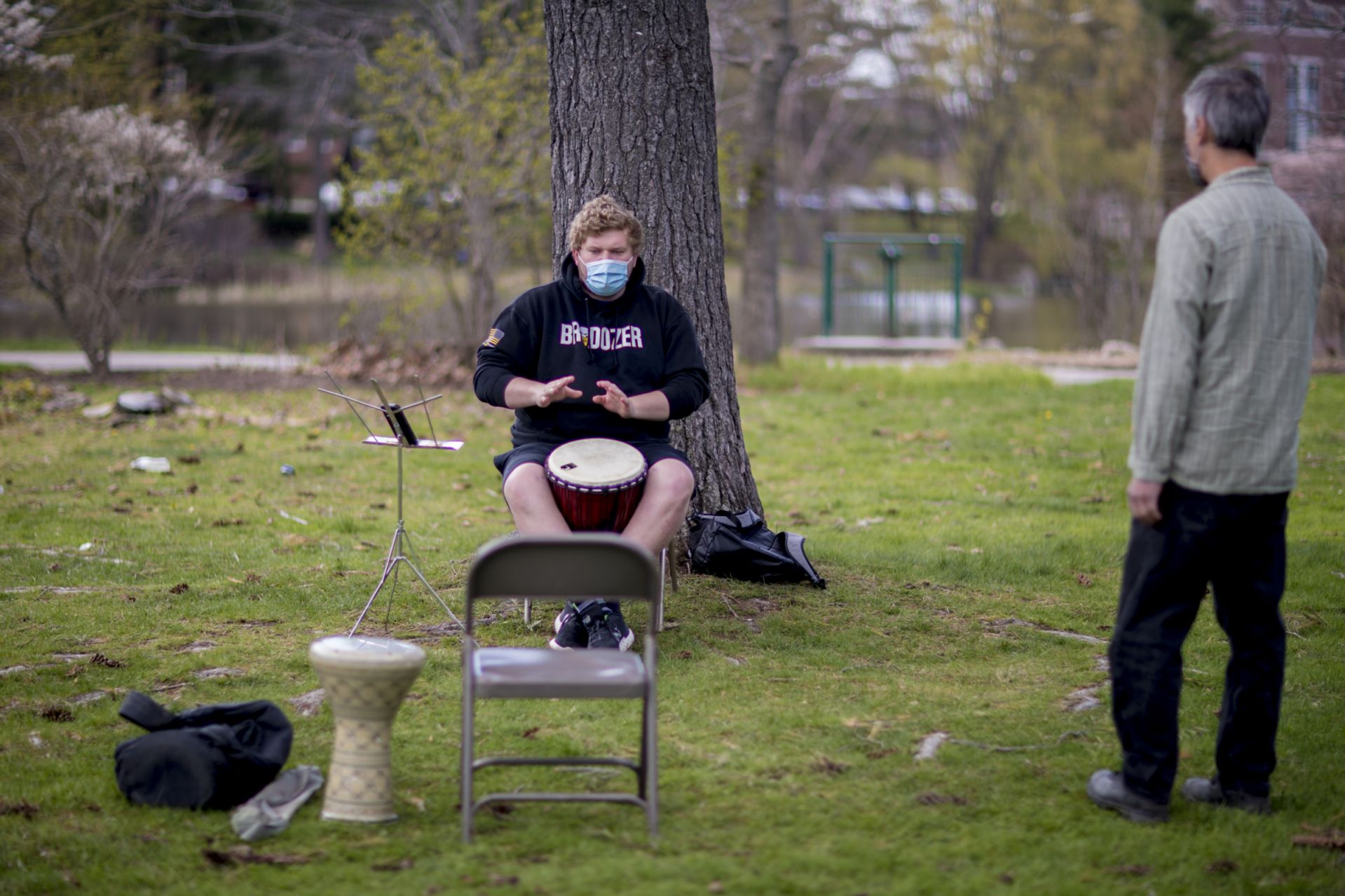 History major Mac Midland '22 of Gloucester, Mass., receives a music lesson on a djembe, the well-known Western Africa drum, from Eric LaPerna, an instructor in Middle Eastern percussion, on the field at the corner of Russell and College streets, next to Olin Arts Center.
---
Orange Blossom Time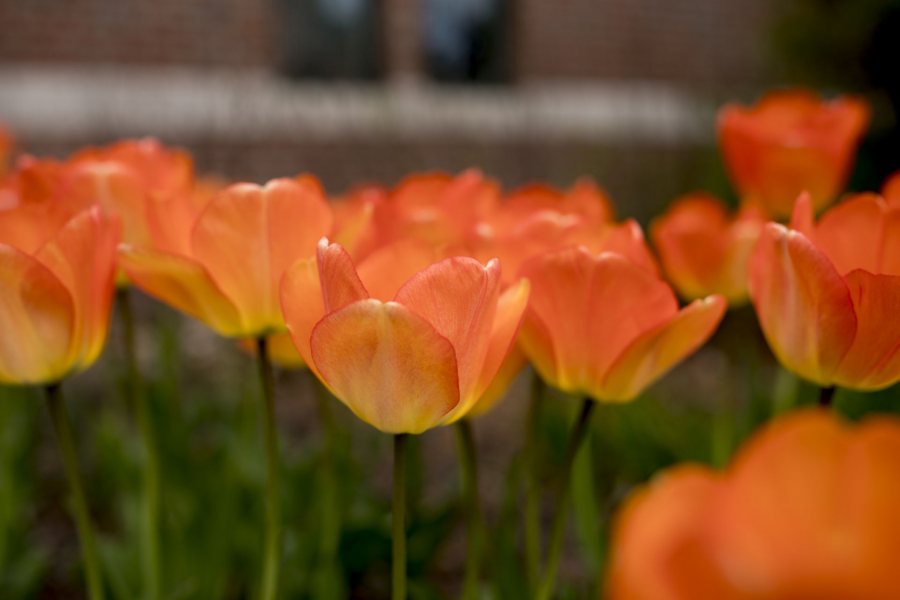 A grove of orange tulips stands at attention in the sunlight in front of the Museum of Art.
---
She'll Remember This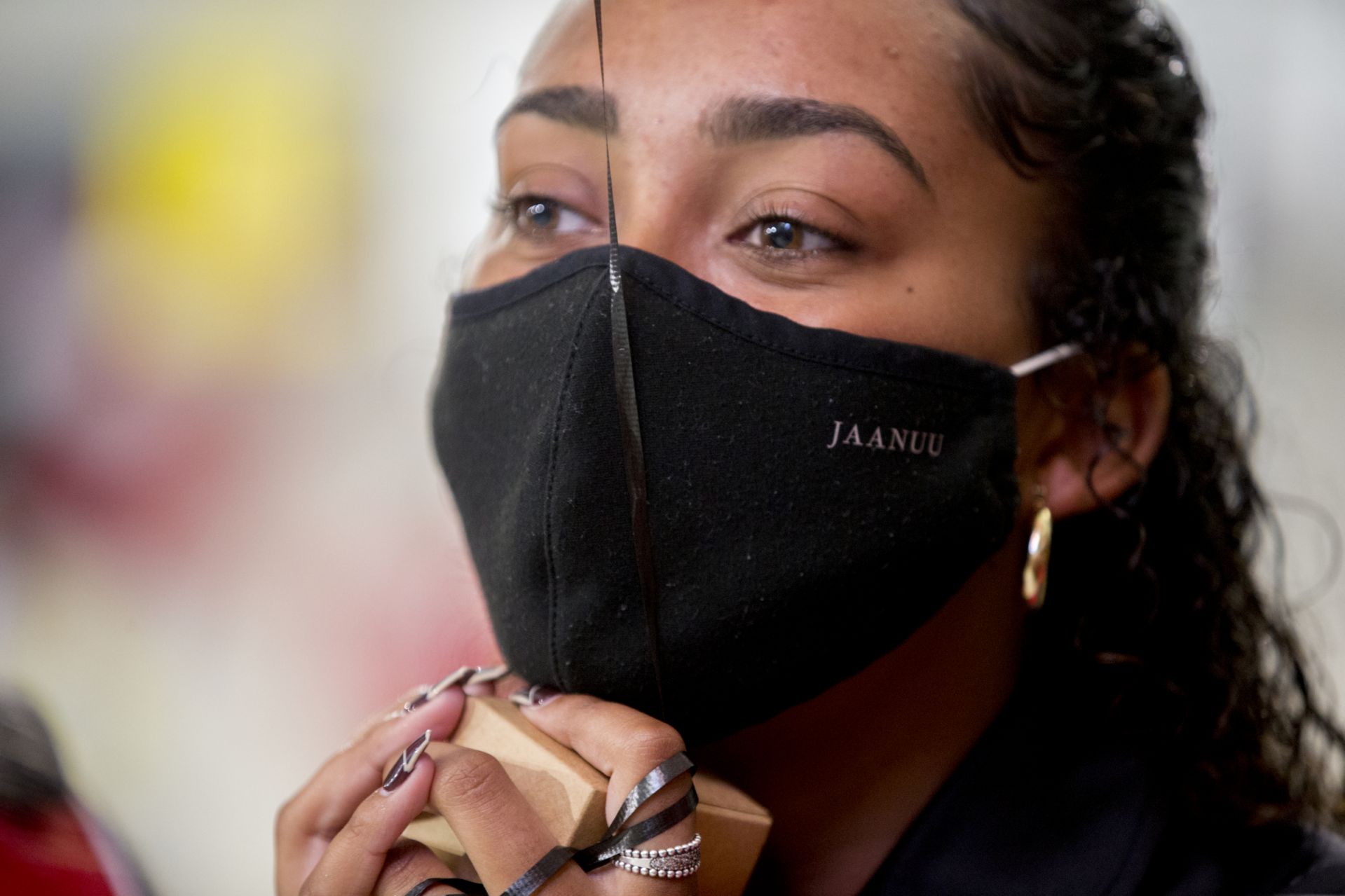 Clutching a balloon and a gift, Lauryn Boucree '21 of Bethesda, Md., savors the moment as she participates in a pool-side ceremony for graduating swimmers and divers organized by their fellow swimmers and coaches.
---
Eye on the Ball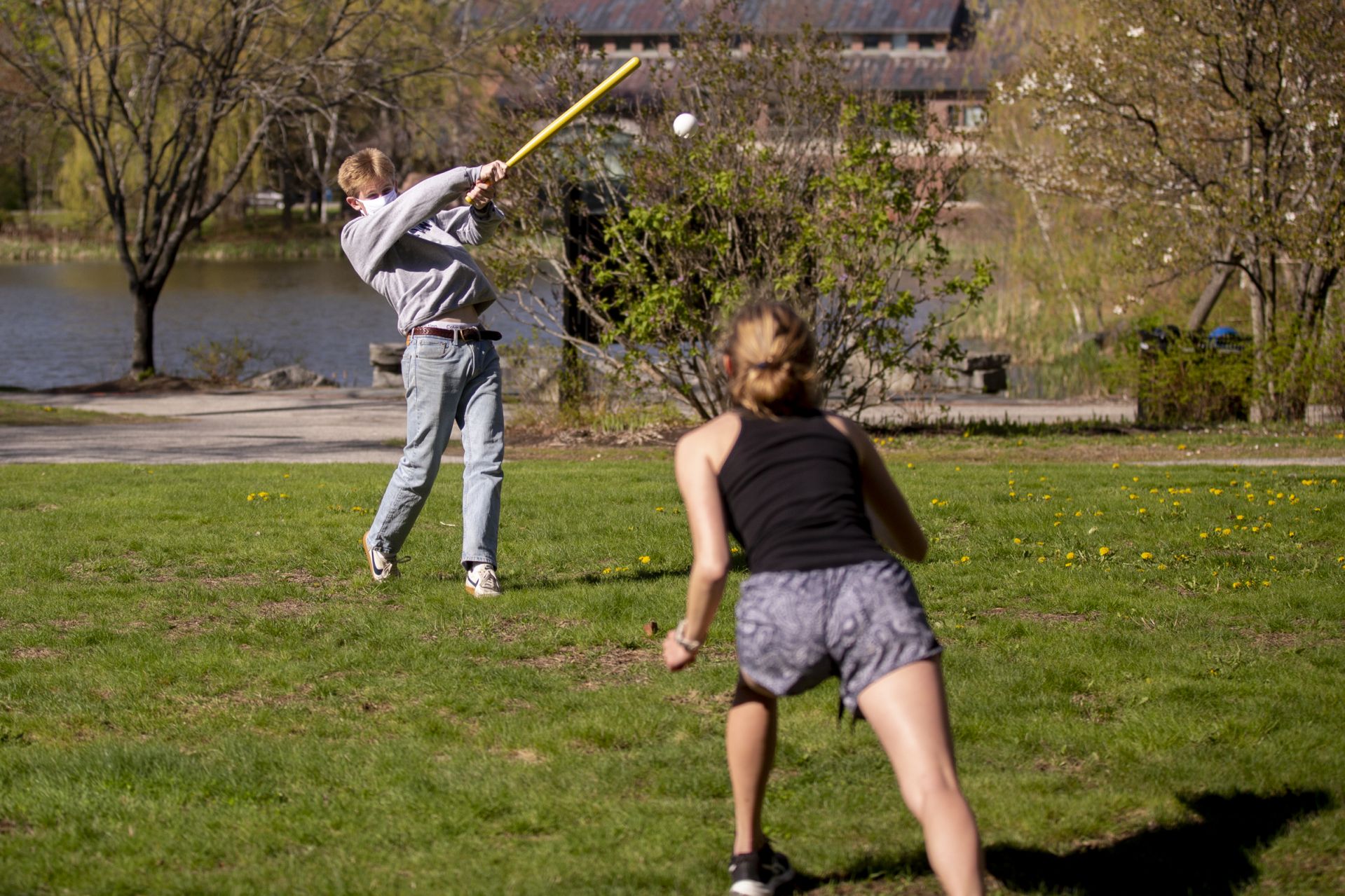 "Good company. Good weather," said Alix Zabin '22 of Milford, Conn., commenting on the pitch-and-hit game of Wiffle ball that she and Conor Fay '21 of Half Moon Bay, Calif., enjoyed behind Pettengill Hall.
---
Opening Night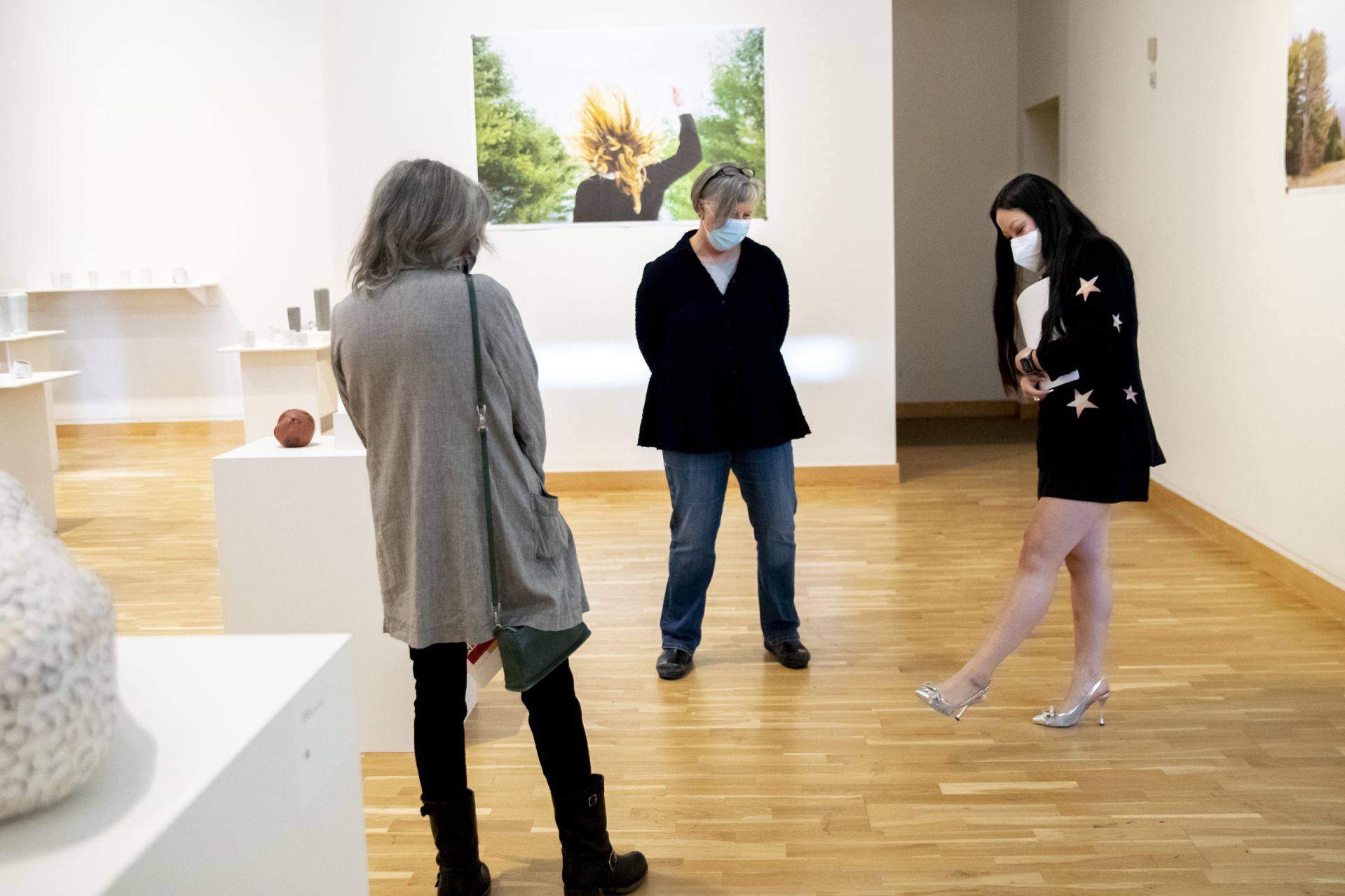 Senior thesis advisers Pamela Johnson, associate professor of art and visual culture, and Susan Dewsnap, lecturer in art and visual culture, admire the shoes worn by ceramicist Laila Stevens '21 of Norwich, Vt., to the opening reception of the 2021 Senior Thesis Exhibition at the Museum of Art.
---
'Response Ability'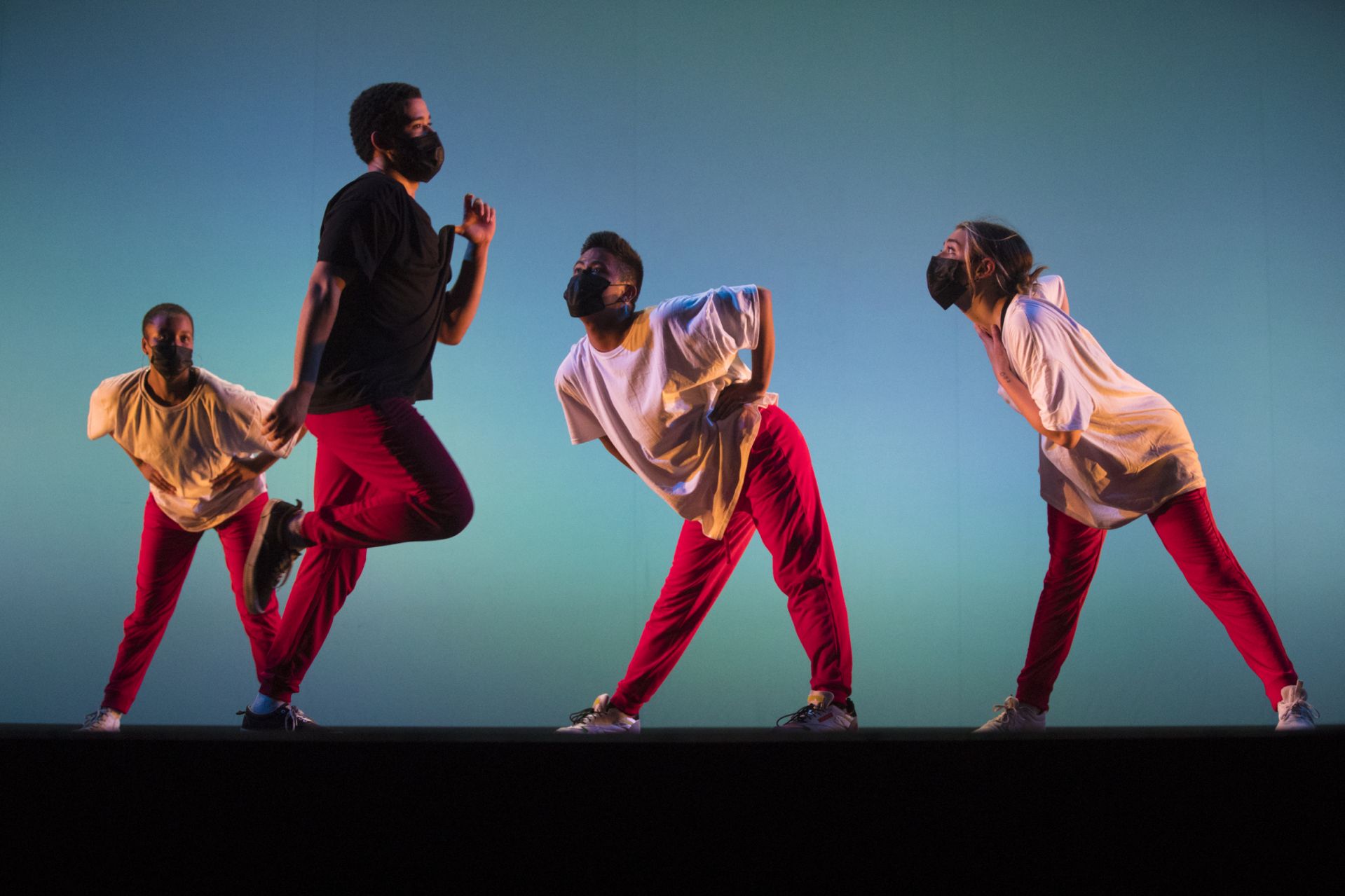 From left, seniors Tiauna Walker, choreographer Erick Gredonia, Dawrin Silfa, and Brit Seipp perform a dress rehearsal of "Response Ability: A Museum (non finito)" in Schaeffer Theatre, in preparation for the annual Spring Dance Concert.
The concert's artistic directors were Associate Professor of Dance Carol Dilley and Mellon Postdoctoral Fellow and Lecturer in Dance Brian J. Evans.
---
Honors Thesis Celebration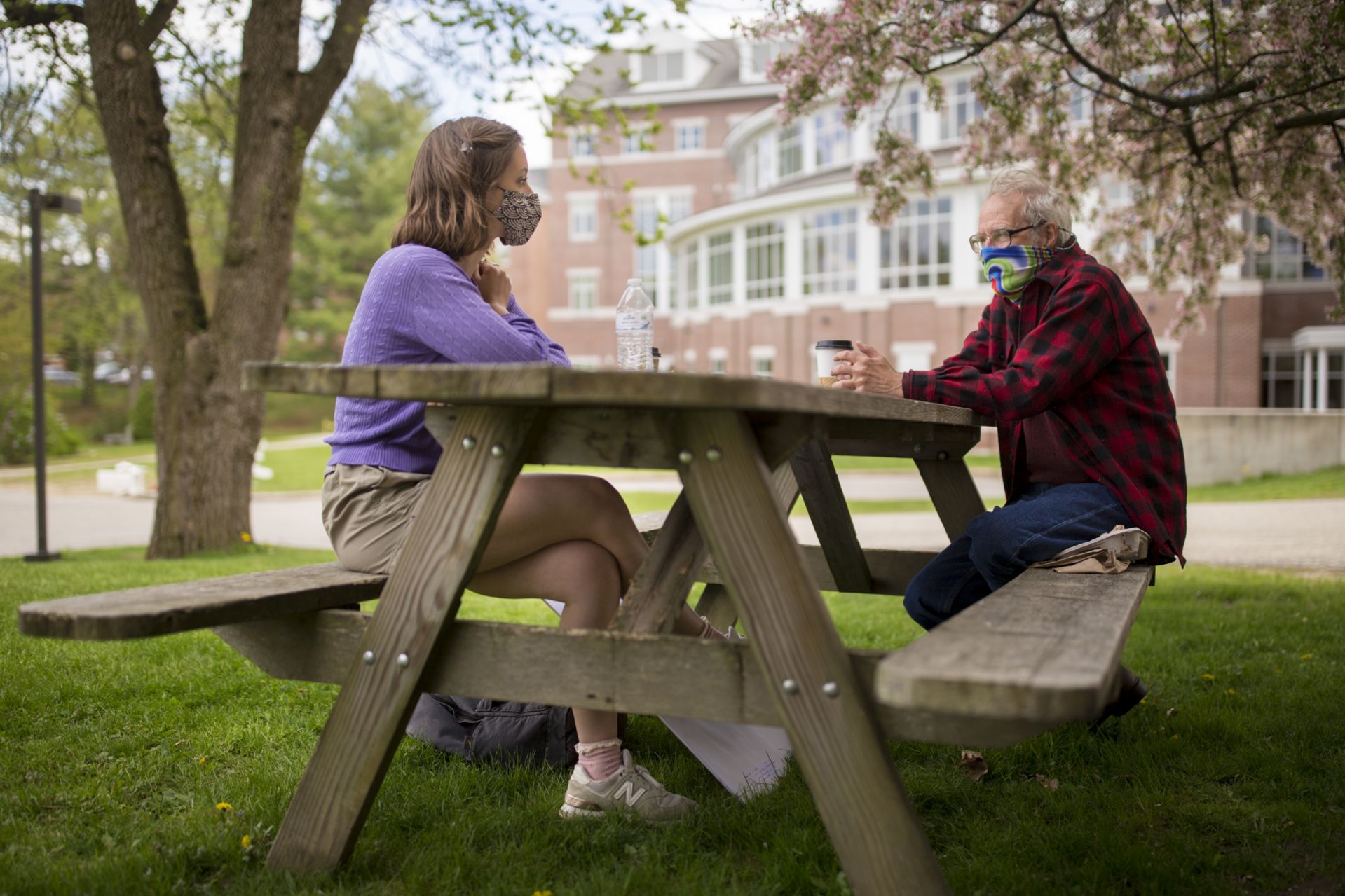 After defending her community-engaged honors thesis in anthropology, Hannah McKenzie '21 of Stevenson, Md., celebrates with her adviser, Dana Professor of Anthropology Loring Danforth. Rather than the traditional formal meal in a restaurant, the two opted for physically distanced coffee and bagels at a picnic table behind Lane Hall.
A recent Watson Fellowship winner, McKenzie's thesis explores the work of people on the front lines of addressing violence against women in Lewiston's African immigrant communities.
---
Film Festival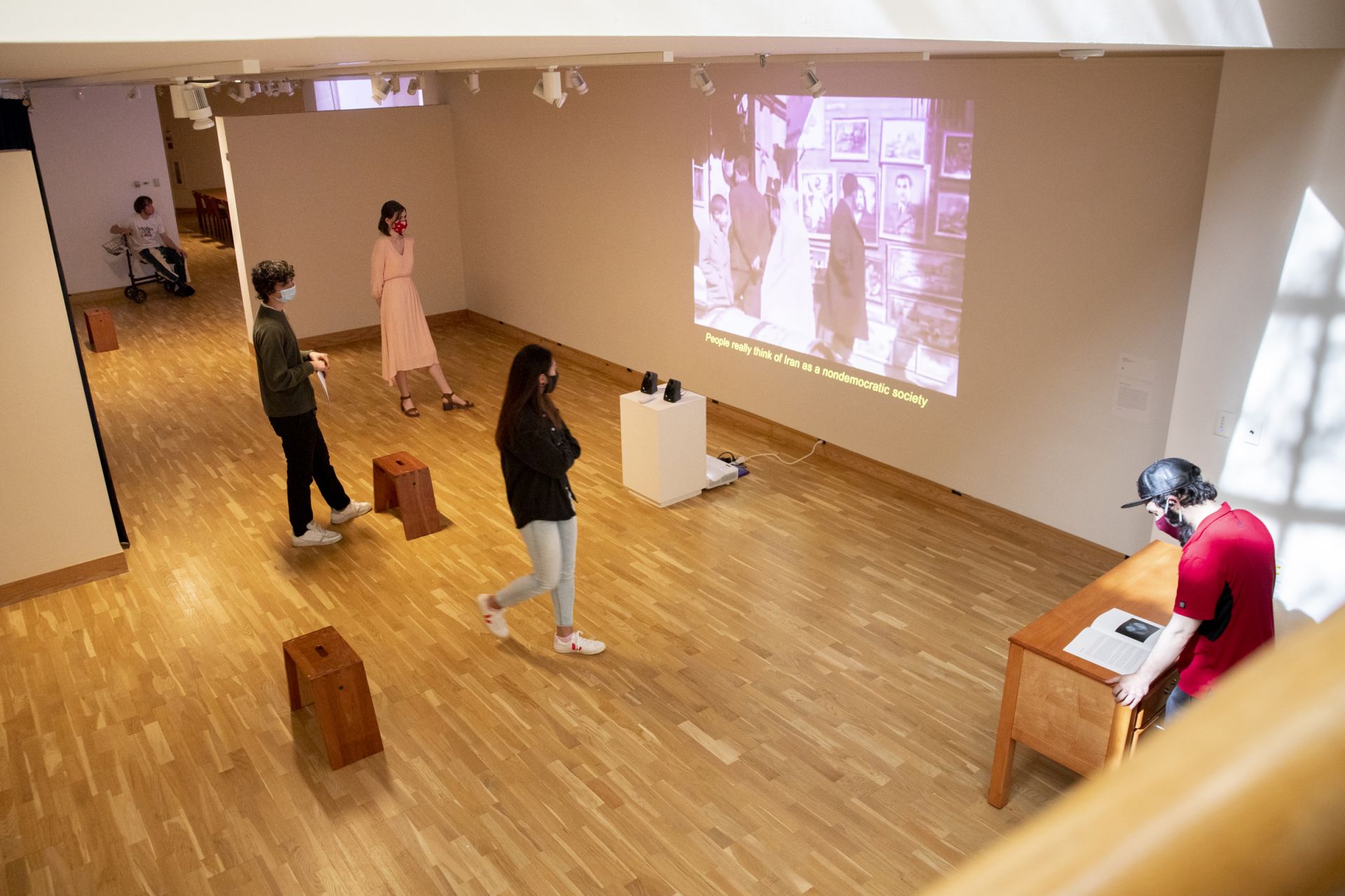 Guests view a video by Eli Eshaghpour '21 of New York City, one of three videos premiered at the 2021 Senior Thesis Exhibition.
---
Under the Tree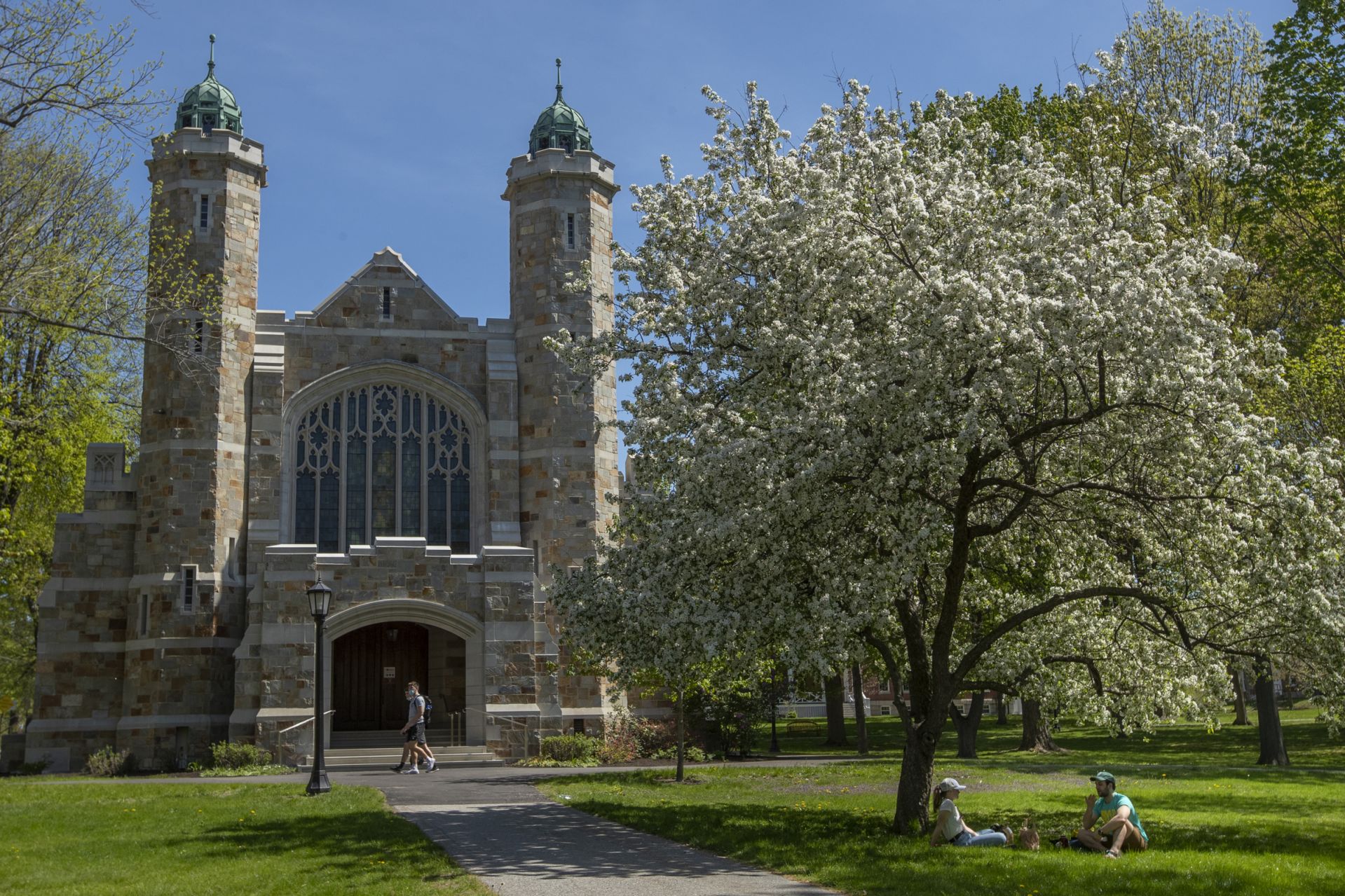 May blossoms frame the Peter J. Gomes Chapel.
---
My Beautifiul Balloon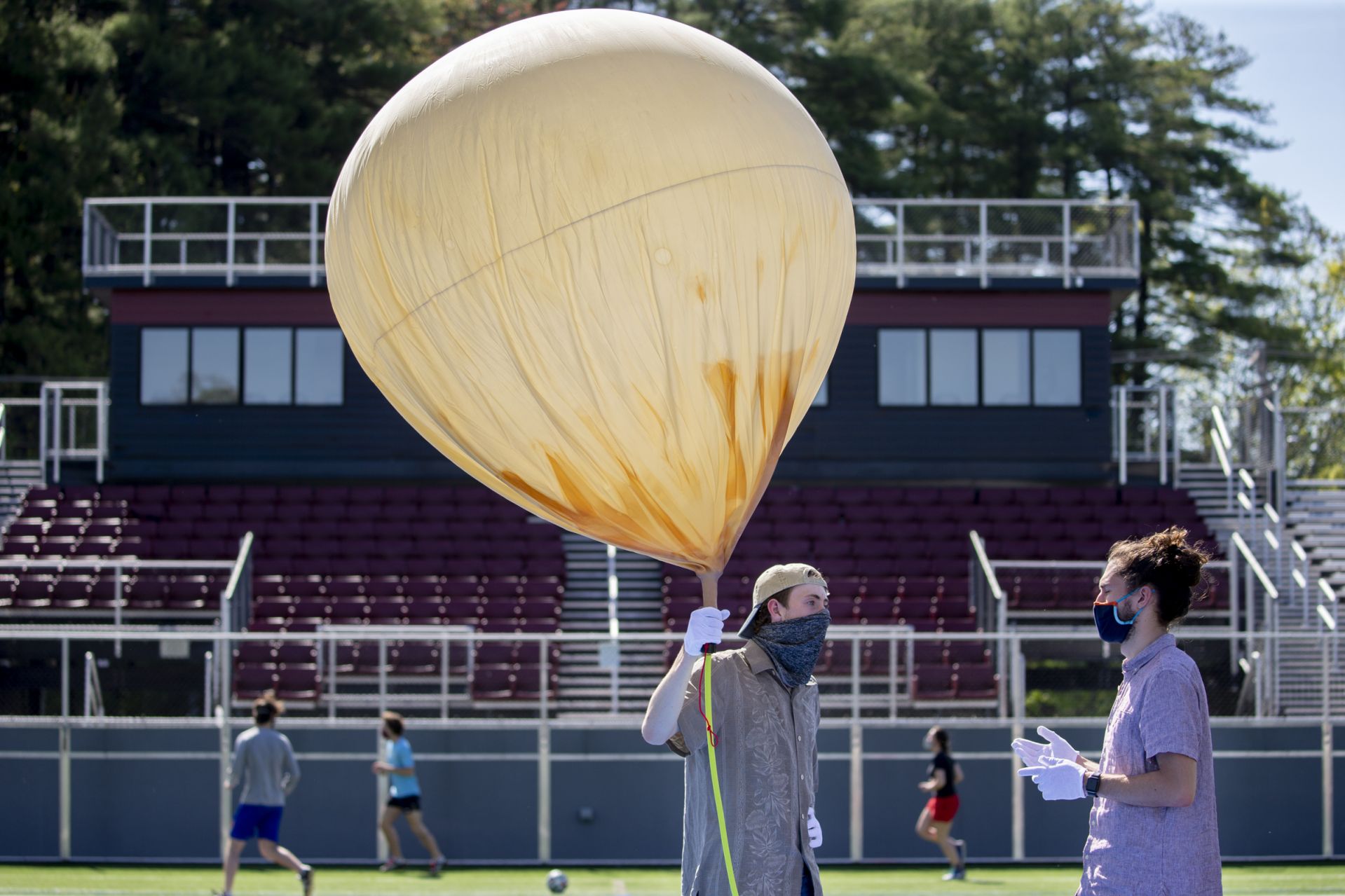 Jackson Donahue '22 of Princeton, N.J., joins Christopher Barker '21 of Burlington, Vt., to evaluate their balloon's buoyancy after filling it with helium, shortly before they and fellow members of the High Altitude Ballooning Club launched the balloon from Garcelon Field.
---
Power Wash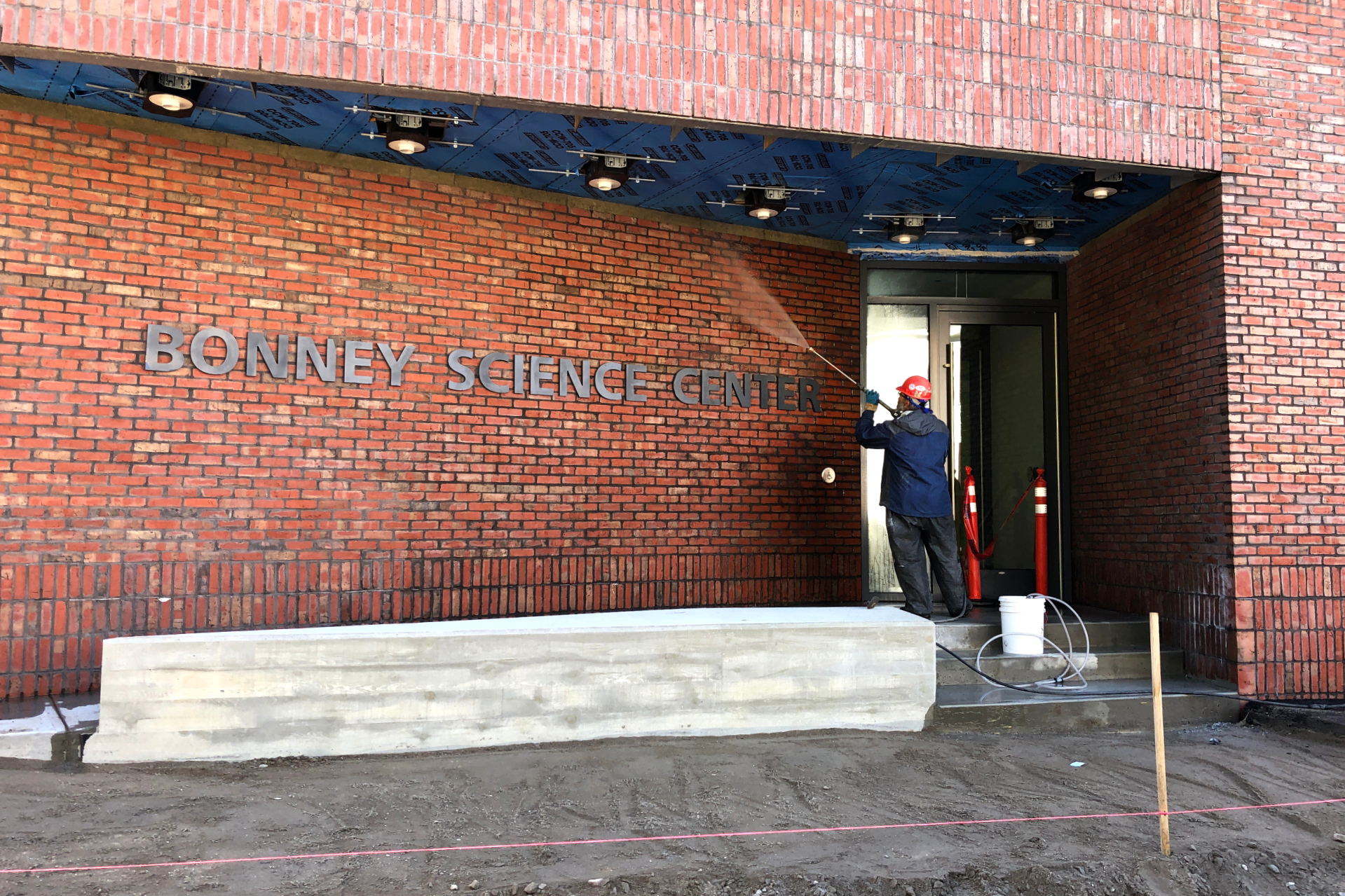 Exterior site work at the Bonney Science Center includes a worker power washing the masonry and brickwork at one entrance around the Bonney Science Center signage — a temporary mock-up. The permanent signage will be installed in a few weeks.
---
Mother's Day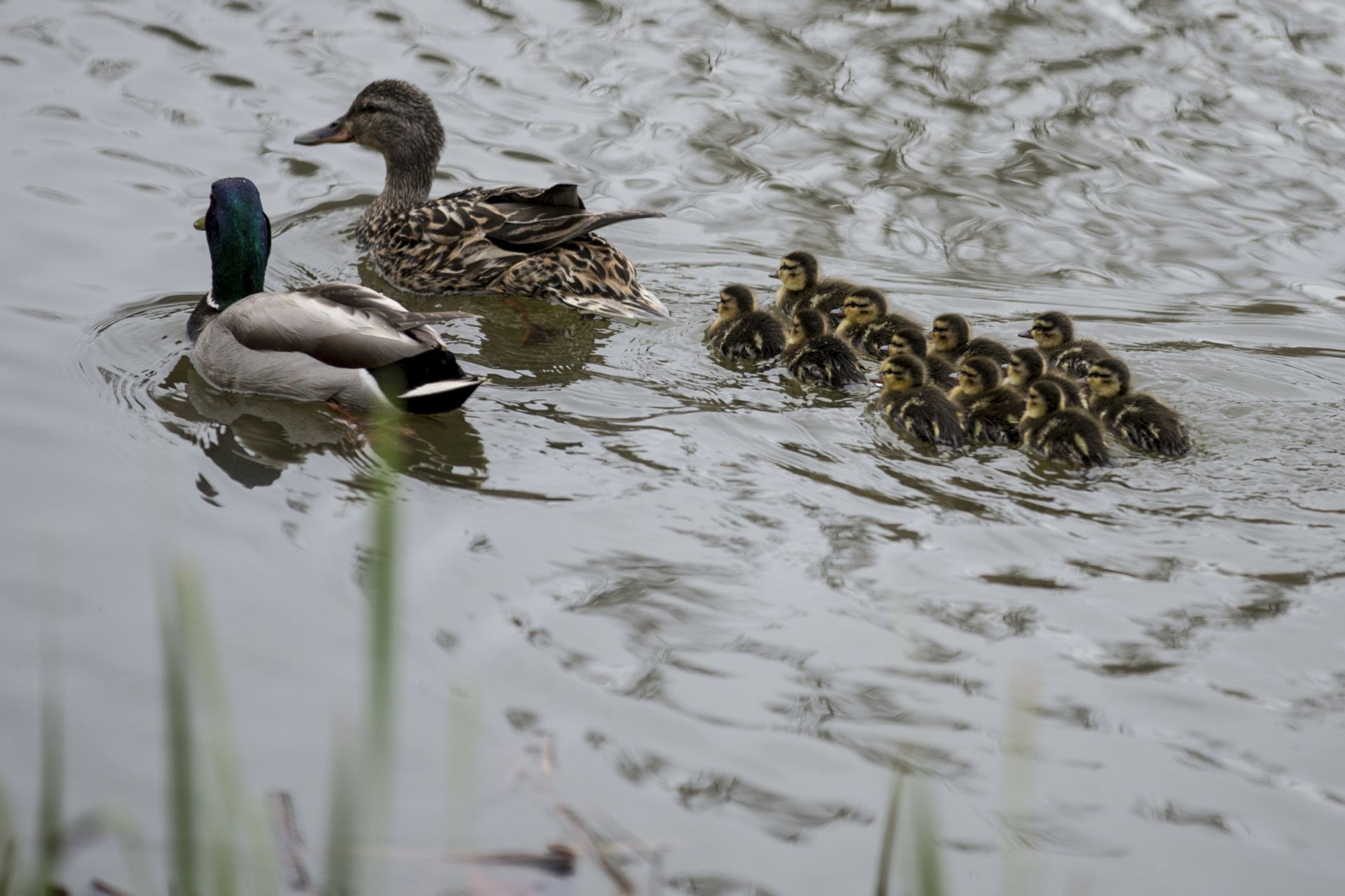 A family unit navigates the waterways of Lake Andrews. Thanks to all the moms who lead the way and keep us safe.
---
Place in the Sun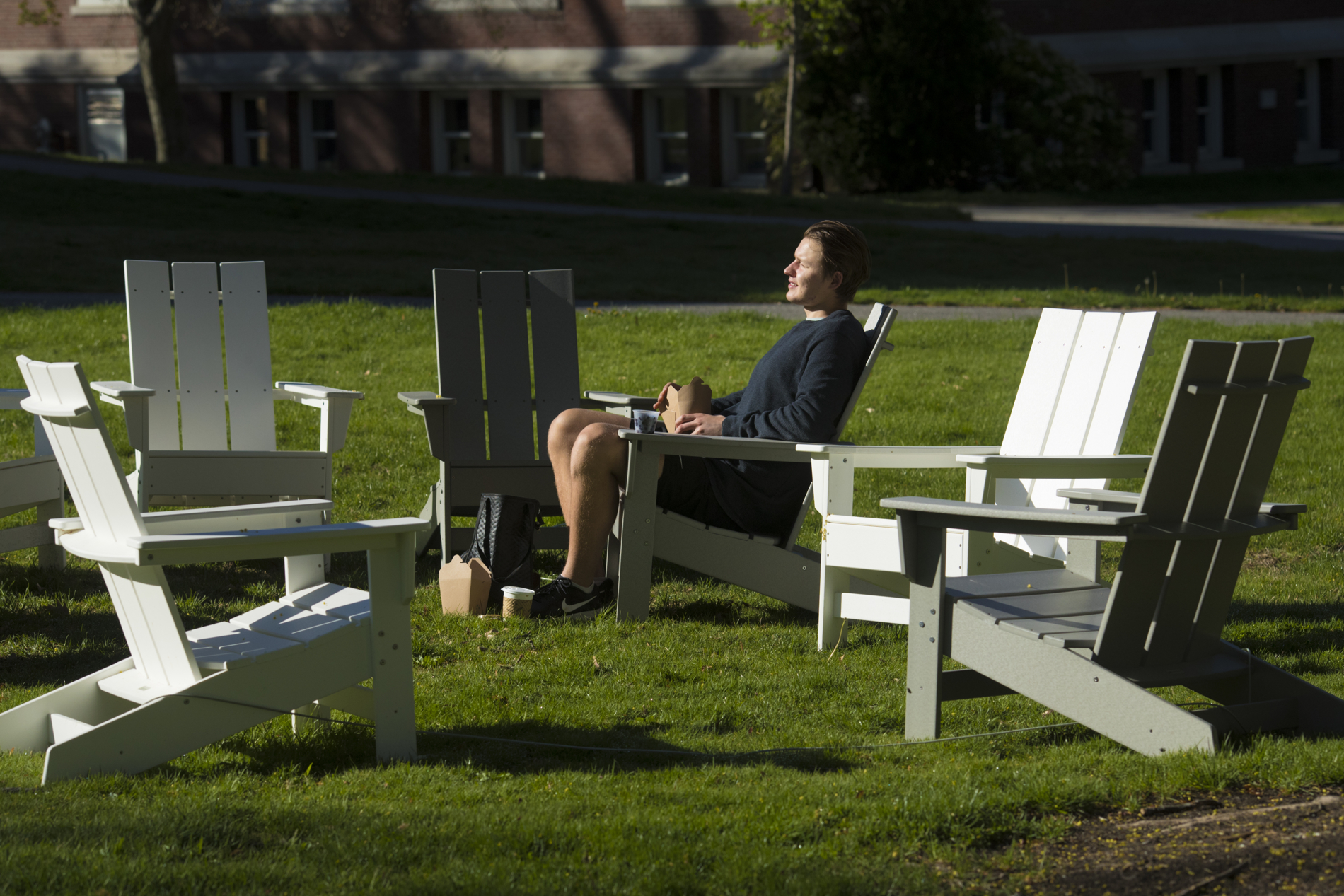 Seated in the sun between Coram Library and Carnegie Science Hall, economics major Gusts Pētersons '23 of Karki, Latvia, enjoys a breakfast of barley, beans, and kale, with a side of blueberries.
---
Senior Speaker Times Two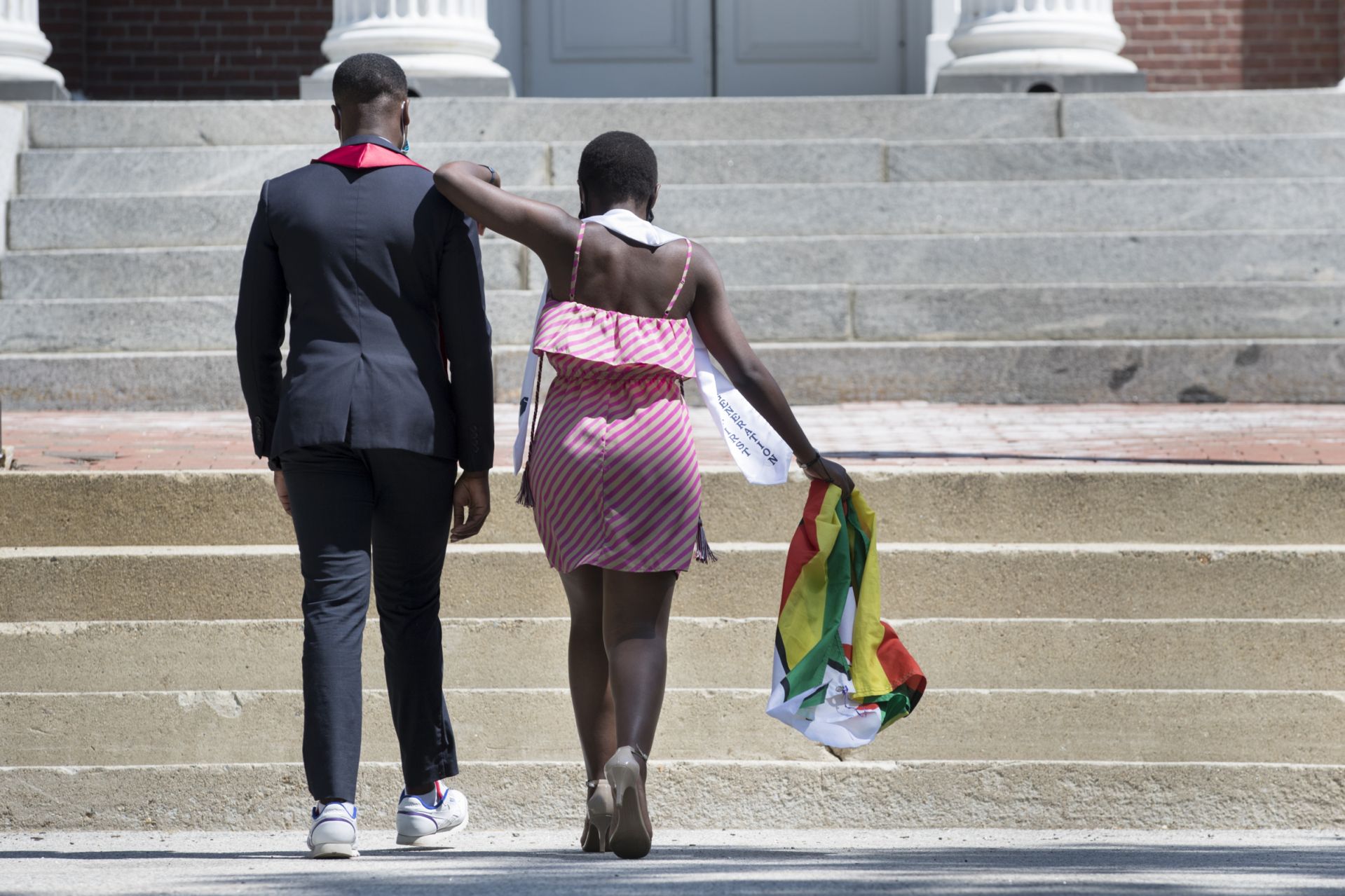 With two Commencement ceremonies on May 27, Bates will present two Senior Speakers: Munashe Machoko '21 of Chitungwiza, Zimbabwe, and Nicole Kumbula '21 of Chinhoyi, Zimbabwe, who holds the national flag of Zimbabwe. Together, they walk toward Hathorn Hall to pose for a portrait.
---
Thesis Submission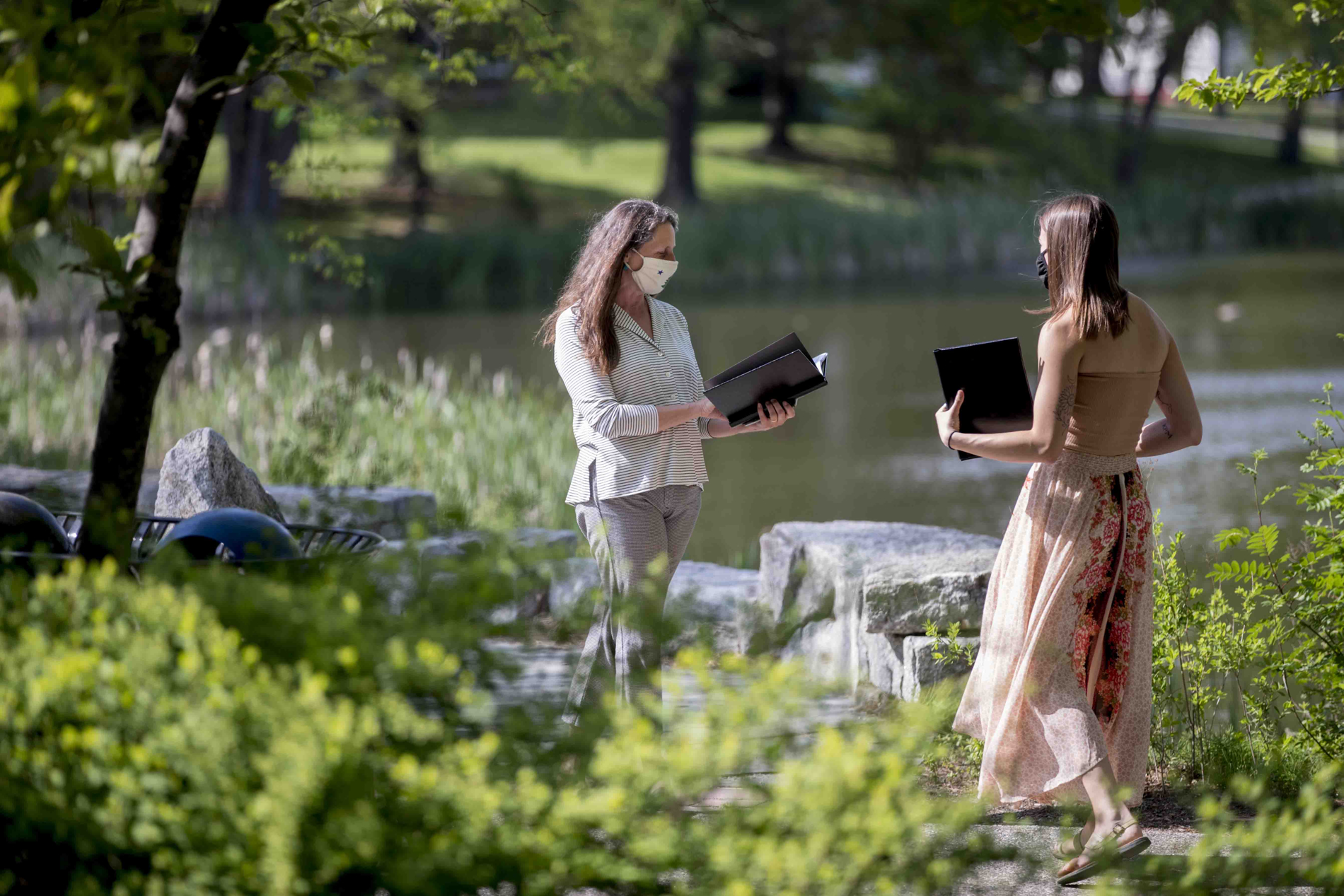 Maya Matlack '21, a psychology major from Arlington, Mass., submits a bound copy of her senior thesis to her adviser Su Langdon, lecturer in psychology, at Lake Andrews. Matlack's thesis, completed under Langdon's supervision, is titled "Warning, Instagram Can Seriously Harm Your Mental Health: Development of a Dissonance Intervention to Protect Against Instagram-Related Body Image Dissatisfaction."
View Comments