Imagine taking a 17th-century play that was written for the English court, setting it on the soundstage of a boozy TV show on New Year's Eve 1969, and then staging the whole shebang at Bates when everyone is masked and standing 6 feet apart at all times.
This literal flight of imagination (the idea took hold on an airplane) belongs to Deon Custard '21, a double major in theater and English who took Shakespeare's Twelfth Night, added a dose of glam rock, and shook it all into something fresh, but also vintage, for the Bates stage.
Sure, as Hamlet said, "the play's the thing." But in directing Twelfth Night as part of his thesis work in theater, Custard needed to make the play more than a thing, a noun: It had to move, become a verb, where "everyone is really able to lean into the spirit and move loosely, to turn 'play' from being a thing we're going to see, to the verb: playing on stage."
The idea to stage Twelfth Night on New Year's Eve in 1969 came to Custard on a flight to his hometown of Chicago last October.
At the time, he was seizing an opportunity to step away from campus for a few weeks to work as an assistant sound designer at the Goodman Theatre in Chicago. He was also keeping up with his Bates studies, including reading Twelfth Night for the course "Introduction to Design" with Associate Professor of Theater B. Christine McDowell.
On the flight, just as he read the scene in which Feste the fool sings, "O Mistress mine where are you roaming? O stay and hear, your true love's coming," Bowie was in his earphones, launching into "Starman."
"Look out your window, I can see his light. If we can sparkle, he may land tonight."
There was the epiphany. "I was like, 'Oh, this works.' The seed was planted."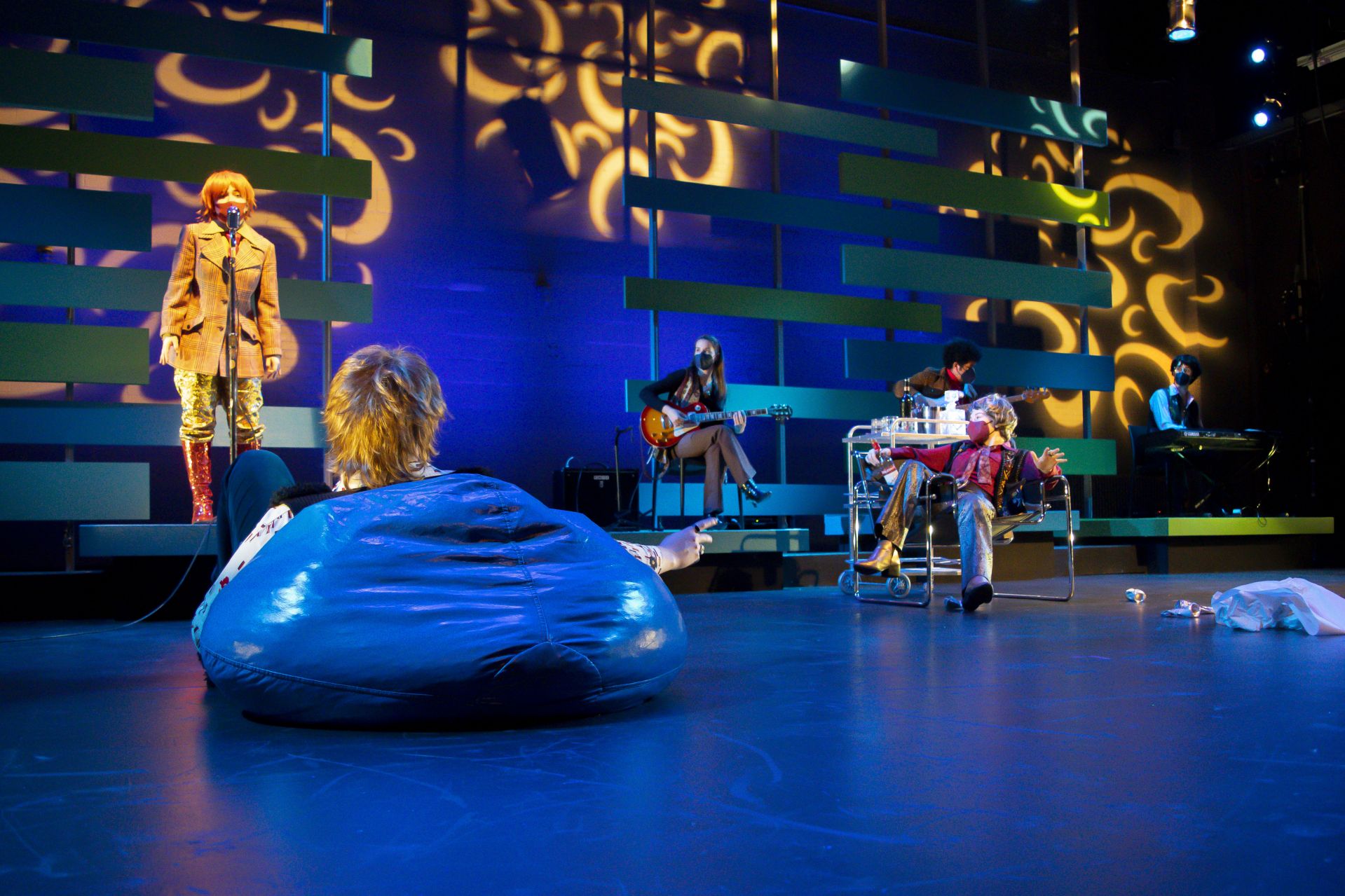 Twelfth Night lends itself to unbridled tomfoolery, he says. What would it look like set in the late 1960s, the dawn of a new era of self-expression?
"Twelfth Night is so joyful on the page — mistaken identities, love triangles, and drunken foolery. It's not only really funny, but it's sending a message of living freely. That runs through every scene of the play."
"I've always had this overwhelming need to be able to tell stories," adds Custard. "I've always known that whether it's music or theater or some sort of live performance, being in the room with an audience, getting them to react in some way is important to me."
"History continues to repeat itself over and over, whether 1602, 1969, or 2021."
McDowell became Custard's adviser, serving as set and costume designer for the play, creating what the director calls a "beautiful world full of bright, colorful costumes that are so flashy. The world came together because of the work that she's done."
Custard's approach to Twelfth Night is more than just throwing some glitter around to see where it sticks. "When a play is set in a time and place different from what we might expect, the text and the context need to reveal something deeper about each other in order to be an effective piece of storytelling. Otherwise, it's just camp."
In researching Twelfth Night, Custard saw how "history continues to repeat itself over and over, whether 1602, 1969, or 2021. Stories of revolutionary love and social resistance will always be worth telling."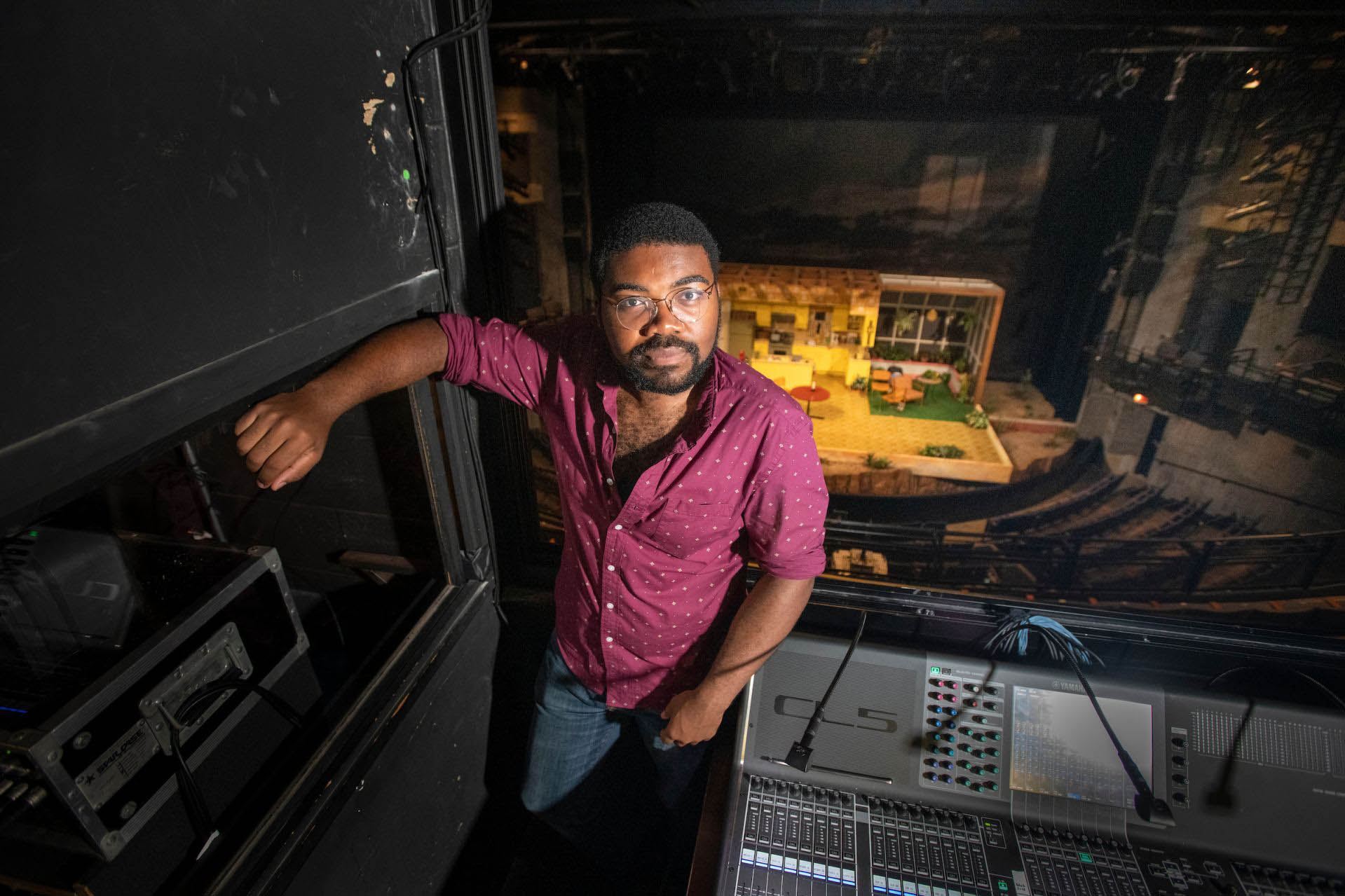 "All the reading to learn the theoretical backing of a play — that gets me excited because it makes my work good, because it helps me to know what I'm doing," he says. "I'm not just throwing ideas at the wall and seeing what sticks."
In his English major, Custard has shown his research ability with an honors thesis that delves into themes of disease and sexuality in Romeo & Juliet and Measure for Measure.
"It's a study of how disease is working in the two plays," he says. In both plays, symptoms of physical illness are directly connected to the "misogynistic, exploitative, and often deeply racist, systems of oppression…at work in the fictionalized cities," which in turn, "can be used to represent modern cities — and the issues that we face today."
"Bringing together the best of what everybody has to offer."
What Custard took away from the long process of directing Twelfth Night, from the Feste-Bowie epiphany in 2019 to the closing performance on May 9, is how to be "a much more dynamic collaborator."
He learned, he says, to focus on ideas, less on personalities. "Bates is full of some of the strongest personalities that I think I've ever come across. It goes without saying that you will butt heads with people, particularly in creative spaces."
The result? "Bringing together the best of what everybody has to offer."
View Comments