In March 2020, just 24 days into her Fulbright teaching assignment in Kathmandu, Nepal, Sophia Marion '19 got the bad news she'd been expecting. Due to the COVID-19 pandemic, her assignment was canceled.
Fifteen months later, she's put disappointment behind her and optimism at the fore as one of eight young Bates alumni offered Fulbright Student awards for 2021–22.
This year's Fulbright offers are divided equally between English teaching assistantships and study/research awards; the latter projects will focus on historical topics (a 19th-century Hungarian reformer and German Bauhaus artist) and contemporary issues (Dutch water management and French mass media and politics).
The countries represented are Argentina, France, Germany, Hungary, Nepal, Netherlands, Spain, and Taiwan. Of the eight offers, two are for members of the Class of 2021.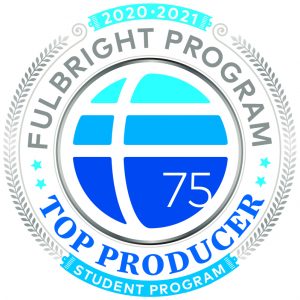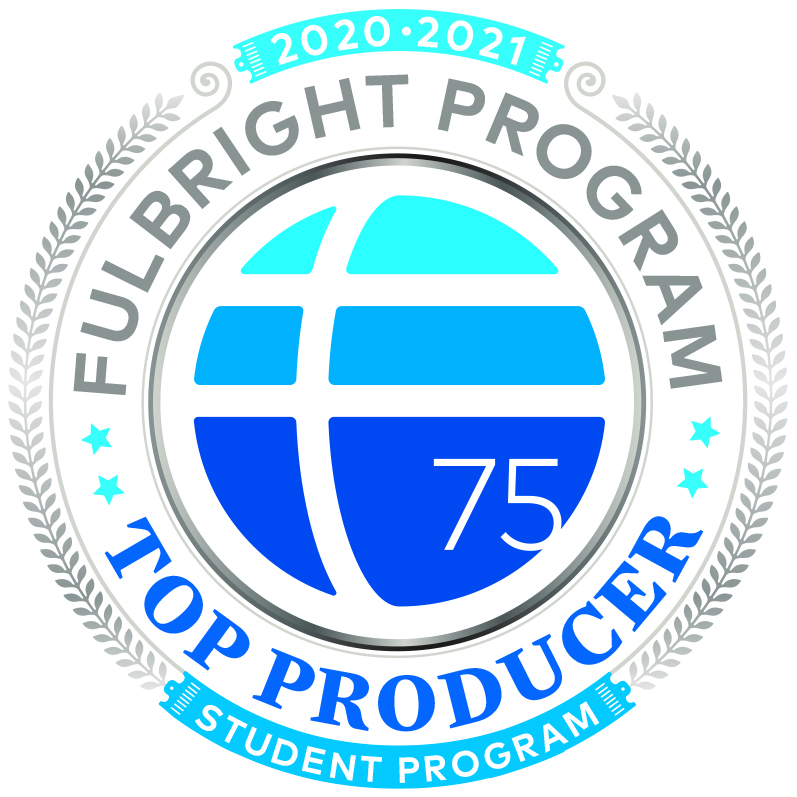 "After more than a year of change and adaptation, disruption and disappointment, this year's Fulbright awardees are flipping the script with their undiminished determination to engage with the world," said Bates President Clayton Spencer.
She added, "I am so proud of their achievement, and grateful for the guidance and support given by our faculty and staff to maintain the Bates Fulbright tradition in a most unusual year."
Bates has been honored as a Top Producer of Fulbright Student awards for a decade, and was named the nation's No. 1 producer of Fulbright Student awards in 2020. Sponsored by the U.S. Department of State, the Fulbright is the U.S. government's flagship international educational exchange program.
"They reflect the incredible spirit of resilience that defined so much of the Bates year."
This year's Bates Fulbrights were selected from 36 semifinalists — applicants who are recommended by the U.S. to host countries for final review — among the highest number ever for Bates. As with Bates and other colleges, fewer semifinalists received awards for 2021–21 due to the pandemic's disruption of Fulbright programs in host countries.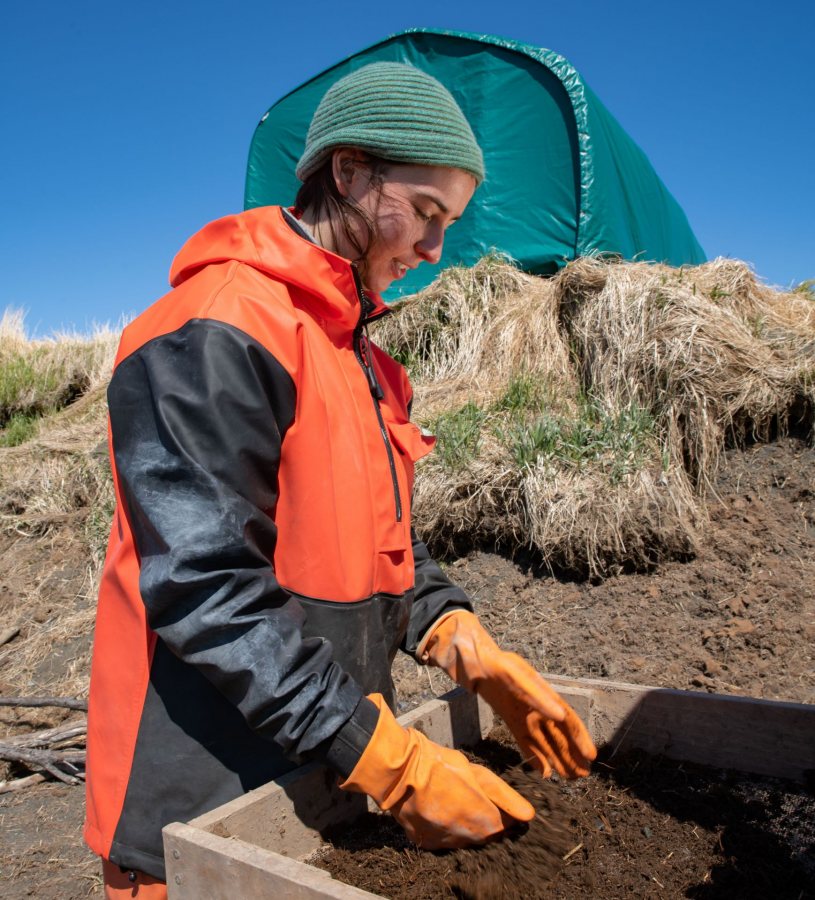 "The semifinalists and recipients are a wonderful group. They reflect the incredible spirit of resilience that defined so much of the Bates year," says Robert Strong, lecturer in English and director of national fellowships. "I'm so proud of the work I've witnessed on this campus."
Sophia Marion, recalls Strong, "had not been home a month when she began afresh, working on a new application to return to Nepal. This was in April 2020, with the globe going into full COVID lockdown. Sophia, like so many other Bates students and alumni, was already envisioning her work helping the world recover and grow."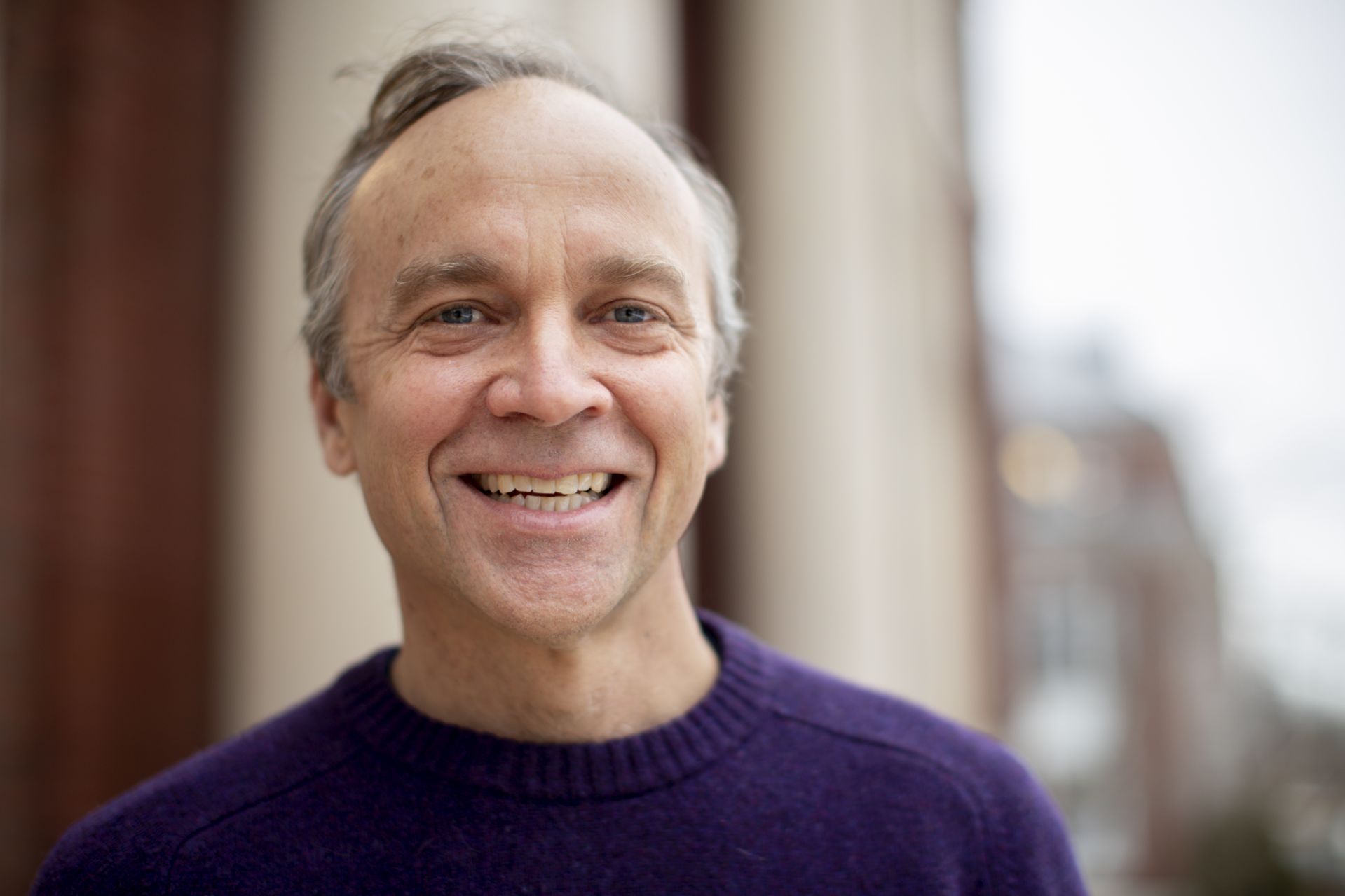 For Marion, returning to Nepal is driven by her brief Fulbright experience in 2020 and the patience of the people she met, "the time to engage with me." 
"I do not want to live my life only having visited the world," she continues. "I want a deeper understanding of global education systems. I want to spark novel ideas to overcome challenges. And I want to learn as much as possible."
Fulbright U.S. Student Awards 2021–22
Kate Blandford '18 — Study/Research Award, Germany
Kate Blandford '18 of Princeton, N.J., an English major, has been offered a Fulbright Study/Research Award in Germany for 2021–22.
Blandford's Fulbright proposal will allow her to deploy a slew of diverse talents — as a writer, graphic designer, and student of German language and history — to create a graphic biography of Bauhaus artist Marianne Brandt (1893–1983).
In 1923, the time of Brandt's arrival as a student at the famed art school, director Walter Gropius was steering most female students toward the school's weaving workshop.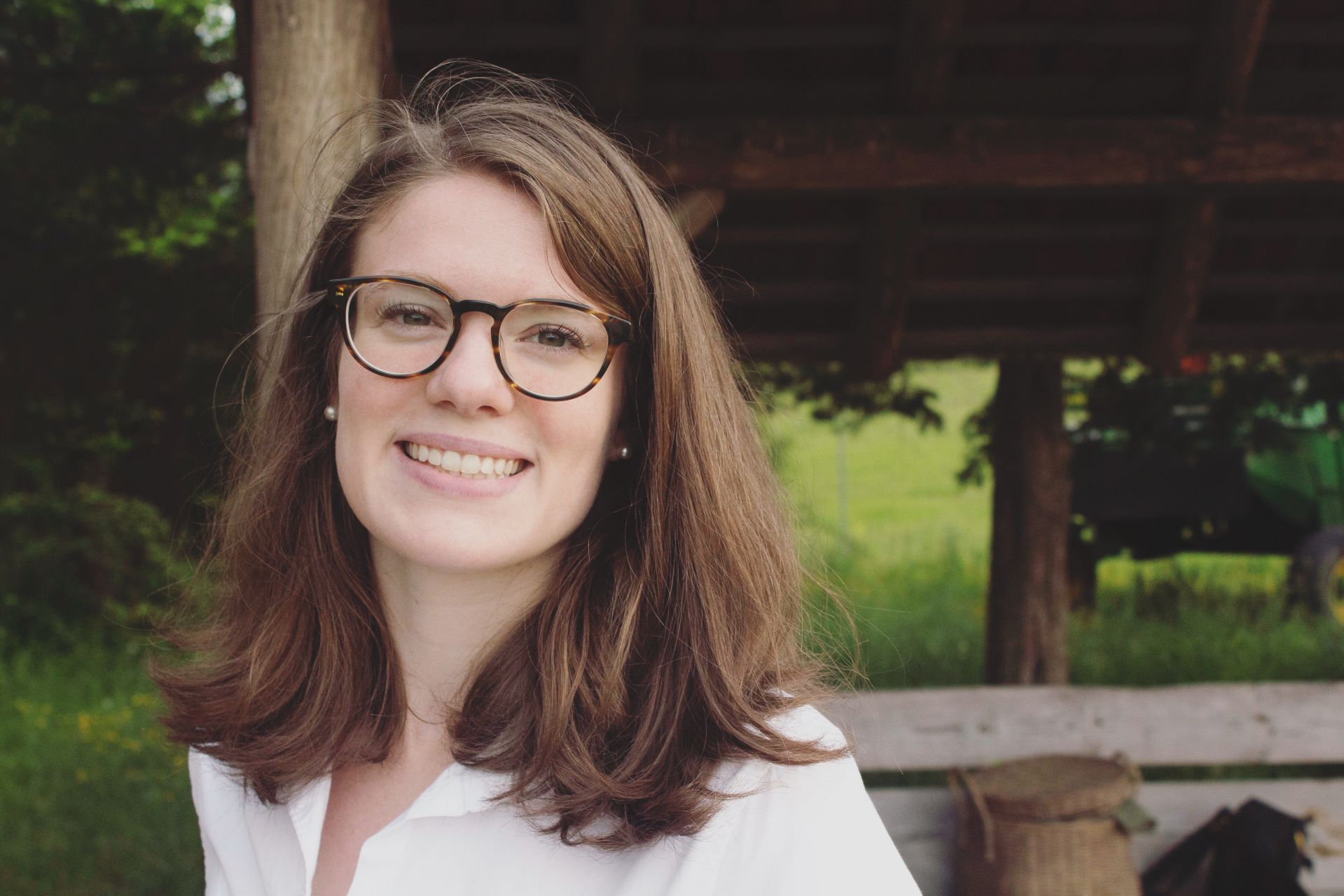 Brandt, however, headed to the metal workshop, where she became its only female director and created a number of iconic designs, including a prototype tea infuser, the MT49, that once sold at Sotheby's for $361,000.
"Brandt and her designs have become symbols of feminism and resistance," explains Blandford. "Though well-intended, this narrative is limited in scope. Brandt's legacy deserves more."
By "more," Blandford seeks to introduce Brandt to global and non-academic audiences. Her academic adviser will be Bauhaus scholar Patrick Rössler, a professor of communications and empirical research methods at Universität Erfurt and the co-author of Bauhaus Women: A Global Perspective.
A Phi Beta Kappa major in English who minored in German and anthropology at Bates, Blandford created the graphic memoir Kate and Käthe, a biography of another German artist, Käthe Kollwitz (1867–1945), for her senior thesis in creative writing. The memoir earned Blandford the English department's John Tagliabue Prize for Creative Writing.
One of Blandford's German professors describes her "as an emerging scholar who is aware of how to situate her critical voice within the latest scholarship on Brandt."
To establish a vibrant historical backdrop for the biography, Blandford will explore Brandt's hometown of Chemnitz, the Bauhaus Archive, and Gotha, where Brandt worked after Bauhaus. Sketchbook in hand, Blandford will take notes and create drawings to "drive the development of my characters and settings, and informing which scenes from Brandt's life ultimately exist as visuals or text," a similar approach she employed for the Kollwitz project.
As with the Kollwitz memoir, the text in the Brandt biography will be in the first person; that is, in Blandford's own voice. She explains that while primary sources can yield facts to undergird the biography, it's not possible to truly know how various moments in Brandt's life played out. "But, I can imagine those moments."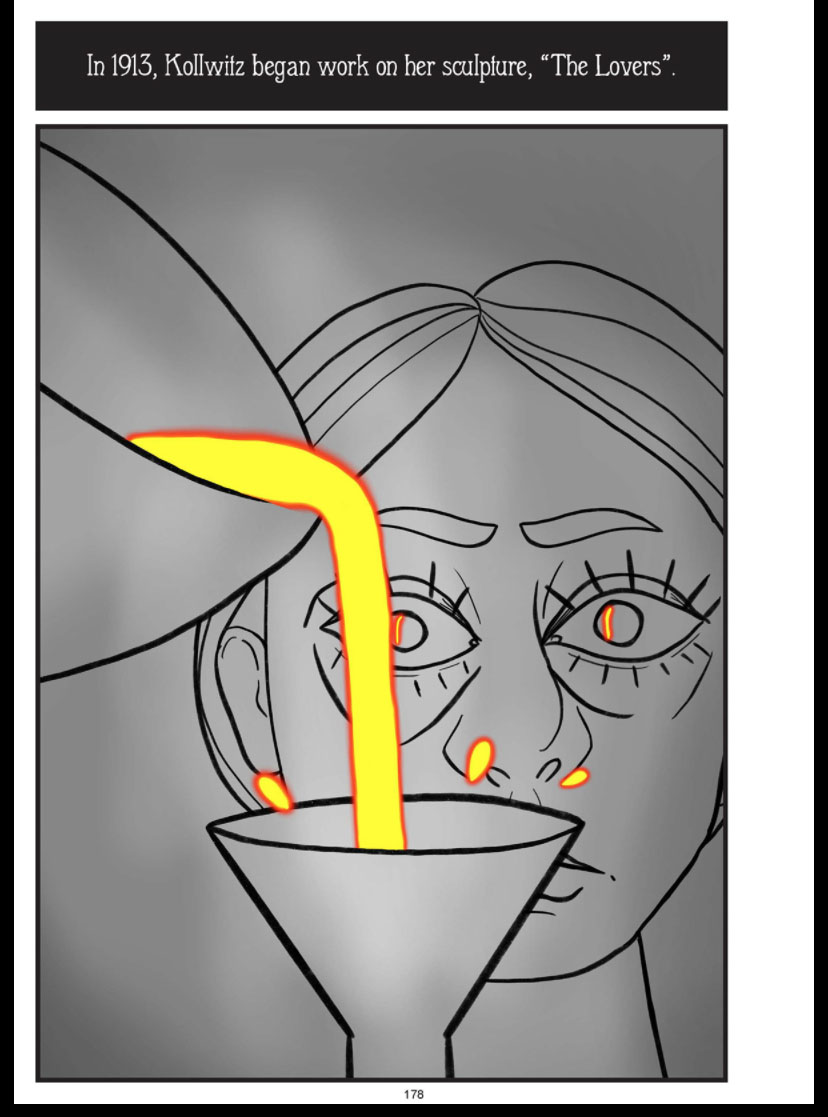 In that sense, a first-person lens "feels more honest and respectful of her story." The approach has support from one of Blandford's German professors, describing her "as an emerging scholar who is aware of how to situate her critical voice within the latest scholarship on Brandt."
At Bates, Blandford was a member of the German Club and student manager of language learning in the Academic Research Commons. In fall 2015, she studied in Germany with the Bates Fall Semester Abroad program. As a faculty research apprentice, she traveled to Berlin to consider the city's significance as a graphic novel setting and to conduct her own thesis research.
A freelance graphic designer, Blandford was most recently the digital asset manager at The Articulate Foundation in Philadelphia, a nonprofit that produces Articulate, a weekly public television documentary series on the creative arts.
Aidan Denahy '21 — Fulbright English Teaching Assistant Award, Taiwan
Aidan Denahy '21, a politics major from Irvington, N.Y., has been offered a Fulbright English Teaching Assistant Award in Taiwan for 2021–22.
Denahy's advanced Chinese-language skills, first-hand knowledge of East Asia, and Bates coursework will help him "hit the ground running" in his Fulbright year, says one of his Bates professors.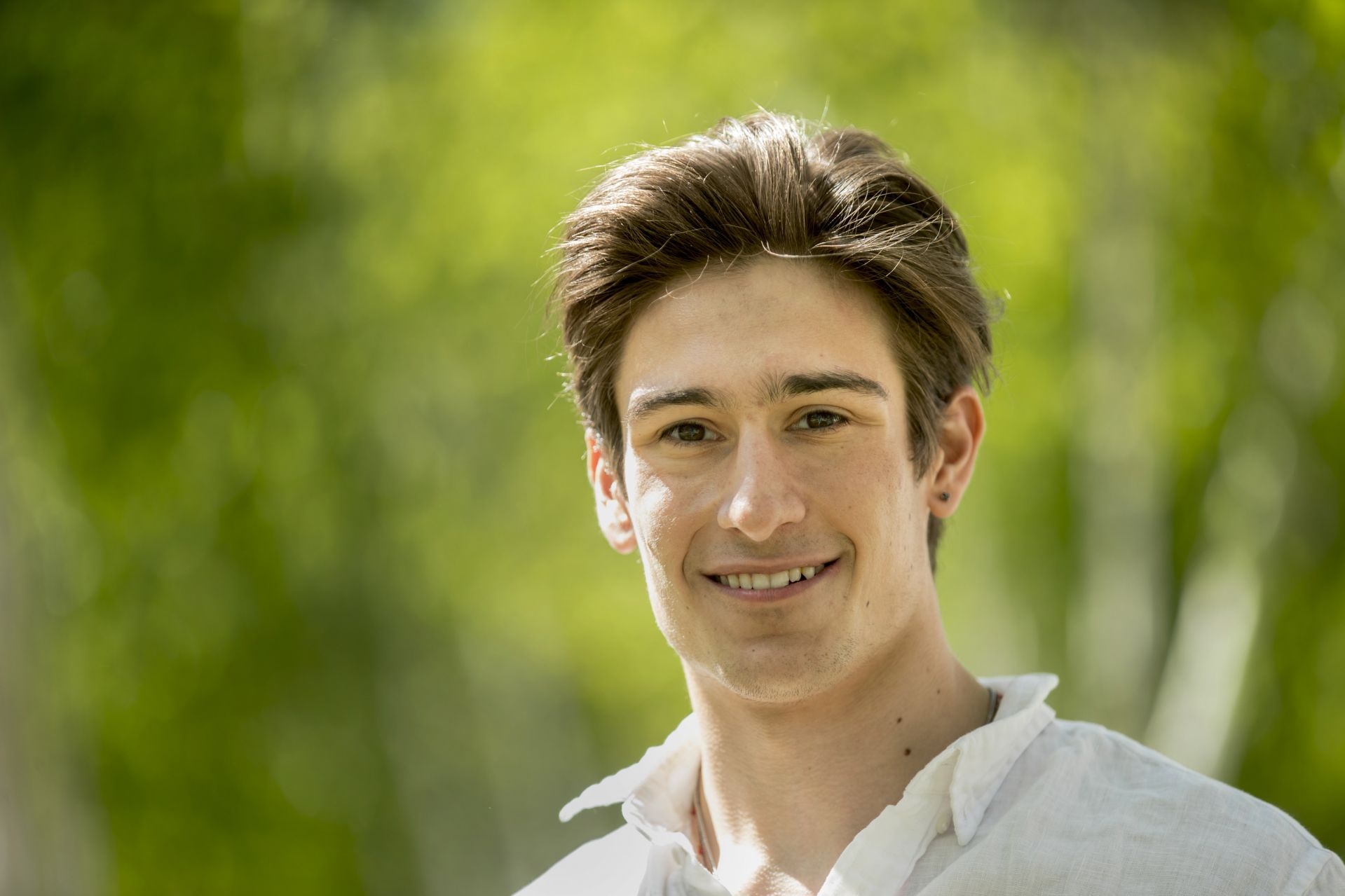 During the summer before his junior year, Denahy had a leadership role with PlanetLabs.Earth in China, a startup to educate young second-language learners about sustainable technologies. He followed that experience with a four-month intensive study of Mandarin in China.
The following summer, Denahy honed his ability to interpret East Asian news, politics, and culture with a Purposeful Work editorial internship with New York–based SupChina, a news, information, and business services platform that focuses on China.
At SupChina, he earned bylines for a range of news stories, including ones about the Hong Kong Stock Exchange and the planned obsolescence of apartment buildings in China.
At Bates, he has taken courses on Taiwan's language, culture, and politics and worked as a research assistant in the Department of Politics, where his research tasks included gathering data on Chinese and U.S. military capabilities and collecting, reading, and coding Chinese leaders' speeches according to how nationalistic they were.
"These are not easy tasks for an undergraduate," said his professor. "Aidan took a step-by-step approach and completed all the work in an impressive manner."
"As I talked to them more and more in their native language, students began to loosen up around me, even teasing me for my accent and grammatical slip-ups."
Denahy's teaching experience is equally robust. In addition to his summer with PlanetLabs.Earth, he taught debate to local middle school students as a member of the college's Brooks Quimby Debate Council. And the summer after his first year at Bates, he led outdoor trips for Chewonki, a school, camp, and environmental education organization based in Wiscasset, Maine.
Recalling his teaching experience with PlanetLabs.Earth, Denahy described how he engaged his students by showing that he, too, was a learner.
"During our free time, I took to speaking Chinese to my students. As I talked to them more and more in their native language, students began to loosen up around me, even teasing me for my accent and grammatical slip-ups.
"Seeing that their teacher was a fellow language learner, and one that makes mistakes just like them, inspired students to begin speaking English in the classroom. Soon, my classroom went from not a word of English spoken to every single student stringing together full sentences every day."
As a Bates professor noted, "Aidan would make an impression that Americans are smart, humorous, hard-working, do not make any judgement prematurely, and are open to new ideas and different perspectives."
Arianna Fano '19 — English Teaching Assistant Award, Argentina
Arianna Fano '19 a politics major from Lincolnshire, Ill., has been offered a Fulbright Teaching Assistant Award in Argentina for 2021–22.
Fano has both a personal and professional interest in traveling to Argentina for her Fulbright. Her father was raised in Argentina by parents who emigrated from Europe to escape the Holocaust. Until now, her knowledge of her father's homeland has derived mainly from family traditions and two family trips.
"I am deeply interested in understanding more about the country where my father grew up," she says.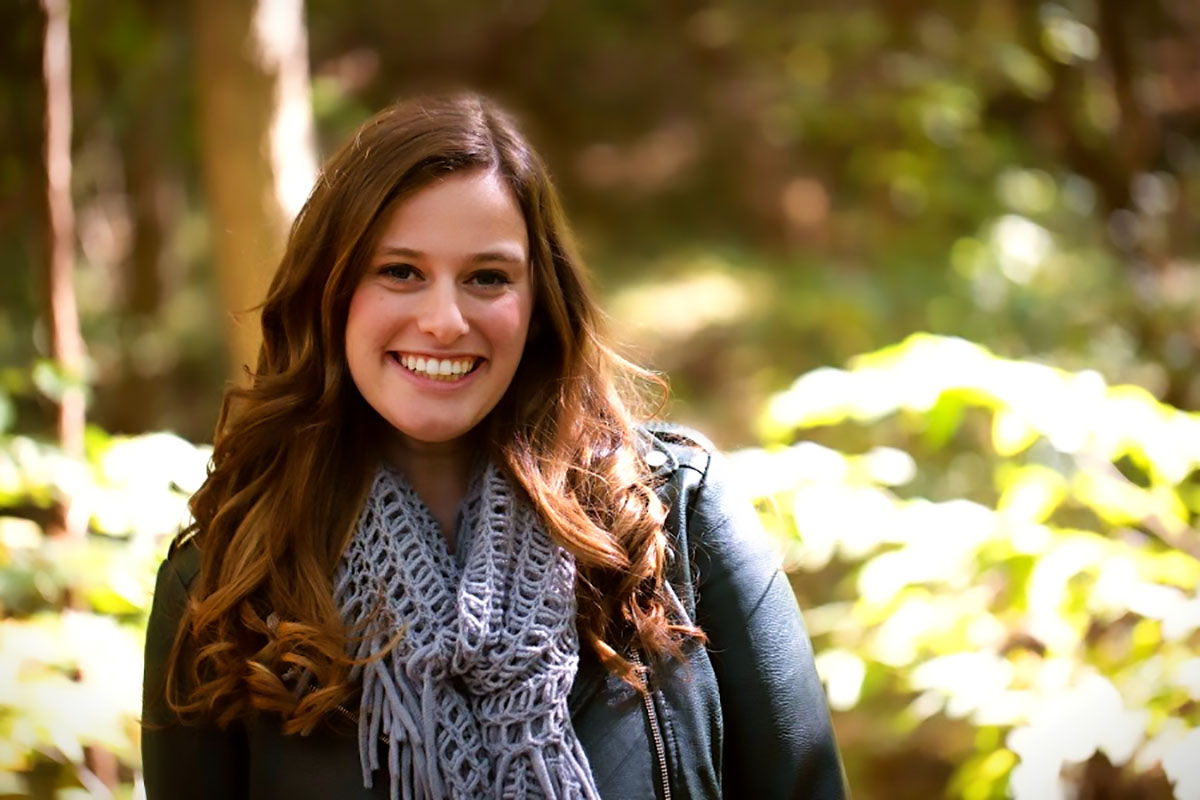 After her Fulbright year, Fano plans to pursue a master's degree in public policy. "The more I learn about Argentina, the better I can apply that knowledge to my chosen career of economic public policy" and how policy decisions affect Latin American immigrants in the U.S., she said.
A dean's list student who minored in Spanish, Fano took part in the 2017 Bates Fall Semester Abroad in Spain program. She served as a teaching assistant in the Department of Politics, and as a senior won the Department of Politics' Garold W. Thumm Prize for the best thesis. She was president of the club volleyball team, worked as an Admission tour guide, and interned with a Maine District Court judge.
One of her professors noted that Fano "stands out not just in terms of her abilities, hard work, and enthusiasm, but also in her thirst to grapple with complex questions at the intersection of politics and law."
Fano already has extensive English-teaching experience.
During her time at Bates, she helped Spanish-speaking immigrants in her home community in Illinois register to vote, and has also used her Spanish ability to help "bridge the gap felt by underrepresented Hispanic voters" during internships in the offices of elected Illinois officials Sen. Tammy Duckworth, Rep. Brad Schneider, and Sen. Richard Durbin.
"Through a Fulbright in Argentina, I hope to join students at their table and offer them a chair at mine."
Since 2019, she has taught English, public speaking, and debate skills to Chinese students, using her Bates experience as a four-year member of the Brooks Quimby Debate Council that debated at the World University Debate Championships in Cape Town during her senior year.
"I understand how improved language skills can open doors for people and better prepare them for a seat at the table," Fano says. "Through a Fulbright in Argentina, I hope to join students at their table and offer them a chair at mine."
Not only does she want to learn more about her father's homeland, she admits that her Argentine grandparents tease her for not being able to make "the perfect empanada. I would love to prove them wrong — and learn more about the history and cultural significance of food in Argentina."
Elizabeth Kiley-Bergen '20 — Study/Research Award, France
Elizabeth Kiley-Bergen '20, a double major in Politics and in French and francophone studies from Troy, N.Y., has been offered a Fulbright Study/Research Award in France for 2021–22.
During her year in France, she will explore how the country's mass media influences policy decisions and contemporary political life.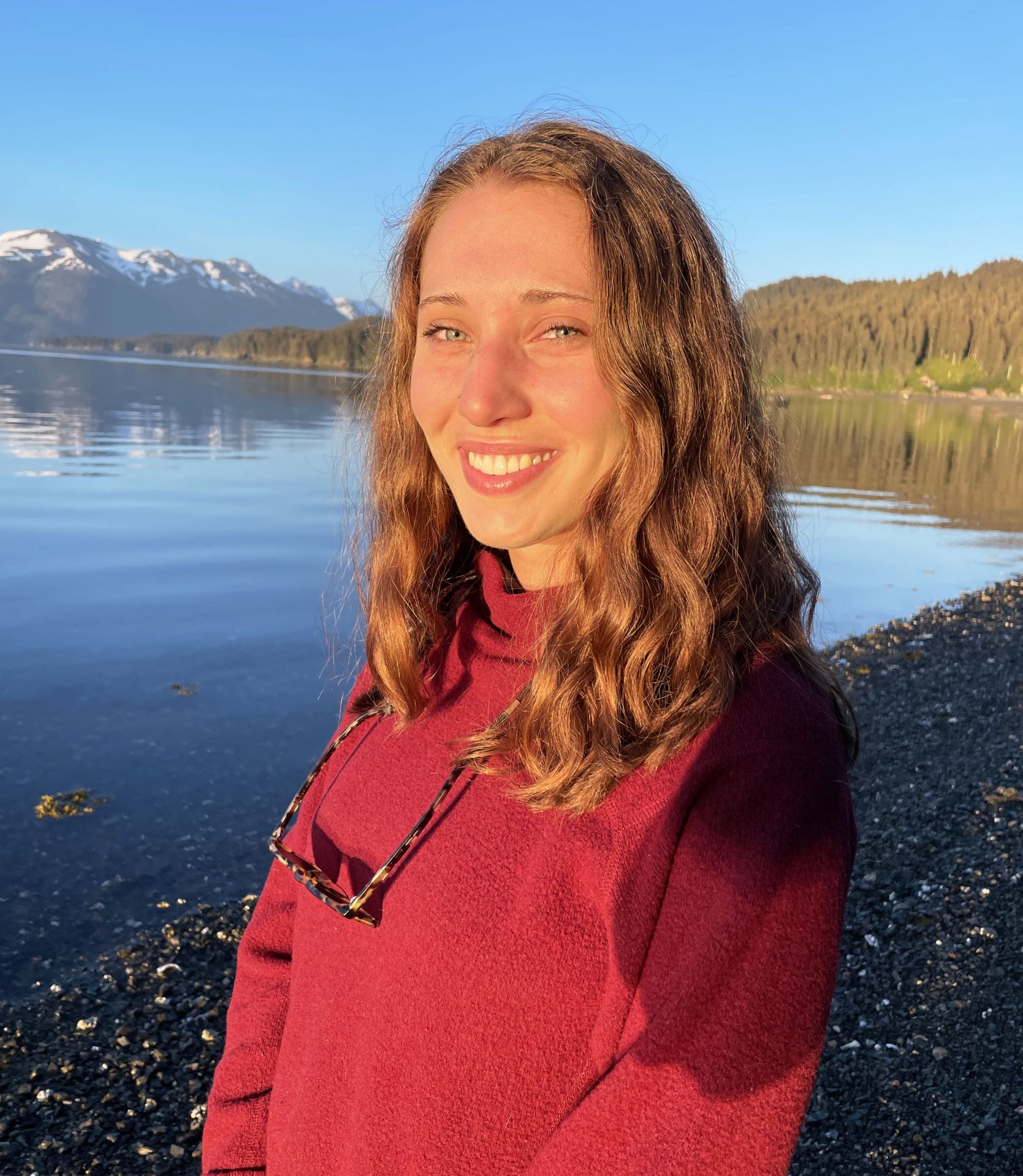 "I specifically want to be in France because there are similar political trends affecting policy debates in the U.S. and France," says Kiley-Bergen, "specifically backlash against immigration and increased polarization." She will pursue a master's in public policy at École normale supérieure de Rennes (ENS Rennes), with a focus on Analyse des problèmes publics (analysis of public problems).
Through her research, she wants "to better understand why anti-immigration policies are often so resonant with certain voters, and how the media might facilitate the popularity of some anti-immigration policies."
Her research proposal reflects, in part, Kiley-Bergen's deep and thoughtful engagement with the French-speaking immigrant community in Lewiston-Auburn during her Bates years. That included serving as a translator for the Immigrant Legal Advocacy Project, a nonprofit that provides legal services for recent immigrants, particularly those seeking asylum in the U.S. from French-speaking African countries.
An ILAP attorney praised Kiley-Bergen's translating abilities and her interest in the immigration laws and policies at the core of the organization's work. "As Elizabeth became more aware of the structures and policies that impact the lives of immigrants, she was not afraid to confront challenging questions about justice and fairness."
She also did interpreting work for Trinity Jubilee Center, a nonprofit that supports underserved people in Lewiston-Auburn, helping clients fill out job applications and navigate immigration proceedings. She was a teaching assistant for the Department of French and Francophone Studies and a French tutor for Bates' Academic Resource Commons.
For her senior thesis in French and francophone studies, Kiley-Bergen interviewed immigrants from Djibouti and Congo about their relationship to French and other languages spoken in daily life, which in turn led to an investigation of linguistic colonization in Africa and in the local, predominantly English-speaking community.
After her year abroad, Kiley-Bergen hopes to continue working with Maine's francophone immigrant communities on the legal issues they face.
Julia Maluf '21 — English Teaching Assistant Award, Spain
Julia Maluf '21, an interdisciplinary major in psychology and education from New York City, has been offered a Fulbright Teaching Assistant Award in Spain for 2021–22.
For her senior thesis in her self-designed major, Maluf, an aspiring teacher, researched best practices for teaching English language learners. She interviewed students, teachers, scholars, and parents, all of which gives her special perspective into her Fulbright Teaching Assistantship in Spain.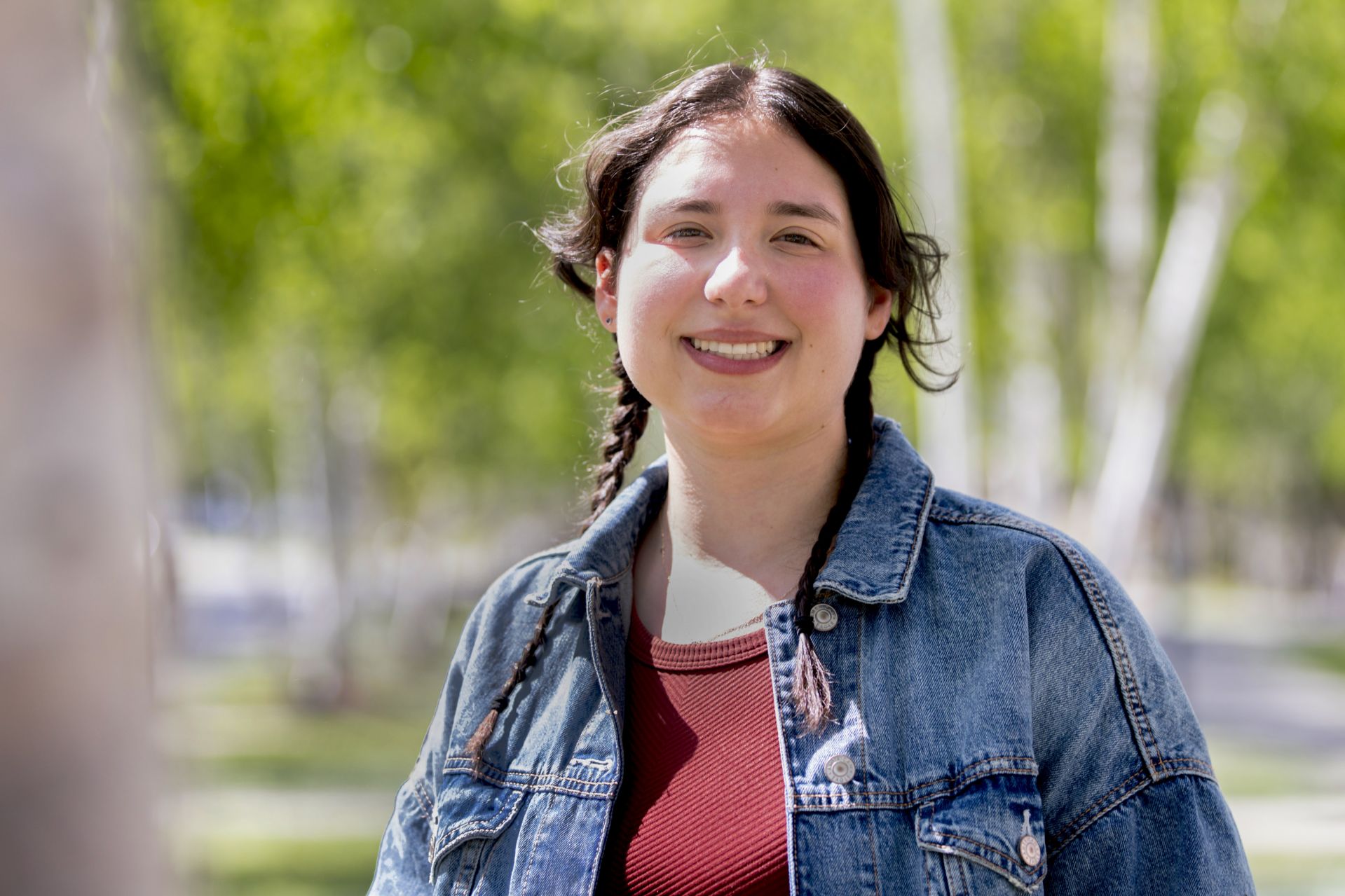 As a student, Maluf volunteered in Lewiston public schools, helping fourth-graders with math, working with ELL students at Lewiston High School, and mentoring middle-school girls at the Hillview after-school program.
One of her professors praises Maluf's unflappable style in the classroom. "Teaching requires a nonreactive approach to stress. Julia has a calm and steadfast manner, and an eye for detail and thoroughness. She is able to assess situations, see a clear path, and gently guide students forward."
"Through conversations with my roommate and the other Latinx students on campus, I realized that there is no one way to honor your culture."
Like other Bates Fulbright awardees, Maluf has personal reasons for seeking an international experience. In the 1960s, her grandparents and their children, including Maluf's father, emigrated from the Dominican Republic. Growing up, Maluf's understanding of her Dominican history was gained through once-monthly visits with her grandparents. "It felt like my connection to Hispanic culture only existed on these Sundays and holidays we would spend with them," she says.
At Bates, Maluf found a vibrant Latinx community. "But at first, I felt like I wasn't 'Dominican enough' to claim my heritage" within the Bates Latinx community. "Through conversations with my roommate and the other Latinx students on campus, I realized that there is no one way to honor your culture."
Maluf traveled to the Dominican Republic during Short Term in 2019. It was energizing, she says. "I felt out of place and like I belonged there at the same time." Now, Maluf is "motivated to take a deeper exploration of the roots of Hispanic culture."
She has focused on "learning Spanish, following my grandmothers' recipes, and talking to my relatives about my ancestors. The Fulbright in Spain will allow me to connect to those roots. I hope to be able to pass on the Spanish language and culture to my children, so that my ancestors can continue to live on through generations of my family."
During her Fulbright year, she hopes to "learn about our commonalities and differences and foster relationships with my entire community in Spain."
Maluf was a member of a variety of student organizations, including Latinos Unidos, College Democrats, the Reproductive Justice Alliance, and the Bates Outing Club.
"After Fulbright, I will continue working in bilingual communities, using the language skills I gain in Spain to make me a better teacher in those schools."
Sophia Marion '19 — English Teaching Assistant Award, Nepal
Sophia Marion '19, a psychology major from Baltimore, has been offered a Fulbright Teaching Assistant Award in Nepal for 2021–22.
For Marion, it's Fulbright redux: In early 2020, twenty-four days into her Fulbright Teaching Assistant experience in Nepal, her program was canceled due to COVID-19.
What draws her back for another go, she says, "are the people and the culture. I miss the time people took to engage with me."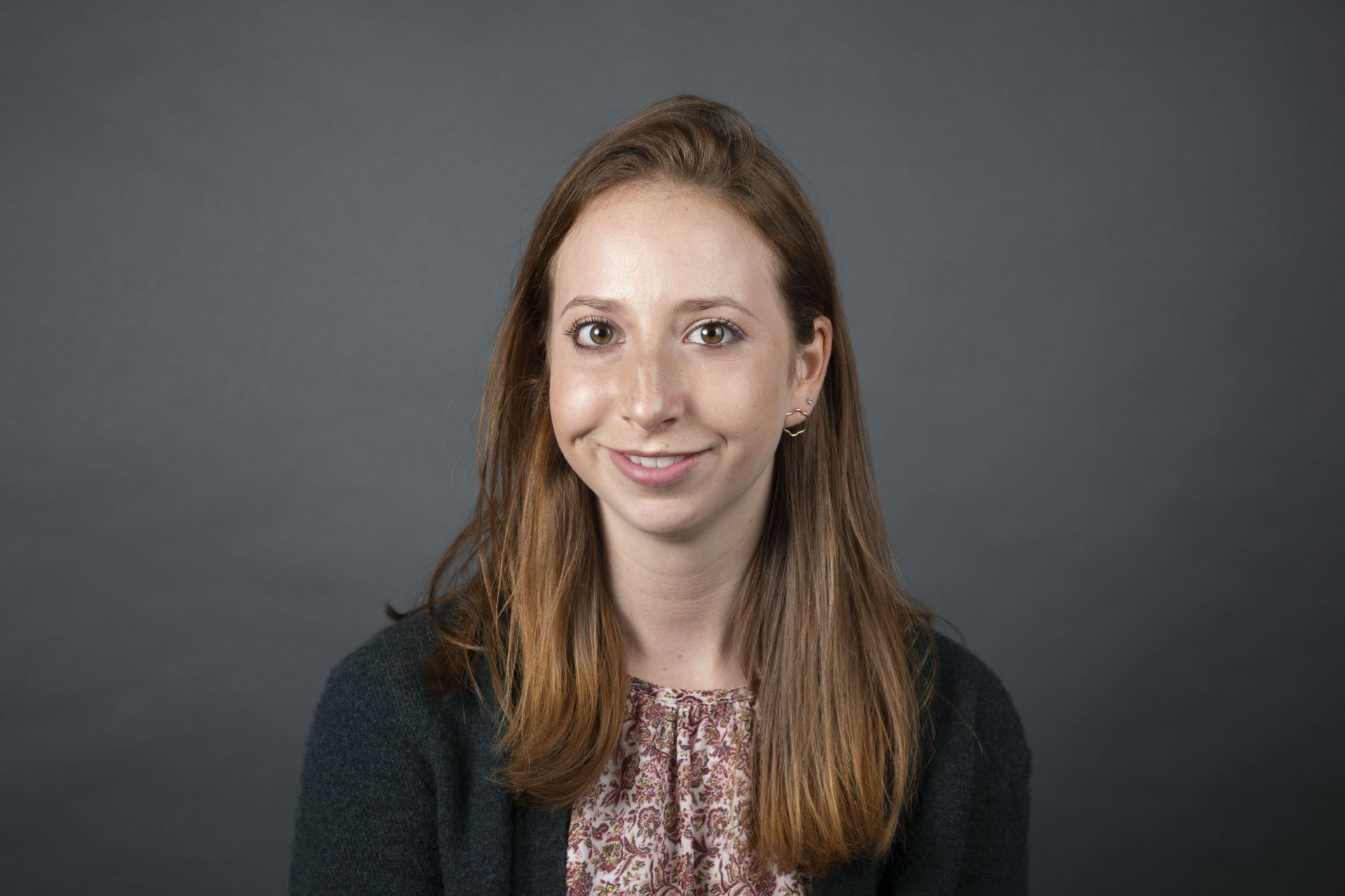 During her brief 2020 stay in Nepal, she recalls a daily routine of greeting a street vendor and his 6-year-old son as she walked home, "chatting about the day in my limited, broken Nepali."
As Marion searched for the words to express herself, "I remember his patience and time he took to see me. Similarly, I will be patient with my students and create a space for each and every one of them to be seen. I will share with my students the same kindness strangers afforded me."
As a Bates undergraduate, Marion earned a minor in education and had field placements in local elementary schools, teaching assistantships in Bates education courses, and an educational programming internship for the Bates College Museum of Art.
"We focused on students' strengths rather than deficits, which taught me the art of improvisation and how to reframe lessons."
Marion's first assistantship was a four-month stint in a community-engaged course on teaching in the sciences. In the spring of her senior year she developed and assisted in teaching a course on creating educational experiences at the Bates–Morse Mountain Conservation Area. During recent summers, Marion has led teenagers on hiking and biking trips around the world for an outdoor adventure company.
Marion's experience teaching in a special-needs classroom was especially formative. "We focused on students' strengths rather than deficits," she recalls, which "taught me the art of improvisation and how to reframe lessons. These are skills I will use in my English-language classroom in Nepal when I need to clarify or tailor the lesson to individual students."
In 2017, Marion traveled to India on a School for International Training program, learning about public health, policy advocacy, and community. This experience furthered her comfort in navigating across cultural landscapes.
"Working as an ETA in Nepal is the next step in my development as a teacher," Marion says. "I'm eager to teach in English, learn Nepali, cultivate a nurturing classroom environment, and instill a love for learning in my students."
Outside the classroom, Marion plans to work with an art-based, after-school empowerment program for girls. "This program gives girls a voice and a space to continue developing purpose and love of self," she says. "This engagement will improve my Nepali language skills and provide students an informal opportunity to speak English."
After her Fulbright year, Marion plans on studying education and leadership in graduate school. "My ETA experience will expand my empathy for others and develop my skills in adapting lessons to individual students," she says. "This growth will be crucial for my lifelong commitment to teaching."
Nell Pearson '20— Study/Research Award, Netherlands
Nell Pearson '20 a double major in history and anthropology from Brooklyn, N.Y., has been offered a Fulbright Study/Research Award in the Netherlands for 2021–22.
Her Bates academic training coupled with a keen interest in water and climate issues have Pearson well-positioned for research at Vrije Universiteit Amsterdam, where she will explore how Dutch water-management strategies promote community wellbeing, both in the short term and in the future.
Her work at VU Amsterdam will take place in a master's program in social and cultural anthropology with a concentration in development and sustainability.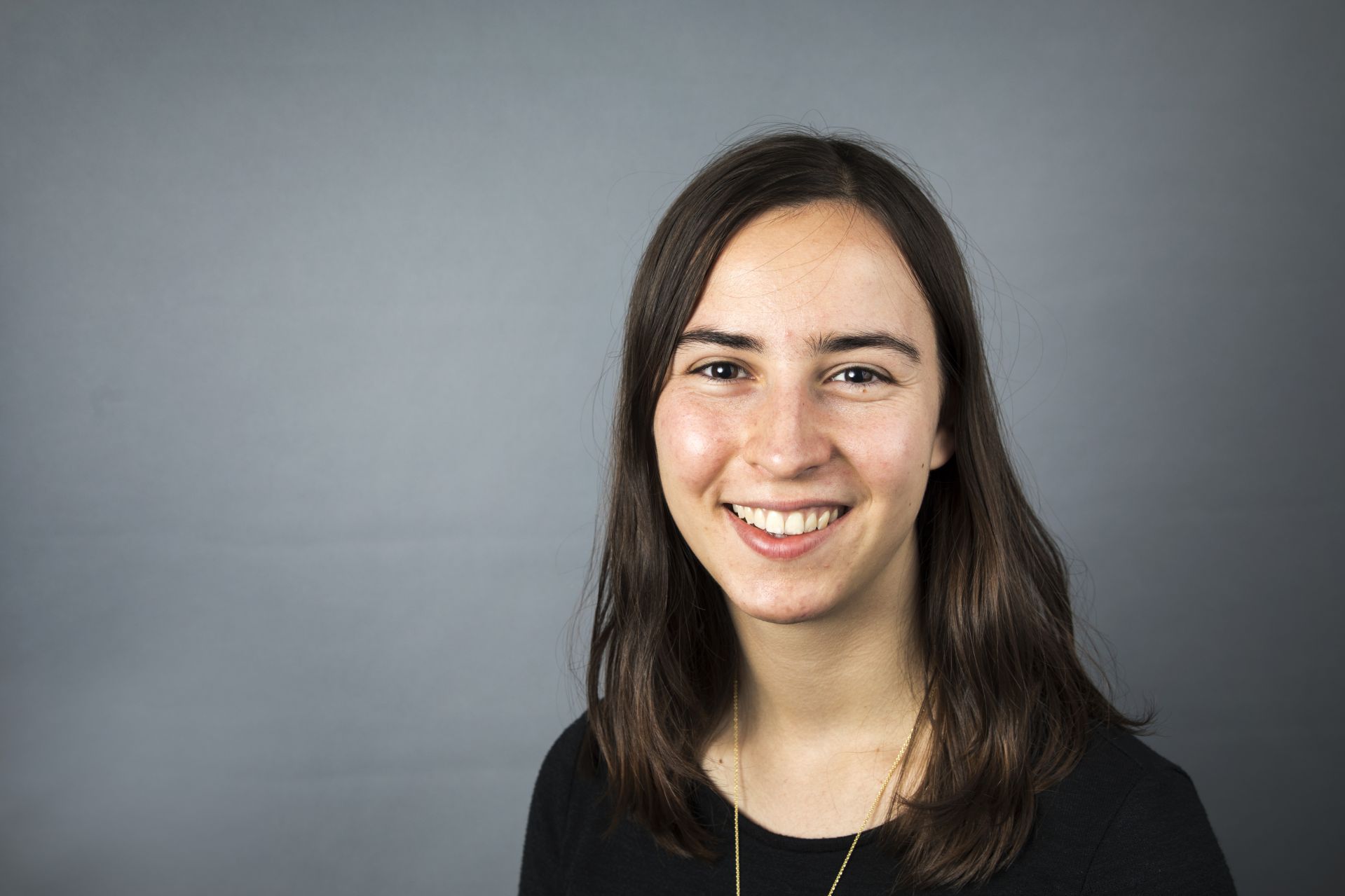 A young teenager when Hurricane Sandy decimated miles of the New Jersey and New York shoreline, Pearson now seeks "to understand how Dutch water management strategies can serve as a model for American urban contexts, and how vulnerabilities in American infrastructure and societal emergency preparedness can be improved."
With much of their country below sea level, the Dutch have always had a robust approach to water control. Today, the approach "promotes an equitable transition to a green economy while emphasizing community wellbeing," Pearsons says. "It's at the forefront of a progressive discourse regarding climate change."
"As coastal communities are increasingly facing sea water rise, they will need to address these issues equitably."
By poring over historical sources, including maps, oral histories, letters, and diaries, Pearson hopes to learn how the country's water-management practices have changed over the last century. Armed with historical context, she will then "uncover contemporary approaches to environmental hazards through ethnographic interviews with Dutch stakeholders, including designers, engineers, academics, and policy makers."
At the same time, she adds, "the human dimensions of climate change" demand that scholars and policymakers adopt a social-justice lens. "As coastal communities are increasingly facing sea water rise, they will need to address these issues equitably."
At her 2020 graduation, Pearson earned membership in Phi Beta Kappa and was awarded the Department of History's John R. Cole Prize for Outstanding Achievement in History.
Pearson's environmental sustainability experience is extensive. She completed a Purposeful Work internship in summer 2017 with the Bicycle Coalition, a statewide advocacy group for biking and walking in Maine. The next summer, funded by a Bates Environmental Fellowship, she was a historical horticulture intern at Plimoth Patuxet Museums, where she researched and implemented a plan for a museum-wide composting program.
During Short Term 2019, she conducted indigenous archeology in Togiak, Alaska, with other Bates students and their professor. And during her junior semester abroad, in South Africa in fall 2018, she researched the relationship between informal recyclers and various municipal entities.
Currently with the New York City Civic Corps serving the Gowanus Canal Conservancy in Brooklyn, Pearson plans to return to New York after her Fulbright to focus on urban-resilience policy and design.
Though only a novice speaker of Dutch, Pearson has a second language at her disposal when she visits the Netherlands: music. A jazz saxophonist who performed with the Bates Jazz Band and other groups at Bates, Pearson looks forward to attending performances and sitting in on jam sessions.
Bence Szechenyi '20 — Study/Research Award, Hungary
Bence Szechenyi '20, an English major from Brooklyn, N.Y., has been offered a Fulbright Study/Research Award in Hungary for 2021–22.
Described as an "enthusiastic, creative, and bright young scholar" by one of his professors, Szechenyi will research a famous forebear: István Széchenyi, a 19th-century statesman, reformer, and political writer still revered in Hungary today as a hero and champion of national development.
Indeed, the name Szechenyi has retained its star power in Hungary (besides the fact that an asteroid is named for him). The iconic chain bridge over the Danube carries his name, as does the country's 5,000 forint banknote. In 2011, the government dubbed its major new development program the "New Széchenyi Plan."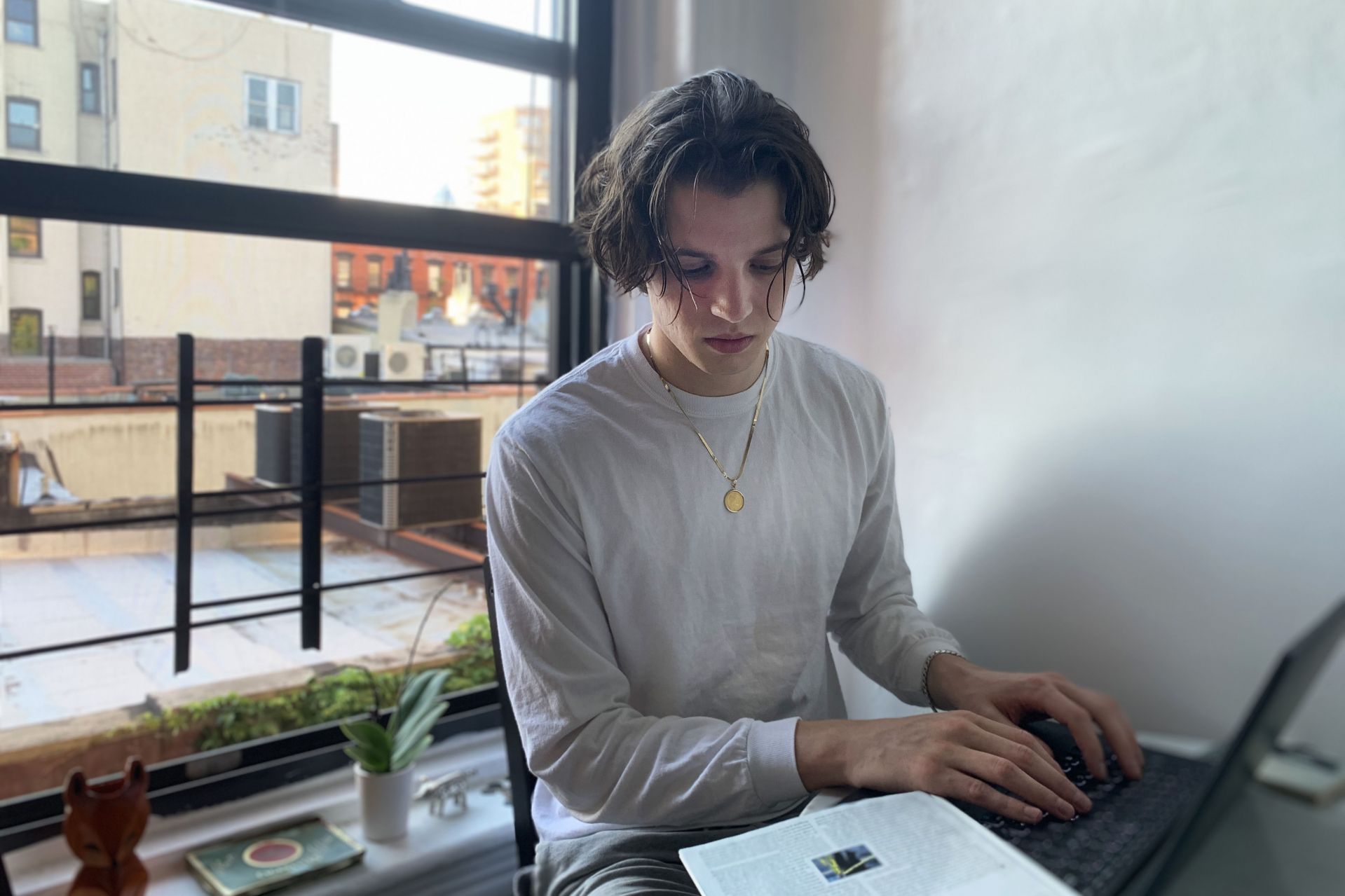 István Széchenyi is an enduringly popular Hungarian figure but also a tragic one. Plagued by a sense of personal failure following the Hungarian Revolution of 1848 and by mental depression, he died by suicide in 1848.
Working with scholars at Eötvös Loránd University and the Hungarian Academy of Sciences in Budapest, Bence Szechenyi will employ the tools of biography and political analysis to tease out the connections between contemporary Hungarian political life and his famous ancestor's life and death.
"Would his understanding of a doomed future prove correct, in line with his ideologies, or would he be pleased with the projects being initiated under his name?"
"Considering that Széchenyi committed suicide and was utterly dismayed by Hungary's status and presumed future, his contemporary usage begs questions concerning how he would see Hungary now," says Bence, whose maternal and fraternal grandparents emigrated from Hungary to the U.S. to escape Soviet oppression.
"Would his understanding of a doomed future prove correct, in line with his ideologies, or would he be pleased with the projects being initiated under his name?"
To find the answers, says Bence, "my physical presence in Hungary is especially crucial to understand Széchenyi's contemporary legacy in Hungary as well as comprehend public reception and understanding of the New Széchenyi Plan."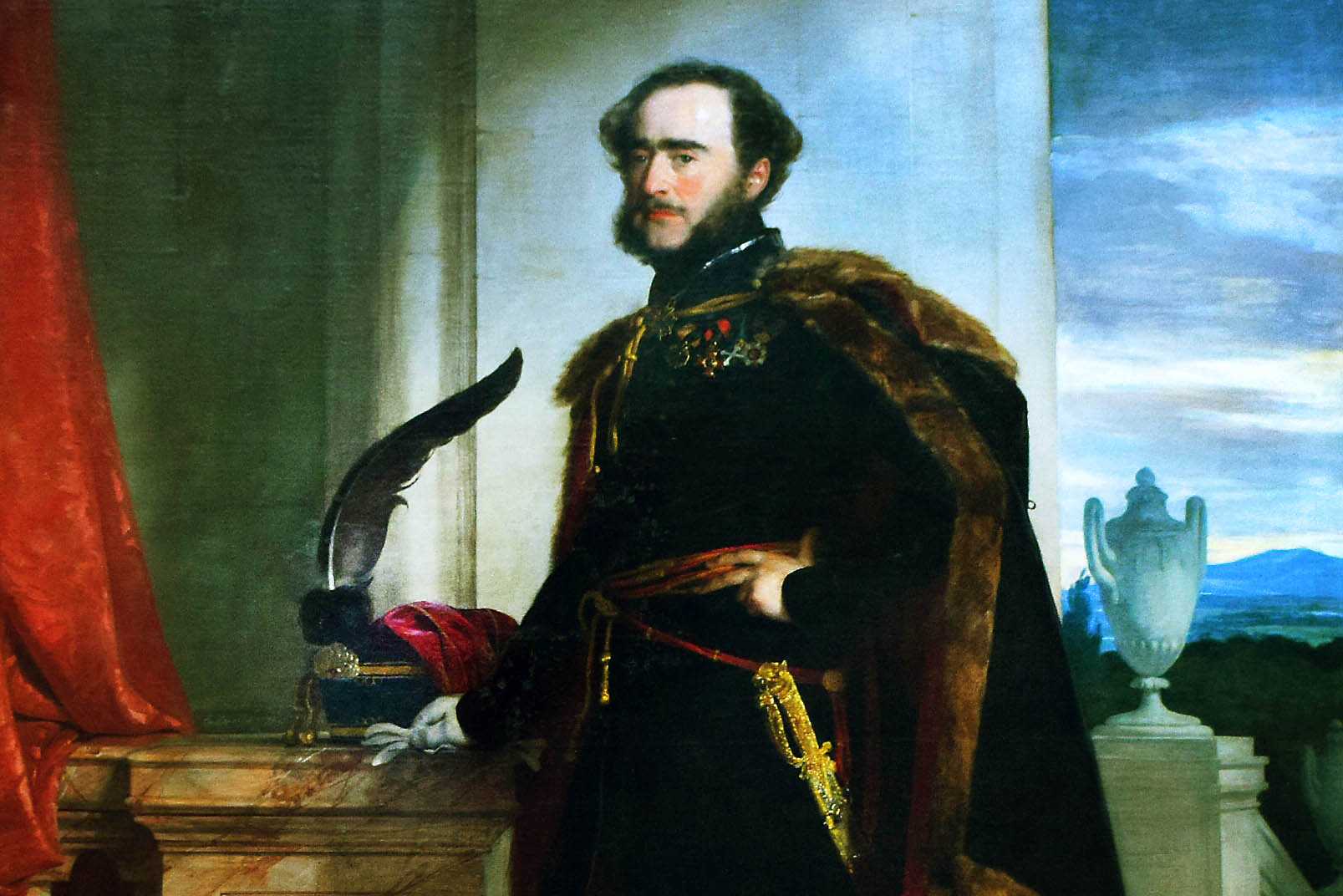 Ultimately, Bence hopes to write a book that explains the disconnect between his ancestor's "deep sorrow regarding the state of Hungarian politics and foreign policy, holding himself at least partially accountable for these failures, and his glowing legacy in contemporary Hungary."
A member of the Manic Optimists a capella singing group and twice a Purposeful Work intern with Okapi Partners in New York City, Szechenyi earned honors in English for his thesis, "Cosmopolitan Americanisms: Post-9/11 Transnational Immigrant Narratives."
In his thesis, he looked at three novels — Chimamanda Ngozie Adichie's Americanah, Teju Cole's Open City, and Mohsin Hamid's The Reluctant Fundamentalist — to examine how U.S. immigration is "simultaneously idealized in American cultural memory yet demonized in contemporary political discourse."
Following his Fulbright year, Szechenyi intends to gain a law degree and ultimately focus on "important issues such as climate change and refugee crises [that] require solutions that transcend national policy. I hope to direct my career towards solving such problems."
View Comments