We're not sure how December arrived on our doorstep as quickly as it did. But here we are, bursting at the seams with moments from the last four weeks. Art and science. Classrooms, laboratories, and playing fields. Faculty, staff, and students. And, naturally, our exquisite home environment. We proudly share these scenes with you as 2021 draws to a close.
A Watershed Moment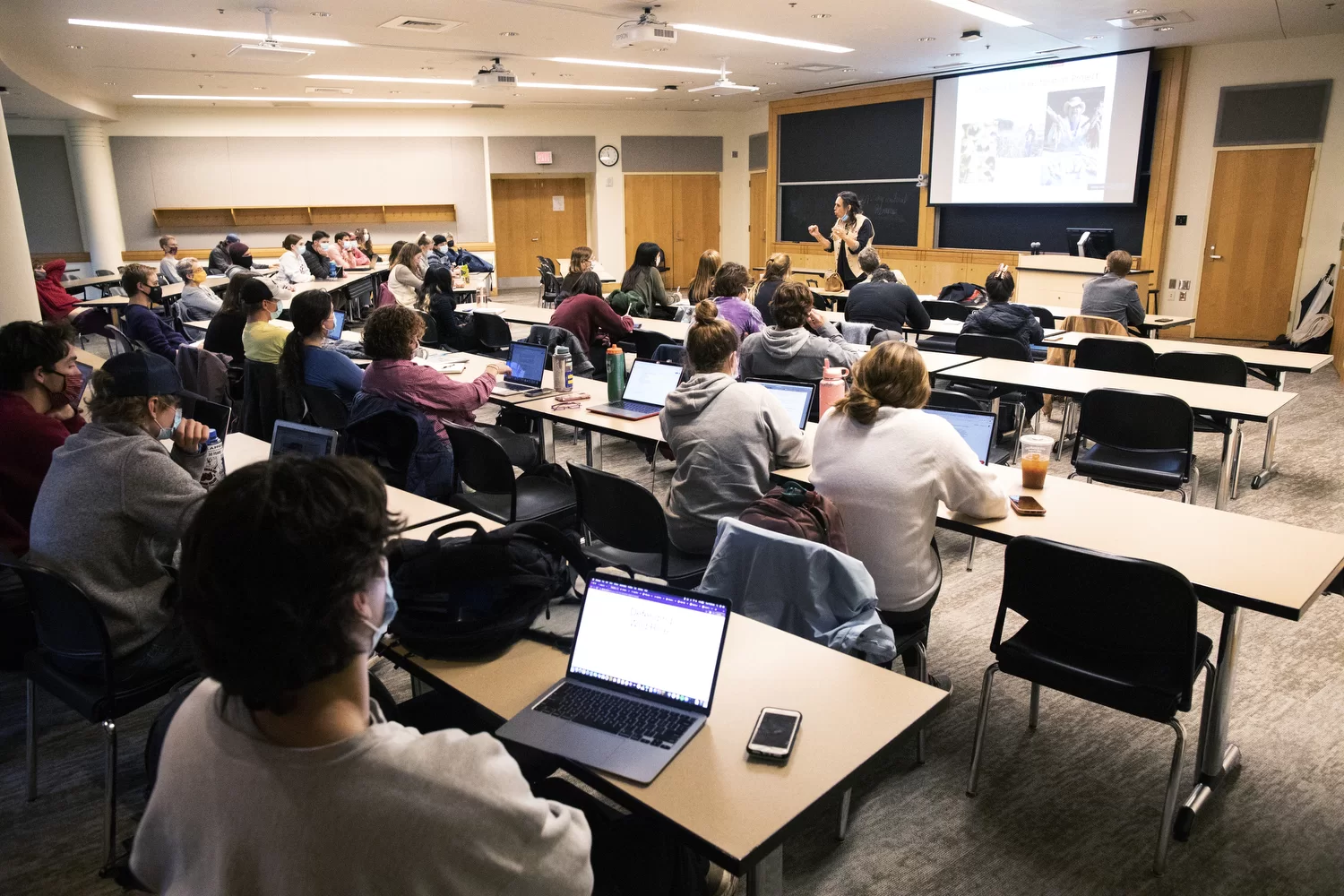 A day after her Otis Lecture, Winona LaDuke speaks with students in two environmental studies courses, "Ecology of Food and Farming" and "Water and Watersheds" in the Keck Classroom of Pettengill Hall.
---
Band of Brothers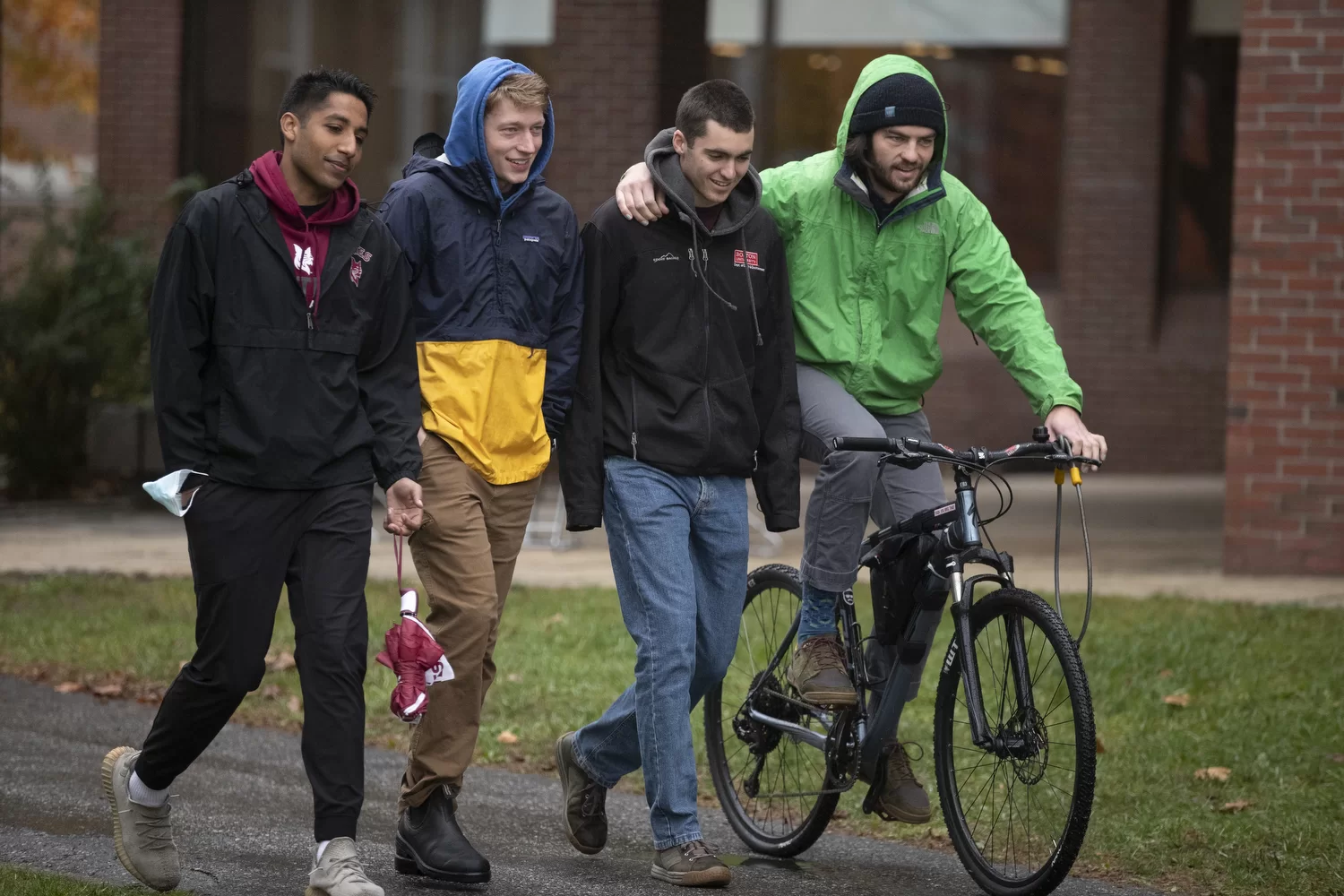 Ready for the weather with a range of rain gear, from left, Hark Lally '22, Ben Fasciano '23, Clay Hundertmark '22, and Alex Platt '23 walk past the Library Arcade on their way to Commons for breakfast.
---
Battling the Elements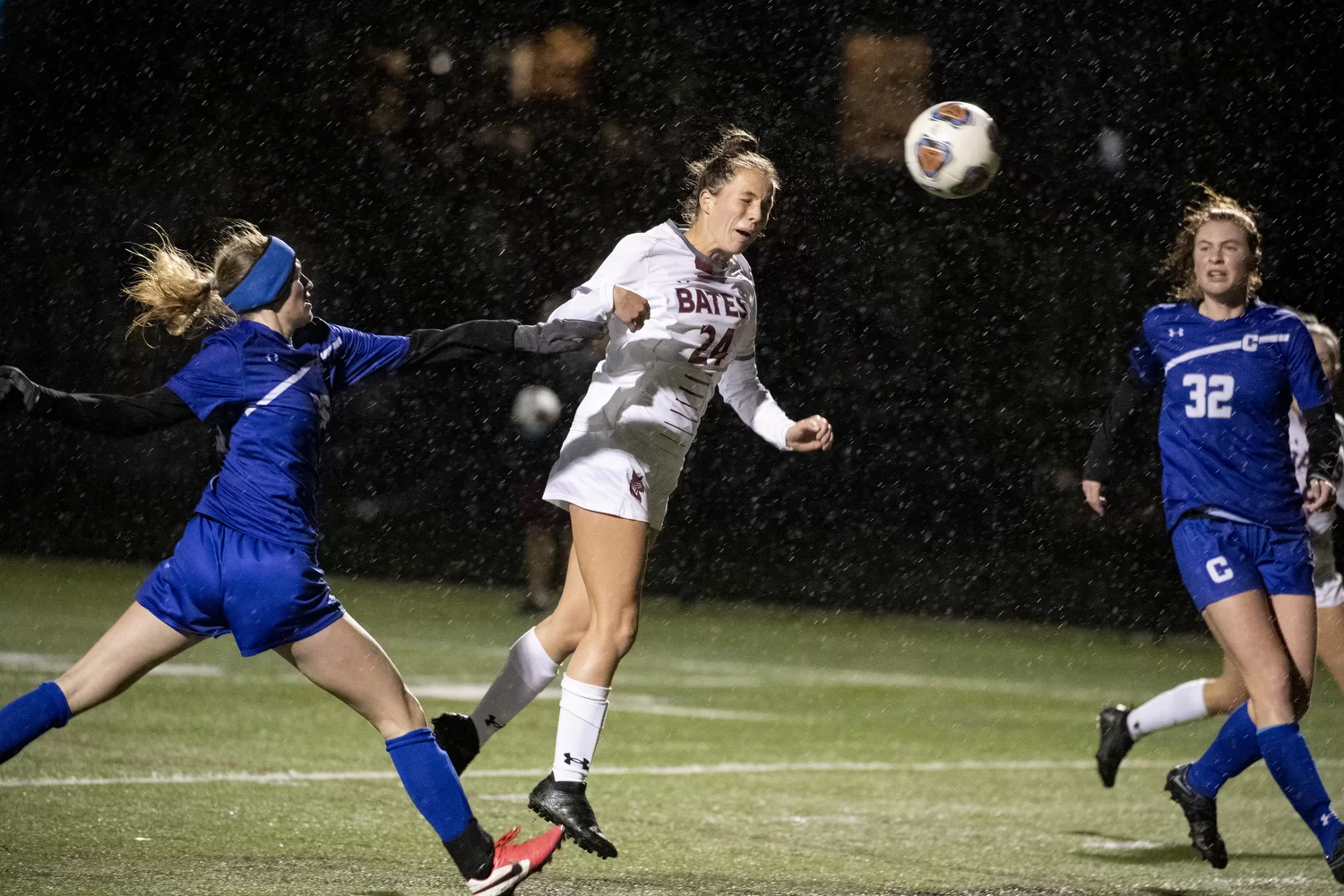 In the rain at Garcelon Field, Izzy Lussier '24 of West Suffield, Conn., scores a goal against Colby in the women's soccer team's 4-1 win over their rival in the season finale for both teams.
---
Lab Prep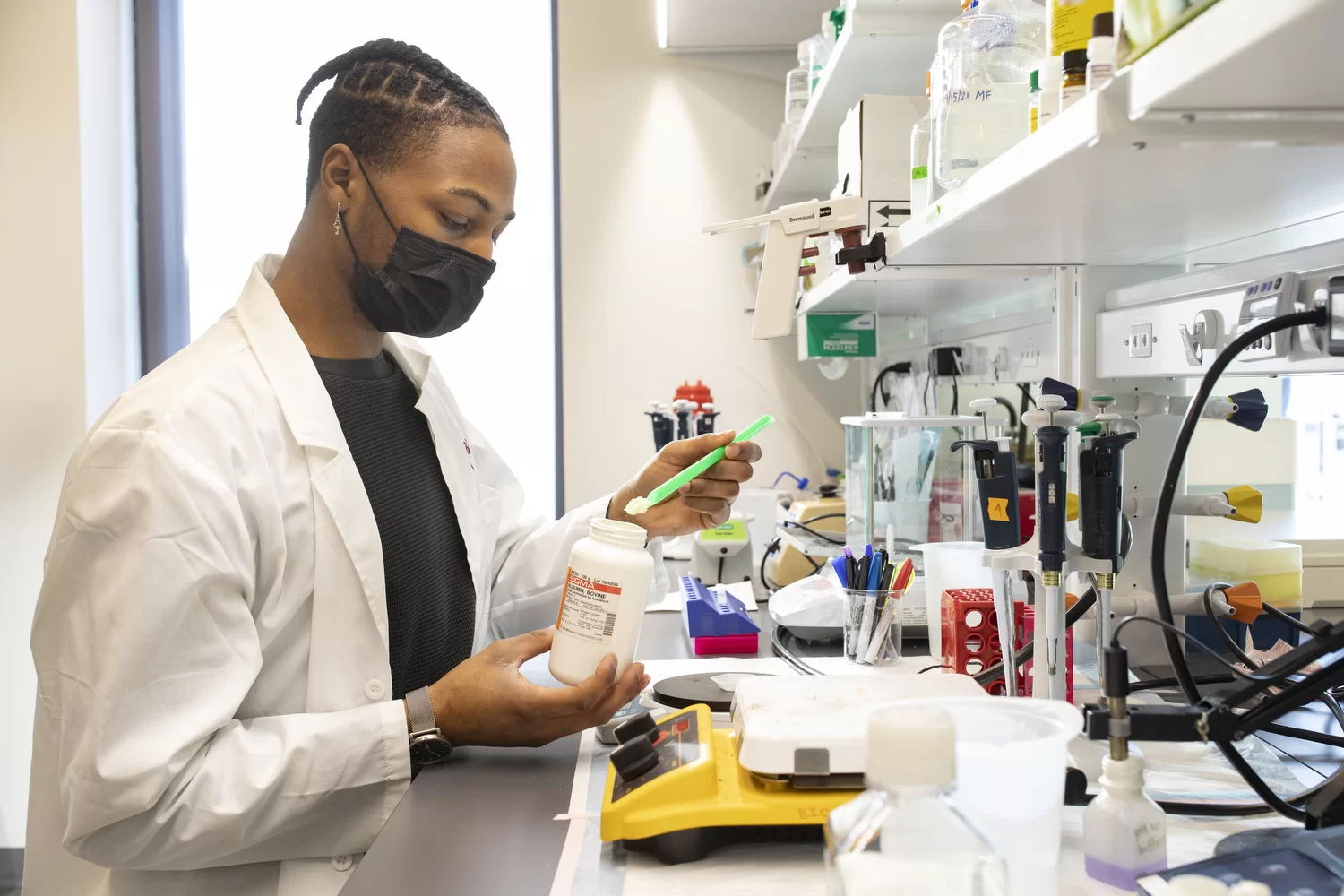 Osceola Heard '22 of Newark, N.J., a thesis student in biochemistry, weighs chemicals for solution preparation as part of an antiviral project in the laboratory of Assistant Professor of Biology Lori Banks.
---
Happy Birthday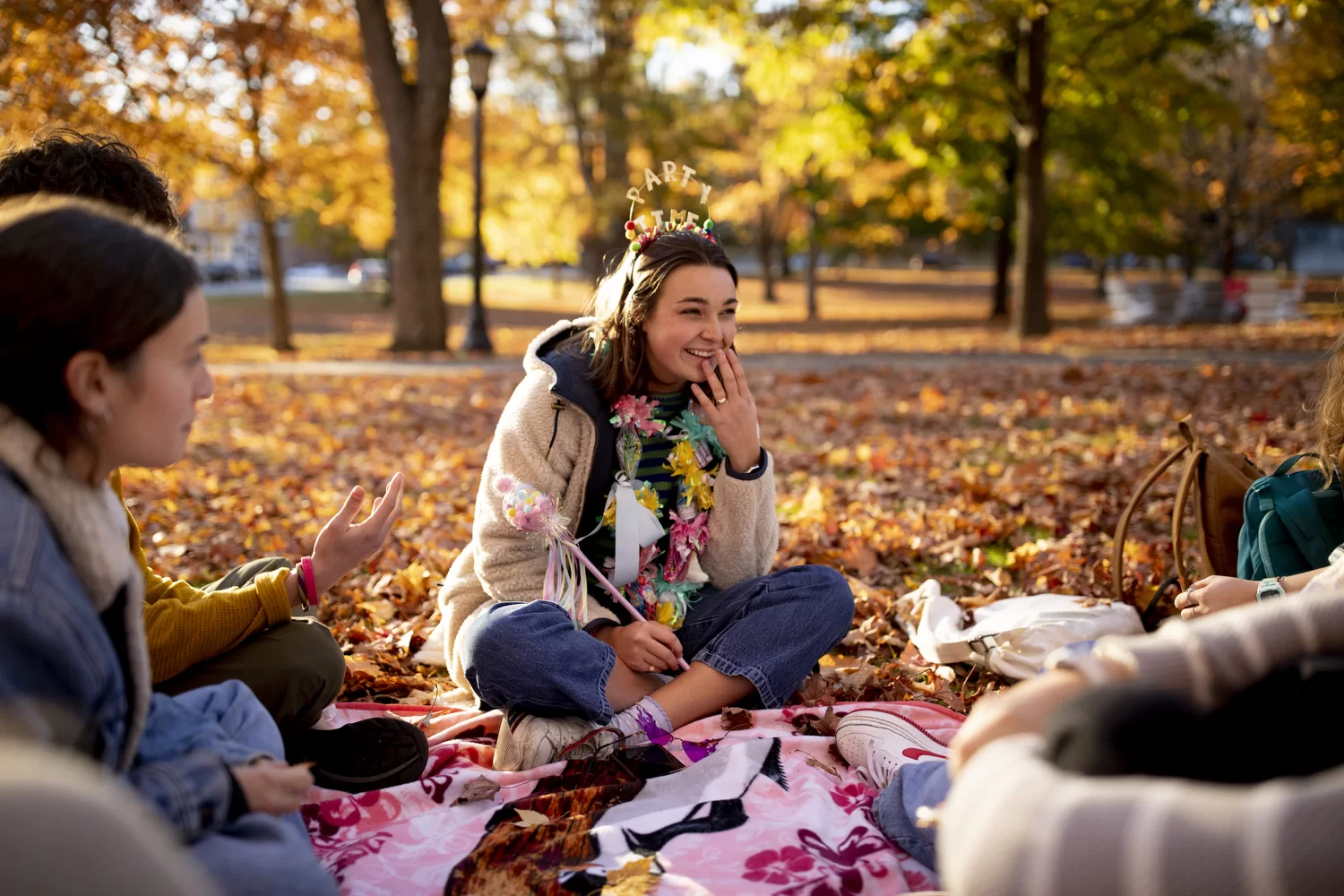 In the company of friends on the Historic Quad, Lily Ritch '25 of Cincinnati, Ohio, celebrated her 19 trips around the sun with a crown and a wand.
---
'A Perfect Ball'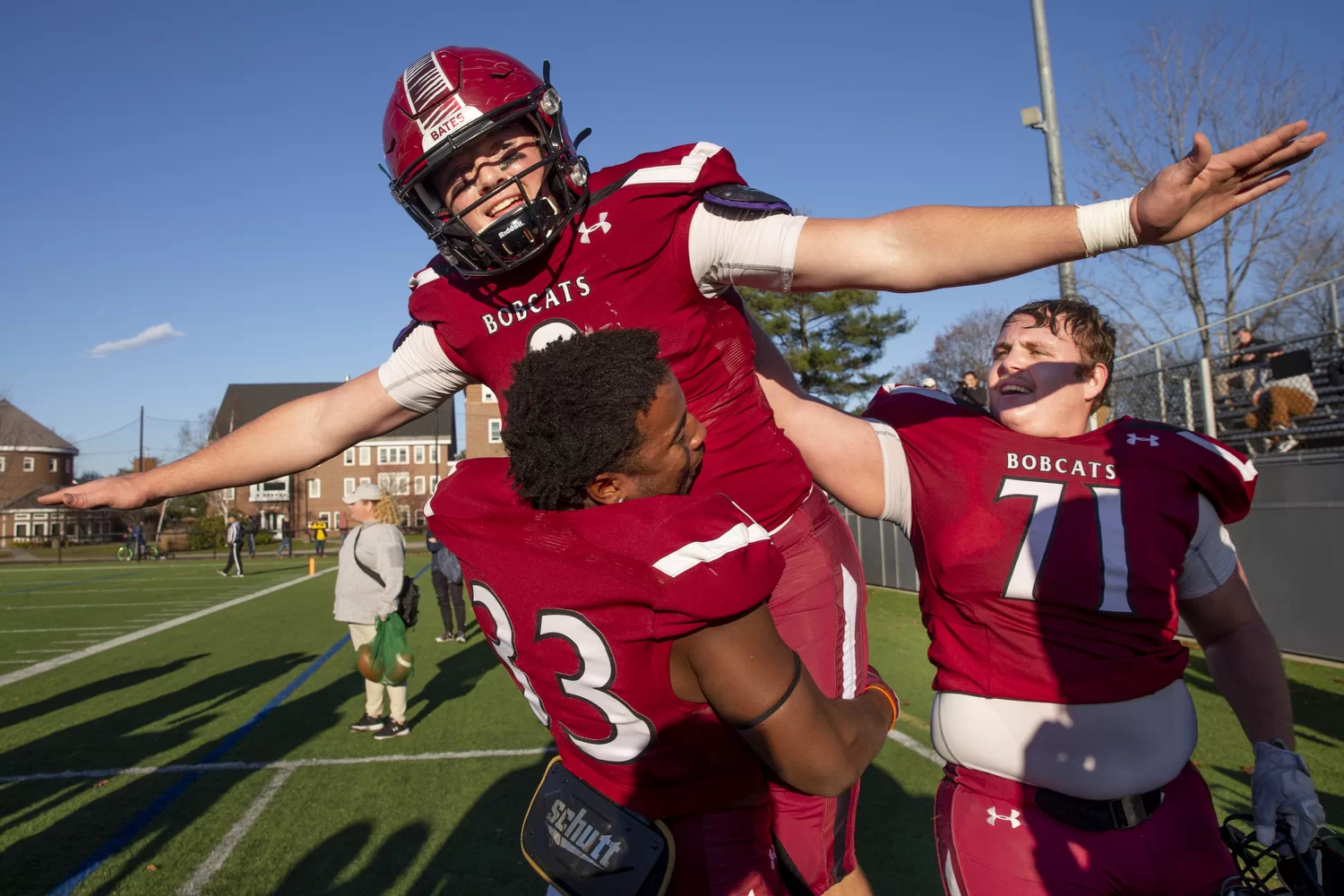 In a stunningly joyous end to the football season, Colton Bosselait '25 of Westminster, Mass., is hoisted aloft by teammate Jamile Mouehla of Harrington Park, N.J., and gets a pat on the back by Nick Florio '22 of Beechwood, N.J., after the first-year quarterback threw a game-winning touchdown pass to Christian Olivieri '22 of Hull, Mass., with four seconds left vs. Hamilton.
The TD bomb of 48 yards — soaring some 60 yards in the air overall — dropping perfectly into Olivieri's awaiting arms in the end zone. "A perfect ball, just a dime," said Olivieri.
---
Classroom Huddle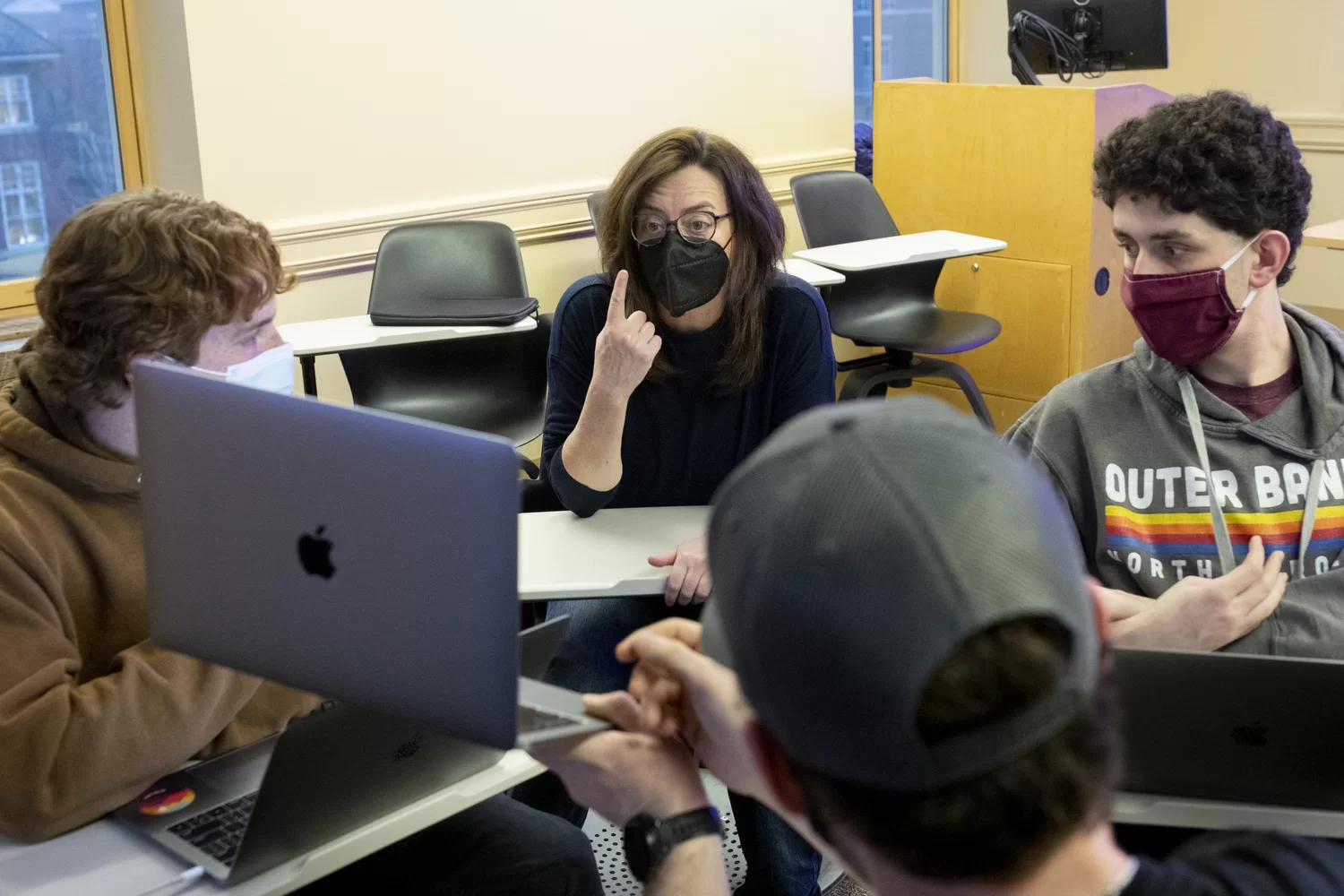 During a class session for her course "The Spanish Inquisition," in a Roger Williams Hall classroom, Professor of History Karen Melvin (center) works with, from left, Jackson Hayes '22 of San Marino, Calif., Aidan McGaugh '24 of Needham, Mass., and John Wilkins '23 of Chevy Chase, Md. The course features an innovative new website that allows viewers to read cases of the Spanish Inquisition.
---
Multicolored Toucan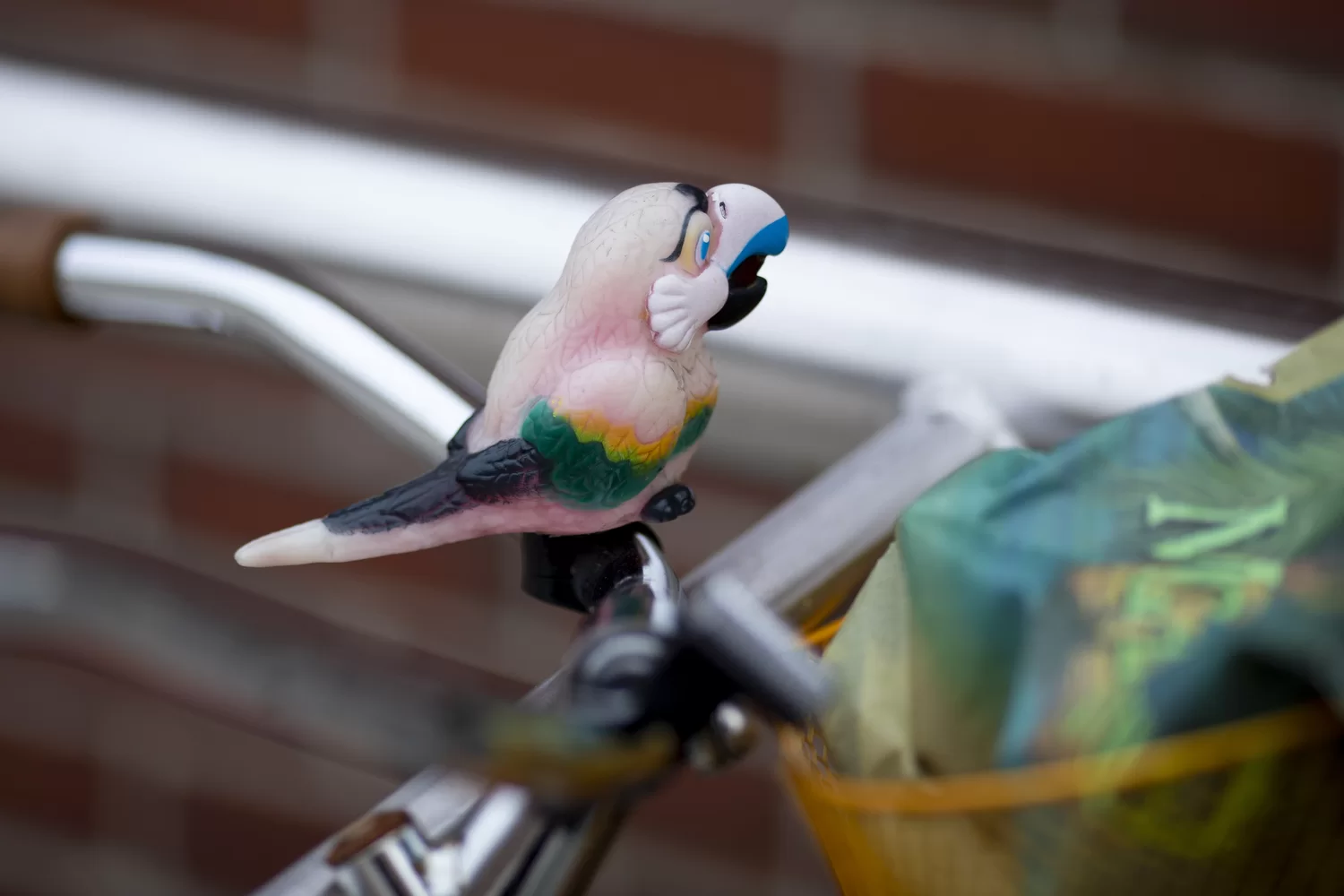 A horn in the shape of a bird, perched on a bicycle parked outside Ladd Library, brightens a cloudy vista.
---
Casting a Shadow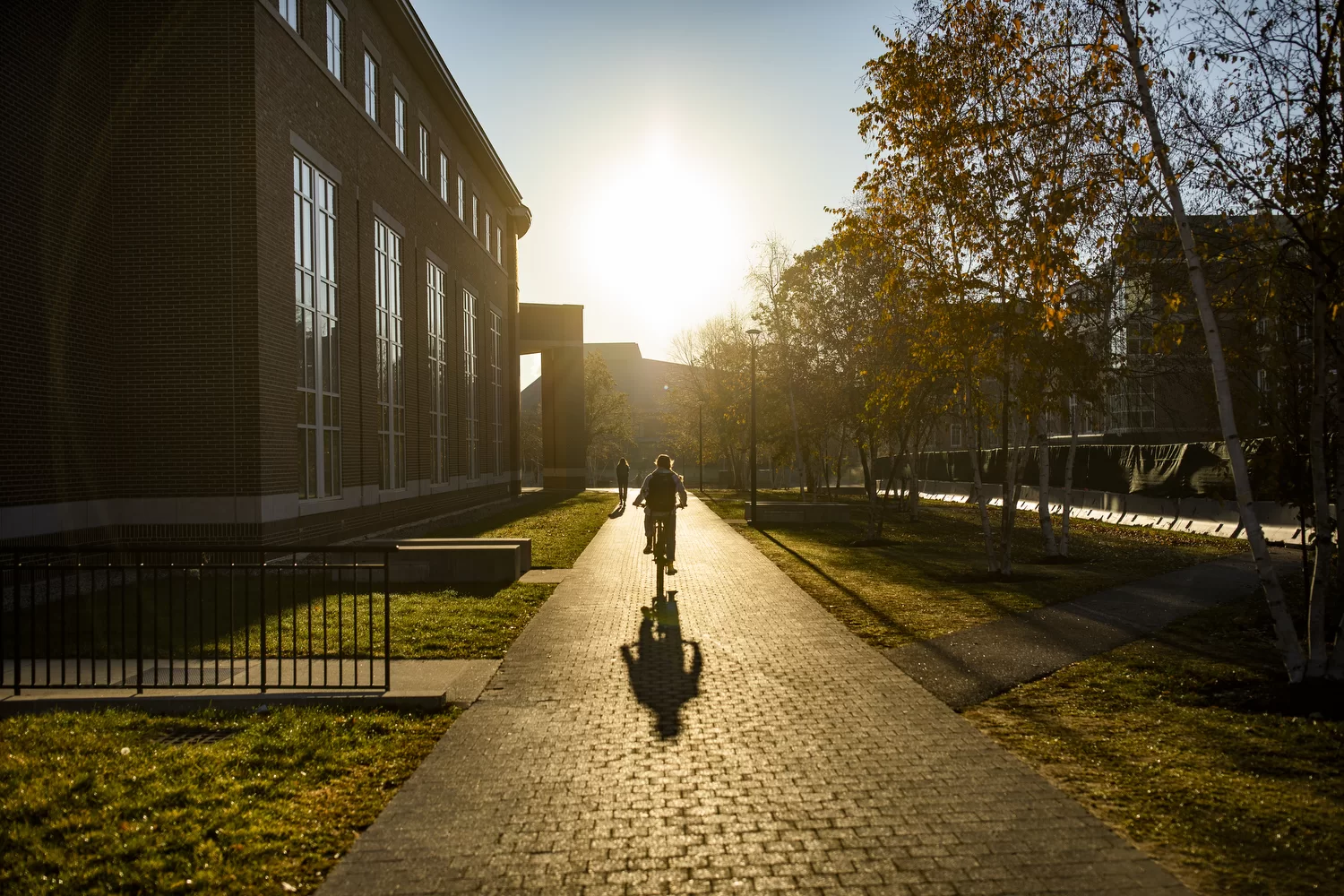 The early-morning sun silhouettes a cyclist riding down Alumni Walk.
---
Putting In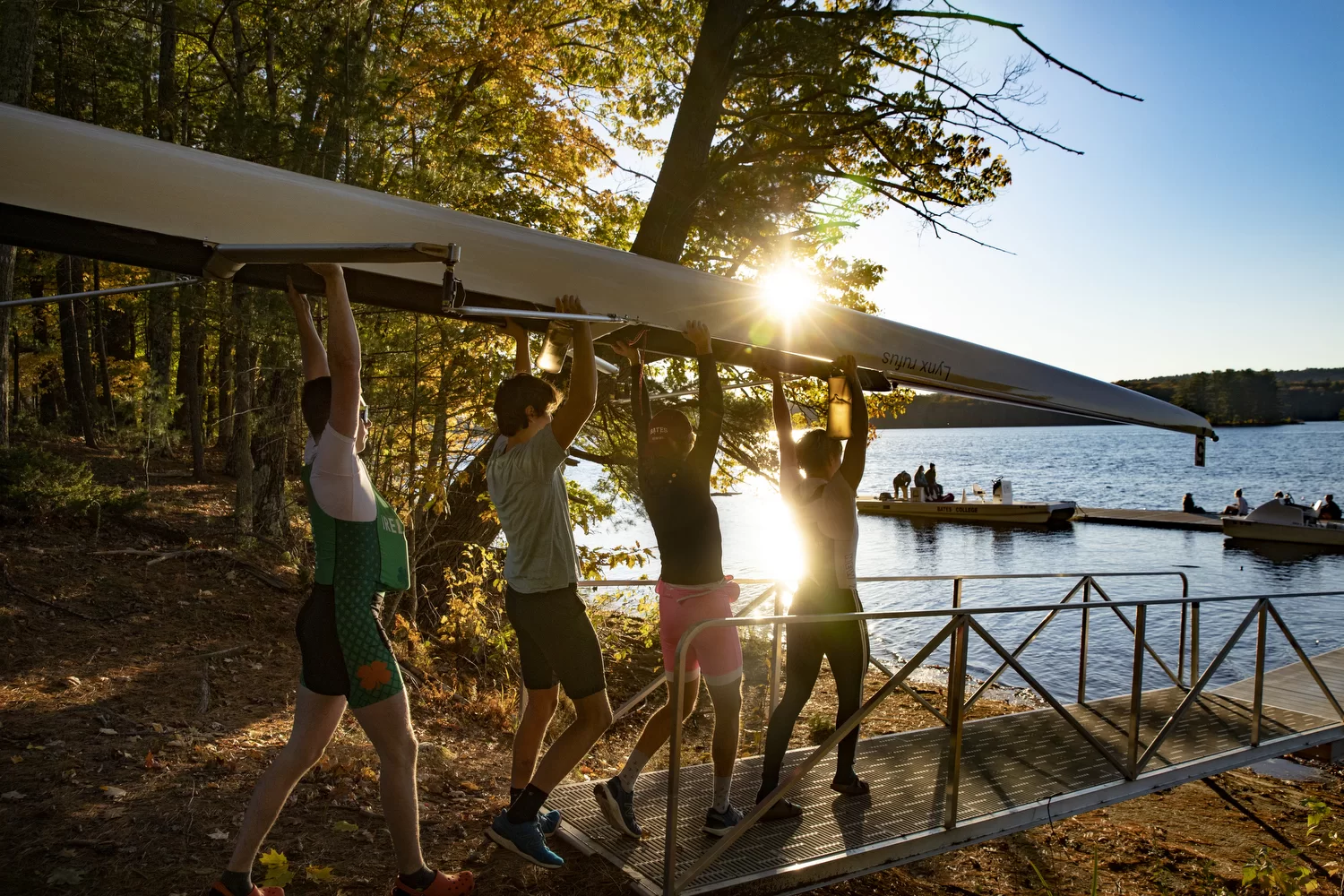 Four members of the men's rowing team go through the ritual of bringing their boat to the Androscoggin River during an early-morning workout. The fall rowing season features a single regatta, the famed Head of the Charles, where the men and women recorded top-five finishes in their respective collegiate eights races.
---
Sustainability Leader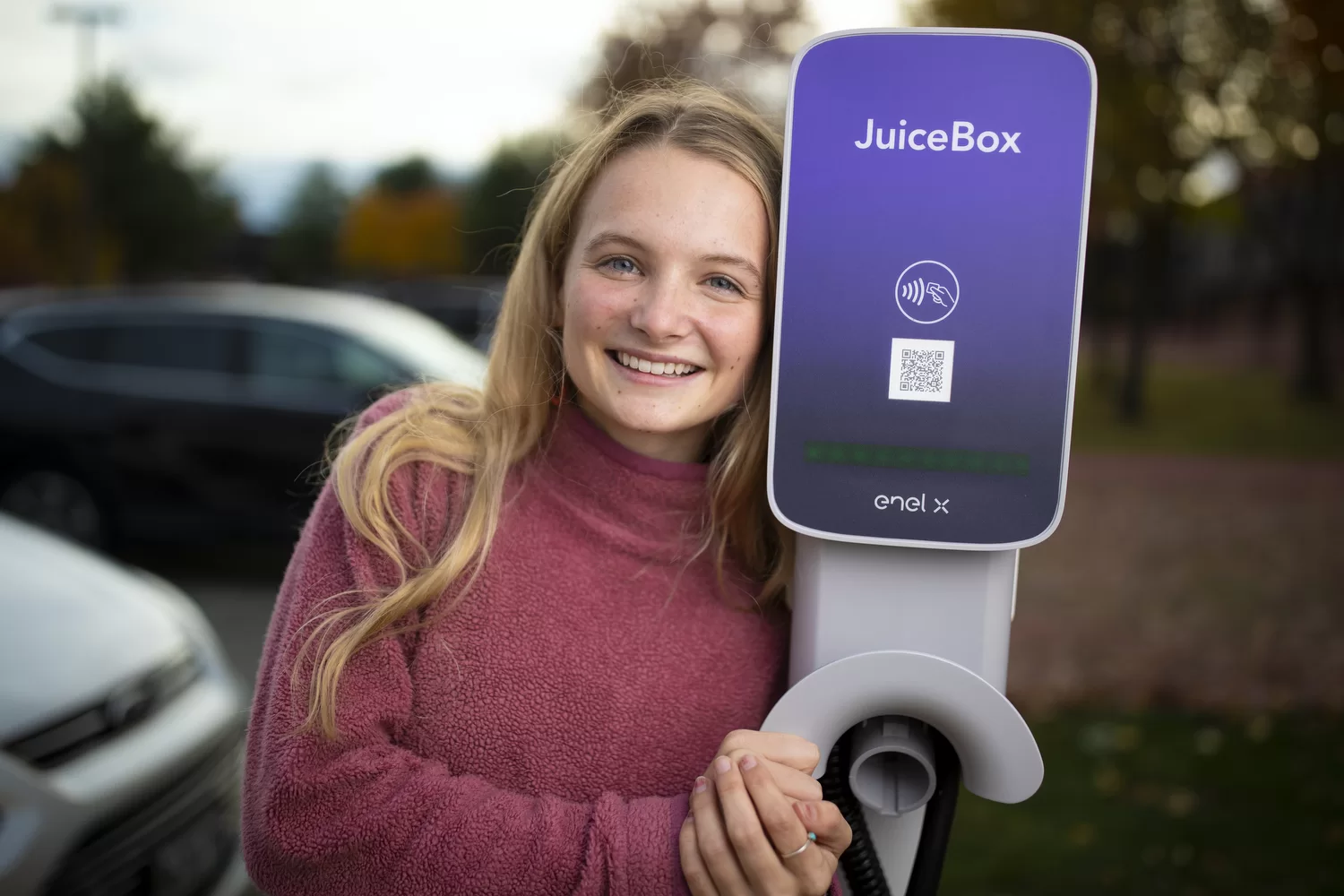 A leading member of the student task force for green initiatives known as EcoReps, Tamsin Stringer '22 of Bloomington, Ind., poses next to one of the college's new electric vehicle charging stations behind Underhill Arena. Last year, Stringer and fellow EcoRep Domi Frideger '21 took the lead in securing external funding to support the new EV chargers.
For its achievements in sustainability, Bates recently earned a Gold rating from the Association for the Advancement of Sustainability in Higher Education.
---
Does It All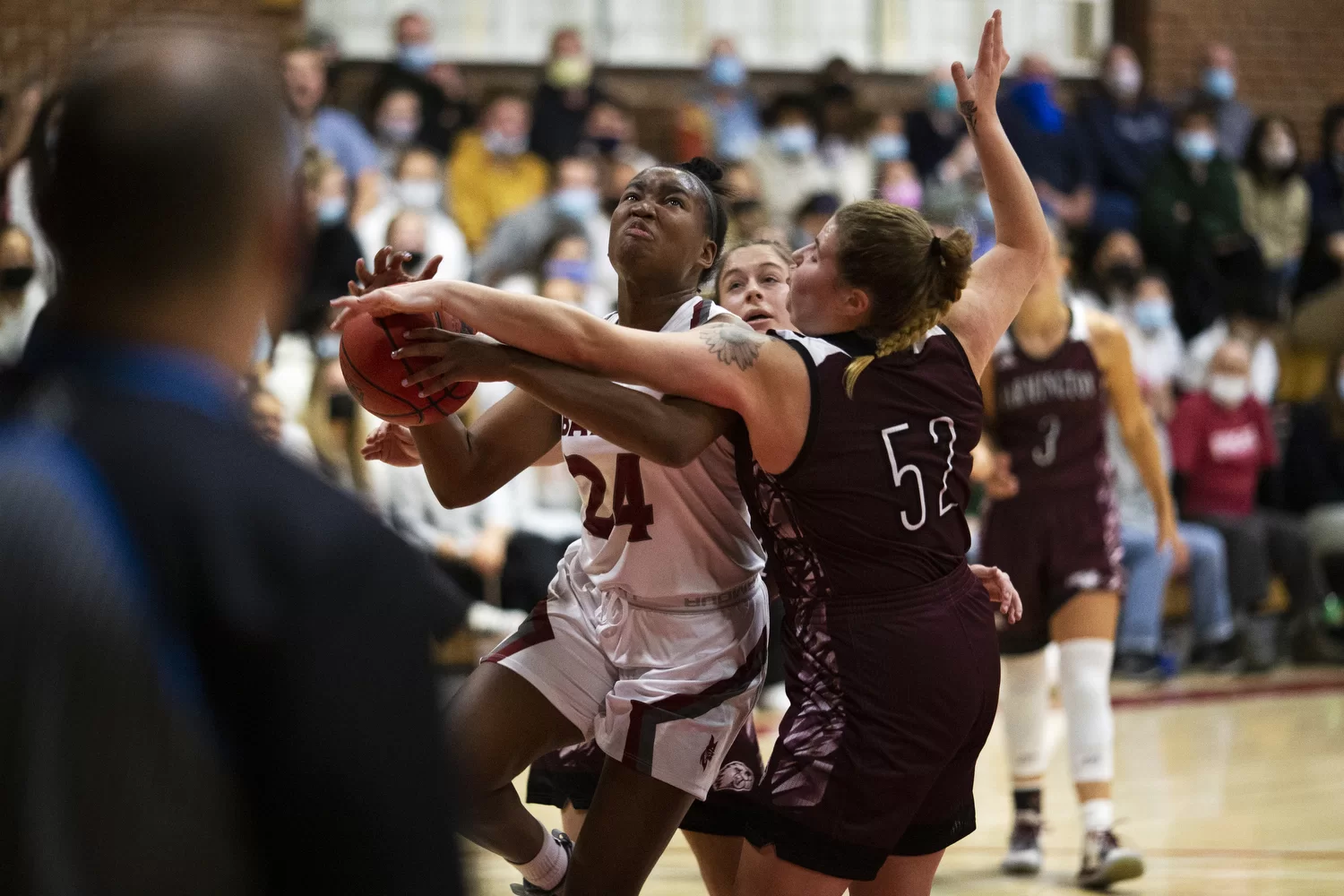 In November, Delaney Nwachukwu '24 of Avon, Conn., scored five points, grabbed four rebounds, and blocked two shots in the women's basketball team's 85-56 win over UMaine-Farmington at Alumni Gymnasium.
---
Sociology With a Smile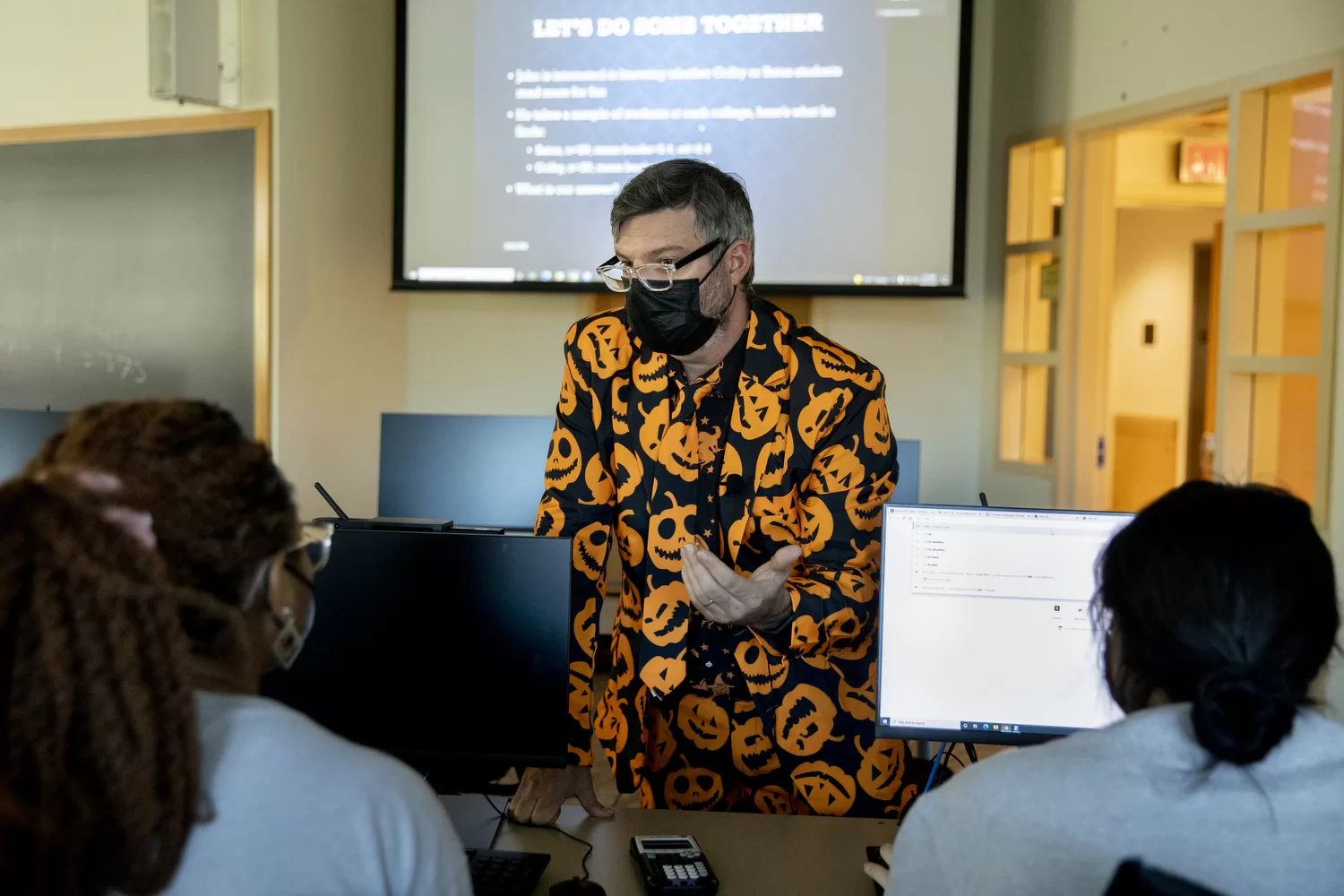 "I love Halloween and major holidays because ultimately they are about social cohesion and coming together to celebrate something bigger than ourselves," says Associate Professor of Sociology Mike Rocque, seen in a Halloween-themed suit as he teaches "Thinking Sociologically with Numbers" in a Pettengill Hall classroom two days before Halloween. "This year has been hard and I wanted to dress up a bit over the top to give people something to smile about and have fun."
---
Fall Pedestrian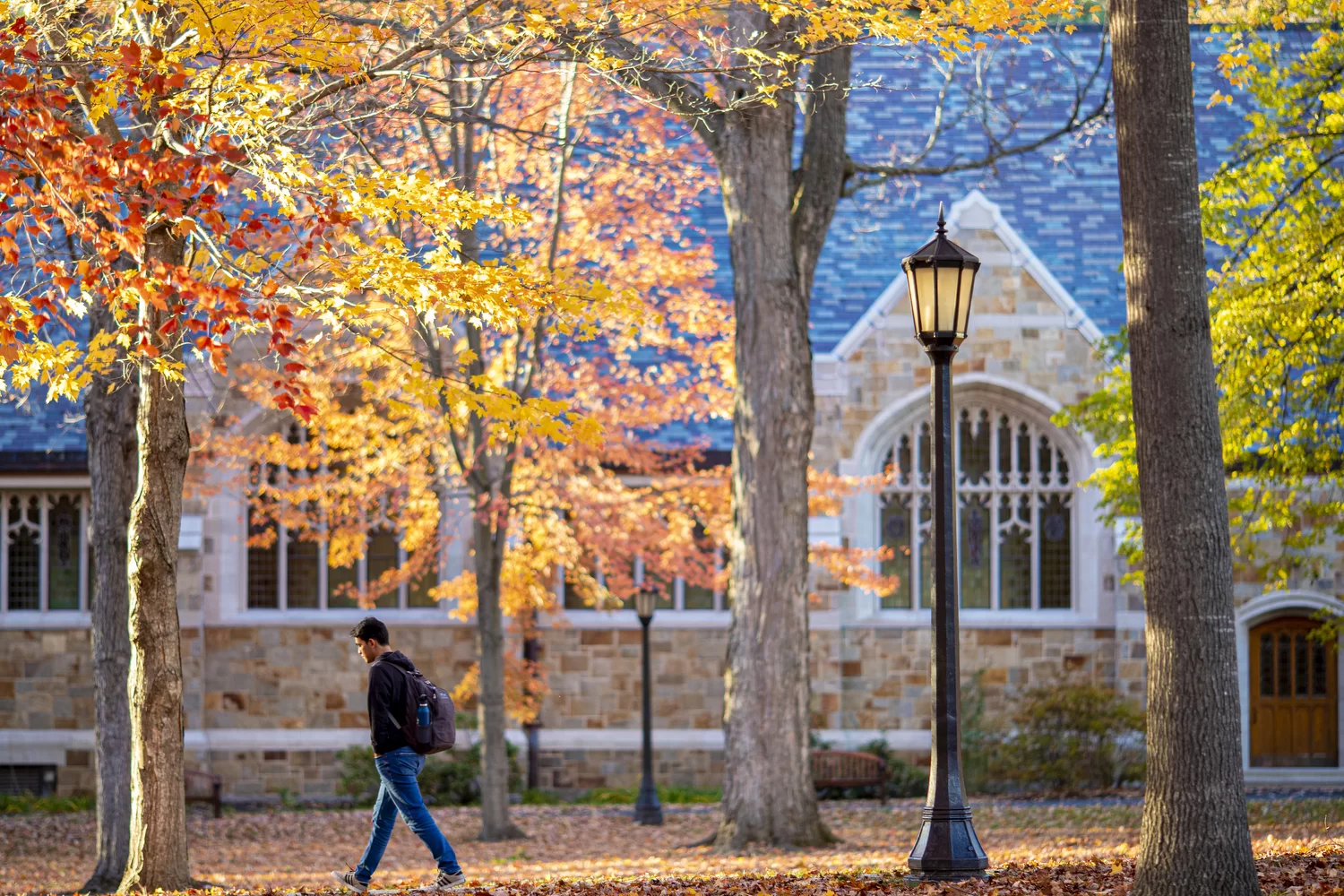 A student crosses the leaf-carpeted Historic Quad on the first day of November.
---
What Goes Up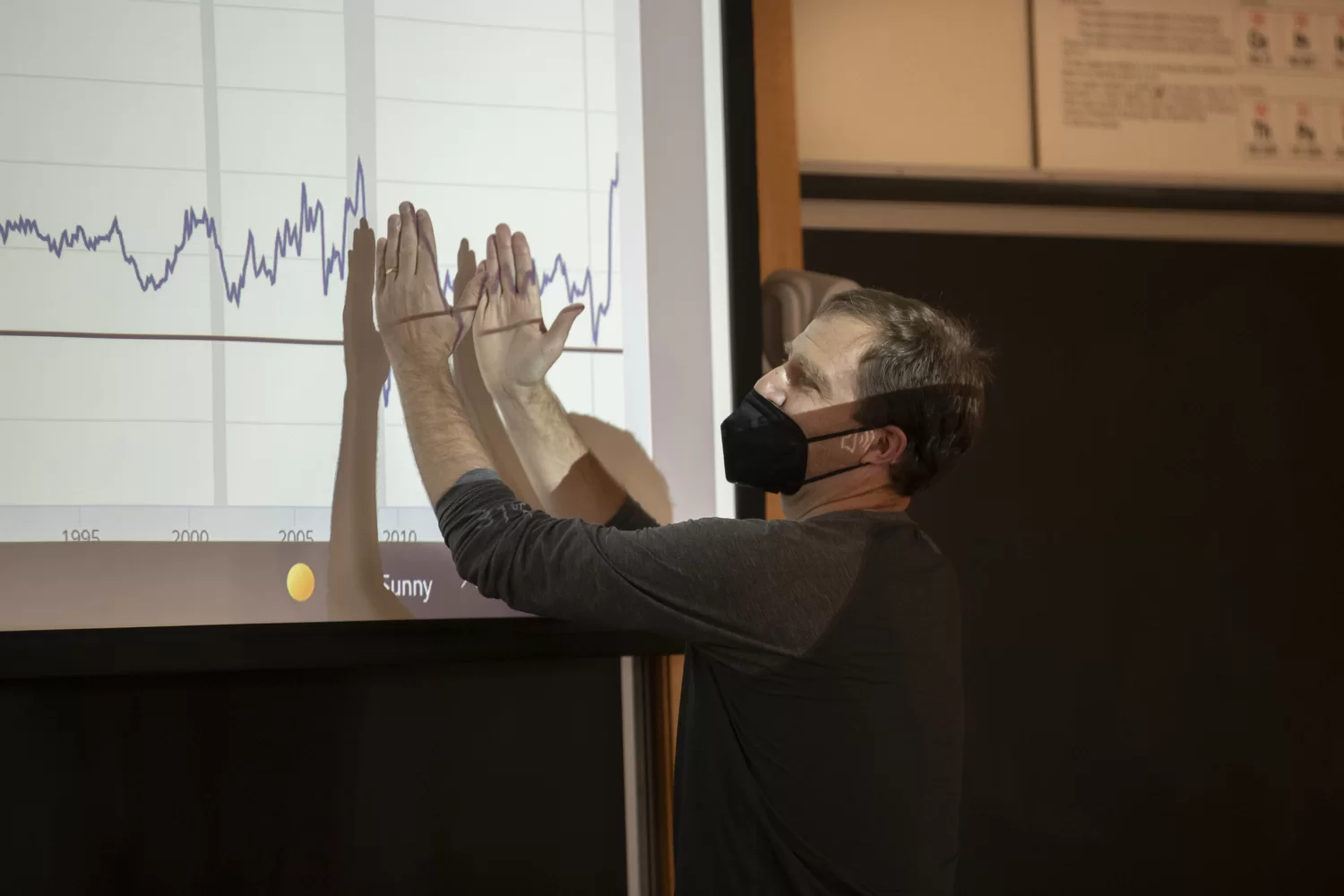 In Pettengill Hall, Associate Professor of Economics Paul Shea visits fellow Bates economist Lynne Lewis' class on applied principles of economics to explain pandemic-related inflation and unemployment to students. Lewis is the Elmer Campbell Professor of Economics.
As a macroeconomist, Shea looks at "what determines a country's short and long-term economic performance. Why are there recessions? Why are some countries so much wealthier than others?" He's especially interested in how "incomplete or inaccurate information can cause households and firms to make decisions that impact the overall economy."
---
Team Captain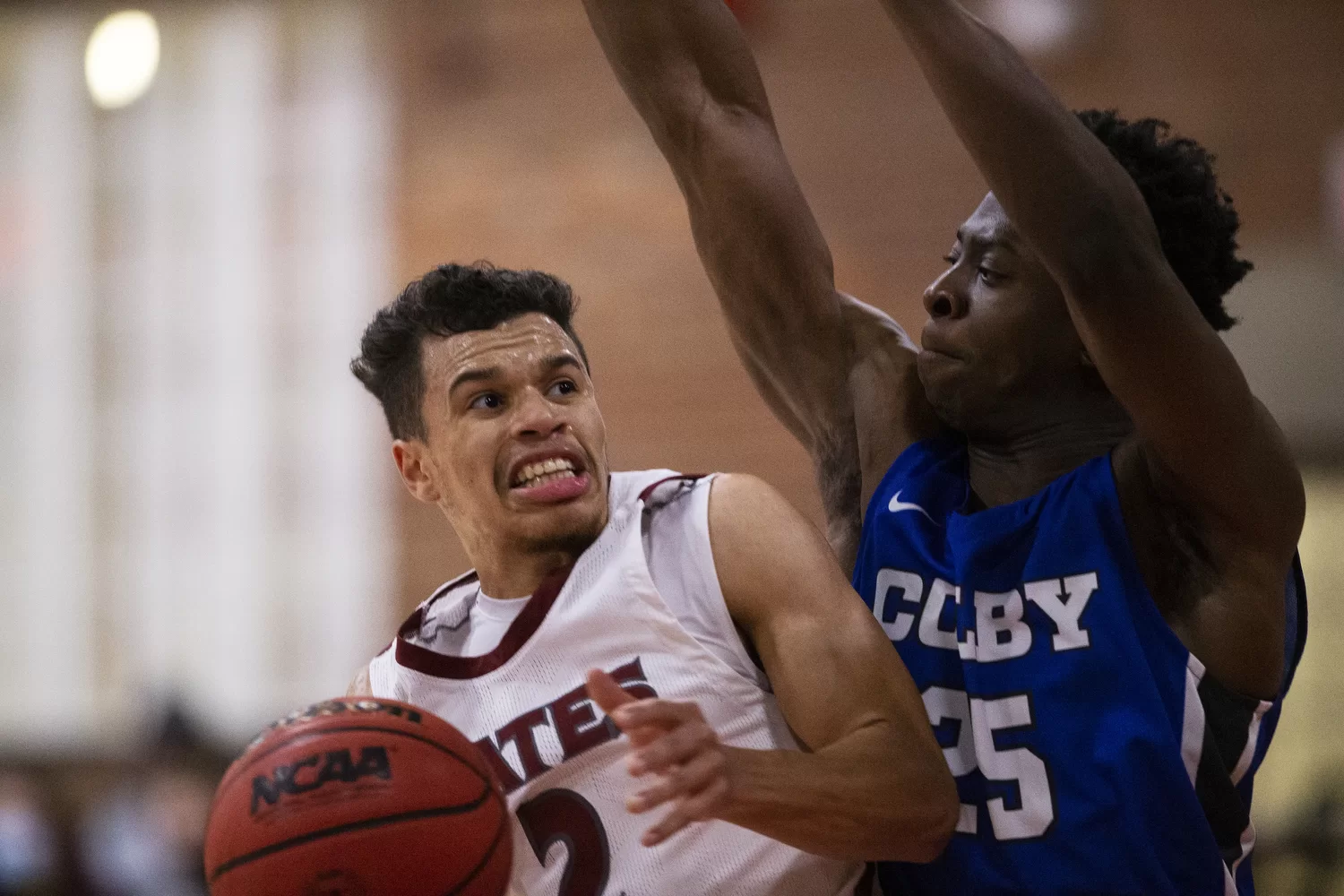 Men's basketball captain Stephon Baxter '23 of Worcester, Mass., attacks the hoop on his way to a team-high 23 points vs. Colby in an early December game in Alumni Gymnasium.
---
Superior Silhouettes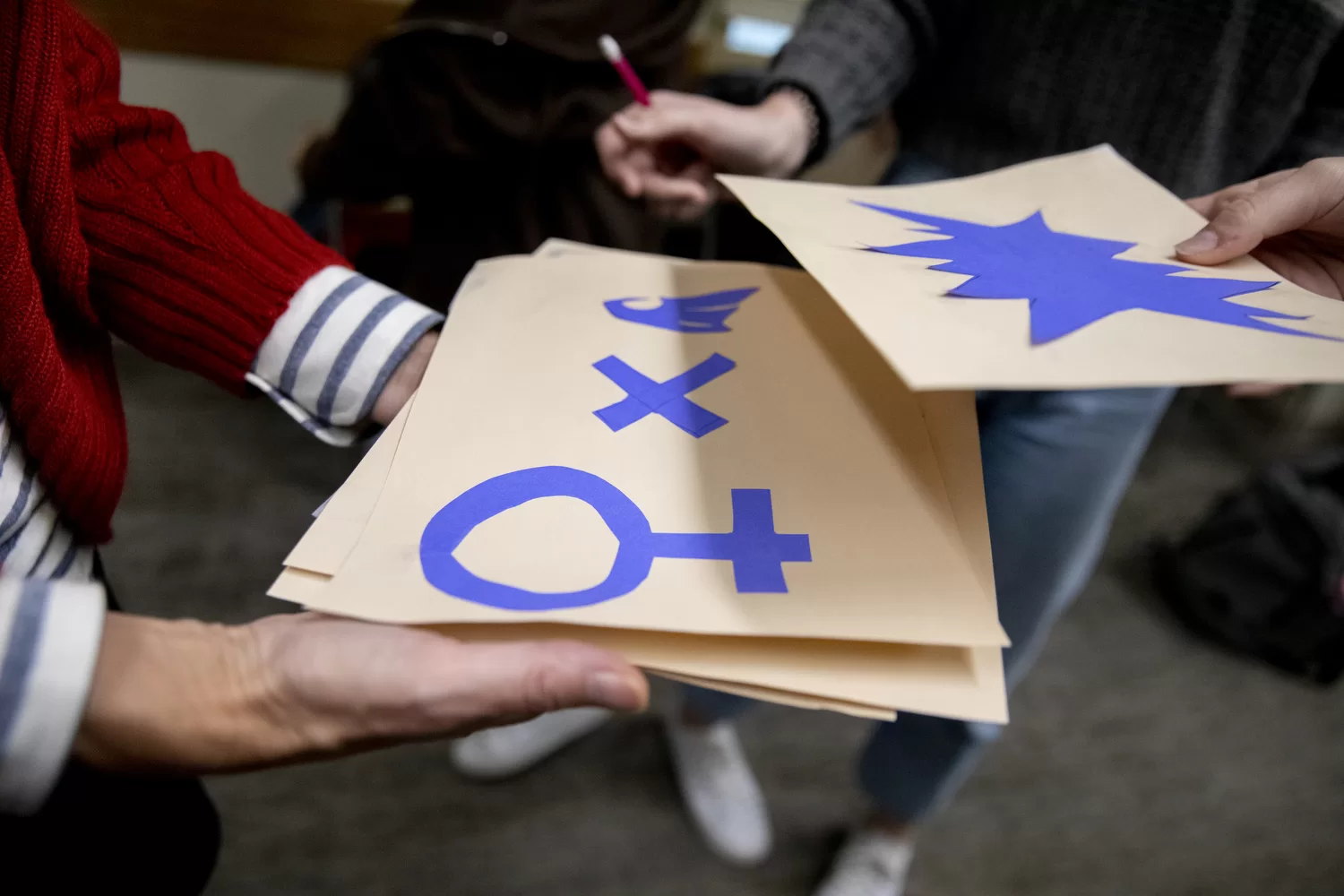 Created by students in "The Sporting Life," a First-Year Seminar taught by Visiting Assistant Professor of Psychology Su Langdon, these silhouettes are visual depictions of key points in a chapter in one of their readings, How Soccer Explains the World: An Unlikely Theory of Globalization. The semester went very well, Langdon reports. "They're really starting to get the hang of moving beyond their assumptions and critically exploring issues — the various 'isms,' as it were, in sport."
---
Vigilant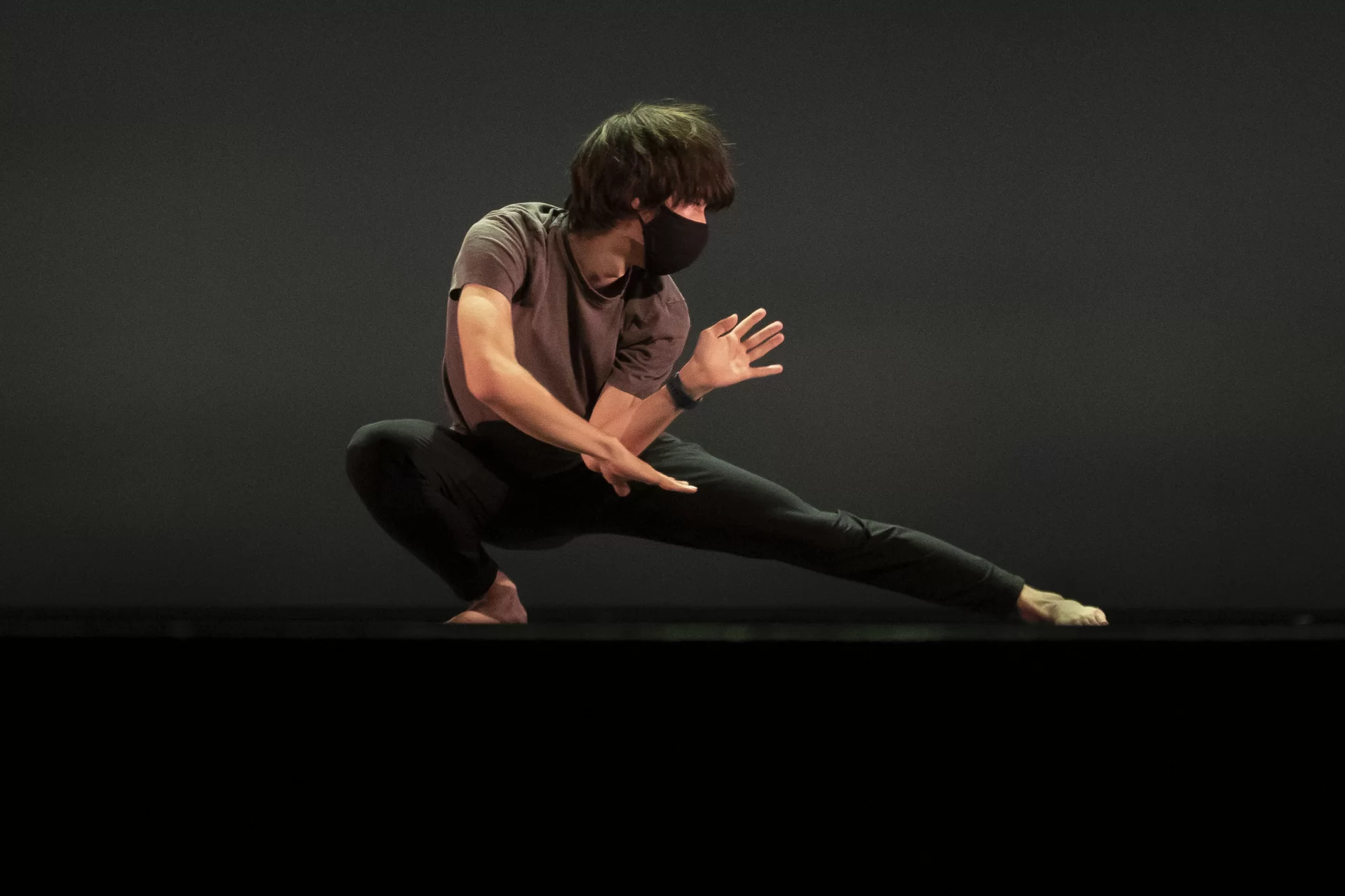 During a Schaeffer Theatre dress rehearsal, Tori Kusukawa '23 of Salt Lake City, Utah, performs in "Vigil," a piece choreographed by Cameron McKinney of New York City for two Bates courses in dance repertory. His performance was part of the Marcy Plavin Fall Dance Concert.
---
Queer Nature Walk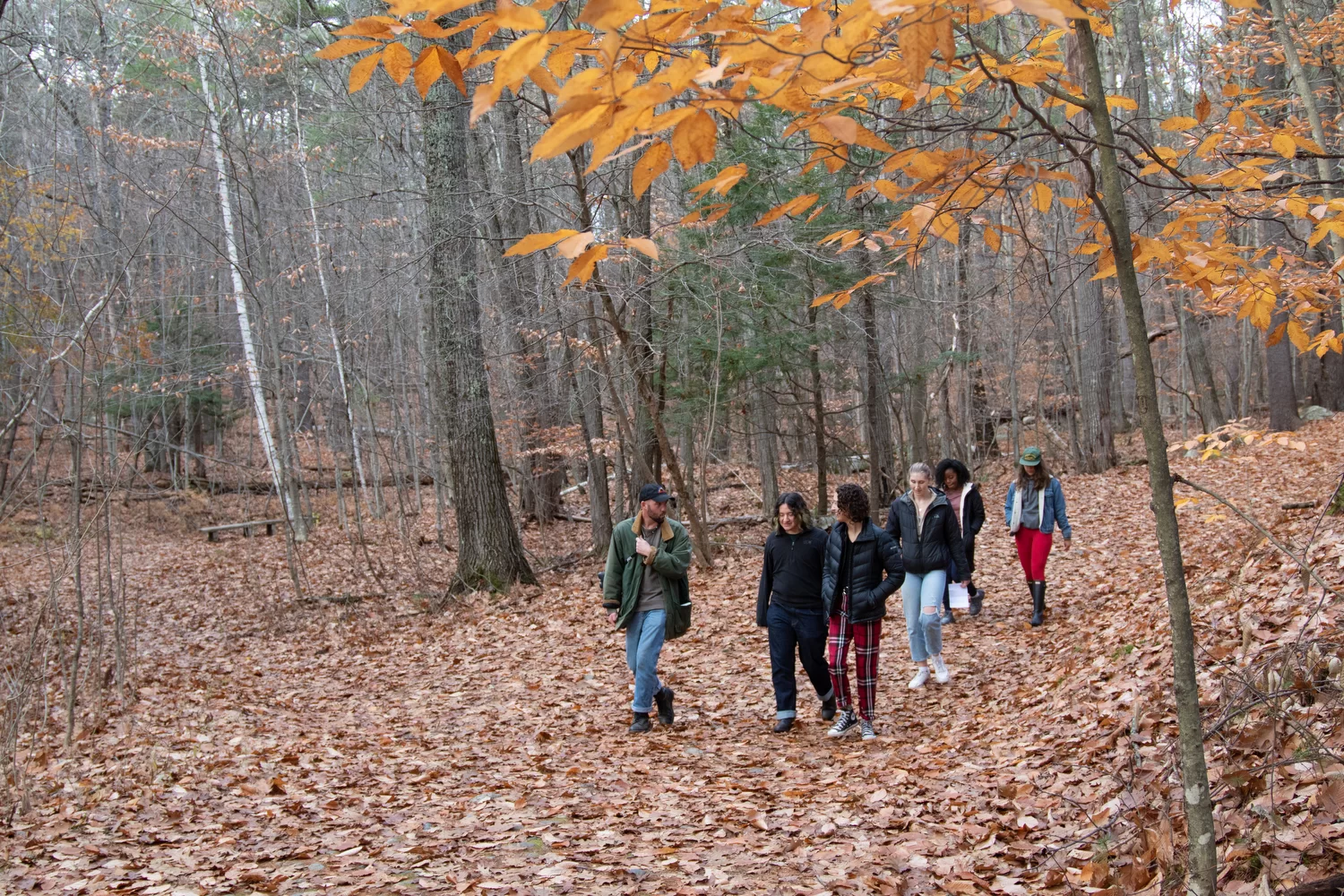 With the goal of helping all students feel natural in nature, Austin Morin leads a Queer Nature Walk in Lewiston's Thorncrag Nature Sanctuary in​ mid-November with Mariana Kaluba '25, Liv Eaton '23, Levi Mindlin '24, Cici Conroy '23, and Katia Ryan '23. The event, a partnership between the Bates Outing Club and the Office of Intercultural Education, also included a discussion of Queer Biology led by Morin the following day.
Morin is the founder and director of Queer Block Island, a support system for the LGBTQ+ community on Block Island, R.I. With a biology degree from the University of St. Andrews, Morin does fieldwork with The Nature Conservancy on the island.
---
Marsden Museum Moment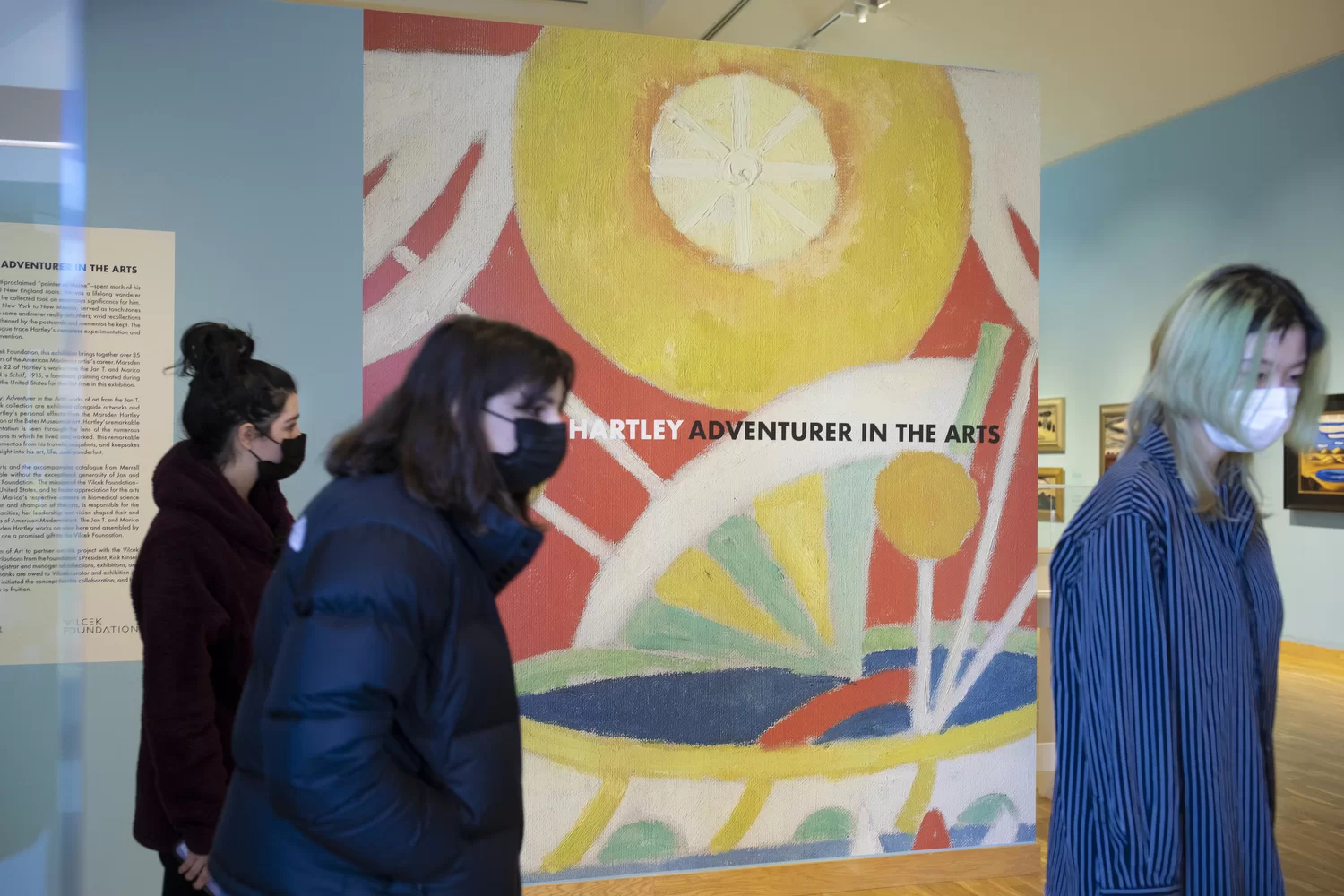 Students in the course "Visualizing Identities," taught by Lecturer in Art and Visual Culture Aimee Bessire visit the Marsden Hartley exhibition at the Bates Museum of Art, where they received a tour by Anthony Shostak, educational curator.
---
In the Clutch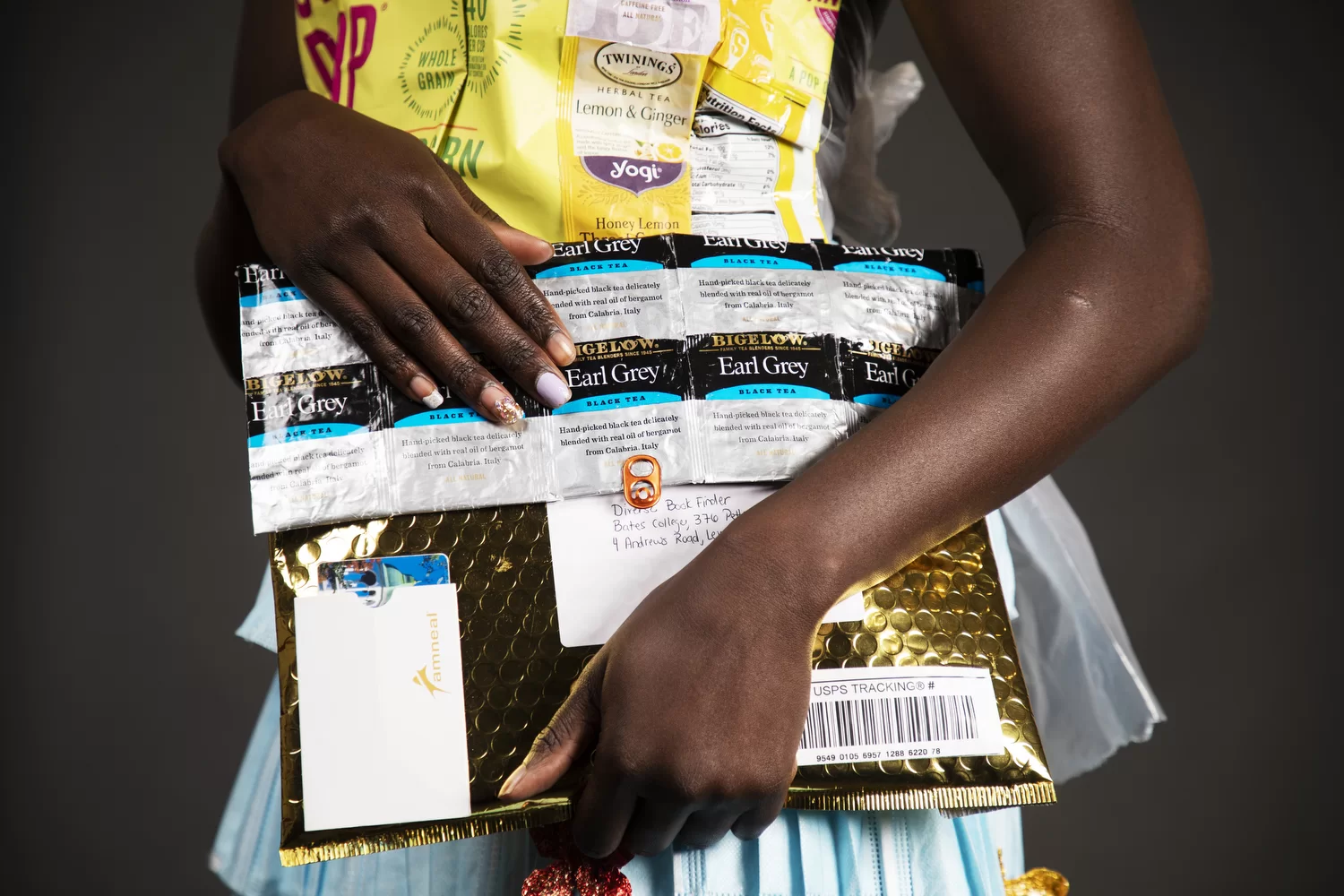 During the annual Trashion Show, Sandia Taban '22 of Changshu, China, holds a clutch bag made out of tea packets, bubble-wrap envelopes, and a soda can tab. The outfit's designer was Yueh Chuah '22 of Petaling Jaya, Malaysia. The Trashion Show is fun with a purpose: to highlight the amount of trash generated by the college and encourage campus recycling.
---
Chinese Cooking Class
While organizer Hongyu Zhang (left) offers encouragement, Jangmin Song '25 of Tokyo chops garlic during an interactive Chinese cooking class in Roger Williams Hall's cultural kitchen, participants joined Zhang, a Bates language assistant, in preparing three traditional Chinese dishes: shredded cucumbers (pai huang gua), scrambled eggs with tomatoes, and needle mushrooms with minced garlic. The event was sponsored by the Bates Center for Global Education to celebrate International Education Week in November.
---
A Place to Belong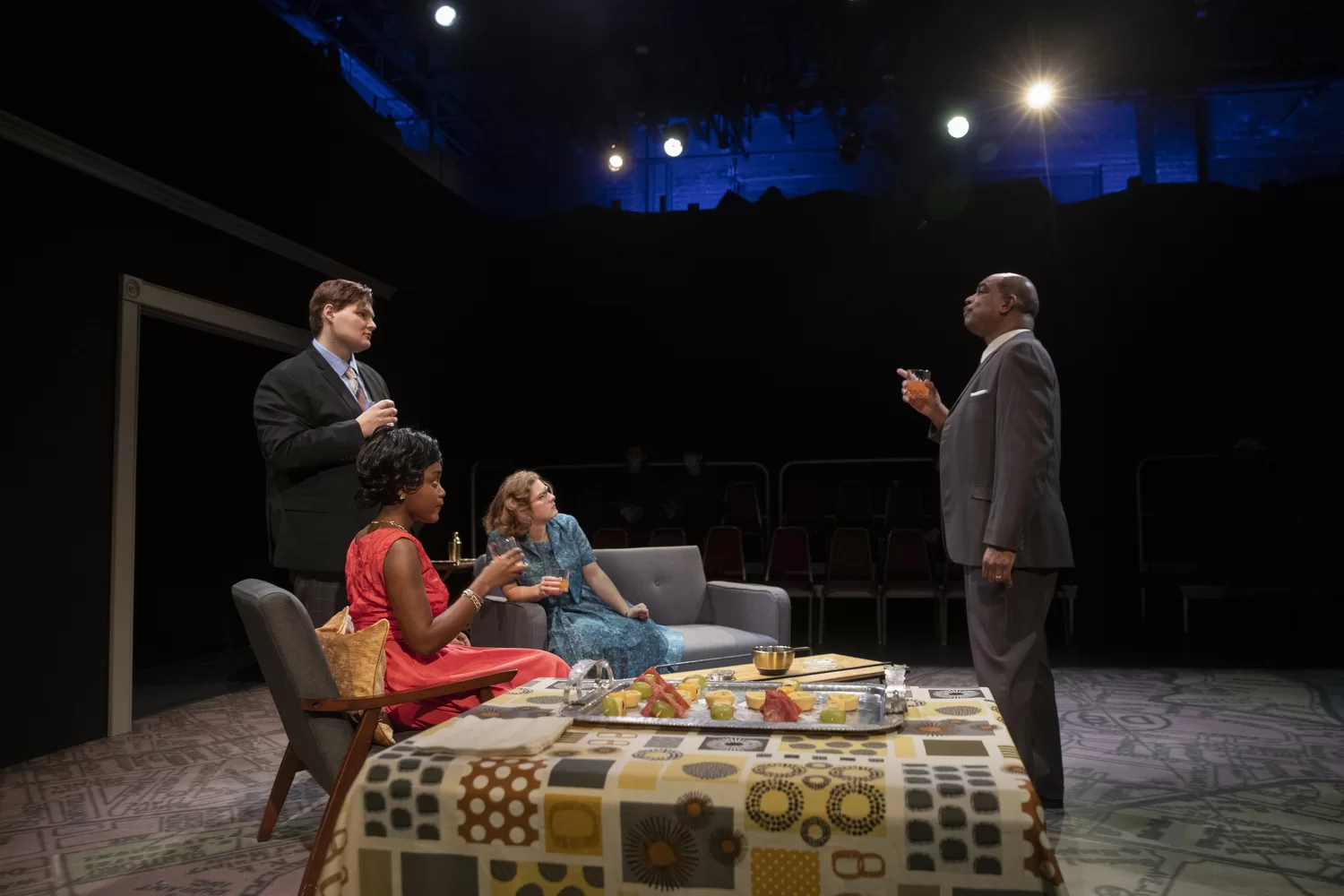 The Bates production of The Luck of the Irish "comes out of a long tradition of plays about African Americans looking for space, looking for a place to belong," said director Cliff Odle, assistant professor of theater. Telling a story about two Boston families, one Black and one white, and their intergenerational conflict over the ownership of a house, the play serves to underscore the systemic nature of American racism. From left, characters Joe Donovan (Luke Allen '22), Lucy Taylor (Bora Lugunda '25), Patty Ann Donovan (Caroline Cassell '24), and Rex Taylor (Associate Dean for International Student Programs James Reese).
---
Taps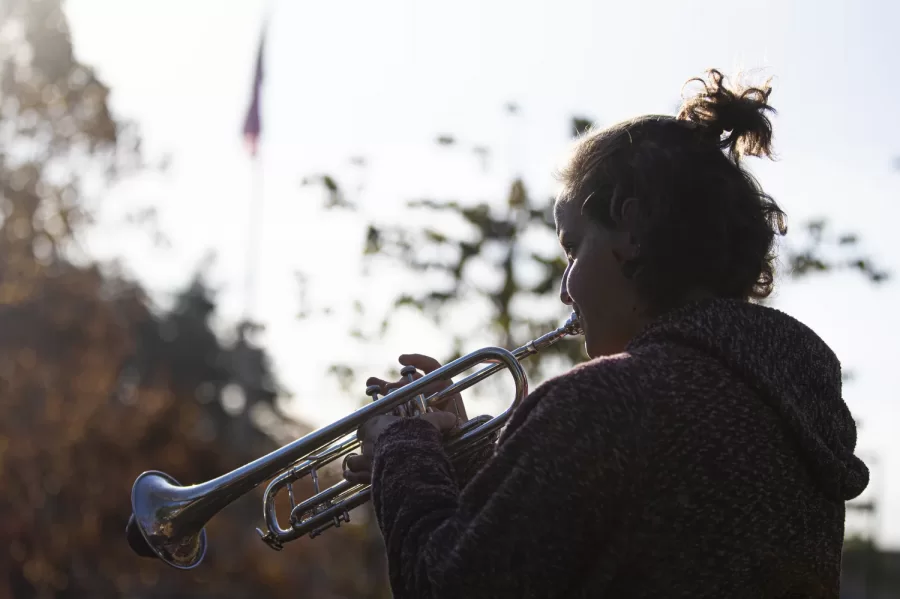 "I was excited to be able to play such a symbolic song for a day of remembrance, especially since the people who serve our country are often forgotten," says biological chemistry major Julie Jesurum '22 of Weston, Mass., who played taps during a 9 a.m. Veterans Day Ceremony at the Bates Veterans Plaza.
Members of the community gathered for interfaith prayers, taps, reflective readings, and the ritual laying of stones of remembrance on the memorial. "The last time I heard taps was at my grandfather's funeral," said Jesurum. "He was a World War II veteran."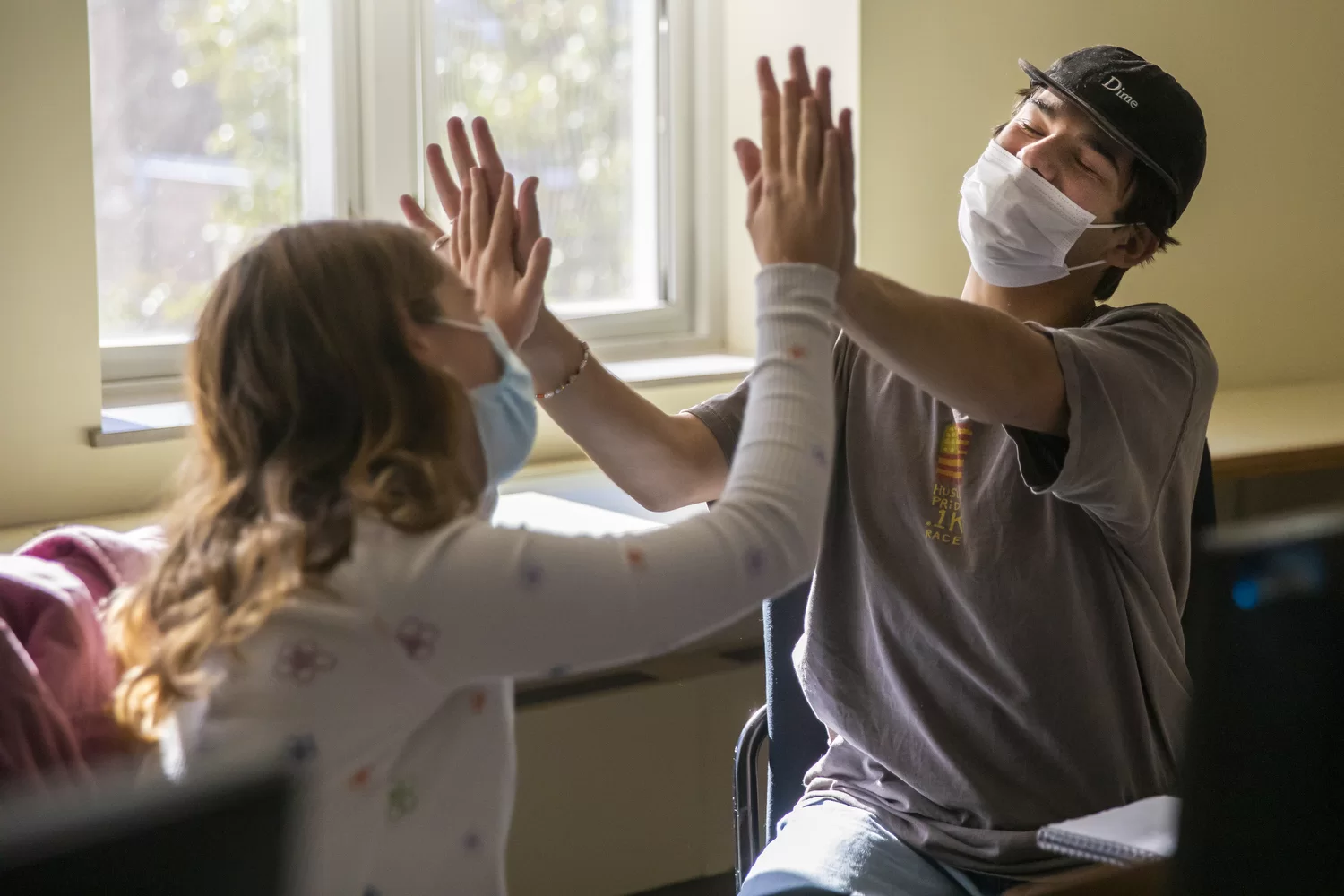 Lucy Del Col '24 of Wellesley Hills, Mass., and Teddy Duval '24 of Newton, Mass., high five after successfully completing their problem set, "the first one all day," said Duval, in Associate Professor of Sociology Michael Rocque's course "Thinking Sociological with Numbers."
---
Down and Out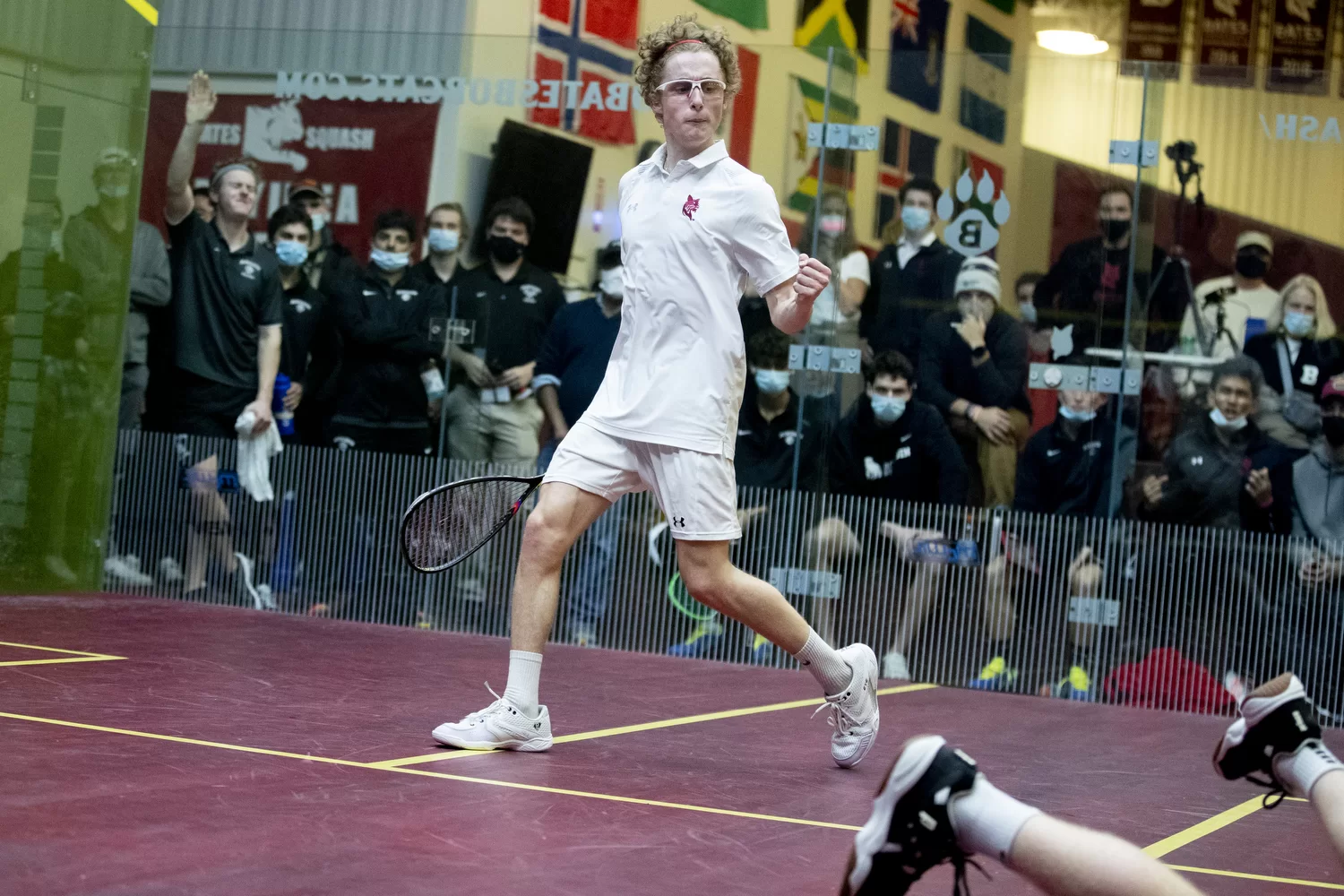 At the No. 2 position, Alec Spiro '25 of Portland, Ore., picked up the first win of his collegiate career vs. Bowdoin as the men's and women's squash teams enjoyed a pair of wins over their NESCAC rival.
---
Separated at Birth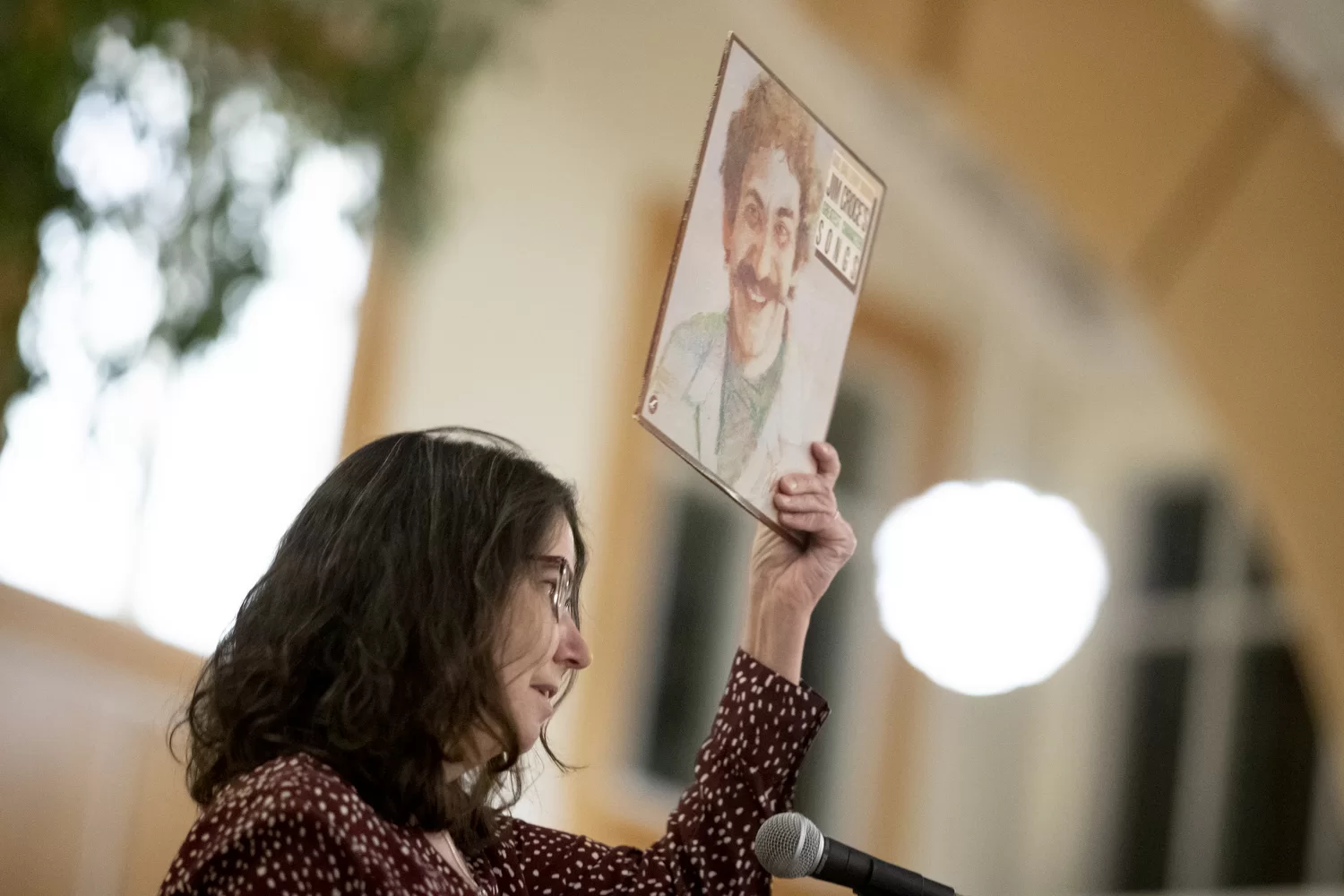 Professor of Chemistry and Biochemistry Paula Schlax raises a Jim Croce album during a retirement ceremony held in Pettengill Hall's Perry Atrium, where she spoke in appreciation of her colleague ​​Tom Wenzel, the Charles A. Dana Professor Emeritus of Chemistry and Biochemistry. She recalled how a friend, knowing that she appreciates singer-songwriters, told her right before she interviewed for her Bates job that Wenzel had an uncanny resemblance to Croce.
---
Dinner Hour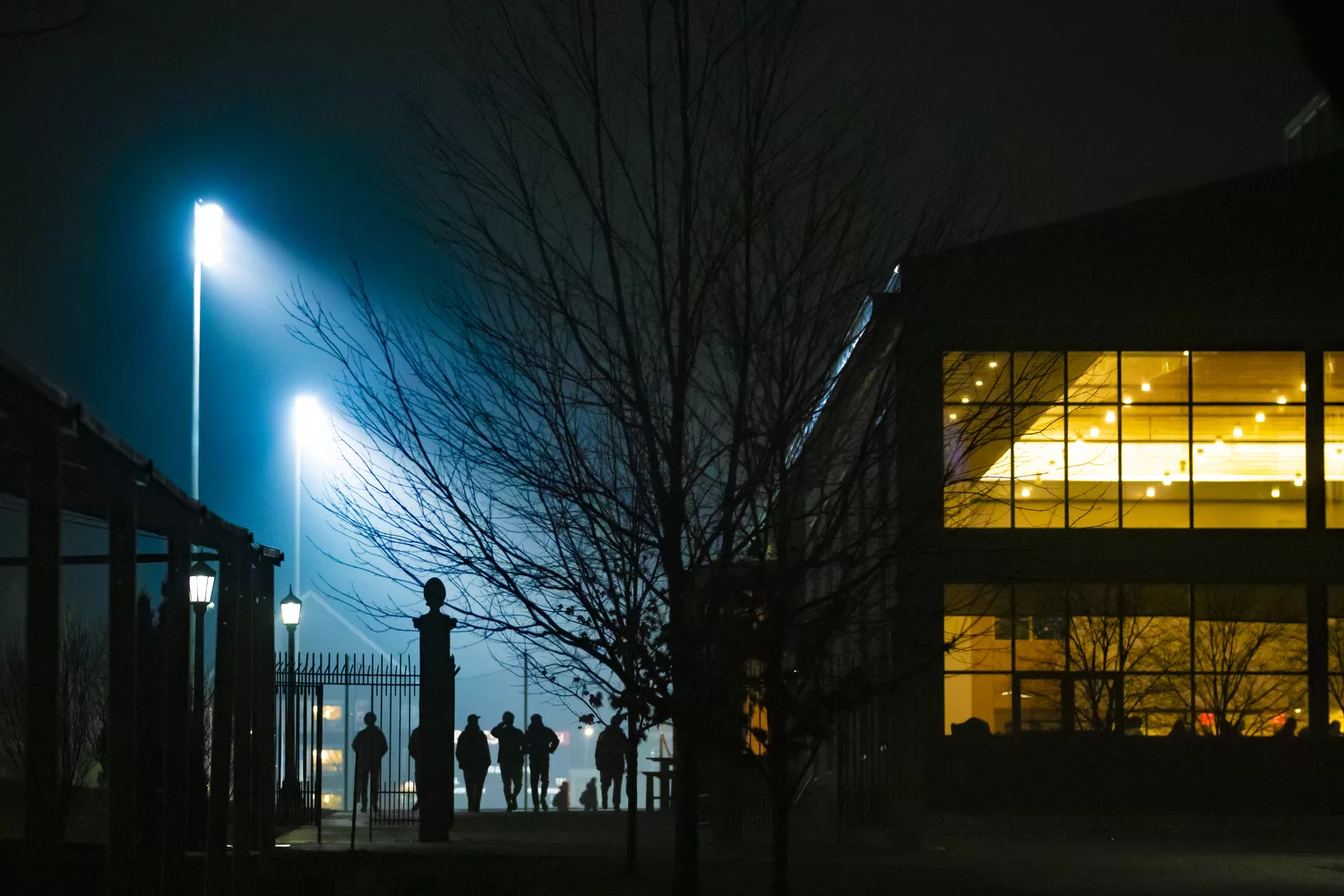 With an illuminated Garcelon Field as a backdrop, students stream toward Commons for dinner.
View Comments