In 2020, three Bates students conducted a college-wide survey of students and employees and found that 20 of 231 respondents had electric vehicles. There were already 10 charging stations for EVs on campus, so the math for finding an open plug wasn't bad.
But as she looked at the results, Tamsin Stringer '22, who got involved in campus environmental groups practically as soon as she landed in Lewiston from Bloomington, Ind., was thinking ahead.
Fully 50 percent of the campus community said they were actively considering the idea of getting an electric vehicle and 26 percent said they planned to purchase an electric car in the next five years.
"And that number is just going to keep going up," said Stringer, a member of the student task force for green initiatives, the EcoReps, since her first year, as well as a member of the college's Committee on Environmental Sustainability.
So she set herself a goal: Help her college add more EV plugins.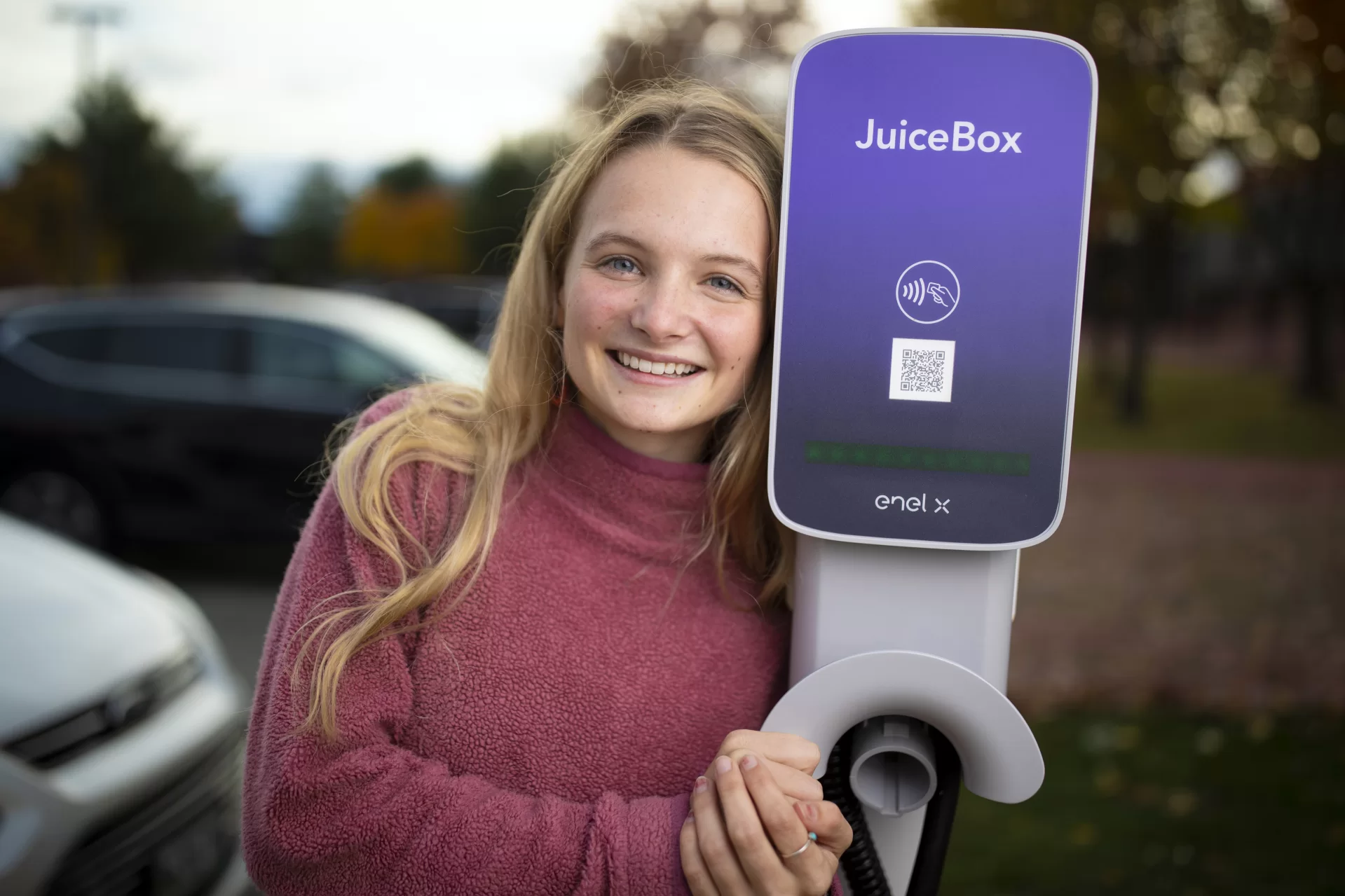 Students have long been leaders in sustainability on campus, driving initiatives on clean energy, sustainable food sources, and reducing waste on campus. Stringer chose Bates in part because of its efforts toward becoming sustainable (Bates achieved carbon neutrality in May 2019, her first year).
Stringer and Domi Frideger '21 of Durango, Calif., wrote grant requests to Maine's largest electrical utility company, Central Maine Power, as well as to Efficiency Maine, the primary administrator for energy efficiency programs in Maine, making a case to both that Bates needed additional funding for the chargers.
They were successful, and the college was awarded two grants from CMP and Efficiency Maine, totaling about $36,000. Both entities offer competitive grants for charger installations to increase local access and destination charging.
Stringer and Frideger were also awarded a project grant from Bates, through the Green Innovation Grant program. The Bates grants, up to $2,000 each, help connect students passionate about advancing sustainability and green energy to resources, and according to Tom Twist, Bates' sustainability manager, the proposals can often turn into larger projects.
"I think it's a good and useful experience to see an idea through the entire process — from conception, to refinement, to fundraising, to actual physical implementation of something that hadn't existed before," Twist said.
Bates continues to thread sustainability throughout the college — from academics and student activism to dining and facilities operations. For those efforts, the college earned a Gold rating from the Association for the Advancement of Sustainability in Higher Education, considered the premier benchmarking agency. In fact, Bates' performance was in the top 10 among all baccalaureate colleges in the country.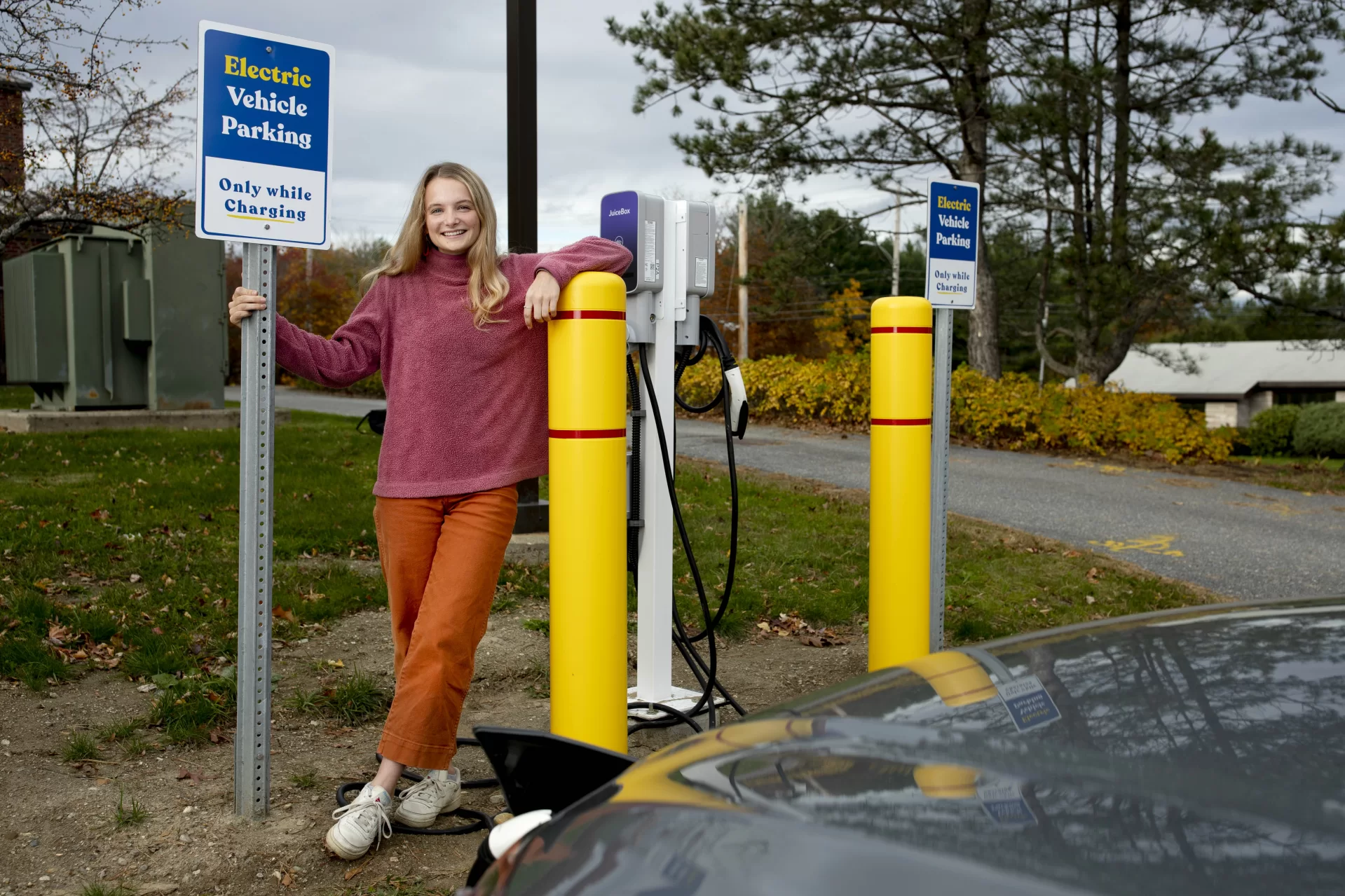 The four new chargers were installed near Underhill Arena mere weeks ago, bringing the total number of EV plugins on campus to 14. The chargers are open to both the campus and the surrounding community.
These new units have serious juice, hence their name, Enel X Juiceboxes. EV chargers are described by levels: 1, 2, and 3. In simplest terms, each level delivers a faster charge. At Bates, all chargers are Level 2 chargers, and the newer ones, the Enel X Juicebox chargers, are also networked, smart, and Wi-Fi enabled, which allows the flow of electricity to be regulated and helps track output for easier billing. And for the user, there's a smartphone JuicePass app.
"It's really important for Bates to be implementing infrastructure for electric vehicles," Stringer said. For one, EV sales in the U.S. continue their steady growth, and Stringer and others want Bates to help lead "the transformation of the marketplace" from fossil fuels to electricity. "As an educational institution, Bates is in a unique position to introduce new drivers to electric vehicles."
"I feel like I've gained so many skills, even talking to the people running EV infrastructure companies. I think you definitely need those skills to make real change."
For Stringer, this project came with a bonus: It gave her vital experience for her chosen career, as she has been pulling off exactly the kind of work she might encounter in the field of clean energy, like calling EV charger companies and compiling cost-benefit analyses for the different EV charger models.
"I feel like I've gained so many skills, even talking to the people running EV infrastructure companies," Stringer said. "I think you definitely need those skills to make real change."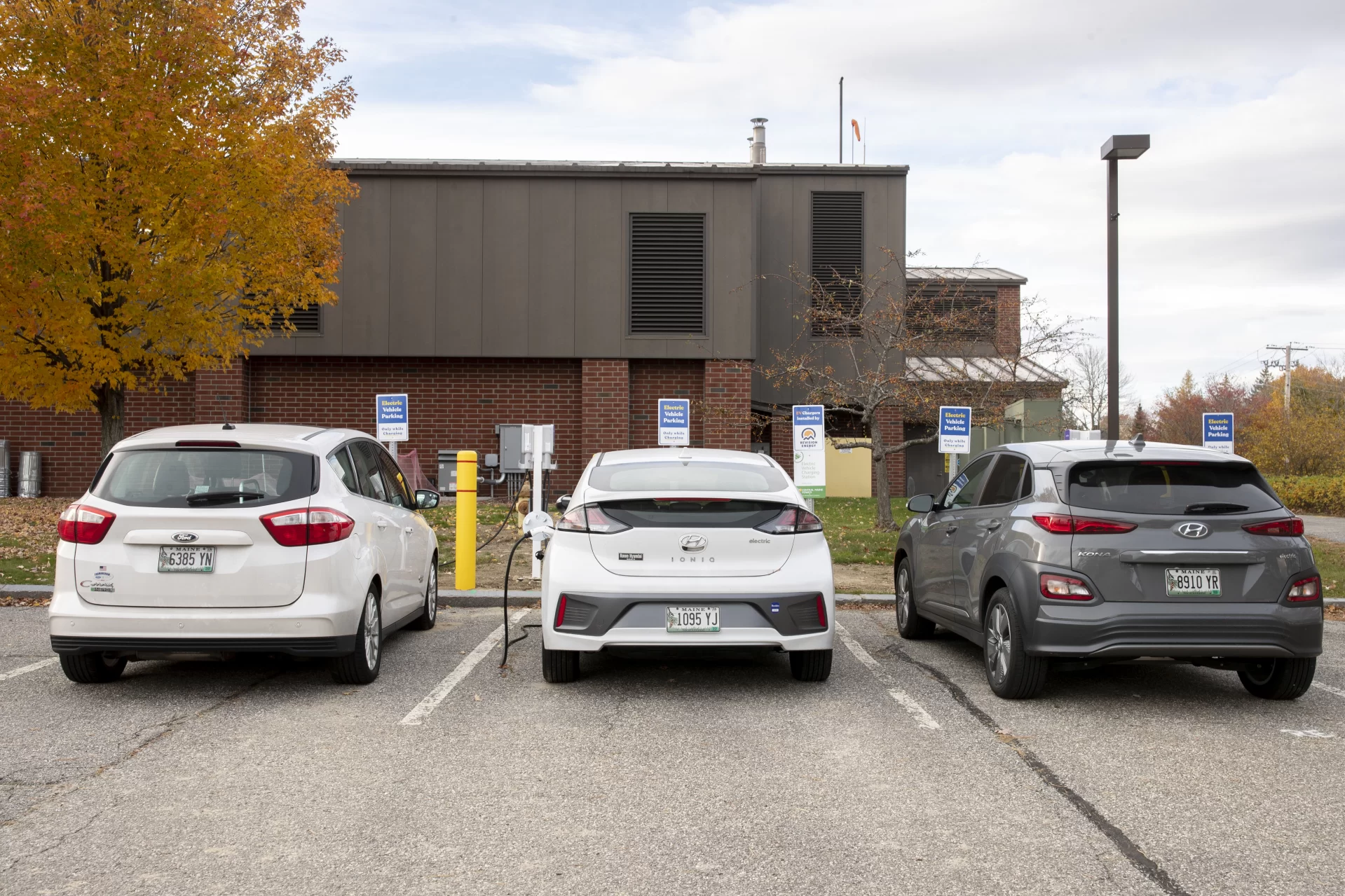 Two other Green Innovation Grants awarded this past year helped increase the growing space for the Bates community garden, the Plot, and add a mix of vegetables, wildflowers and native plants to an area behind houses on Frye Street, to increase biodiversity, improve soil quality, and support native pollinators.
This year also saw a plan developed two years ago bear fruit. In 2019–20, Stringer, Frideger, and Emma Wheeler '20 — joining a similar proposal by Dianna Georges '22 and Noah Pott '22 — earned a grant of $3,600, one of the largest Green Innovation Grants ever, to fund the installation of electric hand dryers in two campus buildings.
It was a "huge success," says Stringer, and now five major campus residence halls feature the dryers.
"Tamsin is a remarkable student," Twist said. "I have been amazed at the level of impactful projects that she has been able to accomplish in her four years at Bates. She will truly leave her mark on the college in a way that would have seemed impossible just four years ago."