Here's the second installment of our series that profiles, in images and words, each and every resident of Bates' newest academic building, Bonney Science Center, as they begin to engage with their wondrous new home and the students they work with. This week's profiles feature:
Amy McDonough, an assistant in instruction whose work includes helping students with stains and flames;
Alexis Hockaday, an academic administrative assistant who was setting up one of the pivotal academic experiences of a Bates senior; and
Matthew Côté, an associate professor of chemistry and biochemistry who explains the Raman effect (which has nothing to do with overcooked noodles).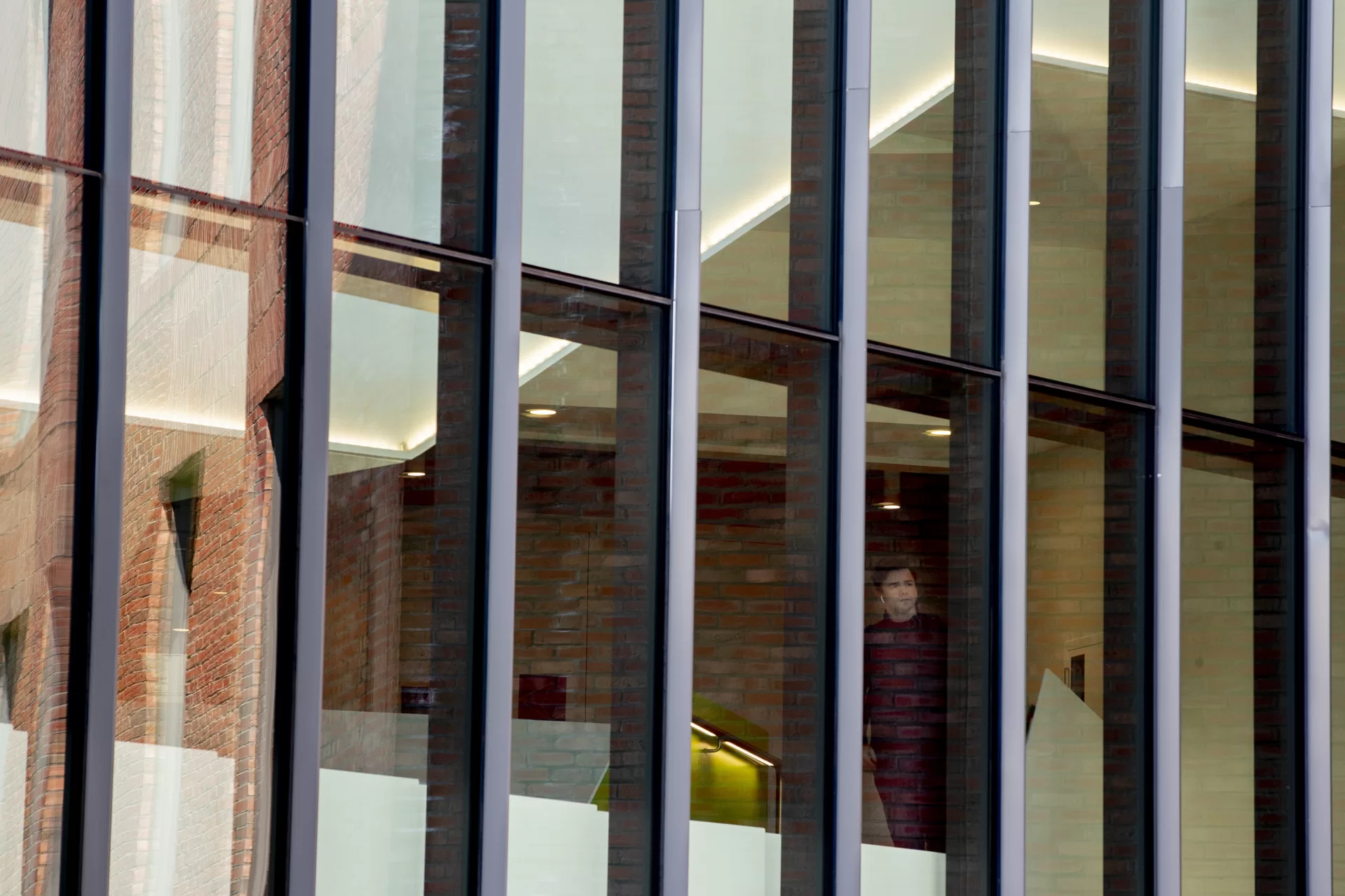 Amy McDonough
Title: Assistant in Instruction for Biology, Chemistry, and Biochemistry.
Joined Bates: 2013
Date Photographed: Feb. 3, 2022
She says: "What makes the work fun is helping students think like a scientist — and then you see the light bulb go on."
Amy McDonough is one of Bates' assistants in instruction. These AIs, as they're known, are linchpins of the lab who help set up and teach lab sessions with faculty and work closely with students to teach them the various lab skills needed in biology, chemistry, and biochemistry.
In these two photographs, McDonough, who is one of three AIs who work in Bonney Science Center, is working with the 17 students in a microbiology course taught by Assistant Professor of Biology Lori Banks.
"It's a busy class," McDonough says with a note of understatement.
Among the skills that McDonough teaches is Gram staining, named for Danish bacteriologist Hans Christian Gram, who developed the technique in 1884.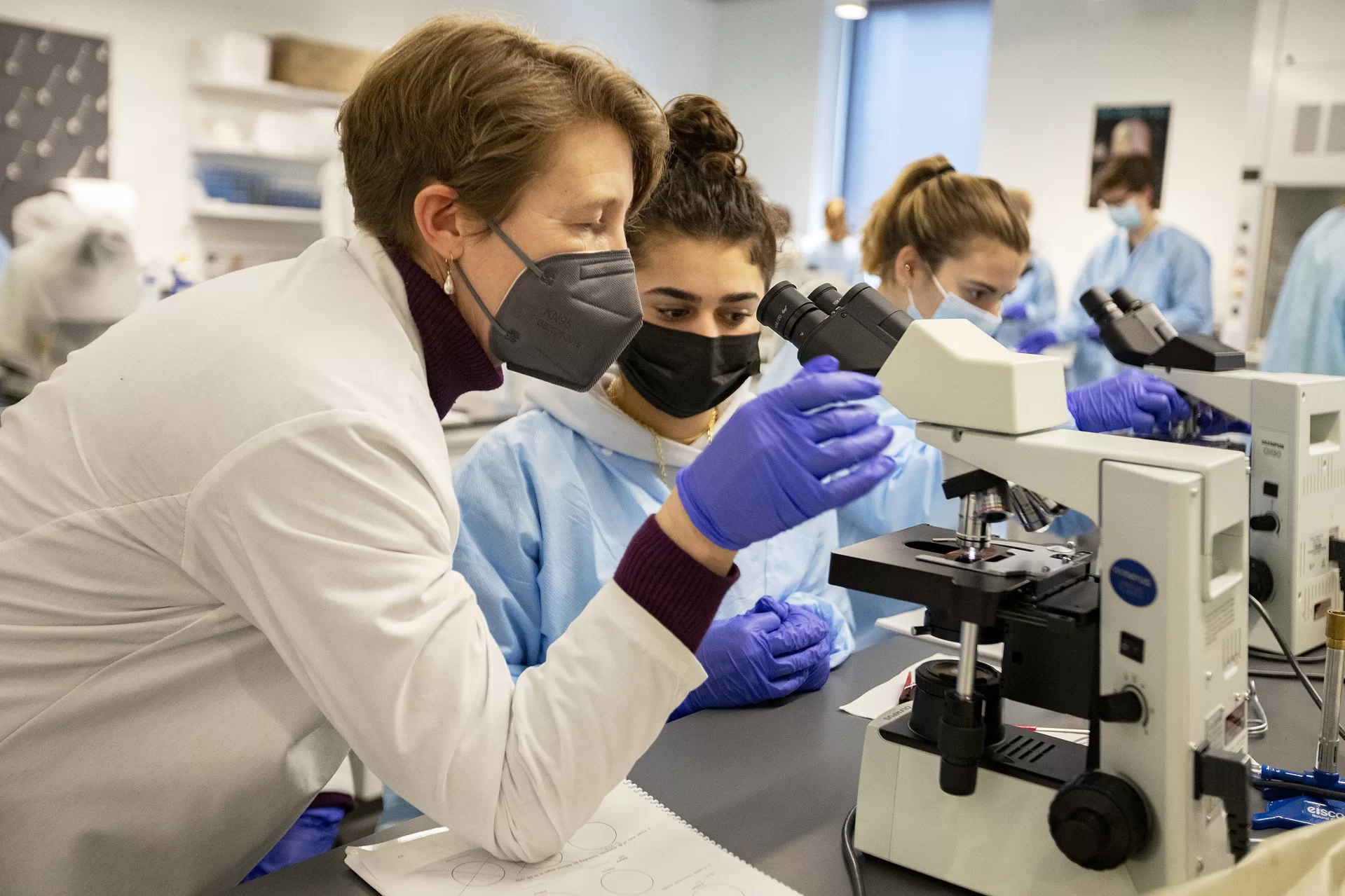 Learning to apply a stain to a specimen "is a key skill," explains McDonough. Staining identifies which of two major groups of bacteria, which are based on certain observable traits known as phenotypes, in this case the different thickness of their cell walls.
Once a student learns to Gram stain a bacteria, and it's time to categorize them, they then bring out what McDonough calls "the workhorse" of a microbiology lab, the compound microscope, developed more than 400 years ago.
During the lab session, McDonough helped Allison Greuel '23 of Freeport, Maine, adjust her microscope to examine a slide with Gram-stained specimens that she prepared.
Depending on the color of the stained bacteria, Greuel can identify a specimen as Gram positive, types of which can cause diphtheria or toxic-shock syndrome, or Gram negative, often associated with food poisoning.
Another microbiology lab technique that McDonough teaches is "flaming a loop," a so-called aseptic technique that prevents contamination of pure laboratory samples. "Microbiologists must learn it in order to handle bacteria safely and not cause contamination in the lab," says McDonough.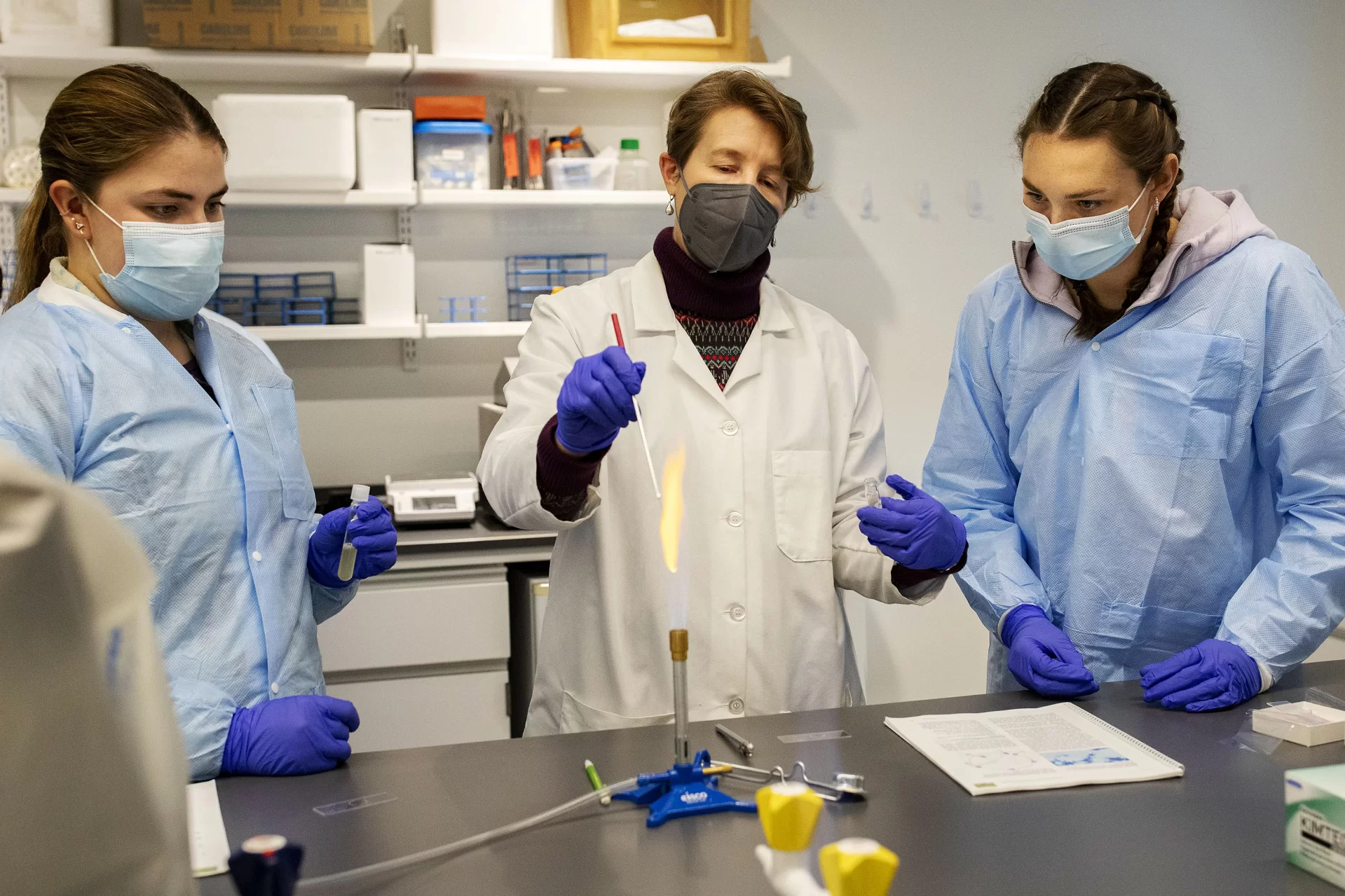 Flaming a loop is done when a scientist takes a sample of live bacteria from a bottle or tube and transfers it to a petri dish using a thin wire with a tiny loop at the end that serves as the specimen-collection surface. During the transfer the wire and rim of the bottle or tube are both "flamed" with a Bunsen burner to sterilize them and ensure bacteria don't escape.
In the pre-Bonney days, McDonough had to split time between Dana Chemistry Hall and Carnegie Science Hall, the two science buildings that housed the programs in biology, chemistry, and biochemistry that she supports.
A single home base has "helped me to be more productive and more easily available to the faculty and students whom I support," she says.
"What makes the work fun," she says, are "those moments when a student may be struggling with a concept and you work with them, making them think — like a scientist — and then you see the light bulb go on."
The student who arrives at the beginning of a semester isn't the one at the end. "They've grown and gained confidence," says McDonough, who came to Bates with extensive research experience in the private biotech sector.
Like others in Bonney, McDonough was invited to speak with Payette, the project architect, about the ideal design of various spaces. In her case, she contributed ideas "to help design the preparatory lab in which I work as well as have some input on the teaching lab spaces in which I would typically work. And she's more than pleased with the result. "They are all fabulous spaces in which to work and teach."
---
Alexis Hockaday
Title: Academic Administrative Assistant, Bonney Science Center
Joined Bates: 2021
Date Photographed: Feb. 2, 2022
She says: There's a lot of activity packed into the Bates job title "Academic Administrative Assistant."
There are nine AAAs at Bates, and they work with people and programs in all of Bates' academic buildings, from Olin Arts Center to the north, to new Bonney Science Center to the south.
A trusted academic resource, they do everything from managing daily office operations (printers always need paper), assisting faculty with coursework preparations, and helping with position searches.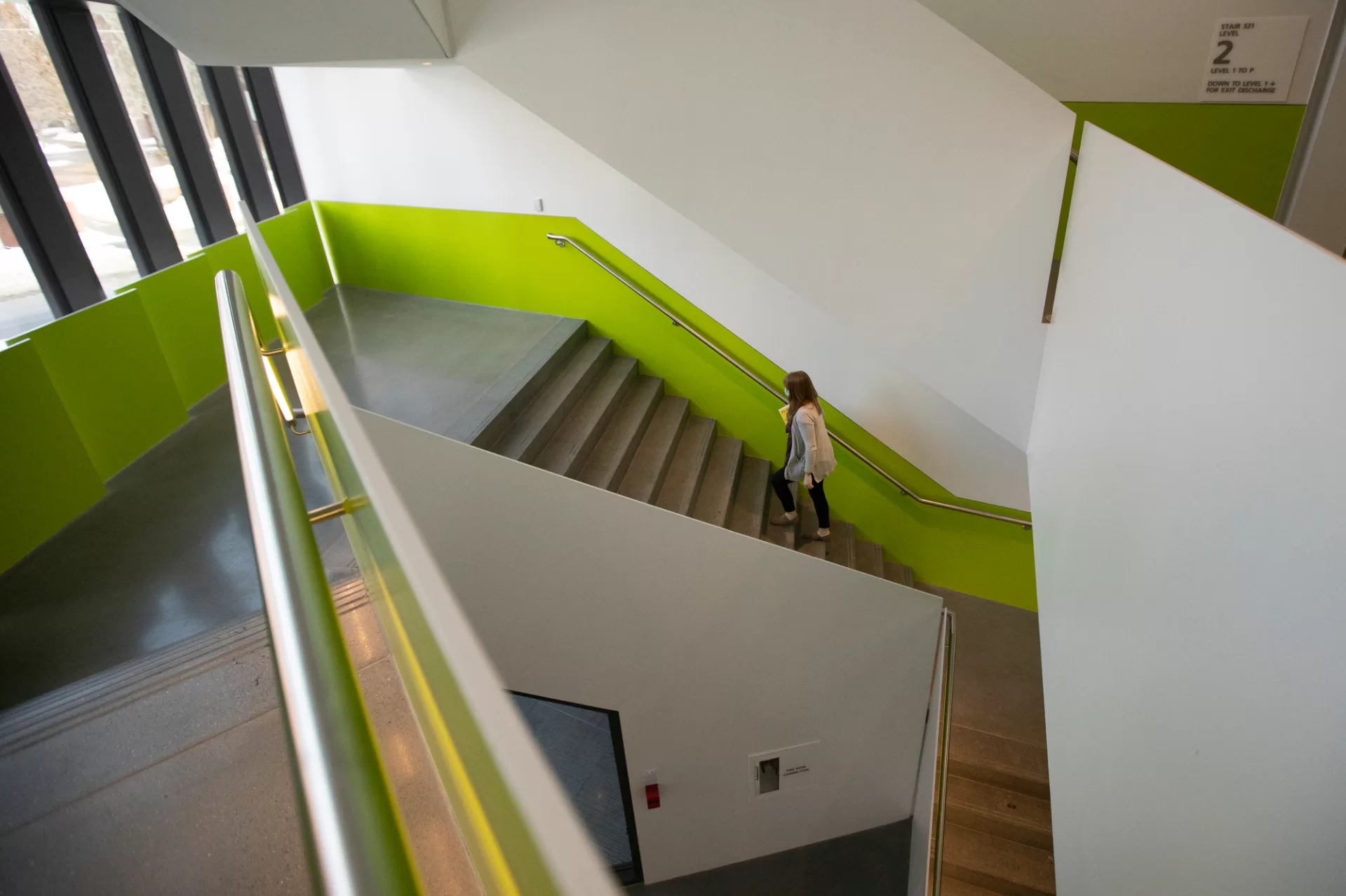 In Bonney, Alexis Hockaday supports departments and programs in biology, neuroscience, and chemistry and biochemistry. On a recent mid-week afternoon, Hockaday was working to organize one of the key experiences for a senior chemistry major: their honors thesis defense, which these days are often Zoom affairs, gathering Bates professors and an outside examiner for an intense discussion of the senior's work.
Behind Hockaday was a reminder of the changing seasons. When a mid-winter photograph was taken, the view outside her window onto Nichols Street was dominated by snowbanks. Two months later, the view was of bare ground (if still brown), and a couple bags of potting soil were on the sill, along with gardening gloves.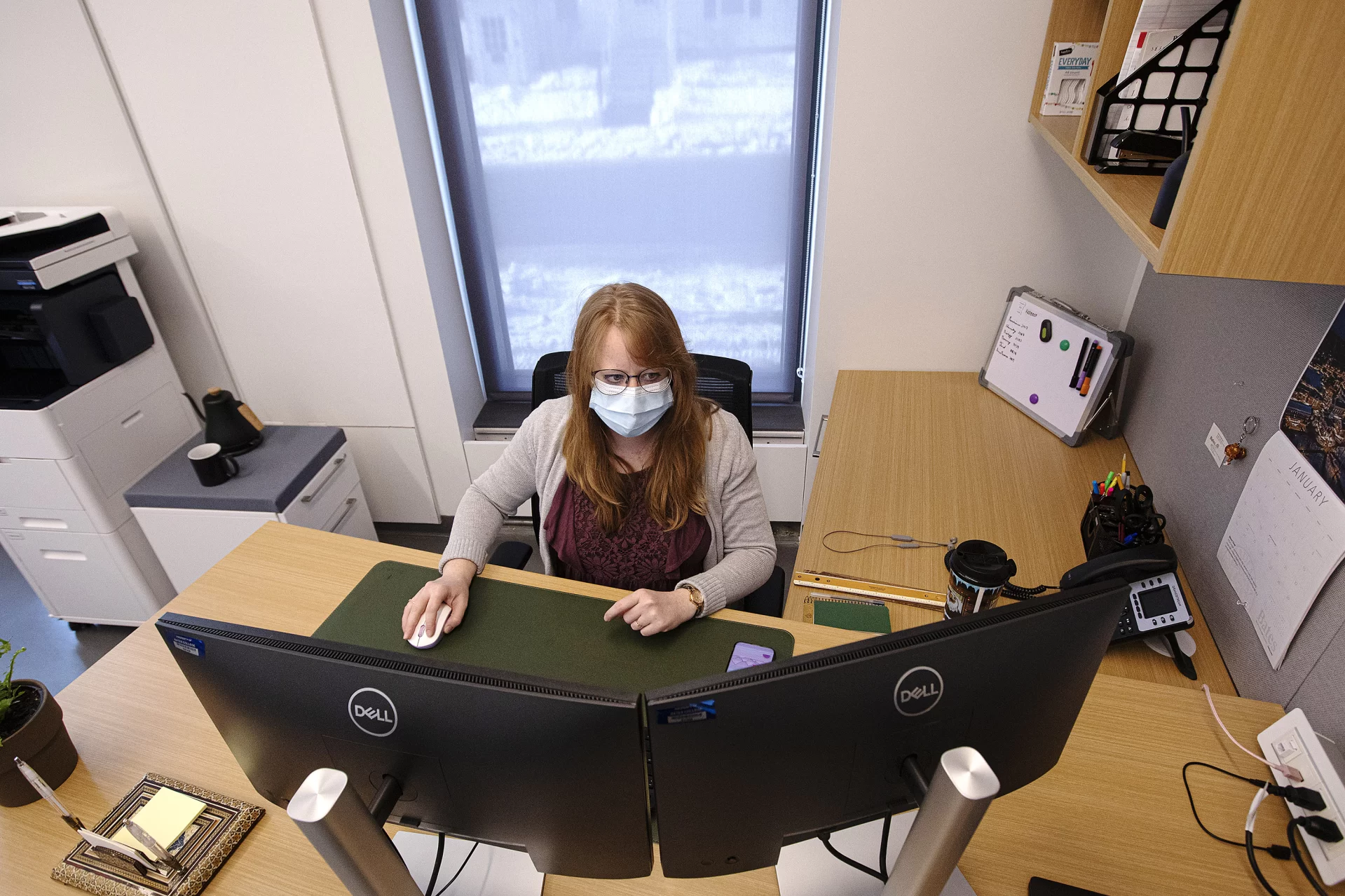 Hockaday says that while she's not an avid gardener, "one of the AAAs had a bunch of cuttings she was offering up. So I have a few of those that I planted, and I just need pots for the others."
Hockaday says she likes her daily rituals, even simple ones like being mindfully aware, as she moves about the building, of the natural light afforded by Bonney's big windows.
Or drinking tea. In the morning, it's a robust Earl Grey; in the afternoon, green tea with jasmine. That cup of Earl Grey used to be a quiet pre-work moment at home. At least for the time being, with a 16-month-old child at home now, "those rituals are kind of out the window," she says with a smile.
---
Matthew Côté
Title: Associate Professor of Chemistry and Biochemistry
Joined Bates: 1991
Date Photographed: Oct. 26, 2021
He says: "I spend a surprising amount of time with some form of dictionary and English usage books, both dead-tree and electronic."
As the school year got going last fall, Associate Professor of Chemistry and Biochemistry Matthew Côté scheduled weekly meetings with two seniors doing year-long theses in his lab, Chris Dye of Windham, Maine, and Seren Parikh of Bedford, Mass. Both seniors will head to Ph.D. programs this fall, Parikh to Michigan, Dye to Notre Dame.
Continuing through the school year, the weekly meetings provide one-on-one opportunities for the seniors "to learn the unfamiliar parts of the science underlying their thesis projects."
The science is dependent on highly sophisticated instrumentation, but the meetings rely on something sleek but distinctly less complex: the white boards in Côté's office. They're one of his favorite aspects of the Bonney Science Center. "A key part of all my teaching," he says.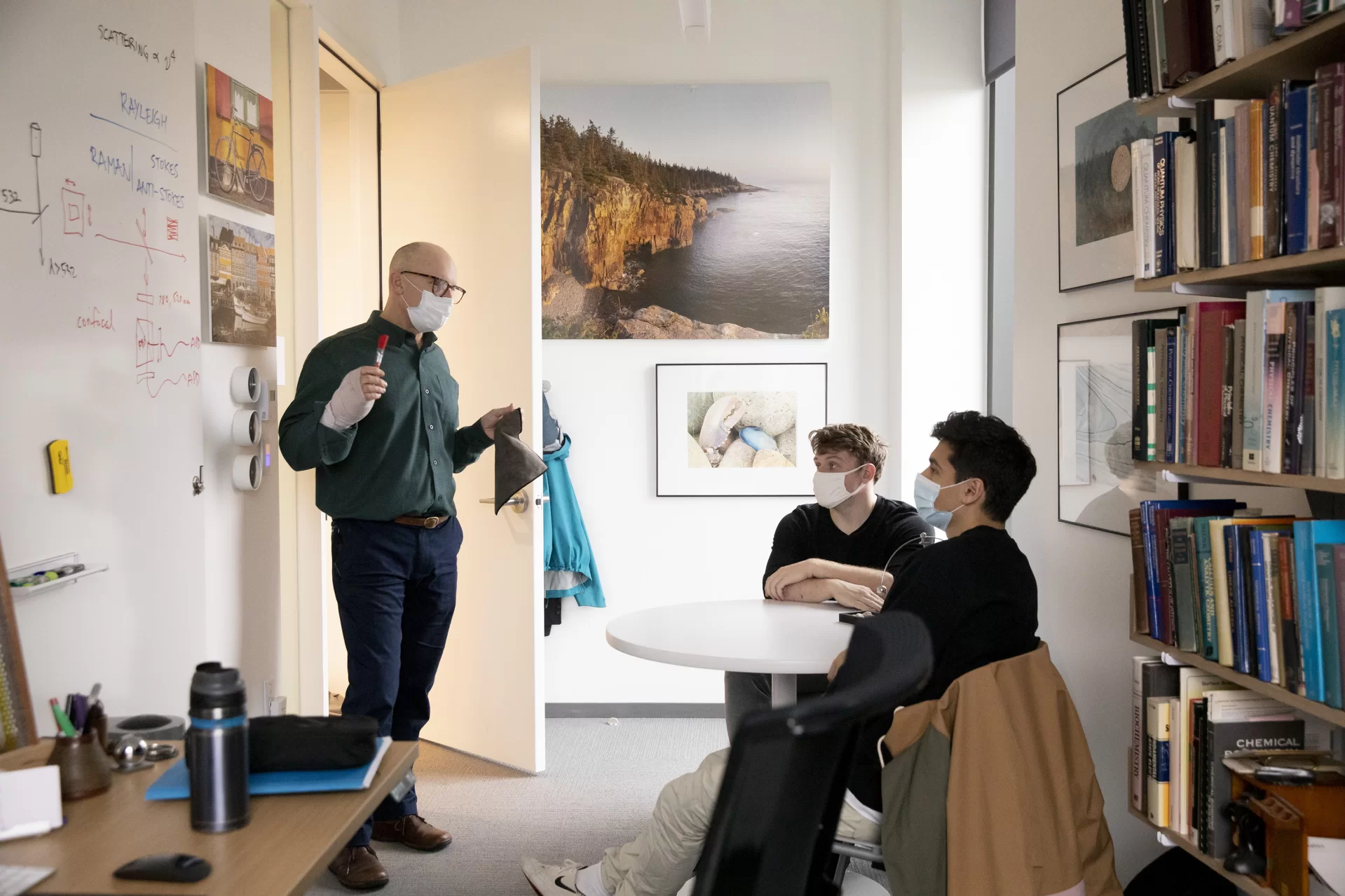 Côté's lab uses sophisticated instrumentation to look at the electronic structure of solids and the interaction of light and matter. In recent years, he and his students, including Dye and Parikh, have added powerful new capabilities to the lab's existing microscopy and spectroscopy instrumentation.
On one October afternoon last year, Côté turned to the white boards to describe the mechanism, known as the Raman effect, that underlies a new capability of the lab's instrumentation. (Hampering his white-boarding was recent hand surgery, hence the bandage. "Not ideal for a right-hander but what are you going to do?" he shrugged.)
The Raman effect explains how particles of light "gain or lose energy as they scatter off a 'sample of interest,'" Côté says.
"Just as a perfectly elastic rubber ball would bounce off a wall with the same amount of energy it arrived with, most light particles (photons) bounce off samples with the same amount of energy they arrived with," Côté explains. "That process is called 'elastic photon scattering.'"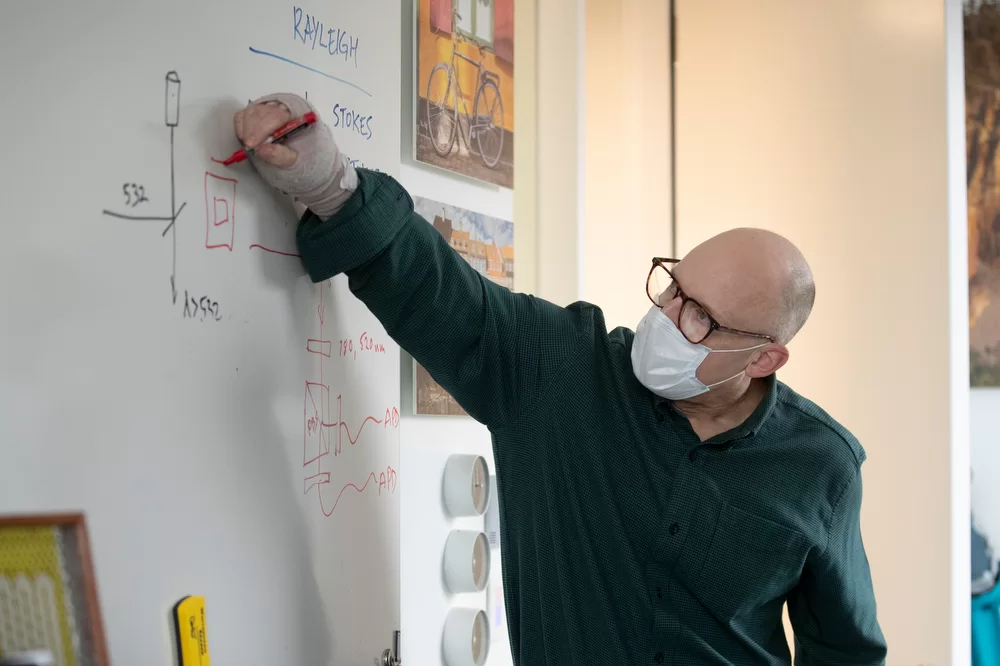 But a tiny fraction of the photons that bounce off of matter, "on the order of one in a million, scatter inelastically, meaning they gain or lose some energy in the scattering process."
By measuring the amount of energy these photons gain or lose, "we learn a great deal about the material that did the scattering. That's Raman spectroscopy."
And if the instrumentation is capable of "systematically making hundreds or thousands of Raman measurements within a tiny region of a sample, we can create an image that reveals how the material properties vary from location to location. That's Raman microscopy."
While Côté's research lab is still in Carnegie, his office and teaching spaces are in Bonney. In his office, the books on his shelf are even more low-tech than the whiteboard but equally useful, and which titles get the most use depends on what he's teaching. But, he finds, "I spend a surprising amount of time with some form of dictionary and English usage books, both dead-tree and electronic."
He turns to those sources because he often writes and designs supporting documents for his upper-level courses "rather than having students purchase (ridiculously expensive) textbooks whose scopes don't really match my intentions for the courses. That means I do a lot of writing and I create a lot of graphics."
View Comments