Here's the sixth installment of our series that profiles, in images and words, each and every resident of Bates' newest academic building, Bonney Science Center, as they begin to engage with their wondrous new home and the students they work with. This week's profiles feature:
Paula Schlax, a chemistry and biochemistry professor who deems the Lyme bacteria "pretty amazing."
Ryan Bavis, a biology professor whose honors thesis student has ants in their plans.
Larissa Williams, a biology professor delivering a CURE for first-year Bates students.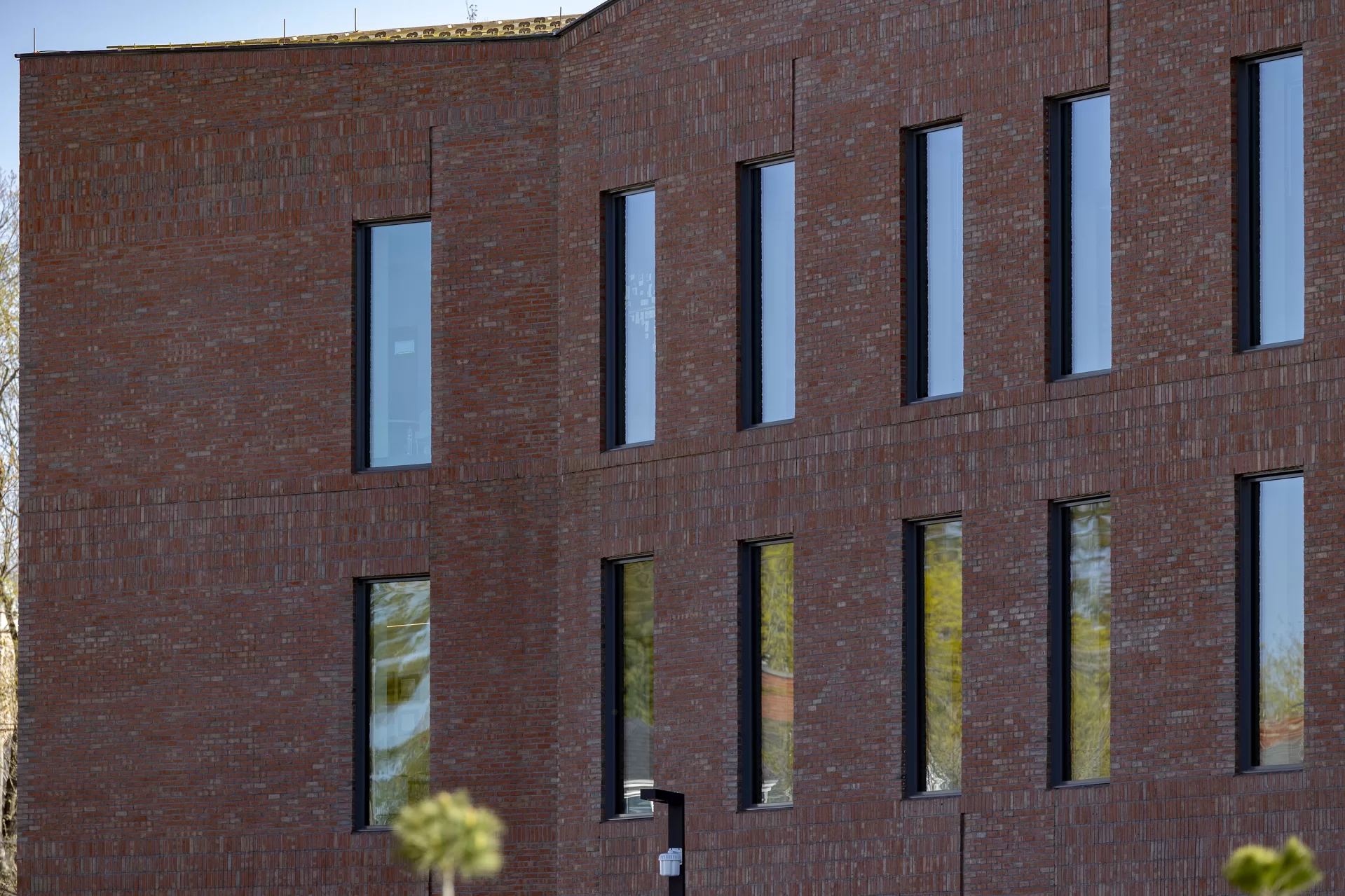 Paula Schlax
Title: Stella James Sims Professor of Chemistry and Biochemistry
Joined Bates: 1998
Date Photographed: Feb. 10, 2022
She says: "I really love working with our students."
There are umpteen good reasons for a Bates student to meet one-on-one with their professor, including this example: Casey Kelemen '22 meets with Paula Schlax in her office on Feb. 10 to prep for his thesis presentation to the Department of Chemistry and Biochemistry.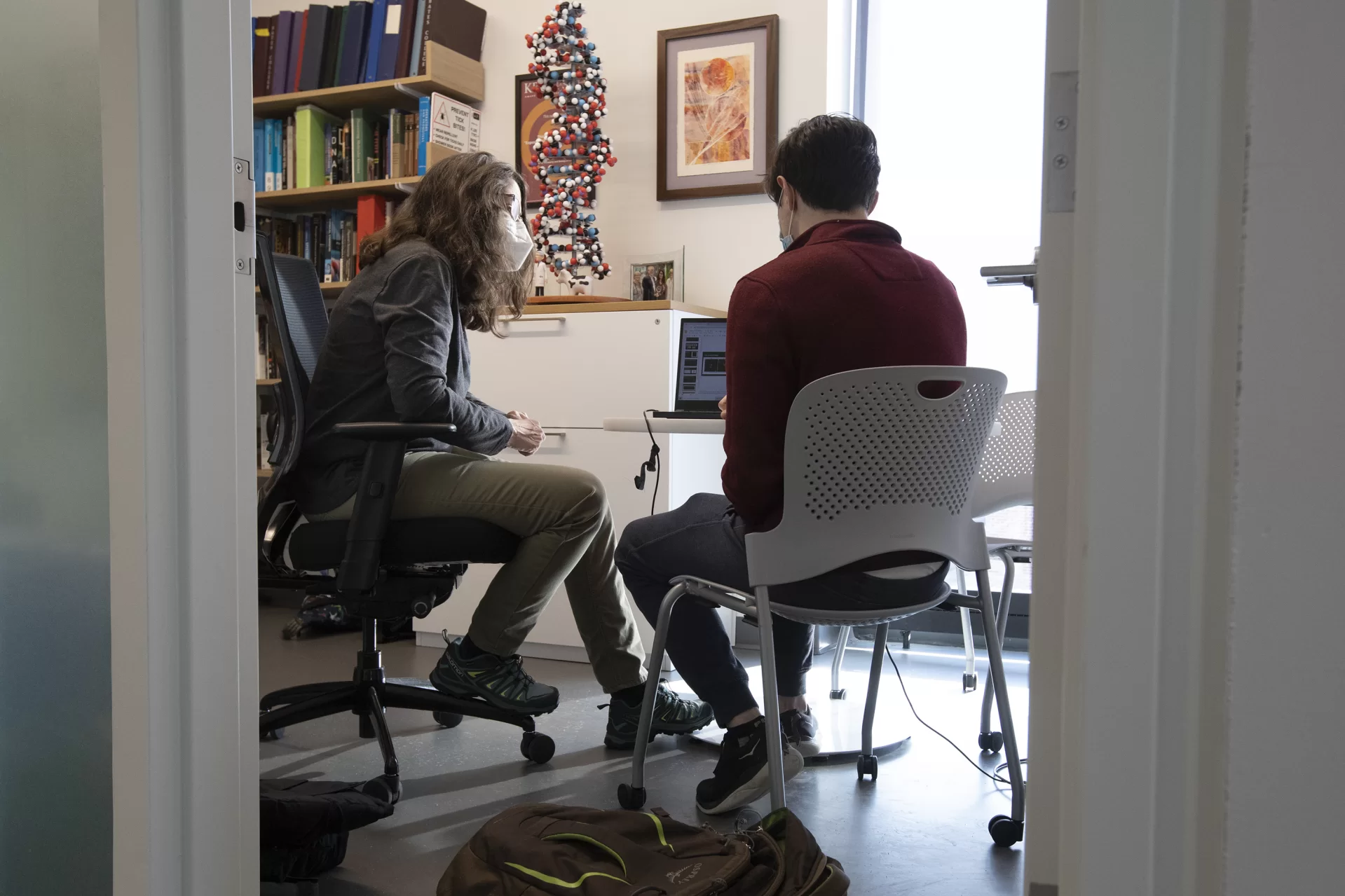 Senior chemistry and biochemistry majors are required to make two seminar presentations of their thesis work. Students call it a "cheminar" or "biocheminars." (Fun fact: The clever portmanteau "cheminar" was used as far back as 1938 by Bethel College in Kansas to describe, you guessed it, presentations by senior chemistry majors.)
Kelemen's thesis work reflects the major thrust of the Schlax lab, which is to investigate the spiral bacteria that causes Lyme disease, Borrelia burgdorferi. "It's pretty long and ridiculously narrow," is how Schlax describes it.
Schlax holds a grudging admiration for the tiny organism. "Really pretty amazing," she says. While the genome of B. burgdorferi and similar spiral bacteria, known as spirochetes, were sequenced in the 1990s, even today "we still don't know what some of their genes do."
In nature, B. burgdorferi is found almost entirely in deer ticks. When an infected tick bites a dog, cat, squirrel, or human, the bacteria gets its meal ticket — a blood meal, that is. And when they feed, things start to happen inside the tick.
"The temperature that the bacteria experiences in the tick changes. Different nutrients are around. The acidity and salt concentration changes," says Schlax. "All those things give the bacteria an idea that it's time to grow up and move out." Move out of the tick, that is, and move into the mammal.
As part of the moving-out process, the bacteria stops making certain proteins that have helped it bind to the tick host, and start making new ones — at least 100 new proteins to get ready for the new host.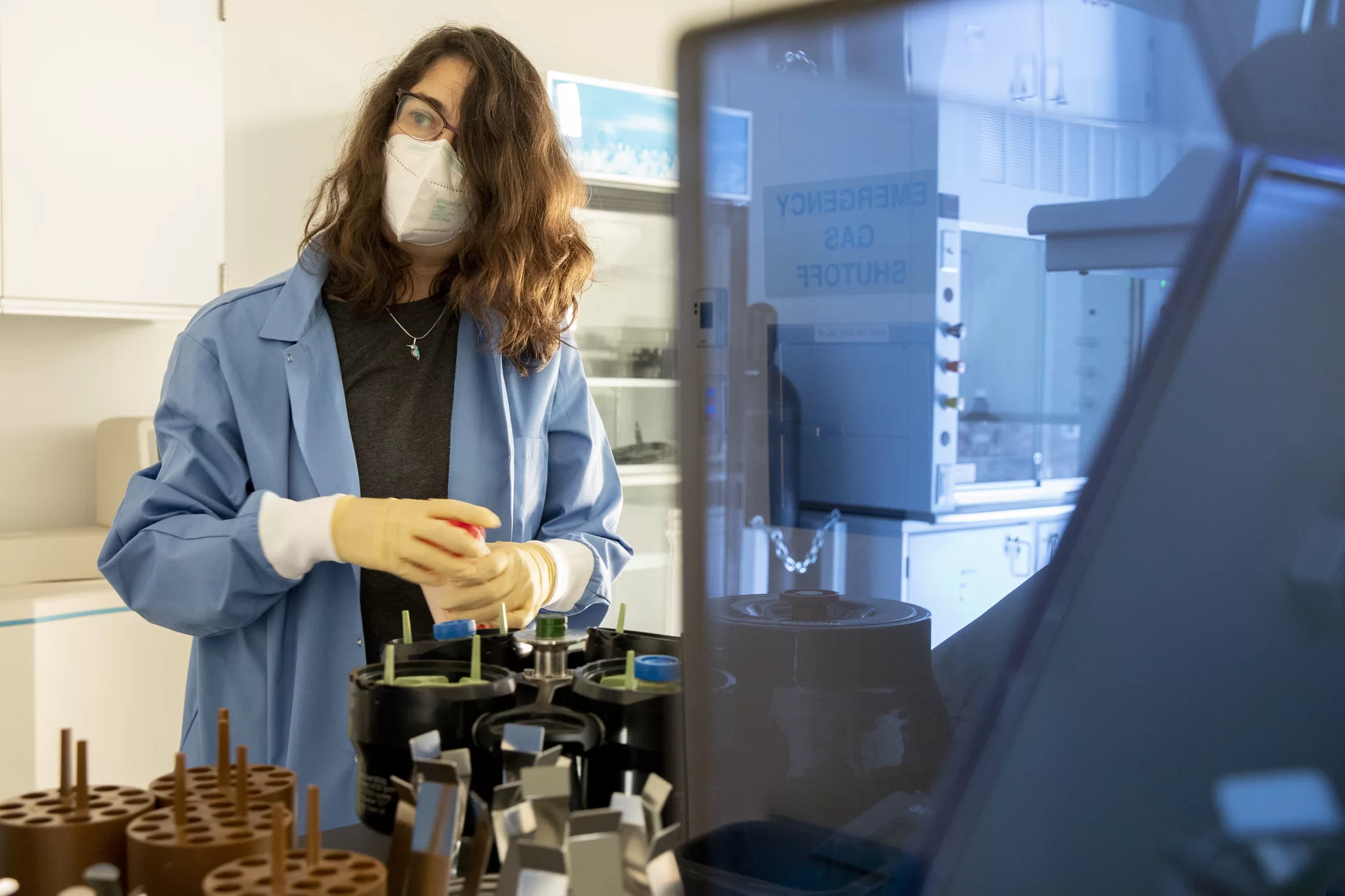 "I'm interested in how this process happens," Schlax says. "What are the molecular switches that allow that to occur?" She says the answers are probably related to messenger RNA, made famous by their use in COVID-19 vaccines.
Schlax isn't asking these questions alone: "My students study this with me," she says, including Casey, who is researching novel imaging techniques to visualize the localization of mRNA within B. burgdorferi. Schlax is impressed by her seniors' work this year. "They've helped the lab define the strengths and limitations for how we can monitor gene expression in real time in B. burgdorferi," she says.
Reacting to another photo taken the same day, Schlax is asked what she was thinking at that moment. "Probably that I needed a hair tie," she says wryly.
She was helping a student set up an observation of how specific RNA molecules spread out within bacterial cells, and how that might be related to how the RNA is used by the cell, and recycled back into its building blocks."
The lab's work to better understand the workings of B. burgdorferi is helping to inform the design of better diagnostic and treatment strategies. And for Schlax, there's joy in the work itself.
"I really love working with our students."
---
Ryan Bavis
Title: Helen A. Papaioanou Professor of Biological Sciences
Joined Bates: 2003
Date Photographed: Nov. 9, 2021
He says: "This is a more collaborative environment."
We learned over the winter that Bonney Science Center, the newest and most modern building at Bates, has ants.
Specifically, there's Lasius nearcticus, the yellow meadow ant, and Tetramorium immigrans, the pavement ant. But we don't need to pester the local pest services for a Bonney call just yet.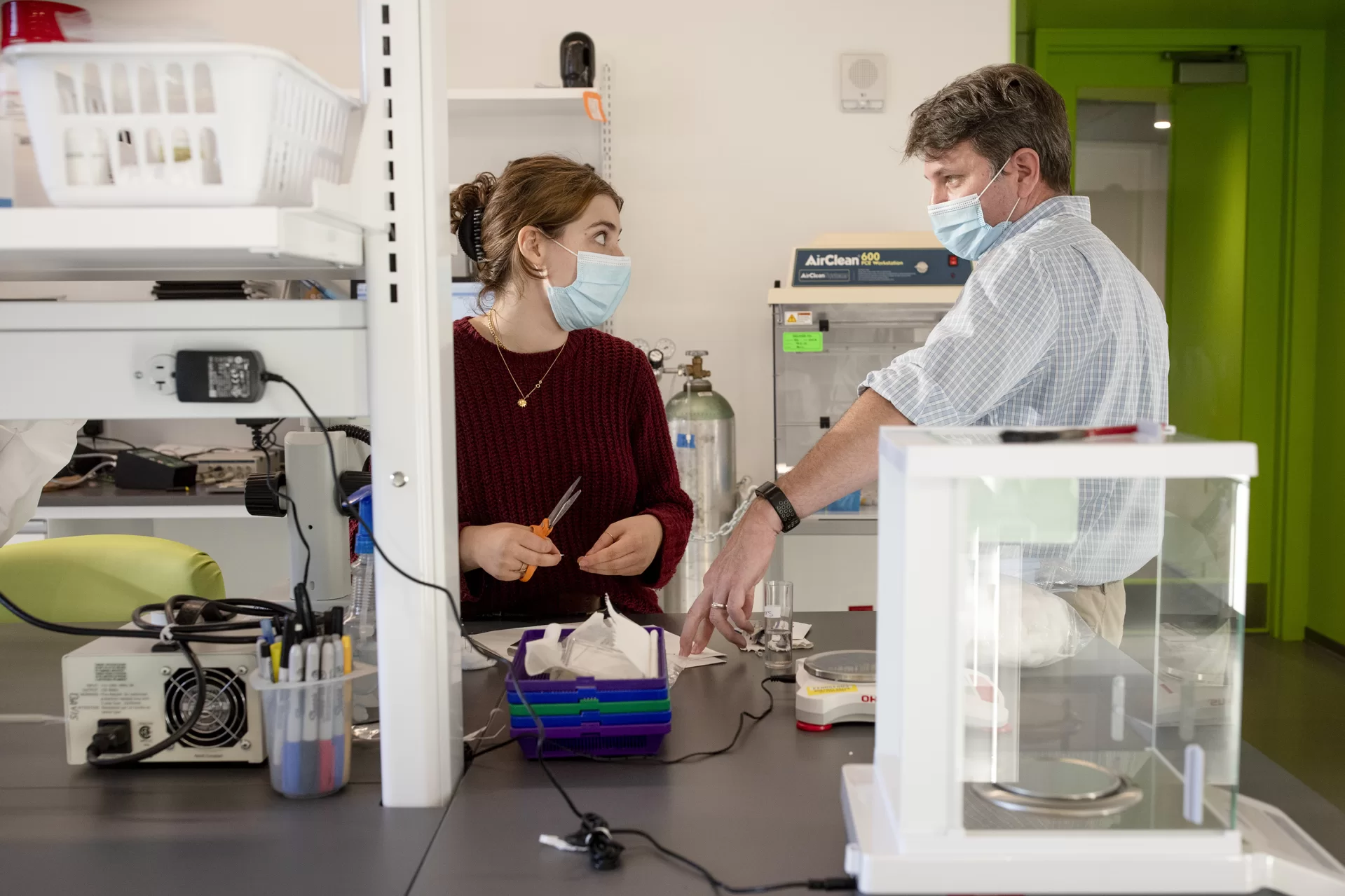 The critters are part of honors thesis research by biology major Etti Cooper '22 of Denver, Colo., whose adviser is Ryan Bavis, Helen A. Papaioanou Professor of Biological Sciences.
Cooper has been investigating how temperature changes might differently affect pavement ants, which spend their lives above ground, and the entirely subterranean meadow ant.
Cooper didn't have to go far to collect her specimens. The pavement ants came from, well pavement: the sidewalk outside Carnegie Science Hall. And the meadow ants came from, well, a meadowish place, around Mount David.
But because ants refuse to wear name tags, Cooper spent careful time in the lab confirming the taxonomic identification of her specimens, i.e., whether the ants actually were who Cooper thought they were.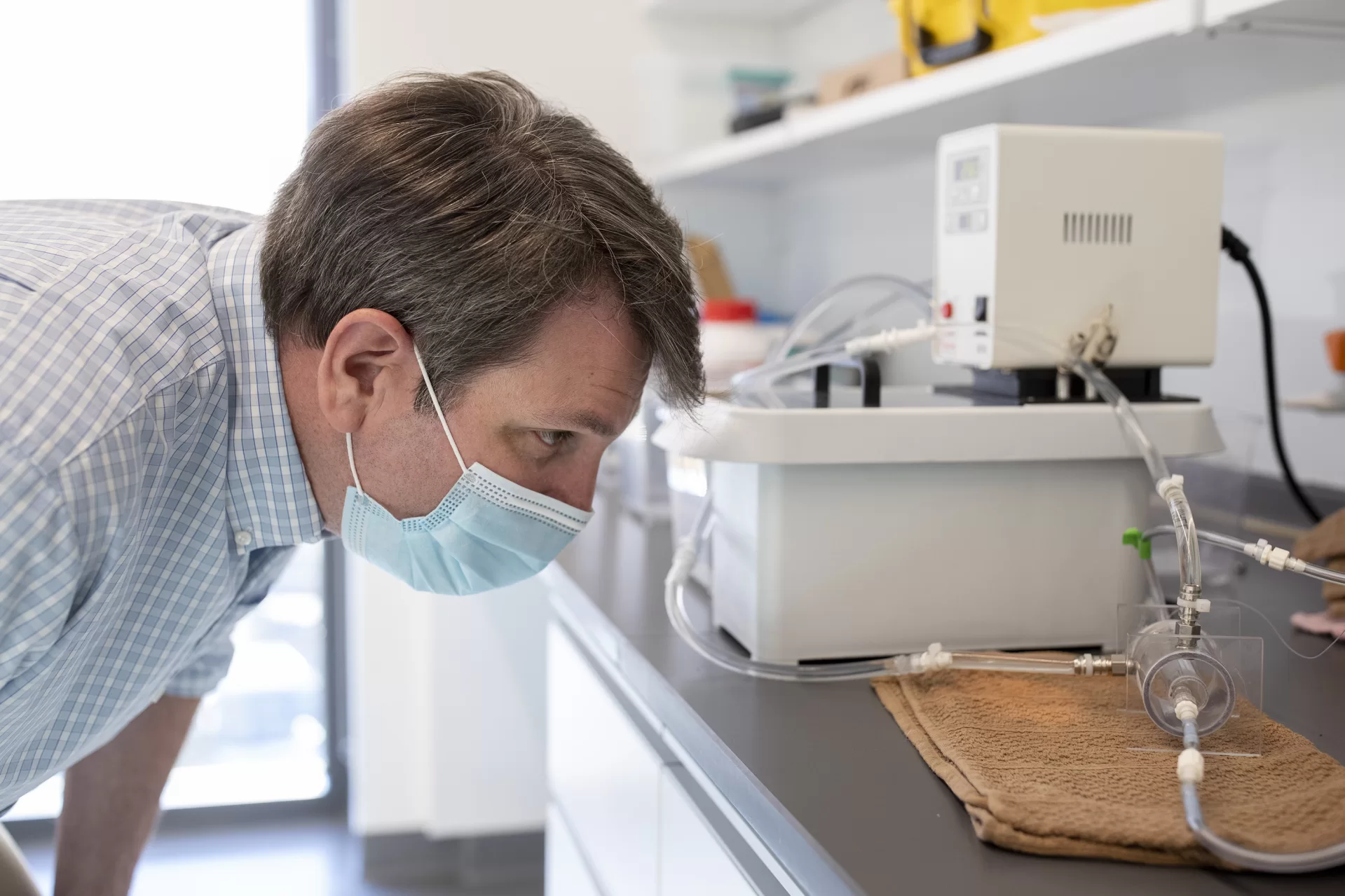 "It's difficult to tell some species apart, even under the microscope," explains Bavis. Although Bavis and Cooper were confident of their identification, Cooper sent a few specimens off to an expert at Providence College, James Waters — whose lab website is LoveTheAnts.org — to confirm the identification. (This spring, Waters was the outside examiner in Cooper's thesis defense.)
Cooper compared changes in the metabolism of the two species when exposed to temperature changes. "Like other animals, they consume oxygen and produce carbon dioxide through their metabolism," says Bavis. "So we were measuring the rate at which carbon dioxide was being produced to see how sensitive they are to changes in temperature."
Bavis is a respiratory physiologist whose primary research looks at how the nervous system controls breathing in mammals and birds, specifically the changes that occur in breathing around birth and how environmental conditions influence development of the respiratory control system.
"I know almost nothing about ants," he admits. But as part of a major redesign of the college's antiquated introductory biology curriculum (see the profile of biologist Larissa Williams, below) Bavis will teach a new, innovative intro course this fall that gives young Bates students real research experience by exploring how insects may respond to climate change.
"Etti's interest in ants and my interests in all-things-physiology converged this year," Bavis says.
In Bonney, Bavis shares a spacious lab with two Bates neuroscientists whose expertise range from the neural circuitry that gives us the sense of smell (Jason Castro) to how neurons speed around our bodies telling us what to do (Martin Kruse). All of which makes the lab quite nervous in a different sense of the word.
"We used to all be isolated in our labs" back in his former digs in Carnegie Science Hall, said Bavis. "This is a more collaborative environment."
---
Larissa Williams
Title: Associate Professor of Biology
Joined Bates: 2012
Date Photographed: October 20, 2021
She says: "Literally, this is science. I have no idea how any of this is going to turn out."
Last fall, Associate Professor of Biology Larissa Williams taught a course that was introductory in name only.
Her course, Biology 195K, represents a new type of intro science course at Bates. It delivers a cure. Or, more correctly, a CURE, in the form of a "Course-Based Research Experience."
Increasingly popular in STEM curriculum nationally, CURE courses have recently been introduced into the Bates biology curriculum by Williams, who is department chair, and her colleagues. CURE courses introduce research experiences earlier than ever in a student's college career — not to accelerate the process, but to improve how students learn science, even at the introductory level: by doing real, hands-on research.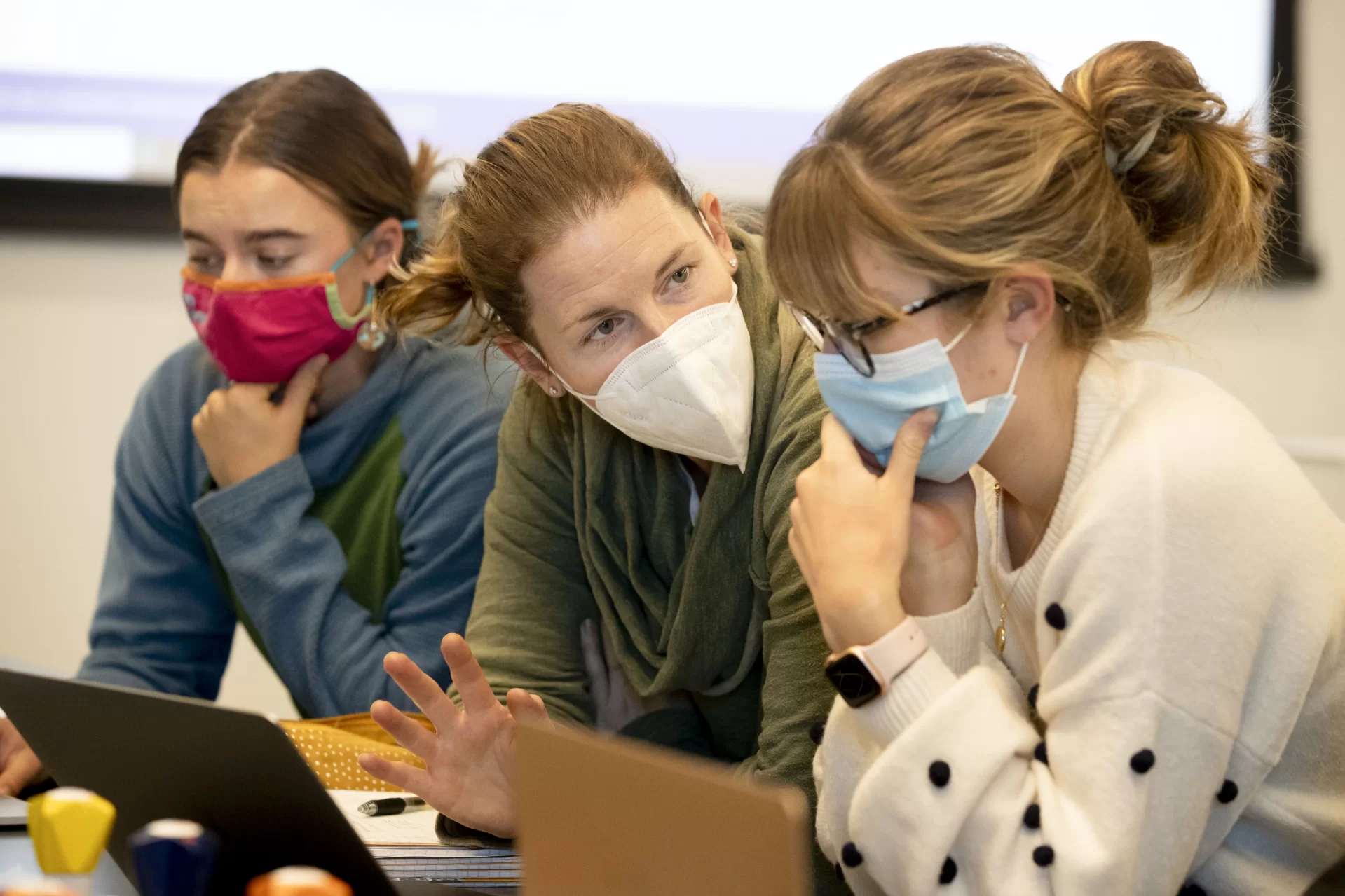 The name of Williams' course ends with the letter K because there's an alphabet soup of Bio 195 variations, 195A through 195K. Each one takes on a different research project covering various topics: marine biology, forest life, host-parasite evolution, and the fluid dynamics of sponges.
Williams' students did investigations on how poison exposure affects animals. As she said midway through the semester, "Literally, this is science. I have no idea how any of this is going to turn out."
Williams taught two sections of the course, on Wednesday and Friday afternoons, in the biochemistry teaching lab on the third floor of Bonney Science Center. During one session, on Oct. 20, she led her students, mostly first-years, through the process of designing primers.
"Primers are used to 'copy' nucleic acid in the cell," explained Williams. "We were doing so in order to understand how lead exposure impacts developing animals" at the molecular level.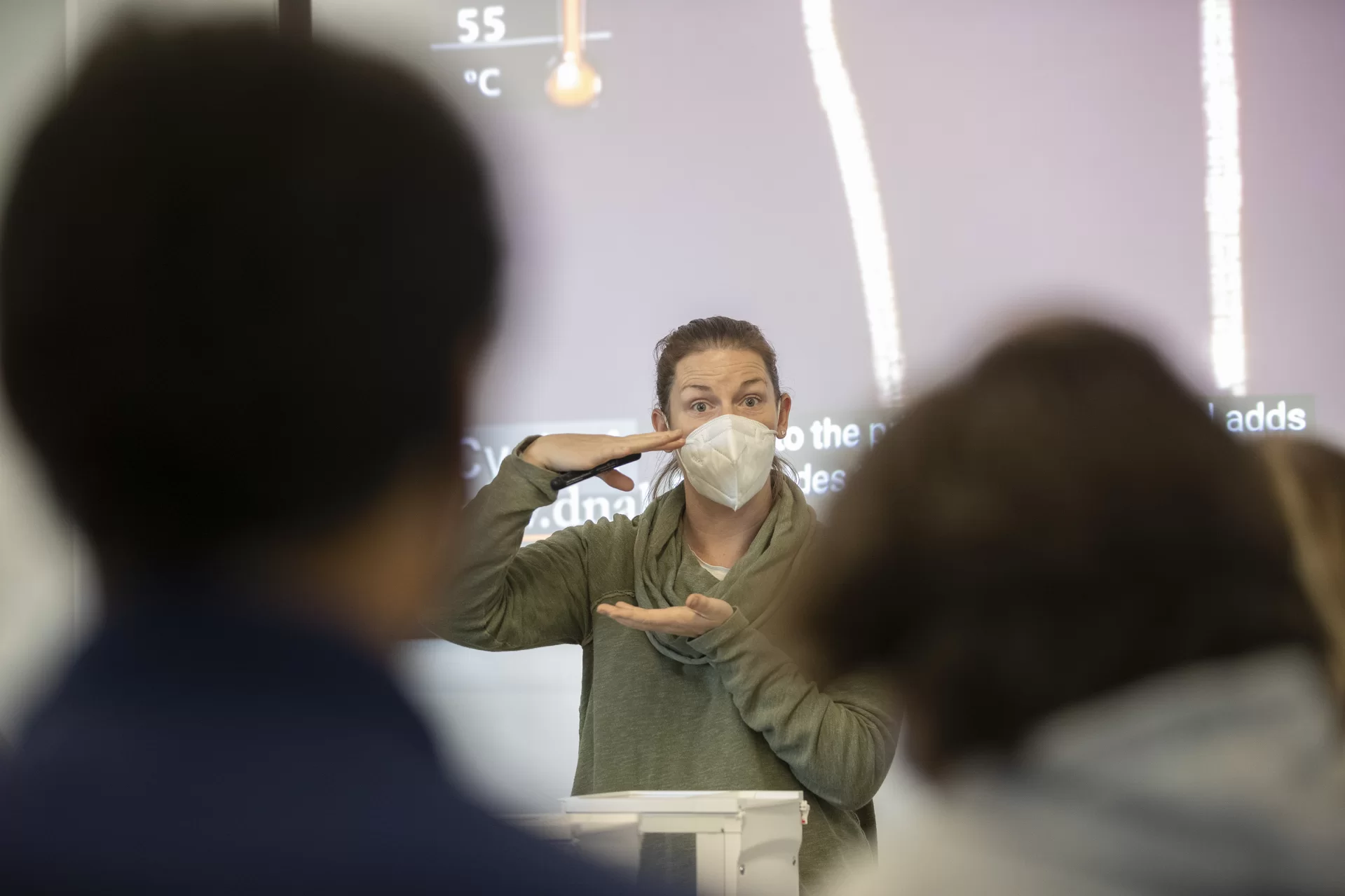 A bit later in the class session, she explained the cycles involved in copying nucleic acid in cells, "in particular how heat can break hydrogen bonds between nucleic acids, a key step in the copying process."
Bates professors are teachers and scholars. When it comes to the former, Williams is an award-winner. The latter sees Williams conduct research on how toxicants affect the development of aquatic species, such as zebrafish, a powerful model organism in biological research.
The spaces in Bonney Science Center blur those two identities, a good thing, says Williams, who is now better able to "combine my research interests in developmental toxicology in a lab setting with students," Williams says.
The teaching lab is near her research lab, which is close to the equipment room, all of which "makes asking cutting edge questions possible even at the first-year level."
View Comments