In 2021, the new Bates year kicked off on a cautious note, as the Class of 2025 was obliged to walk to Convocation masked-up: COVID was still too close for comfort.
When Convocation rolled around a year later, on Tuesday, Sept. 6, that pandemic precaution was gone, replaced by meteorological protection: rain ponchos decorated with a big Bates seal — and the show went on under sprinkling skies.
Convocation marks the official start of the academic year, and as the 520 members of the Class of 2026 took those steps into their Bates future, they followed Alumni Walk onto the Historic Quad, passing Hathorn Hall before arriving at their seats in front of Coram Library, where President Spencer and other speakers welcomed them to Bates.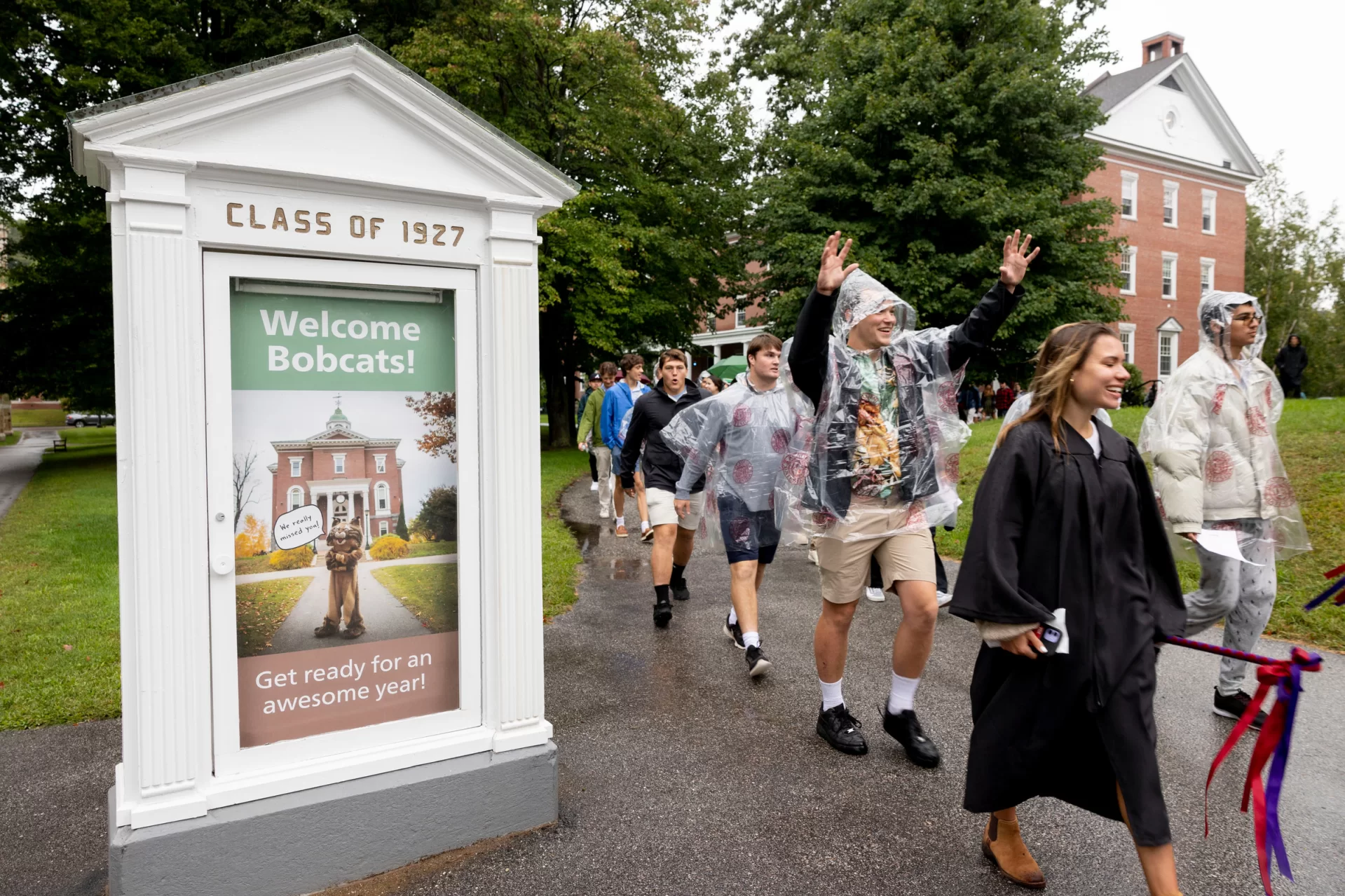 It's a well-traveled path, which thousands of future Bates grads have made their way down. So the newbies were in the right place at the right time. But paths can also confine us, said Professor of Economics Daniel Riera-Crichton, who delivered the Convocation address. Don't always let predetermined paths determine your route through life. Try to create your own route through Bates.
Riera-Crichton quoted his favorite poet from his homeland of Spain, Antonio Machado: "Caminante, son tus huellas el camino y nada más; Caminante, no hay camino, se hace camino al andar." Translated to English: "Traveler, your footprints are the only road, nothing else; Traveler, there is no road, you make your own path as you walk."
In his talk, Riera-Crichton connected the goal of a Bates education to the message of this early-20th century poetry, saying that "Machado, probably referring to life itself, told us that there is no predefined path ahead of us, but just the one we weave ourselves with our choices. This, I believe, also applies to the spirit of a liberal arts education."
In Spencer's welcome, her final as Bates president, she thanked Bates staff, faculty, and friends for their efforts through the past two and a half years, saying they have "repeatedly gone above and beyond to keep our students on track and moving forward in their education and their lives."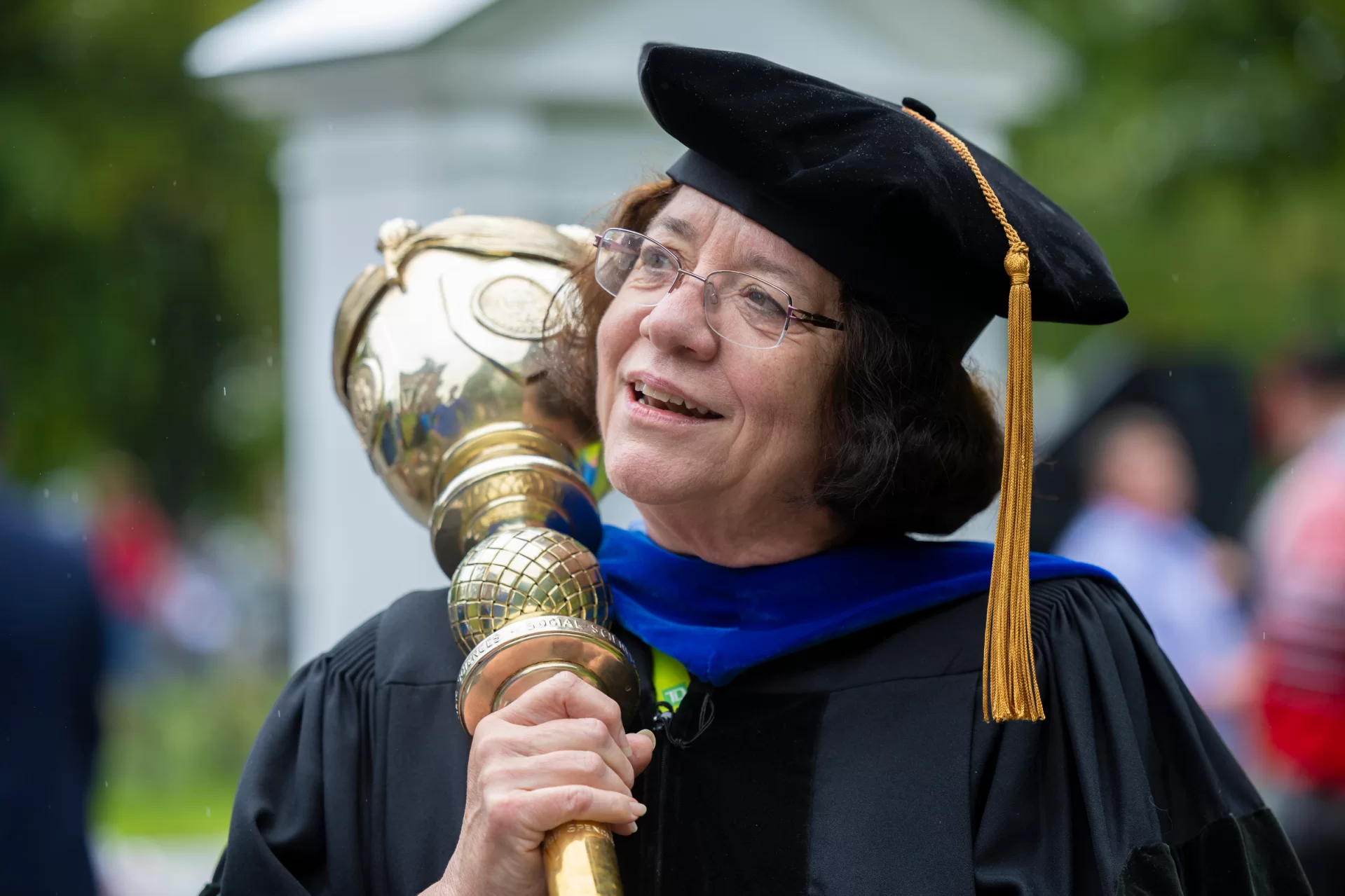 About a half-hour earlier, the Class of 2026 began lining up along Alumni Walk, sporting a mix of Bates-branded ponchos, raincoats, and umbrellas; some resourceful folks carried towels to dry their seats. The couple days of rain was slowly winding down; the excitement of a new Bates year was winding up.
They began the day with breakfast in Commons with their Junior Advisors. Student Government leaders, including co-presidents Ali Manning '23 of Sydney, Australia, and Kush Sharma '23 of Delhi, India, went from table to table greeting the students.
With six days of Orientation in the rear-view mirror, the new students were clearly "eager to start the academic part" of their Bates experiences, said Anna Brown, coordinator of residence life for First-Year Experience. "And to set that tone for the year."
And they were unfazed by Tuesday's rain. "They've had a great sense of humor about it," said Molly Newton '11, associate dean of students for residence life and health education. "They're talking about saving the ponchos and wearing them again at graduation."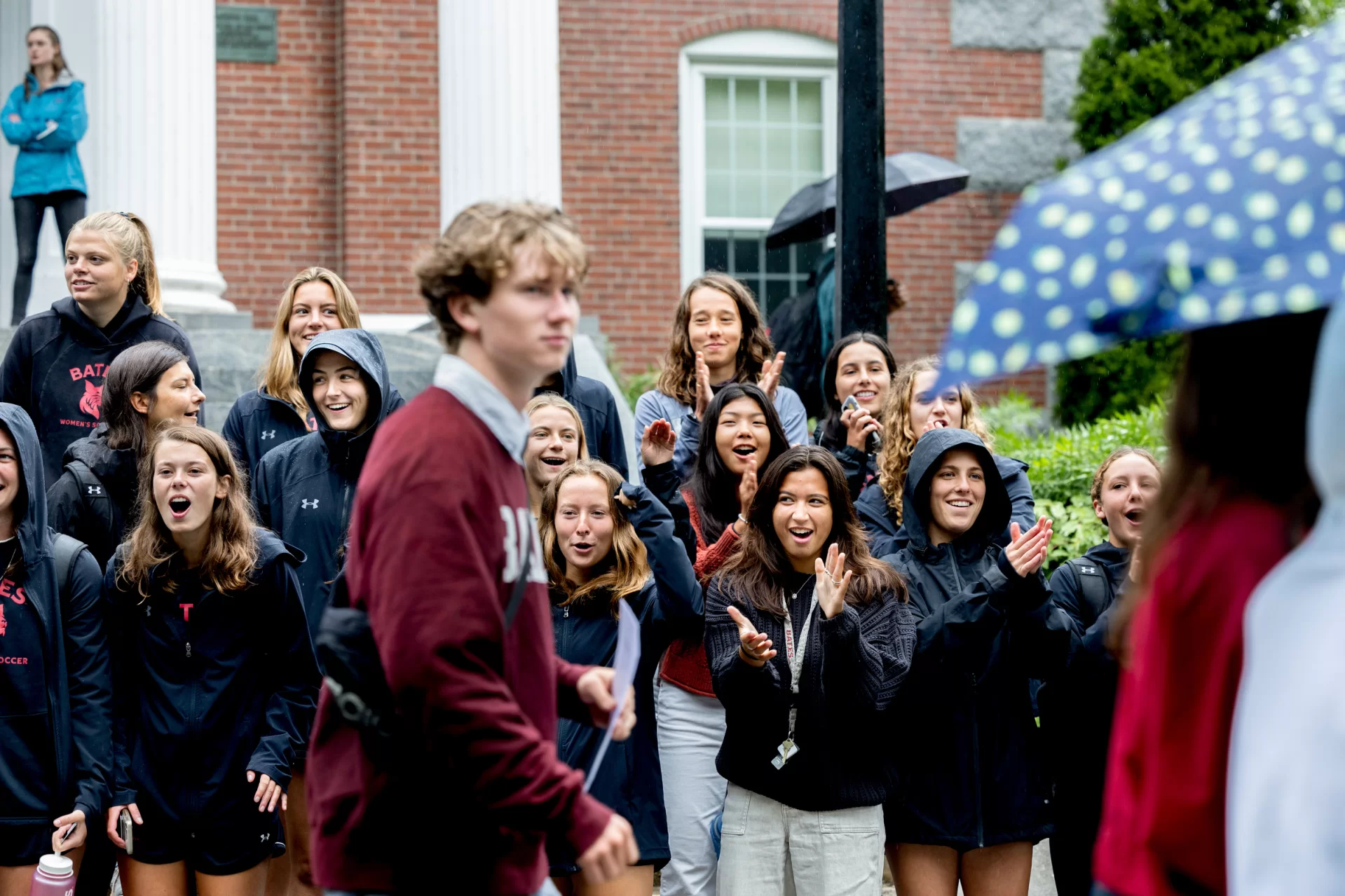 As the first-years walked in front of Hathorn, members of the women's soccer team half-serenaded, half-cheered the class — a vivid display of what Tommy Holmberg '13 once described, in a famous Commencement address, as "the beautiful cycle we've got here" — a welcoming spirit, willingness to deliver hard-won advice, and, as Spencer related, small but meaningful gestures, like simply holding the door open for someone coming after you.
"I noticed this practice when I first came to campus, and it blew me away," said Clayton. "I think we would all agree that there aren't many places you go these days where people hold the door for someone they don't know.
"So it is meaningful that it happens here, because the simple gesture of holding the door for someone is a gesture of openness and connection."
---
Complete video of Convocation on Sept. 6, 2022:
Achieving more than a gesture of openness and connection is difficult, she said, in a world where "polarization and intolerance are too often the norm." Even within the Bates community, it is "easy to notice difference without engaging it, and default to hanging with people who look like us and think like us."
Spencer's advice? "You'll get a lot more out of the next four years…if you focus on being open and looking for connections where they may be less obvious." She suggested using "two powerful tools" along the way: curiosity and grace.
"It is your day job as students to ask questions in search of truth and understanding, and receive with grace and further curiosity the answers, whatever form they take."
In this sense, "grace" is about how one goes about having a conversation with someone whose beliefs are opposed to one's own, such as different political beliefs.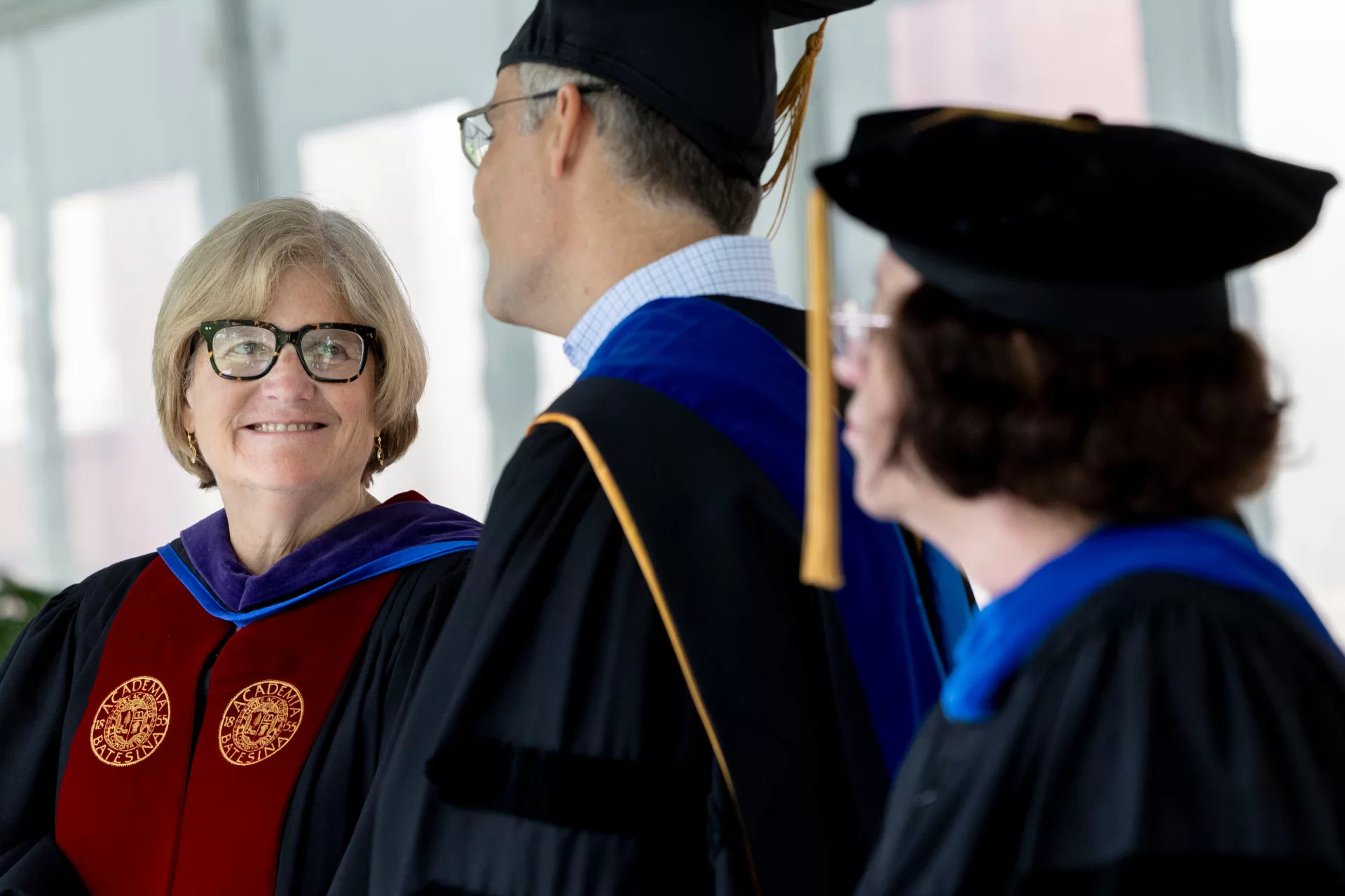 If two people take the "time to open themselves up and dig below the surface…they may learn that, regardless of their specific political affiliations, they are both obsessed with politics, love to debate policy issues, and share a deep concern about the state of our democracy.
"In short, if they follow their natural curiosity to probe and learn, and give each other the grace to move beyond surface differences, they may well find common ground. These tools and habits are equally powerful when an issue comes up in class, or student government, on a team, or in a friend group."
Manning and Sharma, the Student Government presidents, also greeted the Class of 2026, and shared what they've found can make the first year of college a little better, a little easier, and a lot more fruitful.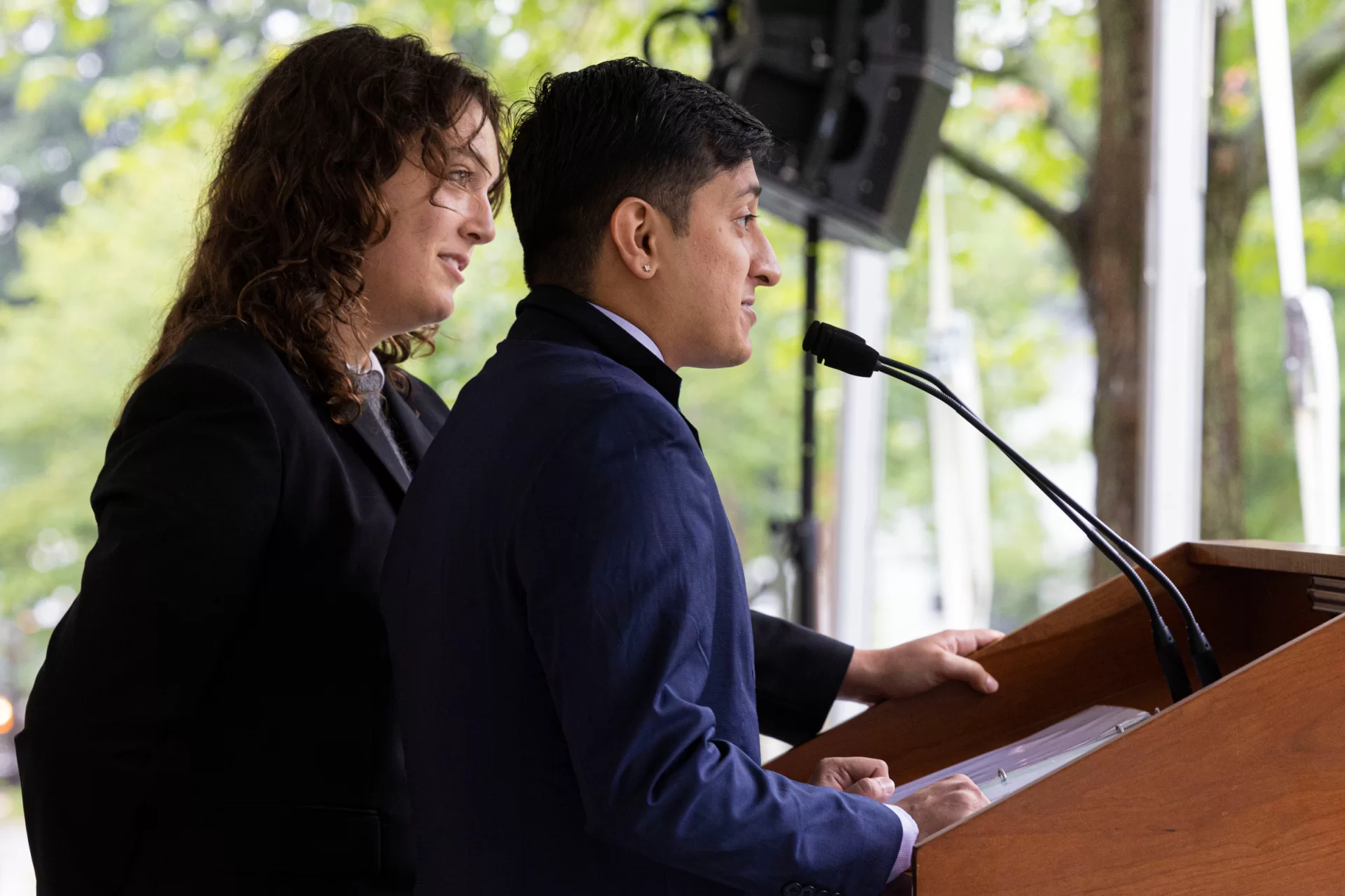 "You should always lead with compassion, forgiveness and care. And this holds true for yourself as well as all the people around you," said Sharma. "Call your mum, dad, or whoever has helped you get here today. Gratitude is not only grounding but also necessary for success at Bates. Be thankful to those who have helped you be the best you, even if you're only thanking yourself."
Gratitude, the grace to accept the fact that mistakes will happen, and the courage to admit to those mistakes — these are some of the most important building blocks for creating that community of growth, the student leaders said.
And most important of those building blocks is the willingness to question your experience, said Manning.
"Now is the time to question without much consequence. Never stop asking yourself uncomfortable questions that may dislodge your place in the world. That is when we learn and that is when we become Bates College students."
Riera-Crichton, chosen by the Class of 2022 to deliver the convocation address as a parting gift to the incoming class, explained that he has deep experience watching economics majors' careers "start, develop, grow and flourish."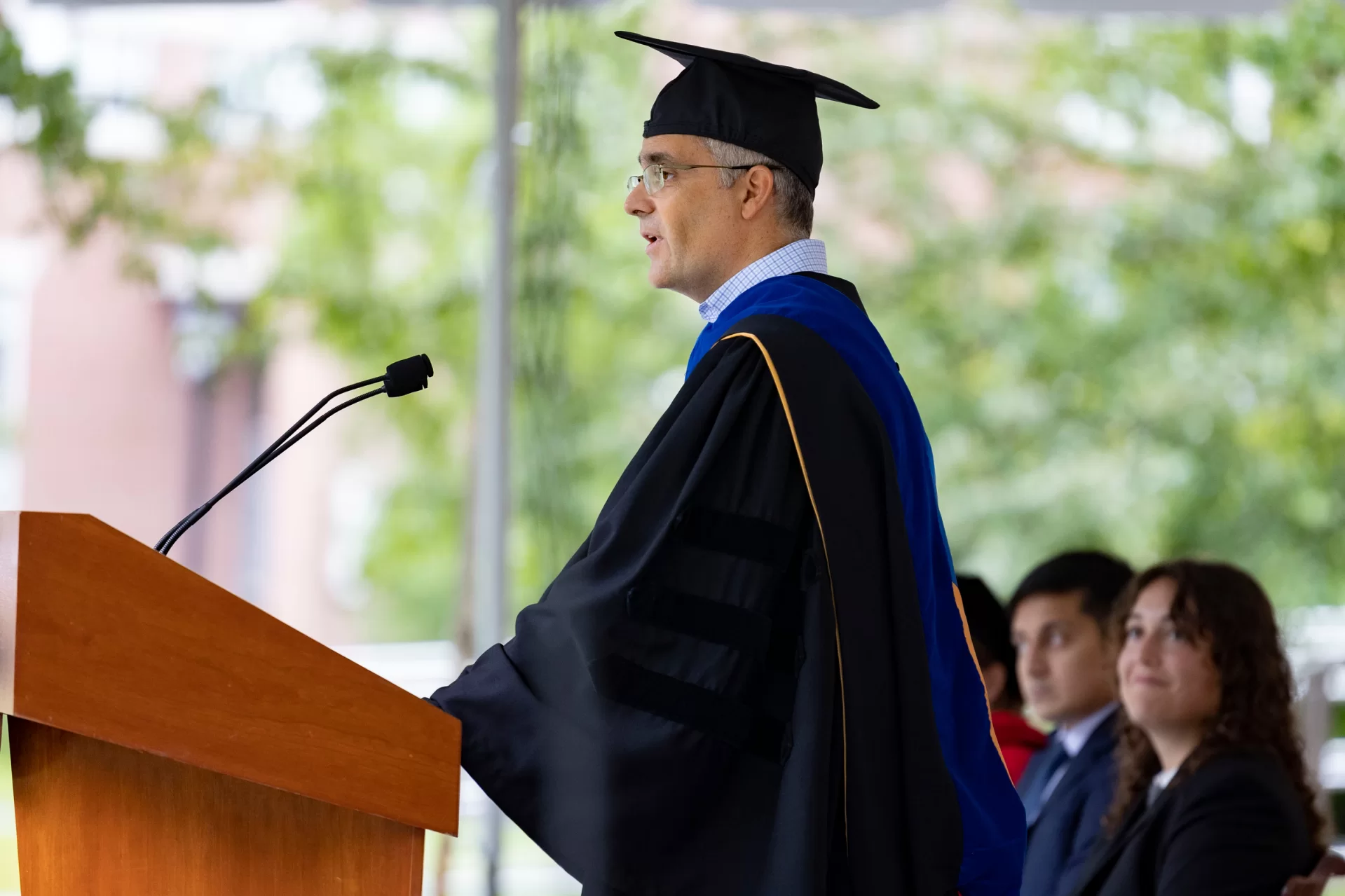 He got a laugh by recounting a typical conversation with an aspiring first-year economics major. Often, the student breathlessly professes having loved econ since forever, and that they plan to study international finance and to write a thesis on "the role of the dollar in the world economy."
To which Riera-Chrighton has only one response, "Cool!"
Four years later, however, Riera-Crichton typically encounters a student who has evolved and grown, and is more likely to be presenting their "brilliant thesis on impact evaluation of climate change in Caribbean communities, about water level rise, prevalence of natural disasters and the policies, infrastructure, and insurance needed to help the local communities affected."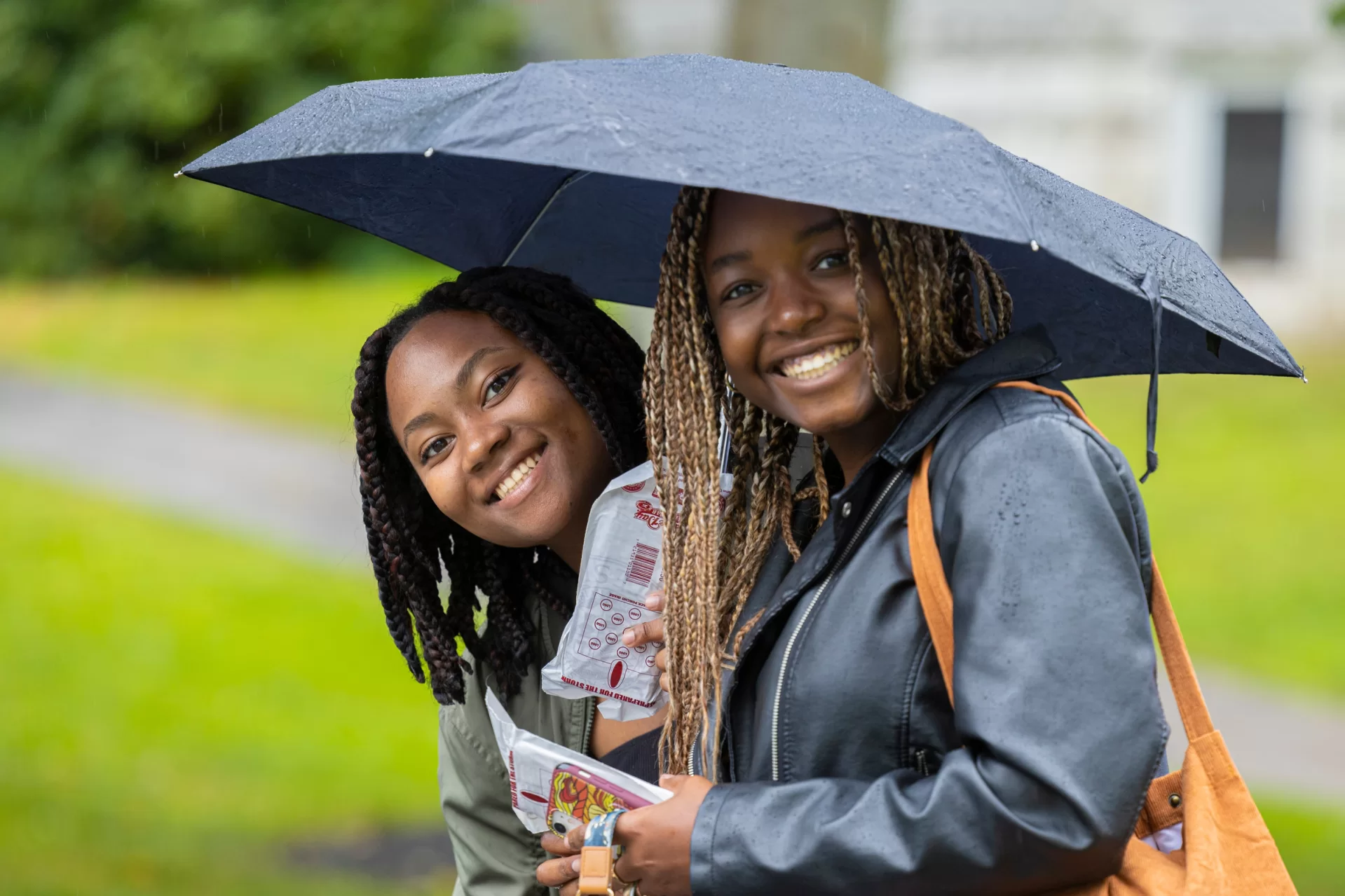 The detour from the dollar happened because the student chose to take what turned out to be "fascinating and impactful course in climate and environmental change that highlighted the potential devastating and unequal effects of climate change on small island communities." That experience allowed the student to "marry her love for macroeconomics" with a new interest in environmental studies, which led to an "amazing thesis in a newly redefined passion."
"So, to recap, your path is not preset," he said. "Take this opportunity to be adventurous, to explore, find your academic passions and then follow them. To me, that is the clearest path for academic success at an institution like Bates College.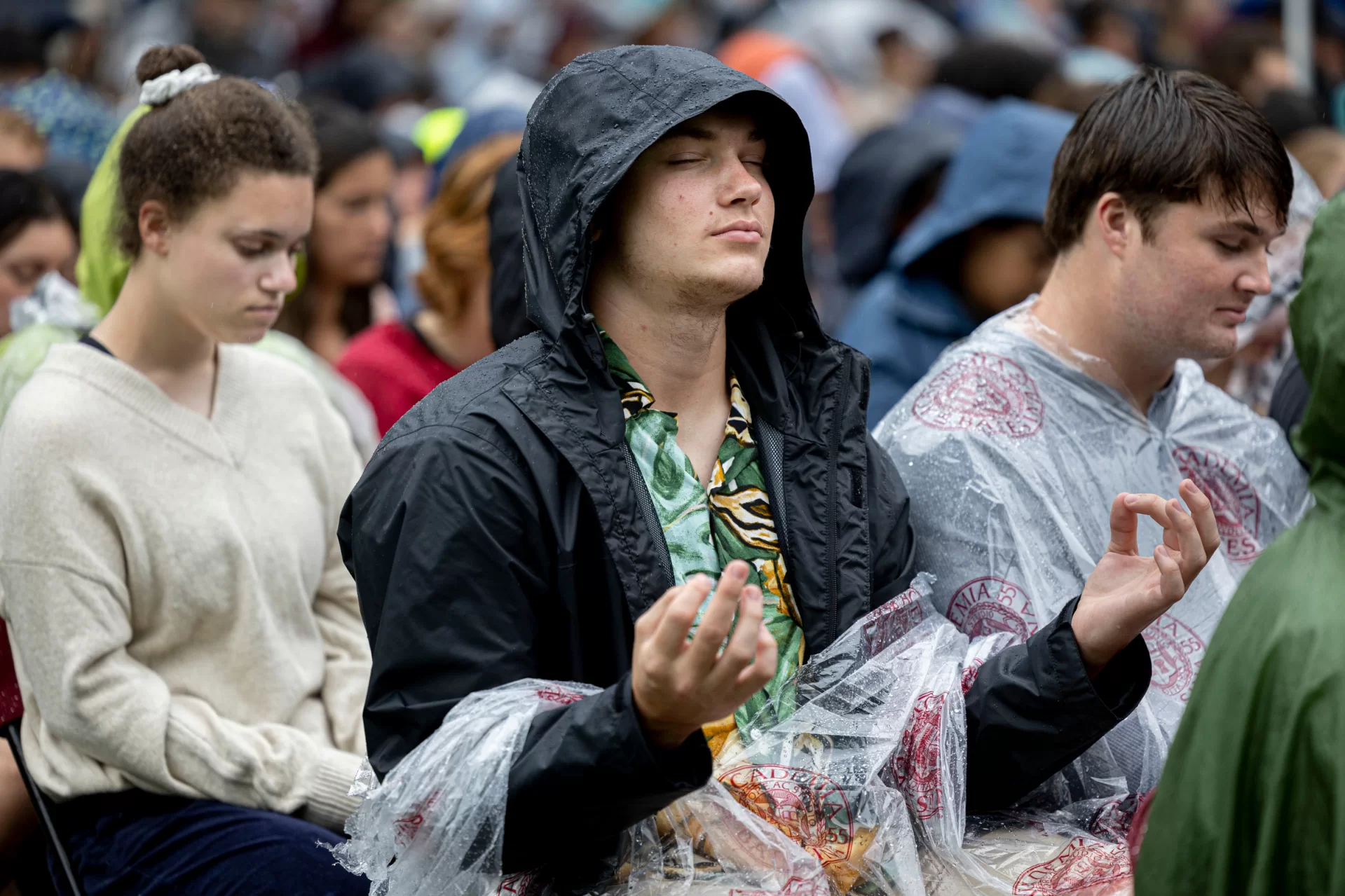 Convocation concluded with a multifaith benediction from the Rev. Brittany Longsdorf, the college's multifaith chaplain. She expressed the community's hope for the new class, that they would find kind and open hearts, a place to rest and find joy, and space to be and discover themselves, from their own dorm rooms, to their classrooms, to the tables of Commons.
"On these sidewalks soon canopied with the brilliance of autumn leaves, may you be reminded of all that is bigger than you, remember those that hold you close in this moment of transition, and slow down to pause and breathe."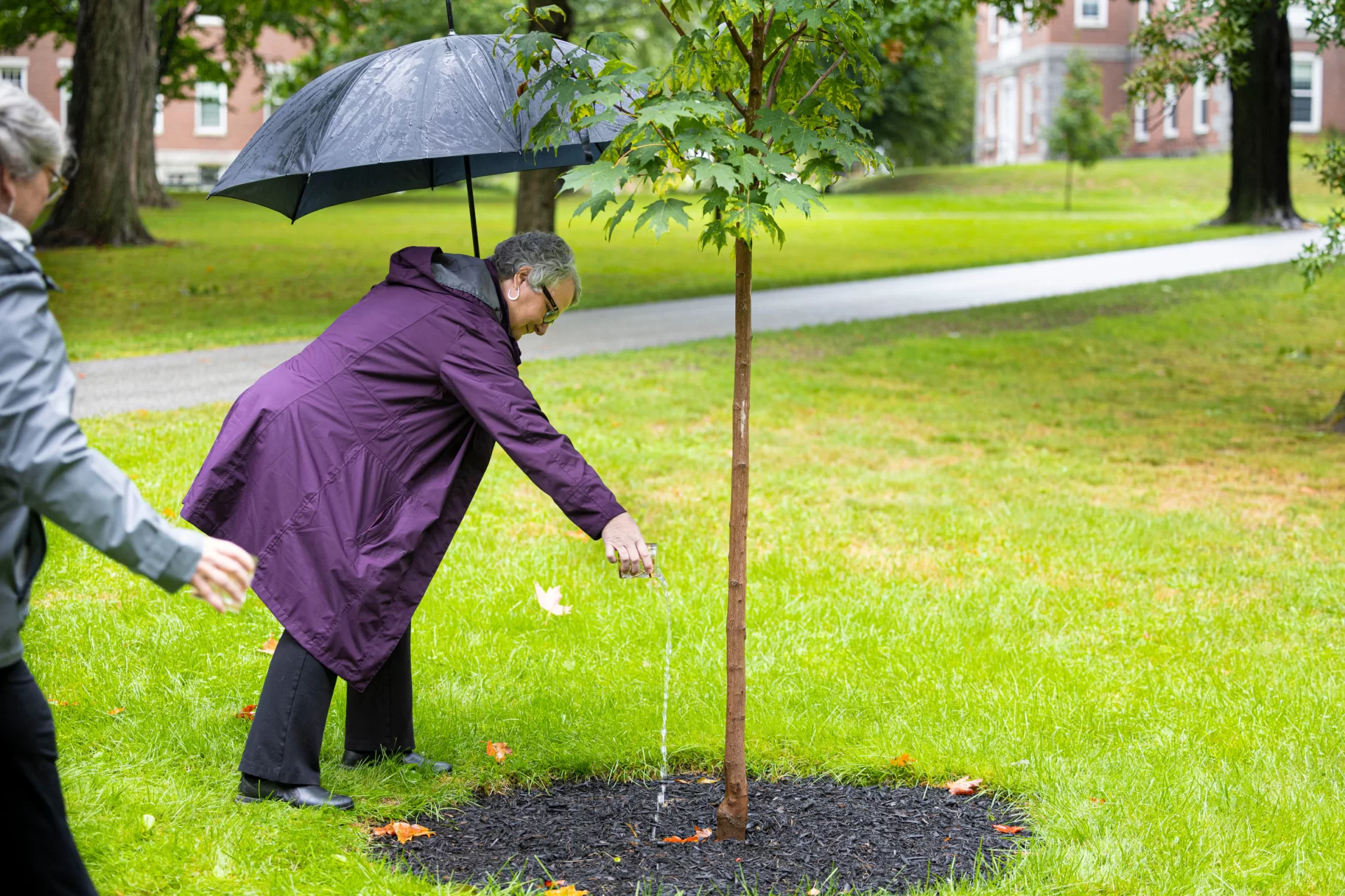 Afterward, Longsdorf and Associate Multifaith Chaplain Raymond Clothier led the annual In Memoriam Tree Planting Service, a gathering that honors the memory of Bates people who have died during the past year.
Held in Gomes Chapel, the service included sweet musical interludes performed by guitarist Giancarlo Carlucci '24, a Multifaith Fellow from New York City.
Afterward, attendees walked outside and each poured cups of water from Lake Andrews onto the roots of a newly planted sapling, a maple. The ritual, said Clothier, honors the unending cycle of "dying, embodying memory, and nurturing new life."