As new and returning Bates students settle in to campus life, they find ways to make Bates feel like the home away from home that it is.
They put up photos of family and friends in their residence, use a familiar laundry detergent, or seek comfort at Commons by munching a favorite childhood breakfast cereal.
If they can find it, that is. As the new academic year dawned, Cheryl Lacey, director of Dining Services, found it challenging to source several cereals.
But no need to panic. For one, Commons still has 32 options, including 24 in dispensers along the famed cereal wall. Second, the reigning student favorite, Lucky Charms, is still in stock. But Cracklin' Oat Bran, Cookie Crisp, Kashi Heart to Heart, and even the runner-up favorite, Special K Red Berries, have been a little harder to source, says Lacey, who also had to secure a new vendor for milk.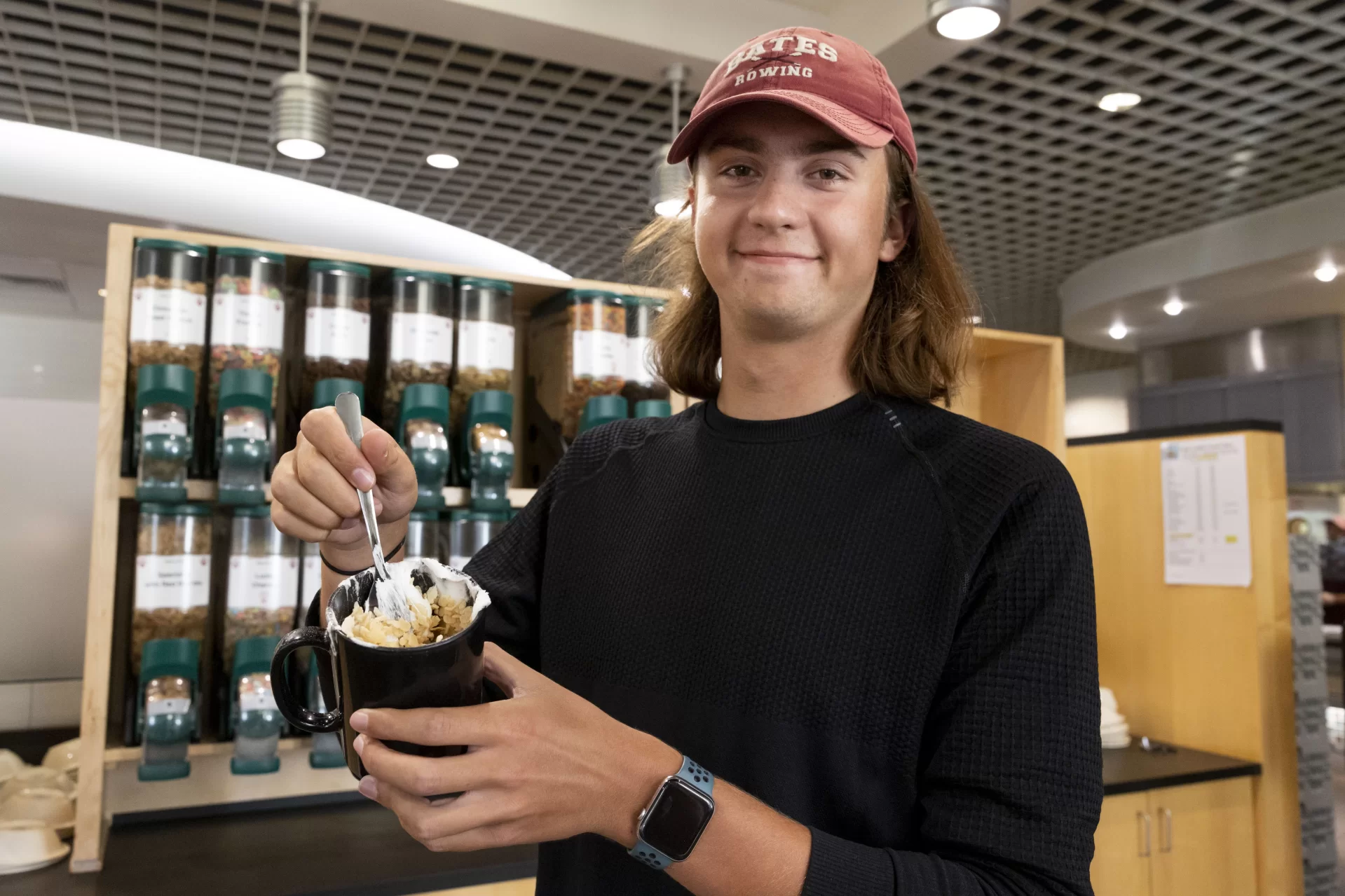 "Those are going to be tough pills," laughs Lacey. But she knows that for students, scarcity can be the mother of invention: She's fully expecting new cereal ideas to pour forth.
Another supply-chain snag was revealed in a recent Napkin Board question: "Is the chili garlic sauce gone for good????" (The query warranted four question marks: Students need their sriracha!!!!)  A failed chili pepper harvest in northern Mexico is to blame for the shortage, explained Lacey via the online Napkin Board, signing the reply, "yours in pepper paucity."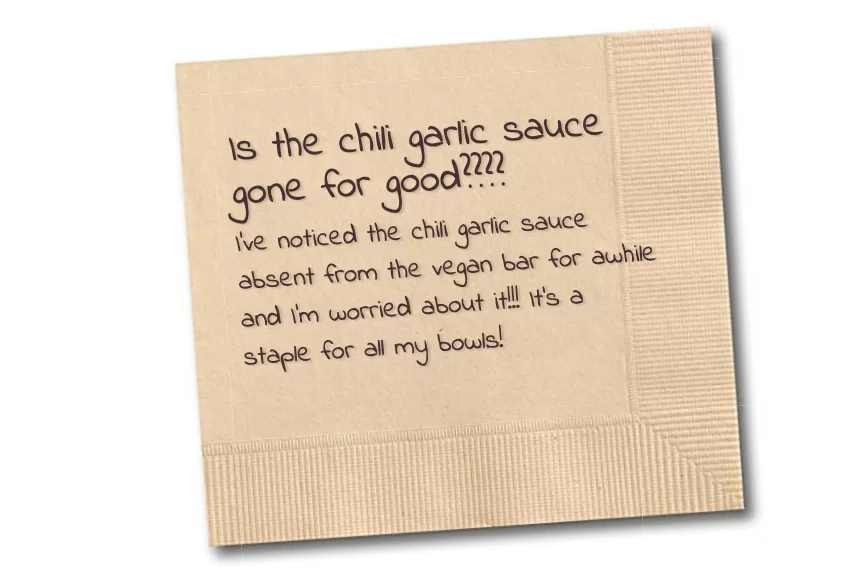 But the stress of supply chain issues wasn't evident on a recent September day at lunch. The kitchen is the heart of the home, and Commons, Bates' beloved dining hall, is no exception. The chefs and staff serve more than 5,000 meals a day and the online menu is the second-most popular Bates web page.
The scene: diners picking up clean, warm plates; dodging each other's precariously heaping trays; waiting in line to get a taco or a burger or whatever is the most popular menu item of the meal; and Commons staff hurrying in and out of the swinging doors, taking back empty pans and bringing out full ones.
Trends for 2022 include ever-increasing interest in vegan items, says Lacey, so Commons is adding an impossible chili, a vegan taco filling, and a chickenless patty sandwich to the vegan bar.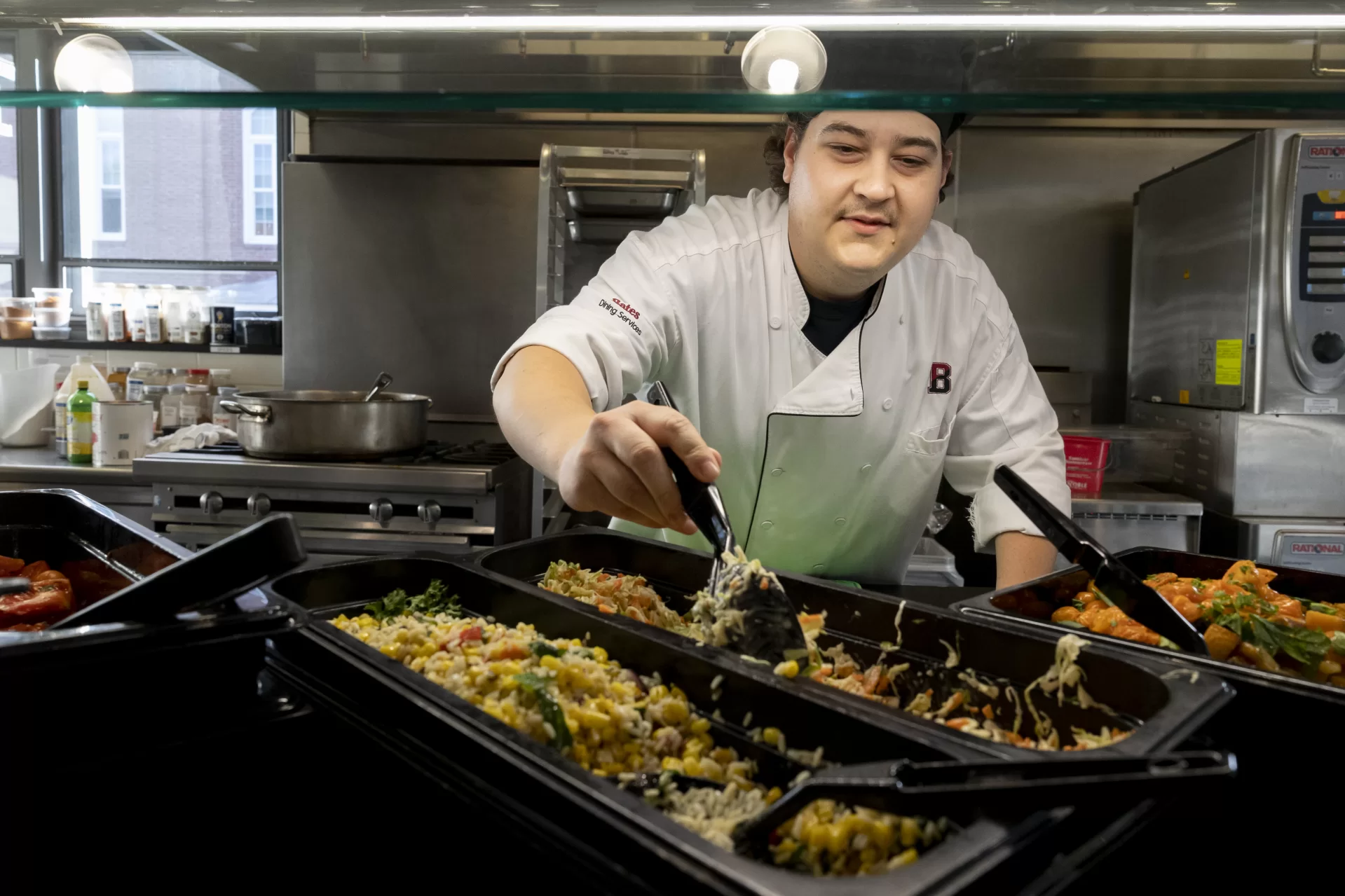 With food sensitivities and allergies on the rise, Lacey and her team remain vigilant about effective labeling and preventing cross-contamination. This fall, Dining Services will label foods containing sesame, since the FDA has declared it the ninth major allergen (after allergens like milk, peanuts, and wheat).
Dining Services isn't only thinking about what students eat, though: They also consider where students eat, routinely adjusting options for seating, adding smaller tables here and there, including high-top tables for two upstairs in the mezzanine.
The high tops are popular with students seeking a study spot in Commons, so they're placed close to outlets. "You can be by yourself, close to the outlets, so you can plug in," Lacey explains.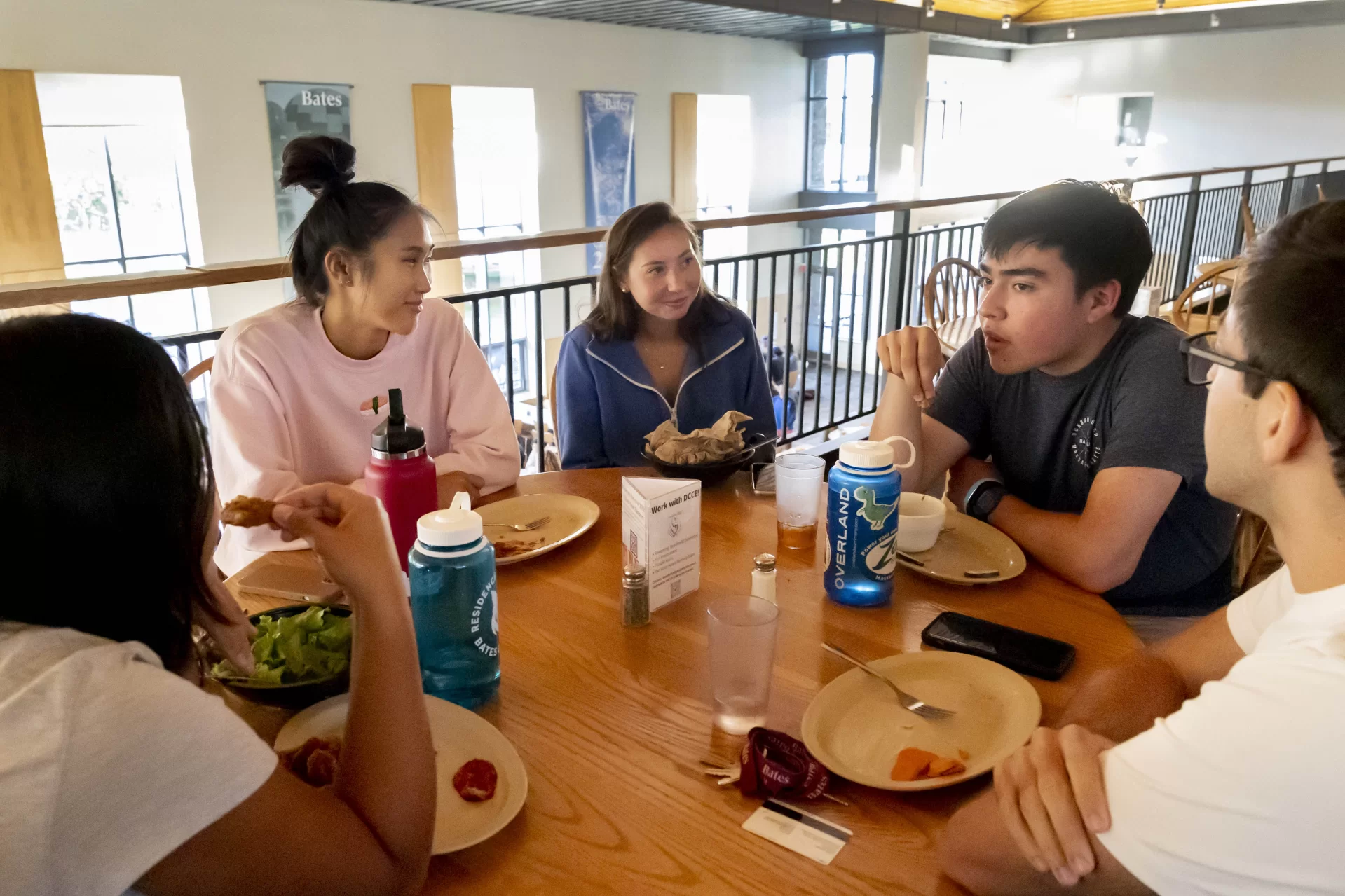 One benefit to being in charge of a college dining hall is its proximity to the world of research and discovery, says Lacey, who, with Christine Schwartz, associate vice president for Dining, Conferences and Campus Events, welcomes students to use Commons as a site for academic fieldwork.
"Our staff gets really excited about participating in educational opportunities," she says. "There's such a big connection between food and science." (It's not always food and science: In 2015, a senior did a gender analysis of dining in Commons for her American cultural studies thesis; it's been downloaded nearly 1,200 times since.)
Another year, a senior studied the efficacy of Dining Services' vegetable wash. Another senior helped Dining Services decide whether to spend a lot of money on a new type of self-sanitizing food thermometer.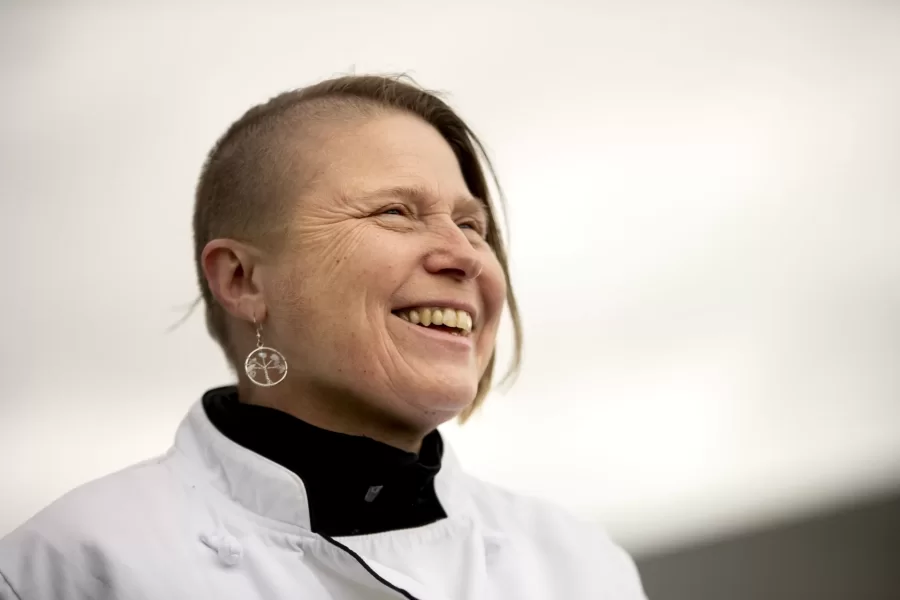 "It was in a little sleeve that you had to fill with sanitizer, and we wanted to know if it was worth the money to buy this thermometer," says Lacey. Thanks to the senior's work, Lacey learned that the standard thermometers, and how they were sanitized, worked just fine — and that meant money in the bank for Bates.
To raise awareness of good hygiene at the start of the cold and flu season, a student once did an exercise on hand washing. "They had a liquid that had little particles that could fluoresce," recalls Lacey. "They asked students to put the liquid on their hands, then wash their hands as well as they could."
Afterward, the students put their hands under a black light. "People were amazed: 'Oh my God! Look how much is left!'"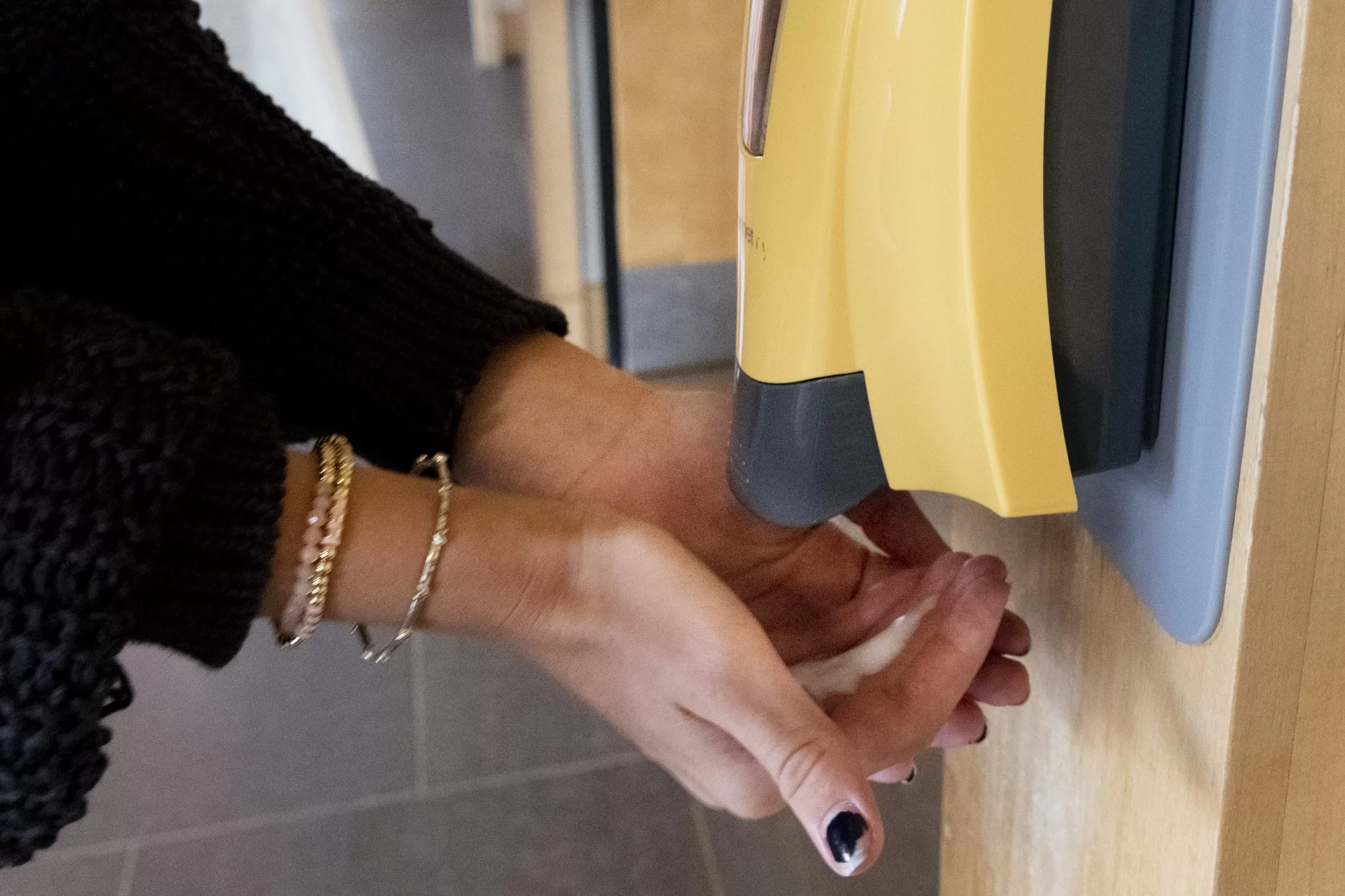 Swabbing projects at Commons are perhaps the most common type of fieldwork. For example, it's well known that bacteria are found on everyday door handles. Recently, after students swabbed and found bacteria on Commons exit doors, on Central Avenue, Lacey decided to move the hand sanitizers outside the doors, instead of just inside. "It made sense for people to sanitize after they left, rather than before they left," she said.
Condiment pump dispensers are designed to prevent food cross-contamination. But after another biology student captured microscopic evidence that food on a diner's plate had come into contact with dispenser, Dining Services took action.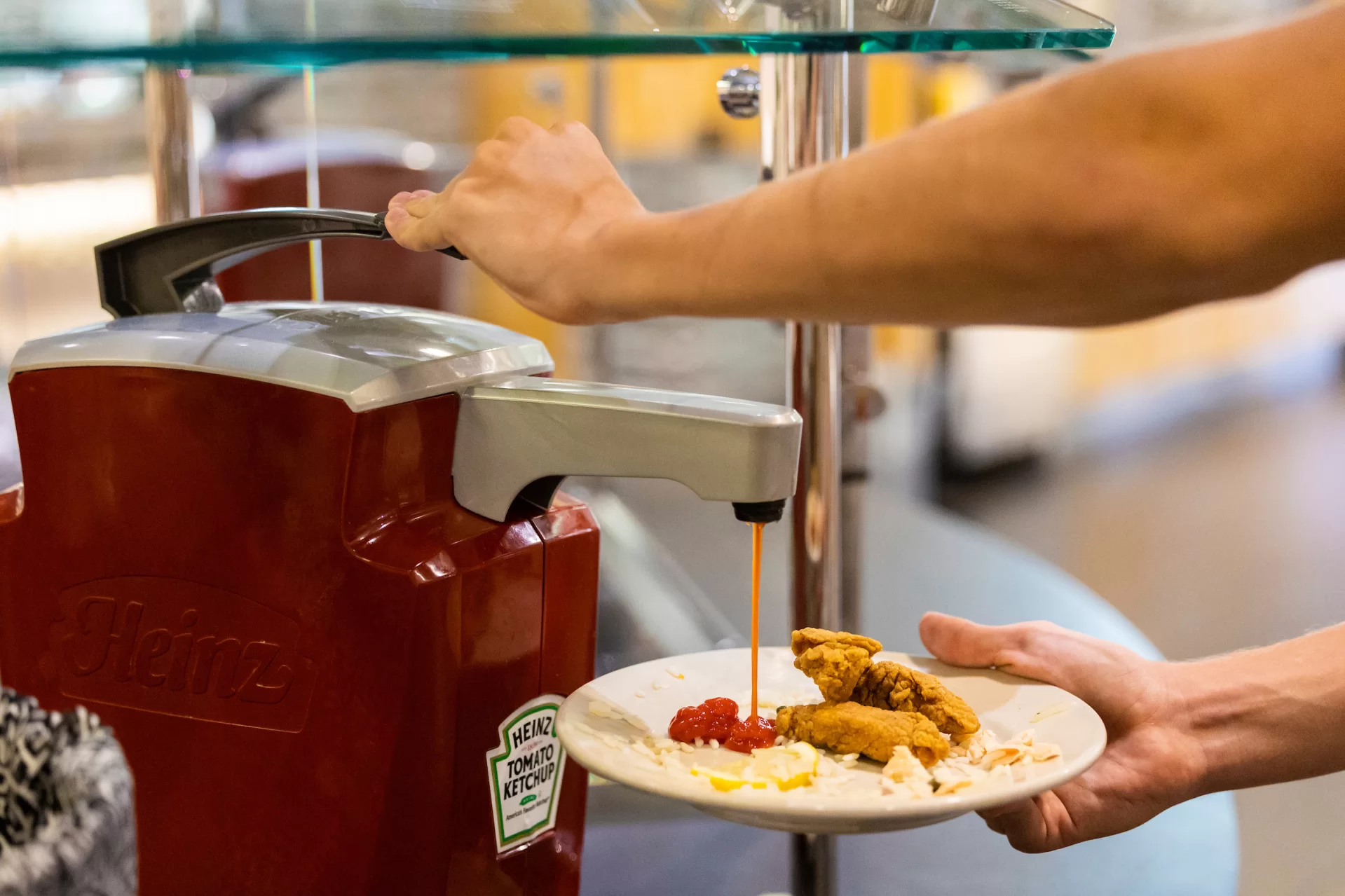 Now, Dining Services advises students that if they have any possible food allergies, they can use ketchup packets. "And we made other condiment options available, so students don't have to use the dispenser," says Lacey.
"We wouldn't have known those things if it weren't for our students," says Lacey. "We love projects like that!"