We had a busy month. Students (first-year and returning) arrived on campus to great fanfare; new friends were made, old friends met again.
Classes began — and so did the sports season, with games and practices. And the weather flip-flopped from pouring rain to blissful sunshine to the first light frost of the autumn.
From smiles and laughter, to victories and new beginnings, to unconventional classroom adventures, here's a selection of photographs that offer a window into This Month at Bates.
So Glad You're Here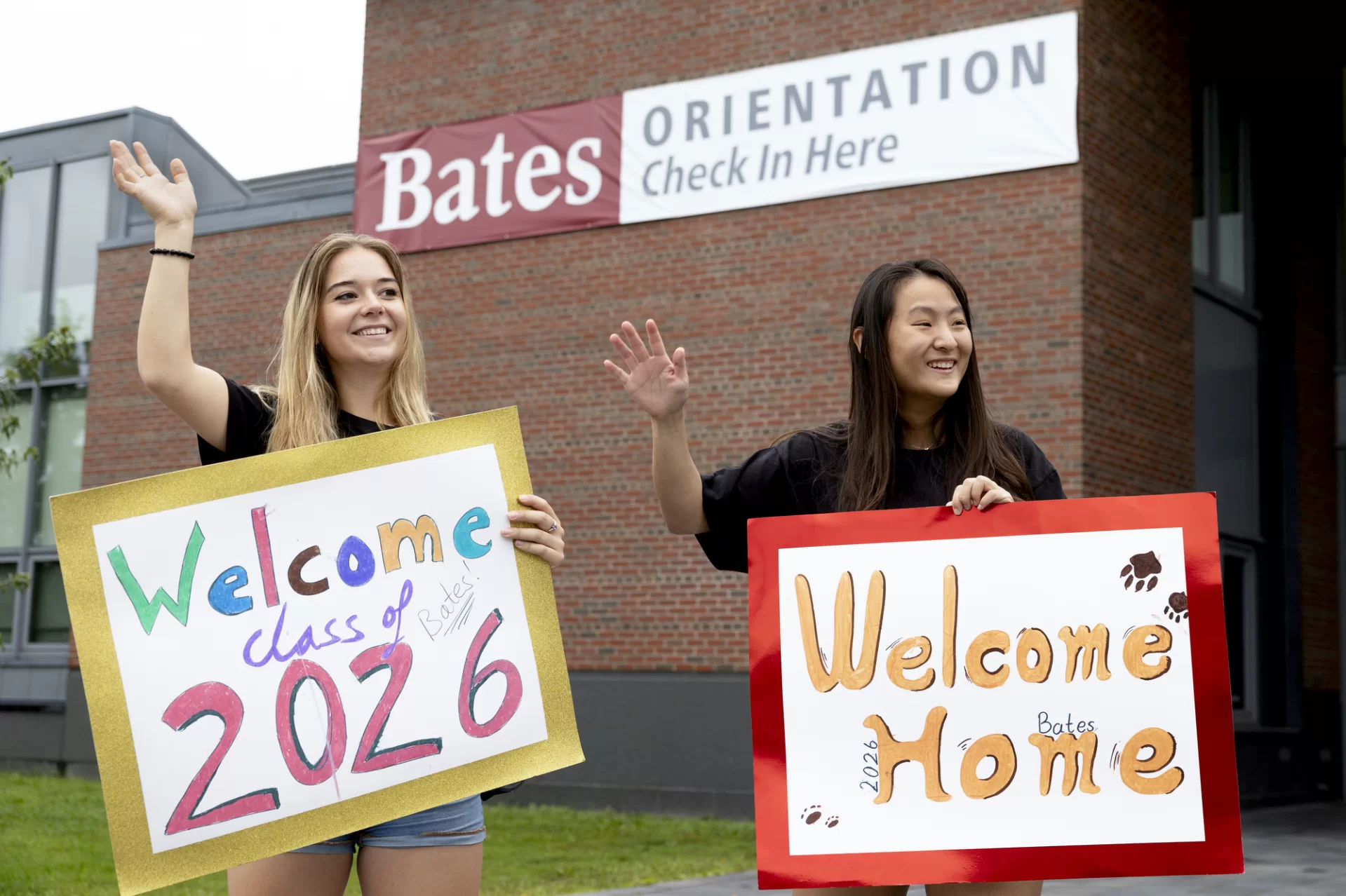 As the Class of 2026 rolled onto campus, students and their families were met by returning students with signs welcoming them to their new home, including OWLS Linnea Selendy '23 and Eva Wu '25, who held their handmade signs outside Commons.
---
Facetime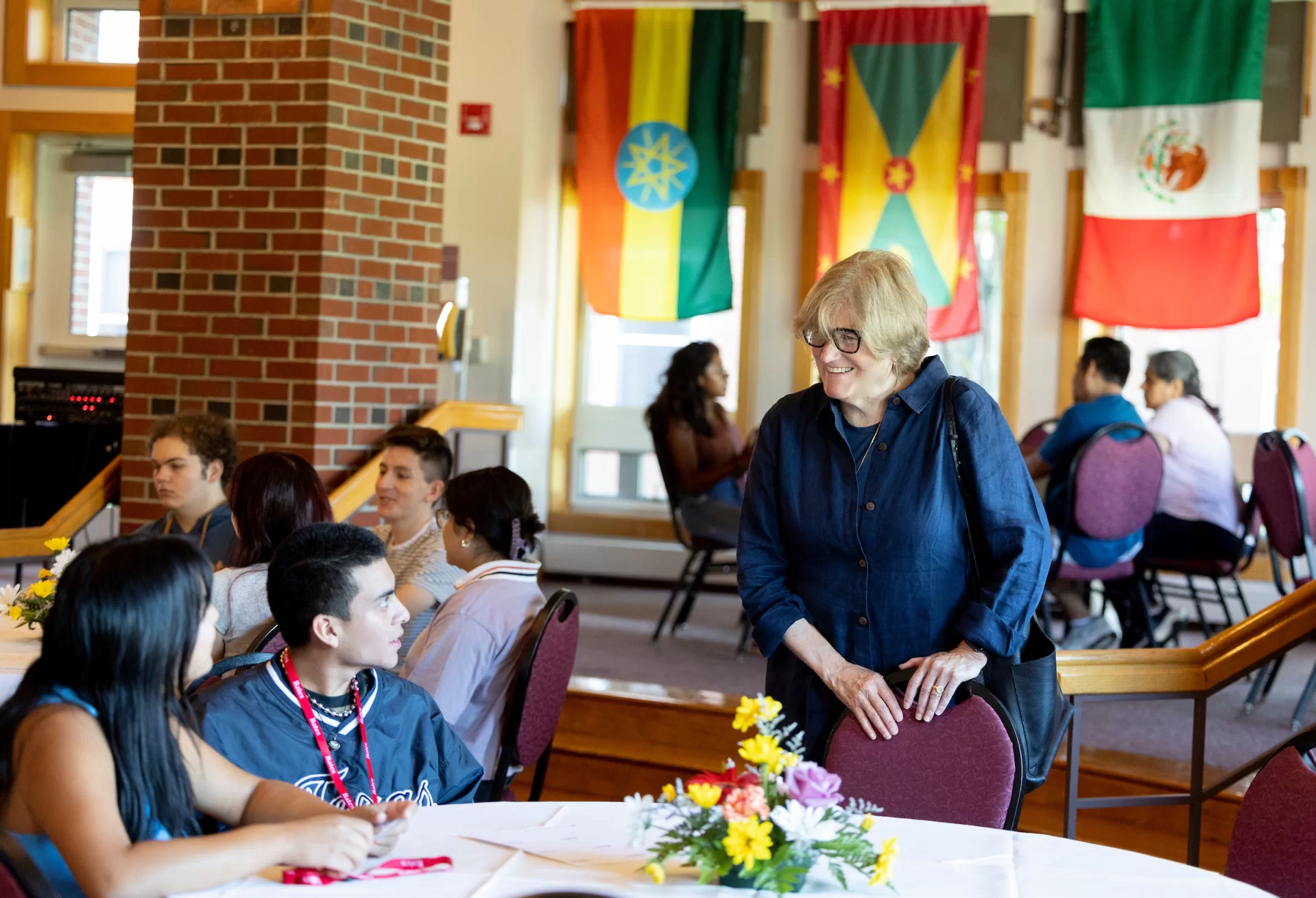 President Clayton Spencer takes an opportunity to chat with a student during the Bobcat First Pre-Orientation Program on Aug. 28–30, which was full of opportunities for students to connect with other students, and faces they'll be seeing a lot in the next few years.
---
Make Way for Bobcats!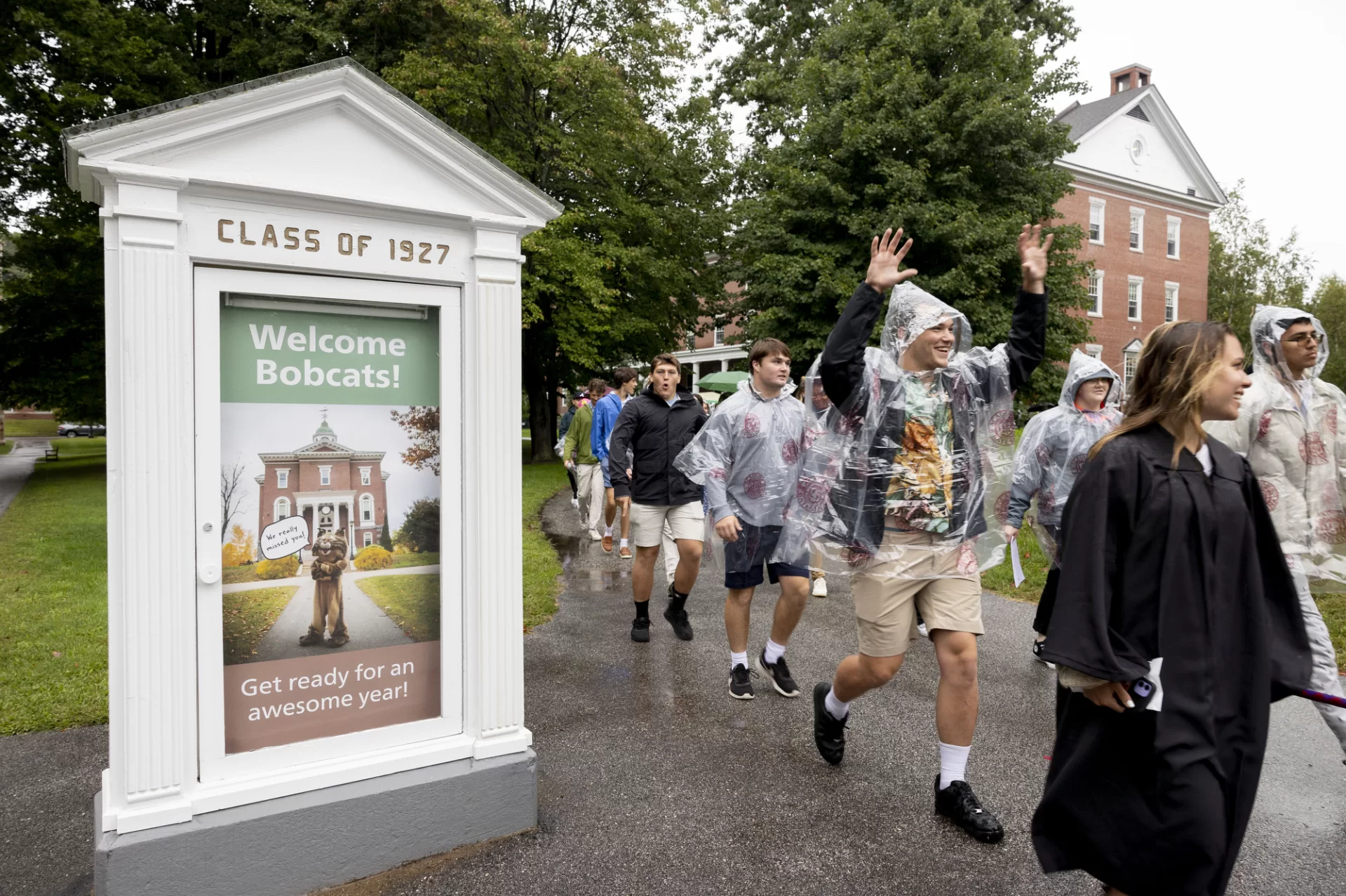 Donning plastic ponchos and heralded by the cheers of the women's soccer team, the Class of 2026 marched from Alumni Walk to the Historic Quad and in front of Coram Library, where Convocation officially welcomed them as brand-new Bobcats.
---
Laugh Your Hat Off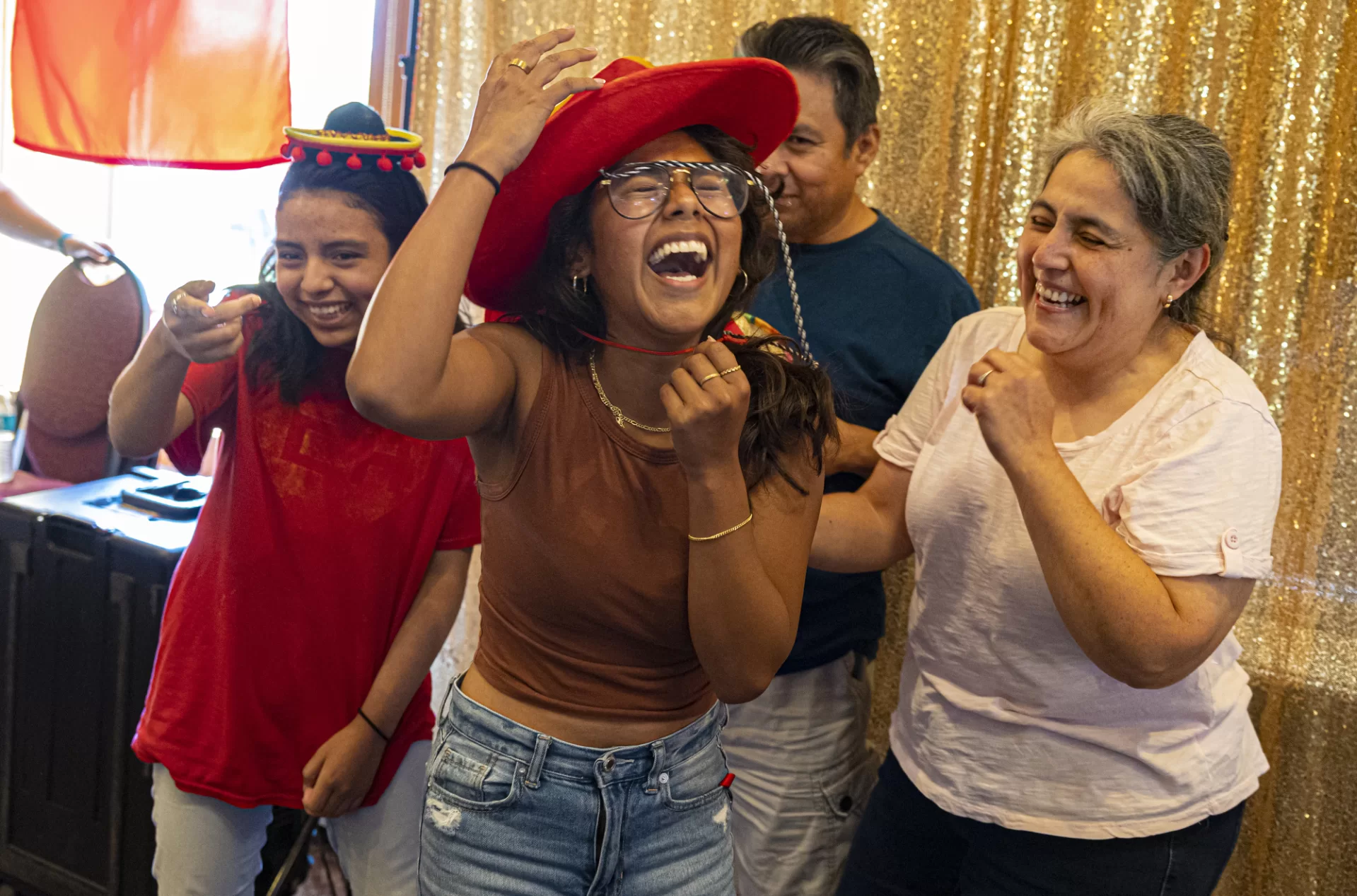 First-year student Nailah Estrada of Chicago, a member of Bobcat First, enjoys a photo booth session with her younger sister Julissa and their parents Simon and Maricela in the Benjamin Mays Center.
Everyone involved in Bobcast First had a chance to create their first Bates memories in late August.
---
Secret Sauce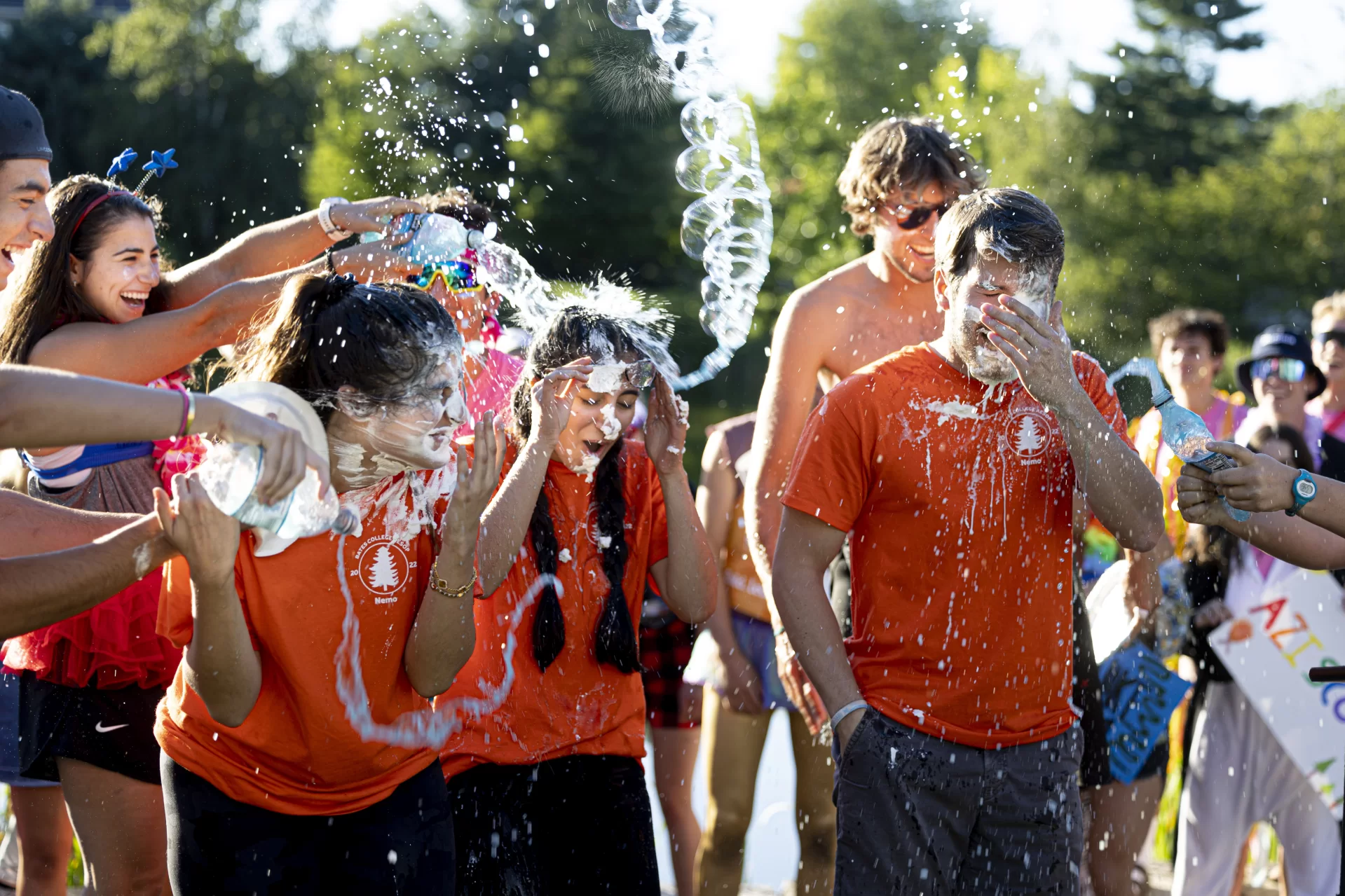 The three head coordinators of the 2022 edition of AESOP get doused with the traditional "secret sauce" at the high-energy kickoff gathering for the long running Orientation program for first-year students.
From left, Khadeeja Qureshi '23 of Princeton, N.J., a double major in politics and English; Sam Faasen '23 of Dover, N.H., a double major in math and neuroscience; and Ayah Ghazi '23, a neuroscience major from Canton, Mass.
---
Class on the Grass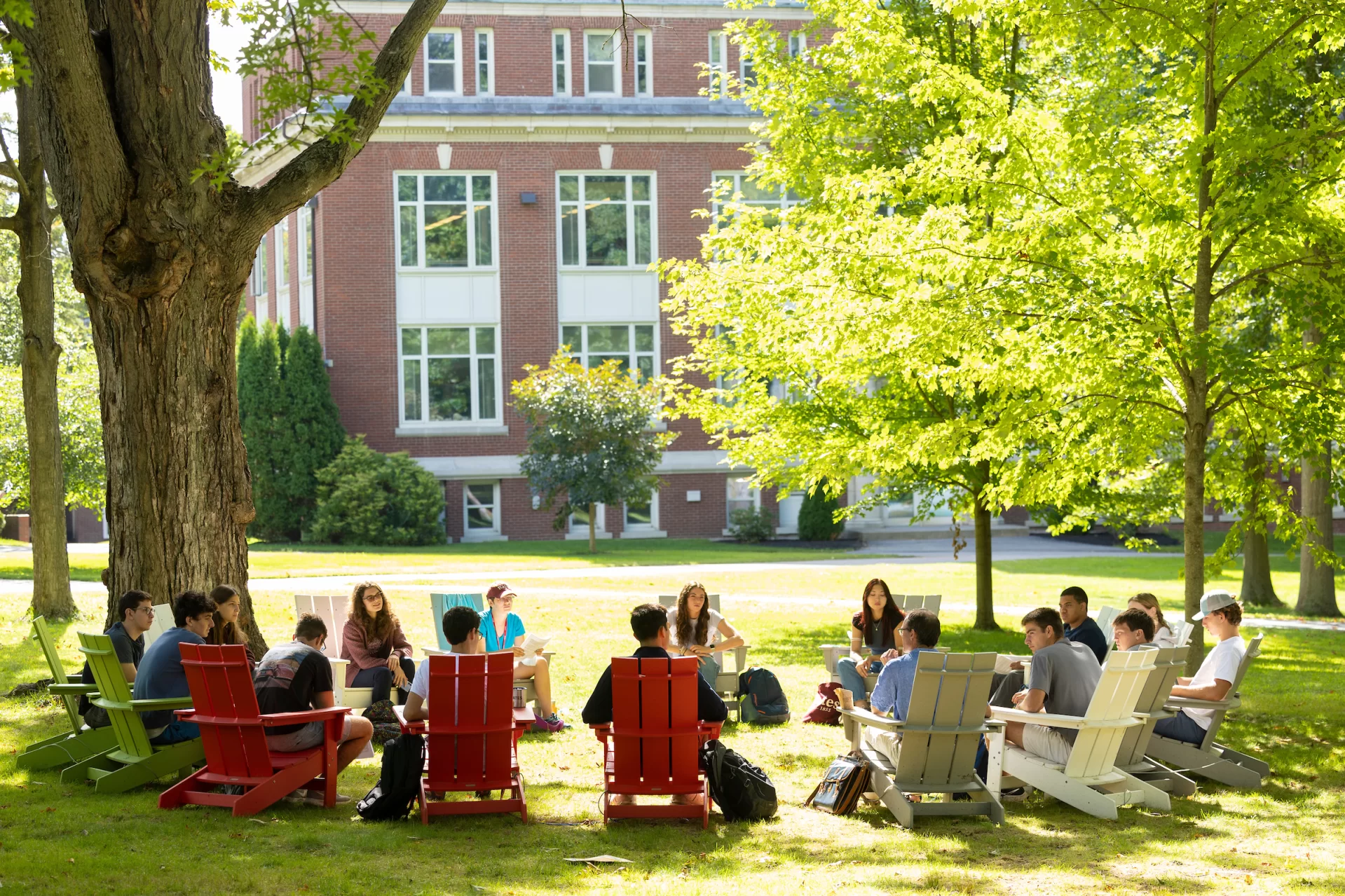 "It was a great day to be talking under the trees," said Associate Professor of History Joe Hall, describing the first meeting of his First-Year Seminar, "This Land is Whose Land?" on the Historic Quad.
Each year, the initial sessions of all First-Year Seminars take place during Orientation, before the official start of classes, giving new strudents a head start on connecting with each other and their instructors, who also serve as their first-year advisers.
---
Group Grins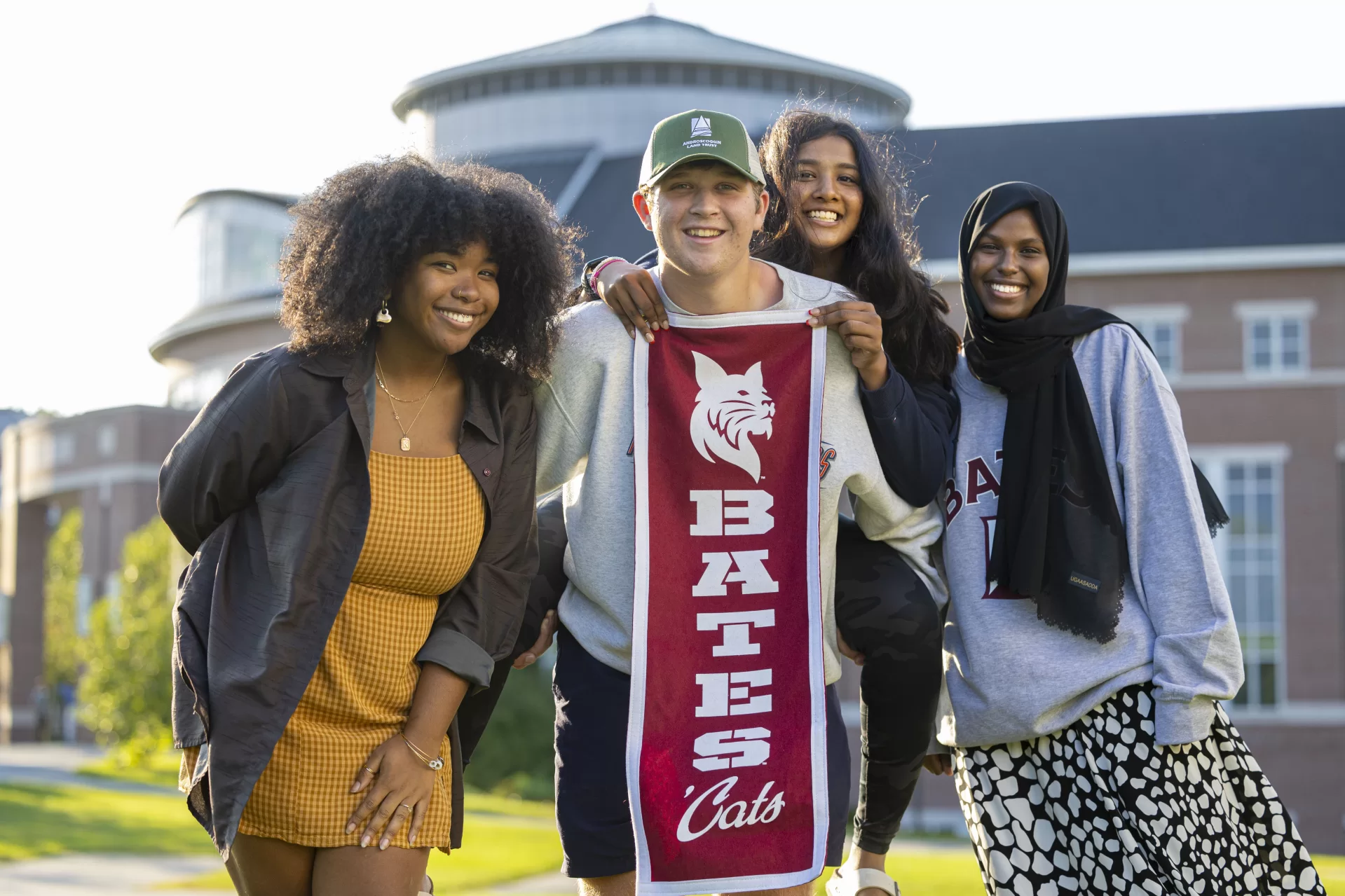 With Pettengill Hall as a backdrop, Bonner Leaders Kara Neal '25 of Washington, D.C., and Honolulu; Robert Washburne '26 of Madison, Conn.; Sivani Arvapalli '26 of South Windsor, Conn.; and Anzal Isaak '26 of Lewiston, Maine, pose for a group picture during the annual Bates Volunteer Fair, sponsored by the Harward Center for Community Partnerships.
---
All for One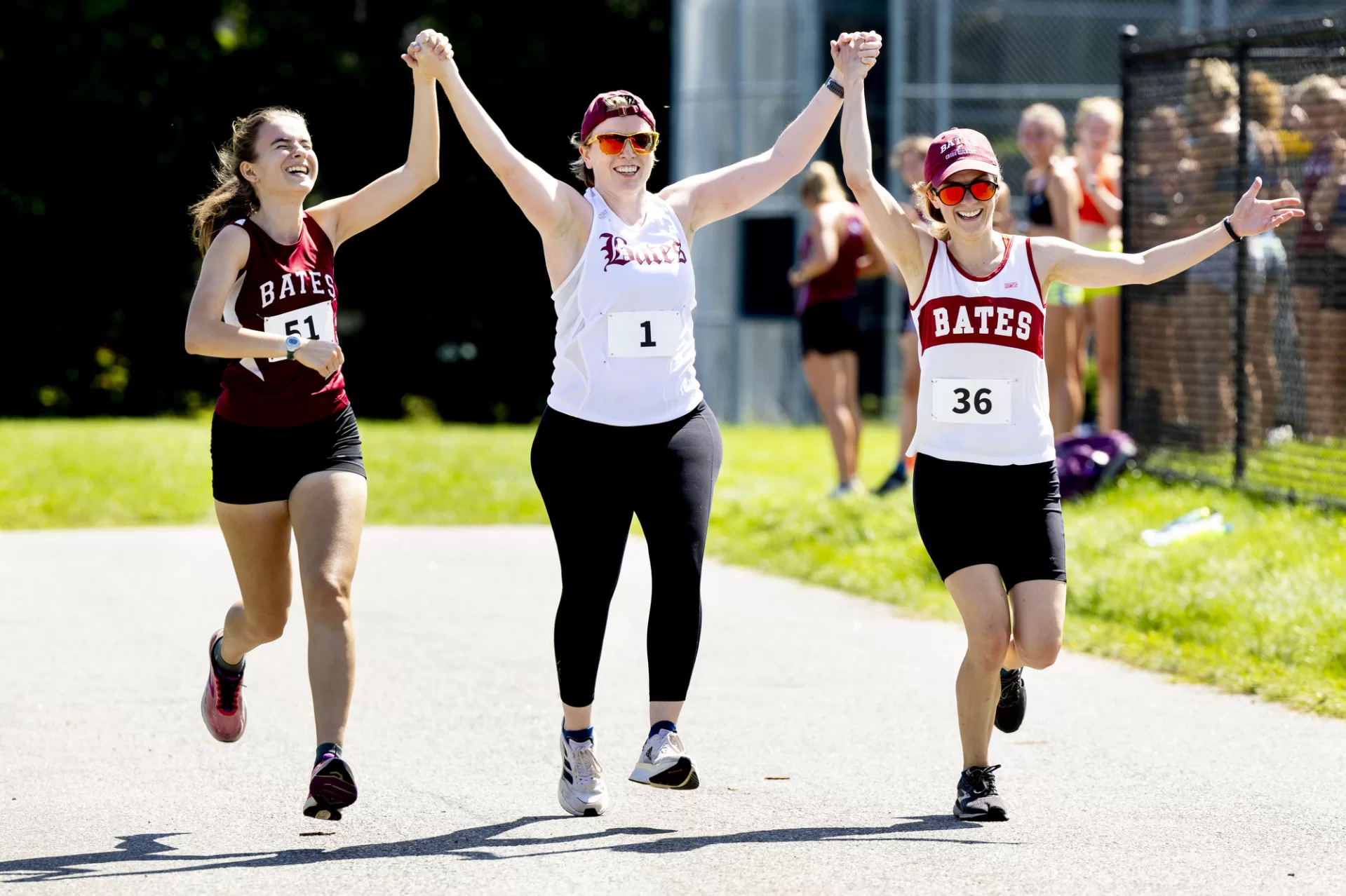 From left to right: Vanessa Paolella '21, Alison Leonard '10, and Kathryn Moore '07 race together towards the finish line, holding hands, at the 50th annual Bates cross country alumni meet on September 3. Alums and current Bobcats from both the women's and men's programs gathered on campus for a tradition that brings together seven decades of Bates cross country runners.
---
Bucking Bronco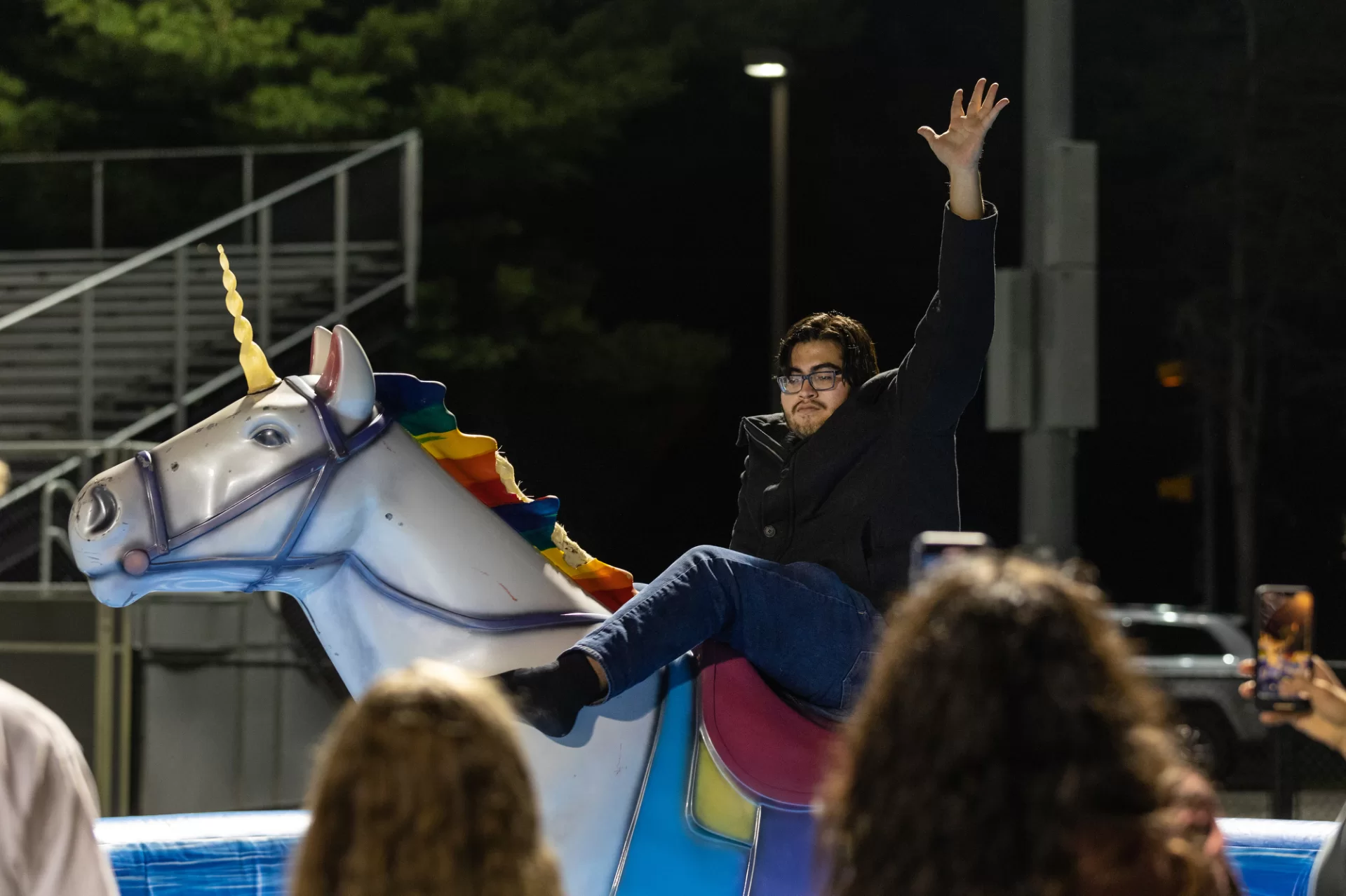 Bateschella was a smashing success, obviously. Besides trying their balance (and stick-to-itiveness) at bucking bronco on the mechanical unicorn, Bates students enjoyed musical performances from fellow students and guest groups, axe throwing, a bungee run, a photo booth, and plenty of poutine.
---
Sign Me Up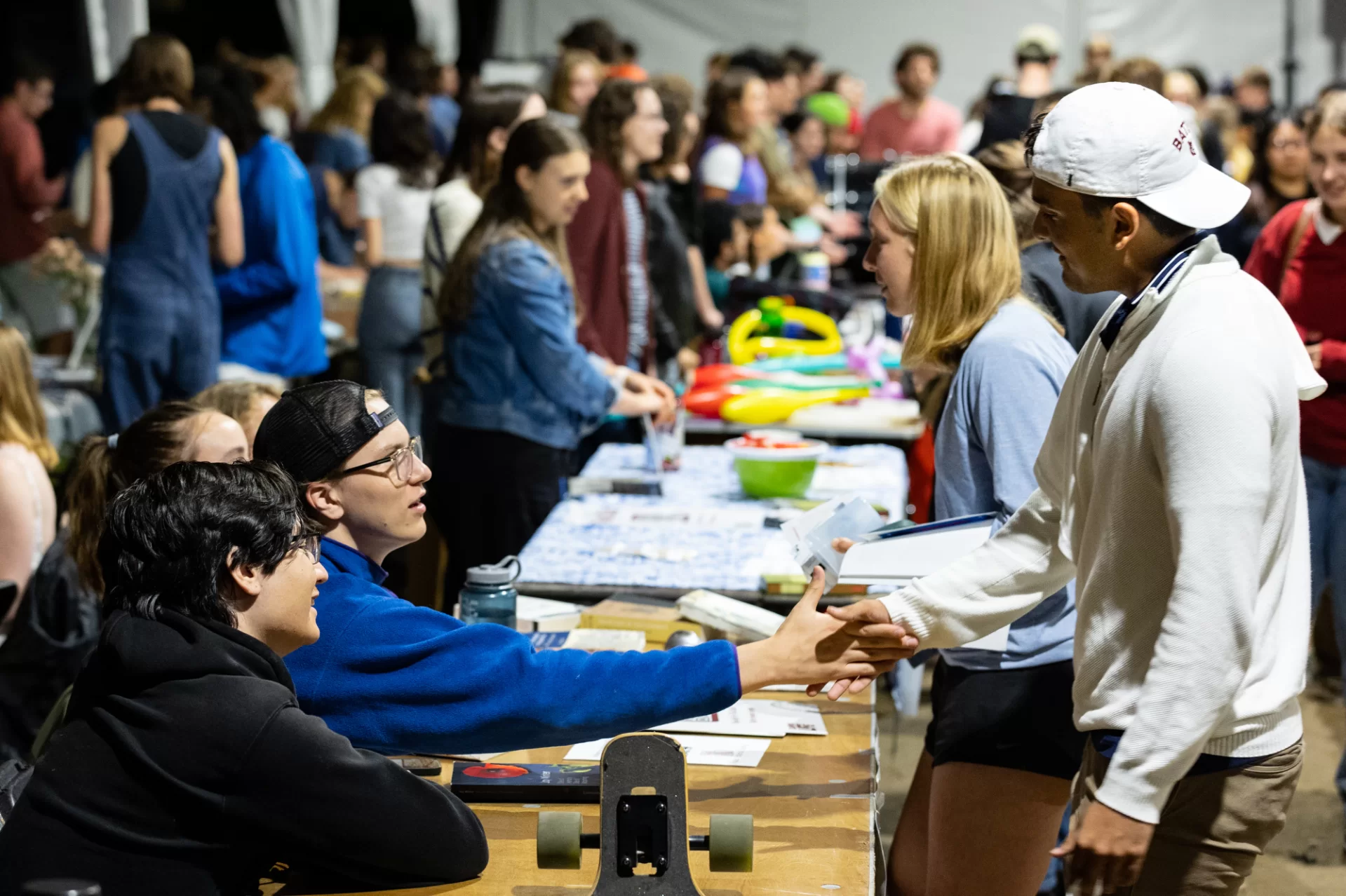 More than 80 clubs and organizations were excited to welcome students to Bates and their communities at the 2022 Clubs and Orgs Fair on Sept. 7. High energy was the order of the evening, as students got a firsthand look at some of the student communities they could join, and interests they could foster.
---
Tee'd up for Success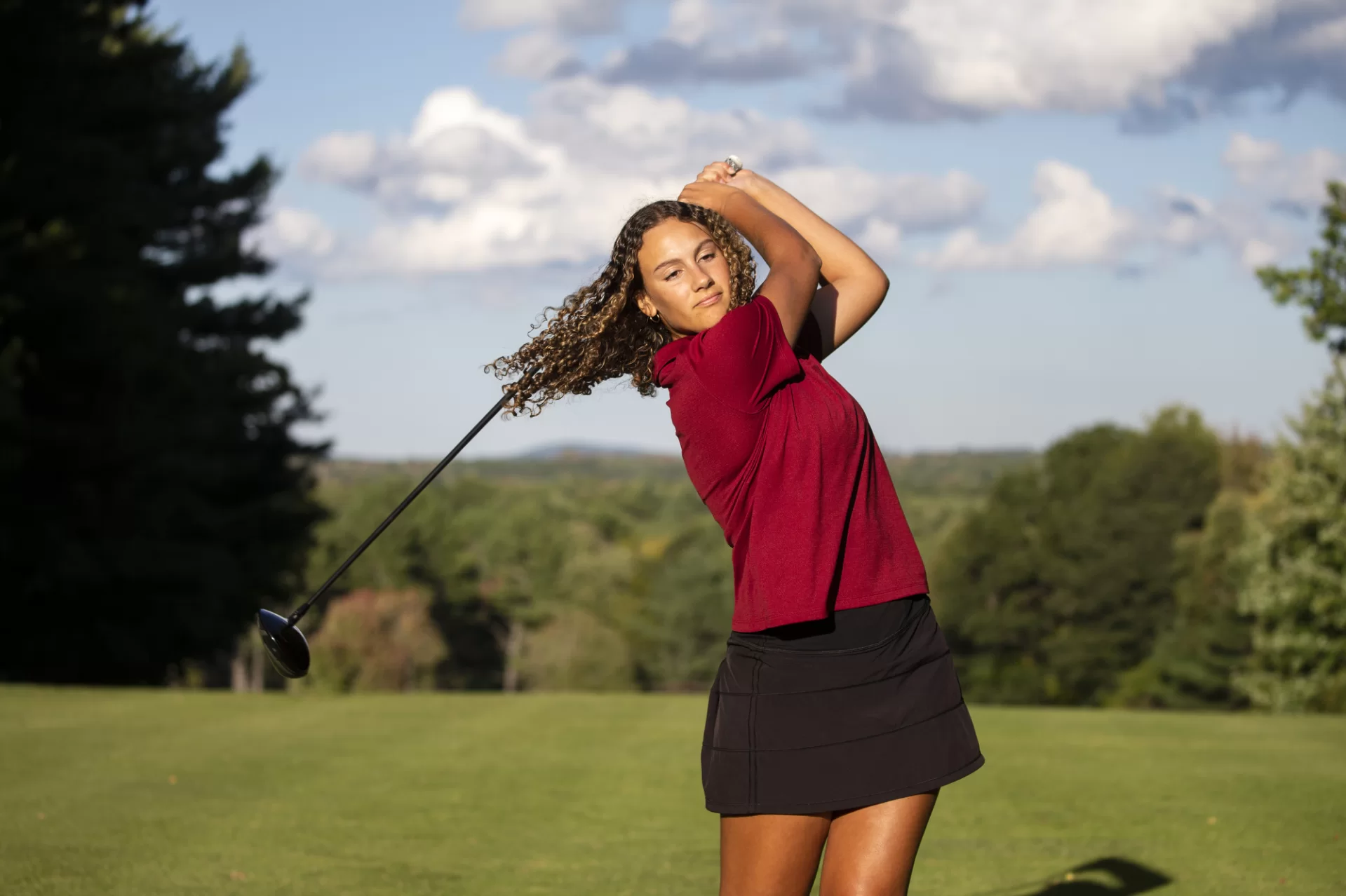 Ruby Haylock '26 of Hartford, Maine, swings through during a practice session for the Bates men's and women's golf teams at the Martindale Country Club in Auburn. Already a top Bates golfer, Haylock won the Maine Women's Amateur Championship twice in the past three years.
---
Decompression Session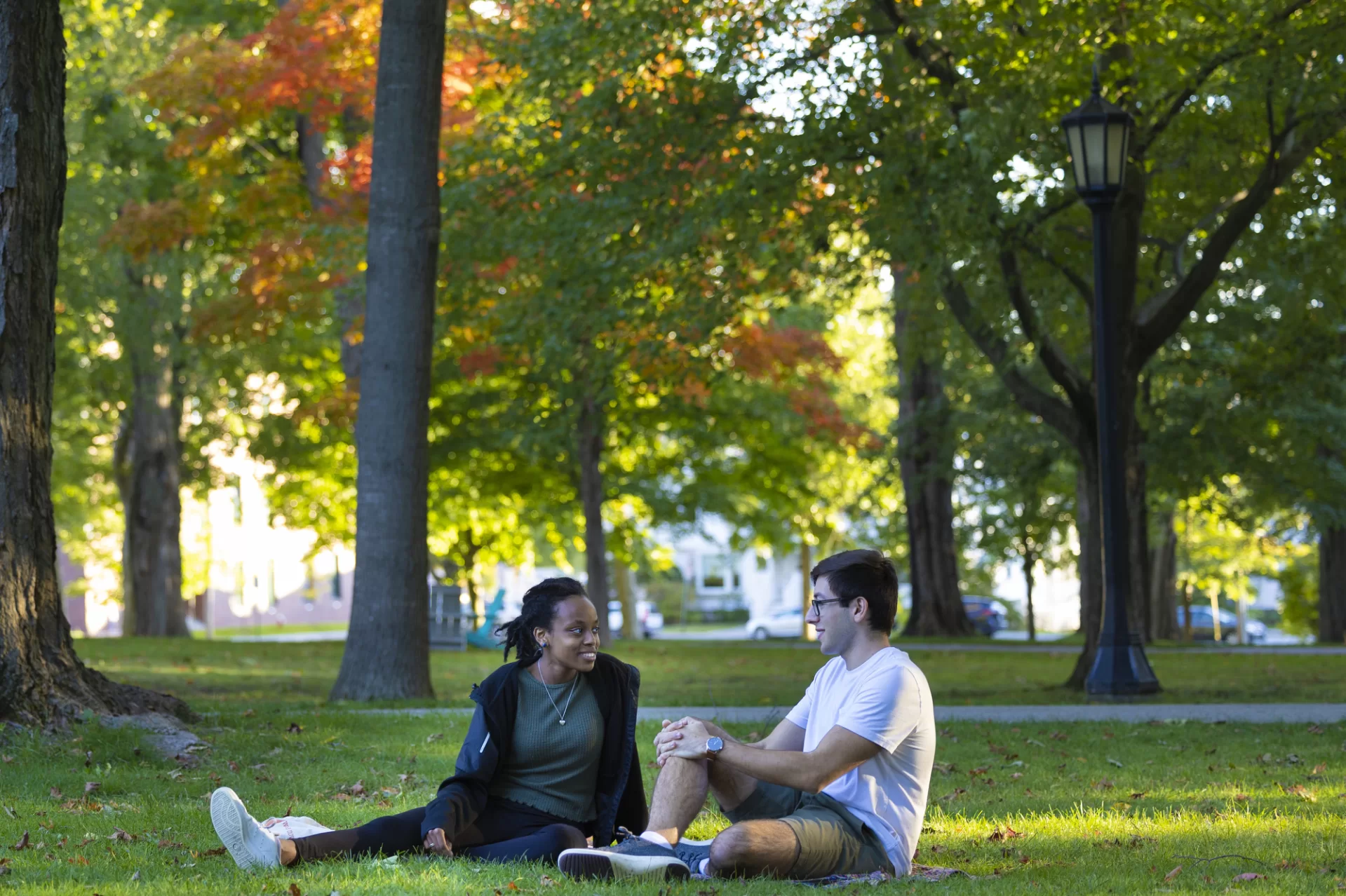 Golden hour pairs nicely with a little frisbee and some conversation. Fiki Hunt '24 of New York City, a double major in psychology and film, joins neuroscience major Luke Janak '24 of Blauvelt, N.Y., take a moment to "decompress from classes," said Hunt.
---
Puppy Love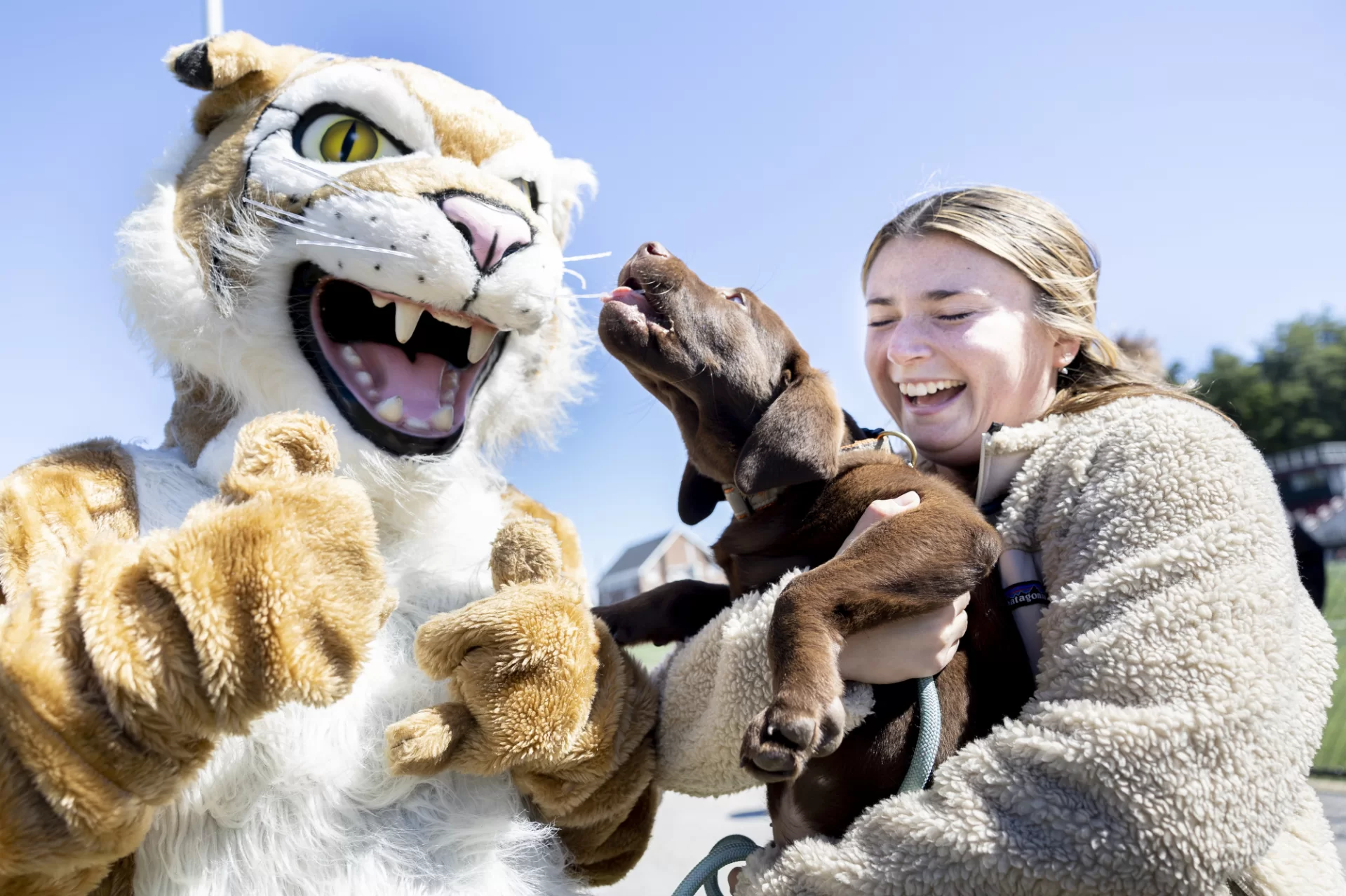 This 'cat and pup seem to get along just fine as Kirsten Pelletier '20 and her four-month-old-chocolate Lab Goose grab a pic with the Bates Bobcat during the 'Cats Carnival, right before the Bates football team's home opener against Tufts.
---
A Little Peace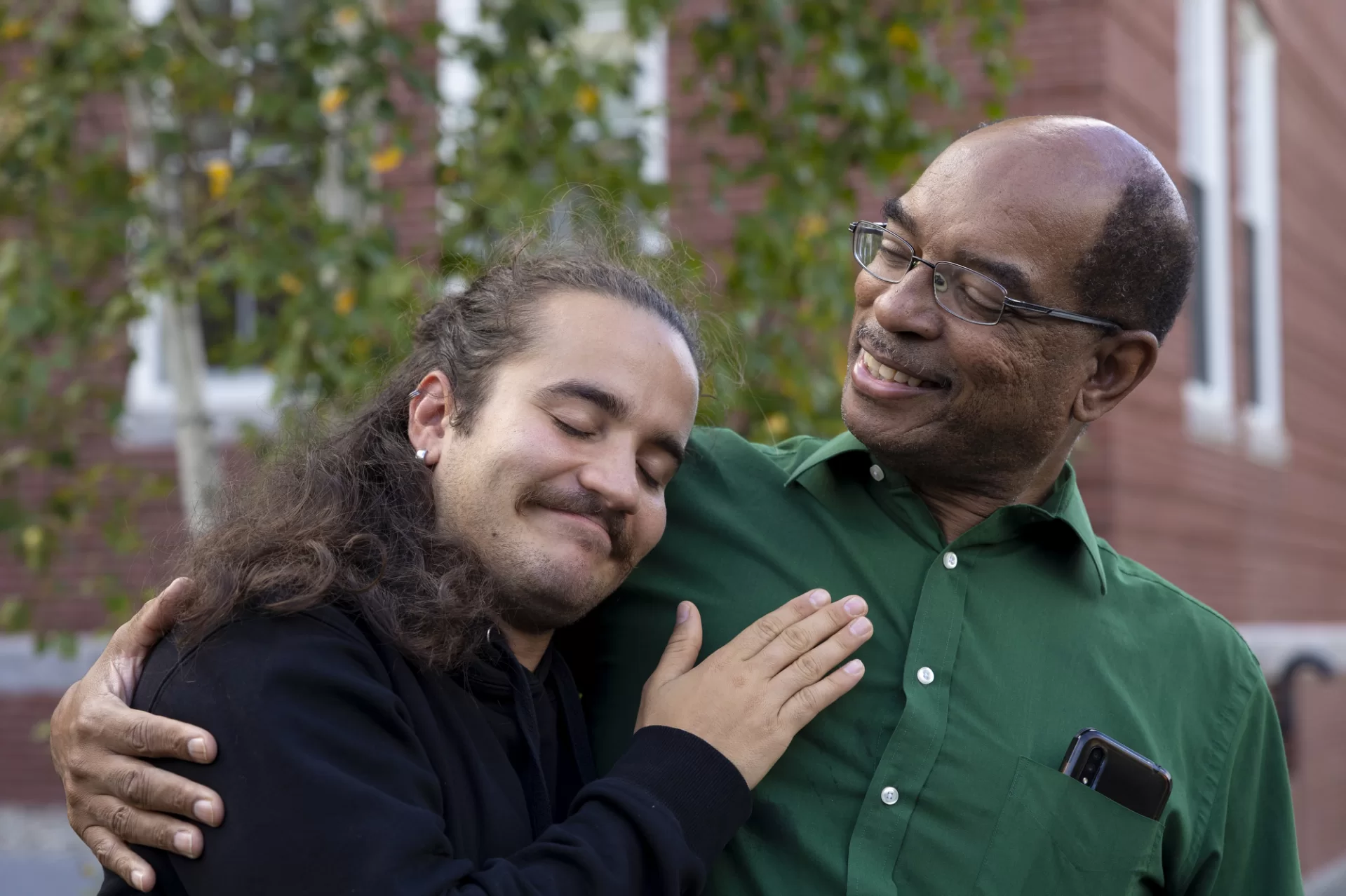 "Peace begins with us."
Miguel Angel Pacheco '24 of Caracas, Venezuela, leans in for a hug with Associate Dean for International Student Programs James Reese, during a gathering of Davis United World Scholars in celebration for this year's United World College Day.
---
Tip-Top View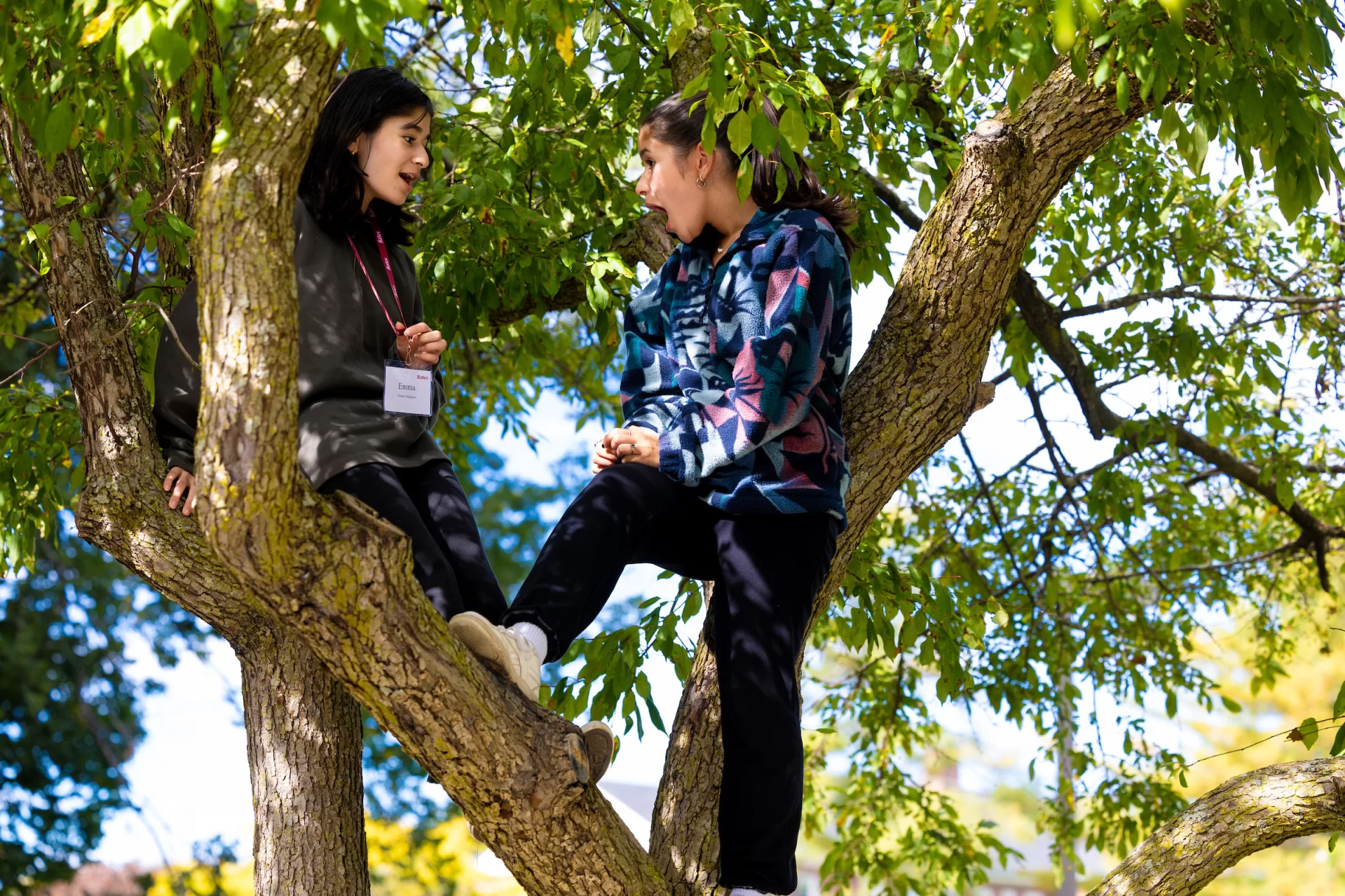 "I wanted to give her the college tree experience," said Elizabeth Nahigian '26 of Needham, Mass., explaining why she took sister Emma, 14, up a tree behind Lane Hall for an opportunity to catch up during the Back to Bates weekend. Elizabeth had climbed this very tree with Bates friends and wanted to do the same with Emma.
---
Leaping Start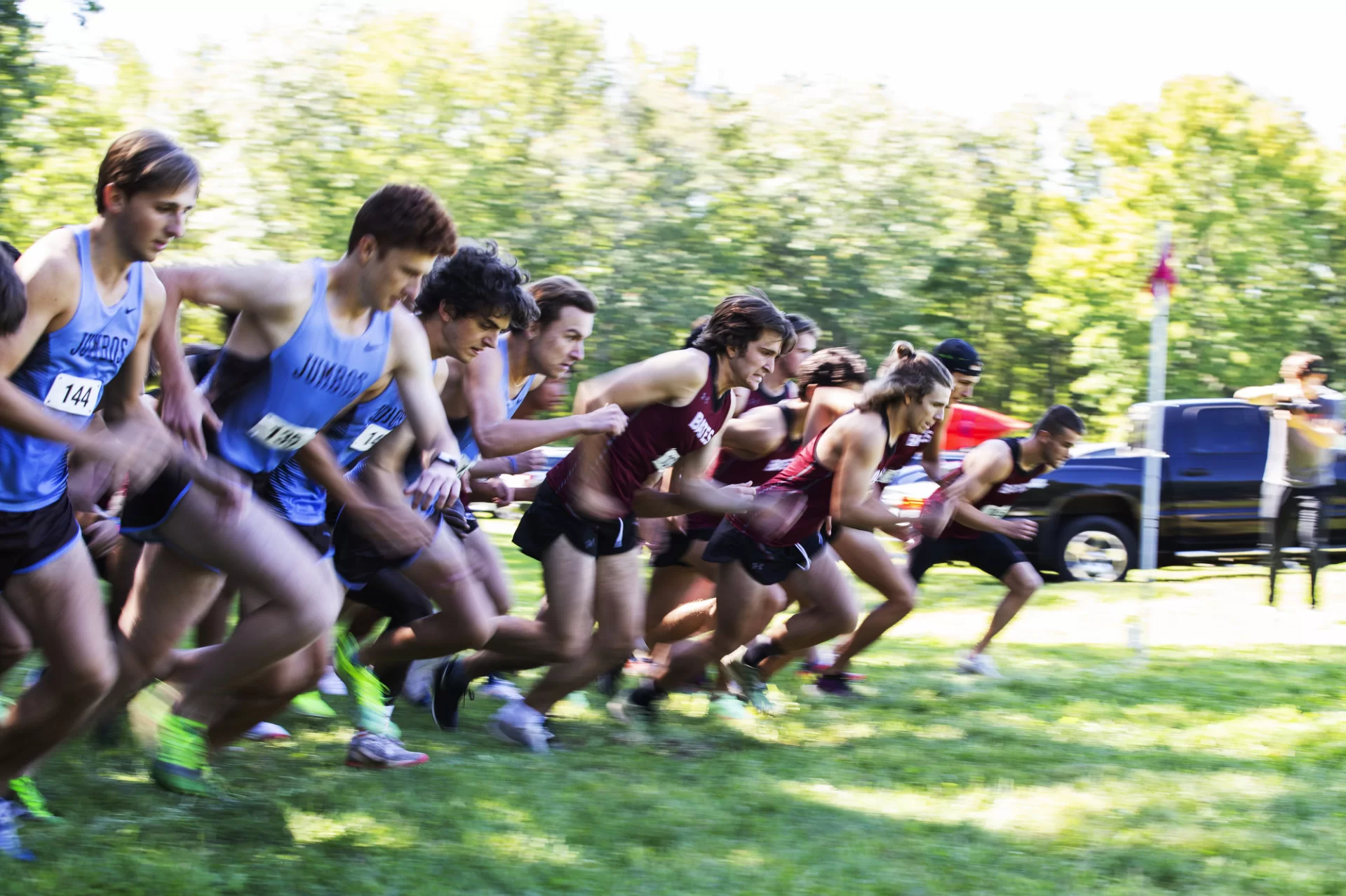 And they're off! Bates and Tufts runners take off to start the Bates Invitational meet on Sept. 17.
---
Learning Never Stops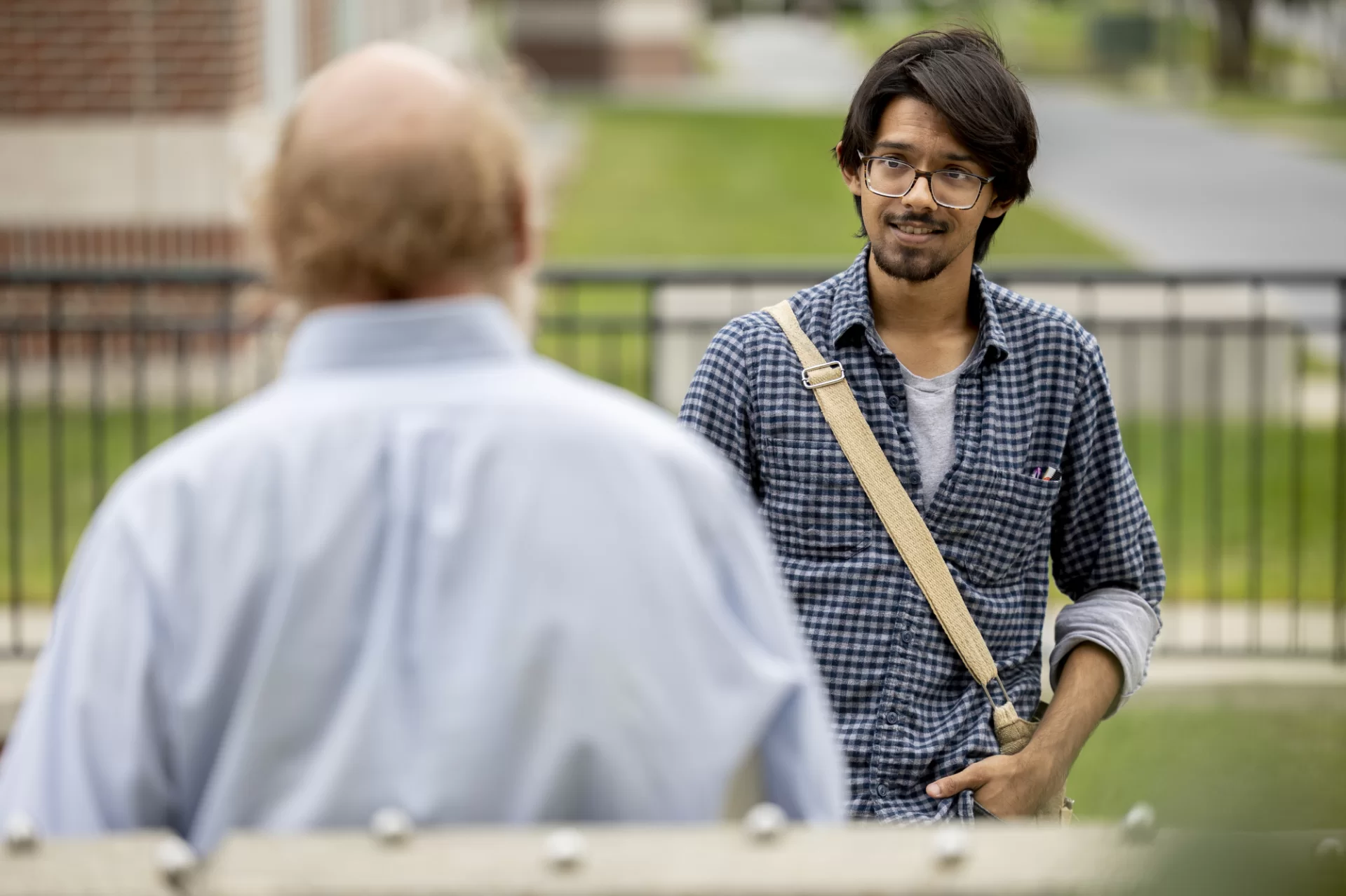 "It's the other way around. He's the teacher, and I'm learning from him," said Associate Professor of English Sanford Freedman, in response to the question "Are you his adviser?"
Freedman is the adviser for Pico Banerjee '23 of Morristown, N.J., as Banerjee pursues a yearlong honors thesis on anti-fascist thought and writing from between World War I and World War II.
---
Cote Connection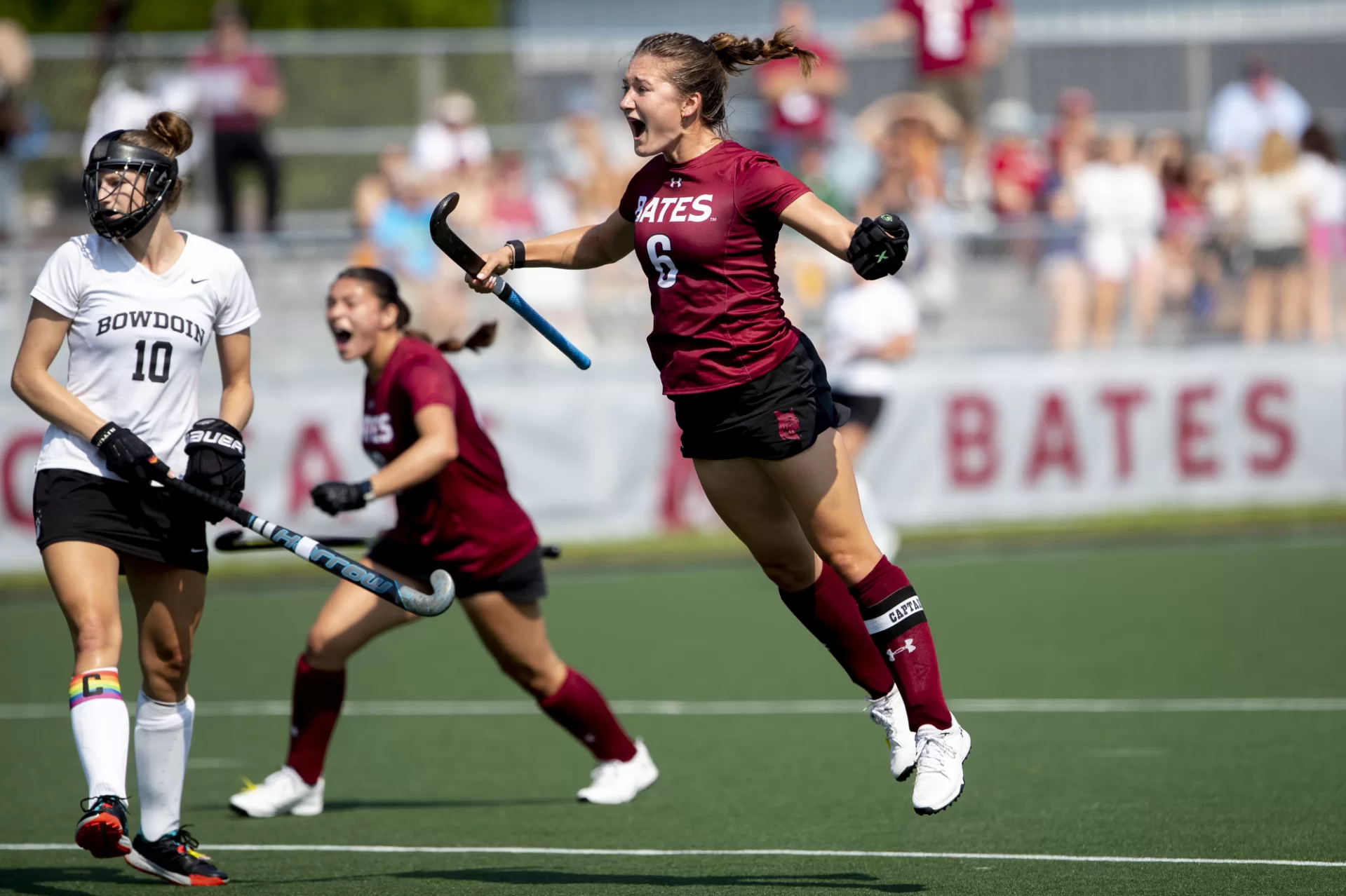 A perfectly executed penalty corner had Paige Cote '24 of Auburn, Maine, jumping for joy after seeing her shot get tipped into the net by her sister Anna Cote '25 during the Bobcats' thrilling win vs. Bowdoin on Sept. 10.
---
Nice Drip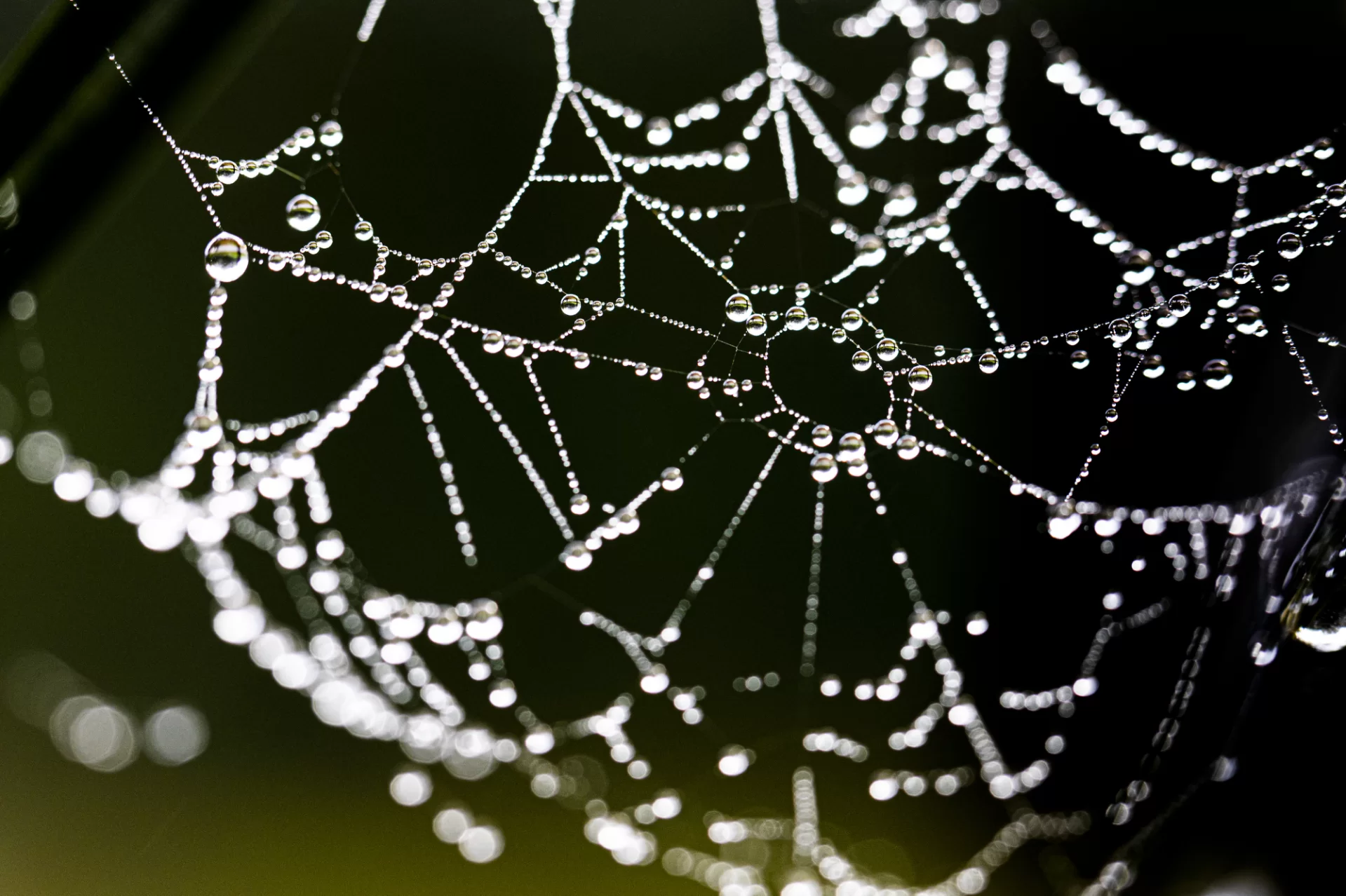 "Sometimes when you lose your way in the fog, you end up in a beautiful place! Don't be afraid of getting lost!" — Mehmet Murat Ildan
Glittering water droplets drape a spiderweb near Lake Andrews, as the morning fog lifts on the second day of classes.
---
It's a Breeze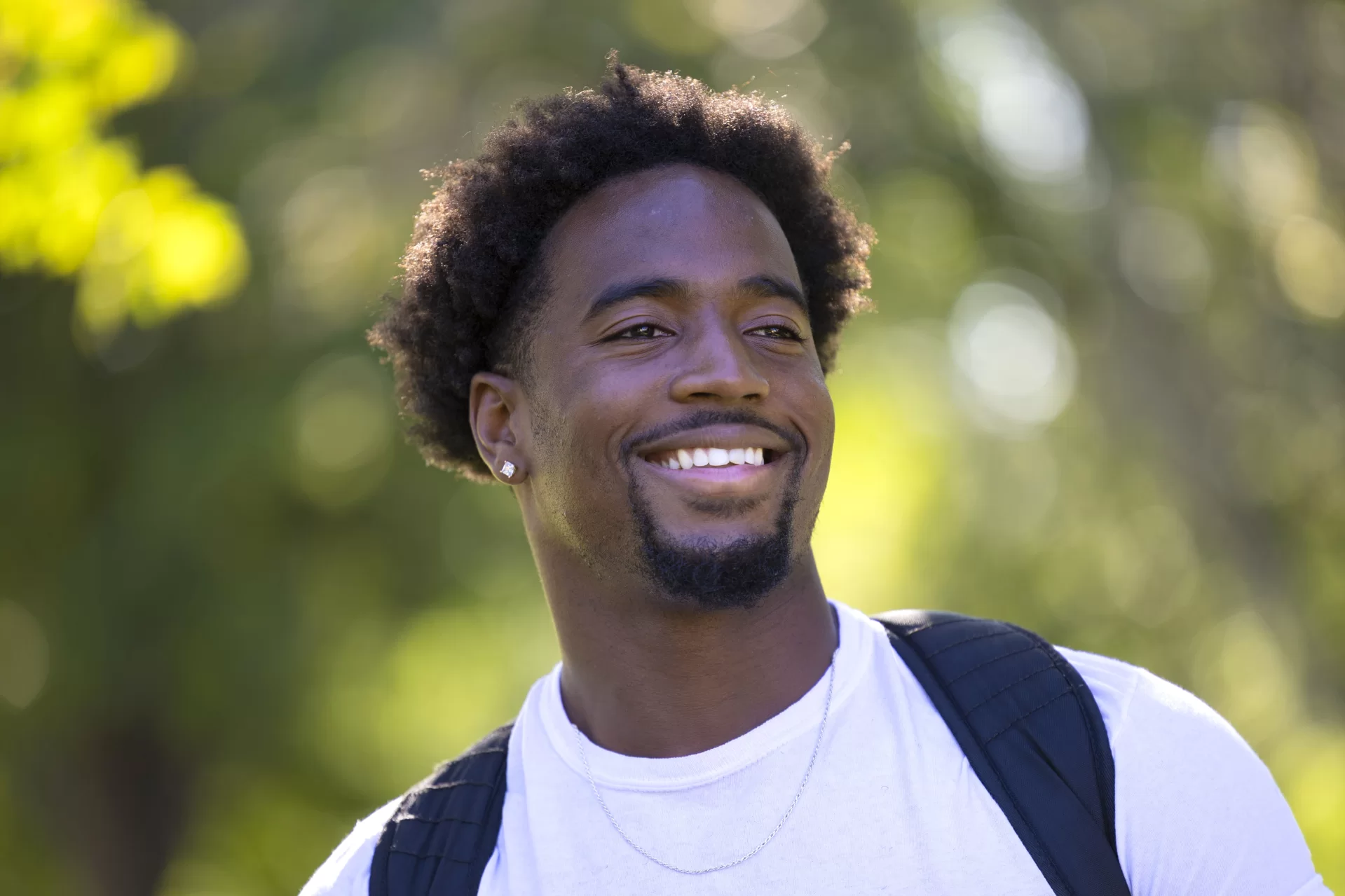 "It's amazing being on campus again," said Jamil Mouehla '25, an economics major from Harrington Park, N.J., as he breathed in the mid-September air while stopping for a photo on the Historic Quad. "The fall is probably what makes Bates so special," he said. "And the breeze. I love it."
---
Divine Vision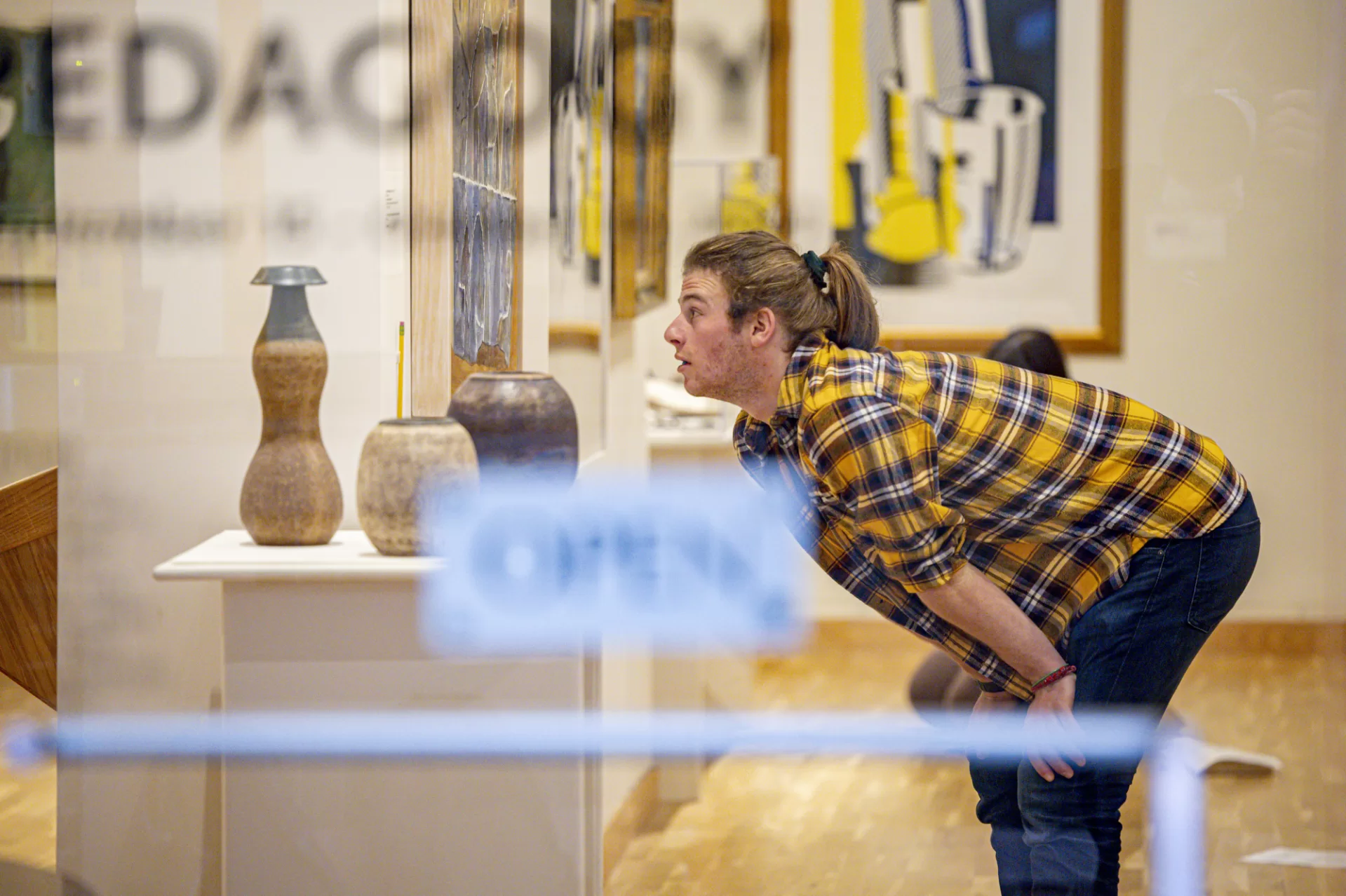 Breathe deeply, reflect wholly through "Visio Divina."
At the Bates Museum of Art, Multifaith Chaplain and Lecturer in the Humanities Brittany Longsdorf guided her students in "sacred looking" as part of Longsdorf's First-Year Seminar "Arts and Spirituality."
Visio Divina is translated as "divine seeing," and is like prayer. But instead of scripture, this form of prayer uses visual elements to help center one's mind.
---
Catch a Few Rays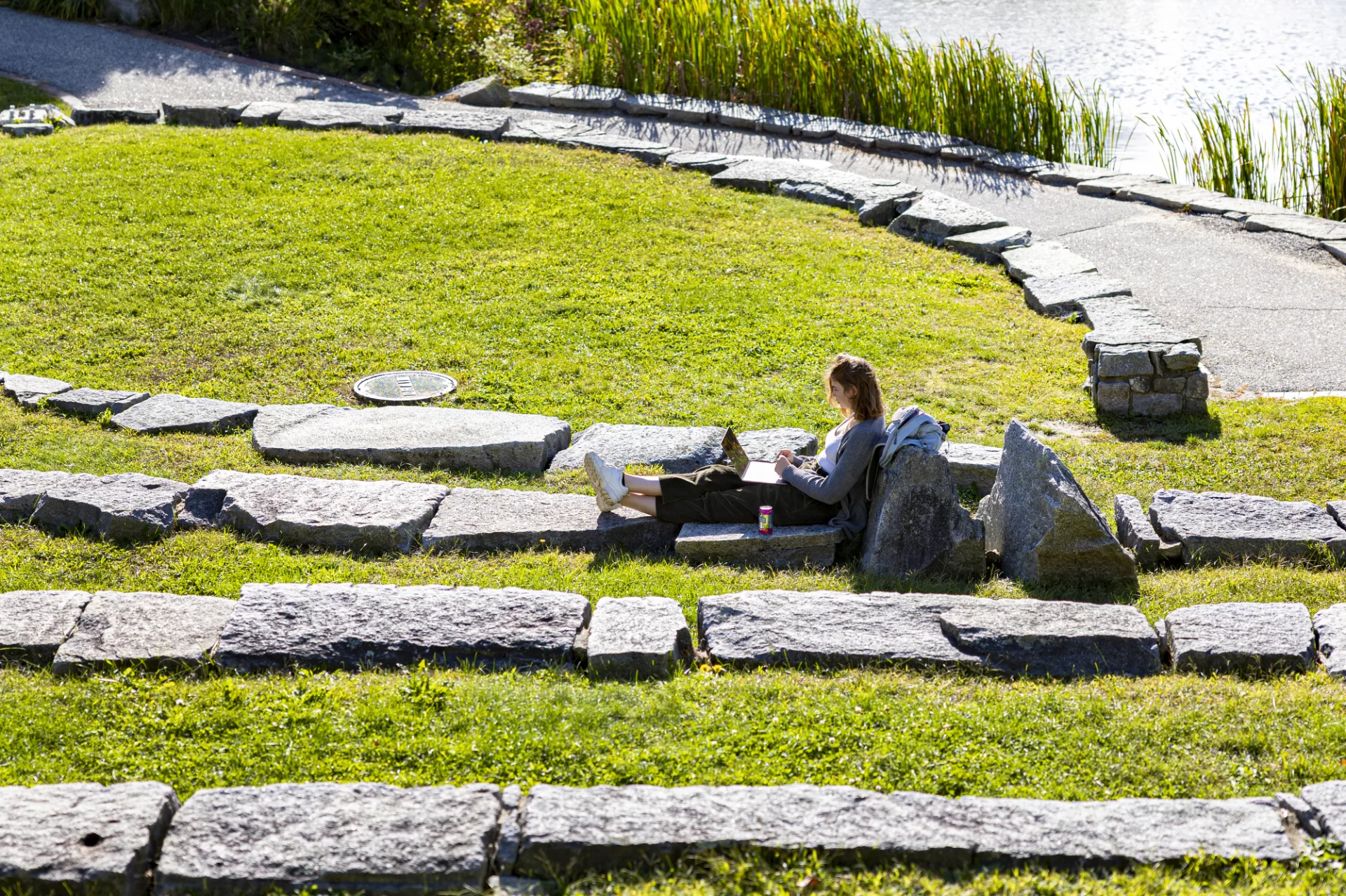 Hours before the official end of summer was heralded by the fall equinox, Sophia Cattalani '25 of Skaneateles, N.Y., chose to enjoy her summer's last hurrah by sitting in the sun at the Keigwin Amphitheater to work on an assignment for her Spanish class in "Race and Nation in the Ibero/American World" taught by Assistant Professor of Spanish Stephanie Pridgeon.
"It's probably one of the last sunny and warm days for a while," she said. She wanted to enjoy a Puddle-side study session while she still could, "before the whole thing is covered in snow."
---
Grand Opening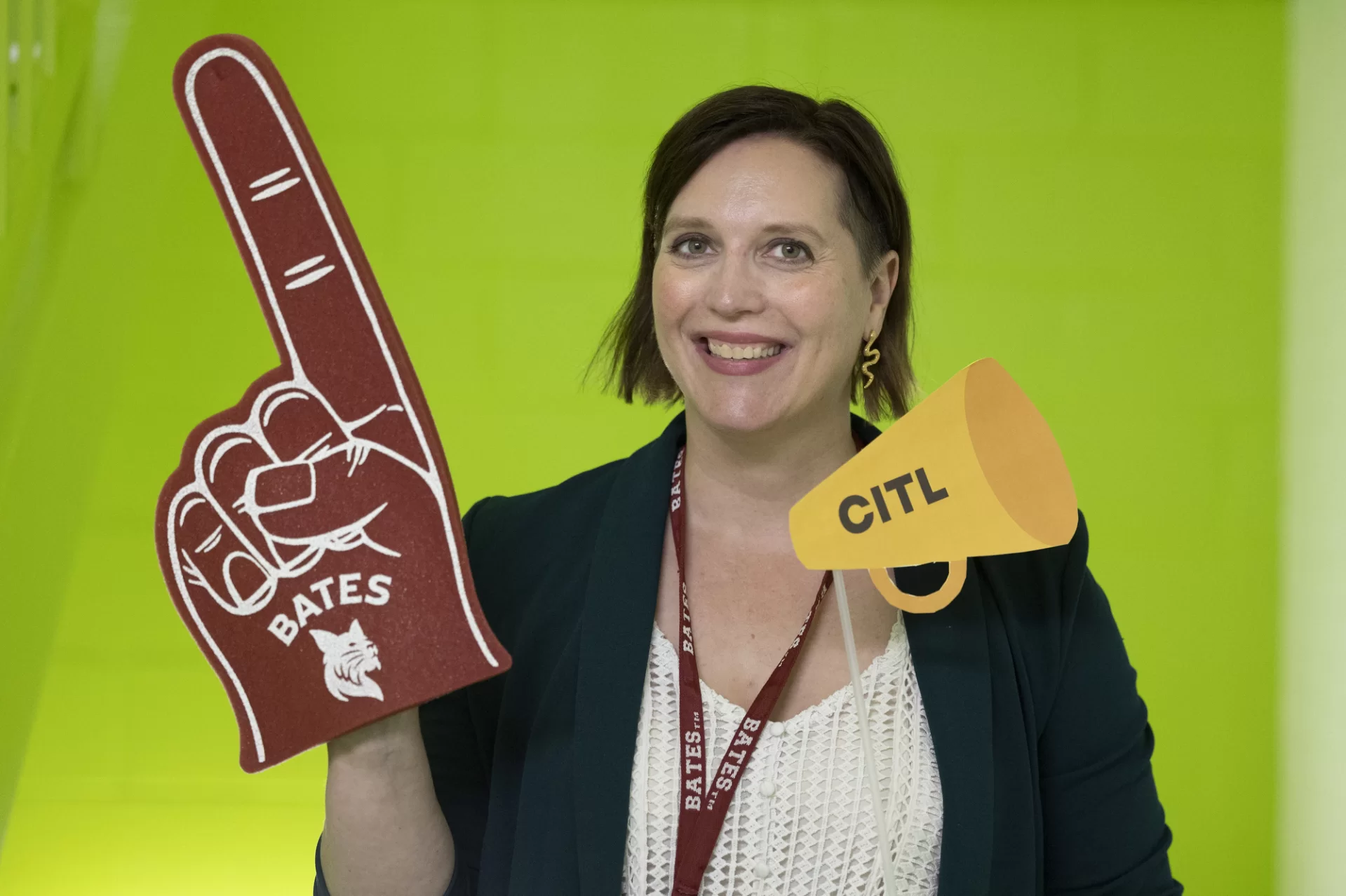 The Center for Inclusive Teaching and Learning is now open! Lindsey Hamilton '04, the inaugural Director of the Center for Inclusive Teaching and Learning, hosted an open house for the center on the second floor of Dana, the center's base of operations.
---
Say Cheese!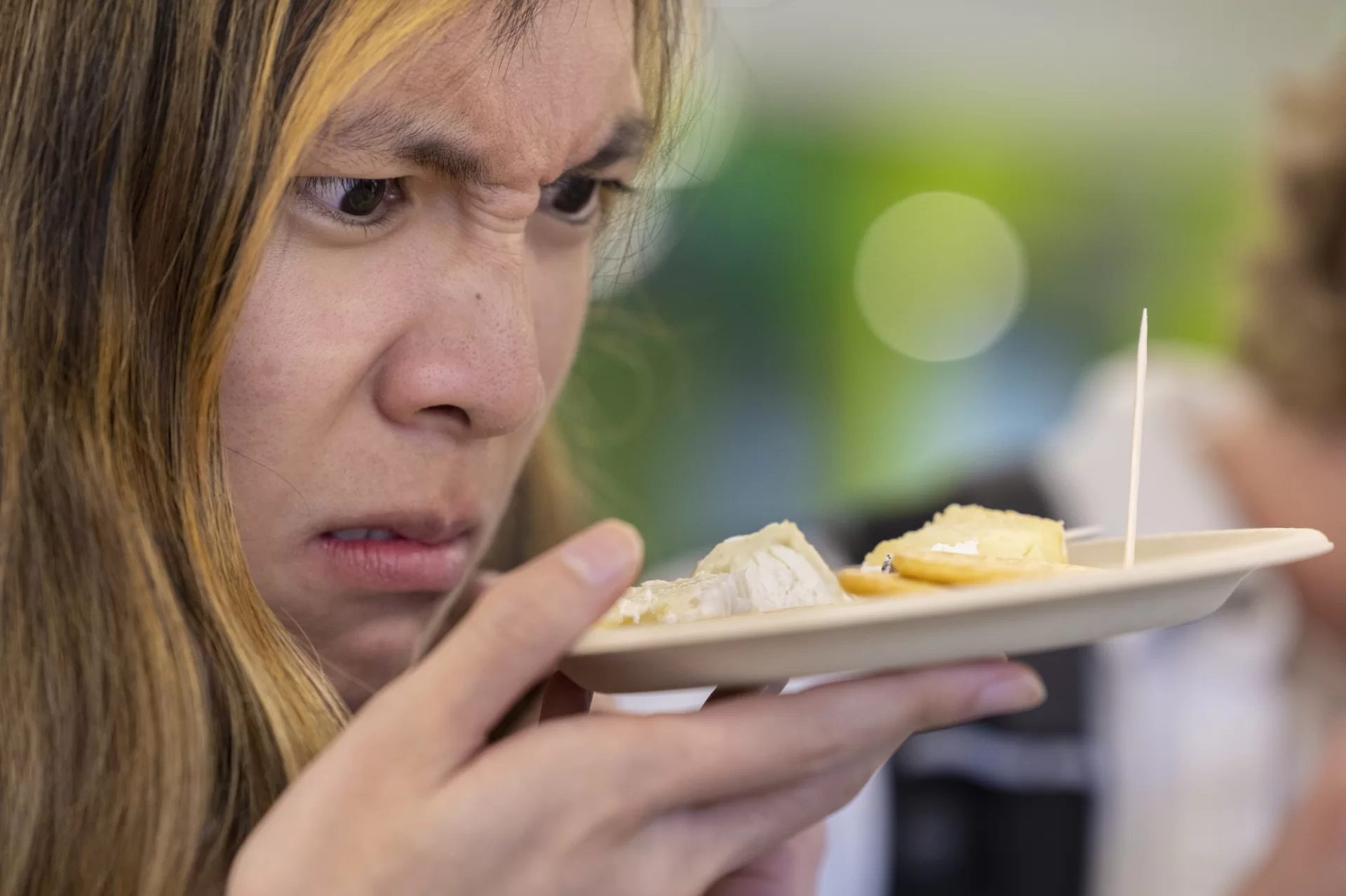 In Assistant Professor of biology Lori Banks' CURE course (Course-based Undergraduate Research Experiences), "Living in a Microbial World," things got a little cheesy as the classroom transformed into a cheese tasting room.
Bates alumni Greg Bernhardt '99 and Hannah Sessions '99 joined the class to talk about how their time at Bates led to the creation of their dairy farm, Blue Ledge Farm, in Leicester, Vt., and how the path forward can be anything but clear and conventional. Bernhardt had one piece of advice for the students-slash-budding-cheesemakers: "You have to make something you love. It's sort of like writing a paper for a professor; if you don't love it, they won't either."
Students munched on crackers and a variety of cheeses, including two created by Banks and two of her colleagues: Beth Malachowsky, a research technician in the biology department; and Assistant in Instruction Amy McDonough. Throughout the course, students will reverse-engineer the cheesemaking process, based on the two selections.
---
Raise Your Flag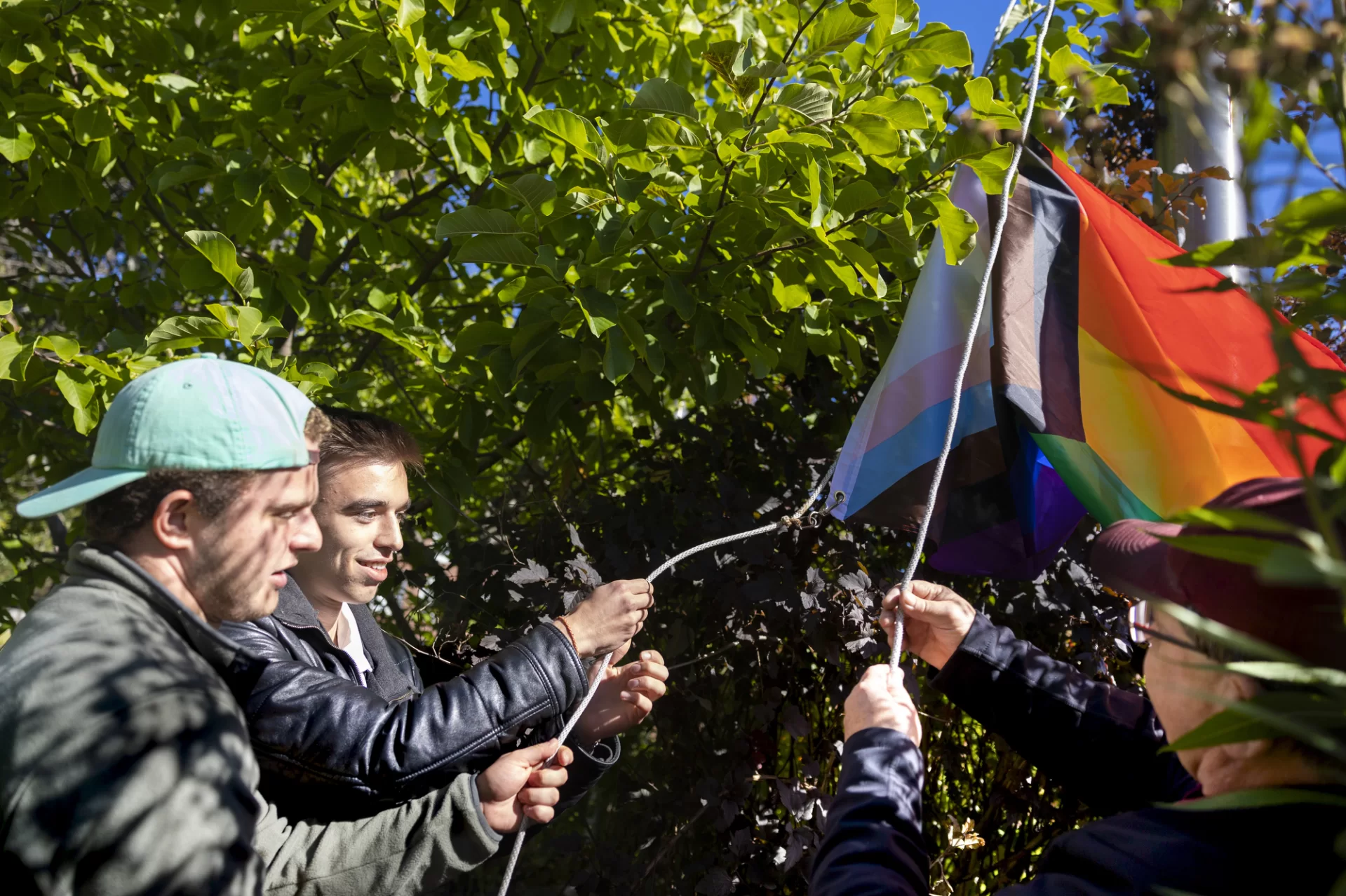 "This is finding freedom after years of hiding who I really am from my family and friends," said Ruslan Peredelskyi '25 (center) of Donetsk, Ukraine, during today's flag raising at the Garcelon Field to celebrate Coming Out Week.
He was joined by Mason Bunker '23 of New York City and Campus Safety officer Jim Miclon.
Peredekskyi and Bunker are peer mentors for the SPARQ program at Bates, a network of resources that strives to support students' positive development of gender, (a)sexuality, and (a)romantic identity.
---
(Mock) Election Season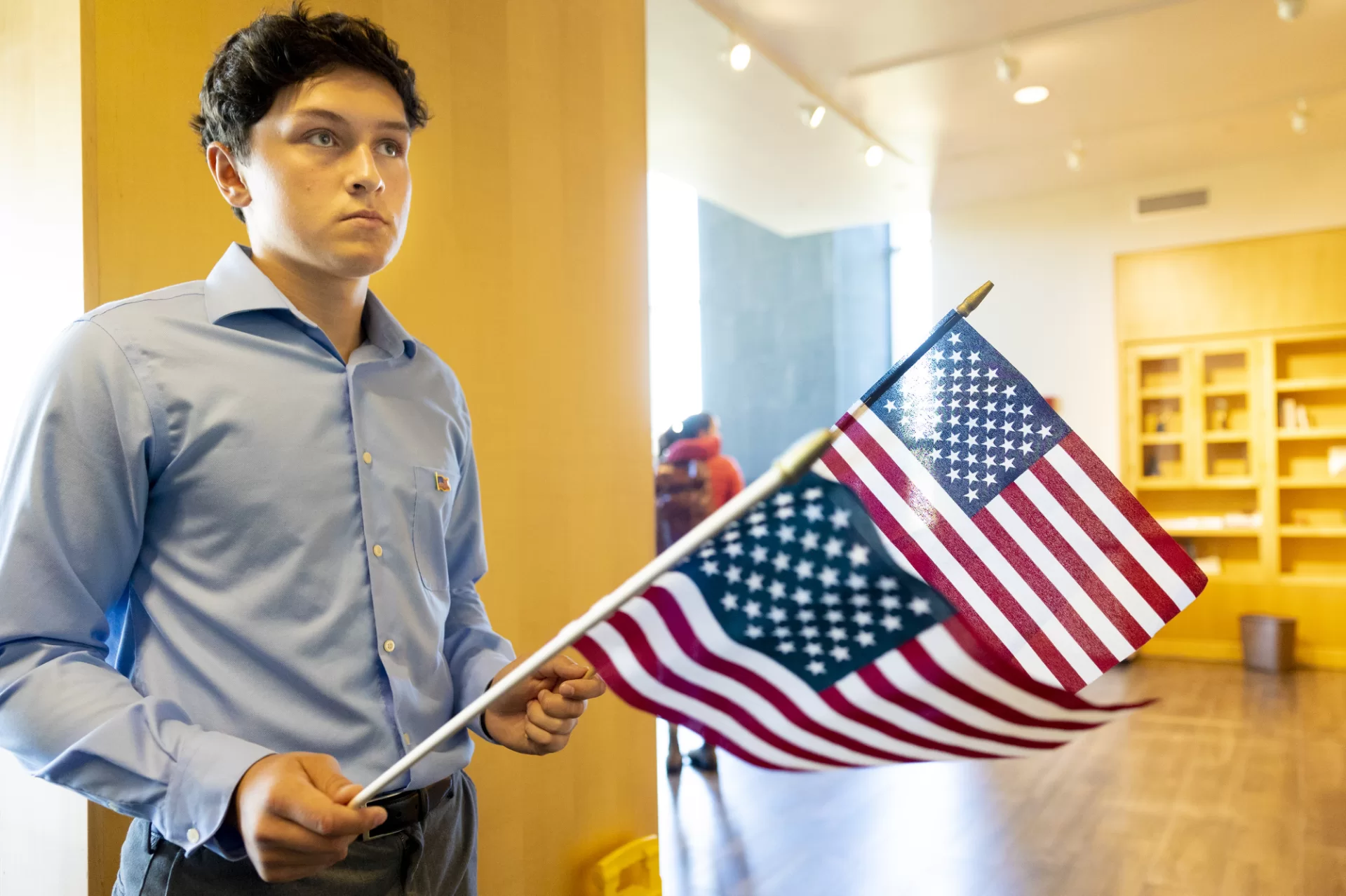 Bates students are kicking off a mock presidential election — with no party lines. The campaign is a part of "Presidential Campaign Rhetoric," a course taught by Professor of Rhetoric, Film, and Screen Studies Stephanie Kelley-Romano every few years.
This year, in an effort to highlight the actual rhetoric and increase the quality of public discourse, the two campaigns will not be affiliated with either of the two major U.S. parties (nor with any other party, whether Greens, Libertarians, or even Whigs.)
'The Most Normal'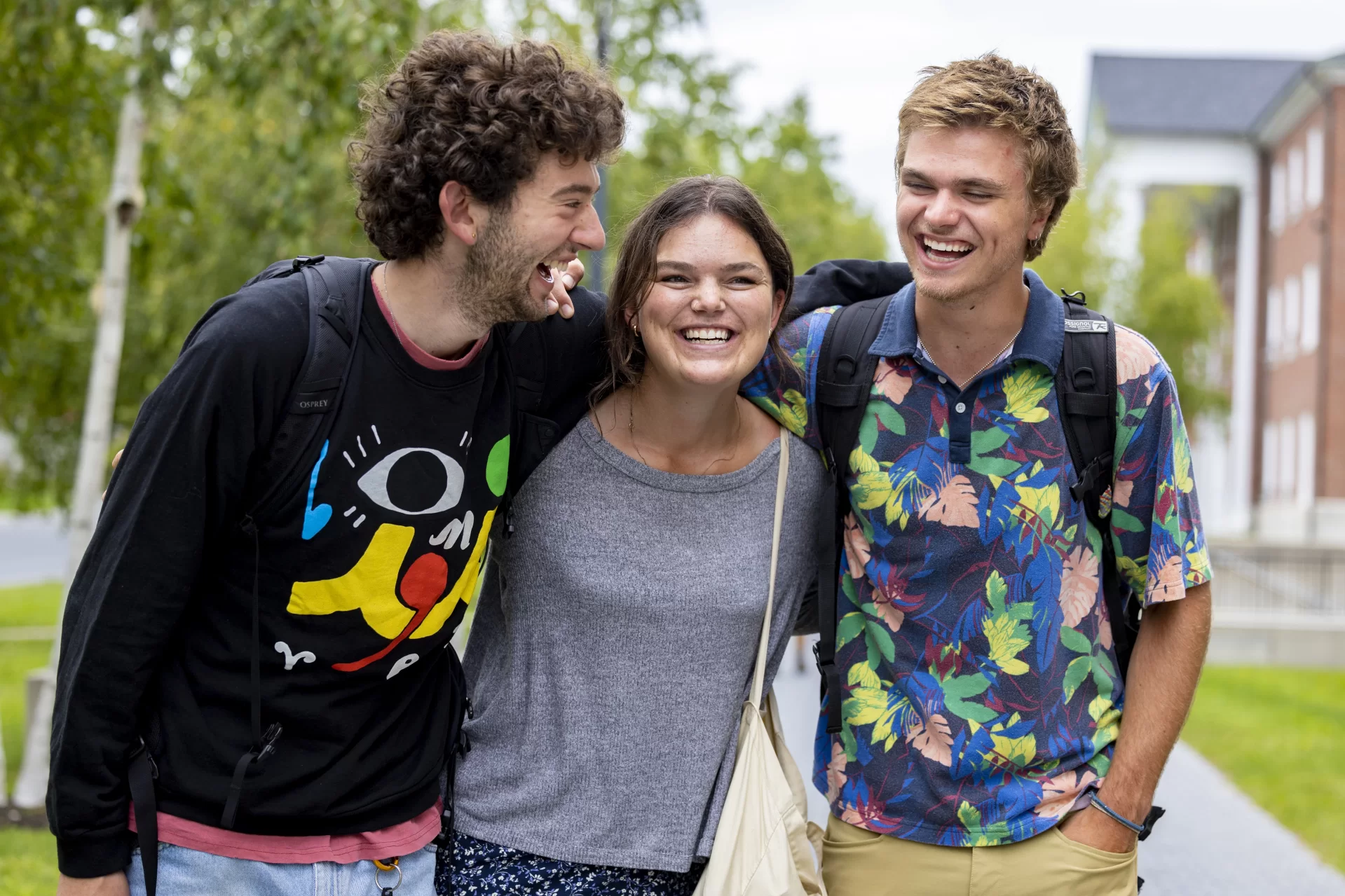 It's "back to normal" for seniors Cici Conroy, left, of Ridgefield, Conn, an environmental studies major, and Alice Blackwood '23, a double major in politics and rhetoric, after they spent the past year apart: Conroy was in Isafjordur, Iceland, studying climate change, and Blackwood was at the University of Edinburgh in Scotland.
They've been friends since their first year at Bates, but this was the first full "debrief" they've had since returning to Bates. "This is the most normal it's felt for both of us since we met!" said Blackwood said.