Thirty minutes spent staring at the same unmoving thing might seem more like a snooze-fest than a feast for the eyes, especially for a college student. But that's exactly what students spent time doing recently at the Bates College Museum of Art.
The occasion was a class session of the First-Year Seminar "Arts and Spirituality." Taught by the college's multifaith chaplain, the Rev. Brittany Longsdorf, the course guides students in both the creation and consumption of art, helping them see the connection between art and reflection through a range of spiritual practices and traditions from around the world.
Their trip to the museum was to practice visio divina, or "sacred looking," a meditative practice closely related to lectio divina, "sacred reading," which dates back thousands of years to different religious traditions, particularly Western Christianity.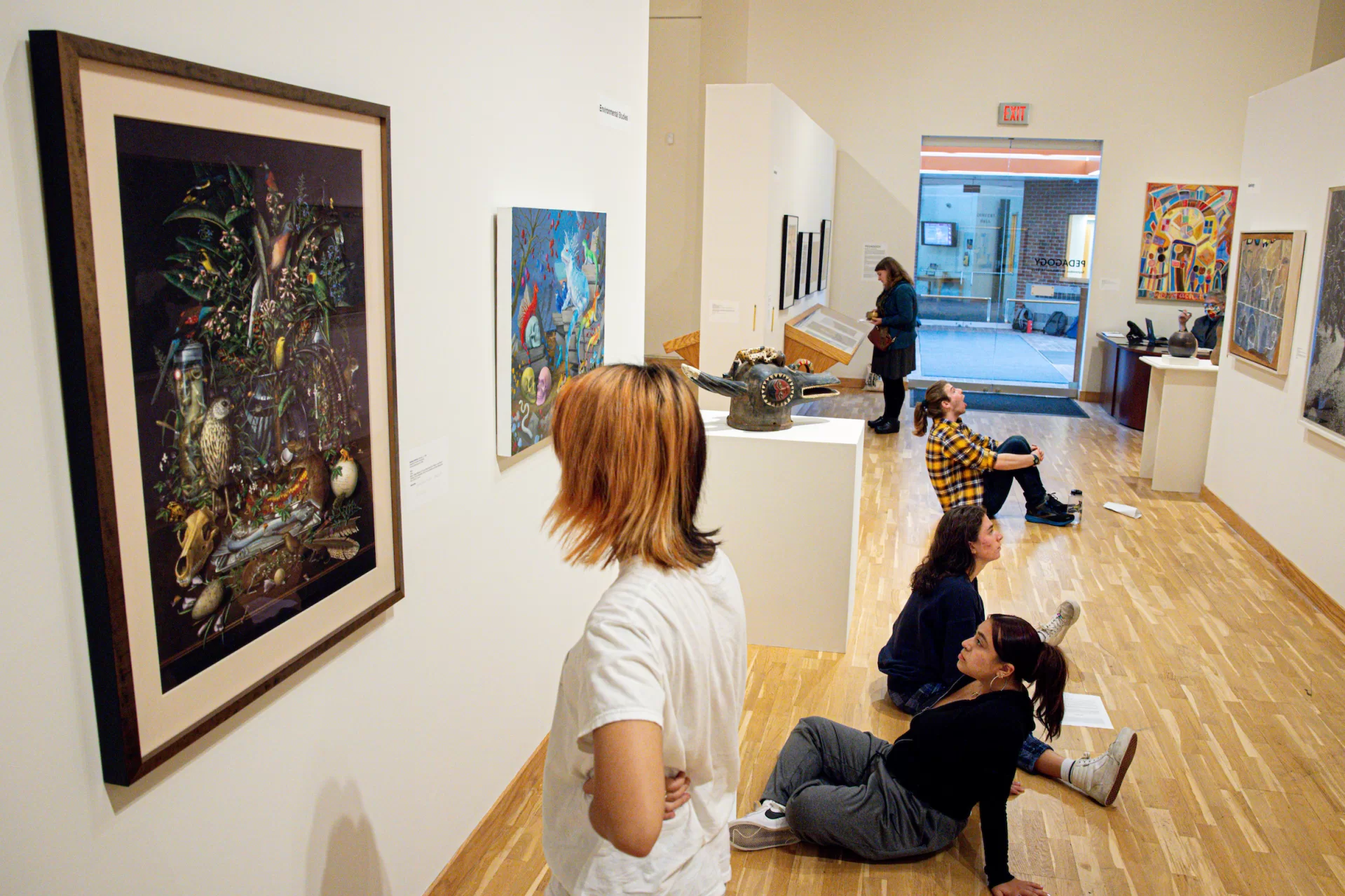 The objective is to look at something — a picture, work of art, a sculpture, anything — with the expectation of seeing sacredness in it. It reflects the belief that the divine can be found in everything, and is a way of looking at something intentionally, and "giving it that kind of presence and attention," said Longsdorf.
Longsdorf developed the course a few years ago after seeing many young adults finding sacred experiences outside institutional religion. "[They] might not be attending worship in traditional ways, but are going to concerts and art museums and are journaling and painting and dancing," she says. "They're saying that those places are where they feel wonder and awe and feel their true size — feel connected to something bigger."
The students showed mixed feelings as they anticipated the assignment, says Longsdorf. A few were into it. "They were like, 'Cool! A half-hour with a painting. This is gonna be awesome.' But some were like, 'We're doing what now?!'"
The idea of spending a half-hour looking at the same thing feels strange today, with the constantly in-motion way of life. "I think we're so used to just taking it all in, and then not questioning it and moving on," said Longsdorf.
At the museum on a September afternoon, Longsdorf gave the students two minutes to walk through the exhibit and pick something that catches their eye, that "shimmers," as she told them. That would be the piece they would practice visio divina.
Caroline McCarthy '26 of Hamden, Conn., chose to focus on a Vietnamese mask, covered with red, blue, silver, and gold paper and strings.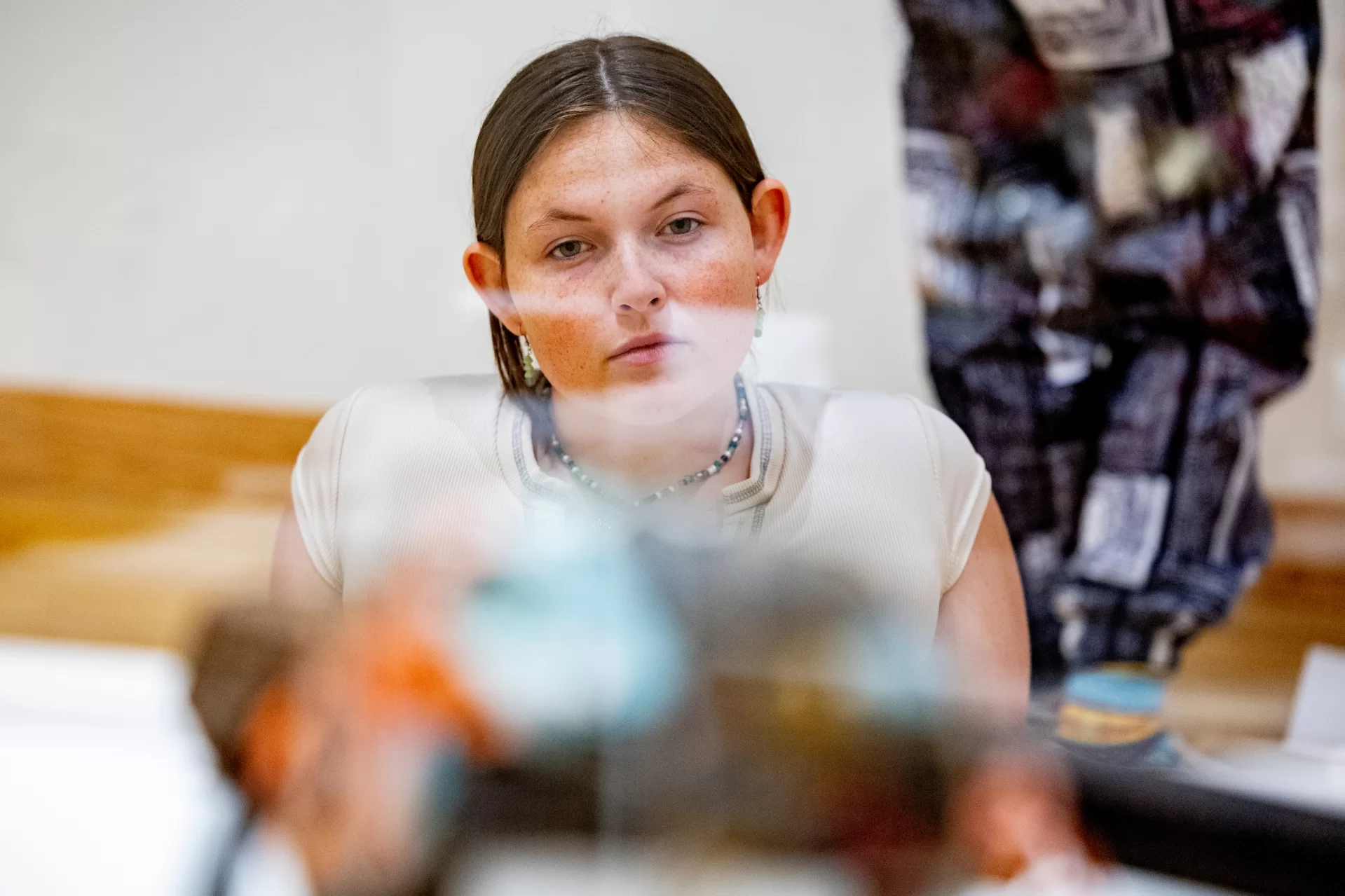 Like the others, McCarthy was skeptical whether she could focus her attention on the artwork for a length of time. But after a spell, "I almost didn't want to look away," she laughed. "It definitely changed my perspective a little bit, and alters the way I'm going to look at art going forward. I think I'm going to find a few things and sit with them."
The artwork they viewed is from the recent exhibition Pedagogy, which features myriad themes, from astronomy, to war, to the environment, all chosen for their potential to be integrated into Bates courses across academic disciplines. It was an apt exhibition to practice visio divina, said Longsdorf.
Longdorf asked her students to first focus on a single part of it, then the piece as a whole, and finally reflect on questions or meaning the piece evokes for them. She encouraged students to discern what it meant to them, what questions it made them ask, or what the art is "telling" them about what is sacred in the world.
"You see what it's inviting you to do, or to think, or to feel in the moment and pay attention to that," she said.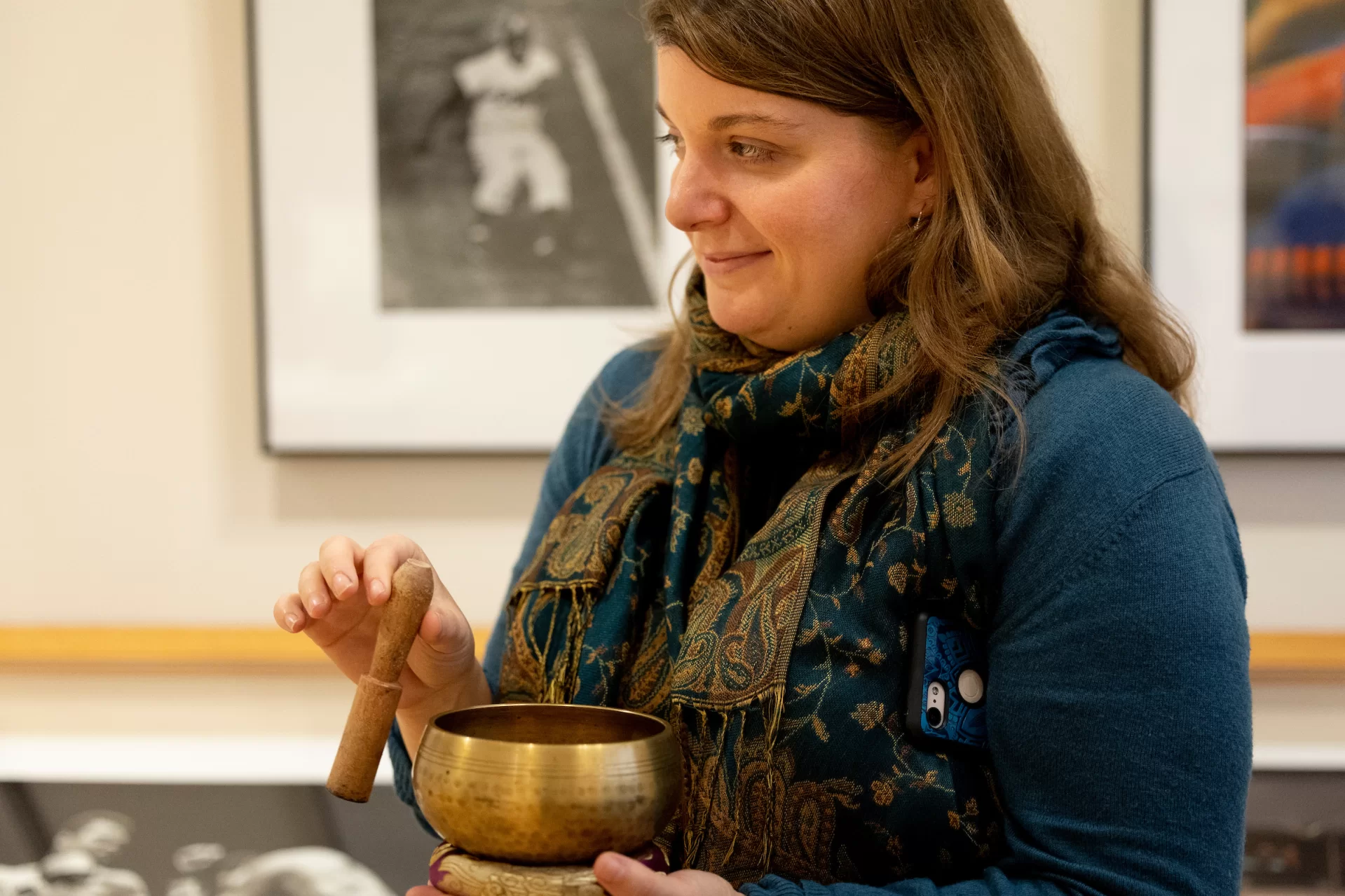 When Longsdorf first taught the course two years ago, a student told her that he'd never looked at a painting in a museum before. "I think some of us take for granted that we have access to those kinds of things," says Longsdorf. For that student's first viewing to last 30 minutes "was a really interesting and beautiful start of a relationship to art."
Students create art in the course, too, as a "spiritual practice," Longsdorf explains. In one lesson, they created clay sculptures with the classroom lights down way down low — so it was just them and their art. "They made these beautiful creations," she recalls. Before the lights were turned up, she told them to take a deep breath of gratitude — and then to smoosh their creations flat before anyone saw them.
"That made them so mad," laughs Longsdorf, but there are spiritual lessons to be learned about "process over product. No one in the room needs to know what this symbol or image was that stirred your heart except for you, and why do you feel the need to perfect it and share it? Would you have made something different if you knew you weren't going to share it?"
Our consumer society has taught us to think of art as a perfect, public product, she explains, "in a capital 'A' artist perfectionist way. But what does it look like to make art that is actually a spiritual practice, about us knowing ourselves and knowing the divine more closely through the creative process?"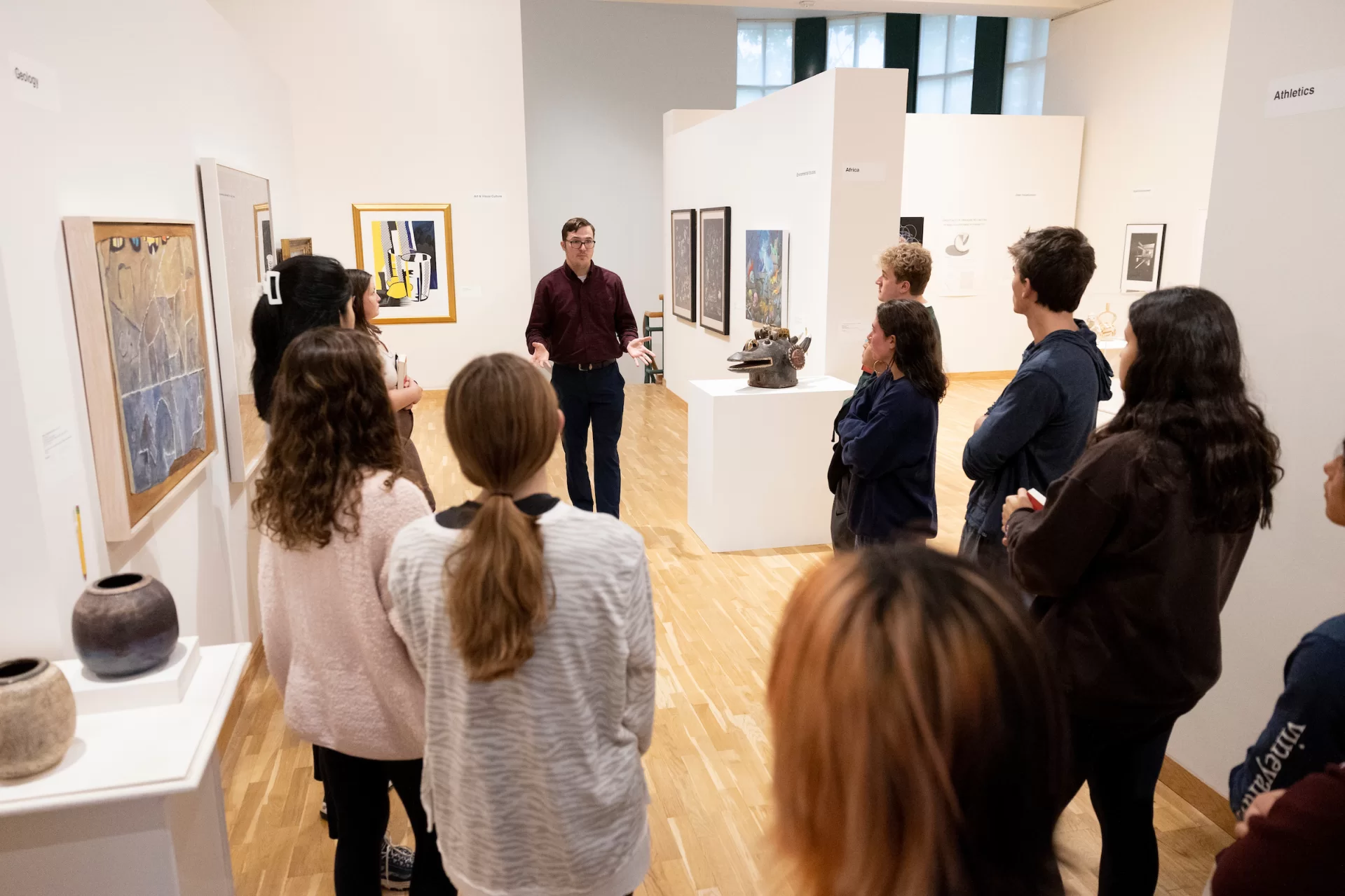 View Comments