Not surprisingly, the largest group of attendees at this week's big campus event — President-elect Garry W. Jenkins' first remarks, live and in person, on Tuesday — were students, and they began filing in just a few minutes after 4 p.m.
They quickly filled the bleachers in Alumni Gym after noshing on snacks provided by Dining Services. Heads were on a swivel, looking to spy the main attraction. Among the crowd were members of the men's basketball team, repping the team nicely in their Bobcat sweatshirts. We asked them to describe the vibe in a word. The first couple of words dribbled out, the rest came like a fast break:

"Optimism."
"Excitement."
"Support."
"Community."
"Opportunity."
And finally: "Spirit."
That mini word cloud, capturing the promise of a historic Bates moment, set the stage, or the court as it were, and a few minutes later came the first smattering of applause as Jenkins walked into the gym. Then more and more applause, and then a standing ovation, everyone fully aware that the college's next president was in the house.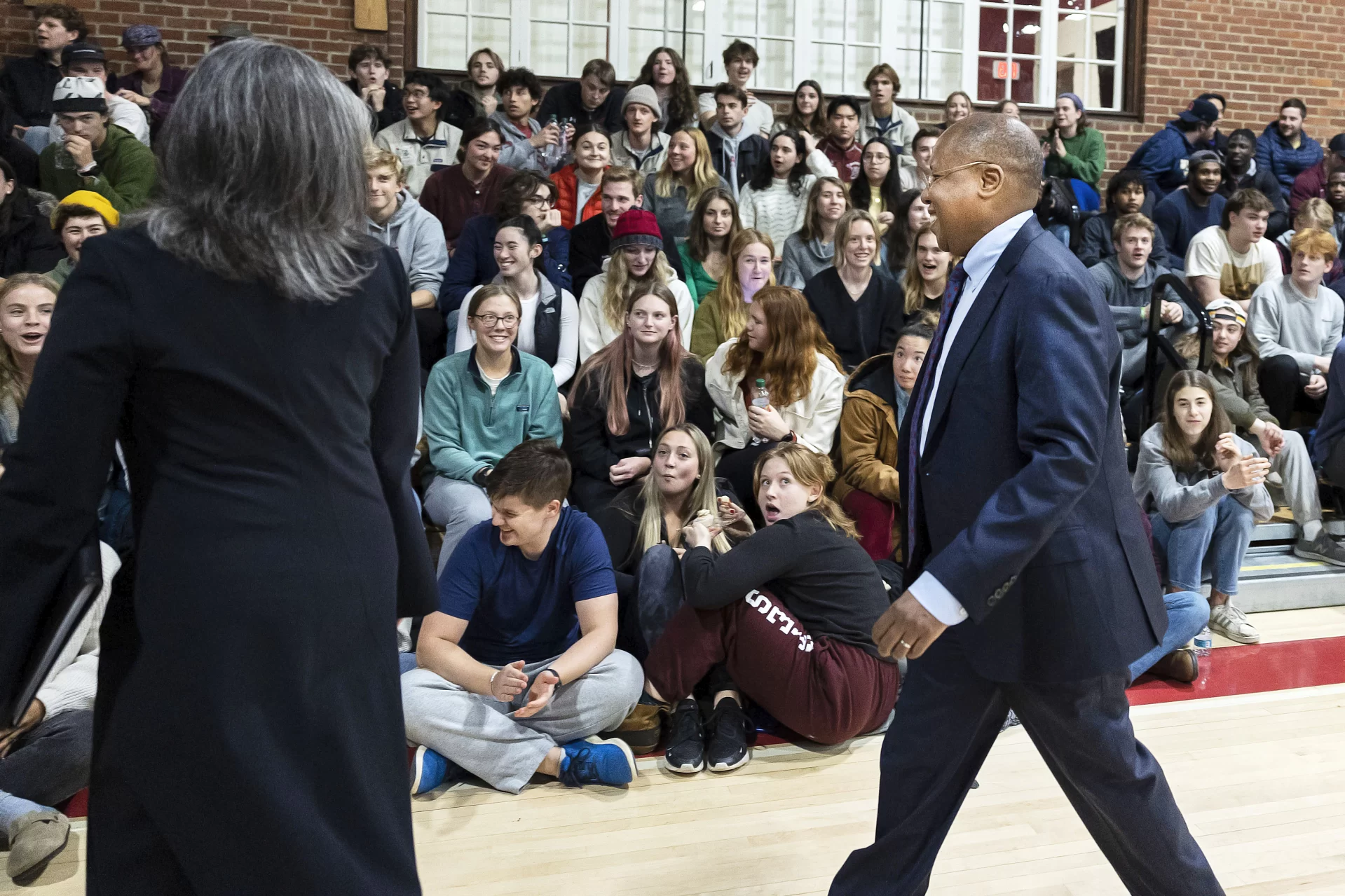 With everyone settled, the program kicked off with remarks by Bates Board of Trustees Chair John Gillespie '80 and by fellow trustee Andrea Bueschel '90, who co-chaired the Presidential Search Committee with trustee Greg Ehret '91. Their words included giving thanks to the search committee and to Spencer, who will step down as president on June 30, 2023.
Gillespie noted that while the day appropriately celebrated a coming chapter in Bates history, "it should not go unsaid that our current chapter — the one that began with a similar announcement, at a similar event, in late 2011 — has been one of stunning achievement, innovation, and growth for Bates. All under the inspired leadership of President Clayton Spencer. Clayton, you have our most profound and heartfelt thanks."
---
Watch the full video of the welcome event for Garry Jenkins on March 7.
Bueschel offered a ringing endorsement of the work of the 17-member search committee from her professional perspective as a senior vice president and chief of staff to the president at Rutgers University. "This committee worked amazingly well together over the course of five months — as well as or better than any I've ever experienced," she said.
"Every single one of our committee members did a brilliant job of representing Bates in all its many dimensions. And in the end, they reached consensus — unanimous, authentic, thrilling consensus — about who the right person was to become Bates' next president."
Then she introduced Jenkins, first summarizing his credentials.
Haverford Class of 1992, member of its Board of Managers since 2009 and vice chair since 2015.
Master's in public policy from the Harvard Kennedy School and a J.D. from Harvard Law School.
Teacher, mentor, and nationally respected legal scholar and a proven higher education leader.
Dean of the University of Minnesota Law School since 2016, "where he has distinguished himself with advances in every realm: the academic, the programmatic, the diversity, equity, and inclusion-focused, the financial, the community-engaged — and the list goes on and on."
Bueschel explained how the search committee got to know Jenkins beyond the impressive vita, and how they "quickly learned…that he just gets Bates. He sees where we are and where we have the potential to go." And somehow, she said, "he already loved this place, from our very first moments with him, having never even set foot on this campus. And that love just radiated through our every moment with him."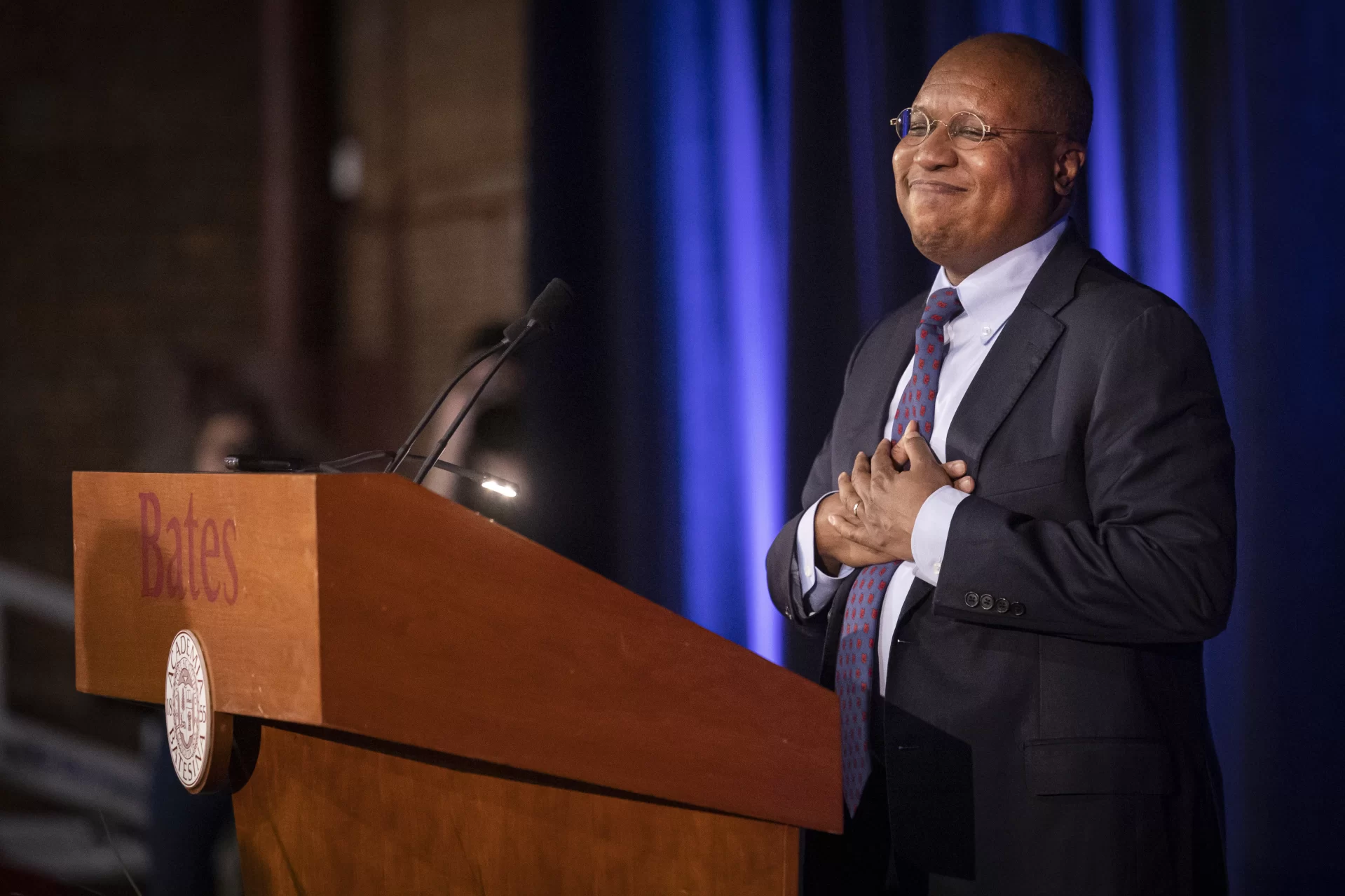 Then it was Jenkins' turn to offer his own words, giving his new community their first chance to get proximate to their new president, a man thus far known to them through the college's public announcement the week before.
In remarks lasting just over 17 minutes — closing with a well-received "It's a great day to be a Bobcat!" — Jenkins covered personal and professional ground with warmth and sincerity, scoring points with his audience, who responded with several rounds of sustained applause that reverberated through a historic Bates space that's seen its fair share of big moments since it opened 95 years ago this month.
He described becoming president as "a dream come true," paid tribute to his family and his education, and introduced his husband, Jon J. Lee, who is a law professor.
He praised President Clayton Spencer's leadership and legacy; the value of his own liberal arts education; and his admiration for Bates and the Bates graduates he has encountered as a professor at Ohio State and at Minnesota Law. And he closed with a list of "what I'm looking forward to."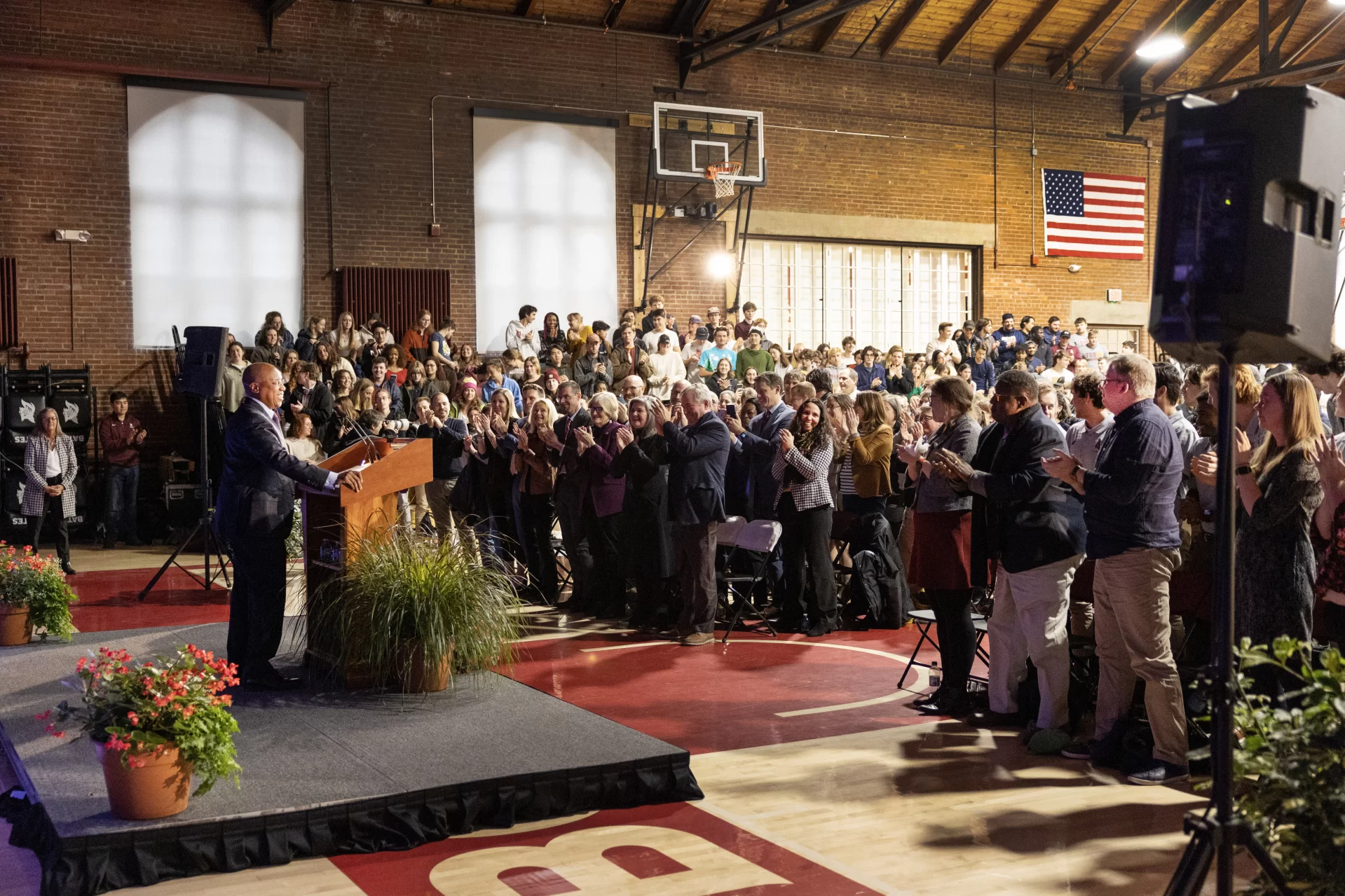 And here's more of what he said:
About his family and upbringing
I was born and raised in Northern New Jersey. My parents were both the first in their families to graduate from college. My mom became a high school teacher, and my dad was a computer programmer and part-time community college instructor. And from them I developed a strong belief in higher education and ultimately a passion for the ways that it ignites human potential.
About his liberal arts education
It shaped my life in ways that I'm not sure anything else would have had the capacity to do. The rigor; the versatility and exposure to a range of disciplines and modes of thinking; the joy of learning and discovery; the personalized attention from an astounding faculty; the emphasis on social responsibility; the relationships with staff who mentored me and helped me believe that I belonged and that my presence, my story, my leadership could make a difference; the lifelong friendships with classmates. The sense that with such a life-changing education and experience, anything is within reach.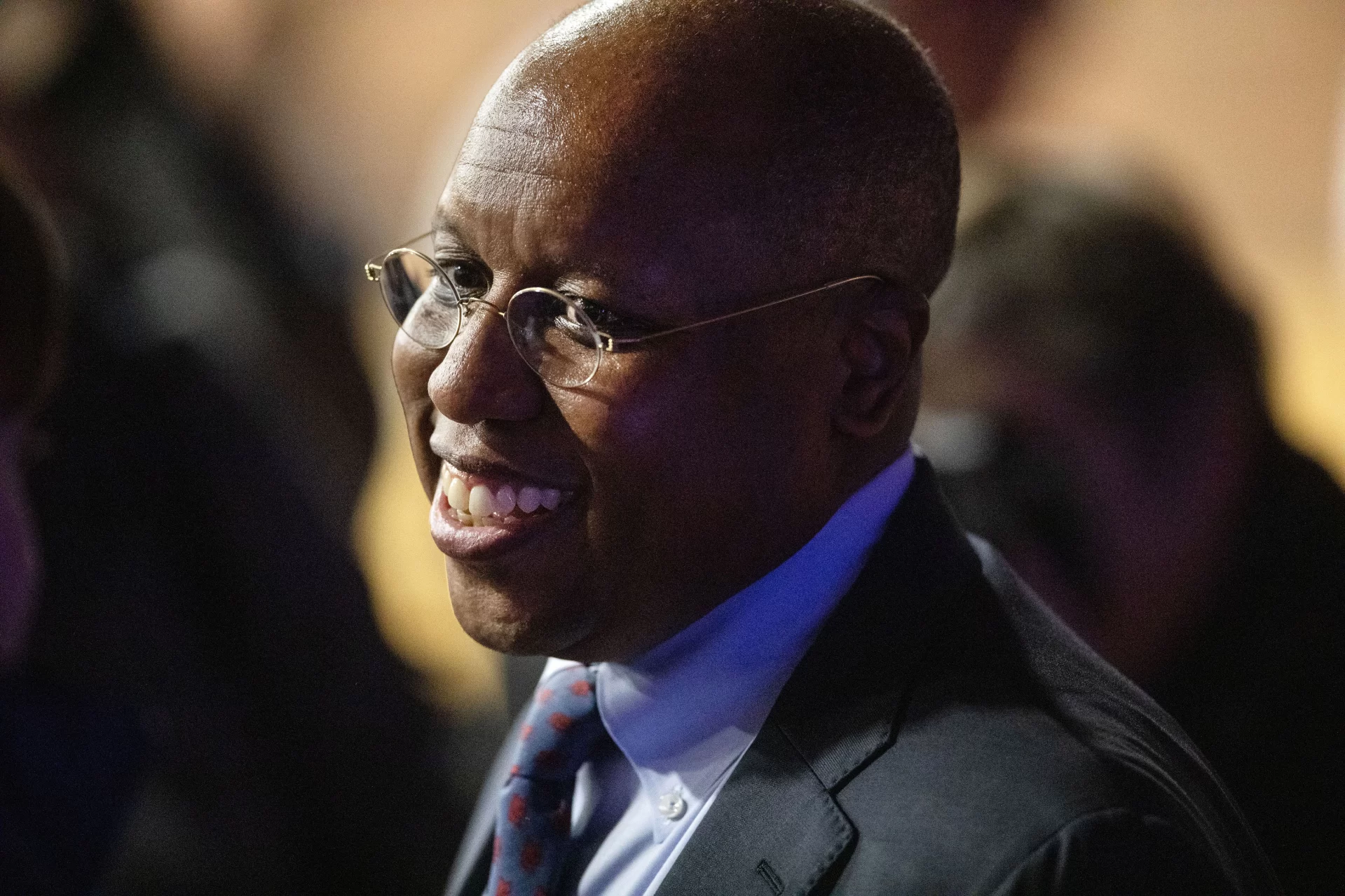 About President Spencer's leadership
I've kept an eye on liberal arts colleges and I've watched with admiration Bates' great strides under her leadership. It will be an honor and a privilege to follow her…. It's an amazing legacy.
About why he became a lawyer and a professor
Because I believe in justice, the possibility of making a difference to people, organizations, and communities, and I became an educator out of a passion for preparing students to think critically and holistically, to engage productively with diverse viewpoints, to problem solve, and to lead across sectors and professions. And those principles, they still animate my life and my work. And I think that they animate Bates, too.
About his husband, Jon J. Lee
He is a remarkably talented and dedicated teacher-scholar, he teaches law, with a focus on ethics and intellectual property. And to be honest, you all will soon come to realize that the best thing about my becoming president is that it means Jon will be part of the Bates community.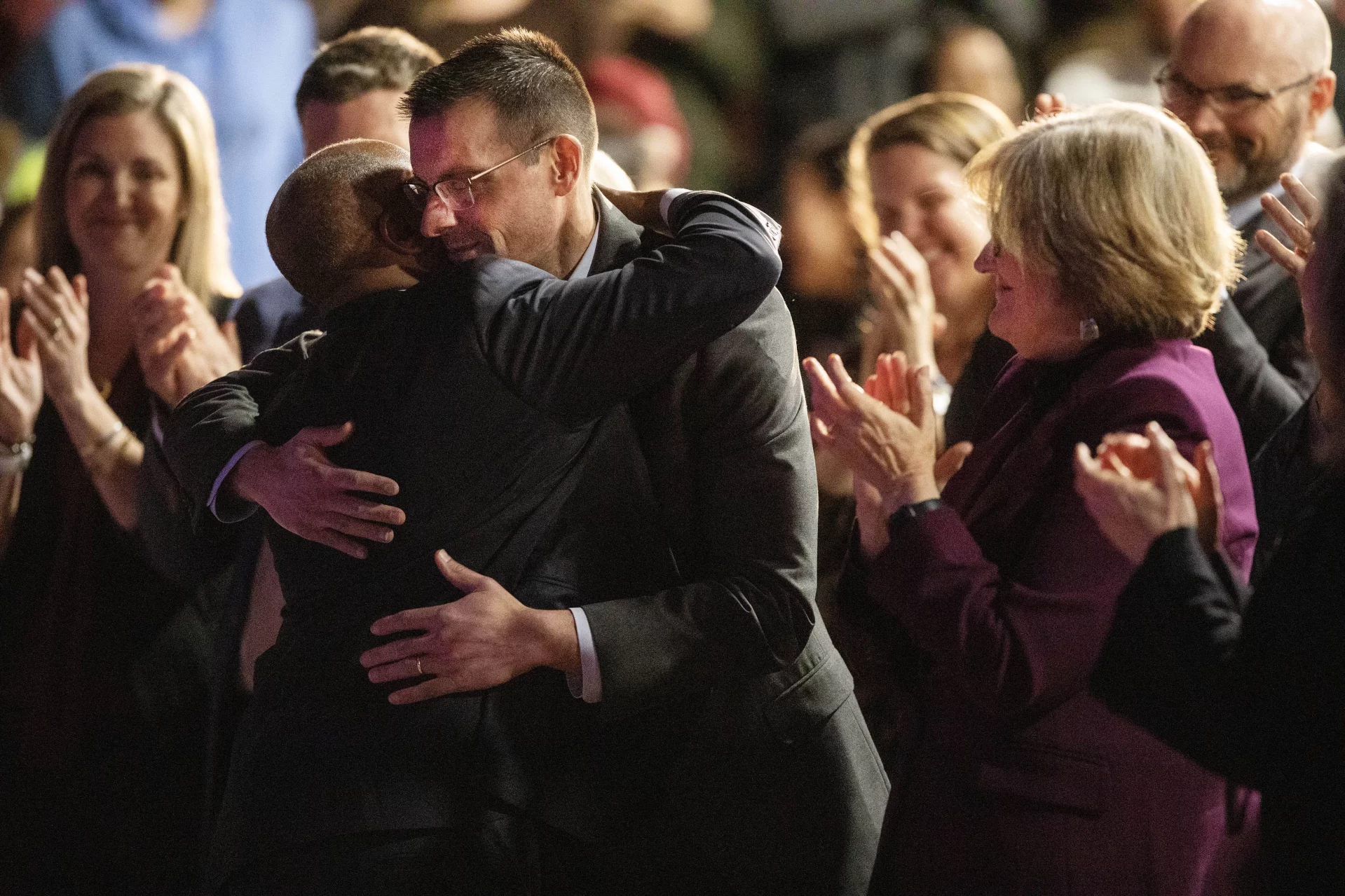 About the Bates alumni that he's taught
I see in the Bates people that I have known and taught, not just noted for their intelligence, but intelligence coupled with a capacity to think expansively, to creatively imagine new ways of solving old problems, to engage in the world with passion, humility, and empathy, and with a genuine commitment to leadership and service to better the world.
About Bates' history and ethos that drew him toward the college
Open from the beginning to all people, not just the white men who were the traditional college students at the time of Bates' founding in 1855. Accordingly, not a place just waking up to newly discover diversity, equity, and inclusion like some. Yet at the same time, of course, also not a perfect place — nor a place resting on its laurels. Rather, Bates seems to me a place that's fully aware that there's still more work to be done. In fact, plenty of work. But without struggle, without work there is no progress. And I see that work happening. It's happening here, and I want to be a part of pushing it forward — by all of us working together.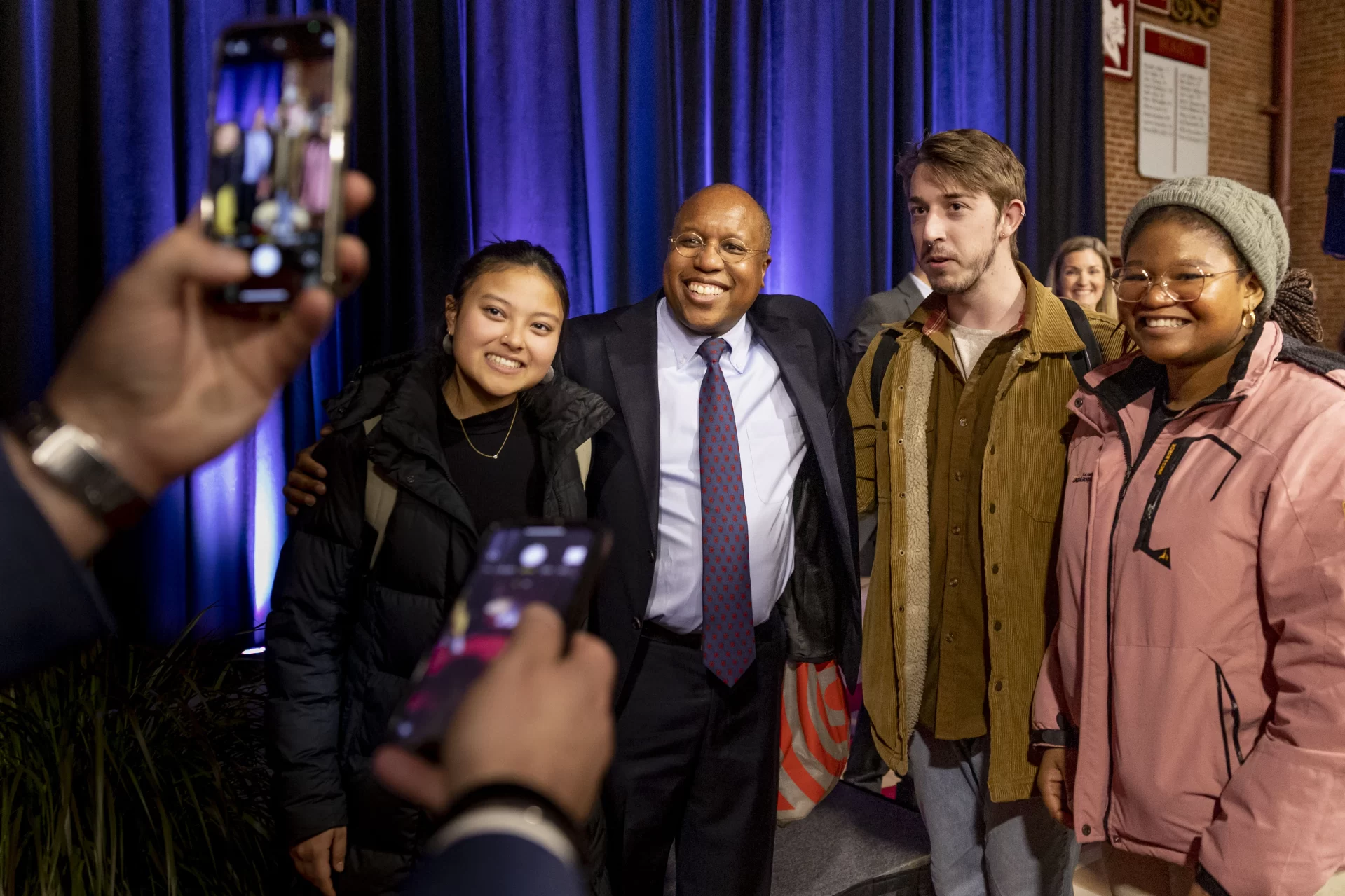 About what captivates him about Bates today:
Dedicated faculty, staff, and students with a culture that's grounded in care for one another…. The way the college's scale, its campus, and its location offer unique opportunities to learn and reflect and also to develop and foster deep and powerful relationships…. The college's capacity to contribute to the greater good…that's characterized by illuminating issues, by the way we create common ground, the way we use data to clarify and enlighten, and how we center human dignity.
And what he's looking forward to
Calling Lewiston home, and embracing the important engagement between the college and the city, with the potential to further strengthen our ties and relationship…. Speaking with students, faculty, staff, board members, alumni, friends, to develop a sense of your aspirations…. To the work that lies ahead — listening with intention and care, learning from others, and learning with you.