After more than a year of renovation that has redefined Dana Hall's role in science education at Bates, the building formally reopened with a celebration on Aug. 29.
"It is kind of spectacular, the transformation that has been accomplished over a fairly brief time — it really is brief, when you consider the scope of the work," Malcolm Hill, vice president for academic affairs and dean of the faculty, told the gathering.
That transformation rendered Dana's interior infinitely more user-friendly, replacing a dim and labyrinthine interior with bright surfaces, long sightlines, and cheerful student spaces. And the project broadened Dana's academic mission from a singular focus on chemistry to introductory chem and biology, with a side order of three active-learning classrooms suitable for any subject.
Both academically and socially, in other words, the renovated Dana is now a place for all Bates students.
"That is all due to the hard work of many, including our design and construction partners and the brilliant Bates facilities team," Hill told the Aug. 29 gathering. Like the rest of campus, Dana opened for the academic year the week of Labor Day.
Dana made his fortune in part through investing in the production of the universal joint — not a populist cannabis product.
Also speaking at the event, as well as joining Hill in a ritual ribbon-cutting, were Bates President Clayton Spencer and Geoff Swift, vice president for finance and administration and the college's treasurer.
Spencer offered a concise history of Dana, which was dedicated in 1965 and named for lead donor Charles A. Dana, who was a kind of Johnny Appleseed of campus construction at a variety of schools. (We learned later that Dana made his fortune in part through investing in the production of the universal joint — not a populist cannabis product, but an industrially vital mechanical device often seen spinning underneath box trucks.)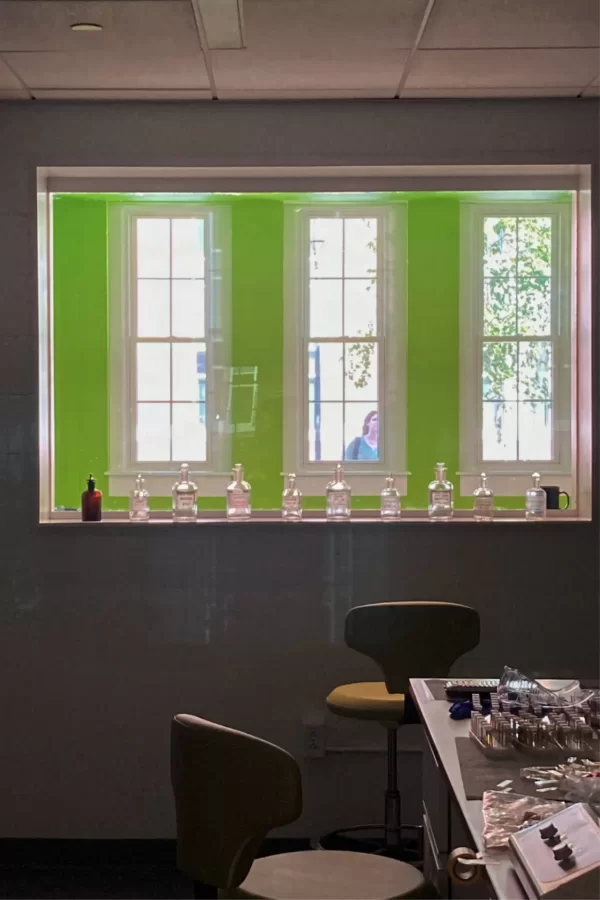 Swift, meanwhile, thanked the many parties whose efforts made the Dana renovation a reality, including Bates' capital projects staff, construction management company Consigli, the project designers of Boston architectural firm Payette, and many more.
Thirty or 40 people attended the afternoon gathering, which began at Dana's Alumni Walk entrance with a supply of Dining Services treats close by. Most of the scheduled two hours was allotted simply for folks to wander through the building.
Many who were familiar with Dana were "kind of shocked," in a good way, by the results of the makeover, says Chris Streifel, who has overseen the renovation as a senior project manager for Bates.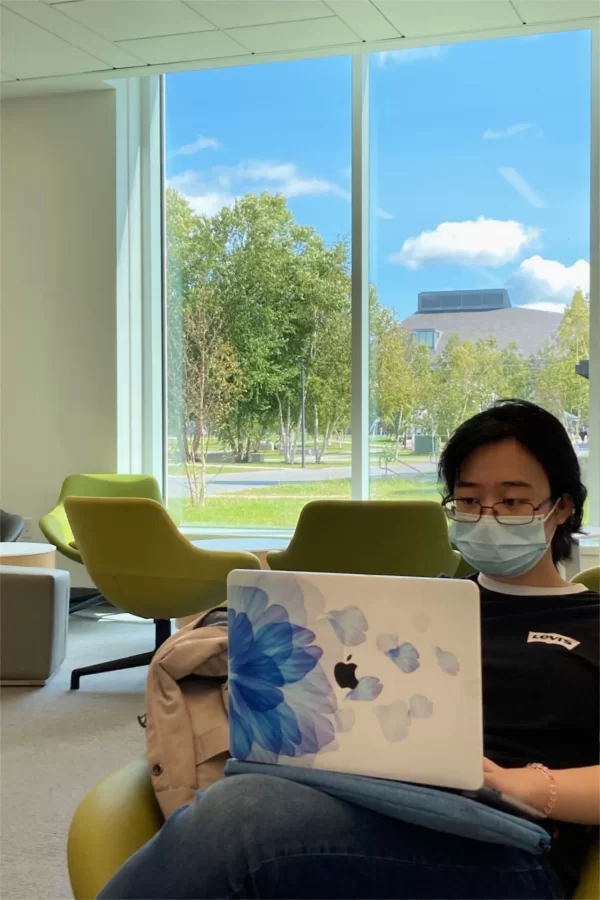 "A large number of people had never been in Dana before, too, were just impressed with what they found, not even knowing what the transformation really meant. So I think that my biggest takeaway was just the gratification of [observing] people see what I have seen, which is a much different building now, and for the better."
Indeed, there's a lot to admire in the new Dana, from banks of state-of-the art lab equipment to preserved remnants of past construction techniques to unprogrammed student spaces of a kind increasingly considered essential to student success.
Jay Burns, Bates Communications editorial director, took a moment to talk with architect Michael Hinchcliffe about the thinking behind those student spaces. Hinchcliffe, a principal at Payette, was the lead architect of the Dana project as well as the Bonney Science Center, which opened last year. (Both projects, as well as Carnegie Science Hall, are part of a strategic reconfiguration of Bates science facilities.)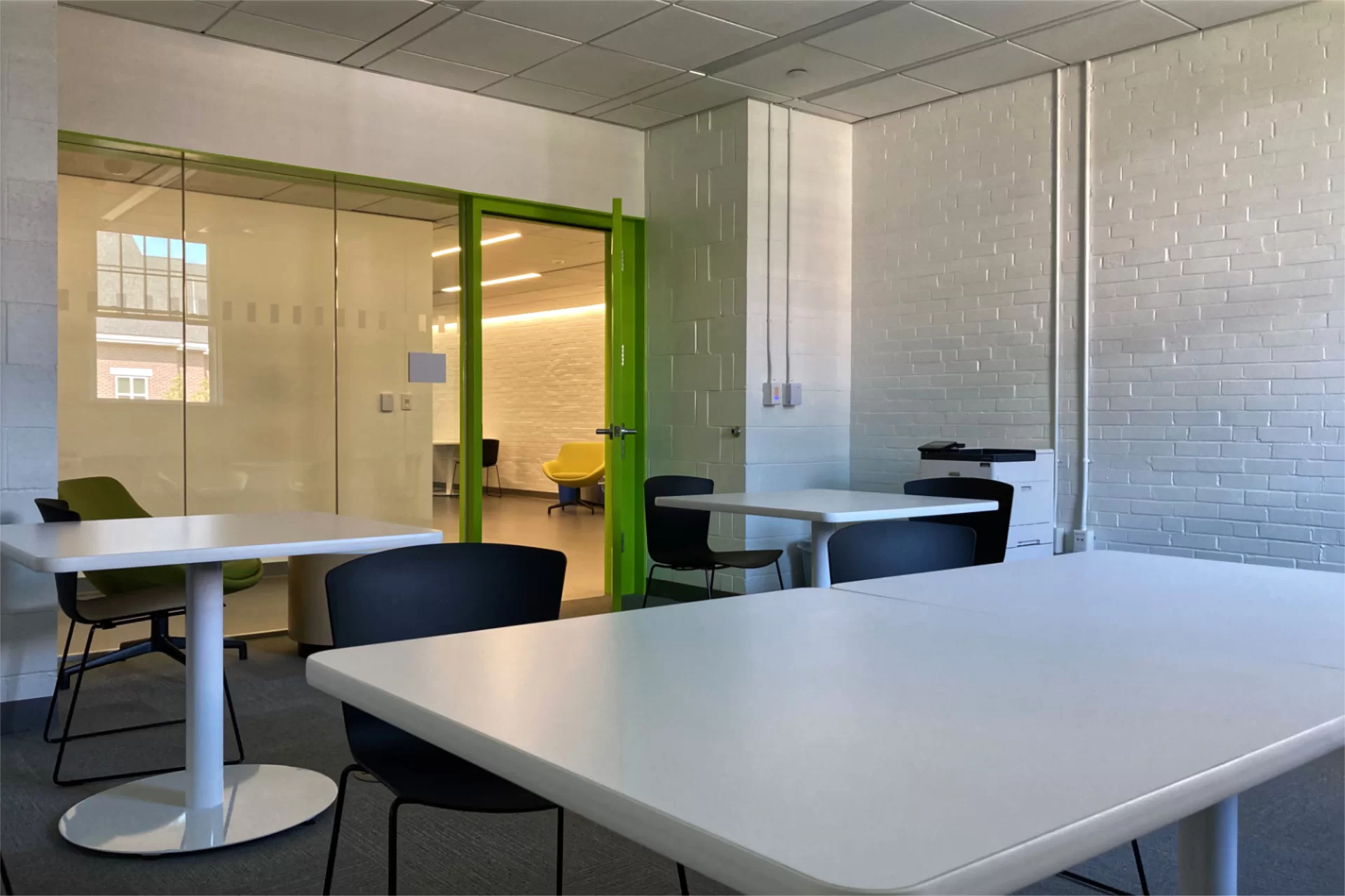 Hinchcliffe pointed to a significant difference in emphasis between Dana and Bonney. The latter, he explained, was designed in large part to create "advanced scientific environments in an undergraduate setting." But the new Dana — originally Dana Chemistry Hall — was reinvented largely to appeal to a broad swath of users and to take advantage of its central location on Alumni Walk.
Central to that objective are features such as glass-walled study rooms, furniture casually sited along public ways, and an inviting "living room" with fab views of Alumni Walk. (But note that this point of contrast between Dana and Bonney isn't absolute. Bonney's two-story, glass-walled Beacon lounge is also meant to draw users from across campus.)
Consultations with the campus community during the design phase revealed that Bates students, like their peers elsewhere, seek out seemingly random seating for myriad purposes — for solitude, for a quiet conversation, for a perch to munch a power bar between commitments.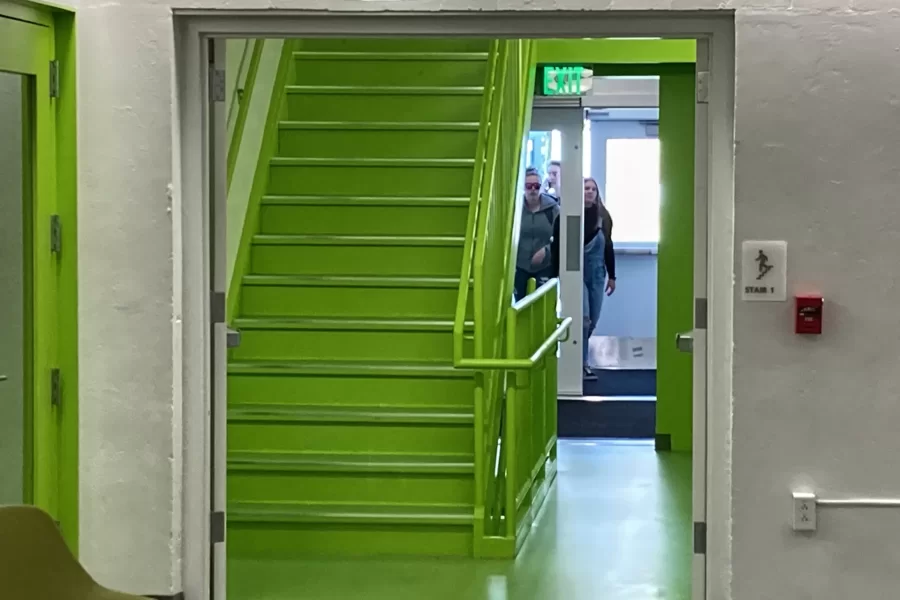 "That was in the back of our minds for spaces like this," Hinchcliffe said. "Most campus buildings from the '50s [onward] even into the '80s were over-programmed. Everything was super efficient. They didn't have this little bit of extra space for students.
"Buildings like Dana and Bonney can offer a type of 'third space.' So if you're working on a problem set or on a project with some peers, you can come to a place like this and work in a way that's different from someone's dorm room or a classroom. It's a little bit more public" — which can afford a sense of security when people don't know each other well — "yet it still provides a focus, and quiet, and resources like whiteboards and monitors."
Such places can nurture a sense of belonging, Hinchcliffe continued. According to "a fair amount of literature on modeled behavior and territoriality, students tend to find a place their freshman or their sophomore year that they feel comfortable in. And they'll tend to go back there, and they also tend to create communities of 'Oh, yeah, I always see someone else studying there, so it's okay for me to study there."
Are we there yet? Oftentimes, says Streifel, there's a comfortable interval between the actual end of construction on a major project and its ceremonial conclusion. So in terms of readiness and presentability, "the shine is already on the apple at that point."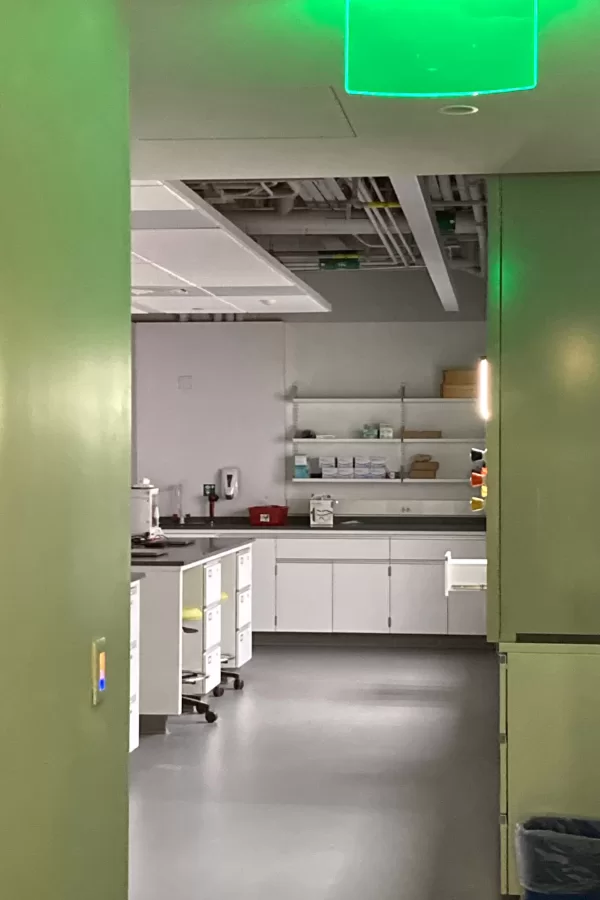 In the case of Dana, though, "we were really polishing it right up to the very end."
And even now there's some work to do. (By way of perspective, some punch list items across campus at the Bonney Center weren't cleared until this summer.)
There are subtle finishing touches to Dana's mechanical, electrical, and plumbing systems remaining — the kind of things that someone can do before classes start for the day. The casework contractor paid a few evening visits last week to discipline some balky drawer slides. Prior to that, there was late-arriving door glass to install.
In the longer term, the tardy autoclave that we mentioned last time will arrive in time for installation during October break, as will some water purification equipment and additional casework. And, as we've written before, it takes four seasons to fine-tune a new HVAC system. Streifel himself has a lot of desk work still to do in closing out contracts, etc.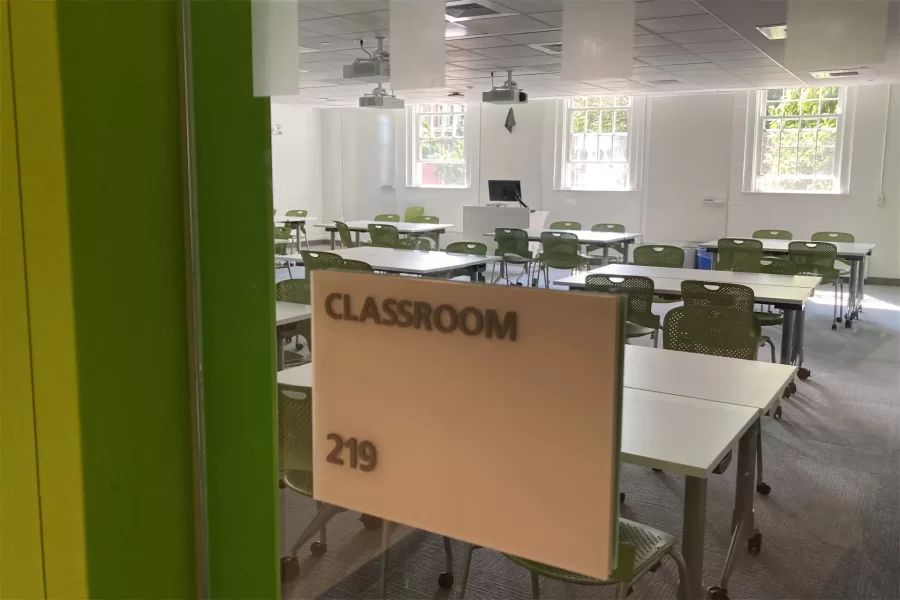 But with Aug. 29 receding in the rearview mirror, he says, "it's just a relief to be at the tail end of a significant project that was full of challenges and unknowns. And to be able to take something right at the core of the campus, and do a very significant renovation, and turn it back over to its intended use on schedule and on budget, is always a very good deal."
Chasm Hall: You could say — in fact, we actually are saying — that a recent theme for the Chase Hall renovation has been "holes."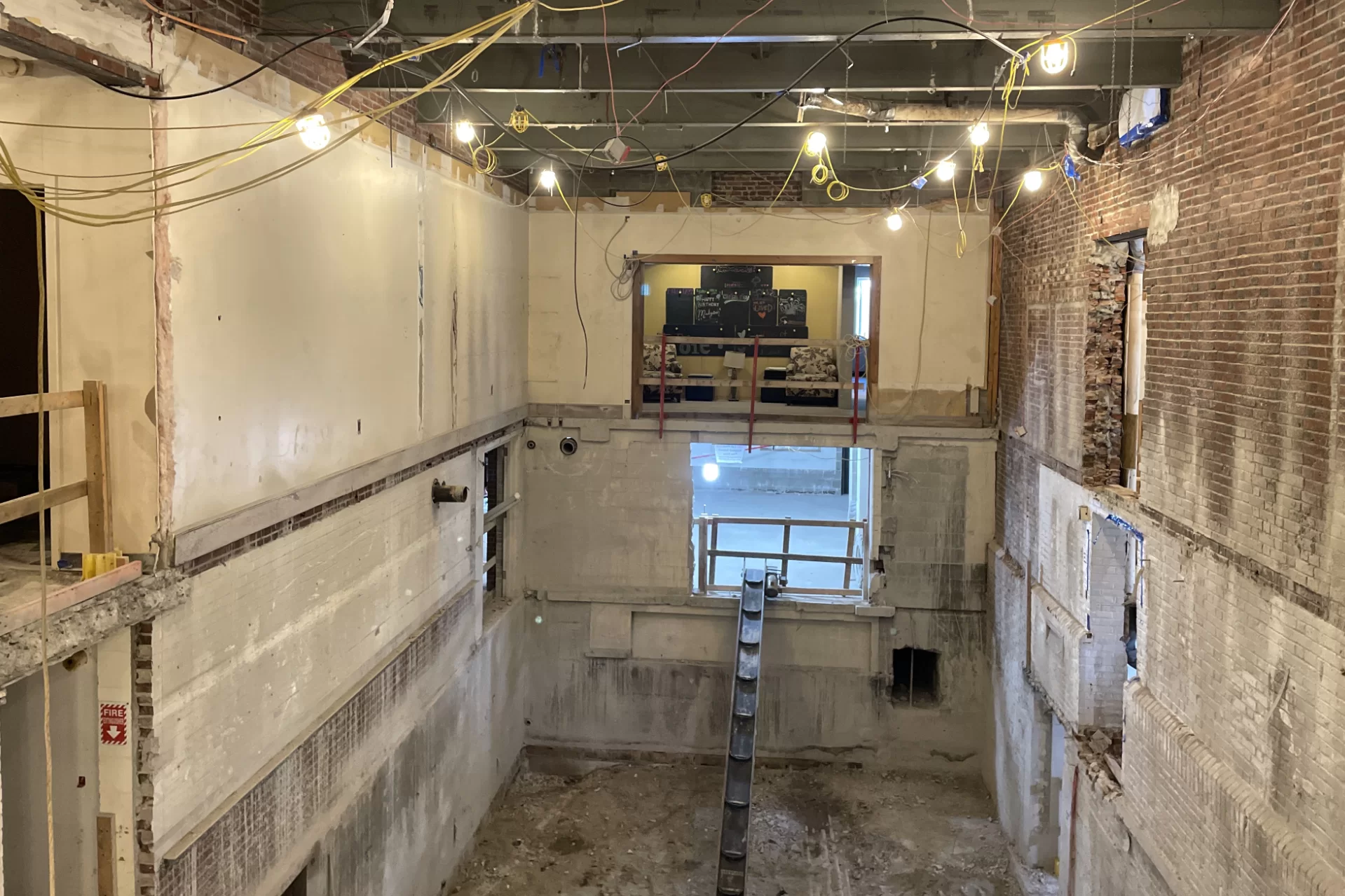 If you passed the building via Campus Avenue last week, you might have seen a big old hole right in front of the entrance near the Chase–Carnegie Science courtyard. The bottom of the pit had been lined with gravel and was being compacted in preparation for concrete. Along one end of the pit, a partial retaining wall had been placed and a rodbuster was wiring up rebar in anticipation of the next pour.
Here a ramp will be built to carry visitors down into Chase's new main lobby. But before that happens, walls lining the public sidewalk to either side of the ramp location will be started, with bench seats molded right into the concrete.
Other holes could be found inside Chase. There was a pretty good one inside that same main entrance, as the stairs and the landing outside Skelton and Hirasawa lounges had been demolished. One could look straight down from the second floor to ground level.
But the biggest and best hole was in the area behind Chase Lounge. Once a zone of student arts clubs and before them, Dining Services facilities, it's the future location of stairs and an elevator. In the past weeks the concrete first- and second-floor slabs had been removed, leaving something like a messy atrium.
But how is a floor slab removed safely? "The concrete slabs were demolished via a robotic electric concrete-cutting saw," explained Mike Carpentier, Chase project superintendent for Consigli Construction, the firm managing the project for Bates.
"The rails for the saw are bolted to the slab and it travels on them to make the cuts. This allows the pieces to be dropped to the floor below without workers being in the area. When workers were in the area to move the saw along to the location of the next cut, they were tied off via safety harnesses to the steel structure above."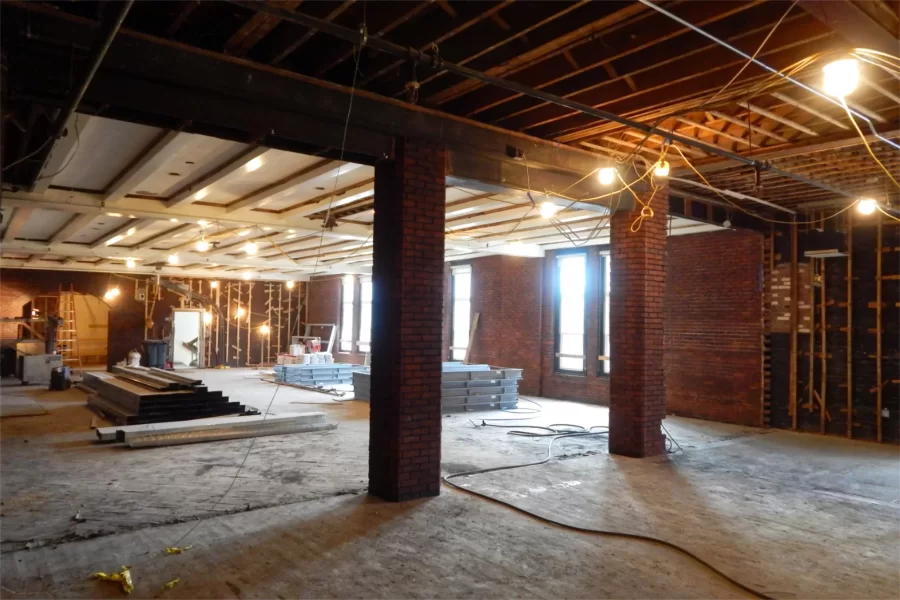 We gawked at this spectacle (and looked around for a concession stand) while Bates project manager Kristi Mynhier, our tour guide, discussed sprinkler-pipe placement with master plumber Chris Becker, who stood on the far side of the chasm. We expected to hear echoes.
But this man-made wonder of the world won't be around long. Footings and the foundation for the new stairway and elevator will be placed during the next month.
In previous Chase reporting we've mentioned a series of "surprises," building conditions not shown in old plans or other records. These have been good for Campus Construction Update (yay, sources of dramatic tension that we didn't have to contrive!) — but not so much for the people actually doing the construction, who have had to scramble to accommodate things like unanticipated hazardous materials and undocumented structural elements.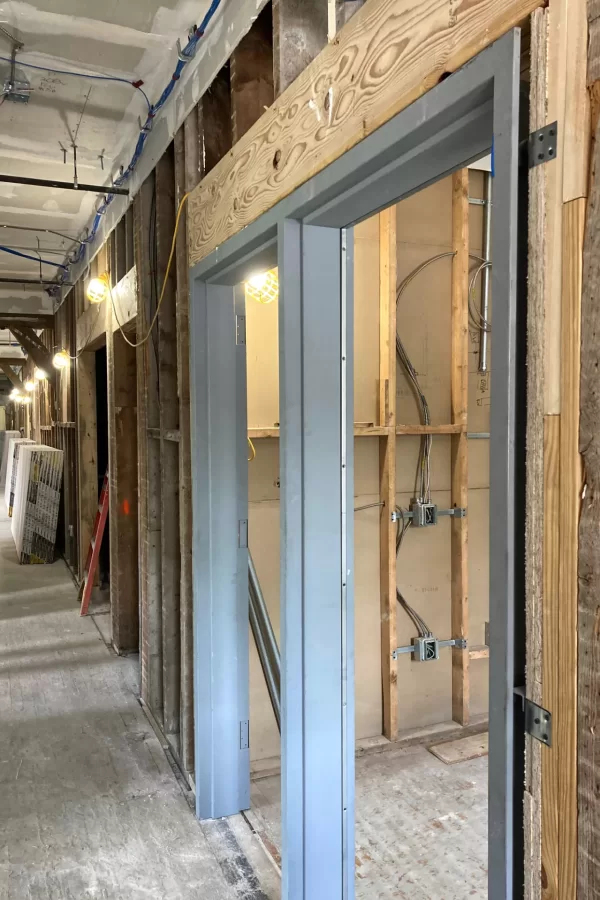 Well, here's an example of the scrambling. Mynhier says that new emphasis is being given to mechanical, electrical, and plumbing rough-ins — in fact, in a change of plan, MEP crews will have to work on multiple floors at the same time so the Chase project can be finished by the stipulated date.
"With all of these unforeseen issues that we encountered while we were demoing and exposing the existing structure, it pushed the schedule so that we had to resequence, and the MEP rough-ins became the critical path" — the sequence of jobs that have priority.
"So we actually had to make sure the crews could increase their size in order to do both the first floor rough-in and the second floor rough-in at the same time to keep us on schedule."
At least, Mynhier says, "I think we've uncovered all the surprises now, thankfully." And the construction team for Chase's next renovation — 100 years from now? — will be able to refer to the 360-degree construction images, many of them in-wall, that the project team is making now.
The Farnsworth Report: Of project manager Paul Farnsworth's summer responsibilities, Olin Arts Center is where the most work remains to be done. For both the HVAC system replacement and the installation of a new main electrical panel, the arrival of major components has been delayed.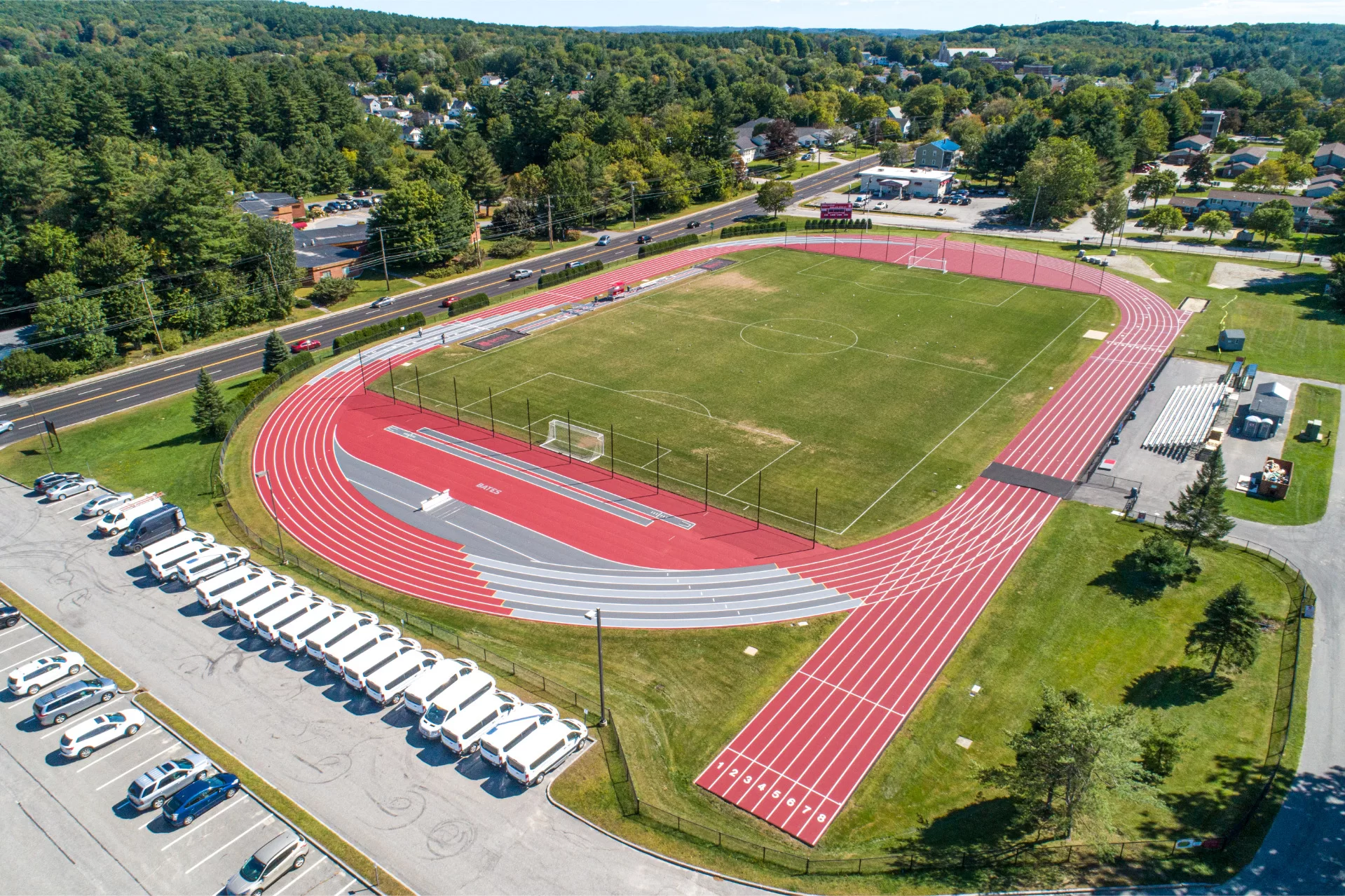 But the building is running just fine. The 800-amp panel was ordered in January and, says Farnsworth, "we're still not sure it will arrive by next January." In the meantime, the current distribution panel (or current current distribution panel — see what we did there?) is fully functional, just old.
As for the HVAC system, still outstanding are chillers that will cool and dehydrate interior air. But rental units are bridging the gap till the permanent units are installed, which is expected by October. System debugging is still in progress, but the rental units have enabled technicians to balance flows within the system, so that important step is done.
Farnsworth also oversaw two high-profile undertakings for Bates Athletics during the summer. One is done: the replacement of the Mondo-brand rubber surface on the Russell Street Track. Bobcats in the track and field program will first compete on the new surface next spring.
Finally, over at the Campus Avenue Field, the new permanent bleachers are fully functional but still awaiting the metaphorical cherry on top: a Bates-branded awning to cover the platform where photographers and videographers work. That should ship by the end of September.
Can we talk? Campus Construction Update welcomes queries and comments about current, past, future, and current construction at Bates. Write to dhubley@bates.edu, putting "Campus Construction" or "Don't bogart that populist cannabis product, my friend!" in the subject line.