Judith B. Miller '91
Managing Director and Chief of Staff, JP Morgan Chase & Co.
Old Greenwich, CT
Years of Service: 2016–2021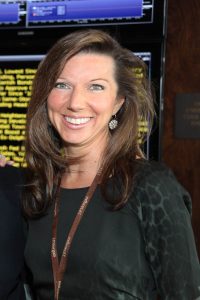 Judy B. Miller is a Managing Director and Chief of Staff at JPMorgan Chase & Co., where she oversees internal and external communications for the CEO and Chairman. She had previously been a marketing and communications executive and media spokesperson for the company. Prior to joining JPMorgan in 1997, she was a publicity specialist in the publishing industry, most recently at Putnam Publishers.
At Bates, Judy majored in English and was captain of the women's tennis team. Judy and her husband, Greg '88, have been active in alumni and college programs, hosting events and participating in class reunions and presidential events in New York City. She has been a career adviser to Bates students through the Career Development Center and an enthusiastic fan at recent athletic events in support of her nephew, Steven Hild '15.
The Millers live in Old Greenwich, CT, with their two teenagers.