Karen A. Gordon P'24
Managing Partner, L. Catterton
New York, New York
Years of Service: 2022-2027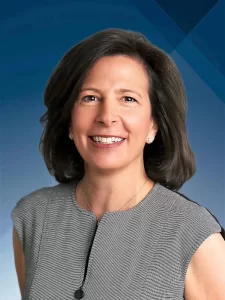 Karen Gordon is a managing partner at L Catterton, a consumer-focused private equity group based in Connecticut where she leads the Portfolio Operations team, working worldwide to drive company growth and performance improvement. Prior to joining L Catterton, Gordon was a managing director at Providence Equity Partners and was a senior partner and managing director at The Boston Consulting Group.
Karen has extensive experience as a board member or observer at more than two dozen private companies. She has been deeply engaged with several nonprofits, including Share Our Strength, which works to end childhood hunger, and Citizen Schools and the National Campaign to serve highest-needs students.
Gordon graduated from Yale University with honors in history and earned an MBA from Harvard Business School, where she was a Baker Scholar. She and her husband, Michael Gordon, are the parents of three children, including Jacob Gordon '24.