Anoushka Shankar continues concert series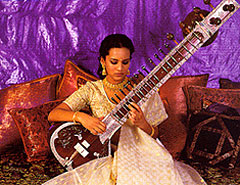 Angel recording artist Anoushka Shankar, the 20-year-old daughter and protégé of renowned Indian sitar virtuoso and composer Ravi Shankar, will perform at 8 p.m. Wednesday, Oct. 10, in the Bates College Chapel. Tickets are $15 for general admission and $10 for students and seniors. For tickets, call 207-786-6135.
Shankar has toured extensively across the globe, both with her own solo concerts and with her father's ensemble in India, Europe, Asia and the United States. The Chicago Tribune called a recent concert of Shankar's "a virtuoso performance that held the capacity crowd spellbound." According to The Tribune, "Shankar displayed a commanding virtuosity well beyond her years."
Shankar burst onto the Indian classical music scene in 1998 with her debut album, "Anoushka," performing five pieces of classical sitar music written and produced by her father. Her follow-up effort, "Anourag," was released in August 2000 and features six compositions by the elder Shankar.
Born in London, Shankar was raised in California. The only artist in the world trained solely by her father, she has played and studied with him since the age of nine. At 13, she made her performing debut in New Dehli, India, before entering the recording studio for the first time to play on her father's recording "In Celebration." At the age of 16, Shankar signed an exclusive contract with Angel/EMI Classics, releasing "Anoushka" in 1998 to tremendous critical acclaim. In February 2000, she became the first woman ever to perform at The Ramakrishna Centre in Calcutta. In recognition of her artistry and musicianship, in 1998 the British Parliament presented Shankar with a House of Commons Shield. She is the youngest as well as the sole female recipient of this honor.
View Comments