Junior injured in Rhode Island fire recovering at home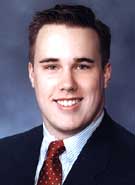 Bates College junior Philip B. Barr, of Lincoln, R.I., was injured in the February 20 nightclub fire in West Warwick, R.I., that killed 99 people and injured more than 180.
Philip's mother, Barbara Barr, said that Philip was taken to Rhode Island Hospital in Providence with first- and second-degree burns on his face and back, and more serious injuries to his lungs.
New: home address for correspondence:
Philip Barr
8 Middlebrook Lane
Lincoln, RI 02865
Further updates will be provided below by his family:
---
From:  Phil and Barbara Barr
Date:  March 24, 2003
Subject: Philip Returns Home
When we arrived at the hospital on Friday, Philip's doctors provided a wonderful surprise.  They decided that his progress would allow him to be released from Rhode Island Hospital later that day.  We brought him home about 6 p.m. on Friday, and at dinner we popped the cork on a bottle of champagne to celebrate the occasion.
Over the weekend, Philip continued his rehabilitation with three daily walks within our neighborhood.  Today he returned to the hospital as an out-patient for review of his general physical condition, and for a visit to the burn clinic.  These were the first of many trips back to the hospital, and the first of many doctor appointments, but we are really happy to have achieved out-patient status!
This week we also expect to finalize plans for rehabilitation services that will help Philip regain his former strength and physical condition.  Most likely Philip will enter an out-patient program that combines the services of a doctor (physiatrist) and multi-disciplinary therapists (physical, occupational, exercise and massage) who will structure a daily program at their facility to accelerate his return to full health.
The road to rehabilitation will test Philip's will power, but we feel confident that he will succeed, especially with the continued support of his extended family and many friends.  Philip is ready to see a few visitors each day, and he is avidly reading all of the good wishes that he receives each day.  However, until we have a firm schedule of doctor and therapy appointments, we suggest that you call before stopping by to visit him.
To all of you who have sent good wishes or gifts, or prayed for Philip, or just wished for a positive outcome, please accept our heartfelt thanks.
---
From:  Phil and Barbara Barr
Date:  March 21, 2003
Subject: Update on Philip
We are pleased to report that Philip made extraordinary progress from Monday through Thursday of this week. His condition has been upgraded by the hospital to "good." We are awaiting a decision today whether or not Philip will be transferred to a rehabilitation hospital or receive those services on an outpatient basis. In either case, there is a good chance that Philip will be released from Rhode Island Hospital tomorrow or Monday.
Philip's respiratory system continues to get better. He has been breathing independently for eight days, and since Wednesday afternoon has not received any supplemental oxygen. Philip spent the entire day on both Wednesday and yesterday either seated in a chair or walking. He walked five times on Wednesday, and more yesterday. He is walking independently without any assistance.
Philip passed both of his "swallow" tests at the beginning of the week and began eating regular food on Wednesday. He is taking three meals a day, and his appetite is good. Philip's voice has returned to normal, although it becomes weak toward the end of the day. At this time, Philip is not receiving any medication intravenously.
The swiftness of Philip's improvement this week has lightened everyone's hearts, including the hospital staff. All of them saw the gravity of his condition at the outset, and all are amazed at the wonderful turnaround. We believe that the power of prayer by so many relatives and friends around the world, coupled with his youth and excellent physical condition before the incident,  have combined to produce this joyous result.
As wonderful as this news may be, we know that there is a difficult road ahead. Philip will require much therapy, training and the passage of time in order to reach the goal of full recovery. We are now working with Philip's doctors to develop the game plan that will optimize his opportunity to regain the fullness of his life.
With Philip's discharge imminent, and not knowing whether he will go to a rehab hospital or home, we suggest that you begin to address your written notes to Philip at home, which is 8 Middlebrook Lane, Lincoln, RI 02865.  He greatly enjoys his mail, and especially your personal notes to him. Once we know where Philip will be going next, he will be ready for some visitors and we will advise you soon.
We remain thankful that Philip's recovery is moving so quickly in a positive direction after such a difficult start. We will provide another update soon.  In the meantime, please keep Philip and our family in your thoughts and prayers.
Sincerely,
Phil and Barbara Barr
---
From: Phil and Barbara Barr
Date: March 17, 2003
Subject: Update on Philip
Philip's condition improved significantly over the past seven days. He is fully alert, his spirits are good, and he is focused on regaining his health. The doctors continue to expect that he will make a full recovery.
Philip's respiratory system continues to show signs of healing. Most importantly, he has been breathing independently since Thursday morning. Although he does receive some oxygen enrichment for the air he breathes, the dosage is being reduced gradually. After removing the ventilator on Thursday, the hospital reclassified Philip's condition as "serious."
As we mentioned last week, the paralytic medicine was stopped on March 9. Having been on that type of drug for about two weeks, we were advised that Philip will be very weak at first. While that is true, he is beginning to reclaim his mobility. During the past week, Philip began to spend time out of bed each day, resting in a chair. Also, he began to walk as part of his physical therapy.
Philip achieved several other important milestones during the week, including these:
Early last week, the doctors stopped the continuous flow of sedatives and pain medication. This has allowed Philip to be fully alert.
Philip has been writing questions and comments since mid-week. While his writing was shaky at first, Philip has now regained his normal scrawl. His first written words were quite characteristic: "I hope to make progress every day."
Philip has asked and written much about the fire and his escape. We have answered his questions, and he is nicely coming to grips with the enormity of the tragedy and his own condition.
There are many steps remaining to be taken. Some of them are:
Philip will have a "swallow" test to determine when he will be ready to drink and eat on his own. When achieved, this will accelerate his recovery.
He is reconditioning his vocal chords and his voice is barely audible and raspy right now. However, we expect that he will be able to speak sooner than we will learn to read his lips.
Although he is becoming steadier on his feet, the transition to walking independently is not complete. He needs to regain his strength.
The burn on his back is healing, but was the most severe of his burn injuries. It will take more time than originally anticipated for this wound to heal.
Most importantly, Philip will need time to let his respiratory system heal, and exercise to regain his former breathing capacity. These are the longest term challenges for his system.
The past seven days have brought us full reassurance that the fire and subsequent medical intervention did not damage Philip's mind or spirit. As is normal, he will need to resolve the trauma of the experience, but we know that he will be successful over time.
At this point, the doctors have not indicated when we may expect Philip to be moved from the intensive care unit of Rhode Island Hospital to a regular floor, or the timetable for his discharge. Accordingly, please continue to address your written messages to him either at home or at Trauma Intensive Care Unit, Rhode Island Hospital, 593 Eddy Street, Providence, RI 02903. He is not yet ready for visitors, partly due to his condition and partly due to the restrictions applicable to the intensive care unit, but we will certainly let you know when he has been moved and may be ready.
We thank all of you for your support over the past twenty-four days. This has been a long and arduous journey for Philip and our family. We are thankful that it has moved so quickly in a positive direction after such a difficult start. We hope that Philip's recovery will continue to accelerate. In the meantime, please keep Philip and our family in your thoughts and prayers.
Sincerely,
Phil and Barbara Barr
---
From: Phil and Barbara Barr
Date: March 10, 2003
Subject: Update on Philip
One week has elapsed since our first update on Philip's condition. We are pleased to report that he is now conscious, although still sedated. His breathing is still supported by a ventilator, so he remains on the critical list at Rhode Island Hospital.
Philip's respiratory system has shown signs of healing. Several times each day, the doctors perform a bronchoscopy on him. The machine utilizes a probe that has a color camera and light source. Each day, the visual evaluation has shown improvement, and his entire respiratory system is definitely healing.
As the respiratory system has begun to heal, Philip's lungs have begun to improve their ability to absorb oxygen. Accordingly, he has required less assistance from the ventilator that helps him breathe. Yesterday, the ventilator settings were reduced to a point that allowed the doctors to eliminate the paralytic drug that had immobilized him for the past eleven days.
Within two hours after the paralytic drug was removed, Philip's eyes opened and he acknowledged our presence. By late afternoon, he was responding to questions and letting his feelings be known through hand gestures, head and eye movements. He tries to talk, but the tubes in his throat prevent him from doing so.
Needless to say, Sunday afternoon was great! Philip clearly demonstrated to us that his spirit is intact. With that knowledge, we feel confident that he will continue to improve and accelerate his rate of recovery.
We thank all of you for your support over the past seventeen days and ask that you continue to keep Philip and our family in your thoughts and prayers.
Sincerely,
Phil and Barbara Barr
---
From: Phil and Barbara Barr
Date: March 3, 2003
Subject: Update on Philip
As we write this note, Philip remains in critical condition at Rhode Island Hospital. However, we have a real sense of optimism due to his improvement over the weekend.
As you know, he was injured on February 20 in a devastating fire in West Warwick, Rhode Island that has killed 98 people and hospitalized over 80. Philip received first and second degree burns to his face, back and one arm. These injuries have healed well during the intervening days. If these were his only injuries, he would be back at Bates College already.
Philip's upper respiratory system was badly injured in the fire. Three days later, he experienced a pulmonary failure that almost took his life. Following medical intervention, he was able to reach stability on Wednesday of last week. After three stable days, he improved on Saturday evening and Sunday. Although he remains on a life supporting ventilator, his airways are showing signs of healing and he is making progress toward breathing independently.
Philip's doctors are optimistic about his chances for a full recovery. They are not ready to predict when they will be ready to bring him out of the chemically induced paralytic state that is required to keep him on the ventilator that is supporting his breathing. Nor are they ready to predict when he will be ready to breathe independently. This will depend on how quickly his airway heals. We also do not yet have any visibility on when he may be able to leave the hospital, or how long his rehabilitation will take.
Since the fire, one of us has been with Philip at all times, except when we need to step out for his medical procedures. We believe that this approach promotes the highest standards of care, develops effective two-way communication with his care givers and ensures that we have a full understanding of his medical condition and prognosis for recovery. Once Philip is breathing independently and can speak for himself, we will not feel compelled to manage the situation as aggressively.
We have received an outpouring of support from family, friends, colleagues and acquaintances. They come from all time frames of our lives, from childhood to current date, and they derive from each family member's circle of contact. We have been asked over and over what we need, and our reply has been and remains the same: keep Philip and our family in your thoughts and prayers. We also will need more tangible help, especially after we turn the corner and begin to face the issues attendant to his recovery phase. We will not hesitate to ask for help when we are ready.
The past eleven days have been highly stressful to all members of our family. We are concentrating all of our energy on keeping ourselves and our other two children healthy and able to support the efforts required under these extraordinary circumstances. We thank you for your continued support and understanding.
Sincerely,
Phil and Barbara Barr
Send a message to Philip Barr at Rhode Island Hospital
View Comments