Production of 'subUrbia' to be performed in Hungary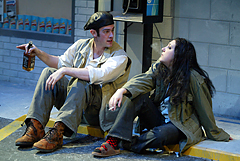 In a production that the student cast and crew will take to Hungary this April, the theater department presents six performances of Eric Bogosian's gritty, darkly comic play subUrbia.Bogosian's semi-autobiographical play, the tale of a gang of slackers set in a convenience store parking lot, will be performed in at 8 p.m. Fridays and Saturdays, March 7-8 and 14-15, and at 2 p.m. Sundays, March 9 and 16, in Gannett Theater, Pettigrew Hall, 305 College St. Tickets are $6 for the general public and $3 for Bates faculty, staff and senior citizens.
For reservations or information, please call 207-786-6161.
An actor and monologist as well as playwright, Bogosian's other works include the play (and screenplay adaptation) Talk Radio (1988) and the solo piece Wake Up and Smell the Coffee (2001). He has appeared in a number of films and television programs, including The Larry Sanders Show and Law and Order.
subUrbia was first performed on stage in 1994 and was made into a film by Slackers director Richard Linklater in 1996. Tapping Bogosian's own experiences slacking at a strip mall in Woburn, Mass., the piece depicts a group of friends going nowhere fast. Their frustration with life erupts when a former member of the group, now a rock star, pays a visit.
The play offers three colliding versions of the American dream, explains director Martin Andrucki, Charles A. Dana Professor of theater. The first version is the dead-end existence of the slackers, who numb their boredom and frustration with sex, drugs and daydreams. There is the glitzy show-biz dreamworld of Pony, the former gang member turned rock star, and the traditional course of hard work and self-reliance followed by Norm, the Asian immigrant proprietor of the convenience store.
"There's a lot in it that invites reflection about the nature of success, the nature of ambition, what it's like to be young and not to know where you're going," Andrucki explains. "There's a lot about racial and ethnic conflict that's rather brutally depicted. And a lot of humor and irony about some of the things that young people are often earnestly obsessed with."
"It seems to capture something authentic about a slice of American life in the late 20th or early 21st century," Andrucki adds. "And it's funny and it's serious at the same time, so it has an interesting emotional range as well."
The nine cast members and about half of the crew are Bates students, the remainder being faculty and staff. Most of the company will travel to Budapest, Hungary, in April for a Short Term unit involving performances at the international Contemporary Drama Festival Budapest and the International Buda Stage. It is the third Budapest Short Term in theater organized by Andrucki and his theater department colleague Katalin Vecsey, a native of Hungary.
View Comments