Aardvark Jazz Orchestra continues Bates Concert Series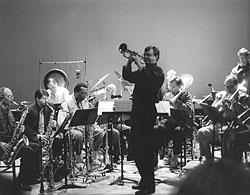 Distinguished by an eclecticism that encompasses free improvisation, Duke Ellington classics and sacred music, Boston's Aardvark Jazz Orchestra continues the 2004-05 Bates College Concert Series at 8 p.m. Saturday, Oct. 16, in the Olin Arts Center, at 75 Russell St.
Admission is $8 for adults and $5 for senior citizens and non-Bates students with ID. For additional information about the series and Olin Concert Hall, please see the Web site http://abacus.bates.edu/concerts/. For reservations, please call 207-786-6135.
Hailed by JazzTimes as "a bracing walk on the wild side of the big band spectrum," Aardvark is known for a stylistic grasp that reaches from Ellington to the avant-garde, along the way referencing Frank Zappa, Charles Ives, sacred music and rock.
The orchestra is led by Mark Harvey, a trumpeter and composer whose original music includes the award-winning "Scamology" and the exploratory "Morph." In all, Aardvark has premiered some 75 new works and released seven CDs — of which the latest, Duke Ellington/Sacred Music, was called "exhilarating" by the Allaboutjazz.com Web site. "Aardvark and Ellington are an ideal couple," the Allaboutjazz critic said.
Winner of the 2000 Independent Music Awards, Aardvark Jazz marks its 32nd season in 2004-05. The band has appeared at the Jacob's Pillow Dance Festival/New Jazz Series, and at colleges and universities including Princeton and Wesleyan. It presents an annual fall concert series and a Christmas concert in the Boston area.
The Bates concert series resumes at 8 p.m. Saturday, Jan. 29, with classical pianist Awadagin Pratt. Raised in the Illinois town of Normal, the prodigiously talented Pratt is anything but. His adventurous interpretations of traditional repertoire, his technical and expressive command and the sheer breadth of his talent have captured the attention of critics and audiences worldwide. His Bates program will include Liszt's Sonata in B minor and Mussorgsky's "Pictures at an Exhibition."
Pratt (whose first name is pronounced ow-ah-DAH-jin) is acclaimed for his musical insight and for intensely involving performances. He entered the University of Illinois at age 16 and subsequently enrolled at the Peabody Conservatory of Music, becoming that school's first student to receive diplomas in three performance areas — piano, violin and conducting. (Today he is increasingly active as a conductor.)
Winner of the 1992 Naumburg International Piano Competition, Pratt has performed solo recitals and orchestral dates in Europe, Asia and across the United States. He has appeared with the New York Philharmonic and the Baltimore, Cincinnati, Pittsburgh and National symphonies, and performs duo recitals with cellist Zuill Bailey.
Pratt was named one of the 50 Leaders of Tomorrow in Ebony Magazine's 50th anniversary issue and performed twice at the White House at the invitation of President and Mrs. Clinton. An Angel/EMI recording artist, he released his debut album, A Long Way From Normal, in 1994 and his most recent, an all-Bach disc with the St. Lawrence String Quartet, in 2002. In September 2004, Pratt starts work as an assistant professor of piano and artist in residence at the College Conservatory of Music, University of Cincinnati.
Closing the Bates Concert Series at 8 p.m. Friday, March 11, is Quartetto di Venezia, acclaimed for a lively repertoire and a distinctively Italian playing style described by one reviewer as "fresh and brilliant." Celebrating its 20th anniversary season in 2004-05, the ensemble will bring to Bates an all-Italian program featuring music by Verdi, Boccherini and others.
The quartet came together as students at a Venetian conservatory. Influenced by two quartets well-known in Europe, the Quartetto Italiano and the Vegh Quartet, the Quartetto di Venezia synthesized an interpretive approach characterized by an emphasis on the quality of sound and the individuality of each instrumental voice.
The repertoire of the Quartetto di Venezia ranges from classicists such as Beethoven, Mozart and Boccherini to modernists like Karl Amadeus Hartmann and Gian Francesco Malipiero. The members of the quartet are violinists Andrea Vio and Alberto Battiston, violist Luca Morassutti and cellist Angelo Zanin. The ensemble has performed throughout Italy and abroad, including the United States, Latin America, Japan and South Korea, and has recorded extensively.
View Comments