Holography pioneer exhibits work at Museum of Art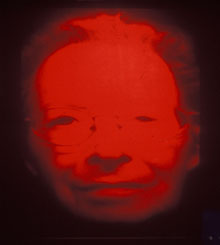 The Body Holographic: Harriet Casdin-Silver, an exhibition of work by a pioneering figure in the art of holography, runs through March 19 at the Bates College Museum of Art, 75 Russell St.
Showing simultaneously are Between Science and Art, comprising botanical X-ray images by contemporary Ohio artist Judith K. McMillan, and New Acquisitions: Local and Global Contemporary Photography, featuring artists from Maine, China and Africa. For more information, please call 207-786-6158.
The first American artist to develop a body of holographic work, Casdin-Silver began working in holograms — flat images that appear to represent objects in three dimensions — in 1968. As the title indicates, The Body Holographic concentrates on the human form, exploring its potential as a site of psychological, sexual and spiritual energy.
"Holography is a medium of veracity," says Anthony Shostak, education curator for the museum and the exhibition organizer. "Its stunning illusions seem so real that they are almost sculptural.
"Capitalizing on the power of this accuracy, Casdin-Silver presents the body as it is," he explains. "She pulls no punches and doesn't shy from the truth: The ideal body is rare and fleeting."
"Virtual reality becomes a forceful tool with which she underscores the social content in her work, the core of which is dignity and compassion. We're invited to reconsider our preconceptions about beauty, gender identity, aging and death — along with all of their social and political consequences."
Born in 1925 and raised in Worcester, Mass., Casdin-Silver worked in broadcasting before becoming a painter. Her work in holography began as an experiment at the invitation of physicist Raoul van Ligten at the Boston-based firm Art and Technology Incorporated, and grew into a fascination that determined the direction of her career. She achieved a variety of artistic breakthroughs in the medium.
Casdin-Silver's exhibitions in the United States and abroad include a much-publicized career retrospective in 1998 at the DeCordova Museum, Lincoln, Mass. She opens Holographic Portraits and Other Work, a solo show at Gallery Naga, Boston, simultaneously with the Bates exhibition.
Casdin-Silver has taught and held research positions at Brown University, Clark University, MIT and the Royal College of Art, London. She has worked as an artist in residence at the University of Ghent, Belgium, and at American Optical Laboratories in Framingham, Mass. She lives in the Boston area.
The exhibition is made possible by the Synergy Fund, a gift to the museum to explore ideas across disciplines through the arts. The gift is helping the museum and the college to look more creatively at how exhibitions are curated, experienced and communicated to museum audiences.
In Between Science and Art, artist Judith McMillan used an X-ray machine as her camera to capture the internal structures of plants, revealing the beauty of natural forms invisible to the human eye.
Fascinated by natural cycles, the artist uses specimens collected throughout the seasons. Familiar forms such as magnolia blooms or fern leaves are transformed in revealing and unexpected ways.
Between Science and Art was organized and circulated by the Cleveland Museum of Natural History.
A member of the Maine Art Museum Trail, the Bates College Museum of Art is open to the public at no charge. Museum hours are 10 a.m. to 5 p.m. Tuesday-Saturday. School groups and tours are welcome; please call 207-786-8302 to schedule.
More information is available at the museum's Web site here.
View Comments