Bates Dance Festival presents annual Faculty Gala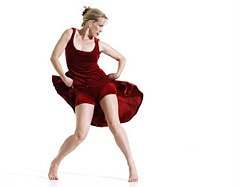 Acclaimed choreographers and performers nugent+matteson dance, Gabriel Masson, Michael Foley, Cathy Young, Rachel List and Jennifer Archibald perform in the Bates Dance Festival's annual Faculty Gala at 8 p.m. Saturday, August 5, in Schaeffer Theatre, 365 College St., Bates College. Tickets are $18/$12 (students and seniors) and may be purchased by calling 207-786-6161 after July 8. (This performance is appropriate for an audience of all ages.)
Featuring new modern, postmodern, jazz, hip-hop and baroque dance works, this eclectic evening of dance showcases a collection of seasoned performers and rising talents. Appealing to both the veteran dancegoer and those new to the form, this concert offers something for everyone.
Gabriel Masson and Sarah Ebert present "A Story About Apples," a modern duet that tackles the Adam and Eve myth with pathos and wit. Masson has toured the world in the companies of Hannah Kahn, Rosalind Newman, Lucinda Childs and Doug Varone. Since 1989, he has choreographed more than 30 pieces for repertory and university dance companies, and from 1997 to 2001 he served as artistic director of the nationally touring company Gabriel Masson Dance.
Baroque dancer Rachel List performs, complete with period costume, three excerpts from "Terpsicore," created in 1735 as the prologue to Handel's "Il Pastor Fido."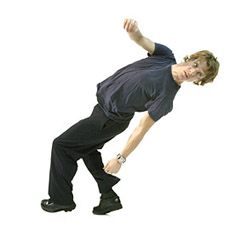 List has performed across the United States and in Canada, Mexico and Europe as a member of Les Grands Ballets Canadiens, The Vanaver Caravan and Partridge/Benford/Dance/Music. She currently appears with the New York Baroque Dance Company.
The post-modern duo nugent+mattesondance shares an excerpt from the recent evening-length work "Fare Well," an exploration of the imperfect mess of real life. Jennifer Nugent performed with Gerri Houlihan & Dancers and Mary Street Dance Theatre and has been a member of David Dorfman Dance since 1998. Paul Matteson's work has been shown in New York at Symphony Space's Thalia Theater, Dance Theater Workshop, The DanceNow Festival and Joe's Pub. He was a member of David Dorfman Dance from 2000 to 2005. Nugent and Matteson have both received Bessie Awards for their performances.
Choreographers Michael Foley and Jennifer Archibald serve up a new modern/hip-hop hybrid mix fresh from the studio. Foley has performed internationally in the companies of more than two-dozen choreographers, including Doug Elkins, Kevin Wynn, Seán Curran and Eun Me Ahn. Foley has received choreographic commissions throughout the United States, Spain, France, Northern Ireland, Italy, Switzerland, Panama, Germany, Sweden, the Netherlands, Cuba and Ireland. Archibald is the founder and artistic director of Arch Dance company. A graduate of the Alvin Ailey School she has performed across the U.S. at major venues including the John F. Kennedy Center for the Performing Arts, Aaron Davis Hall and Judson Memorial Church, as well as in Europe and Canada.
Pushing the boundaries of jazz dance, jazz master Cathy Young offers a new quartet created at the festival. Young has been performing, choreographing and teaching for more than 20 years. She created choreography with her Boston-based company for the concert stage, nightclubs and industrials from 1984 to 1989, before relocating to Minneapolis to dance with Zenon Dance Company and Danny Buraczeski's Jazzdance, with whom she toured nationally and internationally.
In addition to main stage performances, the festival offers a selection of free and low-cost events. Complete information is available at the website.
At press time the Bates Dance Festival gratefully acknowledges support from the National Endowment for the Arts, New England Foundation for the Arts, National Performance Network, Maine Arts Commission, Surdna Foundation, Asian Cultural Council, Altria, Fisher Charitable Foundation, Sam L. Cohen Foundation, Androscoggin Bank, Cole Hahn, Liberty Mutual Insurance, Mechanics Savings Bank and TD Banknorth.
View Comments