Bates College Museum of Art shows Hewitt print retrospective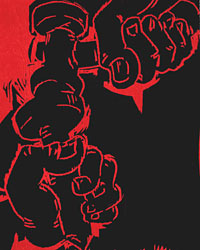 A retrospective of prints by Charlie Hewitt, a Maine artist of national stature, opens with a reception at 4 p.m. Saturday, Oct. 28, at the Bates College Museum of Art, 75 Russell St.
"Scrape, Cut, Gouge, Bite, Print . . . The Graphic Work of Charlie Hewitt 1976-2006" offers a comprehensive look at Hewitt's printmaking, the field for which this dynamic artist is best-known. The 80 or so pieces in the show include site-specific work created for the occasion and images selected from the holdings of the Bates museum, which is the repository for Hewitt's prints.
The exhibition remains on view until March 18, 2007. Admission to the museum and its events is open to the public at no cost. For more information, please call 207-786-6158 or e-mail the museum.
Hewitt is admired for an emotional energy expressed through an iconic vocabulary that taps his Catholic upbringing and his own background in manual labor (nails, screws, wood, rebar) as well as the human heart, hands and fists.
"Hewitt's two-dimensional work gives visual meaning to the word 'intensity,' " longtime Maine art critic Phil Isaacson wrote in a recent Maine Sunday Telegram review. "It has a profound and disturbing emotional wallop."
A native of Lewiston and now a Portland resident, Hewitt is the rare Maine artist whose images reflect the spirit and culture of Maine's people more than its landscape. He is a nationally recognized printmaker, painter and sculptor with work in the collections of New York's Metropolitan Museum of Art and the Fogg Art Museum at Harvard University.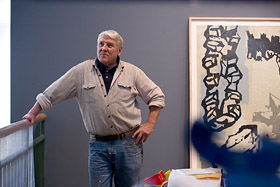 The show is part of The Maine Print Project, a statewide collaboration celebrating more than 200 years of printmaking in Maine. The Bates exhibition is also part of a second collaboration, dedicated to Hewitt and undertaken with the Farnsworth Art Museum in Rockland. In July, that institution opened the exhibition "Charlie Hewitt at Work: Twenty Years of Paintings, Drawings and Sculpture," which closed Oct. 15.
The Bates exhibition marks three decades of Hewitt's graphic work and two decades since he returned to Maine from New York City to work at the renowned Vinalhaven Press, on Vinalhaven.
Born into a blue-collar family in Lewiston in 1946, Hewitt is the product of a culture whose pillars were church, work and family, as William Low, the exhibition's curator and a member of the Bates Museum of Art staff, writes in his introduction to the "Scrape, Cut, Gouge" catalog. "These influences and experiences have infused Hewitt's artwork throughout his career," Low writes.
Hewitt's work is about "recording the time we are in," as the artist told Low. Works in the Bates exhibition include the unsettling "Bowery" and "Illumination" series, inspired in part by the French poet Rimbaud. The "Spanish Labor" series, as Low notes, bridges both an important national issue and Hewitt's own familiar territory of responses to faith, family and labor.
The Bates College Museum of Art is open from 10 a.m. to 5 p.m. Tuesday through Saturday and is closed Mondays, Sundays and major holidays.
View Comments