Wilder's comedy 'Skin of Our Teeth' coming to Schaeffer stage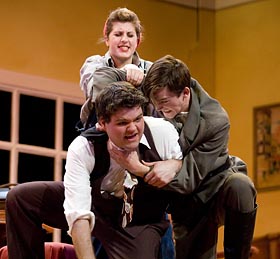 The major autumn production of the Bates College theater department is Thornton Wilder's Pulitzer Prize-winning The Skin of Our Teeth, a groundbreaking comedy about the resilience of the human spirit in troubled times.
Performances take place at 7:30 p.m. Friday and Saturday, Nov. 3, 4, 10 and 11, and at 2 p.m. Sunday, Nov. 5 and 12, in Schaeffer Theatre, 305 College St. Tickets cost $6 for general admission and $3 for Bates faculty and staff, senior citizens and non-Bates students. For reservations or more information, please call the Schaeffer box office at 207-786-6161.
Martin Andrucki, Dana Professor of Theater, directs the Bates production of this play by the author of Our Town. Premiered in 1942, at the cusp of the Depression and World War II, The Skin of Our Teeth is a reminder that we are always experiencing dark times — and surviving.
The story of the Antrobus family's struggles to prevail through a series of great disasters, the play "at every moment is happening in two places at once," Andrucki explains. "It's always New Jersey in 1942" — but it's also, by turns, the onset of the Ice Age, the eve of Noah's flood and the aftermath of some nameless universal war.
"Just as each act is a composite of past and present," Andrucki adds, "each character is several archetypes rolled into one." Mr. Antrobus, for instance, is Adam and Everyman, and the inventor of the wheel, the alphabet and the brewing of beer. Eve to his Adam, Mrs. Antrobus preserves domestic order, protects her children ferociously and finds time along the way to invent the apron and frying in oil.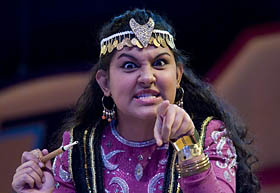 The Skin of Our Teeth is timely. Between terrorism, the war in Iraq, concerns about Iran and North Korea, environmental issues and other worries, "we live in a doomsaying moment," Andrucki notes. "What better time to produce a play about ice, flood and battle that also offers a constantly renewed vision of hope and survival?"
Even with World War II at America's doorstep, "Wilder was able to summon the hope and courage to write a play about the human capacity to triumph over adversity," the director says. For the students in the production, the piece is valuable not just because it offers many diverse and meaty roles, but because "it reminds them that history has always been frightening and dangerous."
"It's also a genial, funny and entirely delightful American comedy."
The cast includes Alexandra Hughes, a senior from Boston, as Mrs. Antrobus; Samuel Leichter, a junior from Wallingford, Pa., as Mr. Antrobus; Jacob Lewis, a sophomore from Katonah, N.Y., as Henry Antrobus; Meaghan Reynolds, a senior from Rochester, N.H., as Sabina; and Lana Smithner, a first-year student from Waterville, as Gladys Antrobus.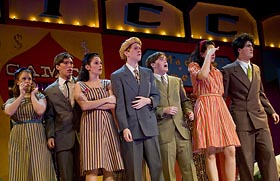 Other Bates faculty involved in the production are B. Christine McDowell, who is designing scenery and costumes, and Michael Reidy, who is designing the lighting. The Bates production will have the energy and atmosphere of what Andrucki calls a "historical carnival." The cast is large and active, there are lots of costume changes, and even the sets themselves will be dynamic.
"The Antrobus house will remind many people of the doll houses of their youth," says Andrucki. "And everything — walls, floors, ramps — is designed to move, to collapse and reassemble itself before our eyes. Just like civilization itself."
View Comments