College presents acclaimed rappers the Roots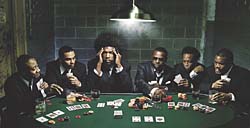 The Roots, a hip hop sextet recently nominated for two Grammy Awards, perform at 8 p.m. Monday, March 26, in the Bates College's Gray Athletic Building, Central Avenue.
Doors open at 7 p.m. The concert is presented by the college's Chase Hall Committee. General-admission tickets cost $30 and are on sale at Bates, Bowdoin and Colby colleges, all Bull Moose Music locations and online. For more information, please call 207-795-7496.
The Roots are applauded for expanding hip hop's stylistic and thematic boundaries. "Incorporating live instrumentation and thought-provoking lyrics, the Philadelphia band expertly blurs the lines separating artistic integrity and commercial acceptance," a reviewer for National Public Radio's World Café wrote.
"The new Game Theory represents another classic Roots record, with a conciseness not heard on previous albums; it's also staunchly political in tone, matching the seriousness of the times."
The Roots were recently nominated for two Grammy Awards. Released last August on Def Jam, the song suite Game Theory was nominated for best rap album. A cut from that recording, "Don't Feel Right," was nominated for best rap performance by a duo or group.
The sextet also won the NAACP Image Award for outstanding duo or group in a ceremony March 2, and wowed the audience with a medley of U2 songs in honor of the Irish band's lead singer Bono, who received the NAACP Chairman's Award at the event.
The Roots are: ?uestlove, the drummer; Black Thought, emcee; Leonard "Hub" Hubbard, bassist; Kamal Gray, keyboardist; Kirk "Captain Kirk" Douglas, guitarist; and Frank Knuckles, percussionist.
The band's own roots reach back 20 years to 1987 and Philadelphia's High School for the Creative and Performing Arts, where Ahmir "?uestlove" Thompson and Tarik "Black Thought" Trotter met and first discussed starting a band. The Roots had their major-label debut with 1995's Do You Want More?!!!??! (Geffen), and won popular and critical acceptance with 1999's Things Fall Apart.
View Comments