Professor of African-American studies shares spiritual journey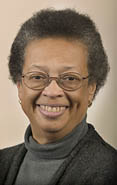 Sue Houchins, associate professor of African-American, American cultural and women and gender studies at Bates College, will speak at 4:30 p.m. Thursday, March 15, at 161 Wood St., as part of "Spiritual Sojourners," a series sponsored by the Office of the Chaplain at Bates College. The public is invited to attend free of charge. For more information, call the chaplain's office at 207-786-8272.
Since August Houchins has served as a special assistant to President Elaine Tuttle Hansen, taking a leading role in efforts to increase diversity at Bates and improve the campus climate.
Before coming to Bates in 2003, Houchins held joint appointments in the literature and religion departments at Scripps and Pitzer colleges, and was affiliated with the intercollegiate Department of Black Studies and Women's Studies of the Claremont Colleges as a faculty associate. She received her undergraduate and her graduate education in medieval English literature at UCLA, where she began a consuming comparative study of women who write of mystical union with a feminine divine.
Houchins continued her graduate work at the Union Institute and Graduate University in Africana, women's, cultural and queer studies concentrated in literatures and religions. Her publications on this subject include the introduction to the volume of Spiritual Narratives in the Oxford University Press series of 19th-century black women writers.
Her research presentations have included 'I Found God in Myself/ I Loved Her/I Loved Her Fiercely': A Study of Suffering in the Archetypal Journey of Alice Walker's Female Heroes, Sacred Sext: The Incarnational Theology of Bessie Head and Amazonian Dynasties and Spiritual Matriarchs: A Study of the Theology of Affiliation in Toni Morrison and Simone Schwarz-Bart.
Houchins has recently completed a book-length study of Pan African lesbian texts, some of which also explore mystical union. She delivered a portion of this larger work at the English Institute at Harvard.
In 1995, Houchins took time away from academia to enter a Carmelite monastery. In the academic year 2000-01 she was a fellow in the program for women's studies in religion at the Harvard School of Divinity, where she researched and wrote on the representation of Sapphic women priests in religions of the black Americas.
Recently, Houchins and her Bates colleague Baltasar Fra-Molinero, associate professor of Spanish, completed an annotated translation with a critical and historical introduction of the 18th-century Spanish hagiography of Sor Teresa Chicaba, an African Dominican nun who spent her years after enslavement in a cloistered monastery.
Each speaker has a story to tell, says "Spiritual Sojourners" organizer and  Bates College Chaplain Bill Blaine-Wallace. The speaker's personal journeys serve as "starter dough" for conversation, Blaine-Wallace says.
Houchins' talk, the sixth in the series, will be followed by two additional 90-minute presentations throughout the balance of the academic year. Each talk begins at 4:30 p.m.
View Comments