Radio Gang opens Midsummer Lakeside Concert Series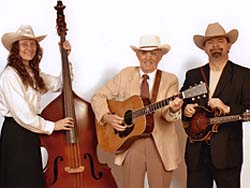 The Radio Gang, a Maine-based quartet playing classic country music, opens the 2007 Bates College Midsummer Lakeside Concert Series with a performance at 6 p.m. Thursday, July 12, in the Florence Keigwin Amphitheater at the college's Lake Andrews.
Rain site is the adjacent Olin Arts Center Concert Hall, 75 Russell St. Bring a picnic supper and blankets or lawn chairs. Concerts are open to the public free of charge. For more information, please call 207-786-6400.
All starting at 6 p.m., the family-friendly Lakeside concerts take place on five Thursdays in July and August. Except for the Aug. 9 program, all are scheduled for the Keigwin Amphitheater.
Here's the complete schedule:
The Radio Gang performs classic American country music from the 1930s and '40s. Simple, honest and in many ways innocent, this stylistic forerunner to today's bluegrass includes lively fiddle and train songs, gospel and ballads of love and heartbreak. The Radio Gang, based in York County, is well-known throughout the Northeast and has released 11 albums. Singing and playing diverse acoustic instruments, the members are Mac McHale, also known for his work with Northeast Winds; John Roc; Sally Roc; and Herman McGee.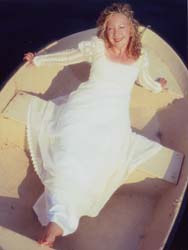 Born in northern Vermont, Michele Choiniere (July 19) writes and sings songs about nature, romance and Franco-American life. Often backed by a five-piece band, Choiniere has performed throughout New England, Quebec and France, and appeared on Visions d'Amerique, broadcast worldwide by TV5 International. Her recordings include the solo release Coeur Fragile and a collection of Franco-American songs made with her father, Fabio. She is featured on the 1999 Smithsonian Folkways album Mademoiselle Voulez-Vous Danser: Franco-American Music from the New England Borderlands. Choiniere's influences also include jazz and international standards.
The popular Downeast Brass (July 26)  brings decades of experience and a crowd-pleasing versatility to the stage. The quintet has performed all over northern New England, including the Mount Washington Hotel in Bretton Woods, N.H., Maine's famed Moxie Festival and the inauguration of Maine Gov. John Baldacci. Bandmembers have performed with Frank Sinatra, Barry Manilow and Yanni, and are integral to such well-known Maine ensembles as the Al Corey Jazz Orchestra, the Casco Bay Concert Band and the Bangor Symphony Orchestra.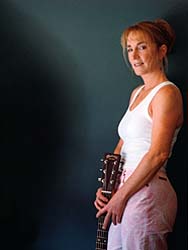 Upon her reputation as one of Maine's most enduring singer-songwriters, Anni Clark (Aug. 2) has built a national following through countless club dates and festival appearances, and glowing reviews in such publications as the folk music magazine Dirty Linen. Her career honors include a nomination for "Female Vocalist of the Year" at the 2006 Texas Music Awards, two finalist rankings in the prestigious Kerrville Folk Festival's New Folk Songwriters' Competition, and the awards for both female artist and folk artist of the year in Jam Music Magazine's 2006 readers' poll. The latest of her six recordings is 2006's Anni Clark Live. Clark is also known as one-third of the songwriters' trio Under The Song Tree, with Dan Merrill and Lynn Deeves.
Since the 1990s, Julie & Brownie (Aug. 9) have delighted family audiences with an award-winning mix of fun-filled songs and educational messages for kids. The duo has toured through the eastern U.S. and Canada, written the children's books The Streamlined Double Decker Bus and A Pirate's Life For Me, and been covered by dozens of publications. Brownie Macintosh has been performing since 1965 and has composed songs for the Kingston Trio, the Irish Rovers and others. Gisele Ganz, a Boston-based actress and singer whose credentials include performances with the Boston Pops, joined the team as "Julie" in 2005. Note location: Bates' historic Quad, in front of Coram Library, Campus Avenue (rain site: Olin Arts Center Concert Hall).
View Comments