Bates retrospective: 2008 in review
Enjoy this look back at stories that represent some of the major Bates events and achievements of 2008, as published in BatesNews, the College's monthly e-newsletter to alumni, parents and friends.
Watch the slide show
Click on thumbnails, above, to view the slide show.
Featured image 0f 2008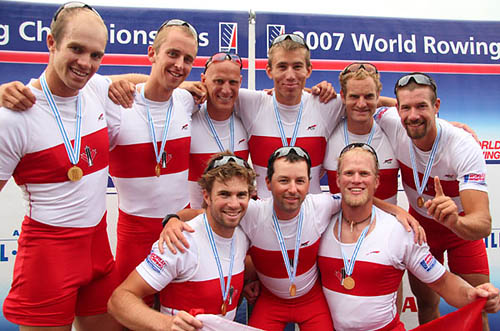 Andrew Byrnes '05, second from left in back row, is named to the Canadian Men's Eight for the August Olympic Games in China. Byrnes and the Canada men's eight capture the gold medal at the Shunyi Rowing–Canoeing Park, Canada's first medal in the event since 1992. Byrnes, a Toronto native and resident, becomes the first former Bates athlete to earn an Olympic medal. He and his crewmates become the first world champion crew to follow up with Olympic gold in 35 years.
The slide show features Homecoming 2008, held this year Oct. 24-26. The weekend featured an exciting football victory over Colby and the first "Faces of Bates Across the Decades," an opportunity to learn about and respond to Bates' recommitment to diversity and inclusion.
It was a year of prizes and surprises, from generous gifts, grants, and academic honors to happy dedications and championships.
For overarching symbolism, note the late winter opening of Bates' new dining Commons, a Sasaki-designed facility that now "lies at the center of our campus and of our educational mission," according to President Elaine Tuttle Hansen. Introducing the Bates Contemplates Food initiative during September's Convocation, she noted that the new Commons "reminds us that a liberal education prepares a whole human being — heart, body and mind."
Leave a Reply
This is a forum for sharing your thoughts about the preceding post with the public. If you have a question for the author, please email the Bates Communications Office at communications@bates.edu.