Costumed for the Crawl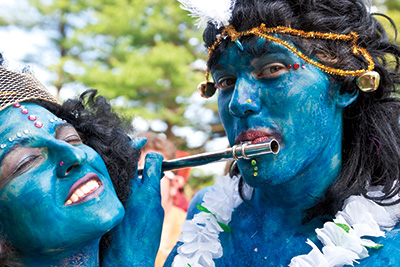 Valentina Calastri '09 and Grif Peterson '09, dressed respectively as the Hindu deities Krishna and Kali, get into character before this year's Pub Crawl, the Carnival-like annual kickoff to Senior Week. Calastri and Peterson's costumes were inspired by Bates travels: she through Sri Lanka and southern India, he in northern India during Short Term 2007 and again in 2008 under a Barlow Thesis Grant.
Photograph by Phyllis Graber Jensen
Leave a Reply
This is a forum for sharing your thoughts about the preceding post with the public. If you have a question for the author, please email the Bates Communications Office at communications@bates.edu.