Global Lens international film series continues with Moroccan tale of bizarre love triangle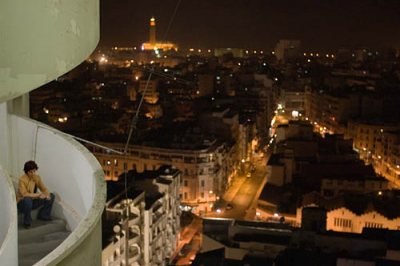 The Global Lens film series at Bates College continues with What a Wonderful World by Moroccan director Faouzi Bensaïdi in 8 p.m. showings on Friday, Dec. 4, and Sunday, Dec. 6, in Room 105, Olin Arts Center, 75 Russell St.
Admission is $5. What a Wonderful World (94 min.) is in French and Arabic with English subtitles. For more information, please contact 207-786-6135 or this olinarts@bates.edu.
Hosted by the Bates College Museum of Art, the annual film series is produced by the Global Film Initiative to promote cross-cultural understanding by showing American audiences little-known, skillfully made independent films. The initiative believes that "a powerful, authentic narrative can foster trust and respect between disparate cultures and mitigate the social and psychological impact of cultural prejudice."
Made in 2006, What a Wonderful World is the story of a bizarre love triangle between Souad, a prostitute; her favorite customer, a contract killer; and her best friend, a traffic cop. When Souad's best friend and favorite customer fall in love, they struggle to evade the issues posed by their conflicting careers against the background of modern-day Casablanca.
What a Wonderful World is Bensaïdi's second feature film. Born in Meknes, Morocco, in 1967, he studied at the Rabat Institute of Dramatic Art. After working as a stage director, he began making short films. His films The Wall and The Rain Line won prizes at the Cannes International Film Festival and the Venice International Film Festival.
Learn more about What a Wonderful World and the entire Global Lens series.
View Comments