Jazzman Avishai Cohen returns to Bates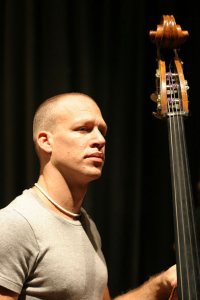 Jazz composer, bassist and singer Avishai Cohen made a Bates debut in 2008 that concert hall manager Seth Warner calls "amazing." Now he returns for a performance at 7:30 p.m. Sunday, Oct. 17, in the Olin Arts Center Concert Hall, 75 Russell St. Tickets are $12 and $6, and are available at www.batestickets.com.
Cohen brings with him the players and songs from his 2009 album Aurora (EMI International), a highly personal effort reflecting the cultural cross-currents that flow through Israel, where Cohen was born, and featuring lyrics in Hebrew, English, Spanish and Ladino. The French newspaper L'Express called it "an album that could play an entire lifetime," with "catchy and timeless melodies."
Supporting Cohen at Bates are vocalist Karen Malka, percussionist Itmar Doari and oudist Amos Hoffman.
Not to be confused with the trumpeter of the same name, Cohen came of age musically in New York as a member of Chick Corea's sextet Origin. Known as a bandleader for making an eclectic brand of jazz that seamlessly blends energy and lyricism, he has also performed with jazz masters like Paquito D'Rivera, major symphony orchestras and pop-soul artist Alicia Keyes. Bass Player Magazine named him one of the 100 most influential bass players of the 20th century.
View Comments