The Atlantic's James Fallows recalls kindness of the late John Strassburger '64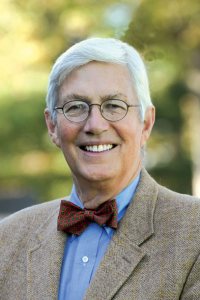 In his blog in The Atlantic, James Fallows recalls the difference that the late John Strassburger '64 made in the life of Fallows' father and other World War II-era Ursinus alums who didn't get a chance to earn a college diploma. A few years ago, Strassburger, president emeritus of Ursinus College who died of cancer on Sept. 22, made a "big, celebratory deal" of presenting diplomas to the alums-but-not-graduates who had gone through Ursinus on the Navy's V-12 program, including Fallows' father (Bates had a V-12 program, as well). Strassburger, writes Fallows, "was an accomplished historian and a polymath, and he really represented the American small-school liberal-arts tradition at its finest." Read James Fallows' post in The Atlantic, Oct. 3, 2010.
Leave a Reply
This is a forum for sharing your thoughts about the preceding post with the public. If you have a question for the author, please email the Bates Communications Office at communications@bates.edu.