Poet Aracelis Girmay to read in Language Arts Live event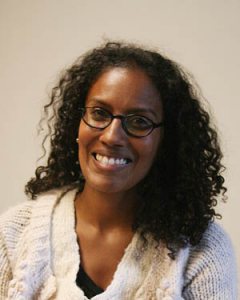 The Language Arts Live series of literary readings at Bates presents poet Aracelis Girmay at 7:30 p.m. Thursday, March 24, in Chase Hall's Skelton Lounge, 56 Campus Ave.
The reading is open to the public at no cost. For more information, please call 207-786-6256 or 207-786-6326.
An inheritor of Eritrean, Puerto Rican and African American traditions, Girmay released her debut poetry collection, Teeth, in 2007 (Curbstone Press). Her second, Kingdom Animalia, will be released by BOA Editions this year and has received the Isabella Gardner Poetry Award, given to a poet with a new book of exceptional merit.
Girmay is assistant professor of poetry at Hampshire College, and is on the faculty of Drew University's low-residency M.F.A. program in poetry.
Language Arts Live is sponsored by the English department, the programs in African American and American cultural studies, the Office of Intercultural Education, the Learning Associates Program, the Humanities Fund, the Brandow Family Fund for the Arts and the John Tagliabue Fund.
View Comments